Are you ready to introduce your children to the wonderful excitement of the great outdoors? When you're taking your kid on a hike, their safety is the paramount concern. So, picking out a child carrier is not something that you should take lightly! We've compiled a list of the 10 best child carriers that will keep your baby safe and keep you comfortable during your next adventure.
1. LittleLife Adventurer S2
Price: €140.00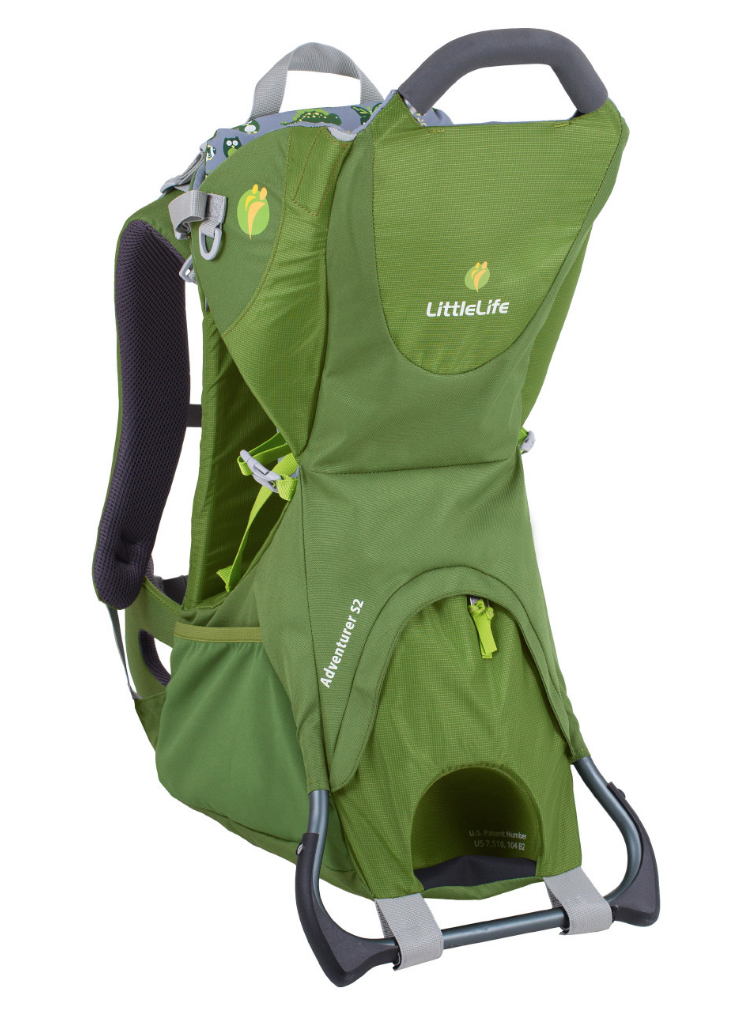 The Green Adventurer S2 child carrier is a great tool for those who want a little less bulk to their carriers while not compromising on safety. At only 1.9kg, this bag is great for going to the shops or the park with your little one and can also be good for some easy to moderate hiking as well.
The kick out leg offers great stability when you're putting your child in the pack. It then folds down into the pack for easy storage/travelling. The seat is adjustable and anatomically shaped for a child and the fully adjustable back system allows you to make the pack as comfortable and manageable as possible. There is a pivoting hip belt to keep weight off of your shoulders and a storage pocket in the base of the bag for any snacks or nappies you may need on your trip out.
This case is meant for children aged 6 months to 3 years and has a weight limit of 20kg.
Buy it now at Great Outdoors.
2. LittleLife Cross Country S3
Price: €215.00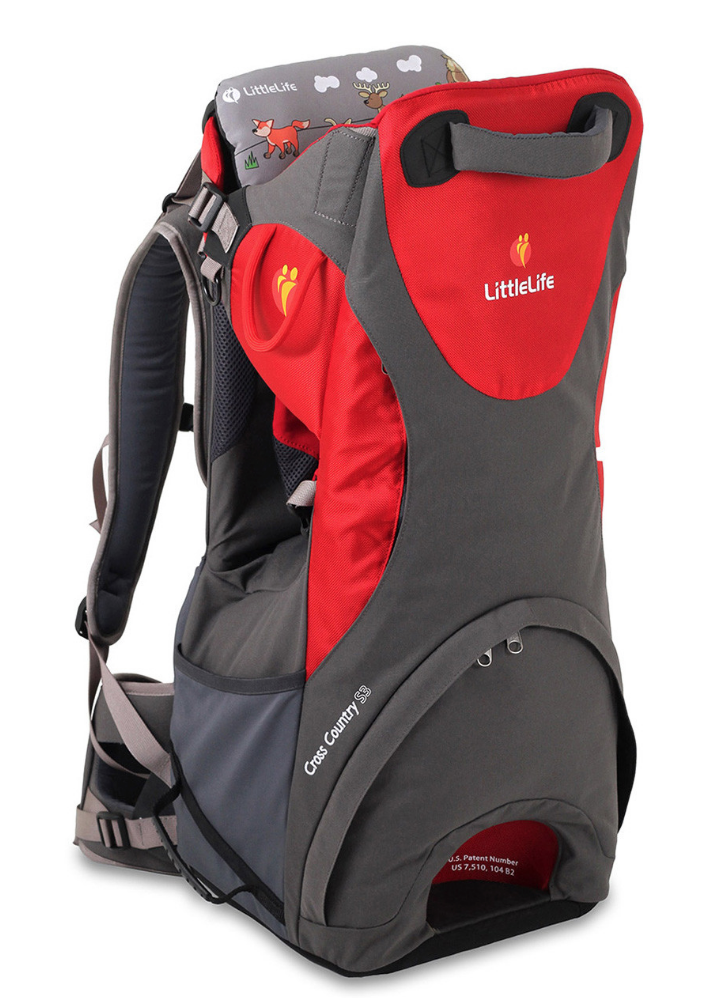 The LittleLife Cross Country S3 is a perfect companion for active families that need a carrier for a lot of events. The fully adjustable back system keeps your child safe and keeps your back from becoming horribly sore. The "x" shaped child harness if quick and easy to put on and very comfortable to wear.
When your family needs to be packed for a day out and about, you're going to need a lot of storage space to fit everything! This pack is equipped with a front storage pocket, and the large base pocket provides room for essentials such as food and nappies. There are also loops stationed around the bag to hold toys and a pocket to the side for water bottles. An anchor point ensures stability when placing the child in the pack and reflective piping keeps you safe and seen even in the dark.
This case is meant for children aged 6 months to 3 years and has a weight limit of 20kg.
Buy it now at Great Outdoors.
3. Deuter Kid Comfort Air
Price: €240.00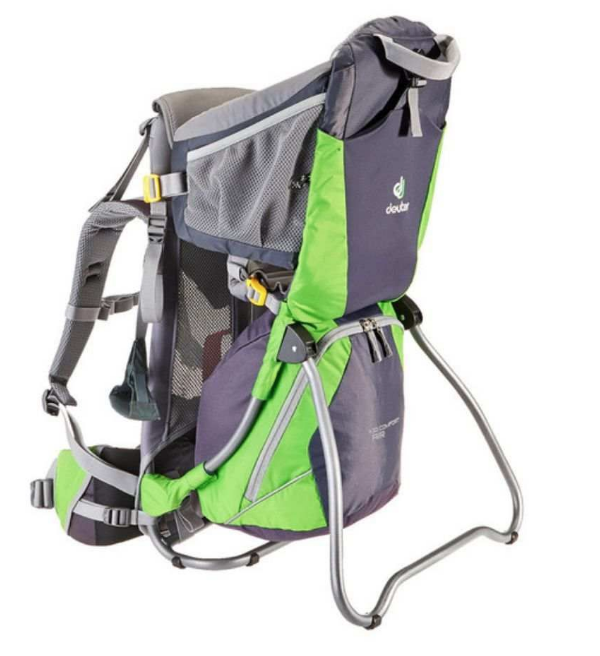 The Deuter has channelled all of its expertise into the Kid Comfort Air Child Carrier. When you're carrying an extra person on your back, you want the maximum amount of ventilation possible. The mesh material on your back increases airflow, keeping you cool and comfortable. The seat of the pack is also lined with a ventilating material – so the kids will be comfortable as well!
The adjustment systems on this pack are extremely easy to use, allowing you to customize the fit and adjust the seat for the child as well. Also, the stable construction of the kickstand ensures the safety of your child when placing him/her inside. The footrests on either side of the pack keep your child's feet from dangling during the journey, which inhibits their legs from falling asleep. And, the detachable chin pad keeps the baby's chin from chafing against the seat.
Buy it now at Cotswold Outdoor.
4. Vaude Shuttle Comfort
Price: €312.00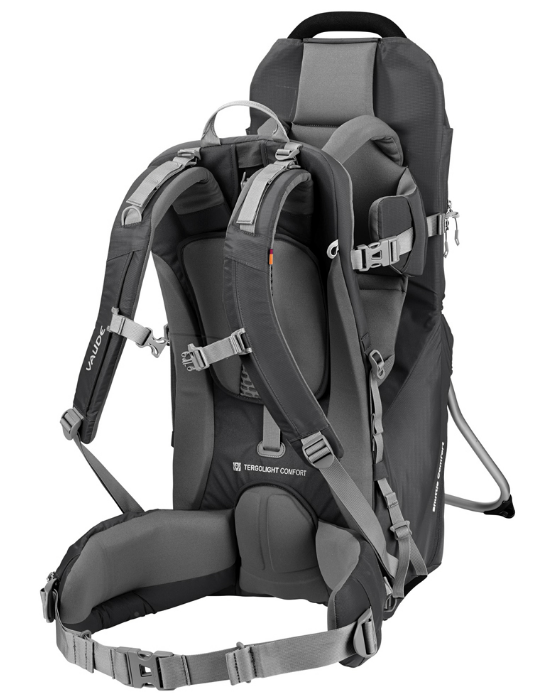 This stable, multi-featured carrier is a perfect pack for those looking to go on longer hikes with their child. The well-padded fastening system and thick hip-belt keep the weight evenly distributed among your body, making it easier to carry the load for longer periods of time and keeps the pack stable on uneven terrain.  
The main pocket and small pockets around the pack easily let you store water bottles, diapers and other small items. Meanwhile, the bottom compartment lets you carry larger items such as blankets, a jacket, toys and snacks.
Buy it now at Cotswold Outdoor.
Child Carrier Backpacks: Everything You Need To Know Before You Buy
5. Thule Sapling
Price: €280.00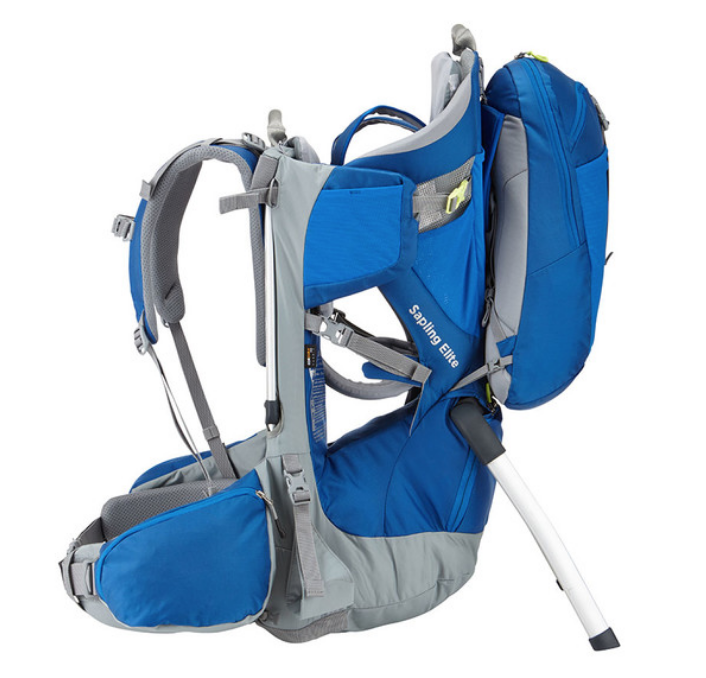 The simplicity of the Thule Sapling makes it a wonderful addition to your family outing that keeps your precious cargo safe. The fully adjustable back panel and hip-belt make for a completely customized fit and if you need to transfer the pack from parent to parent, the easy-to-use straps make the transition a snap! The pack is engineered to have padding at critical pressure points, maximizing comfort and allowing air to circulate around your back.
You can load your child in this pack from either the top or the side of the carrier, and stabilizer straps allow for quick and easy on-the-go adjustments so that you can move your child closer to your body for a more comfortable fit. The additional sunshade protects your child from the sun's harmful rays, and the removable stirrups allow your child to readjust themselves on the trail without falling out. Also, the roomy mesh pockets, large zipped compartment, and hip-belt pockets give you all the space you need for your kit.
Buy it now at Cotswold Outdoor.
6. Osprey Poco AG
Price: €312.00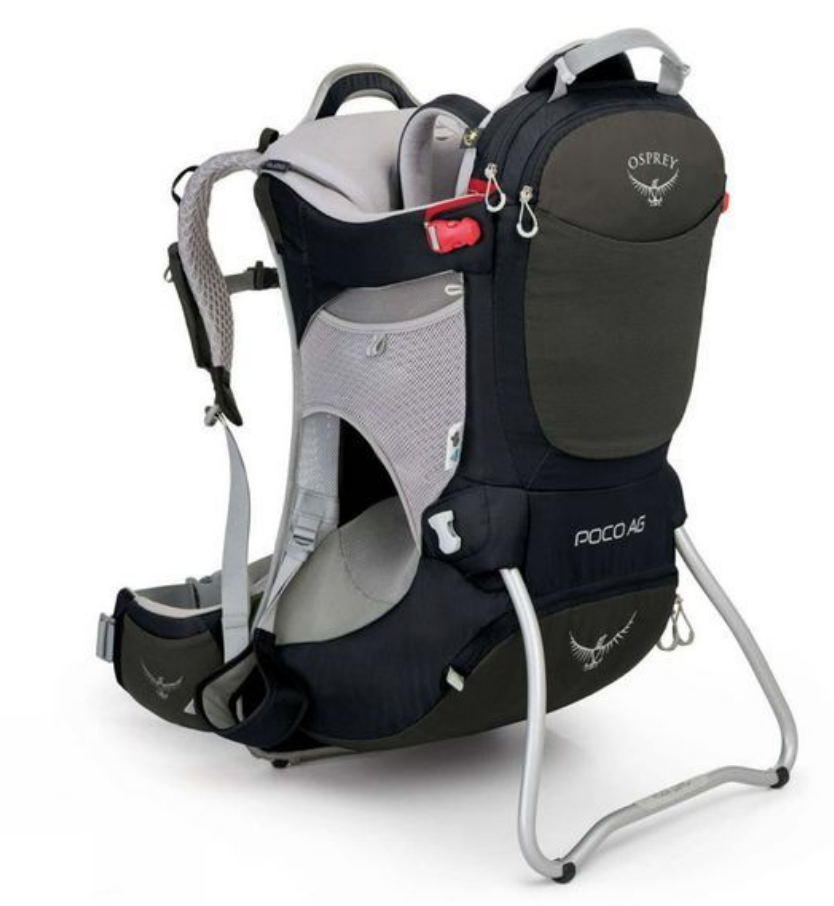 Hold on to your hats, because this heavy-duty child carrier is no joke! The suspended mesh back-system offers a high level of ventilation to keep you cool and comfortable on any hike. The adjustable hip-belt and torso straps allow for quick adjustment while on the trail, and the child's safety harness, seat, and foot stirrups are also adjustable to fit the needs of a range of child sizes, depending on size and weight. The Osprey Poco Ag is designed with safety in mind – so, they added a deployable sun-shade that keeps your child protected from harmful UV rays, giving you peace of mind when you happen to hike on a beautiful day. And, the rain cover will also protect them when harsher conditions arise.
The many mesh side pockets, zipped shoulder and hip pockets allow for easy access to any essentials needed on the hike. Meanwhile, the main zipped compartment found below the child lets you carry any bulk supplies.
Buy it now at Cotswold Outdoor.
7. Bergans Lilletind
Price: €204.00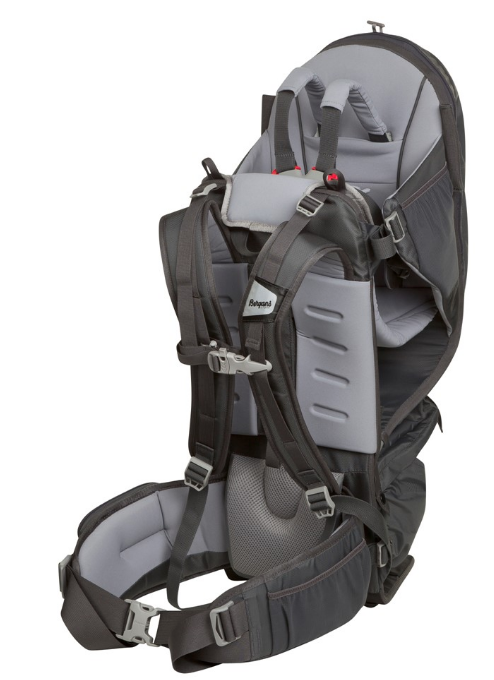 The Bergans Lilletind Child Carrier is a versatile pack that keeps both parent and child comfortable. The torso length is adjustable and the back panel is made with a ventilating mesh material to keep you cool on your hikes or walks. The shoulder straps are covered in soft, flexible fabric to ensure a great fit and to keep them from sliding around when you walk.
There is an adjustable five-point harness for the child that will prevent him/her from falling or climbing out the back, and you can adjust the seat height to accommodate your child's growth and development. Stirrups on the side are added for extra comfort for your child, and removable head support pads are included to support the child's head when he/she dozes off.
There is also a removable cord that allows you to attach a pacifier or your child's favourite toy, and there is a padded headrest in front of the child. The large storage compartment under the seat lets you pack all of your essentials for the day and can be detached for separate use. A sun/rain cover is also provided and can be attached when needed.
Buy it now at Cotswold Outdoor.
8. Ranger Child Carrier
Price: €80.75
The Ranger Child Carrier is an extremely light pack with an adjustable, anatomically shaped seating area with an X shaped buckle harness to keep your child safe in the seat. A soft face pad keeping the baby from procuring any irritation while walking, and the pivoting hip-belt keeps the carrier stable on uneven terrain. Anchor points along the kickstand keep the carrier firmly in place while putting your child inside.
Buy it now at Outdoor Adventure Store.
9. LittleLife Voyagers 2
Price: €269.99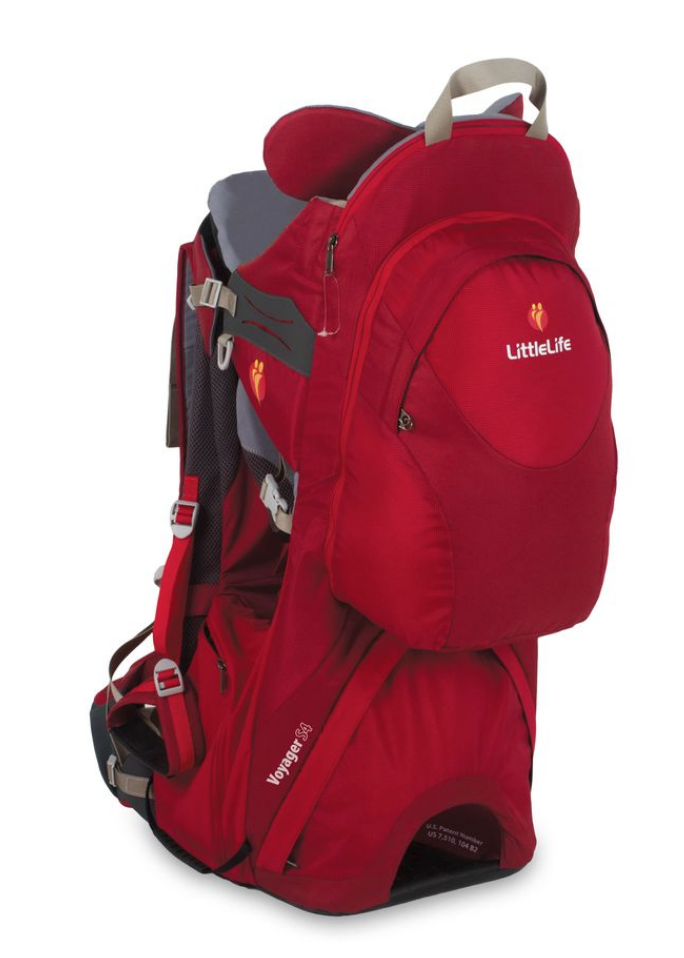 Looking for a more intense pack that is able to accommodate longer hikes? Look no further! This tough carrier has all of the necessary accessories to make your next hike comfortable and enjoyable. The pack includes foot stirrups, a viewing mirror (so you can check on your kid while you hike!) and an X shaped buckle harness system that keeps your child safe and strapped in comfortably. The pack also has an adjustable headrest and a built-in sunshade for protection from the sun.
Buy it now at Wild Side Sports.
10. LittleLife Child Carrier Sun Shade
Price: €24.95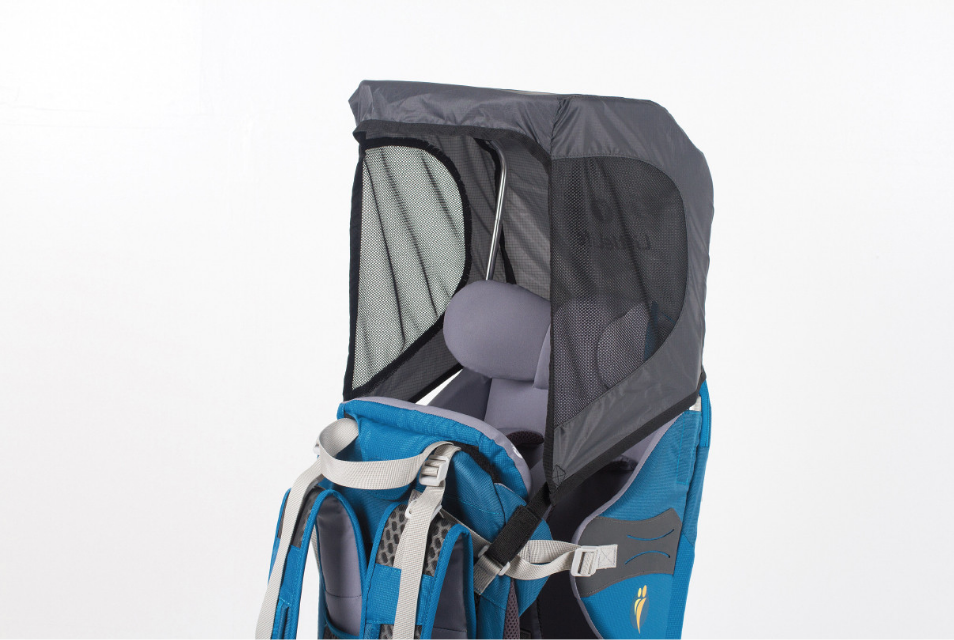 I know that we have been talking about all of the amazing packs out there, but now, we want to add one extremely important piece of kit to your list. Not all carriers have a sun-shape, but you should go out of your way to try to find one that can attach to your pack. When you are carrying your child on your back, you can't always see what condition they are in, and, during a sunny day, they might become overheated or sunburned without you realizing. The LittleLife Child Carrier Sun Shade protects children from harmful UVA and UVB rays. It is lightweight, compact, and easy to attach and detach, so ensure your child's well-being and purchase one with any carrier that you choose.
Buy it now at Great Outdoors.
Check out our Hard as Nails podcast:
Like this? Check out these other articles:

Previous Post