Last year Gerard Prendergast won Deca UK, now he is in the midst of doing 52 Ironman in 52 weeks, and he's got even bigger plans for 2019.
You would think after winning a Deca Ironman (10 Ironman in 10 days), you'd be pretty smug, resign yourself to the couch for the year and spend your days eating, drinking and watching boxsets guiltfree. Gerard Prendergast (37) from Ballymun, Dublin is not really the kind of guy to sit still and chill out though, he wants to spend 2018 getting a bit of training in. So, he will spend the year doing 52 Ironman in 52 weeks, that's an Ironman a week for the entire year! Ger's aim is to raise €10,000 for Mental Health Ireland and he wants you to come join him on them. Orla O Muiri caught up with him to find out more about the challenge, talk about his plant-based diet and his big plans for 2019.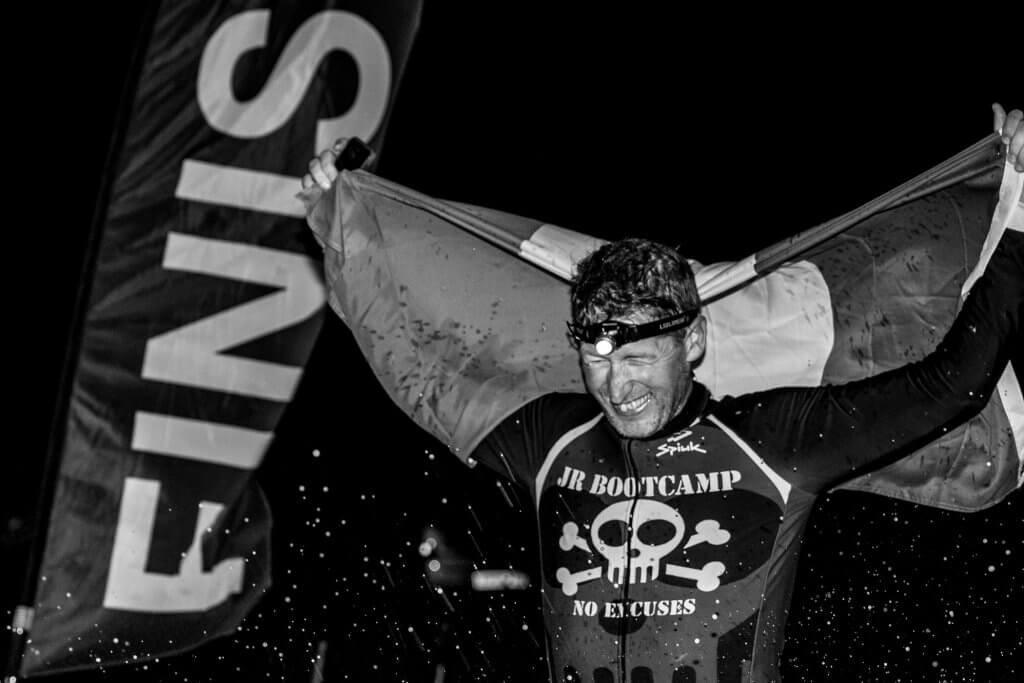 Where did the idea come from for the 52 Ironman in 52 weeks?
After the Deca, I was just straight onto the next idea, thinking about what I could do next. In Ireland and the UK, the opportunities for events like that are fairly limited. The Deca I did was the first one in the UK since 2012, it's not like they are annual. I was chatting to my friend in the gym and he was telling me about stuff other people have done and he mentioned a guy who was doing a 5km every week and raising a few quid for charity. So that's where it stemmed from.
So you are doing an Ironman every week and training on top of that?
Yes, I gym and swim Tuesdays and Thursdays, bike and run Mondays and Wednesdays and do the Ironman on Fridays.
Interview: Gerard Prendergast on How He Won Deca Ironman UK
Why did you choose to raise money for the charity Mental Health Ireland?
I think everyone has or will suffer from poor mental health at some stage in their lifetime whether from bereavement, bullying, work stress, or alcohol. It's something that can go bad quickly, especially if you are unaware that there is help out there.
I was never really aware of the concept of mental health until last year when my brother in law took his own life. My wife and her family were distraught. I myself felt such guilt and didn't know why. He suffered for a long time and it wasn't that clear. We knew he was struggling but you always think it will pass and that's probably where the guilt comes from, you tell yourself I could have done this or that.
It was a very hard time. It just affects every aspect of your life. The sense of guilt you feel. You just realise how lucky you are, you're fit and healthy. I used this as fuel to train for the Deca UK, I took Mick's favourite song as my mantra, "gotta keep it moving". I printed it into my kit and when I was struggling I just used the mantra to keep going.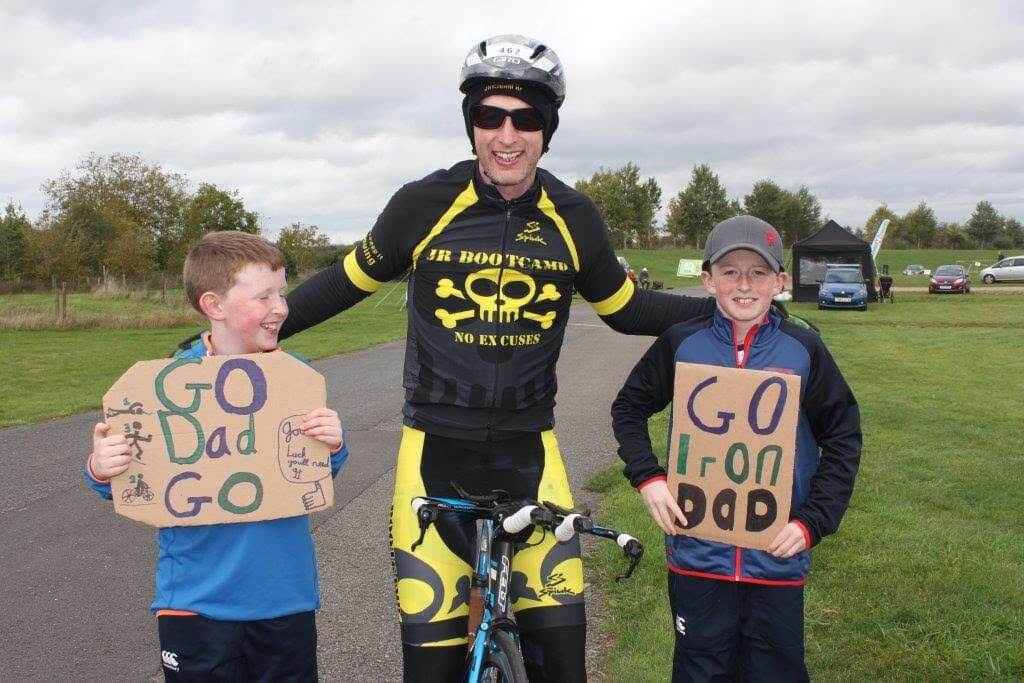 Do you believe sport and mental health are linked?
I 100% believe they are, sport can definitely help. When you exercise you're releasing happy hormones that make you feel good, it's almost like a natural anti-depressant. You improve your fitness and therefore your confidence. It leads to better energy levels, better sleep, and helps with managing stress.
Why are you doing it?
I've always asked myself this on any event and I think it's more than just I like doing them. I like to keep fit and to be a good role model for my kids. But I think I'm driven to prove to myself that I can compete with others even being visually impaired. I'm blind in my left eye from an accident when I was eight and I have weak vision in my right. It's ok with glasses and it's not a big disability but I was always told by my father to be careful on my bike or when playing football and my brothers were always under orders to mind me when out. So I always felt like I wasn't able to compete with them or my peers. I think it made me a bit low on confidence growing up. So when I started realising I could run faster and longer than most, it gave me great confidence and enjoyment. So I think it may stem from this.
If you really, really want to do it, go do it. Don't let fear stop you. What's the worst that can happen, you get a DNF?!
Where is your mind at when you are struggling?
Sometimes you're in a hole and it's a killer. But when you finish, that all goes away. Remind yourself that you've been there before and that it will pass. And they always do pass. I know I'll never stop, because of things in the past, I know il never give up. I might slow down and take a break but I know I won't stop.
Is it 'easy' or 'easier' for you after Deca? Do you still suffer?
Yes, it's easier, mentally, I've more confidence. Physically, the miles are in the bank but I do feel I'll get better week on week with this challenge. I recovered very quickly after the Deca, swimming and cycling after a week off and was back running three weeks later. For the 52/52, I'm treating it as a long training day so there's no real pressure. There's a more relaxed feeling to it. I'm using it to stay sharp and keep the miles in the legs.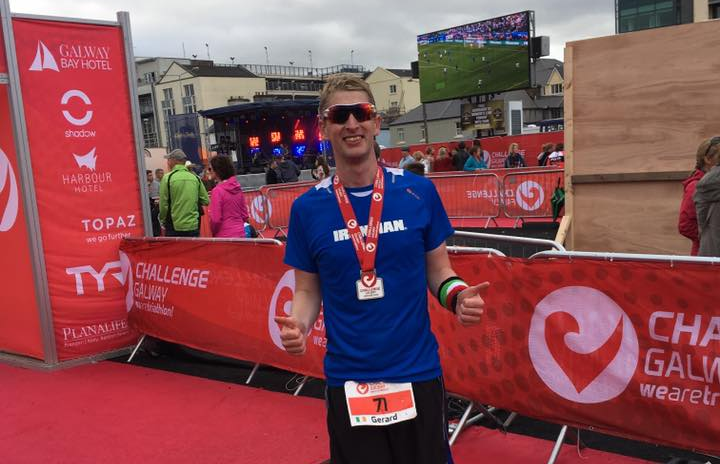 You're a vegan! Tell me about the benefits of being plant-based endurance athlete?
I started on a completely plant-based diet about seven years ago. I was on the lookout for the best possible diet for performance. As a gym instructor I was more concerned about how I looked physically but after finishing playing football and taking up running I knew I was carrying too much weight around, especially for the longer distances. I stopped eating meat and felt so much better for it physically. My interest grew deeper and I started to see all the negatives to eating meat ie. linked to diseases like heart disease, cancer, cruelty to animals and the effects on the planet from animal agriculture.
I'm big into the nutrition side of things. I 100% believe that's what has helped my performance. My energy levels are much better. The times don't necessarily get better but I felt like I could go for a lot longer. With the likes of eating meat, it just takes so much energy to break down. Fruit and vegetables are water-based, easily digestible and have lots of fibre.
Ironman 70.3 Dún Laoghaire 2018: The Essential Information
What do you eat during a race?
I try to eat similarly in a race and outside a race, so as there are no surprises for the digestive system. Generally something like avocado on wholemeal spelt with tamari, fruit, peanut butter, bananas, or smoothies. During a race, food like that has much better nutritional values. Real food will keep you sustained for longer as opposed to relying on gels where you risk sugar spikes. It's easier on the GI system.
What kind of time are you completing them in?
I can do an Ironman in 11 hours on my best day. I plan to go under that in one of these this year but for this challenge but most will range from 13-16 hours, that's relaxed with lots of breaks.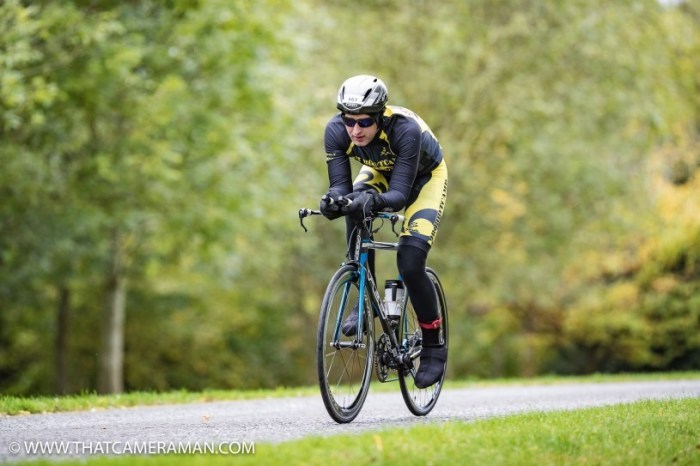 Do you honestly believe that anyone can do what you've done with training and hard work or how much of it is natural ability?
Yes, 100%. I would say very little is natural ability, this kind of thing is all about will and mental strength. The better the quality of training will obviously make it that much easier physically and mentally but mental strength is a huge part of it! If you really, really want to do it, go do it. Don't let fear stop you. What's the worst that can happen, you get a DNF?! It will only make you stronger, just go again!
I was no athlete as a child. It took me three years to finish The Race in Donegal. The first year I was a bit unlucky, I had a battery operated gear system and that broke when I was in the middle of nowhere. And the second year I was just poorly prepared. But that gave me a wake-up call. The failure of it really pushed me to prepare much better. I haven't looked back since then actually. That was 2015, I just made sure I was consistent. I didn't miss a training session again, just kept it nice and steady.
You said you had big plans for next year?
Double Deca! I felt so good after doing the ten, I was in such great spirits that I felt like going again the day after. No Irish person has done a double Deca before either!
If you want to join Ger on some of his Ironman outings over the next year, get in touch with him through his social accounts; Facebook, Instagram or Twitter. You can donate to Mental Health Ireland here.
Check out our Hard as Nails podcast:
Like this? You should check these out: