You spend the majority of your life working. More than 30 thirty years slaving away, paying that mortgage, raising your kids and then at the end of it all, you might pop open a bottle of prosecco or champagne (if you are really fancy), put your feet up and start watching daytime TV. Dermot Higgins, on the other hand, chose to do things a little differently. To celebrate his retirement from teaching he set off to cycle 30,000km around the globe.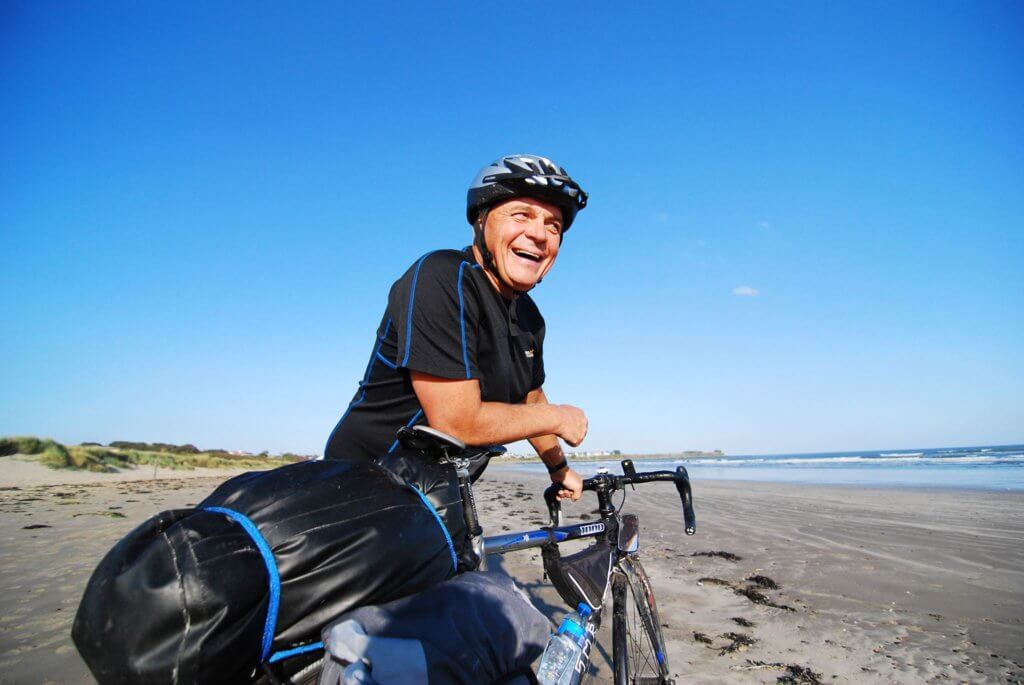 Nine months later, on 6 April 2018, the Dubliner freewheeled his way back down the road to his front door and unpacked his panniers for the last time. The 55-year-old returned a changed man, sporting a rainbow beard, weighing 15kg less and with a bank account €10,000 lighter. He walks away from this, the ultimate adventure, having raised €17,500 for Trócaire and with the title of 'the oldest person to cycle around the world' bestowed upon him.
"I've been thinking about doing this all my life. I figured the most efficient way to get around the world was on the most efficient machine ever invented, the bicycle," Dermot says. So off he went to explore the world carrying a 12kg load stashed away in his panniers. "I didn't really need that much. I peeled it right back to the bare essentials. I just had to account for temperatures of 50°C to well below zero."
The beauty of adventure lies in its unpredictability. No matter how much you plan, life happens and things change. "I wasn't supposed to go through South East Asia at all but when I was in Kazakhstan I applied for my Chinese visa and didn't get it. I had to completely change the route. Instead of going to China, I went to a whole host of different countries like Myanmar, Thailand etc, that weren't on my radar at all. I had no immunisations or anything for those countries. But that's what was exciting at the end of the day; every day something new happened."
Mark Beaumont Cycles Around the World In 79 Days
Every evening, many of us watch the horrifying images of a scary world flash before our eyes on the daily news, but is the world really as scary as it seems? Dermot doesn't think so, "Of the people I met more than 99% wanted to help me or reassure me," he says.
His only serious mishap in the nine months was due to a bike malfunction. "In India, I was catapulted over the handlebars when my panniers collapsed. I was bruised pretty badly but fortunately, I was wearing my helmet. I just remember hitting the tarmac and being knocked out. When I woke up afterwards, I discovered that I had broken two ribs. I just got back up on the bike again and kept cycling. I was in the middle of nowhere in India. There was no help around, so what other choice did I have other than to pedal off."
"I just remember hitting the tarmac and I was knocked out. When I woke up afterwards, I discovered that I had broken two ribs but I just got back up on the bike again and kept cycling."
There are two emotions that solo cyclists frequently report confronting: loneliness and boredom. As for Dermot's experience, he says, "Loneliness is part and parcel of being a solo cycle tourer. But bored, no I was never bored. I didn't listen to music or podcasts. I was able to just go into a sort of trance. Hours and hours can just go by and feel like nothing. It was so nice. I cycled eight to 10 hours every day for nine months and I can honestly say I was never once bored. I had so much time to think. It has changed the way I see the world."
When life is pared right back to the basics of eat, sleep, cycle, repeat, things can become a lot simpler. The hunt for food and water can become the sole focus of your day.
Dermot recounts, "There were definitely times in Kazakhstan and Russia where the gaps between towns were so big that it was difficult to get sustenance. But I found that people were generally happy to offer you water. In Australia, all I had to do was hold my water bottle out when I was cycling and people would stop. There were a couple of times that I was thirsty but I was never really hungry."
North Dublin to Get A New Cycle and Walkway Next Summer
Dermot's desire for adventure has not at all been sated by his world cycle. He is already straight onto the next idea. "There's one possibility. I have the idea to go around the world again but this time the other direction, going through the North and South Pole. Or maybe row the oceans. We'll see!"
"I think it's hugely important for people if they have a notion in their head – it doesn't have to be to cycle around the world, it could be to climb Carrauntoohill – but to act on it. There's nothing stopping you. Stop thinking about it. Stop talking about it. You have the time. Just do it."
Check out our Hard as Nails podcast:
Like this? Check out these other articles: