The comradery and energetic environment involved in charity cycle rides cannot be replicated. Hundreds of biking enthusiasts taking to the streets to ride alongside one another to raise money for those in need — it is an unmatched experience that will be sure to thrill any cyclist. Here are some of Ireland's upcoming charity rides that will get you up out on the bike and riding all over Ireland for some amazing causes!
1. Tour De Lough Corrib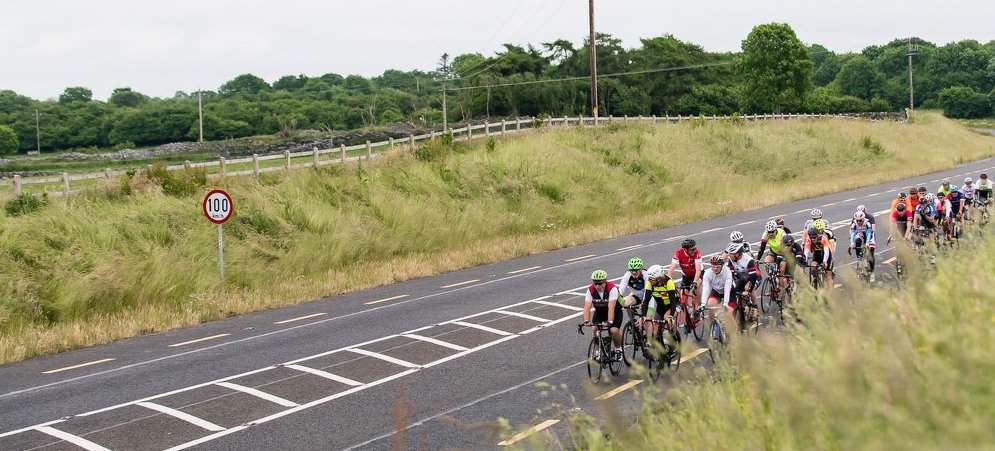 When: 9 June 2019
Time: 8 a.m. to 6 p.m.
Where: Nuig Regional Sports Pavilion, Dangan
Route: 45km, 80km, or 120km routes available
Cost: €50
Each year, Croi Heart and Stroke Centre hosts the largest charity cycle in the West of Ireland. Croi is an organization dedicated to the prevention, control, and treatment of cardiovascular disease. The company's 25th annual Tour de Lough Corrib will be held on Sunday, 9 June 2019 and will give cyclists the option of a 45km, 80km, or 120km route. Roadside assistance, support vehicles and refreshment stops will be provided throughout the day.
100% of the funds raised through this event go towards the organization's work in the study and treatment of cardiovascular diseases. Participants must raise a minimum of €50 to ride and cyclists will enjoy some great incentives for how much they raise!
For more information on this race, and to register, visit Croic.ie.
2. 50km Charity Cycle for Diabetes Galway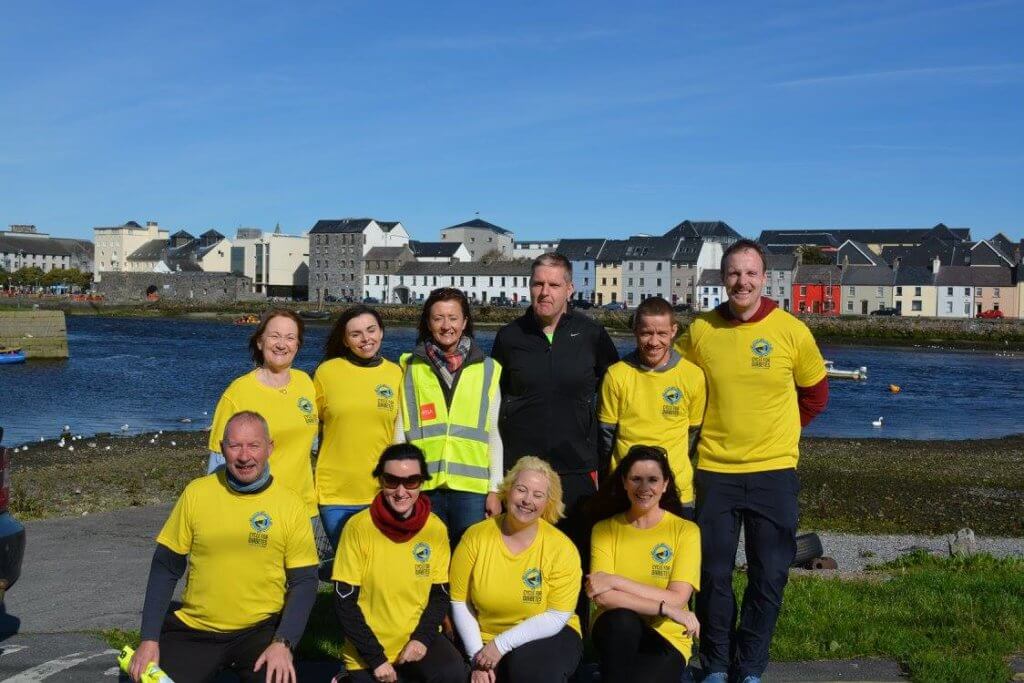 When: 30 September 2018
Time: 8:15 a.m. registration, 9:30 a.m. start time
Where: Claddagh Hall, Galway City
Route: 50km
Cost: €30
Diabetes Care West is hosting its fourth annual 50km cycle to raise money for their research and treatment of diabetes in Ireland. The race will begin at Claddagh Hall in Galway at 9:30 a.m. and registration can be dealt with beforehand or at the race at either 8 a.m. or 9:15 a.m. All proceeds will go to Diabetes Care West supporting activities for young people with diabetes. The event is open for adults and children aged 12 and up. Children under 12 must be accompanied by an adult and children under 18 must be registered with a guardian.
For more information, to sign up, or to learn the route, visit Irishsportives.
3. Giving a Little Back Cycle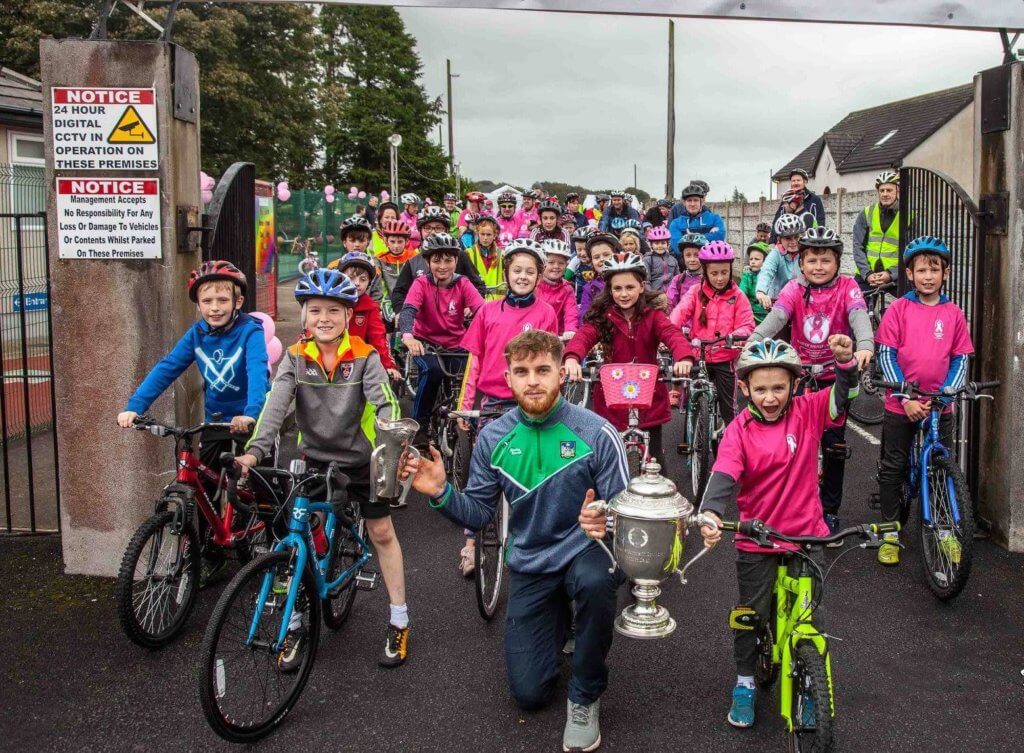 When: 7 October 2018
Time: 8 a.m. registration, 9 a.m. start time
Where:  HDA Herbertstown, County Limerick
Route: 60km
Cost: €20
The 6th annual Giving a Little Back Cycle will be held on 7 October 2018 when participants will ride and raise money for the research and treatment of Breast Cancer. The main event will be a 60km bike around Limerick and after you're finished busting your butt for an amazing cause, stick around for a BBQ and some refreshments.
For more information, visit Irishsportives.
4. Sean Kelly Tour of the Midlands for the Special Olympics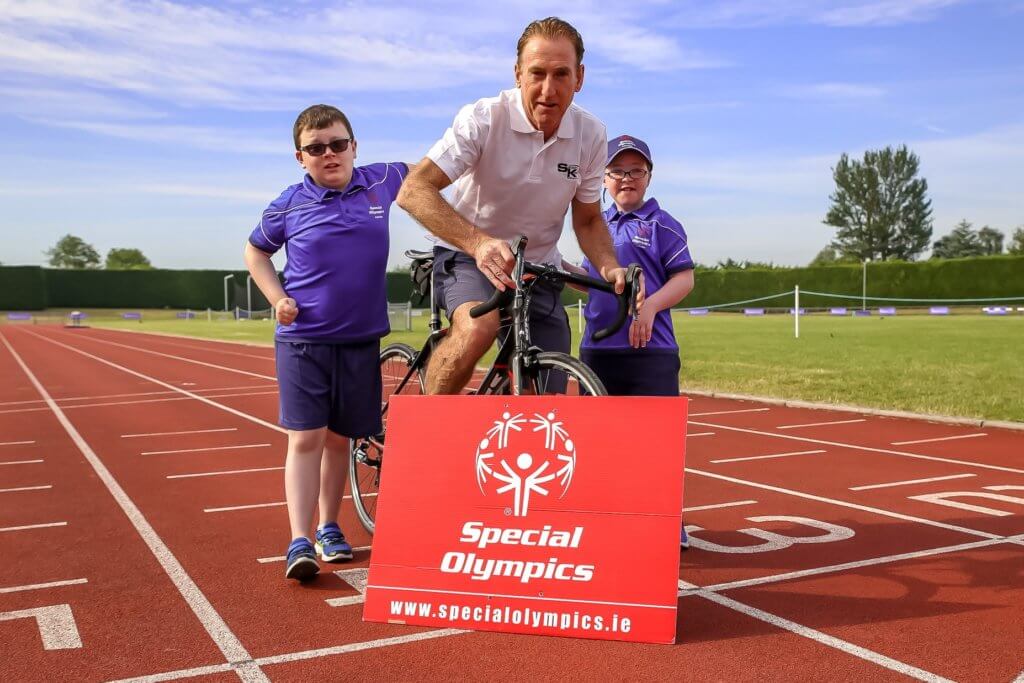 When: 30 September 2018
Time: 7 a.m. registration, 

8 a.m. start time/

Family Cycle Start Time: 12 p.m.
Where: Tullamore, Co. Offaly
Route: 120km (Kelly Slieve Bloom), 

80/90km (Kelly Cut), 

5km (Kelly Family Spin)

Cost: Family Spin: €10 per family/Regular Entry: €40/Day of Entry: €50
Special Olympics Ireland is providing cyclists with the opportunity to ride alongside world-renowned Irish cyclist Sean Kelly at this year's Sean Kelly Tour of the Midlands starting and finishing in Tullamore, Co Offaly. 100% of the proceeds will go to Special Olympics Ireland, a sports organization offering year-round training and competitive sports opportunities to those with intellectual disabilities.
Join Sean Kelly and hundreds of other cyclists at the 6th annual event that serves advanced, intermediate and leisure cyclists. There will be three choices of route: the 120km Kelly Slieve Bloom, the 80/90km Kelly Cut and the 5km Kelly Family Spin. All of the routes will have food and water stops.
For more information, visit Irishsportives.
5. Wexford Cycle for Peter McVerry Trust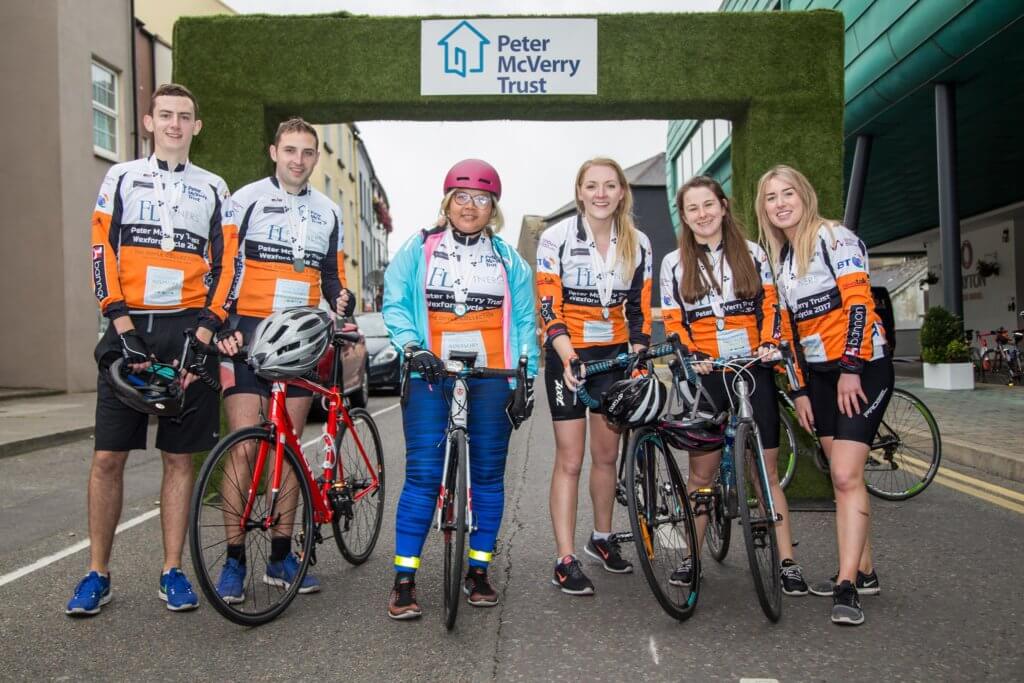 When: 15 September 2018
Time:

6:45 a.m. registration, 

7:30 a.m. start time

Where: University College Dublin to Wexford
Route: 135km
Cost: €80
The Wexford Cycle is one of Ireland's longest running charity cycles, raising money for Peter McVerry Trust's efforts to tackle homelessness in Ireland. The Peter McVerry Trust is a charity set up by Fr. Peter McVerry to reduce homelessness and the harm caused by drug misuse and social disadvantage. The Trust is dedicated to reducing homelessness by providing low-threshold entry services such as comprehensive packages that assist those struggling to plan a pathway out of homelessness and drug use.
The fundraising target for each person is €250, but anything that you contribute goes a long way. €125 will provide someone moving into their new home with a holdall containing their personal items, clothing and their new keys. €150 will provide bedding and pillows for those in need. And €250 will provide those struggling with a starter kit that contains the basics of what someone needs to cook in their own home (pots, pans, utensils etc.). Lunch and refreshments will be provided, as well transport from Wexford to Dublin.
For more information, visit Wexford Cycle.
6. Pieta 100 Cycle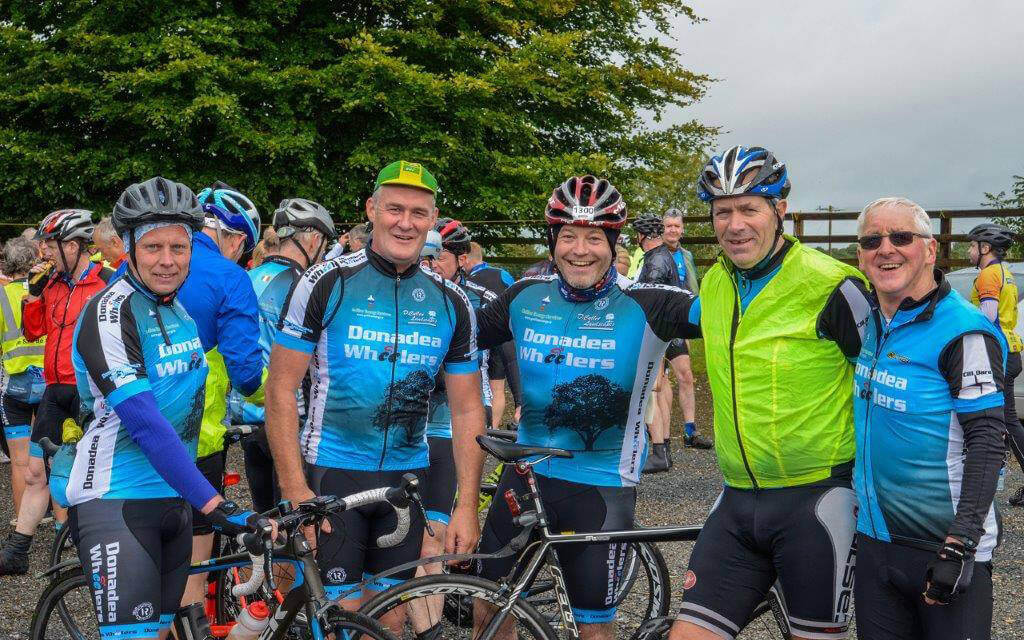 When: 9 September 2018
Time: (100km) 9 a.m. start time, (

50km) 9:15 a.m. start time

Where:

Leixlip Amenities Sports Centre

Route: 100km or 50km
Cost: €35
On the eve of World Suicide Prevention Day, the Pieta House (a suicide and self-harm prevention centre) will be hosting its fourth annual fundraising cycle to benefit the treatment and aid of those affected by suicide or self-harm.  Since 2015, over 4,200 participants have cycled the Pieta 100 Cycle challenge, raising over €250,000 to help Pieta House.
For more information and to register, visit Pieta Cycle 100.
Attacking Ireland's Longest Triathlon: Paul Gosney on Blisters, Bruises, and Barrelling Through Pain
7. Claremorris Charity Cycle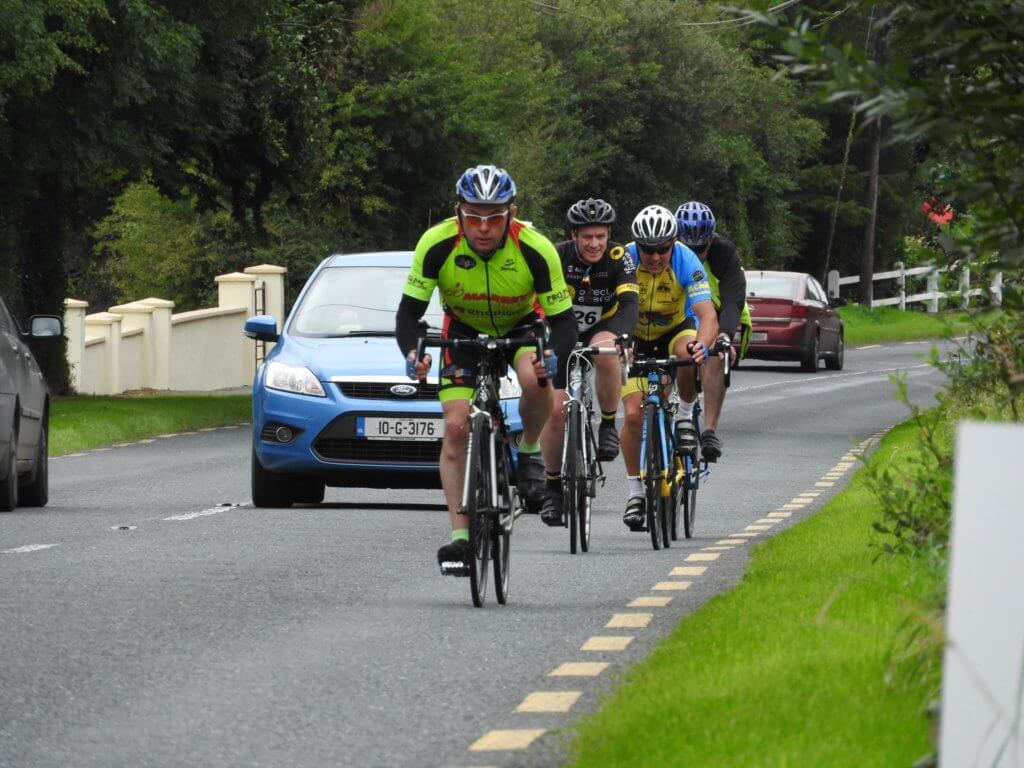 When: 15 September 2018
Time: 9:45 a.m. to 3 p.m.
Where:

Claremorris, Co Mayo

Route: 33km, 55km, 110km
Cost: €25
Hosted by the Claremorris Cycling Club, this charity cycle offers riders a chance to cycle a 33km, 55km, or 110km route in order to raise money that will go towards Prostate Cancer research. The charity raised over 5,000 in 2016, so come out and ride for a good cause!
For more information, visit Irishsportives.
8. Cycle of Light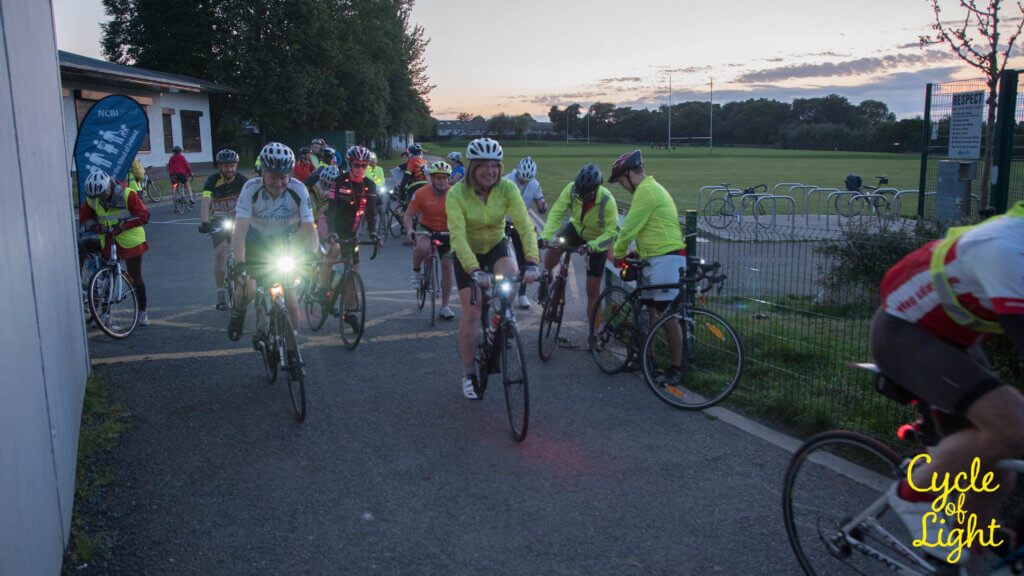 Come help light up the night for those in need on Friday, 24 August at The National Council for the Blind's "Cycle of Light," benefitting the over 50,000 people of Ireland living with sight loss.
Beginning at 7:30 p.m. on 24 August, 100 cyclists will take to the roads of Dublin decked out in luminescent clothing and lights to ride either an 80km or 60km course from Dalkey to Howth and then Howth to Dalkey via the outskirts of the city. Every cyclist is urged to wear their brightest and most reflective clothing for the event, and are encouraged to be creative with their use of lights!
For the 51,718 people currently living in Ireland, everyday life is filled with constant obstacles, such as reading, writing, registering road signs and recognising faces. The recommended individual fundraising target for this event is €250. The funds raised will go directly to the NCBI, who works day in and day out to provide support services for those in need.
For more information, and to register, visit ncbi.ie.
Check out our Hard as Nails podcast:
Like this? Check out these other articles:

Previous Post