19-kilometre swim. 900-kilometre bike. 210-kilometre run. Five Ironman's in a row, continuously. An outstanding challenge indeed — one only equipped for someone with a passionate cause and a stubborn mentality.
Paul Gosney, a long-time triathlete, set out to tackle an incredible feat on 4 July, 2018, when he would swim 790 lengths in the pool at the Killarney Sports and Leisure Centre, only to hop out to bike five laps around the Ring of Kerry and finish up with a nice breezy run equivalent to five marathons in a row — all in an effort to raise money for Pieta House, a suicide and self-harm prevention centre in Ireland.
"For me personally, I've had experience with a family member who took his own life and I've seen what it leaves behind, the devastation it leaves behind," says Gosney. "It's something I'm genuinely just very, very passionate about."
For Pieta House, €1000 equals 25 free counselling sessions for those in need, and, so far, Gosney's triathlon has raised €1,611.30, and 100% of the profits are going towards the centre.
"Those sessions can make a difference between life and death … It's almost one of those taboo subjects. Lots of people have been affected by not necessarily suicide itself but suicidal thoughts and it's very much not spoken about," says Gosney. "If I can raise money, I can raise awareness."
What got Gosney to push past the pain of bleeding blisters, burning muscles, and swelling feet? What happened during those 141 hours of constant movement? What happens when dehydration and sleep deprivation collide? If you're thinking of ever attempting such an incredible task, here are some things you have to look forward to, and some possible advice to save you a headache!
1. No, Flippers Are Not Allowed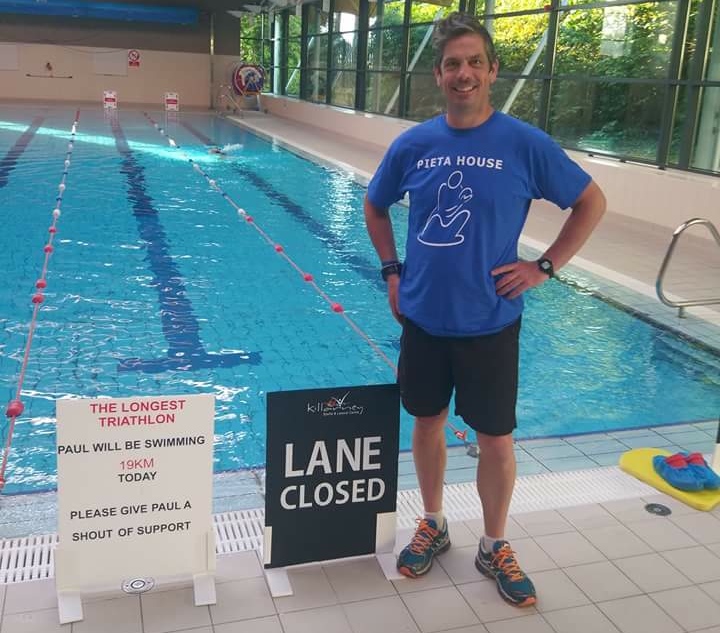 "The long-distance swim is where a lot of my problems started. I think I was really dehydrated after the swim, and I didn't get my fluid intake quite right, and that had a knock-on effect for the bike," says Gosney. "And I think my feet were so soft after being in the pool for so long, then they got softer on the bike which is why the blisters came on so early in the run. There's no sort of rule book to go on for this event. You can't really look at what other people have experienced that much. Next time I'll know not to do certain things," Gosney says.
2. Aim Small — But Only in Course Length!
With no intentions of sleeping that night, Gosney embarked on his bike to start his first couple laps on the Ring of Kerry. At around 2 or 3 in the morning, his bike broke, leading to him having to ride 60 kilometres on the same gear.
"That made it a little bit interesting. It wasn't the hardest gear, it was the easiest gear, which is probably the best gear to get stuck in," says Gosney.
But, what could have been a detrimental pain turned out to be one of the highlights of the trip for Gosney, as he saw the incredible generosity found in people. As he was desperately trying to fix his bike with two of his companions on the side of a dark road, one of the two men he was with simply brought out his bike and insisted that Gosney use it.
"Your bike breaking at 2 or 3 in the morning … can be perceived as a low, but it was a high, really, just to see how people are so generous," says Gosney.
Normally, bike routes for triathlons of this magnitude take place on a small course, around 20 kilometres in length. This allows for the athlete to be looked after and cared for. If something goes wrong, the rider is never too far away from help. Gosney decided to take a different, less managed route, which proved to be a bit problematic.
"The courses are usually 10 miles and I tried to do 112 miles, where I didn't have much support, which wasn't the smartest idea," laughs Gosney. "To cycle the Ring of Kerry is the polar opposite of what these courses generally are, and now I know that the courses are very, very small for that very reason."
3. Bring a Pair of Crocs … You Might Need Them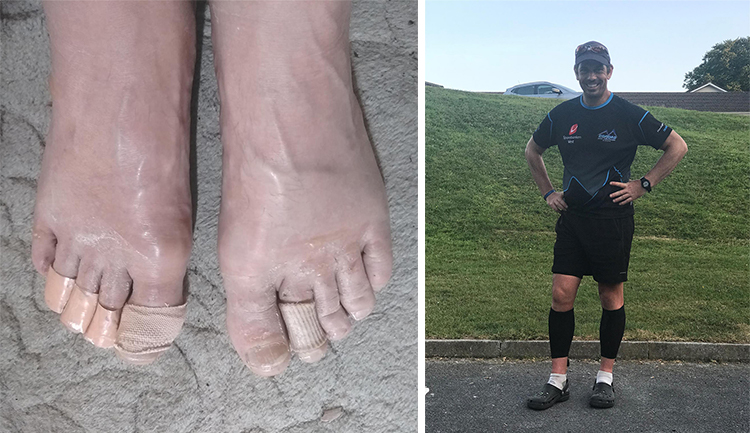 "The run was just purgatory, that's the thing that I always knew would be the issue, the run. It's the most physically demanding," says Gosney. "But it's just a question of getting on, you know. 'Suck it up Buttercup' is my motto, and just keep going until you have to stop. That's it really."
Eventually, the swelling of his feet and ankles became so unbearable that he couldn't even fit his feet back into his trainers so he had to run his last 40 kilometres in a pair of Crocs.
"It's not a good look, I must say, but it was the only way I could keep going," Gosney laughs.
4. Warning: Lack of Sleep May Have Hallucinogenic Properties
The physical torment was not the only obstacle that Gosney had to overcome. Due to his lack of sleep, dehydration, and the overall physical toll of constant movement for days on end, this ultimate triathlete suffered from full-blown hallucinations.
"I have no idea where they came from," says Gosney. "I was running with a friend of mine one day, and I started to look over to the side, which was a wooded area. I looked down and there was a house to the side and there were children at a party and they were all standing up looking at me. So I pushed on and I said to Dave 'they're having a party at that house down there,' and he said 'alright, alright' so we went back to take a look and … turns out that there is no house at all."
"Normally it's a shadow looking a bit unusual, but these were full-blown hallucinations … and it genuinely scared me on a couple of levels," Gosney says.
5. Excuses Don't Cut It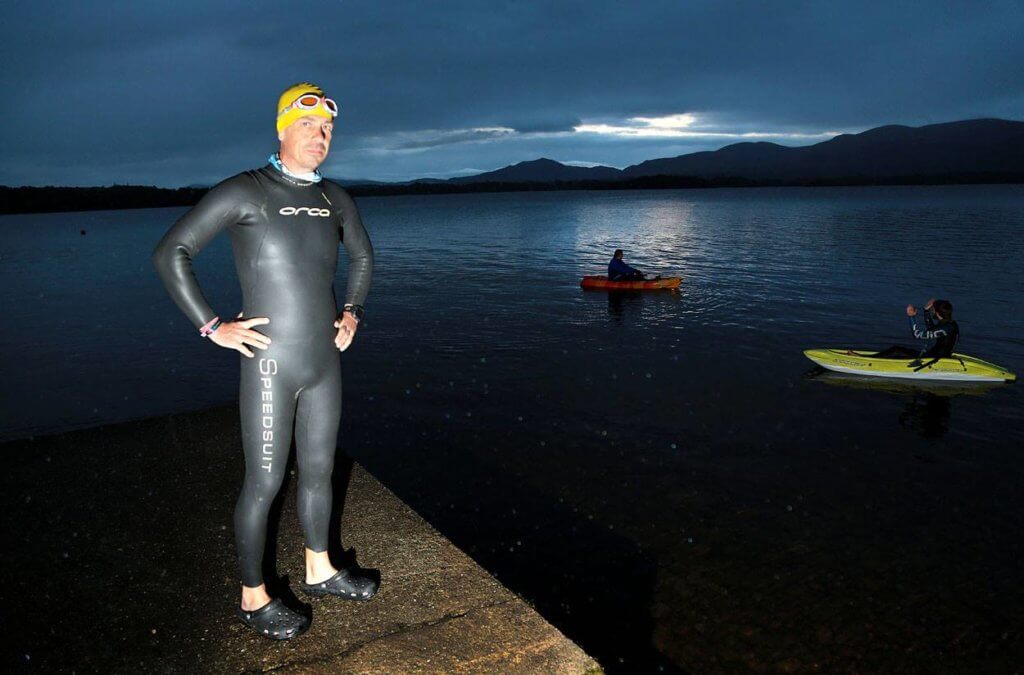 "I read a book about a cyclist who was biking … either the Alpe d'Huez or Mont Ventoux … and he was going towards one of the tops of the mountain ranges and he physically exhausted himself to the point that the snow had turned black — he could see black snow. So, I think to myself, if people can go that deep into it, then why can't I go on?" says Gosney. "So that is something that I often write on my hand in permanent marker as a physical mantra that gets me through … kind of a reminder to myself to just keep going, because people have kept going in much worse circumstances than me."
6. Improvise, Adapt, Overcome: Or Just Be Stubborn and Get It Done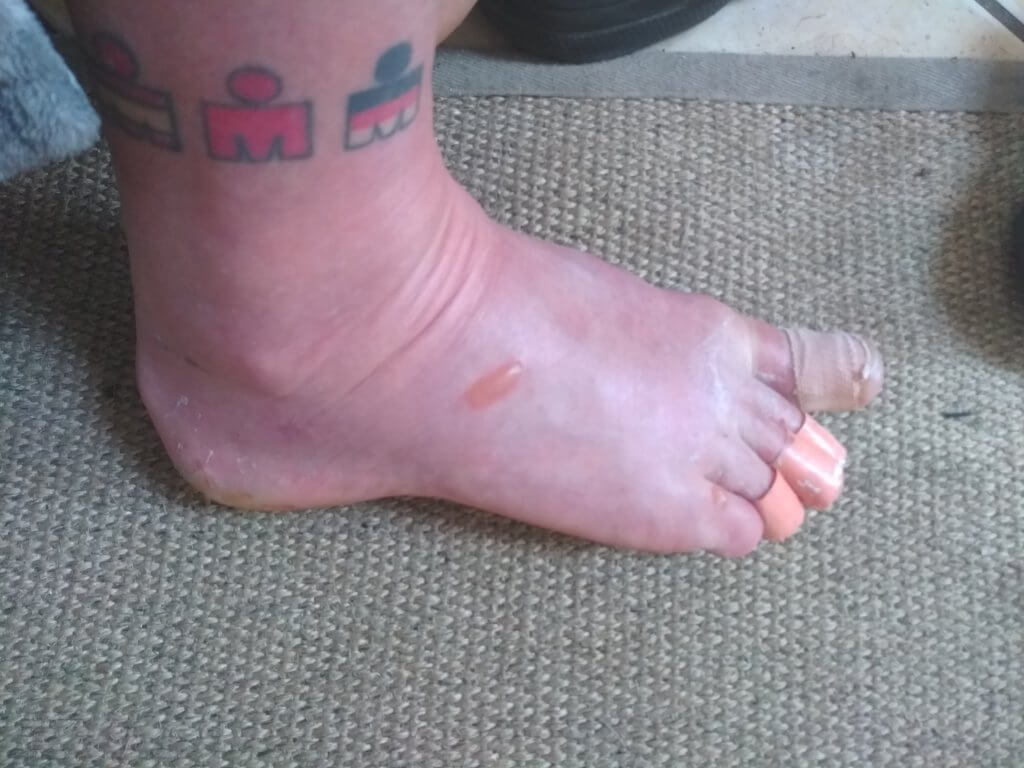 So, how does anyone push past the pain of bleeding blisters, burning muscles, swelling feet, and sleep deprivation? According to Gosney, stubbornness.
"I never make any claims to be super fit or anything, but I think I might be overly stubborn. It would appear that I'm a little bit more stubborn than a lot of people," says Gosney. "There's no big secret to it, just the desire to want to do it, or in my case, I didn't want to be the fella that didn't do what he said he was going to do. That's a big ego and a low IQ, which is key to doing something like that."
"The basic thing is there is a start point and a finish point, and you have to get from one to the other. There's no answer to it, it's just keep going until you reach the end. Anyone can do it, it's easy," Gosney laughs.
Donations for the Pieta House are still pouring in, and you can find his donations page here.
By Bri Doherty
Check out our Hard as Nails podcast:
Like this? Check out these other articles: