We want you to have the most incredible Camino experience, so we got Follow the Camino's co-founder Umberto di Venosa to answer all your FAQs!
Has the Camino always been on your bucket list? If you are sitting at home staring desolately out the window as the beast from the east rages on, then get yourself researching a possible Camino trip this summer. That way you can daydream of exotic flavours, bustling marketplaces, and tanned locals instead. We've asked the co-founder of Follow the Camino Umberto di Venosa to answer a few of our reader's most frequently asked questions. We hope this will inform and inspire you to get booking your Camino.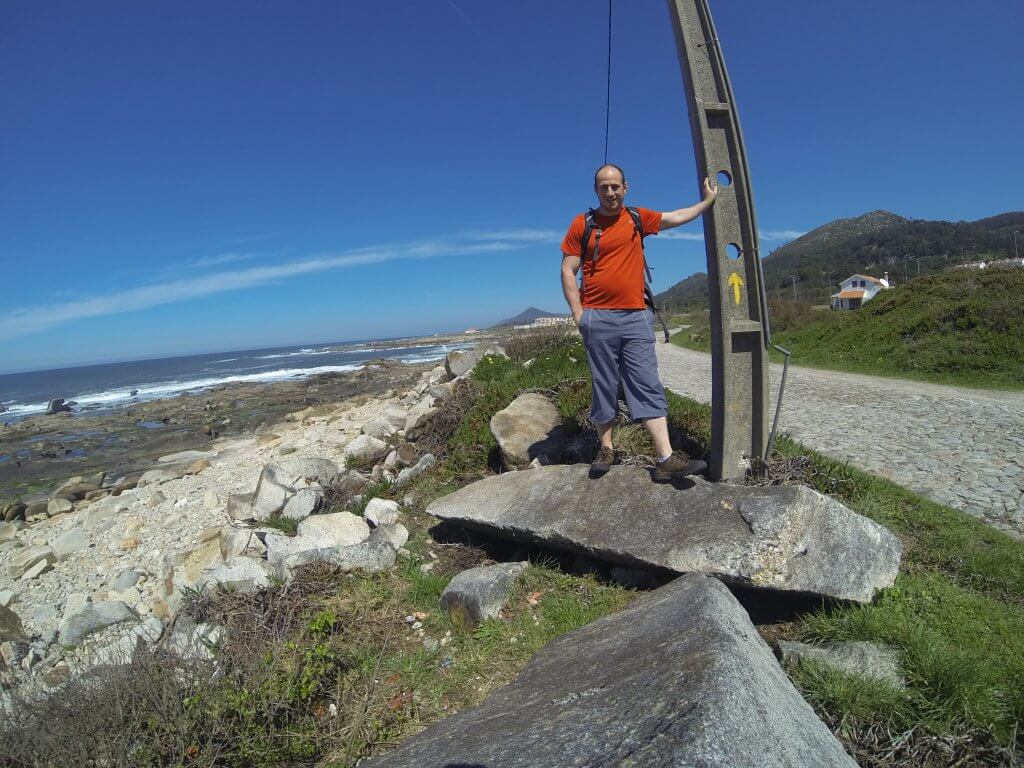 1. Which Camino route should I do?
The big deciding factor about which Camino to choose is to know whether or not you want to reach Santiago. If Santiago is your goal and you want to walk for a week, you can choose either the last 100 kilometres of the French Way, the Portuguese Way or the English Way. If you want to walk for longer than a week, I would start farther away from Santiago and work your way in.
If Santiago is not your goal then you are much freer to choose a destination. There are amazing places that you can encompass on your route such as San Sebastian on the Camino del Norte or Seville on the Via de la Plata. The Camino de Santiago is the 'Way of Saint James' and historically it is walked in order to pay tribute to the apostle. However, these days people walk it for all sorts of reasons, both religious and non-religious. It doesn't matter which route you choose; the important thing is to get out and experience it.
2. Should I bring hiking boots or runners?
This is a tricky question. I have changed my mind in recent years and now openly accept that a pair of good trail/walking shoes is enough to walk the last 100km of the Camino. The terrain consists of track and tarmac roads, so hiking boots are not a necessity.
For longer journeys, the footwear you choose will depend on the weather. My favourite would be a nice, Gore-Tex trail shoe, which is a great all-rounder on the Camino and at home, making it worth the investment. Don't shy away from sandals if the weather is warm, as they will avoid unnecessary blistering. You can even disguise yourself as a German by wearing socks with your sandals!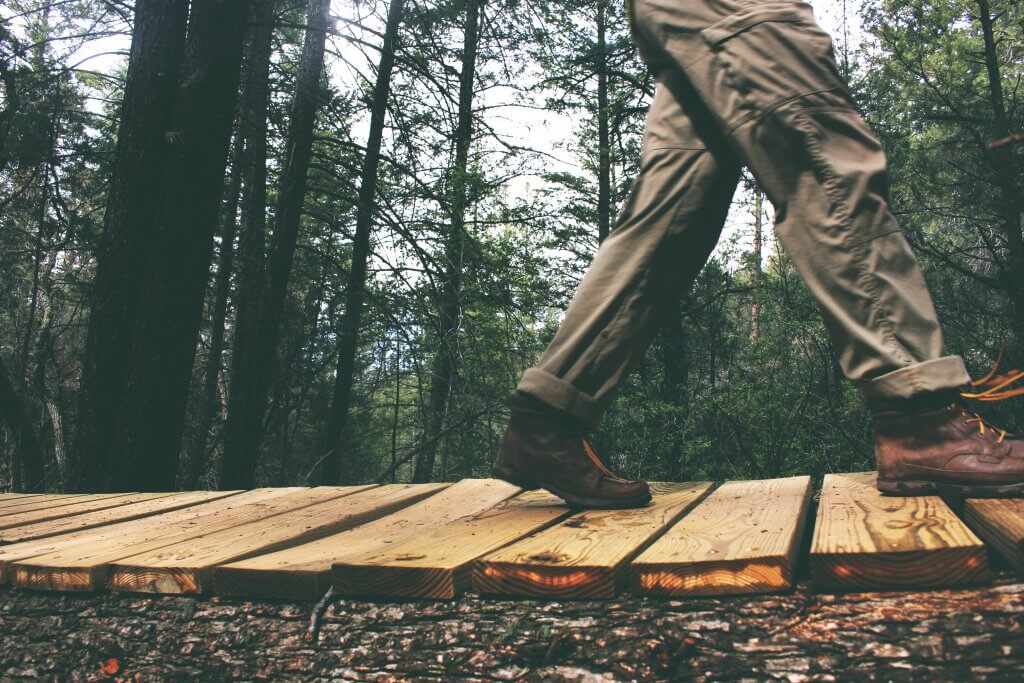 3. How much spending money do I need to bring?
You can get by on the Camino for as cheaply as €25 a day, as a French lady once told me after walking for a month on the Camino. However, that does not leave room for much variety. It would cover simple accommodation and eating from the menu del dia with a glass of wine or maybe a gin and tonic. If you want to have good quality accommodation in two and three-star hotels with good food, €60 to €100 a day is more reasonable and will even get your bag transferred from accommodation to accommodation.
4. What do I pack?
It depends if you are carrying all your gear, in which case I would limit your bag to 10% of your body weight. In terms of specifics, a polar fleece is a must! You will also need a rain jacket, trousers, shorts, walking shoes, and non-walking shoes such as sandals or light runners. For the rest, I have a #3 rule: one to wear, one fresh for the evening, and one for spare. Those are the basics. After that, you can add your mobile phone, sun cream, a hat, a book, and anything else you like before it becomes superfluous. If your luggage is being transferred, you have much more freedom. We carry 15kgs/bag for our clients at Follow the Camino.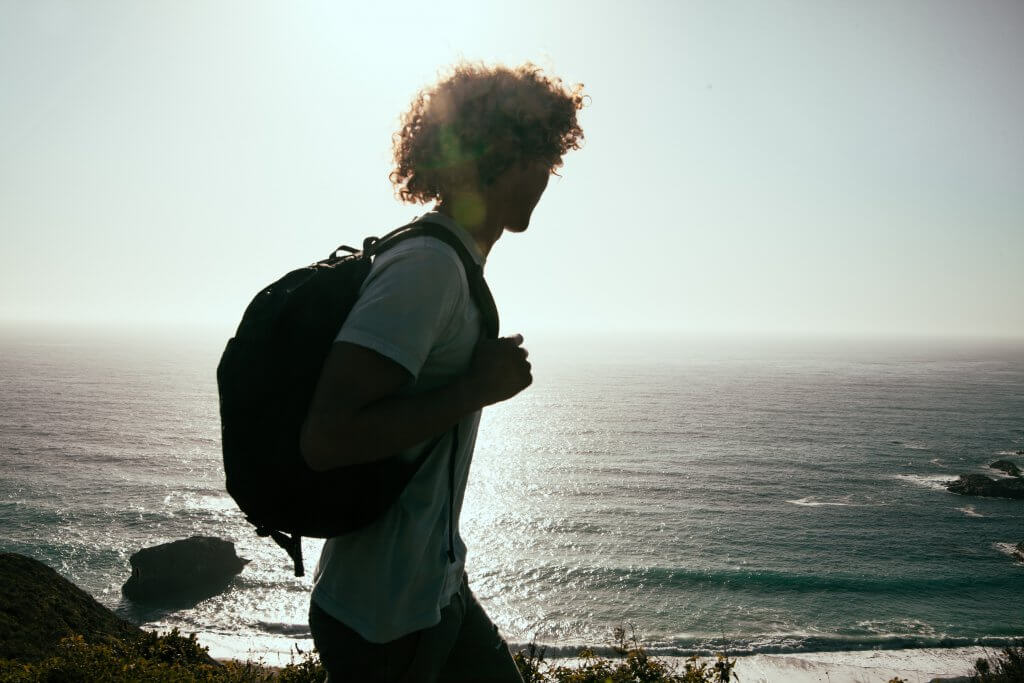 5. What's the best way to treat blisters?
The best treatment is prevention. Have a pair of well-worn shoes that are fitted specifically for you. Make sure they are well broken in before you go. If you start feeling the heat or itch of a blister, put on a 'second skin' such as Compeed. If the blister has formed, I tend to burst it and air the foot as soon as I can and whenever I am not walking. Then, let it dry overnight and cover with a small, clean bandage.
5 Reasons You Should Hike the Camino
6. Should I use hiking poles?
You do not need hiking poles along the Camino as the terrain is stable and relatively flat. However, poles, in general, bring a higher level of comfort and relieve some of the weight of what you are carrying on your shoulders. This becomes more and more useful the older you are. Not a must, but a good thing to have. Please put the plastic tips on your poles though so you don't annoy other walkers, and yourself, with the clicking of the metal tips as you walk.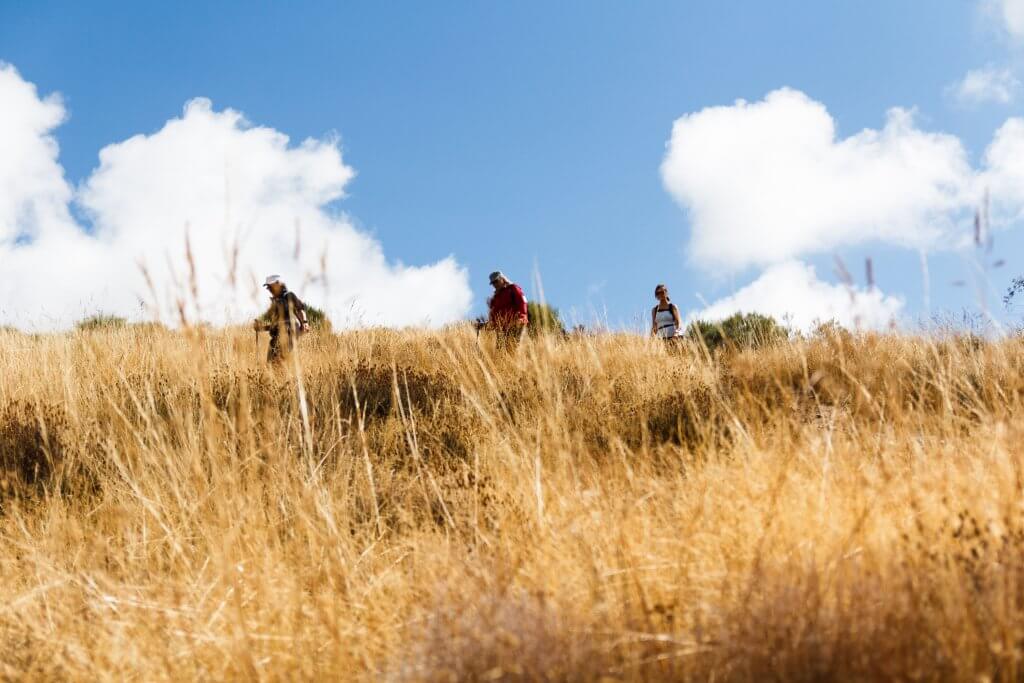 7. Will the restaurants en route accommodate food intolerances/dietary requirements?
On the Camino, food revolves around potatoes, rice, meat and fish. So it is relatively basic which is sometimes limiting in choice, but also familiar and comforting. The main challenge of navigating dietary requirements on the Camino is that you will be eating out two to three times a day for the duration of your trip. While every restaurant will cater for special diets at your request, the quality and variety might not be as good as at home over a long period of time.
8. What kind of distances do you cover a day on foot?
You can walk for as long as you want, and make it as much of a challenge as you want. Once you reach 30km in a day (that is seven hours of walking for most people) the days will start to feel long and your feet will start to hurt. I would not recommend sustaining this for a long period of time. Think instead about the enjoyment and taking time off for you to relax. Do not substitute quantity for quality during your journey. However, a good average to aim for each day is 20-25km, with the odd day reaching 30km. We try to tell our clients who want to do more, to be wary of overdoing it and making walking a chore.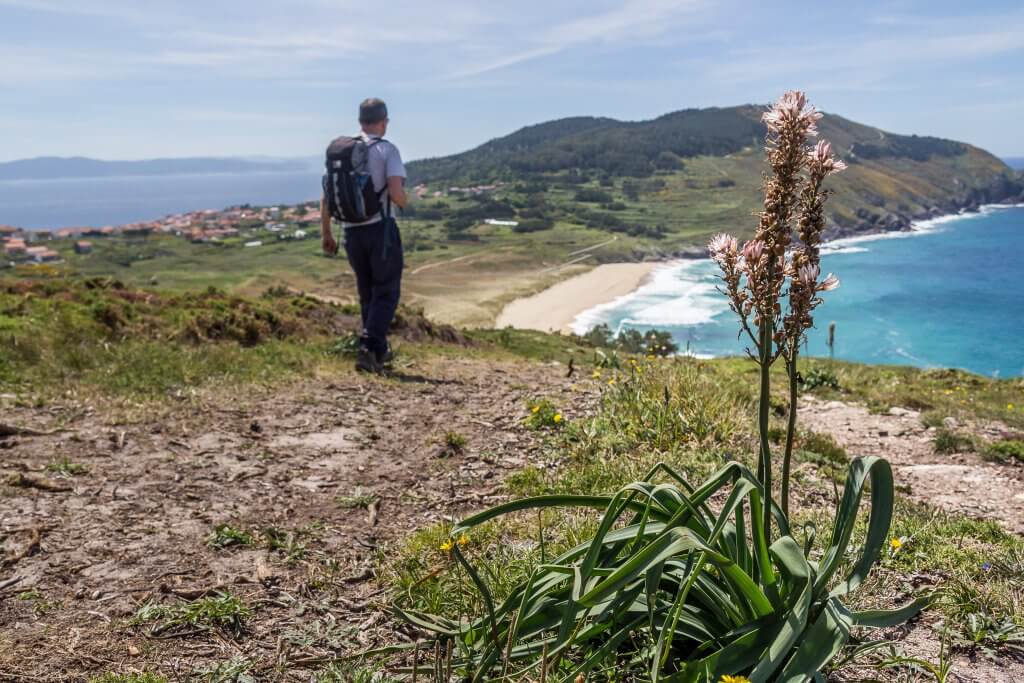 9. Do I need to train for it?
That's a great question! Do I need to train to do anything? Everybody is able to walk the Camino; the question is will you be able to enjoy it? Walking 5km to 30km+ a day requires self-knowledge and self-awareness. I would therefore strongly recommend people go out and walk for five hours for one day, two days, three days in a row and this will start to give you a sense of what the Camino is like.
What I would recommend beforehand is to walk whenever you can. Walk home from work once or twice a week, stop using lifts in buildings, and go join your local walking club so you can train while enjoying it and meeting other like-minded people. It is important to know how you feel after these repeated walks so you know how your body recovers and that you are mentally able to keep going.
10. Is it safe to walk alone?
On the Camino, especially on the French Way, it is very unlikely that you will walk alone unless you want to of course. Day after day, you will meet fellow pilgrims. It is just a matter of saying hi and engaging in conversation. You can link up for part of the journey with fellow walkers that you get along with. After a few days on the Camino, groups are formed and you will have your own acquaintances and friends that you are likely to walk with for the following few days. People will start to look after each other.
On the Camino, like in big cities or in bars and nightclubs, it is important to manage your company. Walk away or join another group if the company is not what you expect or is unwelcome. Apart from that, common sense prevails. For example, don't tell your full itinerary to strangers you don't fancy meeting again. Just wish them a 'Buen Camino!' and move on.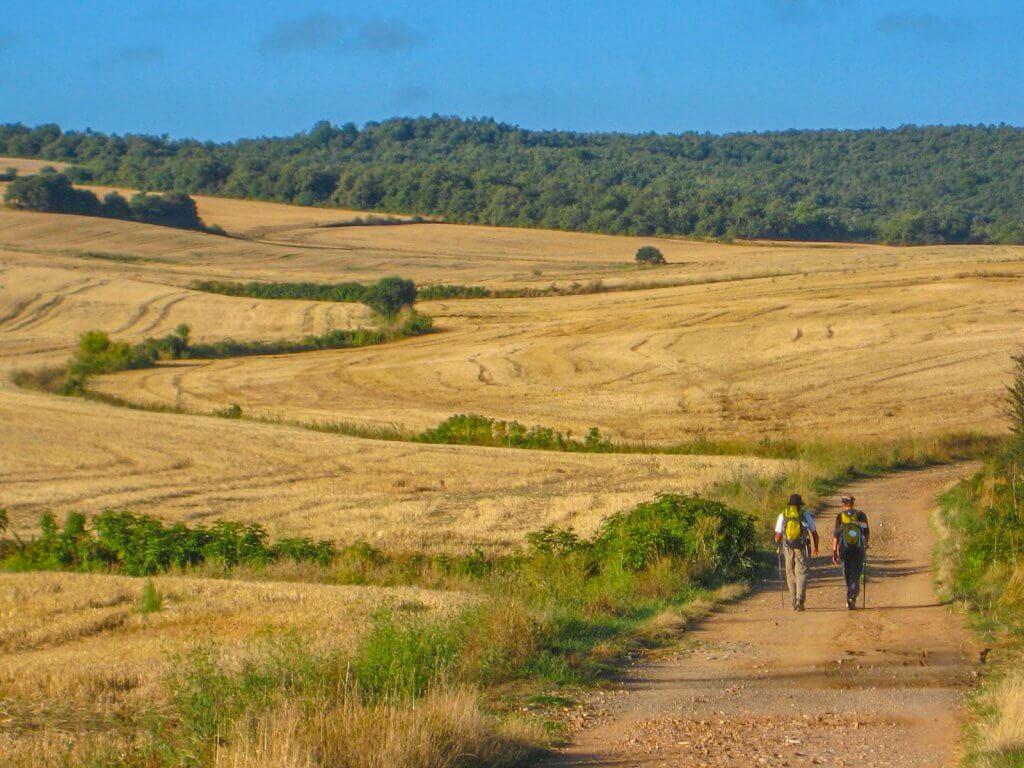 11. What size backpack should I take?
If you are carrying all your gear, then 35 litres maximum! It sounds small, but it is the best way to remove the temptation of packing your hairdryer, your spare, spare shoes and socks, and all the 'just in cases'. If your gear is carried for you, you will barely need a 10-litre pack for your polar fleece, wallet, bottle of water and mobile phone.
12. Should I bring cash or are there ATMs along the route to take money out?
It is true that because you are walking, getting to the nearby ATM might not be as easy as it sounds. The Camino will pass through small, quaint towns and villages, some of which might not have ATMs. In these rural areas, it is possible that they will not accept credit cards for smaller payments. That might be one of the reasons why the Camino is unique and is welcome time away from our daily life of instant contactless payments. I would always have €50 to €80 on me which can cover me for a night and a couple of meals until I get to the next town or ATM.
If you think you're ready to take the plunge, then Follow the Camino is offering a 10% discount using code Outsider10 if you book with them by 30 March 2018. Find out more at www.followthecamino.com
Check out our Hard as Nails podcast:
Like this? You should check these out: