Aoife O'Neill, Outsider's consultant Chartered Physiotherapist, looks at how you can get the most out of your body, improving both physical and mental performance for the New Year.
As a chartered physiotherapist and adventure enthusiast with a love of the outdoors, Aoife O'Neill knows that movement is medicine, for the body and the mind. Here she outlines six things you can do in 2018 to improve not only performance but your mental well-being too.
1. You need strength and endurance in your plan.
Try to include body weight workouts twice a week as well as your regular cardiovascular workouts. If you cannot get to a class, a simple 15 or 20-minute circuit done at home can be quite effective to work the large muscles and core. Include squats, multi-directional lunges, planks, press ups, and burpees to work your quads, arms and core. Pump on some music or arrange to do it with a friend if you need extra motivation.
How to get fitter and stronger in 15 minutes
2. Get to know your heart and how hard it works.
If you are not using a heart rate monitor get to know your rhythm naturally. Use a simple Borg Scale as seen below to rate your perceived level of exertion and depending on your goal get the most out of your efforts. If you are new to exercising most of your workouts will be in the 12-13 space. If you are looking to build endurance base this too applies. Strength, speed, hill or anaerobic sessions will likely be in the 15-18 category while recovery should be very light to fairly light at a  9-11. Get smart and train wisely. Rest is VITAL including sleep, being physically off your feet and allowing mental relaxation.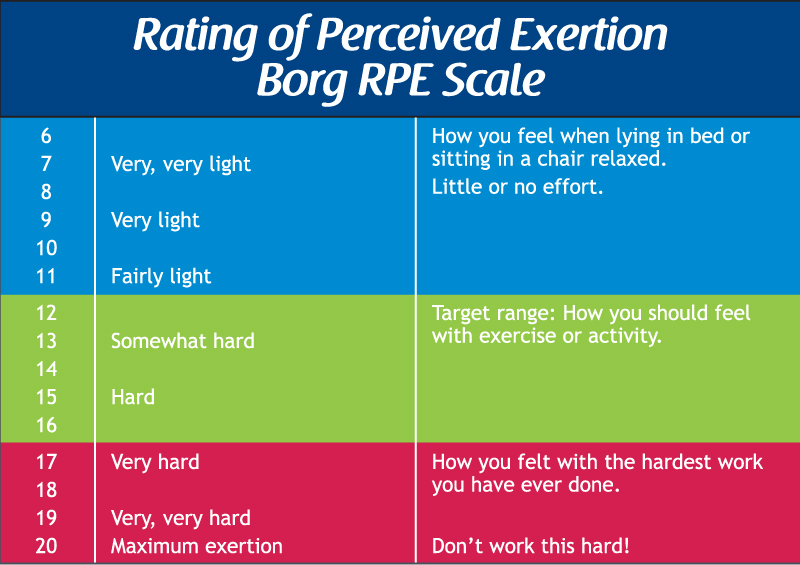 3. Try to keep 10-15 minutes every week to do some whole body stretches.
Of course, after every workout stretching down is advised but I love the idea of grabbing 10-15 minutes extra weekly to stretch and lengthen your limbs and trunk in a balanced symmetrical way. It's great for endorphin release and engagement of your parasympathetic nervous system – "aka" the one that keeps you calm! If you are really short on time remember it only takes 20 seconds to perform some stretches so try to develop rituals in your daily life. Stretches should be strong but comfortable, never painful.  And Breathe…….
4. Did you say Breathe? Yes Breathe.
Breathe and breathe again. Easy eh? Add an element of mindfulness to your adventures this 2018. Focus on your breath while walking, swimming, cycling, climbing, or running. How does it come in and go out? Is it deep or shallow? Fast or slow? Cold or hot? Sharp or soft? Just notice and feel. If your mind butts in as is inevitable just notice those thoughts and get your focus back to your breath if or when you can. It is all OK.
5. Get help with your enduring injuries and niggles if you have been avoiding them.
It could be something simple that can be treated with physiotherapy techniques, exercise, posture correction, behaviour or training advice but at the very least check in with an expert rather than relying on Dr Google if you've been struggling more than a few weeks with them. A good chartered physiotherapist should give you an honest diagnosis and create a management plan for your recovery.
Live longer: 5 simples steps to elongate your life
6. Determine your motivation and goals.
What's driving you forward? Where do you want to get to with your activities and plans? What do you want to feel when you get to that point? Can you visualise and feel yourself there because if you can you have a better chance of reaching that goal. What are you willing to do to get there? How will you handle setbacks? Keep your mind on track with thought processes that facilitate your success. If you need help, talk to your activity community for starters. You can train your mind to align it with your hearts desires with effort and some attention to detail.
Aoife O'Neill is an experienced Chartered Physiotherapist with a Masters in Manual Physiotherapy and a Diploma in Psychology. She is also a current international tennis player, ex-triathlete, Pilates teacher, outdoor enthusiast, water lover, and loves sharing her passion for health and lifestyle. She can be reached at   aoifemoneill@outlook.com and holds her clinics at Body Med.
Check out our Hard as Nails podcast:
Like this? You should check these out: