Ellie Berry of Tough Soles has set a new speed record for climbing every mountain in Ireland. Ellie (29) spent her summer climbing all 275 mountains on the Vandeleur-Lynams list. The Tipperary woman took 50 days, 5 hours, and 45 minutes to complete the list, beating the previous record by 6 days. Ellie is no stranger to epic challenges however. Along with her partner Carl Lange, she completed all 42 National Waymarked Trails in Ireland between 2017 and 2019, totalling 4,000km.
The couple share their adventures beautifully on their Tough Soles YouTube and Instagram pages.
We sat down with Ellie to discuss her recent record-breaking project hoping to gain a view behind the scenes.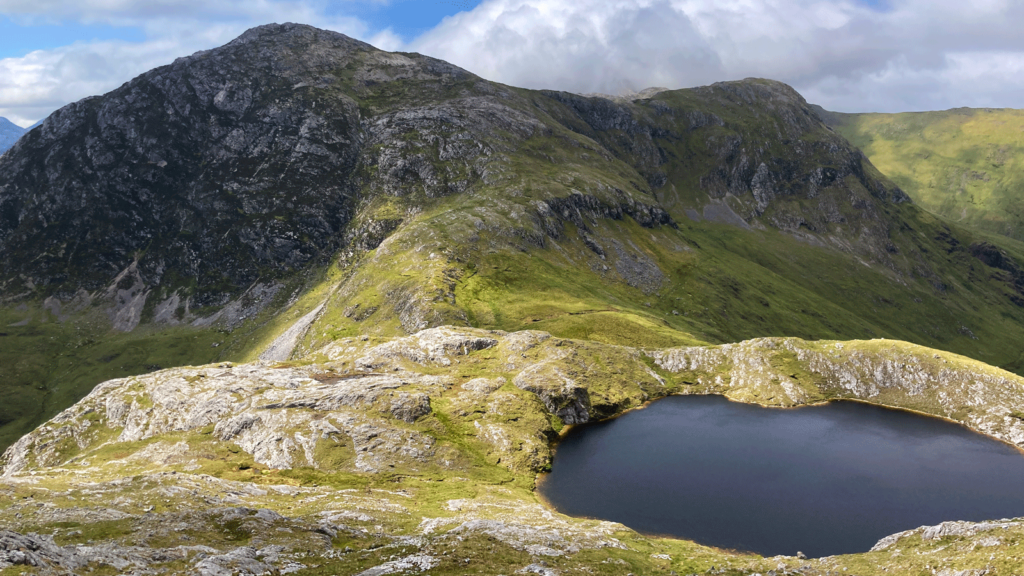 The simple answer is that I really love the outdoors
I feel like there should be some big reason or important moment that started this project. But the simple answer is that I really love the outdoors, and this was just another possible project idea that would have me out in the mountains for most of the summer!
Your life is really simple when you're on adventures like this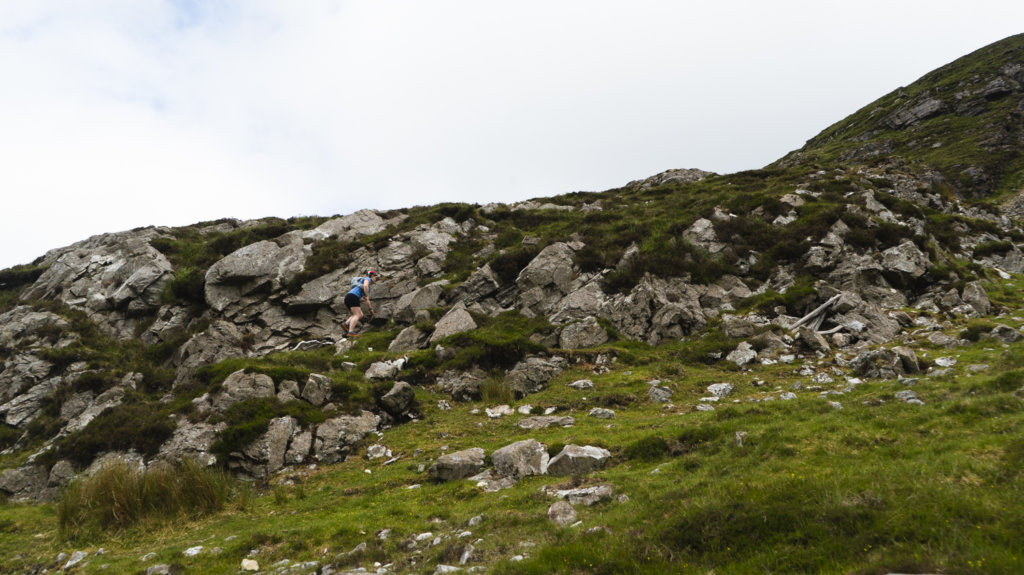 When I started at the beginning of June, much of Ireland was just coming out of an incredibly dry May. The humidity and closeness of the heat for my first week were almost unbearable. The salt from my sweat was constantly making my hat crunchy. Or it would dry on my face when I reached a summit. Then on the next climb, as new sweat broke out, the old salt would dissolve and run into my eyes, burning.
Just as I was praying for the wind to blow through, or any other weather, the thunderstorms rolled in. I remember one in particular as I was crossing to Glennamong in the Nephins in Mayo (Day 10). It rolled in so fast, thunder cracking overhead, lightning lighting up the inside of the clouds. That area has no cover and I remember crouching down in the bog, looking around for anywhere smart to go. Looking back, I can say that it was kind of beautiful – but that is the closest I ever want to come to lightning.
I think I was on my last day in the Mournes (day 22) when the rain truly set in – the rain that was going to haunt the rest of this project.
Your life shrinks to the really simple things when you're on adventures like this. Life is stripped back to sleeping, walking, eating and recovering. Your world is your gear, the landscape, and the weather. And the weather was just bad. 
In the moment of each fall, I was upset and worried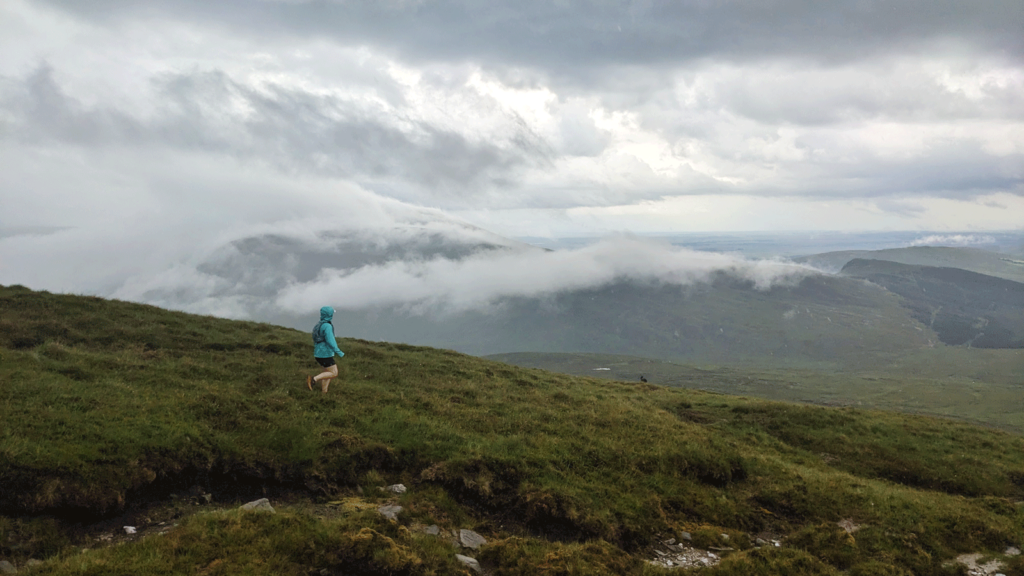 I went over on both of my ankles at different points of the project. Neither of these injuries was serious enough to fully stop the project, but they did impact it in different ways. 
I think the biggest impact these very small injuries had on the project was speed. I could move through the aches and pains if I kept everything super slow. Before my first twist, my fitness had improved enough that I was jogging more sections. But as I picked up these small tweaks, it was clear that I just had to go super slow to hold everything together.
In the moment of each fall I was upset and worried, especially after my first and worst fall where I had to slow down to a crawl for four days. But I think I was quite lucky with these small physical injuries. The impacts they had on me physically and mentally were never so big that I thought they were about to end the project prematurely.
We really are quite a friendly bunch
I had some wonderful encounters throughout this project! 
On the Iveragh Peninsula, we stayed at the Dromid hostel for that whole section, and Eimer (one of the women who runs the place) was so supportive of the whole project. There would be newspapers out to dry my shoes. Each evening I was asked how the day had gone. They were always so full of encouragement and enthusiasm. And I loved the rye comment, "My husband does crazy adventures too, I know something of how tough these things can be." 
I had many more great encounters, but that was the first one that came to me. It makes me smile just remembering it. We really are quite a friendly bunch!
Setting a new record was always something I was aware of, but it couldn't become the sole reason for the project.
If I spent too much time thinking of the hundreds of mountains ahead of me, I could psych myself out with just how much there was still to do. So I would focus on areas, on the specific day ahead of me, and just tackle that. It kept me grounded and would help me maintain the focus of "I'm here because I love mountains". Setting a new record was always something I was aware of, but it couldn't become the sole reason for the project.
A joint effort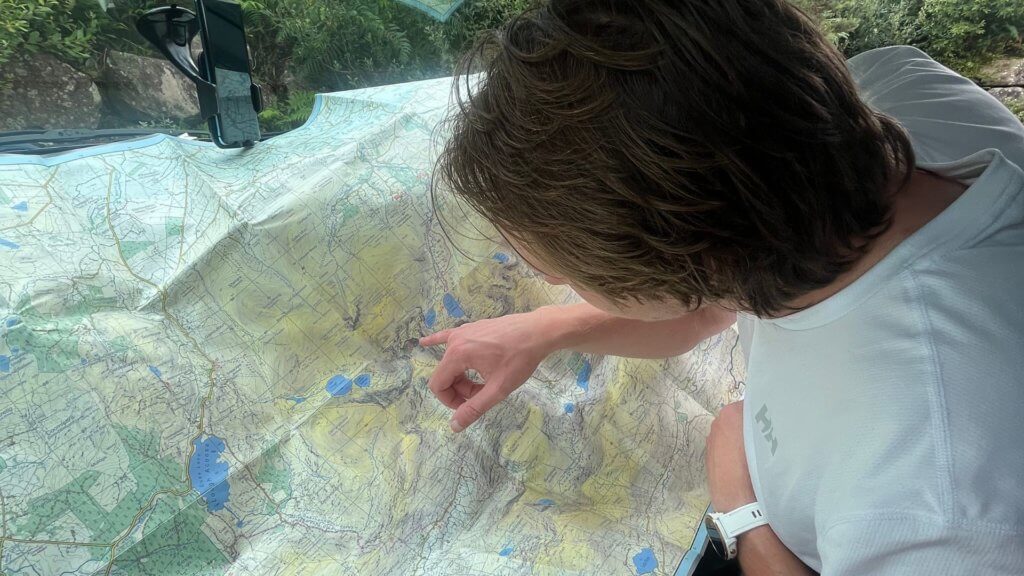 Really, this record was a joint effort. Whenever I was on the mountains, Carl was researching and planning new routes for me. 
When I set off at the start, Carl had routes made for the first 50 peaks of the project (all of Galway and Mayo, plus Cuilcagh). These would be the testing ground, as it was impossible to know exactly what it would be like until I was doing it. 
Carl would adjust route plans based on my feedback, look up recognised land access points where the info was available – a big shout out to MountainViews.ie for all the information they've collected for years – and be my chauffeur in between different mountain ranges. I really couldn't have found a better one-man crew for this adventure. 
We were winging it the whole way with where we would stay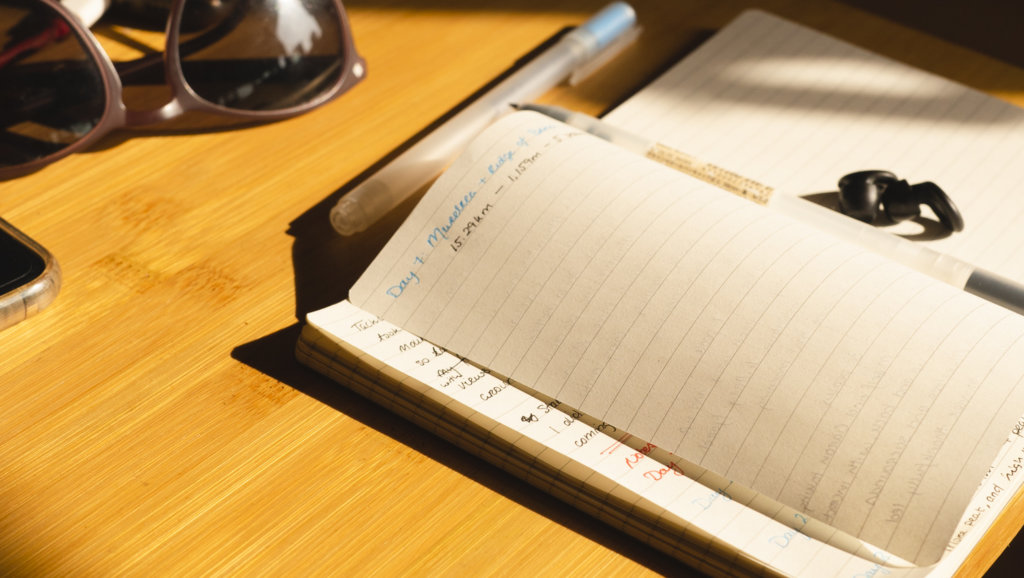 For this project, we took a classic Tough Soles approach and were winging it the whole way with where we would stay. It ended up being a mixture of staying with family and friends, 10 days in our friend's van, camping, a single hotel night, and hostels.
Any carbs I could get my hands on!
On the mountains, I ate a lot of raw energy bars like Nakd and Trek Bars, many jellies, and a lot of Tailwind (a carbohydrate drink). Once off the hills, it was protein shakes; noodles with scallions, chickpeas and seaweed; bags of lovely chipper chips; the occasional fancy pizza; and any carbs I could get my hands on.
If anything deserves a medal it is that jacket.
Setting off, nearly all my gear was stuff I'd been using for over a year. One of the newer items was my rain jacket (which I'd had for six months). It was the Patagonia Storm 10, and if anything deserves a medal it is that jacket. Nothing would have been able to keep me completely dry in those conditions, but it did a phenomenal job nonetheless. It still has plenty of life in it, but a tiny part of me did consider framing it after the project because of how much it went through! 
It was just me and the mountains and my blown mind.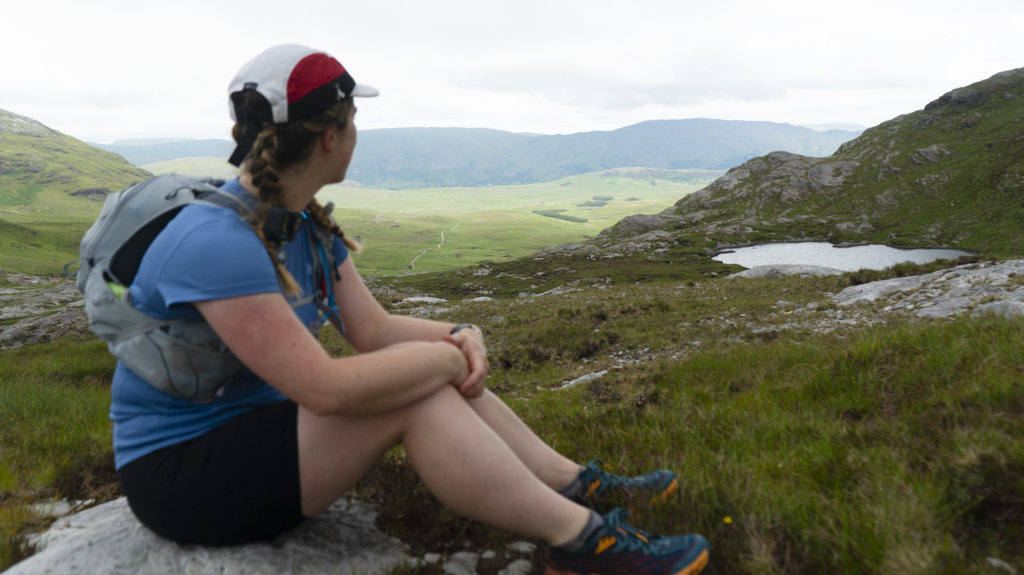 It was one of my big days in Wicklow. That morning I'd taken in Lugnaquilla in bad conditions – so bad I'd almost had to bail on the rest of the route. But it was late afternoon, and the sun was out again and all my layers were drying in the breeze. And I realised that, up until that very moment, I hadn't really believed that I could do this. That I could go out, day after day, and climb mountains back to back. That the worst weather could blow in and I could get myself safely through it all. 
I had believed I could do those things separately – but not on this scale, not at this pace. That was a pretty wild moment. And like pretty much all of my epiphany-like moments during this project, there was no one else around, it was just me and the mountains and my blown mind.
It doesn't get much better than that.
I climbed Slievemore in the evening sunlight, and the short steep climb was gorgeous. The route I took up was along a somewhat narrow shoulder of the mountain, a small lake tucked in beneath it. The views from Achill back towards the mountains of Galway and Mayo were just incredibly panoramic. When I came down, I walked straight onto the beach and jumped in the sea. It doesn't get much better than that.
There is no time like now!
I had six months of training and planning before I stepped out the door, and I almost talked myself out of the project several times. It's so cliched, but starting is often the hardest part. If it's a physical challenge, know that your body will grow and adapt and amaze you and that there is no time like now!
Connect with Ellie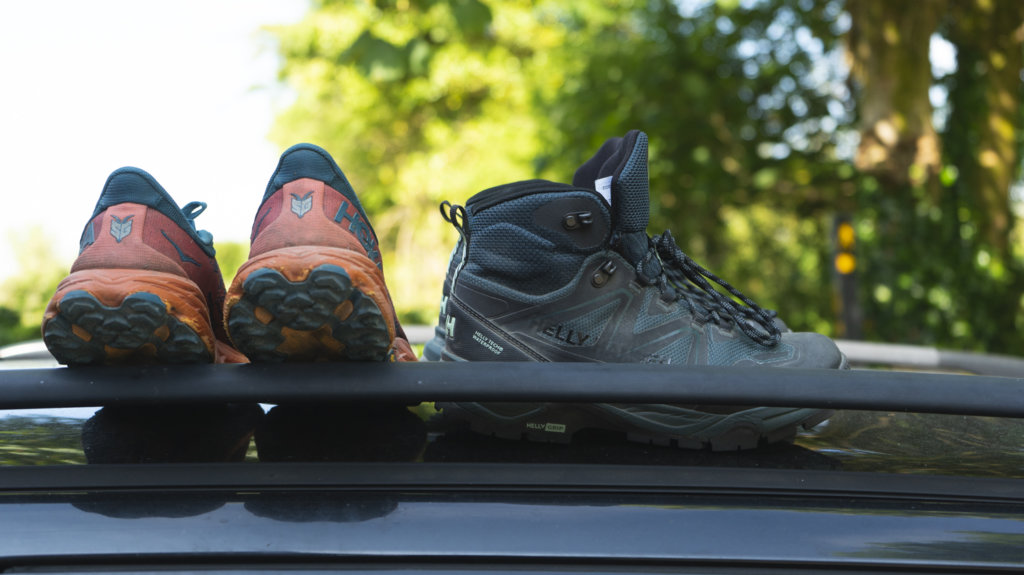 If you're interested in following Ellie Berry and Carl Lange's journey, watching their incredible backlog of daily videos documenting the project, or just want to watch the Irish outdoors at its best, check out Tough Soles:
If you enjoyed this check these out:
Guy O'Leary's Uptide Battle: Hero Of The Week
She Summits Trail Running: Hero Of The Week

Previous Post