In spite of a life-changing mountain biking crash that took away his ability to walk and ended his military career, Noel Joyce (44) refused to let go of his passion: riding bikes. Not only does the Tullamore native continue to pursue his passion for being a mountain biker, but he is also leading the way in developing an easier entryway for individuals with limited mobility into the sport of adaptive mountain biking through an Open Source Adaptive Mountain Bike Initiative he works with called Project Mjolnir.
Noel rides his mountain bike around his home trails in the Slieve Blooms regularly and also competes in mountain bike events nationwide. Recently Noel participated in the Biking Blitz Novice race at the Slieve Bloom Mountain Bike Festival.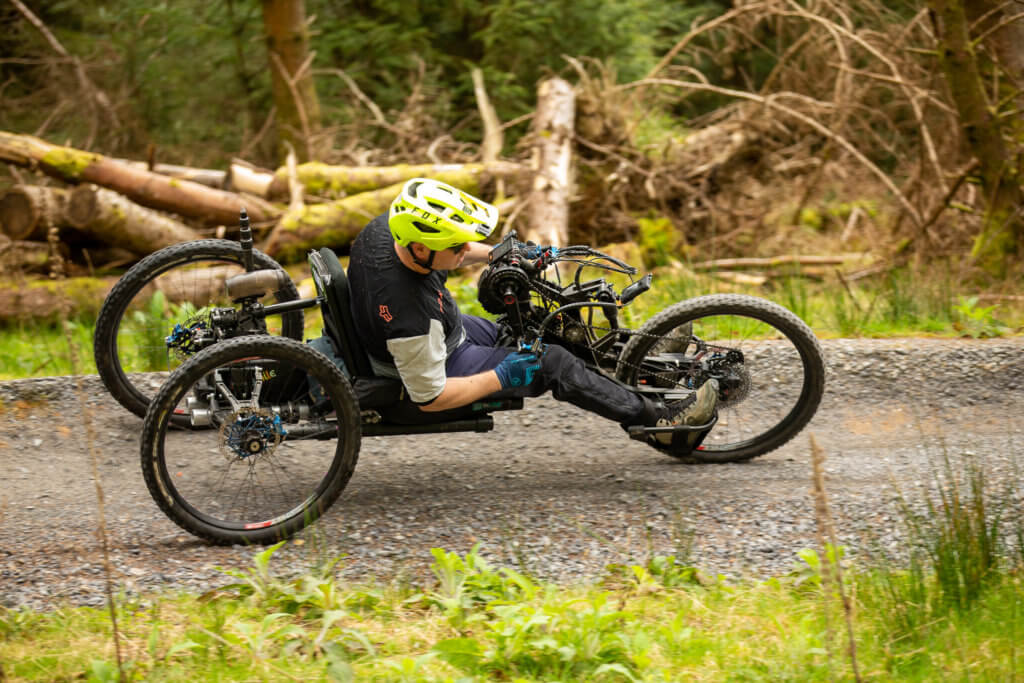 Starting young
Noel, like many of us, first became interested in cycling as a kid. As he progressed into his teenage years he became fascinated with mountain biking. "I vividly remember seeing a Mountain Cycle San Andreas on the cover of a mountain bike magazine at around 14 years of age," says Noel. His interest peaked from that point on. Delving into the mechanics of bikes from a young age, Noel says he would build "Frankenstein bikes" from spare bike bits. This is how he first started mountain biking. Noel told us he would ride bikes with "no suspension, disc brakes, or dropper posts. Despite the challenges, it was the best fun ever!"
What happened?
I was descending a hill and I lost control, riding into a tree. I fell backwards landing onto a patch of rocks and it was instant. My knees were inches from my face and I couldn't feel a thing from my chest down. As most of the muscles in my core were paralyzed I could barely draw breath. I couldn't get enough air into my lungs to shout for help. The pain was enormous. I drifted in and out of consciousness a few times, overwhelmed with the agony.  My friend found me and then went for help.
What next?
I was brought to Mullingar to the hospital and immediately they sent me to the Mater in Dublin. I had surgery there to fuse my spine with 4 titanium rods and 24 screws. I then carried out my recovery and rehabilitation at the National Rehabilitation Hospital in Dún Laoghaire. I can still remember that day more clearly than even recent memory and this time of year is such a mix of emotions for me. On the one hand, it's a very difficult existence but on the other hand, the life I've led since has been amazing.
A long-awaited sense of freedom
After my accident 18 years ago, I didn't know if it would be possible to ride a mountain bike again. The accident led to the end of my military career. I began studying industrial design, not realising that this skill set would help me get back into the sport later on.
I started with a very basic adaptive bike and, one day, my friend Robert encouraged me to try the trails at Kinnitty. Nervous and excited, I took on the challenge, facing brutal climbs and relying solely on my arms. As we reached the head of a blue trail, Cool Runnings, I made a decision to try it. The thrill and exhilaration of conquering that trail made me feel free for the first time in 15 years. I knew then that I had to continue mountain biking—it gave me a sense of freedom and a passion I couldn't ignore.
The ripple effect of a confidence boost
In my journey as an adaptive mountain biker, I've learned two significant things:
First, my time in the military prepared me for my disability and adaptive mountain biking. The approach to life, perseverance, and pushing through boundaries without questioning their possibility have all been crucial in my journey. Rediscovering the tribe I belonged to before becoming a wheelchair user has been a significant factor.
Secondly, designing and building my own adaptive bikes has taught me to trust my abilities. It has boosted my confidence in my work as a designer and inspired confidence in all aspects of my life.

"All life's problems fade away"
Adaptive mountain biking has been transformative for my life. It's not just about physical well-being but also mental well-being. When I'm on the bike facing a difficult trail, all life's problems fade away, and I enter a state of hyper-focus called the flow state. This sense of being fully alive and present on the trail has positively influenced other areas of my life.
Facing the challenges and pushing through them during mountain biking has made other difficulties in life seem trivial. The confidence gained from overcoming challenging trails translates to handling other aspects of life with more ease and intuition.
How Noel finds the motivation to keep going
The key to my motivation lies in holding myself accountable for my actions. For people with disabilities, challenges never stop, there's no break from them. By holding myself accountable and maintaining the belief that I can overcome difficulties, I find the motivation to keep going. More often than not, this approach helps me achieve my goals.

If you think regular mountain bikes are expensive don't look up the price of an adaptive mountain bike!
Every time I try a new trail, it's an unknown challenge. The trails I ride weren't designed with adaptive biking in mind. Adaptive bikes are also incredibly expensive. The specialized equipment can be very challenging to obtain. However, I'm learning as I go and developing means to overcome these obstacles. The support from the mountain biking community has been phenomenal, giving me hope for a more inclusive future for the sport.
It's so much more than a bike
Noel has designed and built his own adaptive mountain bike. The bike is controlled at the front end and it features some of the best components on the market. He explained the tech behind this incredible machine to us, "It has Hope hydraulic brakes on all 3 wheels all operating independently offering me the chance to skid steer on tight corners, and SRAM AXS electronic gear shifting to cut down on cable clutter. I use DT Swiss 535 One shocks with lockout capability for climbing. The bike has 200mm of suspension travel on all 3 wheels, critical as I am unable to use my legs and arms to soak up bumps. As I am in the seated position there are lots of compromises that I have had to contend with when designing the bike."
A project that aims to make adaptive mountain biking more accessible
Project Mjolnir is an Open Source Adaptive Mountain Bike Initiative that aims to enable more people with disabilities, especially wheelchair users, to build and participate in mountain biking. It provides a modular system with a low barrier of entry for anyone interested in building their own adaptive bike or helping others to build one. The goal is to create a cost-effective adaptive mountain bike that can be built anywhere in the world. The team is currently working on building bikes in multiple locations, including New York, Abu Dhabi, Shanghai, and Tullamore, to make adaptive mountain biking widely accessible.
A small change could make a huge difference
Some of the greatest challenges adaptive mountain bikers face include the cost of equipment and access to that equipment. These are issues we are actively addressing through Project Mjolnir. Additionally, the way in which trails are designed. We need to ensure the trails are accessible to adaptive mountain bikers without compromising the trail for others. Simple things are wider bridges, boardwalks and stiles which are all man-made and we have direct control over. I don't expect every trail to be accessible. Being realistic we can't go around reshaping the mountains entirely as I do know that it's not possible and it also has other impacts.  
Building bikes and leading by example.
By sharing my experiences and recording my rides on various trails, I hope to showcase what's possible in adaptive mountain biking. Designing more affordable adaptive bikes and making them available at trail centres worldwide will also create opportunities for more individuals with disabilities to join the sport.
Connect with Noel
If you're interested in following Noel's journey, trying adaptive mountain biking, or know someone who might want to try adaptive mountain biking, follow the links below:
If you enjoyed this check these out:
Hero Of The Week: Guy O'Leary's Uptide Battle
Hero Of The Week: She Summits Trail Running
Previous Post