Quick and easy nutritious meals that will leave you feeling energized and satisfied!
In her new book "Finn's World," surfer, baker and cook Finn Ní Fhaoláin writes about her experience with a coeliac diagnosis and discovering how to fuel her mind and body with delicious and gluten-free food. These four recipes are perfect for lunch or dinner and are cheap enough that they won't break the bank.
1. Irish Malaysian Noodle Soup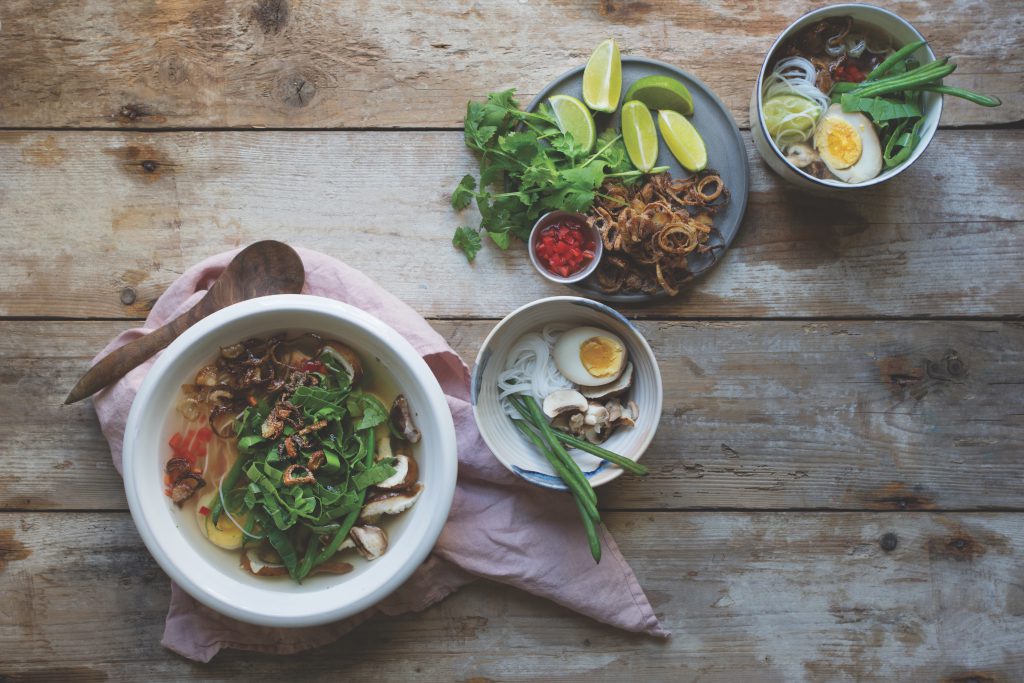 Despite its Asian origins, Finn has adapted this dish to be a bit more "Irish" and gluten-free. This makes a deliciously light summer dinner or a good lunch to help you power through the afternoon. It can also be adapted to be vegetarian. Her recipe serves 2 and is listed as follows:
Ingredients:
4 large or 6 small shallots
Coconut or sesame oil, for frying
2 portions rice noodles (always check packet for GF)
A handful Chinese broccoli (normal will do if you can't find it)
10 GF fish balls (not as obscene as they sound: these can be sourced from any good Asian market)
1 tsp fresh ginger, finely chopped
5 thinly sliced mushrooms (shiitake, if you're getting really authentic about it)
4 large pak choi leaves, shredded
1 tsp Chinese five-spice powder
A splash GF tamari soy sauce
½ Knorr Vegetable Stock Pot or sachet (18g)
Instant miso soup (because of my marine science background I just can't use fish sauces: I know too much)
2 umami eggs (hardboiled eggs that have been peeled and soaked for 6 hours in 3 tbsp tamari soy and 2 tbsp water)
Fresh coriander leaves
To Serve
Beansprouts
Finn's personal Chilli and Lime Sauce
½ lime, cut into 2 wedges
Method:
To start, finely slice the shallots. I tend to do a whole bag and then keep the crisp fried shallots to top other dishes. Shallots have a more delicate flavour than normal onions, which is why I prefer them here.
Fry in coconut or sesame oil at a high heat, stirring all the time, until crispy. Personally, I like them a bit burnt. Heap them on a kitchen towel and leave to one side. Try not to nibble on them – I always lose half of them to idle hands…
Bring 4 cups (960ml) of water to the boil in a medium saucepan, then add the noodles.
Using a steamer or a colander and the saucepan lid, steam the broccoli above the noodles.
Cut the fish balls in half and then, in a pan, stir-fry the ginger, chopped fish balls, mushrooms and pak choi, seasoning them with the Chinese five-spice powder.
When the broccoli is done, set it aside. Then, when the noodles are al dente, drain them and then pop them back in the pot with 3 cups (750ml) of fresh boiling water. This gives the soup a less starchy base. Add a dash of tamari soy sauce and the Stock Pot or miso sachet and simmer for 3 minutes.
To serve:
Place the noodles and broth in a large soup or ramen bowls. Arrange the stir-fry mix, broccoli and umami egg slices as you like. Garnish with lots of crispy shallots, fresh coriander, some beansprouts, a dollop of chilli sauce and a lime wedge. The chilli sauce – 1 tsp for the normal, 2 for the brave, 3 for the insane. Some folks like a bit more soy sauce so leave this on the table.
For a veggie-friendly version, leave out fish balls and add another egg. For a less spicy version, leave out fresh ginger and chilli sauce.
If you don't have all these ingredients to hand, the recipe still works with the following left out: fish balls, pak choi and ginger. Carrot strips can be substituted for the broccoli.
3 delicious gluten-free lunches everyone should try
2. Mexican-ish Sweet Potato Pie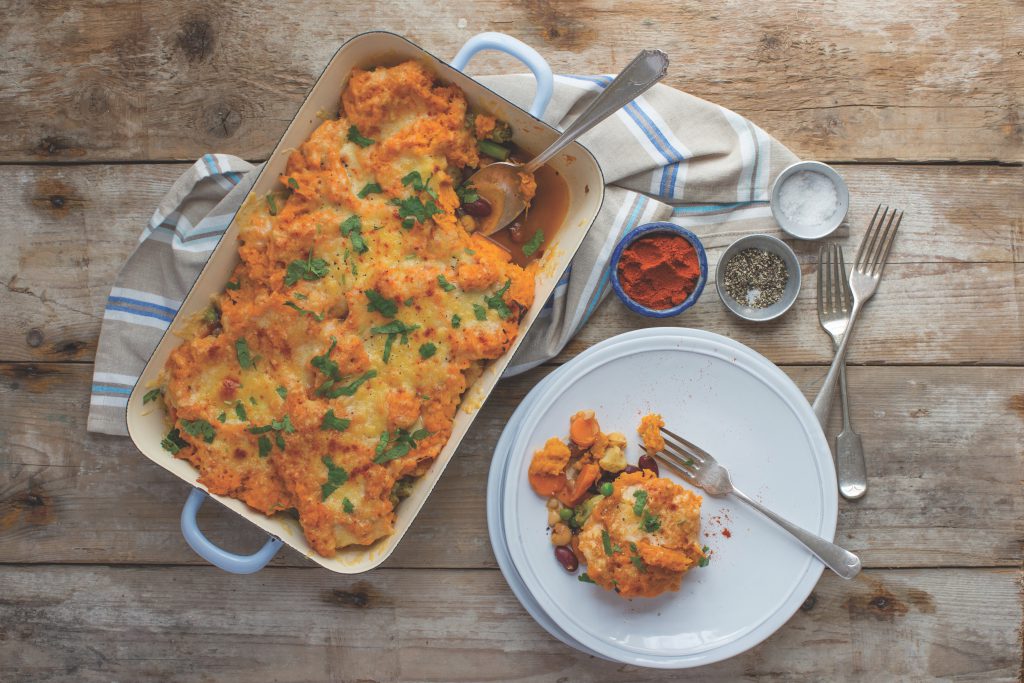 This makes a huge portion, enough to last you several days or feed a small army. It's gluten-free as always, and can also be modified to be vegan. Finn's 5-8 portion recipe is listed as follows
Ingredients:
5 skinny sweet potatoes or 2 massive ones
400g tinned mixed beans
400g tinned kidney beans
200g bag frozen veg (e.g. carrot, broccoli and pea mix)
1 red onion
Olive oil, for frying
1 pack Mexican spice mix or your own mix of 1 tbsp sweet paprika (or pimento if you have it), 1 tsp cayenne pepper, 1 tsp coriander seeds (crushed), ½ tsp garlic powder, salt and pepper (careful with the quantities or you will blow your nose clean off)
Cheese of your choice to grate over the top (I like mature cheddar, or a low-fat mozzarella when I'm feeling less bold)
Method:
Preheat your oven to 200°C
Put the sweet potatoes on a roasting tray and bung it in the oven. That's right, skin and all – don't do anything to the potatoes! Let them bake till they're soft – i.e. when you smack them with the back of a spoon they are soft and squishy, 30-40 minutes. I used to boil them, but they have a much lovelier flavour baked.
Drain your tins of beans and rinse them in cold water. Set aside.
If you're super organized, defrost your frozen veg the night before. If you're not, sacrilege here, blast them in the microwave till they defrost.
Finely chop your onion. Heat a frying pan over a medium-high heat. When it's hot, lash in a bit of olive oil. Test it with a little piece of onion. When it sizzles, lash in the rest of onion. Cook the onions till soft.
Chuck in the spices with the onion and sauté for a few minutes. In go the defrosted veggies and stir-fry for 5 or so minutes. Pop in the beans and cook for a few more minutes. Set to one side while you wait for your sweet potatoes.
When the sweet potatoes are soft, take them out of the oven – but keep the oven on. When they are cool enough to handle, or if you have asbestos hands like me, shake them out of their skins into a big bowl. Mash using a potato masher with a little butter, or olive oil if you're dairy free. Season to taste.
In a baking dish, spread out your veggie and bean mix. Then spoon the mashed sweet potato on top and smooth it over. Top with whatever obscene amount of cheese you like or leave it out for a dairy-free option. Pop back in the oven till the cheese is melted and bubbly, 10-15 minutes.
To Serve:
Since this is protein, carbs and fat in one place, the only addition I usually go for is a little sweet chilli sauce on the side. For a vegan option, leave out the cheese and top with a 'vegan parmesan' of 1 cup (150g) salted cashews blitzed with 1 tsp garlic powder.
3 simple tasty gluten-free breakfasts to try this week
3. "I Can't Believe It's Not Cardboard – Thick Crust Pizza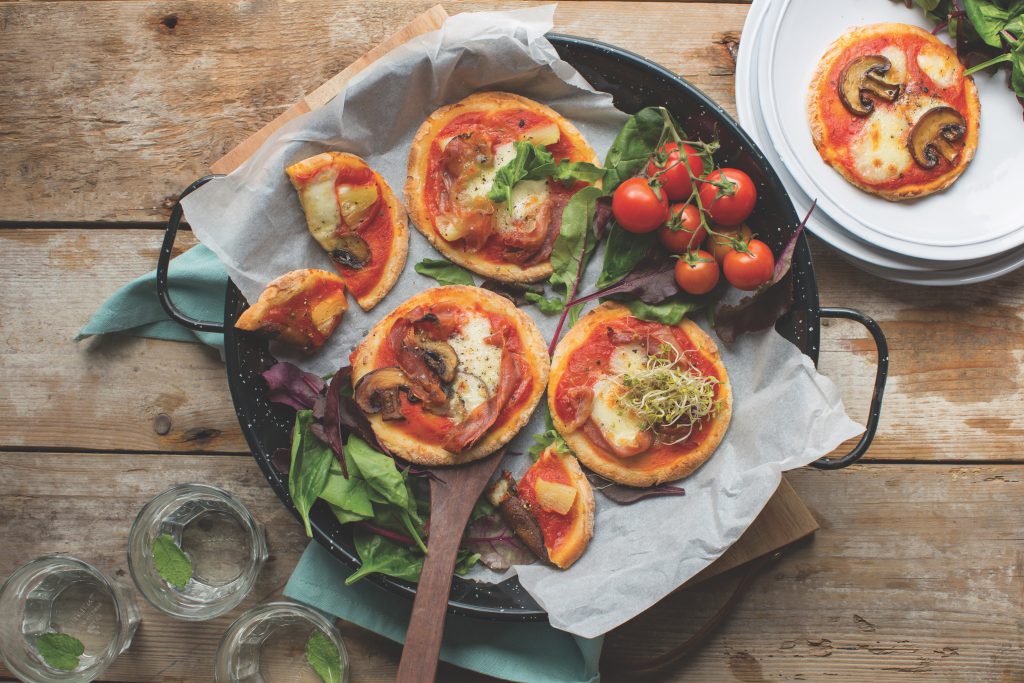 These pizzas have a crunchy crust with a chewy base and will have you never buying another expensive GF pizza from a supermarket ever again! Her recipe makes 4 mini pizzas and is listed as follows:
Ingredients:
Base
1 cup (120g) GF self-raising flour, plus extra for rolling. (Doves Farm Organic is tip top: great ingredients and no chemicals!)
pinch of salt
1 cup (250g) Greek yoghurt
2 tbsp olive oil
Toppings
2 chestnut mushrooms
2 pineapple rings in juice (not syrup, no need for that nasty sugar)
1 cup (225g) tomato frito (a wonderful Spanish invention where they have already added the garlic and seasoning to the tomato; if your local supermarket doesn't have it, passata with some oregano, garlic powder and salt will do)
A big handful (30g grated or ½ ball sliced) mozzarella for each mini pizza
2 slices Serrano or Parma ham
Method:
Preheat the oven to 180°
Line 2 baking trays with baking parchment – this stops the pizzas from sticking and makes them easier to move.
Chuck the flour and salt in a big bowl. Make a well in the middle of the flour and pour in the yogurt and olive oil. Mix the lot together with a wooden spoon to make a sticky dough.
Now the fancy looking bit. Pour about 1/3 cup of flour on a big chopping board and smooth it out a bit. For non-gluey hands, quickly dust your hands with flour. I love doing this as it reminds me of 'chalking up' for weight lifting. Time to show this dough who's boss! Working with ¼ of your dough at a time, grab a chunk and drop it on the floured board. Roll it around till you have a floury ball – if the dough feels too wet just add more flour. Warning: this GF version will never be as gluey as regular pizza dough and will feel softer than you'd expect, so none of that fancy swinging it around the place!
Next, pop a ball of dough on one side of your papered-up baking tray (you should fit two small pizzas on an average tray). Cover your rolling pin in flour to stop the dough sticking. Roll the pizza base out by moving the dough a quarter turn clockwise after each roll. This stops the dough from breaking and keeps the nice round shape. Using your hands, flatten the dough in the centre and squish the edges to create a thick-crust pizza.
Repeat until you have 2 mini pizzas for each tray. Pop the trays in the oven for 10 minutes to partially cook the dough.
For the toppings, thinly slice the mushrooms and chop the pineapple into chunks. I love Serrano ham for a little twist on the classic Hawaiian – it adds such a great flavour and you can cut thin strips using scissors.
Take the pizza bases out of the oven, and now it's time to customise! Do you like loads of sauce? Not too much cheese? I like a good dollop of sauce, but plenty of space for plain crust that I can use for dippies later.
Spoon on your sauce, spread it out then grab a good handful of cheese and sprinkle over each pizza. Pop the bases back in the oven for 5-10 minutes to let the cheese melt. After this take them out, arrange your mushrooms, pineapple and ham and pop back in for another 10-15 minutes till the cheese is golden brown.
Finn's new book, "Finn's World," provides not only delicious recipes but tips and tricks to help transform your lifestyle. Finn's World (Gill Books, 2017) by Finn Ní Fhaoláin is available to buy from Amazon.
Finn is passionate about a healthy life, but even more so about happiness and finding your balance. Follow her on her socials to keep up with her life and yummy recipes.
Facebook: @finsfitfood
Twitter: @Fins_Fit_Food
Instagram: @finsfitfood
Check out our Hard as Nails podcast:
Like this? You should check these out: