The summer may be officially over. But that doesn't mean it's time to let the younger ones spend their days in front of a screen. Helen Vaughan uncovers some great kids' events and activities to get them outdoors this autumn.
1. Do a kids' triathlon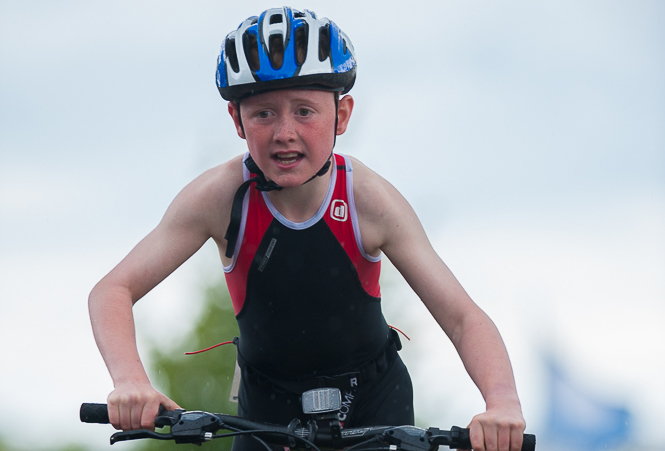 The triathlon season continues until the end of September, with a number of events designed just for children and teenagers. Fingal Tri Club hosts junior races for all ages in Skerries. There are also two races in Cork. The Fastnet Kidathlon in Schull and The Moby Dick Kids Triathlon both running in early September. Don't be put off by the name of the Junior Beast of the East Triathlon in Wicklow! Triathlon Ireland is also running a new schools programme called 'Tri Heroes' across the country from September introducing the basics of the sport to PE classes. Sign up to races on the Triathlon Ireland website.
2. Go wild in Killary
Killary Adventure Company offers a range of day or half-day activities for little people at the weekends throughout the autumn, as mid weekdays are full of school groups through September and October. You can choose from adventures like high ropes, a giant swing, climbing and abseiling. There's also the turf challenge, which involves running through muddy bog and navigating obstacles. Also new this year is the sky fall activity, which involves a 12m free fall down the shaft of a tower (while wearing a harness) after you've already traversed a 40m rope suspension bridge. Cool!! It promises a 'gradual deceleration as you come in to land softly on the ground'. It may not be for the faint hearted but is suitable for anyone aged eight or up who has the legs for it!
3. Hit the water at Wakedock Kids' Club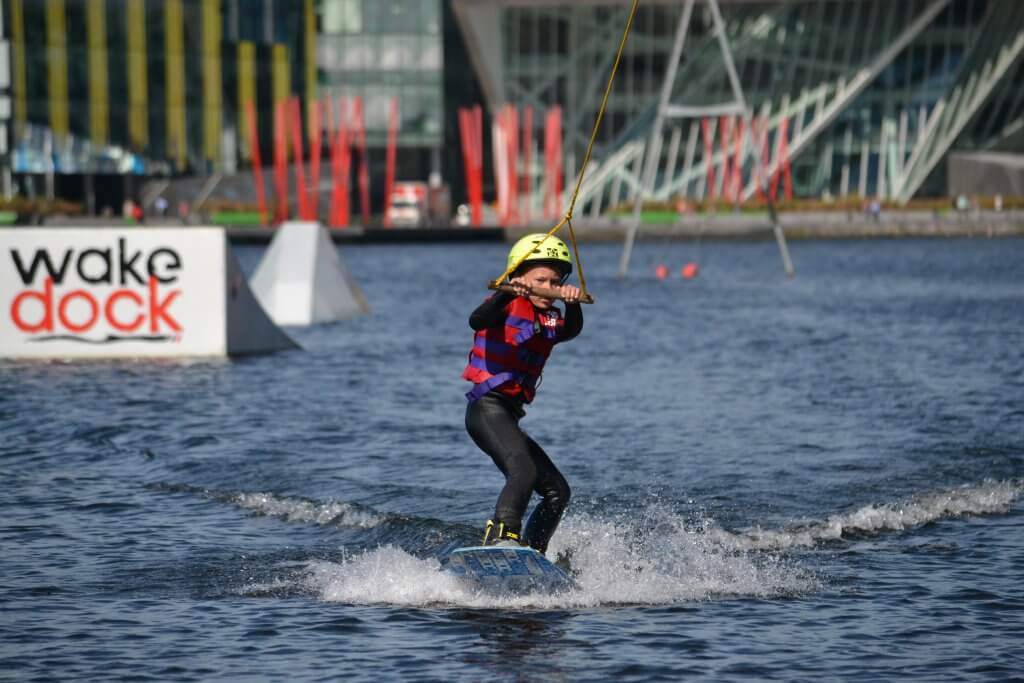 Taking place every Sunday morning throughout September and October in the Grand Canal Dock, Wakedock's Sunday morning kids' club is a brilliant chance for children and teenagers to learn to wakeboard, or improve their skills. Highly qualified instructors can teach you how to ride the board, turn and improve control using Ireland's first cable wakeboard park in the heart of Dublin's Docklands. The club includes groups of up to eight children (8-13 year olds) for two hours, and will continue up to the end of October depending on the weather. It moves from 10am to 12pm as temperatures get chillier, so be sure to double check the time if you're going along.
4. Climb a tree at Rock Farm Slane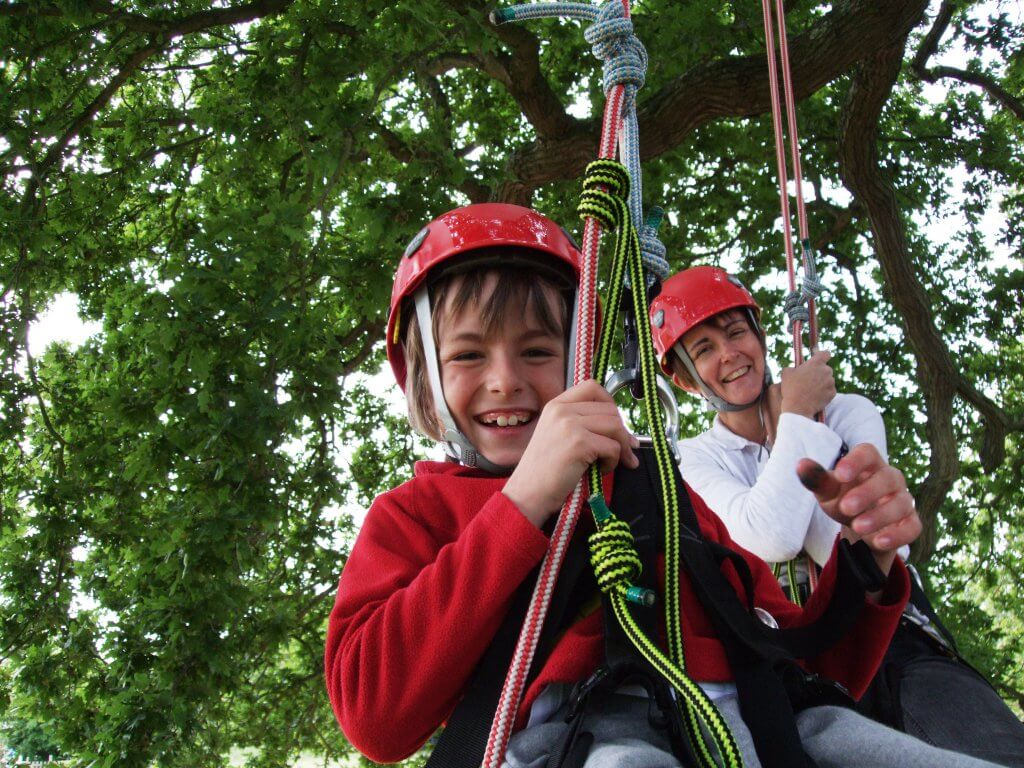 A study carried out to mark ESB Tree Week found that one-third of children in Ireland have never climbed a tree. If yours haven't – or it's been a while since you yourself have had your feet off the ground – head out to Rock Farm Slane in Co Meath where you can get into the highest reaches of a sturdy old oak tree. Thanks to a system using a tree surgeon's harness and ropes, it's as safe as it is exhilarating. A 2.5-hour tree climbing experience costs €39 for adults and €29 for kids. There are lots of other adventures on offer too.
5. Let them get mucky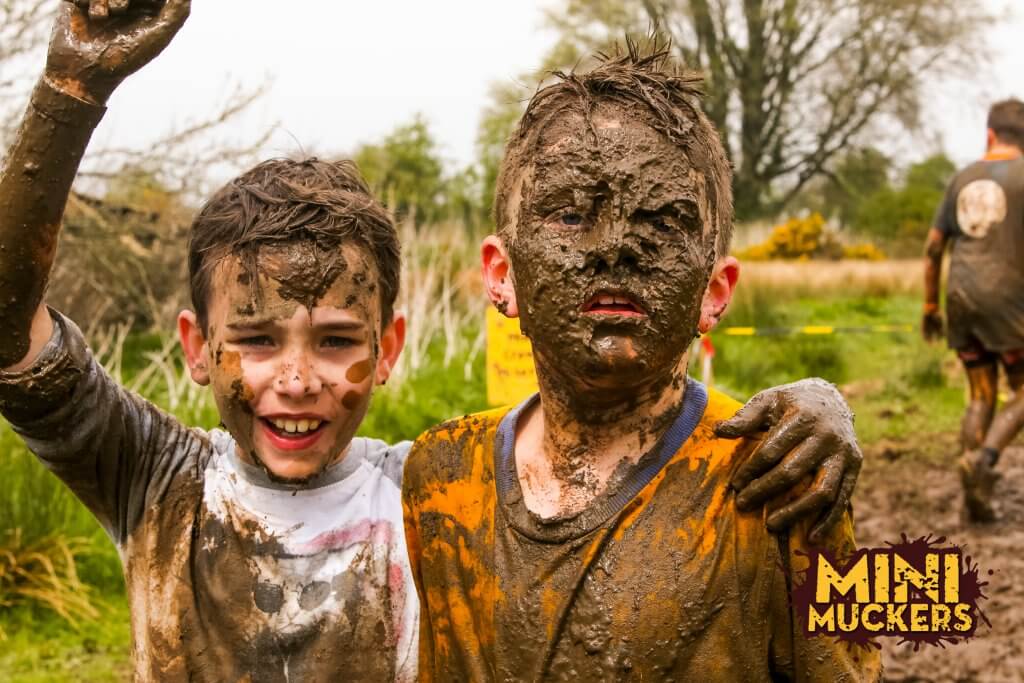 Let's face it, getting wet and muddy is extremely fun! So why not let the little people get amongst it? Mini Muckers is running a 2.5km Halloween Monster mud run for children aged 7 and up at Punchestown Racecourse with more than 20 different obstacles to navigate around. There are easy and hard options to cater for all ages, and children can run extra laps if they feel like it. This year, kids are allowed get their own back on parents, who can also take part in the Halloween run! Fancy dress and plenty of silliness is also urged.
Or if you can't make the Halloween event, check out Hell & Back Junior. They hold races at Killruddery Estate in Bray, Co Wicklow, and offer three course options, for five-year-olds up to teenagers. There's also an event in Temple House Estate in Ballinacarrow, Co Sligo, offering one course – a 2.5km mud and obstacle course for eight to 12 year olds. A similar event for eight to 12 year olds runs at Tattersalls Country House in Ratoath, Co Meath. All junior events are held on separate courses to adult races and children can do a second lap if they like.
6. Learn to ski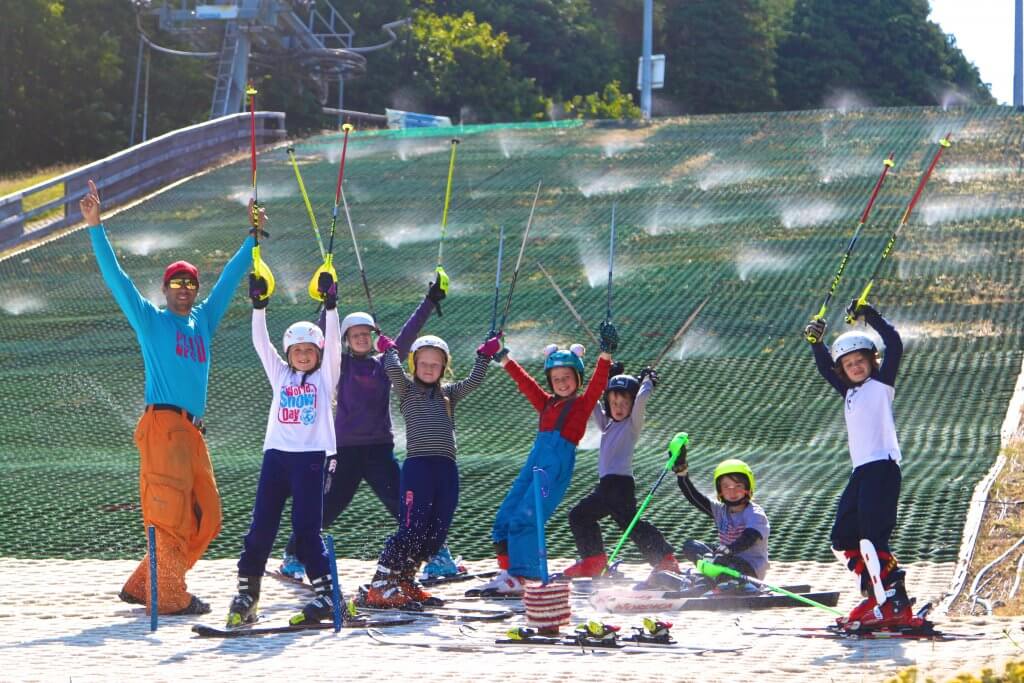 Who says you need to go abroad to start skiing?! OK so it's indoors but the Ski Centre in Sandyford, Co Dublin, runs kids camps on its endless revolving slopes during school holidays – including mid-term breaks and Halloween. With groups for 7-10s, 10-13s and 13 -16s, the gang will learn great skiing technique and work on agility and balance, as well as enjoying games team events. They'll even do synchronized skiing and you'll be treated to a show at the end of the camp where they'll also receive ski achievement certificates. The only downside to this camp is that these kids are bound to leave their parents for dust on any future ski trips.
Another option for hitting the slopes is with the Ski Club in Kilternan, Co Dublin. For those that can already ski, younger children (ages 7-11 years old) can do practice sessions called Mini's at 10am on Saturday mornings. For teenagers, there's a Race Squad on a Sunday morning at 8.30am. There are also ski lessons for little ones (4-7 years old) at kindergarten on Sundays at 1pm. Children and teens can enroll in ski classes on Saturdays and Sundays at 11am and 3pm. These classes last for one-and-a-half hours. There are also snowboarding lessons for children (aged 10+) on Sunday evening at 6.30pm.
7. Paddle your own canoe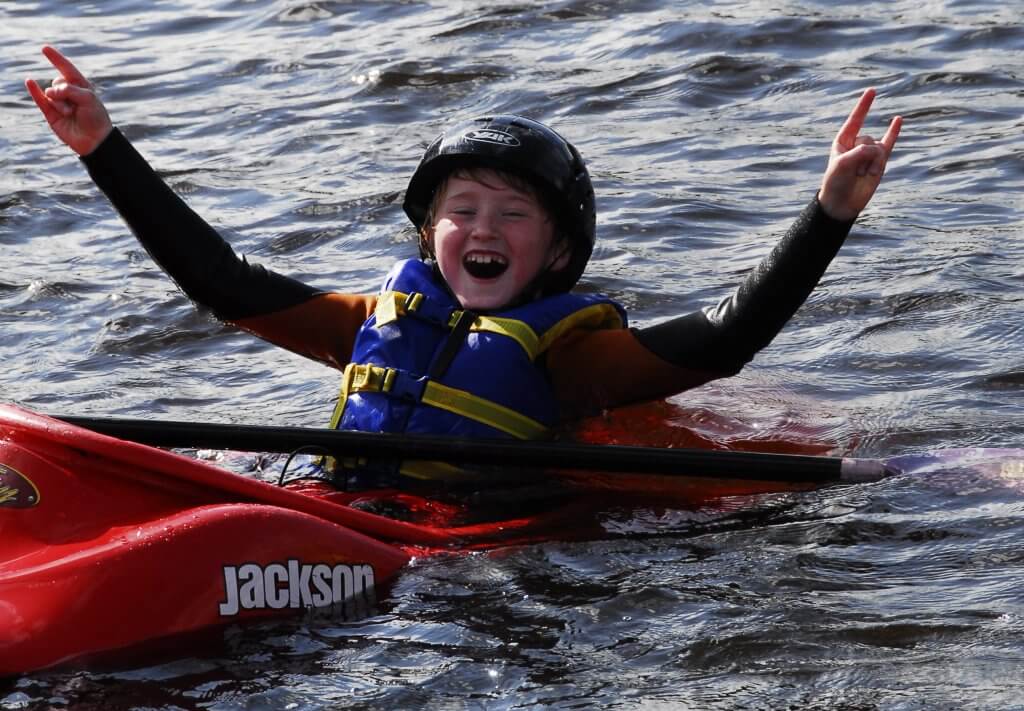 Five hundred junior paddlers (10-18 years old) will take part in Junior Paddle Fest in Rathdrum in Co Wicklow. It's a really fun family weekend away, with many staying on site at the Hidden Valley Campsite where the event takes place. Children and teens will get the chance to practice their kayaking discipline of choice and also try out and learn new skills, like sprint, marathon, slalom, polo and more. Talent spotters will also be on the lookout for people for future teams. Experience is desired, but if your child is a total beginner and is keen to come along, the organisers say to get in touch with them. You also need to be a member of Canoeing Ireland to take part. Junior membership is €5.
The two-day Crana Fest kayaking festival in October is another great option for children and their families that want to get on the water. Taking place in Buncrana, Inishowen, Co Donegal, it offers white-water rafting for children and their families on the Crana River. It might sound hardcore, but the organisers promise it's a great family activity and no experience is required. All wetsuits and safety gear is provided, including wetsuits, buoyancy aids, helmets and of course a guide. Rafting will be available from 3pm on the Saturday and Sunday and includes eight weirs and a grade three rapid – all within 500m! Moonlight rafting is also planned each evening using torches to light up the whole river. The festival includes sea, lake and river kayaking events for all abilities. Or if you don't want to get you feet wet, why not come along and watch the action from the shore if you like.
8. Fun on the farm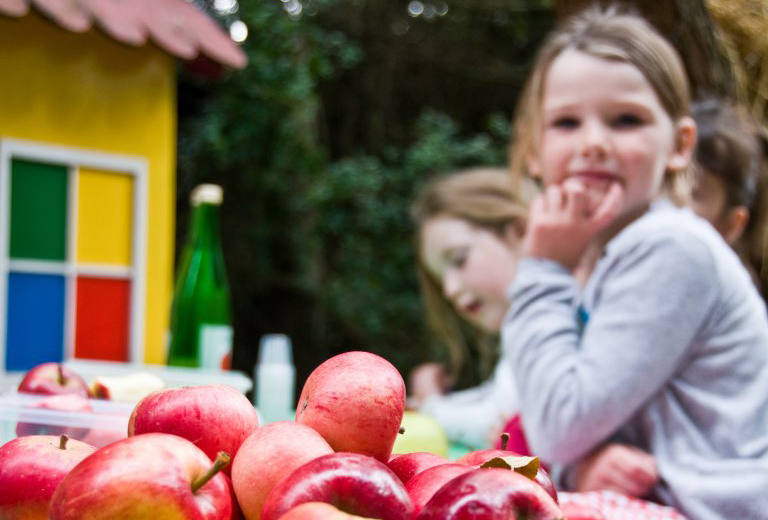 If you want to get your children outside for some old-school fun, Wooly Ward's activity farm in north Dublin is holding a Harvest Festival at its base near Oldtown. The farm is home to a huge range of animals including llamas, bunnies, lizards, snakes, pigs, donkeys and goats. They also have creepy crawlies like locusts and mealworms! The festival will include animal Olympics, sheepdog trials and children will create miniature scarecrows. The farm is also arranging some Halloween fun, including pumpkin carving and a house of horrors, during the weekends over the October mid-term break.
9. Spook 'em at Delphi Adventure Resort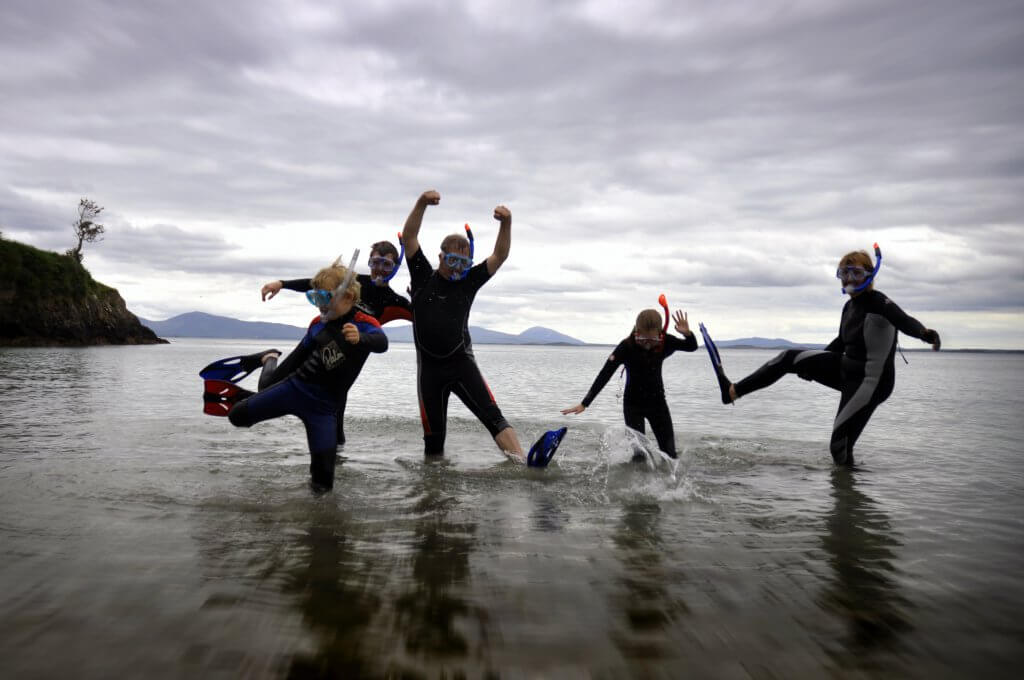 There are some spooktacular activities being organised over Halloween at Delphi, including the 'Forest of Fear' that will take you through a ghostly woodland of surprises. Or you can venture through the 'Delphi Dungeons of Doom' if you're brave enough. Or what about spooky story telling around the campfire in the evening? Delphi will also be running all of their usual (20+) outdoor activities and their Kids Club over the mid-term break. For little people, they recommend canoeing and tunnelling (4+ year olds) and archery and bush craft survival (6+ year olds). There is also a three-night family package at Delphi that includes accommodation, activities, some meals and access to the spa if you want a little luxury.
10. Wander the woods at Castlecomer Discovery Park
A range of activities is available over the mid-term break at this 80-acre discovery park in Co Kilkenny, including a Halloween Family Trail. For this, children solve a series of clues and fill out a worksheet to explore the woods and find a surprise at the end. You don't need to book in advance for this, just turn up on the day and you'll be guided through what to do. Other outdoor activities are available, depending on the weather, including a 300m zip line over water, a tree-top adventure walk, high ropes, a junior woodland adventure course, orienteering challenges and boating. These are open daily during the mid-term Halloween break and otherwise only at weekends. Booking is required.
Check out our Hard as Nails podcast:
For more ideas, see also: