We made a big decision last year. To go skiing for the first time en famille. That was granny, granddad, dad, four kids ranging from 12-18 and me. It was a hefty investment. But boy was it worth it. I'm not sure I've ever had such a good vicarious experience as watching their eyes open wide when they saw all that snow or hearing the shrieks of glee as they skied together and mastered coming down those pistes. And despite worries that it might be chaotic and fraught getting the gang out of bed and to their lessons on time every day, it was seamless. Thanks in no small part to choosing the right resort and accommodation. France's La Rosière turned out to be just right.

1. Perfect resort for families

Overlooking the Tarentaise Valley and located near Mont-Blanc and the Vanoise mountain ranges, La Rosière is geographically close to Val d'Isère, Tignes and Les Arcs but it has a hugely different personality. For a start, it's smaller, quieter and sunnier. Instead of buzzing après ski bars, you're more likely to see kids mucking around on bum sleds and making wonky snowmen.
This is a low-rise, wood clad, quiet, family resort. Which made it perfect for our motley crew made up of granny granddad, four kids, ranging from 12-18, their dad and me. The resort is divided into the main village and a smaller satellite village of Les Eucherts. Les Eucherts is linked by regular buses or a short walk on a forest trail.
How to: Save Money on your Ski Holiday 
One of the great appeals of this resort whether you're in the main village or Les Eucherts (where we were) is that literally everything is convenient. Our ski hire shop was less than a minute walk away and it was about four minutes to the ski lifts and the spot where you meet your instructor in the morning. In fact, all of the accommodation seemed within a stone's throw of the slopes.
Another bonus was the surprising lack of queues to get on lifts when we visited in early January.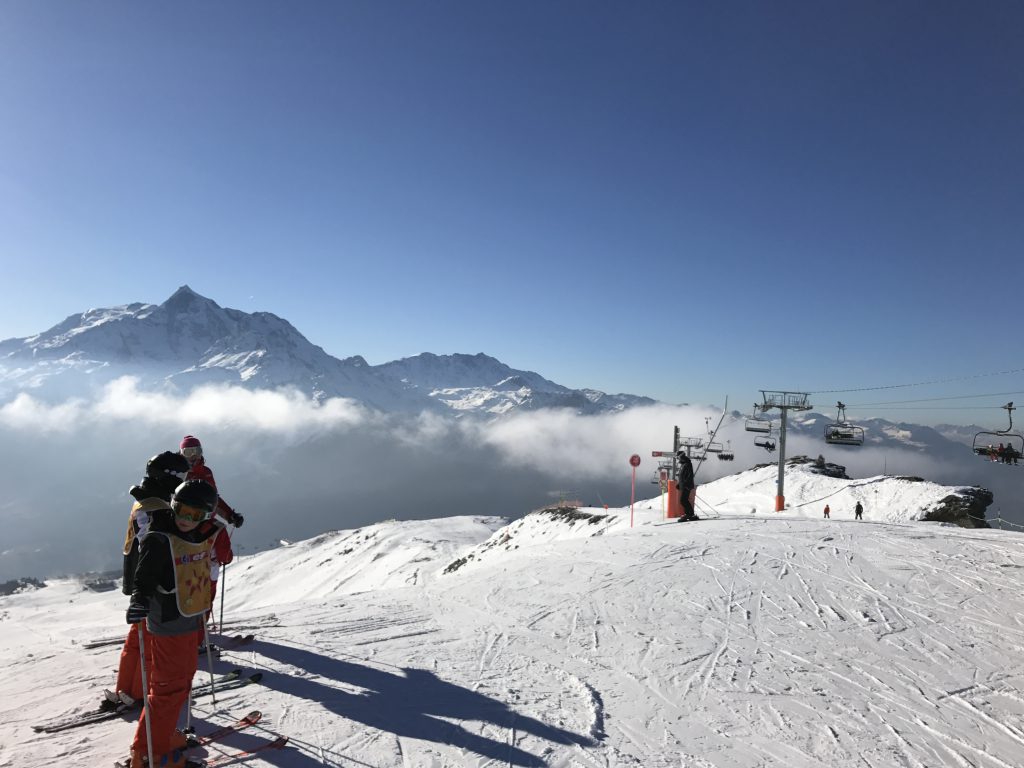 2. The Skiing
La Rosière is located at an altitude of 1,850m and you'll have access to 80 pistes. Crucially, for beginners, the easy slopes run right into the village meaning no intimidating or long lifts into the wilds of the mountains before they can even get started or find their ski instructor. And for the absolute beginners, there's a magic carpet to get them going.
The convenient meet-up point for lessons meant it was a cinch for the various level of skier in our group to meet up for lunch or hot chocolates. And, better still, it meant that granny, who wasn't skiing, could sit and admire the progress. As the week progressed and the newbie skiers found their feet, the safe and contained beginner area also meant we felt comfortable letting them off on their own for a few more runs at the end of the day.
For the more experienced skiers, there certainly are more expansive resorts to test you, but La Rosière is part of the Espace San Bernardo ski area, so if you do want more of a challenge or longer skiing days, you can head into La Thuile in Italy.
As for the ski lessons, we found the local ski instructors to be patient, encouraging and thoroughly professional. They managed to keep all the beginners in our group together (dad and four kids) which meant no one had to ski solo and the holiday was a great bonding experience.
3. One word: Paret
If you do one extra-curricular activity when you're in La Rosière , make it le paret. Despite many ski trips over the years to France, I had never heard this word before and I signed us all up in blissful ignorance when I got the explanation that it was a bit like a wooden sled. With one distinct – and edgy – difference. This low-slung sled is a bit like a kid's training bike but instead of wheels it has one central runner which you try and balance on as you careen down a red run at dusk. I've rarely heard such whooping, hollering, shrieking and laughter – from seven- to seventy-year-olds – as we made our way down the piste – frequently on our arses – spraying snow as a glorious sunset faded over the resort.
The outing costs €10 per person and involves taking a chair lift to the top of the mountain before being set free to test your mettle. Nerves are settled at the end with a well-deserved vin chaud for the adults and hot chocolate for the kids.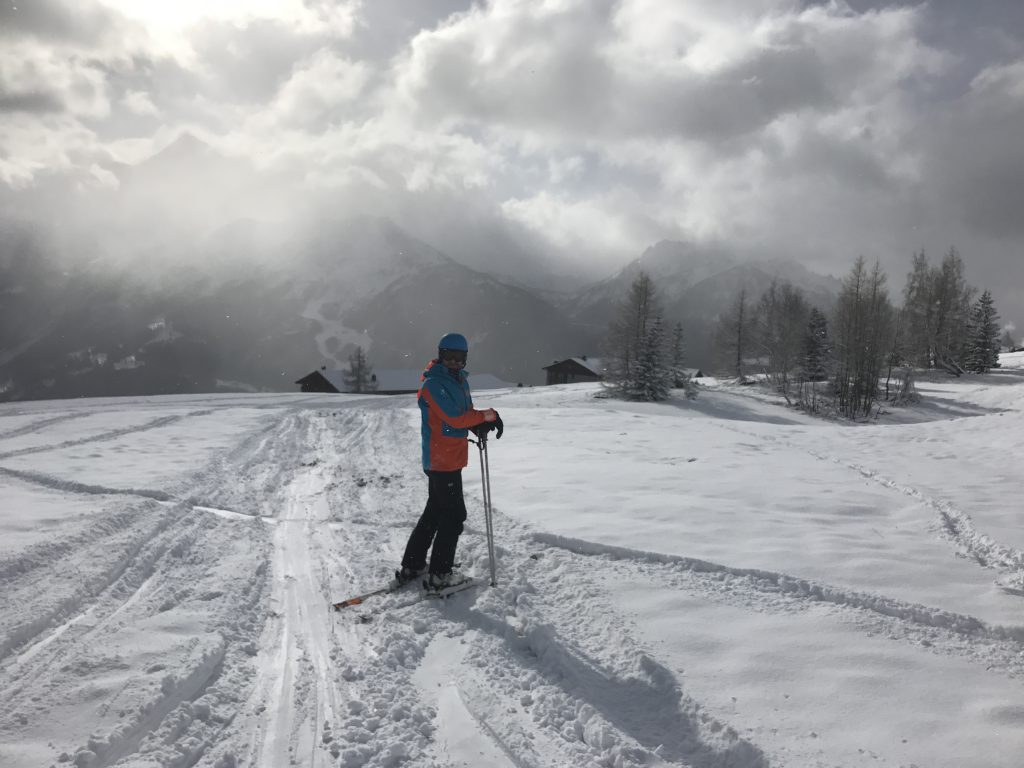 4. Some other lovely things to do
There are a good few other lovely things to do in La Rosière, and crucially, they don't cost the earth. The local ice rink may be relatively dinky but it still fields regular ice hockey matches between local team Les Tigres Blancs and visitors. It's not quite the major league but you'll still see plenty of action. And if your troops really enjoy it, they can even take an ice hockey lesson. Tickets to the game cost €3 per person and a try hockey session costs €8 for an adult and €6.50 for a child.
The free once-a-week ski show in La Rosière is kitschy, Euro trashy and charming all rolled into one. This extravaganza of skiing skill features flaming torch descents, dodgy pop tunes, synchronized skiing and snowboarding. The week we were there, despite freezing January temperatures, the instructors stripped to their underwear for final runs. Hundreds of cosied up families turn out for the event.
If you'd prefer something a little quieter, there are gorgeous floodlit walks along snowy woodland paths that link the two villages. These were a particular hit with granny and granddad who also took chair lifts to the top of the mountain a few times to walk to the Redoute Ruinée on the Italian/French border. The fort was built by France in the early 1890s and which was reinforced pre World War II in anticipation of invasion from Italy.
Look Hot to Trot on the Slopes This Year
5. Great ski chalet accommodation
We stayed in a shared Topflight Chalet called Papillon. It cost about €600-€700 per person for flights, accommodation, and transfers and it was perfect for our crew. All of our ski hire, lift passes and lessons were booked for us by Topflight too, meaning minimal work on arrival.
Everything was convenient. Our ski hire shop was less than a minute walk away and it was about four minutes to the ski lifts and the spot where you meet your instructor in the morning. What a bonus! That meant a lot less fuss getting everyone up and out and when the gloves, hats, goggles and ski passes got forgotten, we were only a short dash away.
The chalet was catered and the food prepared by our friendly hosts at breakfast and dinner was good, with free wine to accompany our evening meal. The real hit though was the daily afternoon tea. How nice to come in from the slopes and tuck into some homemade cake before heading to the chalet's sauna to ease tired muscles.
The chalet could accommodate 12 in total and other than ourselves there were two other parent and child parties so a nice match with our gang.
8 Things you Should Know Before your First Ski Holiday
As for the cost, at first glance, a catered chalet might seem a more expensive option than a self-catering apartment or a hotel, but by the time you factor in eating out with exhausted kids, shopping in expensive ski resort mini-markets or trying to cook in a tiny kitchen, the investment in the chalet completely pays off.
Another great advantage is that tired heads can move from the table to the adjoining sitting room area and still be part of the family meal. The younger ones can also go to bed whenever they want, without any adult having to leave a restaurant meal to head back to an apartment or hotel room with them. This made our trip a real holiday for everyone involved.
The costs
Our holiday with Topflight cost €600-€700 per person for flights, accommodation, half board and transfers. wwww.topflight.ie

Beginner ski and boot hire for six days cost from €65-€95

Six days beginner ski school cost €155 per person.

A six day under-14s lift pass cost 103 while passes for everyone else cost €208.
Check out our Hard as Nails podcast:
Like this? You should check these out: 

Previous Post