From zip lining to kayaking safaris, there is no shortage of action-packed family-friendly activities in Ireland. 
Ireland is a great place to bring up kids. There is an abundance of fantastic outdoor activities on offer right across the country that are guaranteed to keep kids (big and small!) entertained. And if you don't believe us, read on. We have rounded up 50 of our favourite family-friendly activities in Ireland.
Family-Friendly Activities in Ireland:
1. Go With the Flow Canoeing Adventures, Co Carlow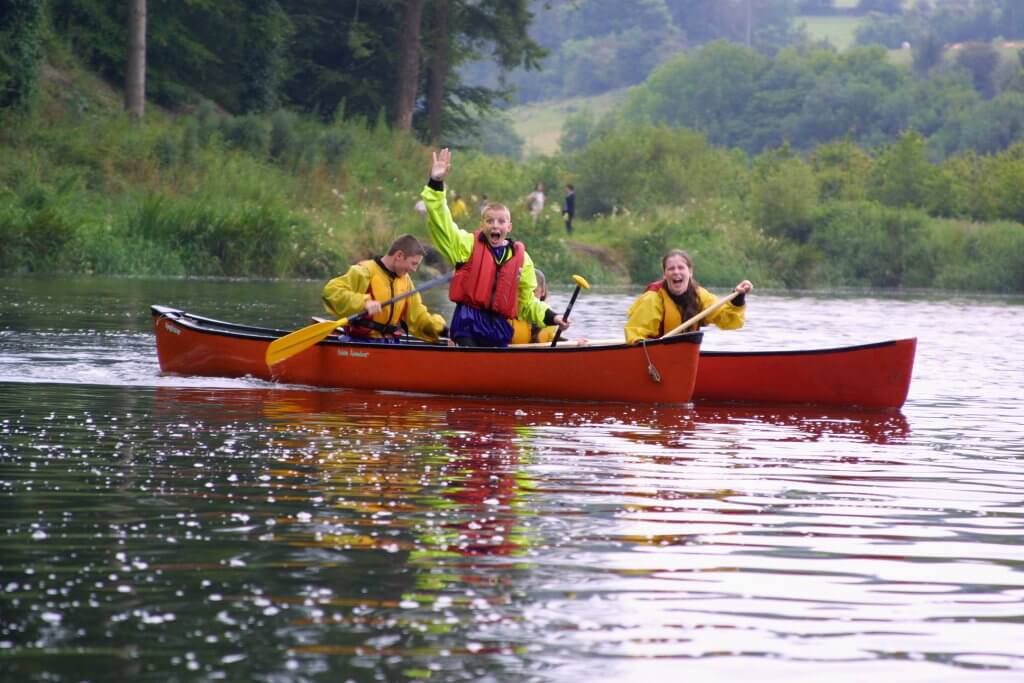 The peaceful waters of the Barrow in Co Carlow are perfect for family-friendly paddling adventures. Go With the Flow offers fun-filled half and full day excursions. The water-based safaris will take you through dramatic landscapes, wooded valleys and the old navigations used by the Guinness barges to deliver Ireland's favourite tipple! And if that's not enough to keep the kids entertained, trips also include a picnic stop and ample opportunities to swim in the glorious sheltered pools that the river has to offer.
Go With the Flow safaris are suitable for all ages. The Barrow is one of the safest rivers in Ireland.
More info: Go With the Flow
2. Loughcrew Estate, Co Meath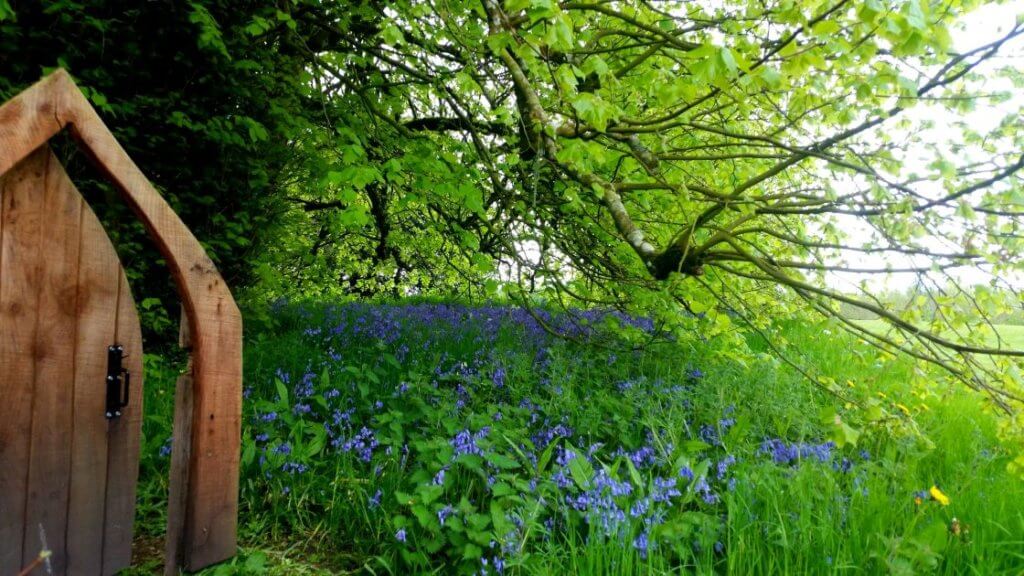 The Fairy Trail at Loughcrew Estate is an exciting treasure hunt style trail that will provide hours of entertainment for the little ones.  The kids will get an activity booklet and map and will have to solve clues and answer questions in order to get to the next part of it. It will get your children using their imaginations and embracing the outdoors and they may even spot some fairies as they explore! It is a great activity for grandparents and parents to enjoy too.
There is also plenty of room for children to play on the garden's lawns at Loughcrew as well as a host historical buildings to explore.
Children are welcome to bring their bikes and if they get a little peckish, the coffee shop will satisfy all appetites. There is a little play area next to the coffee shop too.
If your little ones are keen to learn more about the natural world – there are lots of lovely, scented flowers within the garden as well a wildflower meadow and water garden.
More info: Loughcrew Estate 
3. The Avon Activity Centre, Co Wicklow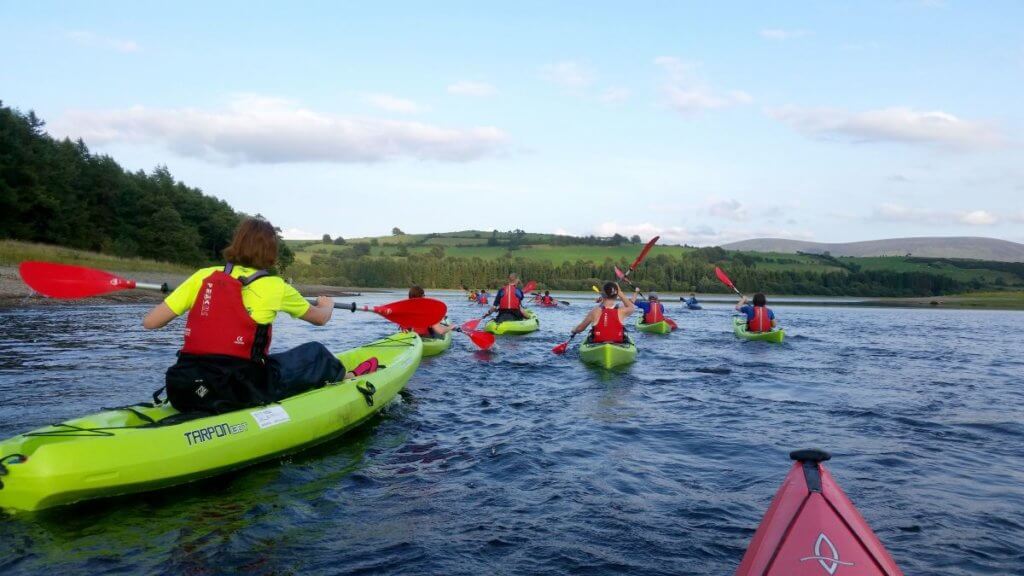 The Avon offers a massive range of outdoor activities for the entire family. Located about a half an hours drive from Dublin in Blessington, Co. Wicklow.
Their activities include kayaking, biking, trail walking, climbing walls, ziplining, archery and even air rifle shooting.
After you have finished your chosen activity you can sit down at The Big Blue Bus to enjoy a freshly made pizza overlooking the beautiful Blessington Lakes.
More info: The Avon
4. Adventure Kids Wicklow, Co Wicklow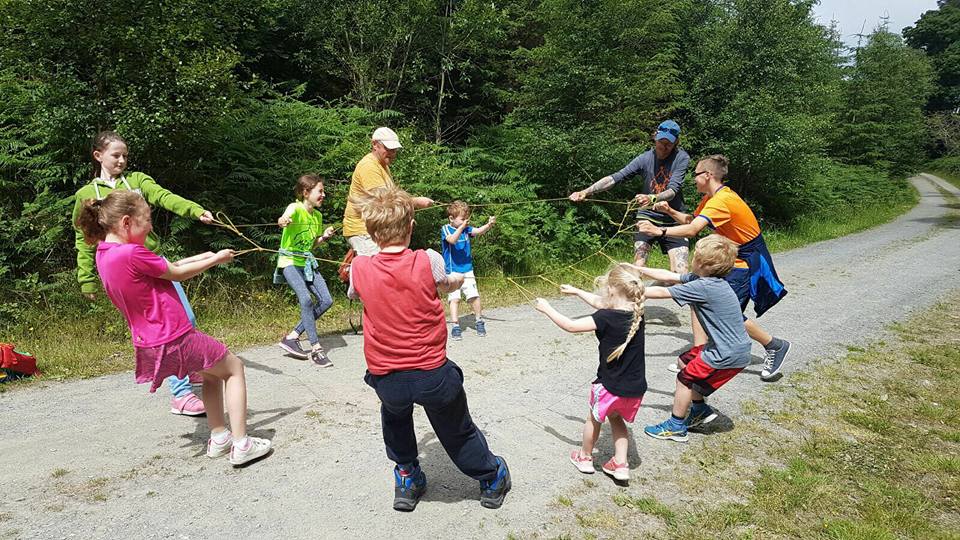 Adventure Kids Wicklow is a kids trail running fun session where kids get to run, jump and have lots of fun in nature – far from iPads and TV screens.
They're located in Laragh, and you'll find them at the St Kevins School Car Park, Brockagh.
The adventure sessions are run every week by JuJu Jay – a playful trail running leader who's not afraid to get in on all the fun.
If the weather permits, river dips are a common feature and parents are encouraged to participate in each session as well, as the kids love seeing them jumping around in the mud with them!
More info: Adventure Kids
5. Skiing in Kilternan, Co Dublin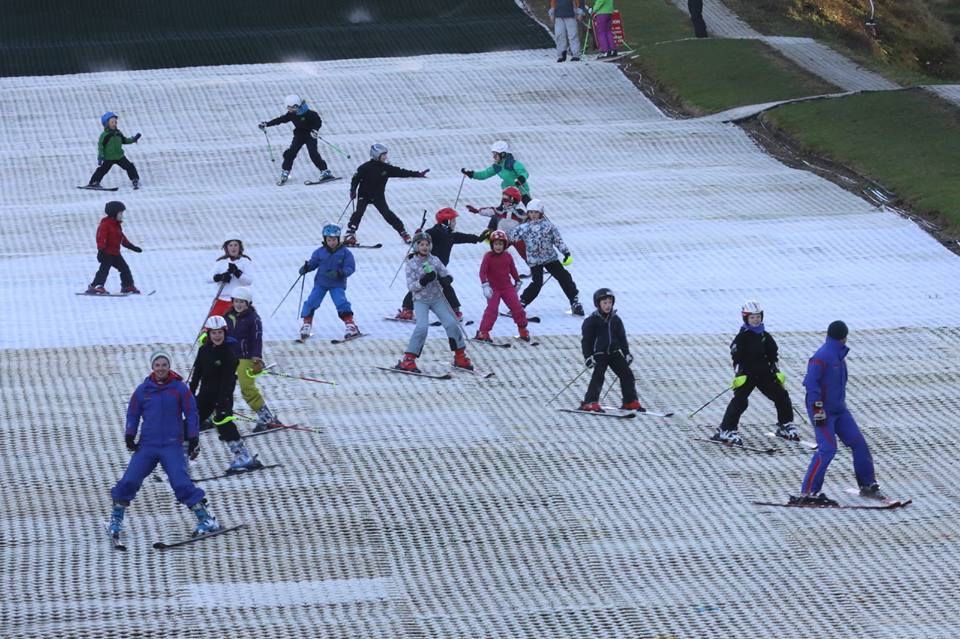 Ireland mightn't get buckets of snow in the winter time, but fear not – you can still take the kids skiing! The Ski Club of Ireland is situated at Kilternan Golf and Country Club between Kilternan, Co Dublin, and Enniskerry, Co Wicklow. Kilternan Ski Club offers ski- and snowboard lessons for kids of different ages as well as day courses, freestyle nights and practice sessions for the one who's already got the hang of the basics.
6. Rafting Down the Liffey's Rapids, Co Dublin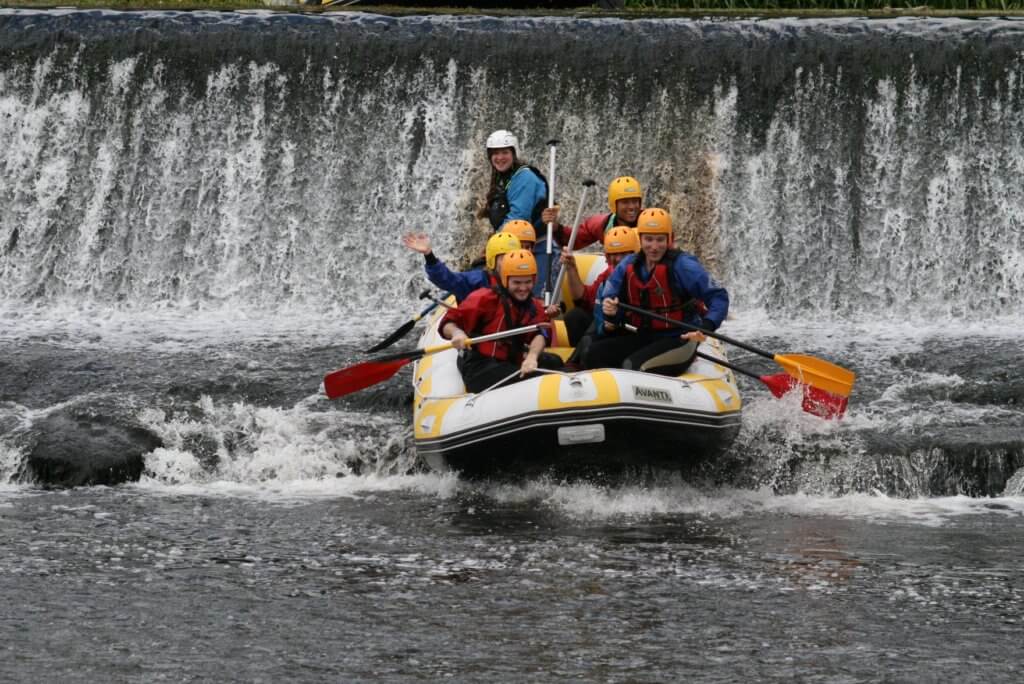 If you feel like treating the kids to an adrenalin-rush, take a trip to down the Liffey for a spot of whitewater rafting?! Floating down the rapids in River Liffey is suitable for anyone looking for a rush – as long as you're prepared to get wet. Rafting.ie offers whitewater tours for the whole family.
More info: Rafting.ie
7. Glendalough, Co Wicklow
View this post on Instagram
Glendalough is a must visit for any family. It is one of Ireland's most popular tourist destinations and offers an amazing and in depth insight into the history of our beautiful country.
As well as being an important historic site the trails and views are out of this world. Glendalough has a range of easily followed trails and routes for every fitness level and age.
More info: Glendalough
8. Causey Farm, Co Meath
View this post on Instagram
Causey Farm offers many different activities for all age groups. The family friendly activities include bog jumping, a petting zoo, summer camps and many seasonal events for you to look into.
More info: Causey Farm
9. Russborough House, Co Wicklow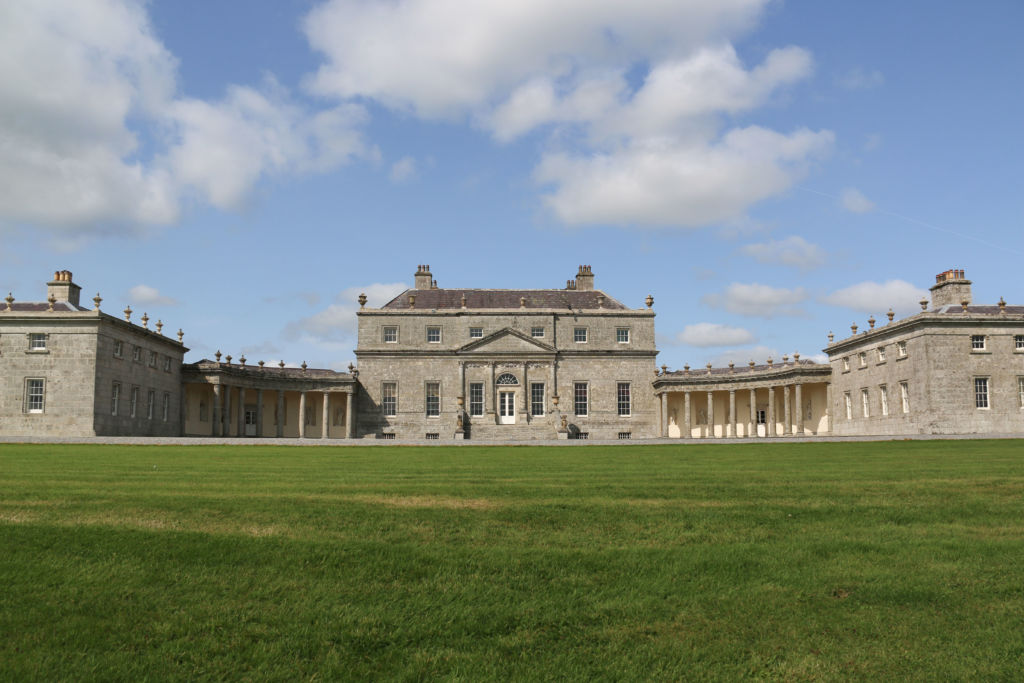 Russborough house is situated on 200 acres of land which include different gardens, trails, walks and even a maze.
The Fairy trail is one of the favourite family walks at Russborough House. It includes Lady's Island, an enchanted land that is home to many fairies. With some of the magical creatures living here for 270 years now.
More info: Russborough House
10. Bay Sports Athlone, Co Westmeath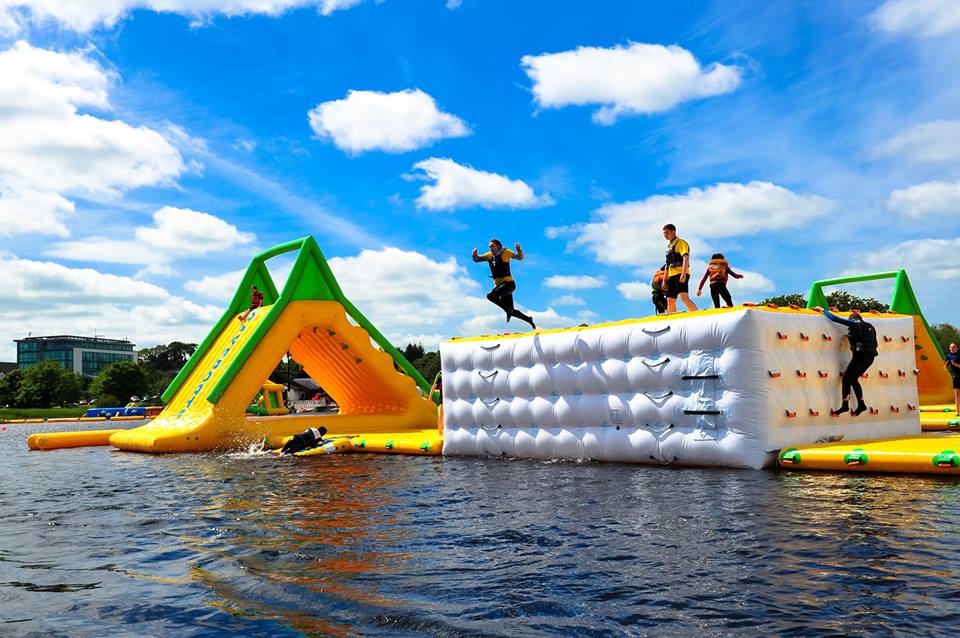 Athlone's Baysports in co Westmeath is Ireland's largest inflatable water park – awarded by Guinness World Records.
Spread over 1400 square meters, Baysports is a huge playground for kids of all ages (and of course adults as well!). And if the weather isn't showing its best side – just jump into a wetsuit.
The park is open from July to August and the cost is €17 for adults, €12 for kids between 6 and 14 and €4 for the really young ones, between 4 and 6 years.
Children must be 6 years or older to take part in the fun and kids between 6 and 10 must be accompanied by an adult. Visitors have to wear wetsuits, (which you can hire for €3), buoyancy aids, and wristbands (which are provided).
More info: Baysports
11. Rainforest Adventure Golf, Co Dublin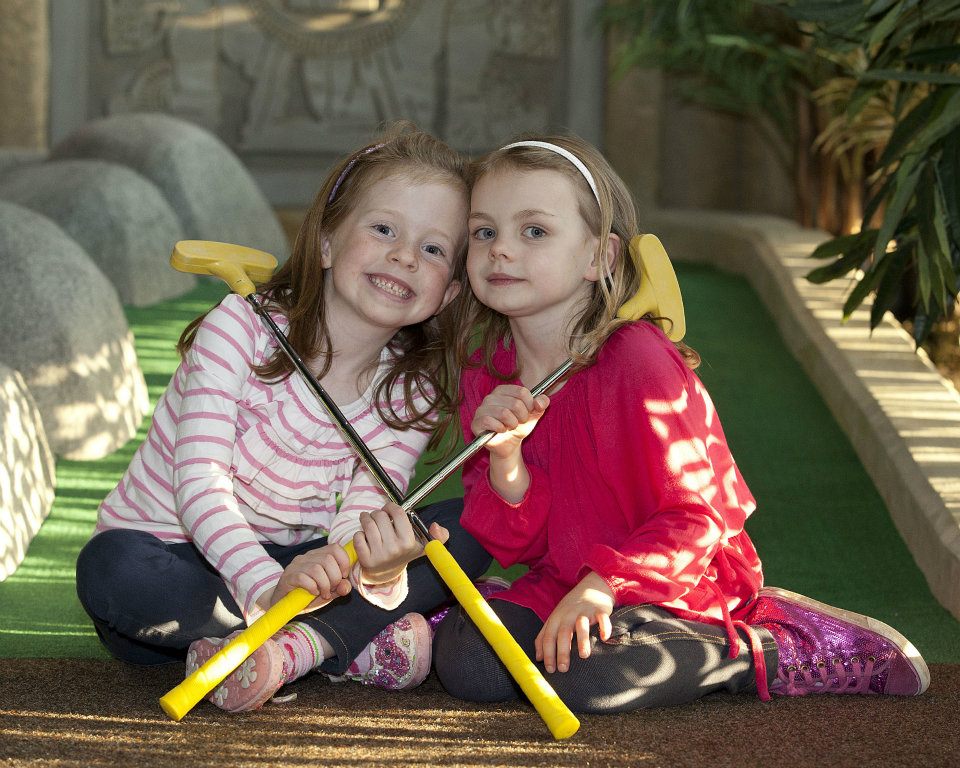 Yes, you heard that right – head to Dundrum Town Centre, in South Dublin, and you can go adventure mini-golfing in a rainforest. Perfect for a rainy day! Although the rainforest isn't a real forest (surprise!), being in it is almost as exciting as being in a real, mysterious, jungle environment.
No booking is required, you simply turn up and start playing on the Aztec and Mayan themed 18 hole courses. Clubs and balls will be provided.
Each course takes approximately 45 mins to play and in between courses you can enjoy pizza, coffee, ice cream or even a beer in the Canopy Café.
It's €9.85 per adult, €8.75 for kids under 15 years, €4.80 for kids under 5 years and €30 for a family of four.
More info: Rainforest Adventure Golf 
12. Catch Some Speed in Kiltorcan, Co Kilkenny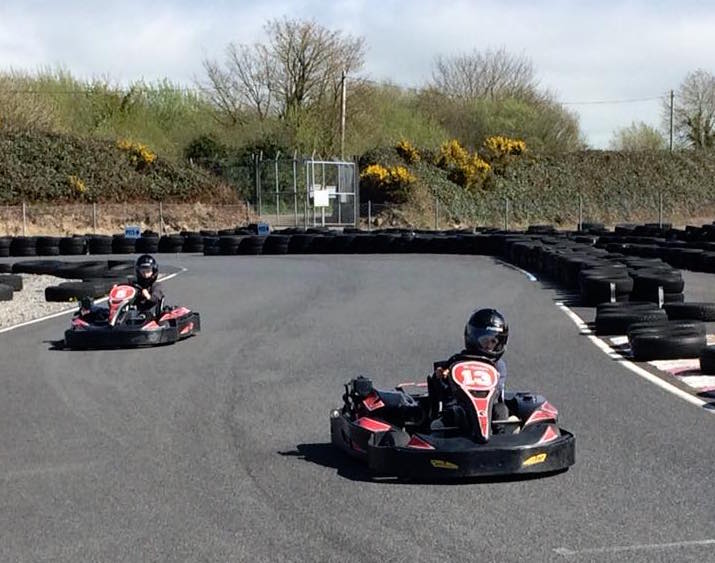 Take the whole family and head to outside located Kiltorcan Raceway in Co Kilkenny for an exhilarating day of go-karting!
The whole family can race together, and the only requirement is that all kids are older than 10 and taller than 110 cm. You can book the track from 15 minutes up to several hours, just make sure to ring them in advance to check their availability.
The course is open Wednesday through Sunday from noon to 6pm.
More info: Kiltorcan Raceway 
13. Archery and Adventure, Co Kildare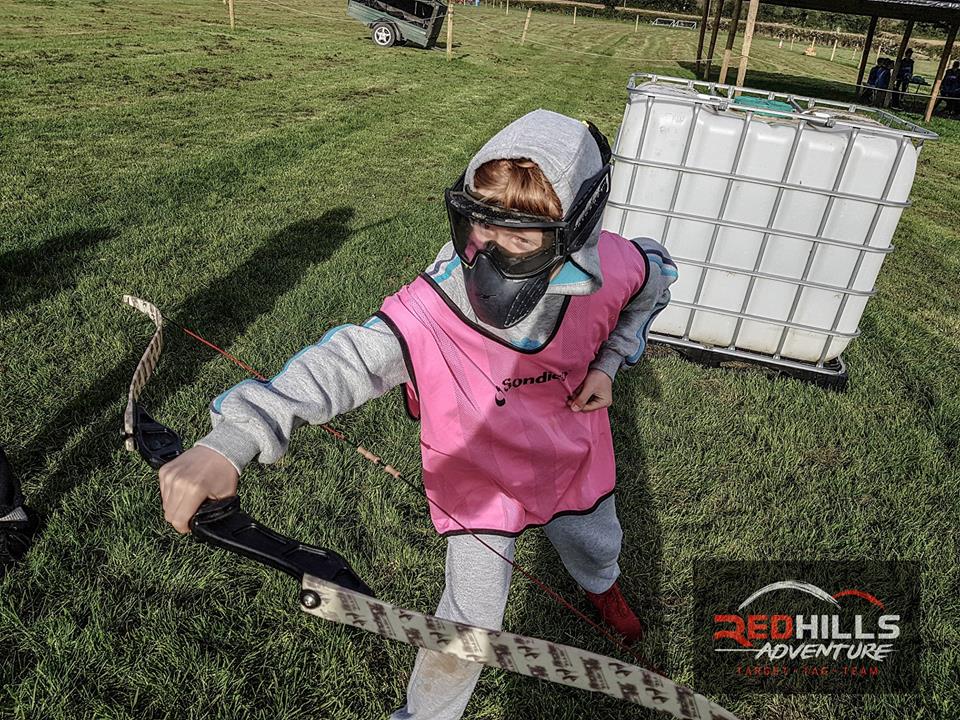 Redhills Adventure is set on what was once a farm, only a few kilometres from Kildare Village Outlet. They offer groups and families an action-packed day out with a range of different, fun and exciting activities.
They are open all year-round, Monday to Sunday, for group bookings for eight or more and individuals can join our open tag gaming sessions every weekend where you don't need a group.
This place is perfect for big family outings (the more the merrier!) with active kids who like to mix adrenaline with technique sports!
More info: Redhills Adventure 
14. Jump Zone, Co Dublin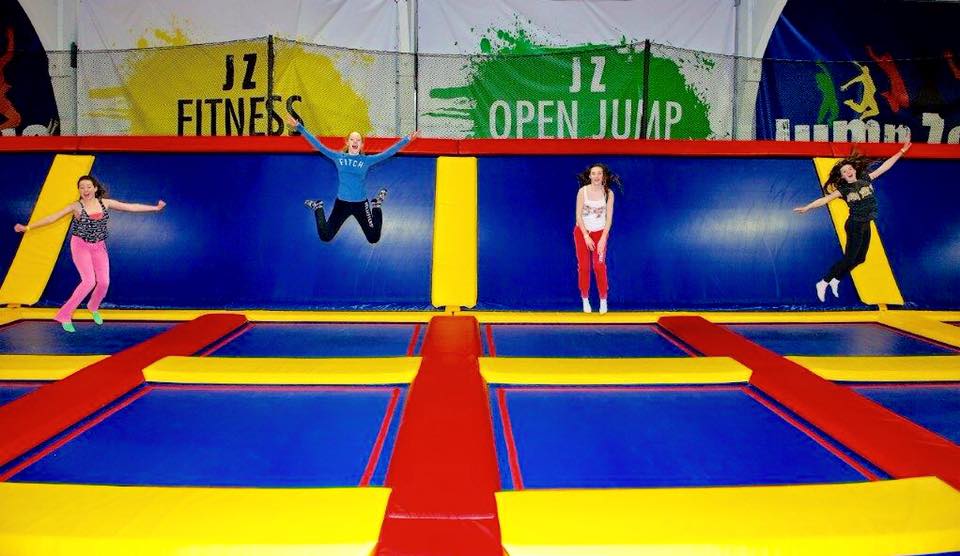 Jump Zone is Ireland's first trampoline park and has three locations: Sandyford, Santry and Liffey Valley. Activities include a foam pit, trampoline dodgeball, and free jumping – perfect for practicing jumps and tricks!
Kids must be over the age of 5 and above 1 m to be allowed to jump. The parks are open Tuesday to Sunday.
More info: Jump Zone 
15. Dingle Horseriding, Co Kerry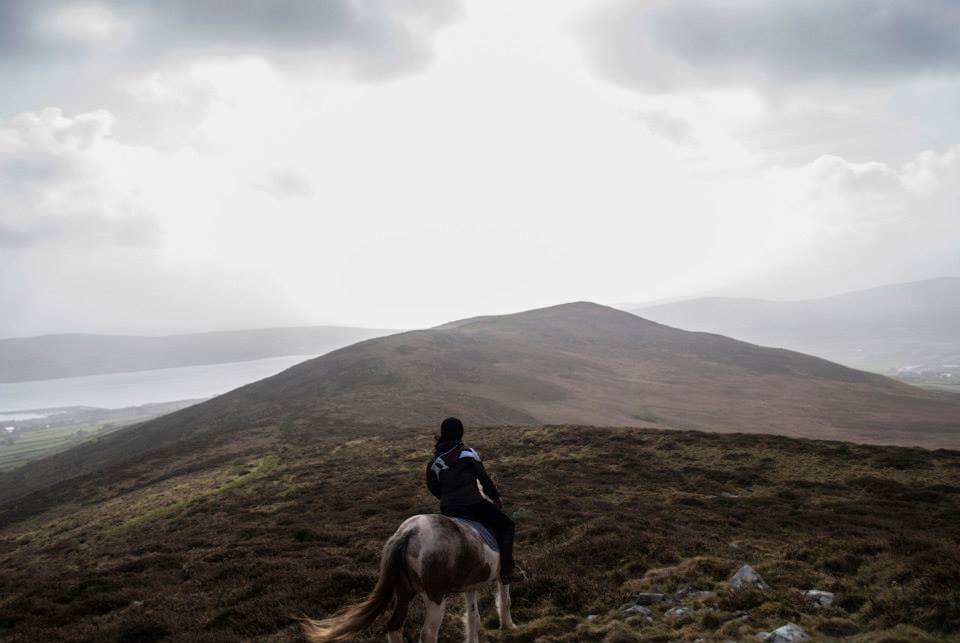 Just a mile outside Dingle, Co Kerry, you'll find Dingle Horseriding, which offers spectacular tours along the Dingle Peninsula. They do everything from one-hour tours to full-day treks and cater for all ages and levels of ability.
More info: Dingle Horseriding
16. Family Friendly Hiking in Crosshaven, Co Cork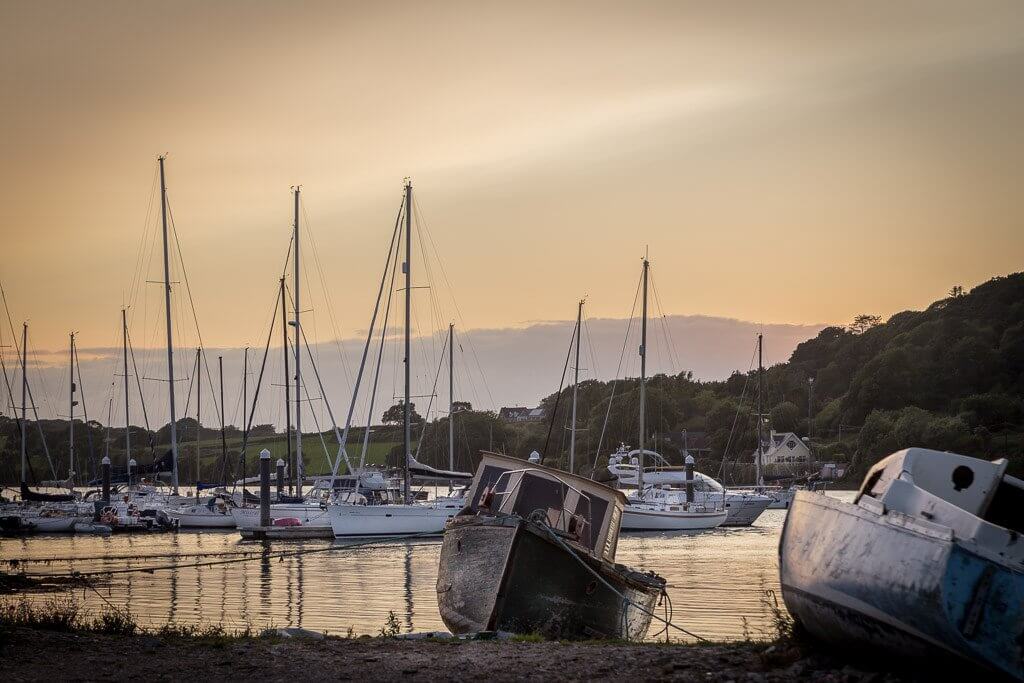 The Carrigaline to Crosshaven Greenway is an easy trail with lots of picnic spots along the riverside. The 5km long trail runs along the old railway line. Crosshaven is a nice spot to finish as you can reward yourself and the kids with a well-earned ice-cream.
More info: Irish Trails
17. The Kildare Maze, Co Kildare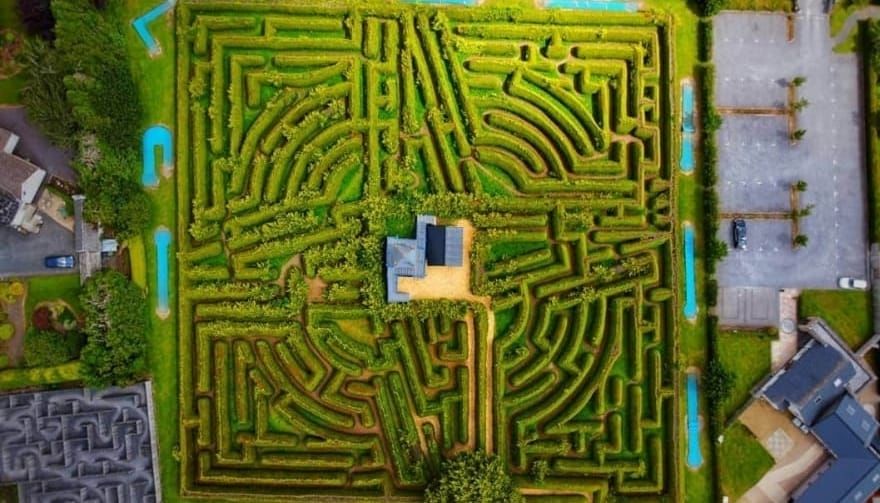 The Kildare Maze is Leinster's largest hedge maze. It's located just outside Prosperous.
As well as the hedge maze, this adventure centre also has crazy golf, a wooden maze, adventure trail and zip-wire and even a toddlers play area.
It's a very affordable day out. For a family of two adults and two children it's only €25.00 for admission.
More info: The Kildare Maze
18. Cycle a Greenway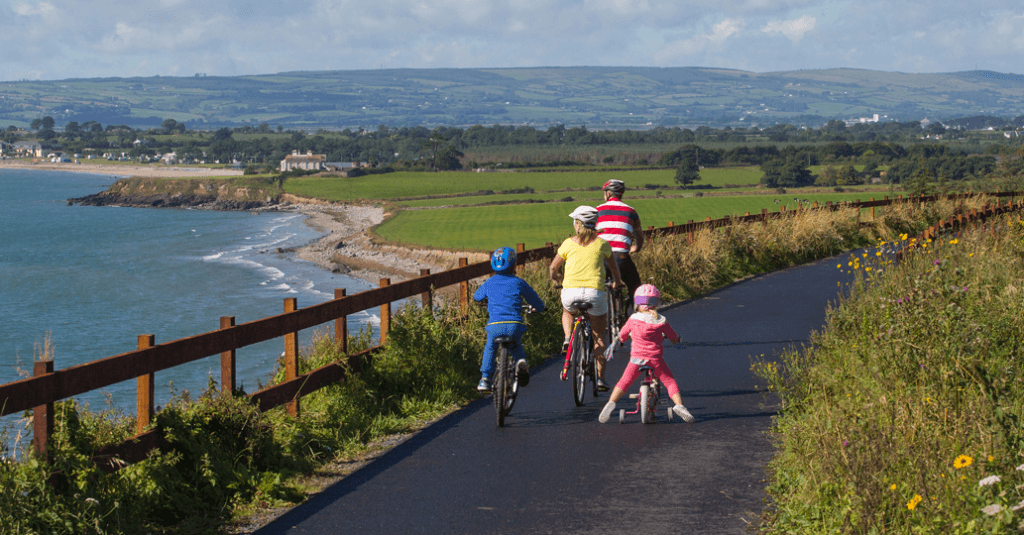 These off-road cycling and walking routes are popping up across the country and we are delighted. Most well-known are the Western and Waterford Greenways, but the Carlingford Lough Greenway and the Old Trail Greenway from Mullingar to Athlone are also great options. The Grand Canal Greenway is the longest in Ireland at 117km and runs from Lucan in Co Dublin to Shannon Harbour.
More info: Western Greenway, Waterford Greenway, Carlingford Lough Greenway, Old Trail Greenway, Grand Canal Greenway.
19. Embark on an Adventure in Dunmore, Co Waterford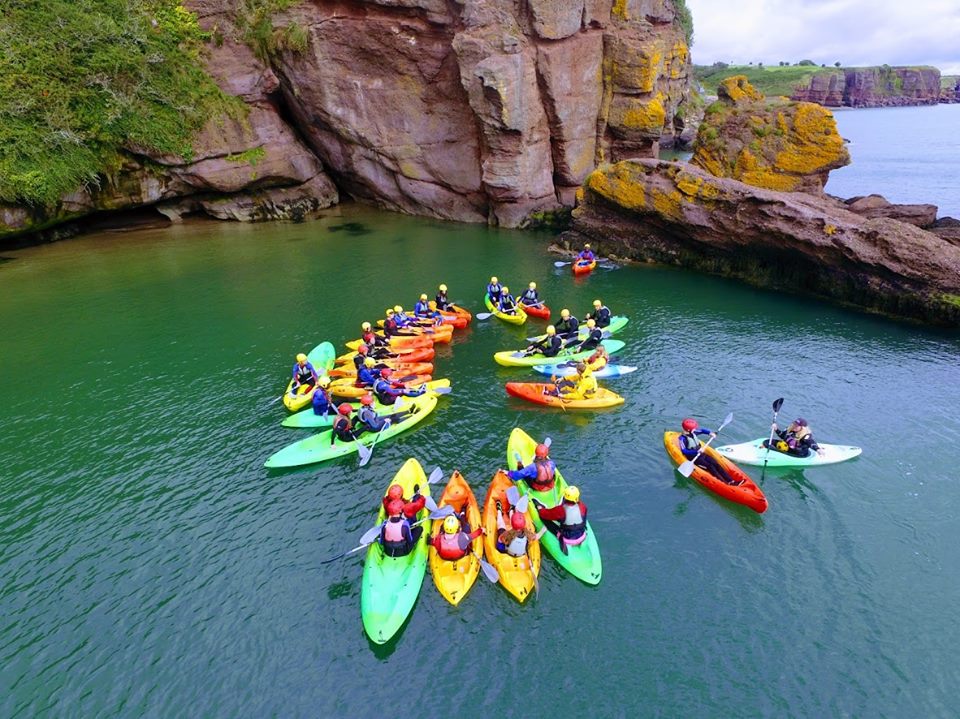 Dunmore Adventure offers their guests a range of different adventurous activities, and by a range, we're talking SUPing (and giant SUP), sailing, kayaking, caving, and climbing.
On top of all this, they also have the biggest wipeout course in Ireland – an obstacle course on the water with swings, slides, spinners and a massive action tower.
Make sure to call and book in advance, and once you're all booked – you'll find them in Nymphhall Harbour, in Dunmore.
More info: Dunmore Adventure 
20. The Copper Coast Geopark, Co Waterford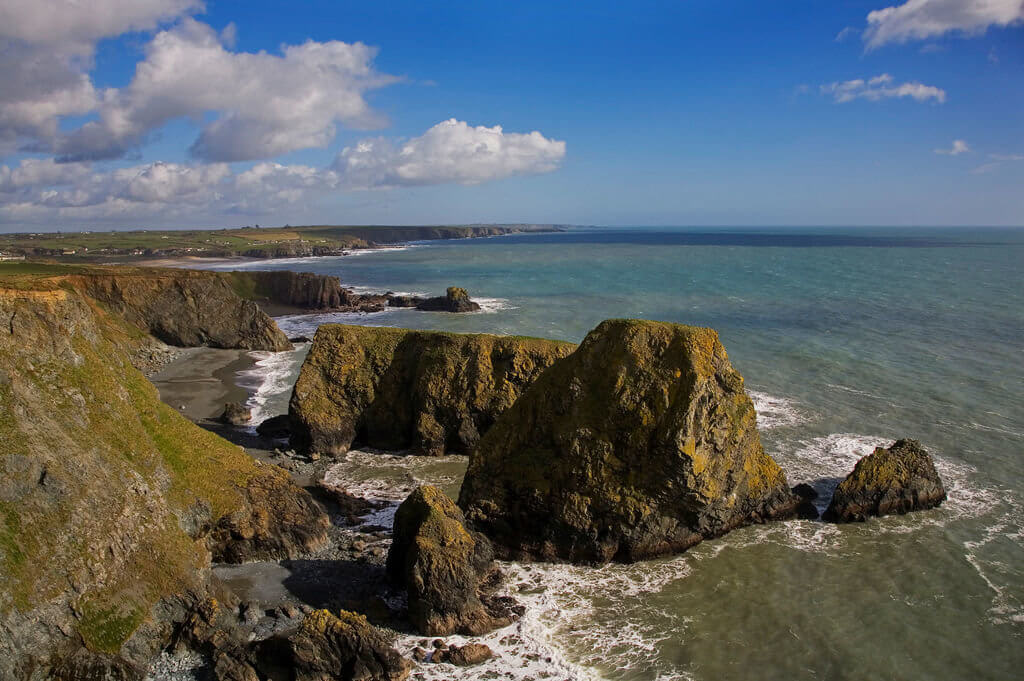 The Copper Coast Geopark in Waterford offers insane rock formations along Waterford's Copper Coast, and it's completely free for you and your family to explore. The rock formations date back 460 million years. There is a visitors centre which will provide you will all of the information about the park.
More info: Copper Coast Geopark
21. Gaze Into the Star-Studded Skies, Co Kerry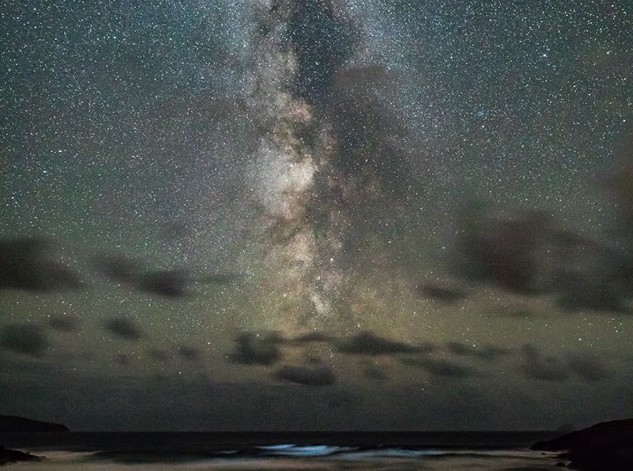 The Kerry International Dark-Sky Reserve is located in Co Kerry, in an area that is called an ISTHMUS – a narrow strip of land connecting two larger land areas, usually with water on either side.
The reserve is surrounded by the Kerry Mountains on one side and the Atlantic ocean on the other, is approx. 700 sq km in size and offers dark, un-light polluted skies – perfect for stargazing. So gather the family, bring a rug and a picnic basket and enjoy an evening of stargazing at the reserve which is one of only three gold-tier reserves in the whole world!
The dark-sky area stretches from Kells to Valentia Island to Castlecove, all in Southwest Kerry.
More info: Kerry International Dark-Sky Reserve 
Whale Watching in Ireland: Where to Go & What You'll See
22. Dolphin Spotting, Co Clare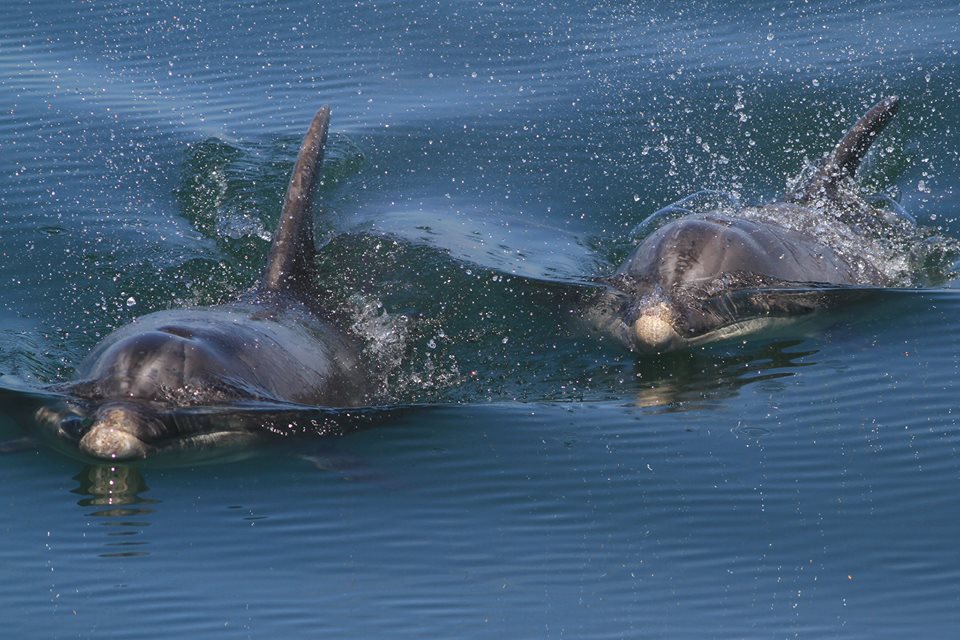 Is there anything more enticing and thrilling than waiting, looking out for and finally SEEING rarely spotted animals in their natural habitat?! In Carrigaholt in Co Clare, you've got the chance of spotting dolphins up close.
Check their website or call them to find out what the conditions are like, and if a trip will be organised or not (sometimes due to bad weather forecasts or sea conditions as well as depending on the location of the dolphins, there might not be an outing on that day).
While the main objective is to spot Ireland's resident group of bottlenose dolphins, there is much more to experience on this journey around Shannon – historic landmarks, spectacular cliffs, pelagic seabirds, and Grey Seals are just a few.
The tours run between April and September, and if you're lucky you might even spot a whale out there!
More info: Dolphinwatch 
23. Garnish Island, Co Cork

Garnish Island is a flourishing, quirky, little island situated in the harbour of Glengarriff in Bantry Bay, Co Cork. It's famous for its green gardens, squiggly walking paths and rare plants.
You'll get to the island by the Garnish Island Ferry shuttle service which runs from the main pier in Glengarriff. The charming little boat ride includes a trip to Seal Island, which is home to a local colony of wild harbour seals who are more than happy to pose for photos as they catch some rays on the rocks.
The island is open for visitors from April through October, generally from 10 am to 5:30 pm but the times vary from month to month so make sure to check their website ahead of your visit.
PS. Remember to bring cash, as there is no ATM in Glengarriff or card machine service operating on the ferries!
More info: Garnish Island
24. Lahinch Surf School, Co Clare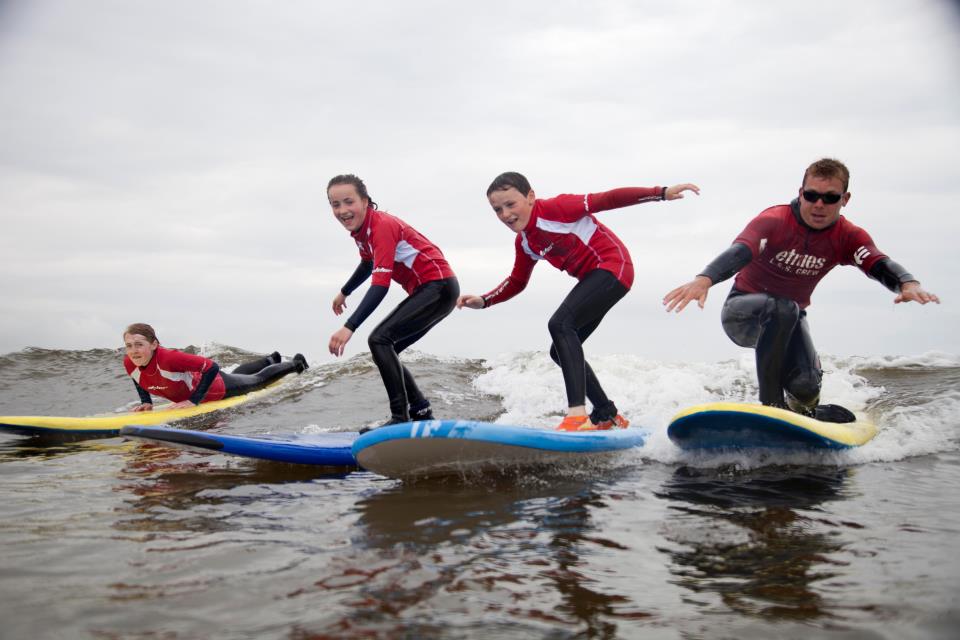 Over the summer months, Lahinch Surf School in Co Clare – run by ex-pro surfer John McCarthy – offers family surf lessons daily. Kids need to be over the age of 9 to join the lessons but they will take younger kids if one of the parents agrees to supervise.
In the summertime, they also do a "Grom Camp" for kids from 6 to 8 years.
A family package with two adults and two kids is €120 and then €30 extra for any additional people.
More info: Lahinch Surf School 
25. Take a Trip out to Barley Cove Beach, Co Cork
Situated in Cannawee, Co Cork, you'll find what arguably is one of Ireland's most beautiful beaches: Barley Cove. In addition to mind-blowing views Barley Cove offers nice walks, great surf and lots of rock pools to explore too. Don't forget to bring your picnic as once you arrive you will never want to leave.
More info: Wikipedia
26. Ballinastoe Woods Mountain Biking, Co Wicklow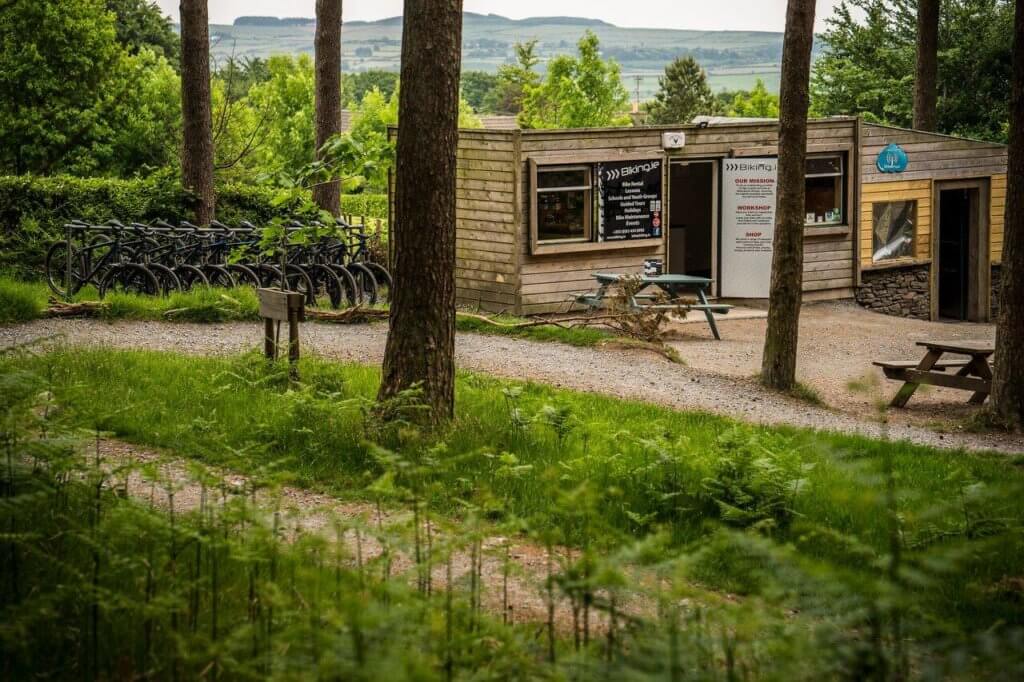 Ballinastoe Woods has many different mountain biking trails ranging from beginner level to expert. It's an excellent day out for a family who want to stay active but try something new.
You are free to bring your own bikes and use the trails free of charge, but should you need to rent a bike booking in advance is advised as it's a popular destination.
More info: Ballinastoe Mountain Biking
27. Fairy Trails, Co Kerry
There are no less than two magical fairy trails to be found in Kerry: one in the surroundings of Derrynane House and the other in the woods around Parknasilla Resort. Both are free and open to all visitors.
Even when it's raining, you will be in the shelter of the woods, making this an all-weather family friendly activity!
More info: Irish Fairy Trails
28. Ziplining and High Ropes with Zipit, Dublin, Roscommon & Cork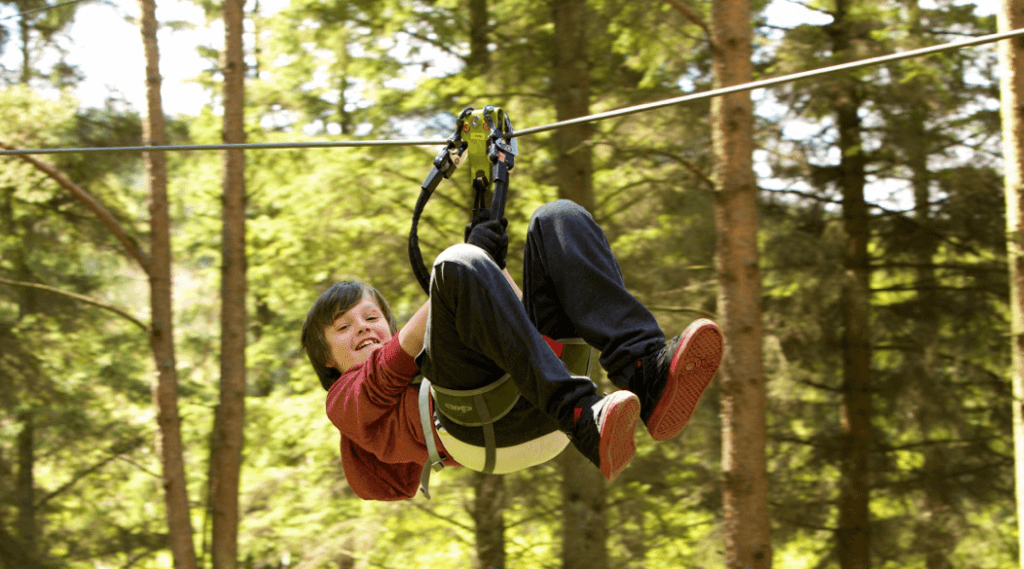 Nothing quite compares to the thrill of whizzing down a piece of wire suspended high in the air. It is thrilling, exciting and appealing to kids, both big and small! With three locations around Ireland – Lough Key in Roscommon, Tibradden in Dublin and Farran Park in Cork – Zipit is always a great day out. Climb high into the treetops, swing into cargo nets and ride a BMX across a bridge before taking to one of the many zip lines on offer. Kids as young as seven right up to adults will love this adrenaline-filled day out.
More info: Zipit
29. Adventure Breaks at Delphi Resort, Co Galway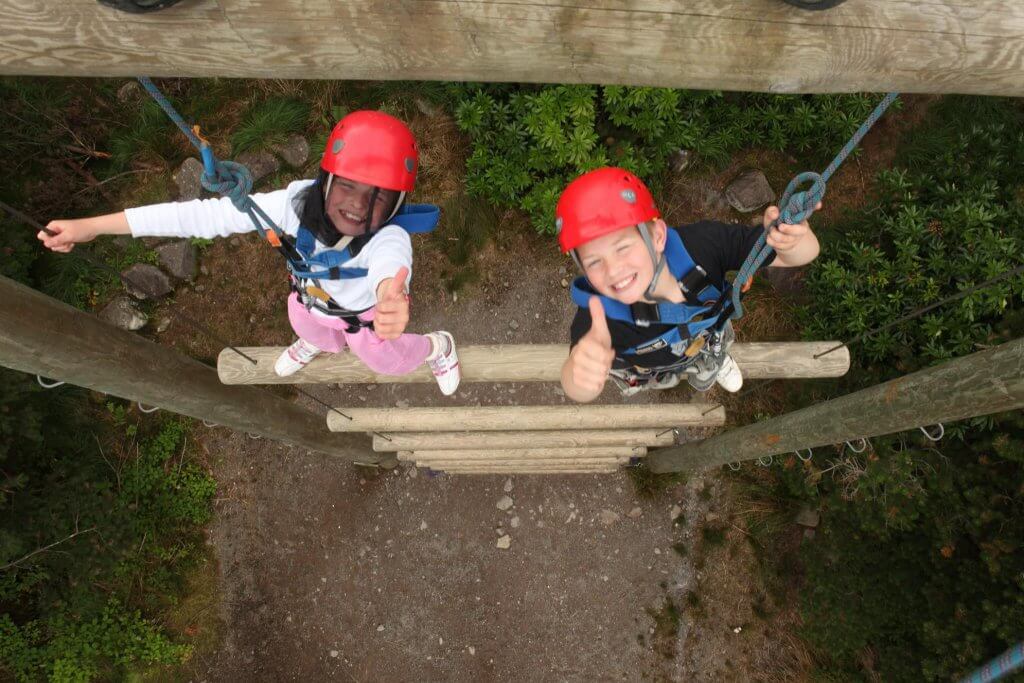 Delphi Resort is the perfect place for action-packed family breaks. Offering a range of packages there is a huge emphasis on fun and adventure. During the day older kids and adults can choose from a wide range of activities including high ropes courses, cycling, kayaking, hiking and lots more. Smaller kids are also catered for in the kids club where they will partake in arts and crafts and nature walks. There's even a Mini Adventure Club which offers bushcraft survival skills, tunnelling and mini climbing. It will definitely appeal to adventurous kids.
More info: Delphi Resort
30. Killary Adventure Centre, Co Galway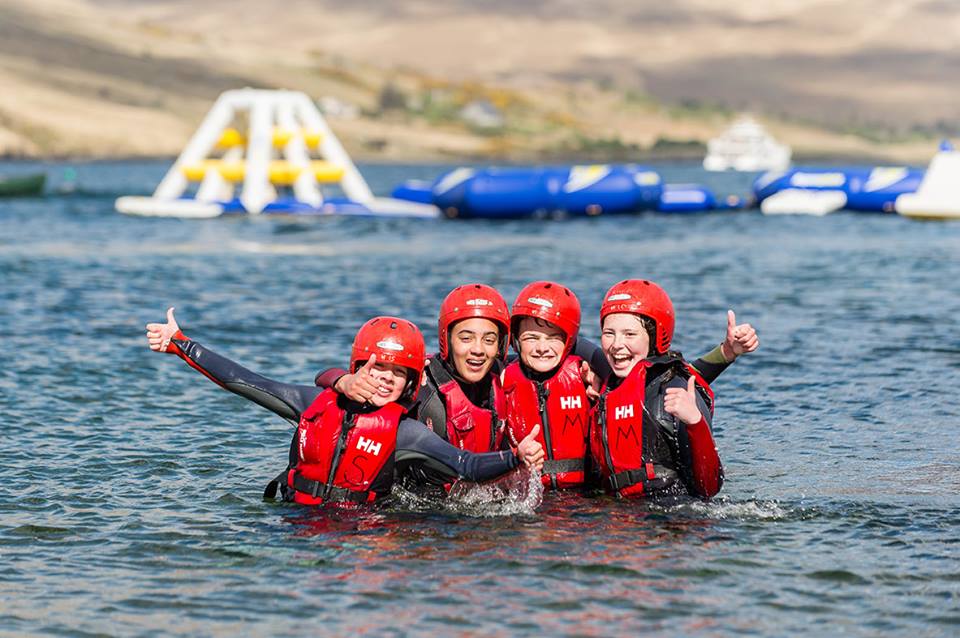 Catering for adventure-loving families Killary Adventure Centre has a range of 20 different adrenaline-filled activities to choose from. 
The staff are very helpful and can assist you in mixing and matching activities at the centre with visits to local attractions along the Wild Atlantic Way also on offer.
Activities include a high ropes course, archery combat, gorge walking, water skiing, electric orienteering and rock climbing.
More info: Killary Adventure Centre 
31. Glencar Waterfall, Co Leitrim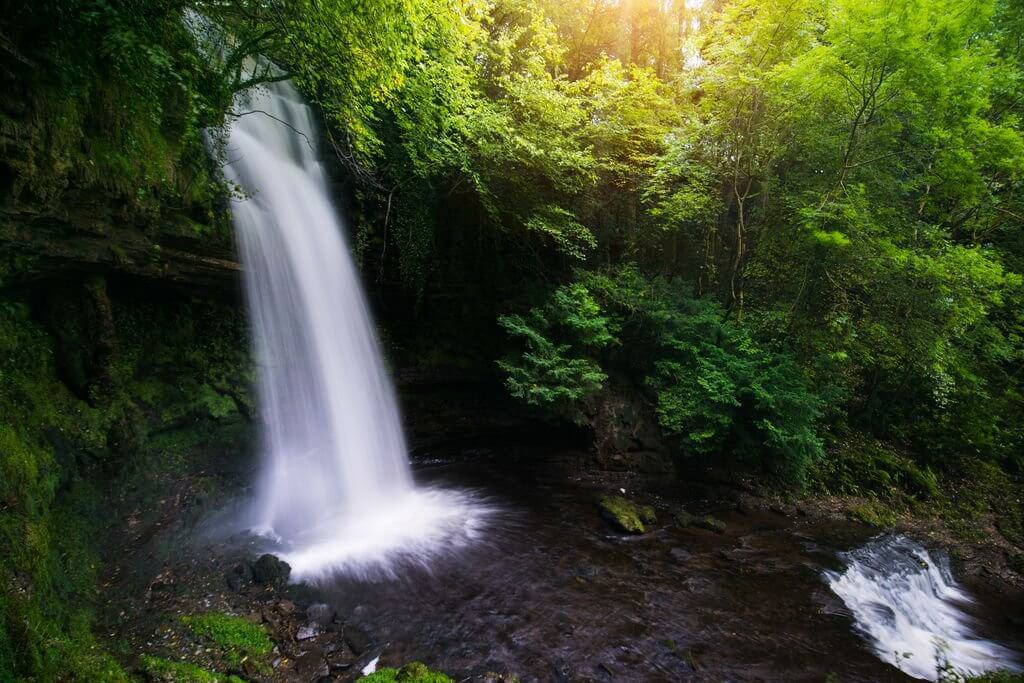 Glencar Waterfall is a 50ft high, stunning, waterfall situated at Glencar Lough, located about 11km west of Manorhamilton, in Co Leitrim. It can be reached and viewed from a lovely wooded walk which also offers picnic areas and a playground.
There are more waterfalls visible from the road, however, none of them is as spectacular as the Glencar.
More info: Leitrim Tourism 
32. Explore a Host of Adventures at Lough Key, Co Roscommon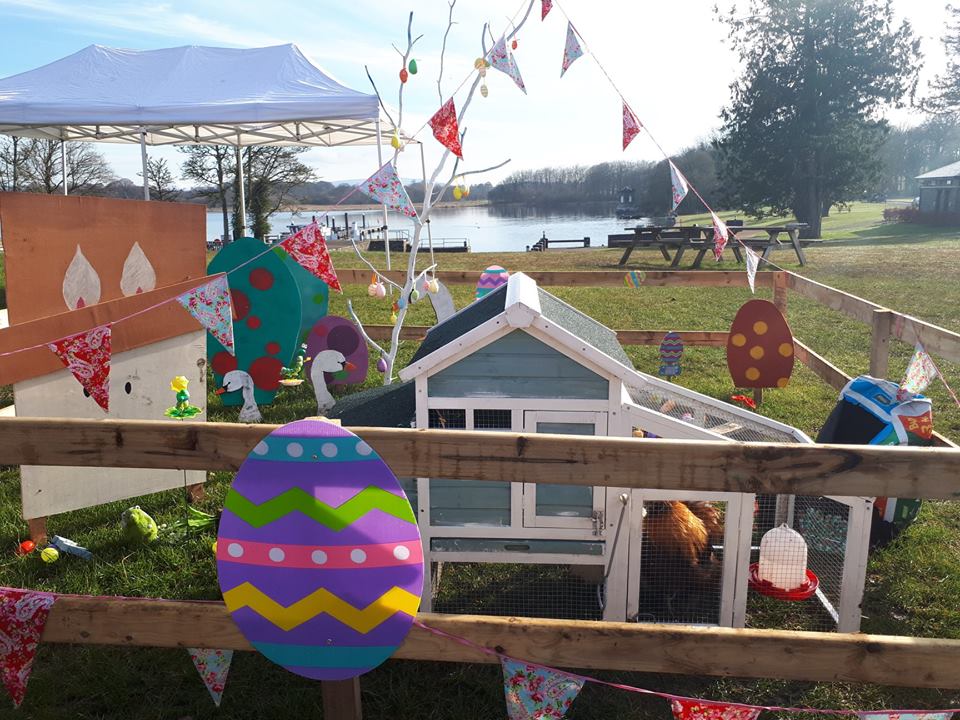 Located in Co Roscommon Lough Key Forest Park offers a host of activities for kids and adults of all ages. There is an 8km trail that is bike and buggy friendly, a high ropes course, orienteering trails, boat trips, a woodland safari and lots more to keep everyone entertained.
More info: Lough Key Forest Park
33. Family Cycling, Co Limerick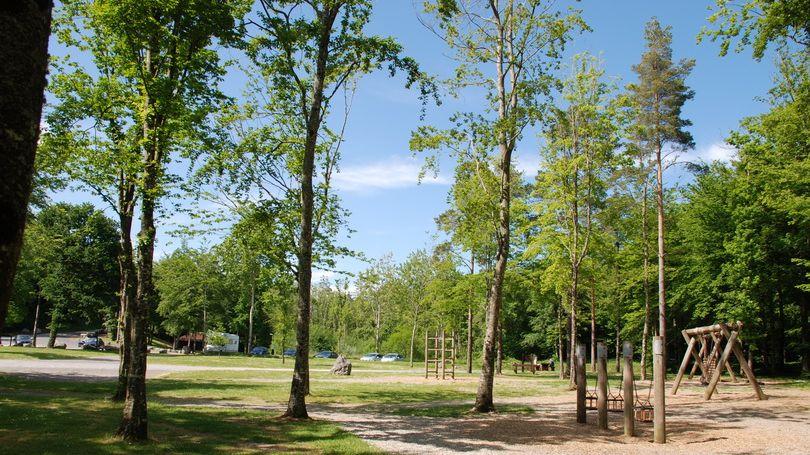 The family cycling trail in Curraghchase Forest Park is a perfect way to introduce cycling to younger kids, as the route is only 3.6 km long and won't take longer than 30 minutes.
Although most of the loop has a low gradient, there are some parts with loose rocks, narrow paths and roots to pass which make the route a little bit more exciting!
The loop starts and ends at the car park and you will pass a broadleaf forest, an old cave and majestic limestone cliffs along the way. The trail also passes through an old Yew woodland habitat where some of the massive Yew trees are a hundred years old!
More info: Discover Ireland
10 Kids' Activities this Autumn: Banish the Back-to-School Blues!
34. Canoeing in Lough Derg, Co Galway & Tipperary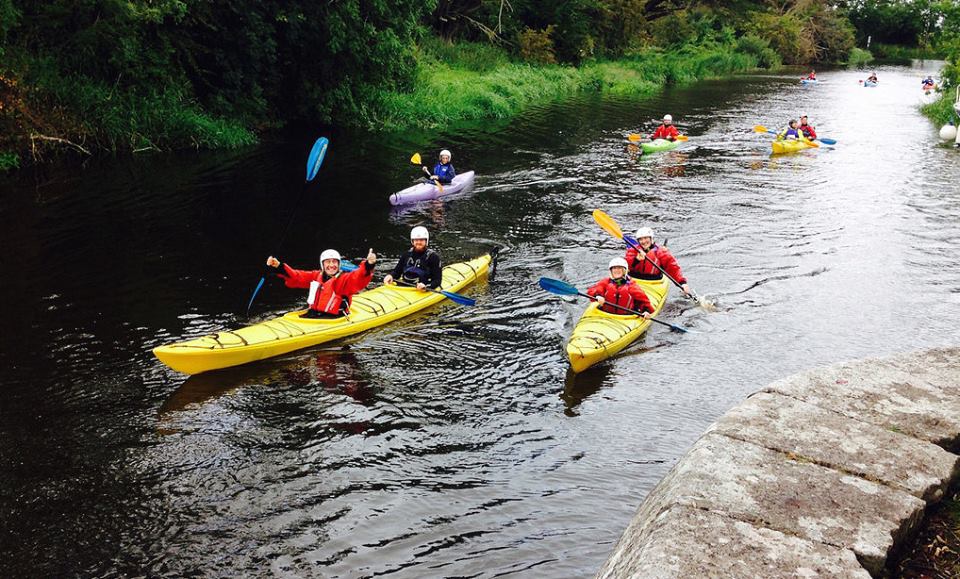 The northern section of the Lough Derg Blueway, that runs between counties Galway and Tipperary is a great spot to take out the kayaks with the kids.
Portumna Recreation Park to Hayes Island is  4.75 km round trip and will take around 1.5 hours. Another route, starting from the same spot, is  Portumna Water Recreation Park to Portumna Forest Park. This one is a good option if the younger ones aren't experienced paddlers as you can turn back whenever you like. It can take anywhere from 35 minutes to two hours, one way, depending on the chosen turn-around point.
You can rent your canoes from Lough Derg Watersports. 
More info: Blueways Ireland
35. Aran Island Exploring, Co Galway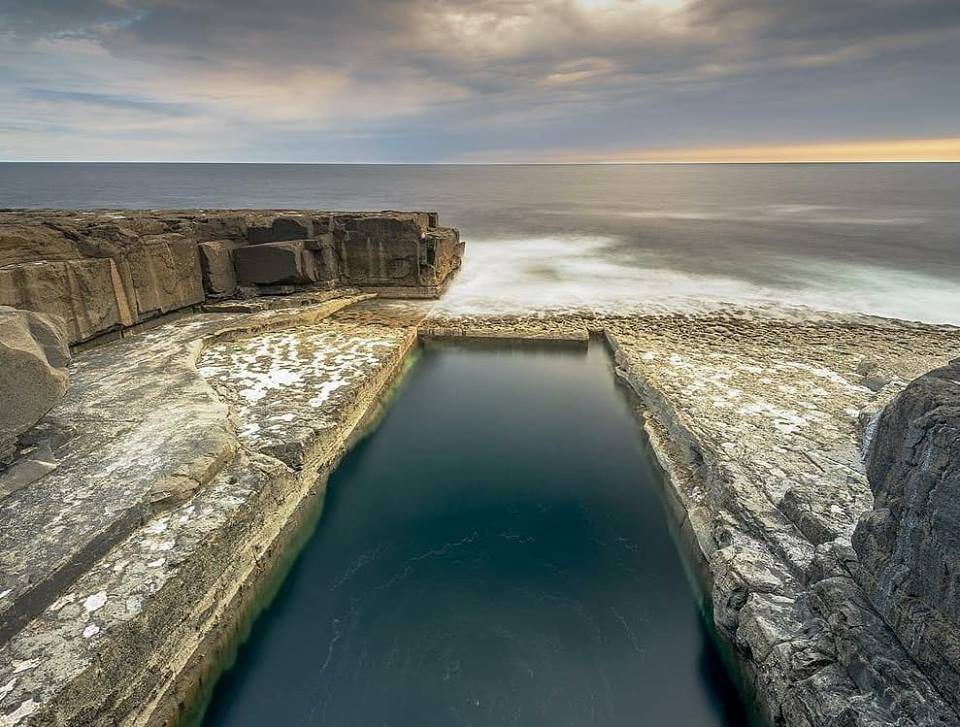 Consisting of the three islands: Inishmore, Inishmaan and Inisheer the Aran Islands offer an abundance of amazing cycling, hiking and swimming spots in one of the most beautiful places in Ireland.
More info: Aran Islands
36. Pirate Fun at Westport House, Co Mayo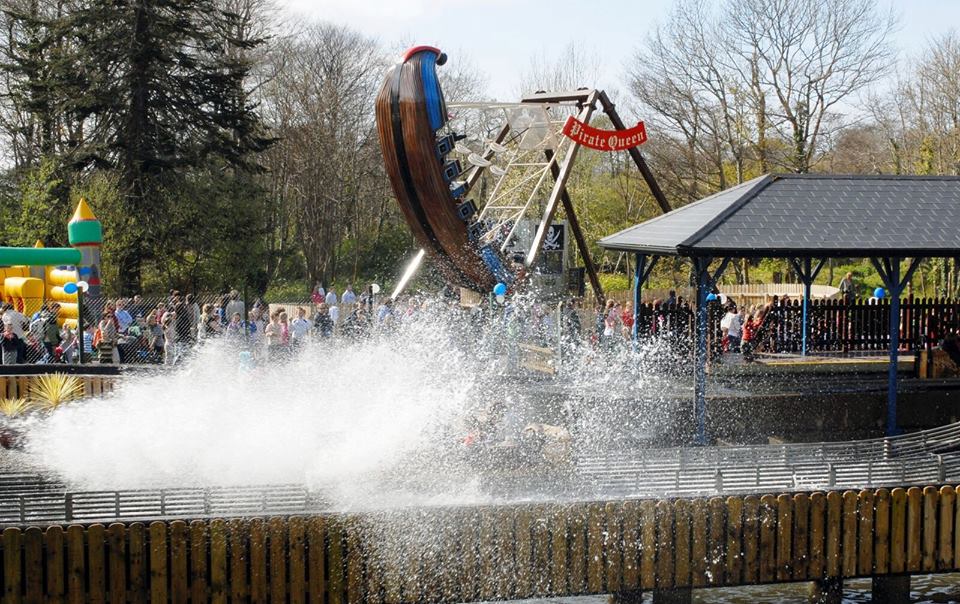 Go-karting, bouncy castles, swan boats, slides, rides and of course the pirate adventure park are just some of the reason to visit gorgeous Westport house.
The park which offers rides, slide, boats and trains is best suited for kids between the age of 4 and 11. Westport House, located a five-minute drive from the town is also a lovely place to stroll around and while away a few hours.
Entry to the Pirate Adventure Park is €20, kids under 2 go free!
More info: Westport house 
37. Meet Some Fluffy Friends at Glendeer Pet Farm, Co Roscommon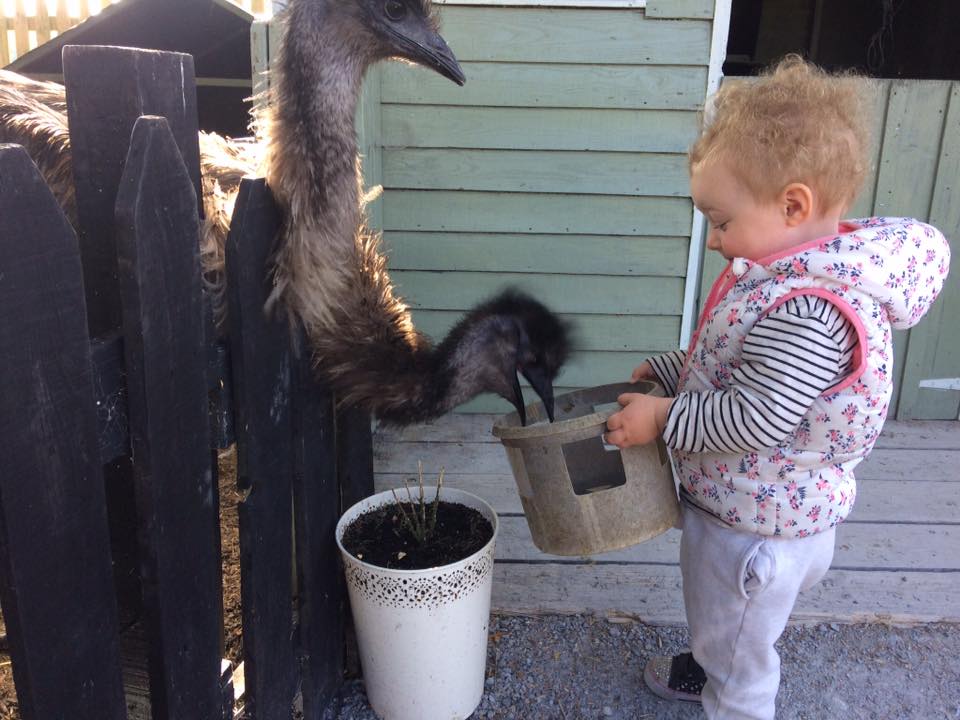 Fluffy, funny, friendly friends on two and four legs that just want to be cuddled and fed, what's not to like?! Kids tend to love all sorts of animals, and this place is just crowded with different exotic creatures: alpacas, parrots, horses, goats, monkeys, donkeys, racoons and pigs.
Glendeer also has guided tours, picnic areas, playgrounds, nature walks and a café to make the day as enjoyable and eventful as possible.
Located in Curryroe, Co Roscommon, the price for one is €8 and children under 18 months go for free.
The opening hours are Monday to Saturday 11am to 6pm and Sundays from 12 pm to 6 pm. The farm stays open between 17 March through September.
More info: Glendeer Pet Farm 
38. Celtic Gardens and Discovery Trails in Brigit's Garden, Co Galway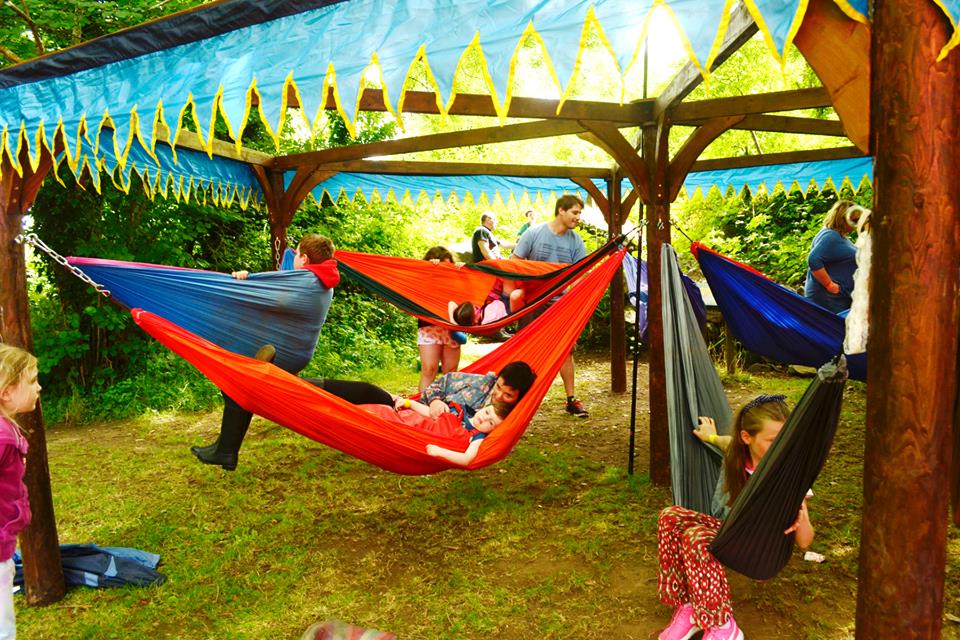 Brigit's Garden is a family-friendly sanctuary in the West of Ireland, regarded as one of the most spectacular Celtic gardens in the country. Aside from all the Celtic heritage and mythology in the gardens, there is a nature trail, a fairy fort and a natural playground to explore.
On the site, there is a visitor's centre and a garden café that serves freshly made food.
Brigit's Garden is located in Roscahill, Co Galway, just a 20-minute drive from Galway city. The gardens are generally open between 10.00 am to 5.00 pm and admission is €8 for adults and €5 for kids. During the months October-March it's a few euros cheaper.
More info: Brigit's Garden 
39. Introduction to Sea Swimming (and Jumping!), Co Galway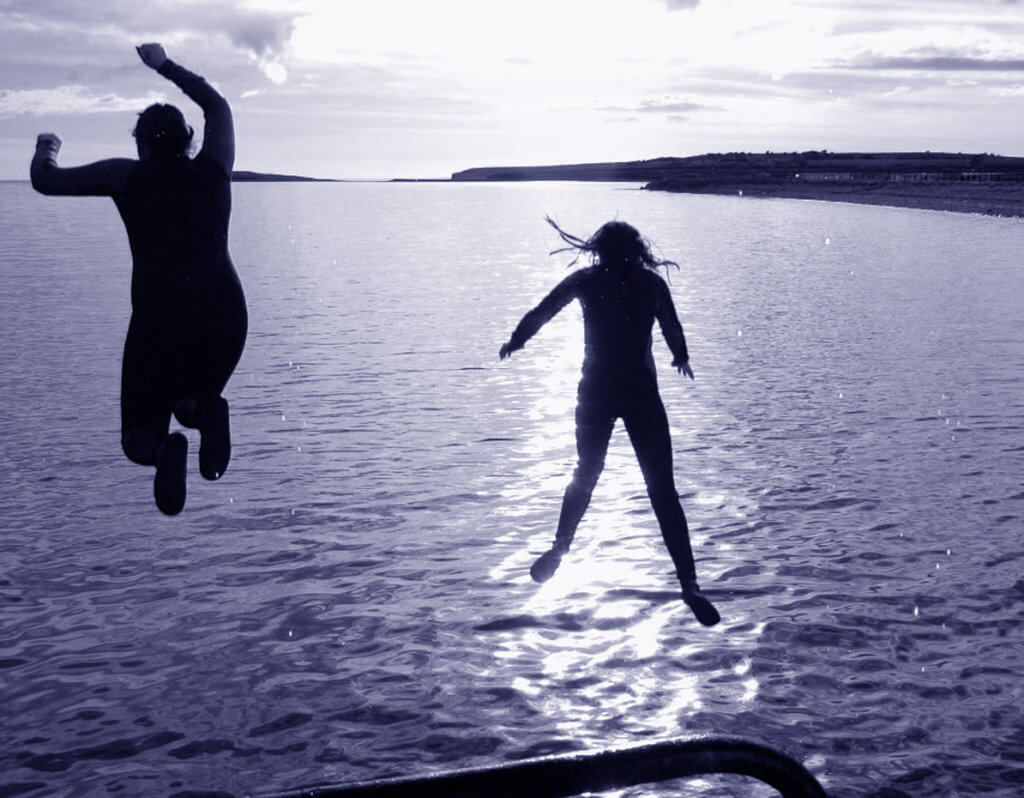 If you happen to be into sea swimming and are looking for a good way to introduce your kids to your favourite pastime, then taking them to Salthill in Galway could be a good idea!
The surroundings get busy over the summer months but Salthill is a fun place to take the younger ones to, as the Blackrock Diving Tower is perfect for some exciting jumps into the big blue.
Salthill is located on the northern inner shore of Galway Bay.
More info: Discover Ireland 
40. Hit the High Seas with Aquaholics, Co Derry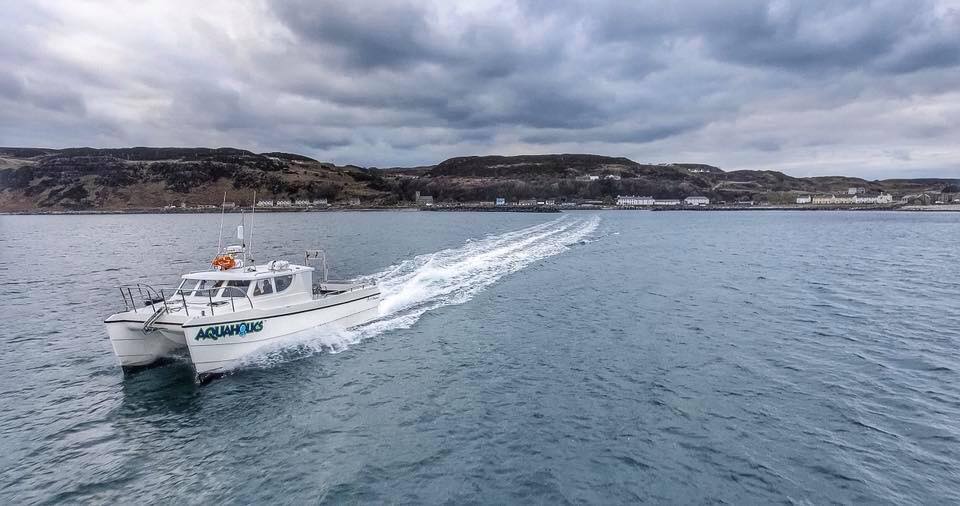 A recent trip to the Causeway Coast uncovered a host of incredible activities for all ages. Aquaholics runs a fantastic boat trip from Ballycastle. Kids will be kept entertained as they look out for dolphins, whales and even basking sharks. Bigger kids can also opt to hop off the boat and into the North Atlantic ocean swimming right underneath the infamous Carrick-A-Rede bridge. It's a great way of ticking off some famous sites along this amazing coastline without having the kids cooped up in the car.
More info: Aquaholics
41. Take Giant Steps in Bushmills, Co Antrim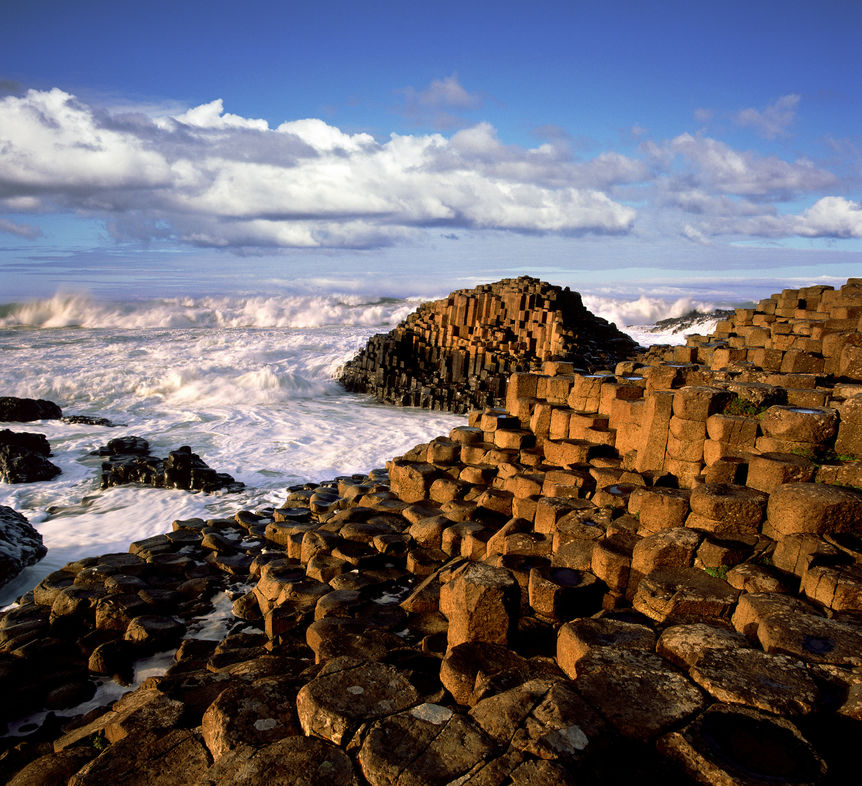 If Giant's Causeway in Bushmills isn't worth a visit, then what is, really?! This amazing spot at the very top of Ireland in Co Antrim is a unique place with baffling rock formations and stunning coastal views. Giant's Causeway is one of the 25 bewildering places in the world that is included on the World Heritage site list.
There are two ways to approach the Giants Causeway. The first way is by road, either on foot or by using the seasonal bus service that is accessible for people with disabilities. A longer circular walk follows the cliff path to Shepherd's Steps and back via the Giants Causeway and is 3 km.
Entry to the visitor's centre is £4.25 for kids, £8.50 for adults and £21.00 for a family. The prices include car parking. For the ones with smaller kids in buggies, there is plenty of accessible paths for them too.
More info: Giant's Causeway Official Guide 
42. Cave Exploring Around Ireland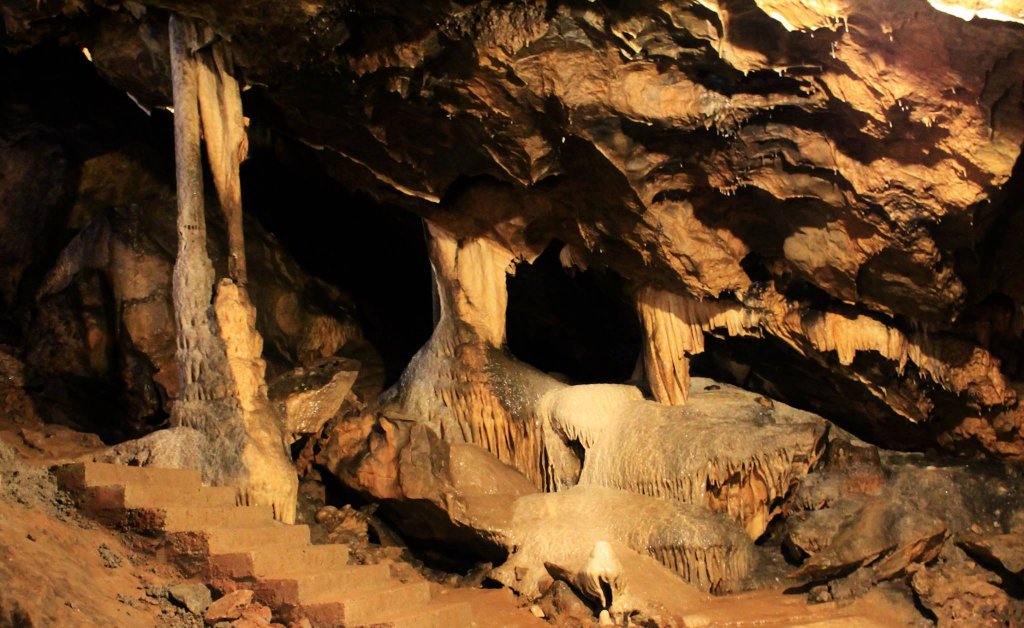 Is the weekend weather forecast looking dull and grey? Not to despair – just bring the family out for a cave adventure, where no sun is needed for a successful day trip. There are several caves spread out around Ireland, all with their own little features and background stories. We have listed our three favourites:
Maghera Caves, Co Donegal
In Ardara, one kilometre outside Assaranca Waterfall (which is also a good place to visit) you'll find the Maghera Caves, located beneath Slievetooey Mountain. Some of them are accessible at low tides from Maghera Strand, others are reached by kayak or boat. In total there are over 20 caves, 8 arches and 5 tunnels to visit, and the beach is located only 200 meters away from the nearest carpark.
More info: http://ardara.ie/maghera-caves/
Bruce's Cave, Co Antrim
In the cliffs of Rathlin Island you'll find Bruce's Cave, located beneath the East Lighthouse. There are various caves hiding in the 60 meter high cliff massive, which is home to thousands of seabirds. You'll reach most of the caves by boat.
More info: http://www.rathlincommunity.org/travel
Mitchelstown Cave, Co Tipperary
This huge cave massive, located over the border from Mitchelstown County Cork, is one of Ireland's largest cave complexes. It's situated 40 minutes from Cork City and apart from being a spectacular experience in itself, the cave hosts both concerts and pop up movie screenings.
More info: http://mitchelstowncave.com/
43. Cliff Exploring With a View, Co Donegal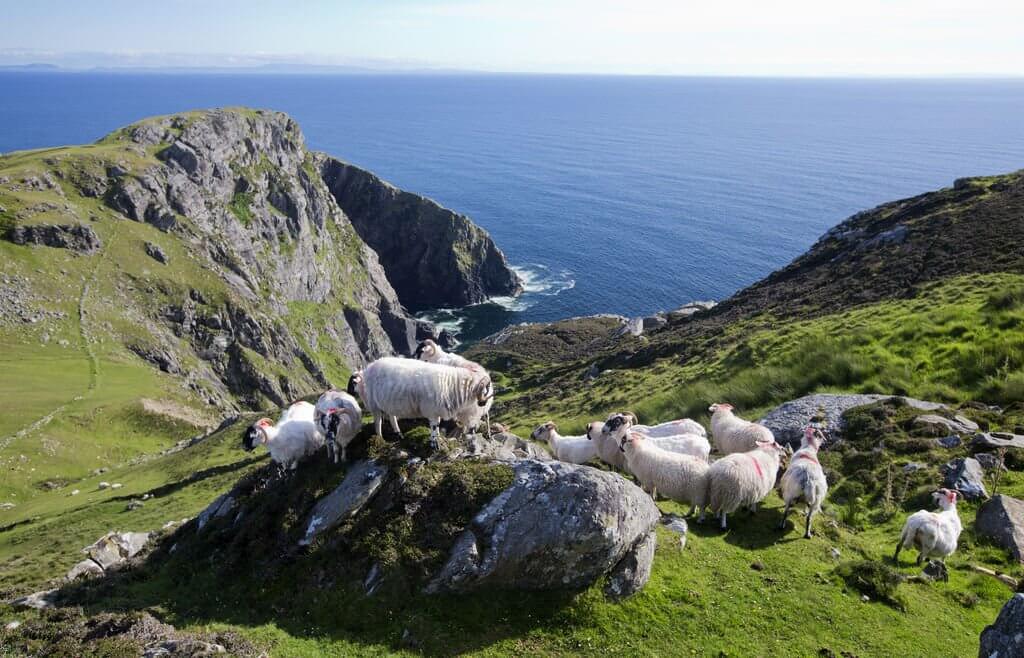 Slieve Leage cliffs are the highest accessible seacliffs in Europe, with a height of 1,972 feet/601 metres which is almost twice as high as the Eiffel Tower and nearly three times the height of the famous Cliffs of Moher.
The good thing about taking the family here is that the cliffs (with their amazing views) are easily accessible, and nowadays you can actually drive almost all the way up, where there is a parking lot. And if the kids are filled with energy, you can walk up instead!
You'll find heaps of picnic tables at the top as well, so if the weather is nice it's the perfect spot for a lunch break.
There are several lakes to stop by on the way to the summit, and at the base there is a small, white sand, beach – however, the beach is only approachable by boat. On the right to the beach, there is a quite large cave where seals sometimes make a pitstop, which could be a good show for kids.
More info: We Love Donegal
8 of the Best Adventurous Summer Camps in Ireland
44. Mountain Biking in Northern Ireland, Co Tyrone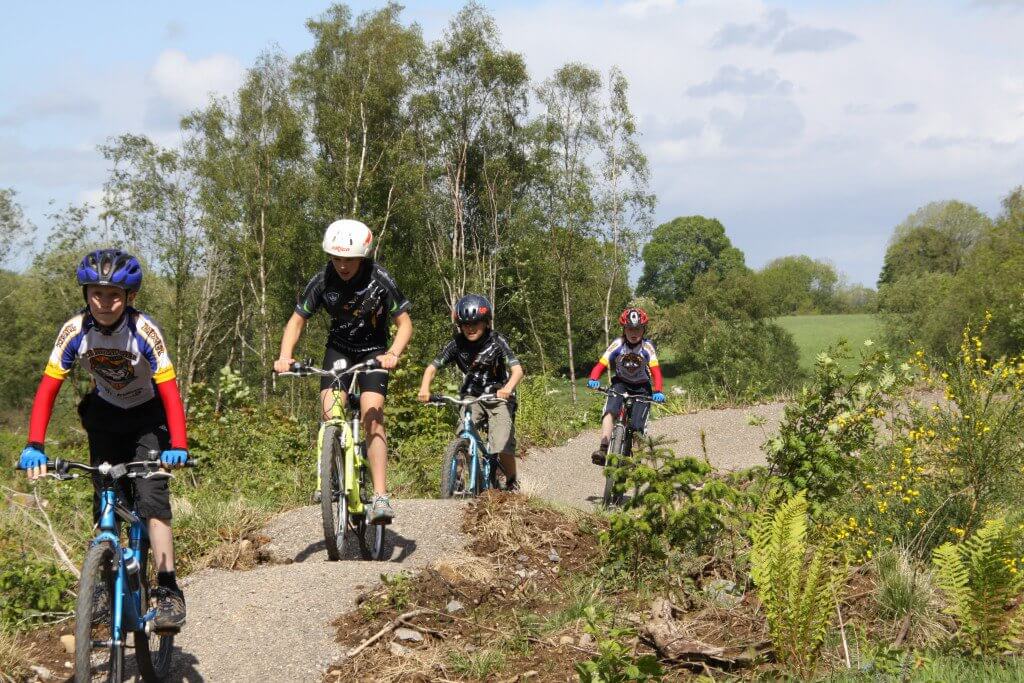 If your (a bit older) kids are in any way interested in cycling and mountain biking, (or if you'd like to spark an interest for them) – this is the perfect place for it. Blessingbourne Estate has premier mountain biking trails, great facilities and loads of experience.
There is over 13 km of mountain biking trails around this gorgeous estate, designed by Architrail's Phil Saxena, who also designed trails for the Beijing Olympics and the Downhill World Cup. The trails range from easy and short to long and technical, and they also have a quality pump track. This place will no doubt cater to all ages and abilities.
There is a bike hire at the estate (where you can get all gear needed) and if you'd like to stay for longer (which is totally reasonable) there are well equipped, self -catering apartments to accommodate.
More info: Blessingbourne 
45. Giant Fun in the Slieve Gullion Forest Park, Co Armagh
Take the whole family exploring in the Slieve Gullion Forest Park in Co Armagh, where you'll be walking right into a fantasy land for young and old. Slieve Gullion is Ireland's own Mountain of Mystery: the forest park offers walking trails, a scenic drive, an adventure playpark, Giant's Lair children's story trail and a courtyard where the parents can get their daily coffee fix.
On a good day, you might even be able to see all the way to Dublin from the top of Slieve Gullion!
The Slive Gullion Adventure Park includes a toddler's area, adventure and play equipment for older kids, the "Slieve Gullion ZIP" and a trim trail for the adults, yes, adults! Burn off some energy on the slides, by climbing frames and with the outdoor gym equipment.
The Giant's Lair Story Trail is a must-see cultural attraction and an innovative magical living storybook. The art in the Giant's Lair is all inspired by the local legends and mythical folklore from all across the Forest Park.
Go on a journey of intertwined fairy house and arts features in a land of mystery, dragons, giants, witches and fairies. It's free to roam around at your own pace but also possible to embark on a guided tour from Fairy Bluebelle Blossom, available through Sticky Fingers.
The Forest Park is open every day from 08:00 until sunset.
More info: Discover Northern Ireland 
46. Corralea Activity Centre, Co Fermanagh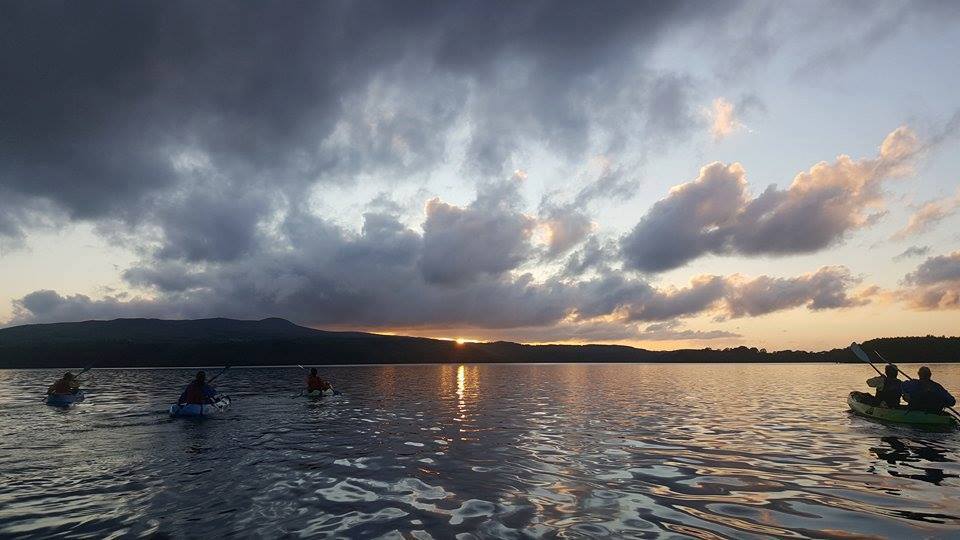 Corralea Activity Centre in Fermanagh is a family run activity centre which is perfect for nature lovers thanks to its idyllic setting in the beautiful Fermanagh Lakelands. 
The Corralea Centre is suitable for a older kids that love to stay busy. There is no shortage of things to get up to, as the centre offers everything from archery to mountain biking, climbing to canoeing and windsurfing and orienteering. Being situated where it is, there is no surprise that the centre also has a fun waterpark with water trampolines and waterslides!
Corralea also offers accommodation for the ones who want to stay longer, with several different packages to choose from. The self-catering cottages are located in Belcoo, which is outside Enniskillen.
More info: Corralea Activity Centre
47. Body Boarding on Causeway Coast, Co Derry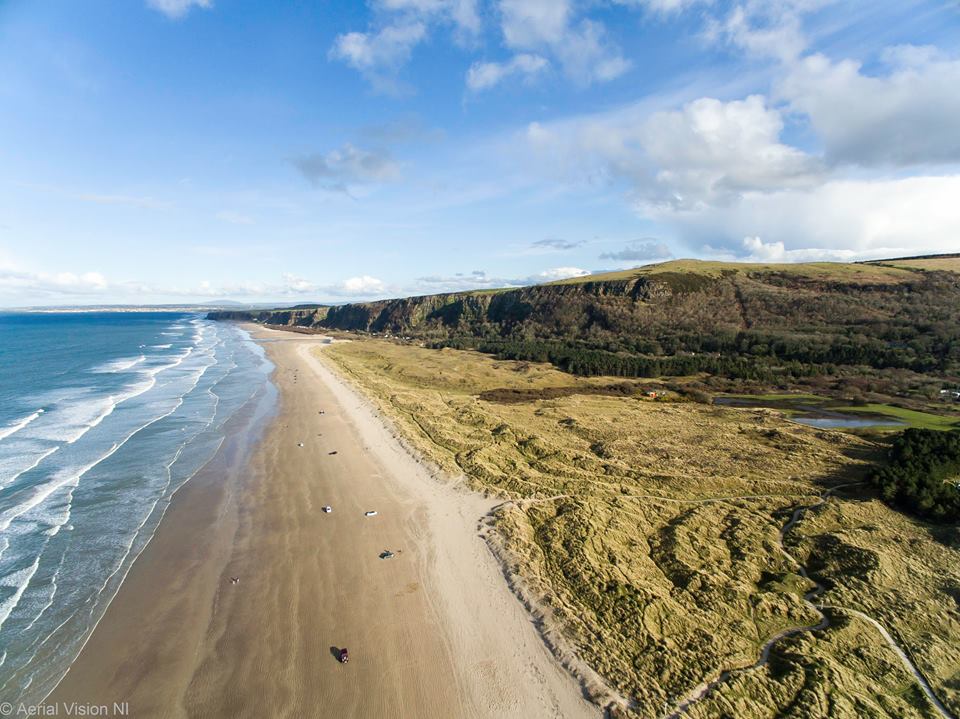 Bodyboarding is a great family activity as it offers all the thrills of surfing but is a lot less technical.
Portstewart and Portrush, both situated along the Causeway Coast, both offer reliable surfing conditions on long sandy beaches. Downhill Beach is part of an 11 km stretch of sand, surf and scenic walks – for the perfect family day out.
You can rent boards from Long Line Surf School or Troggs Surf School from £5, where you can also rent wetsuits.
More Info: Everything you need to know about the Causeway Coast
48. Go on a Forest Adventure in Tollymore, Co Down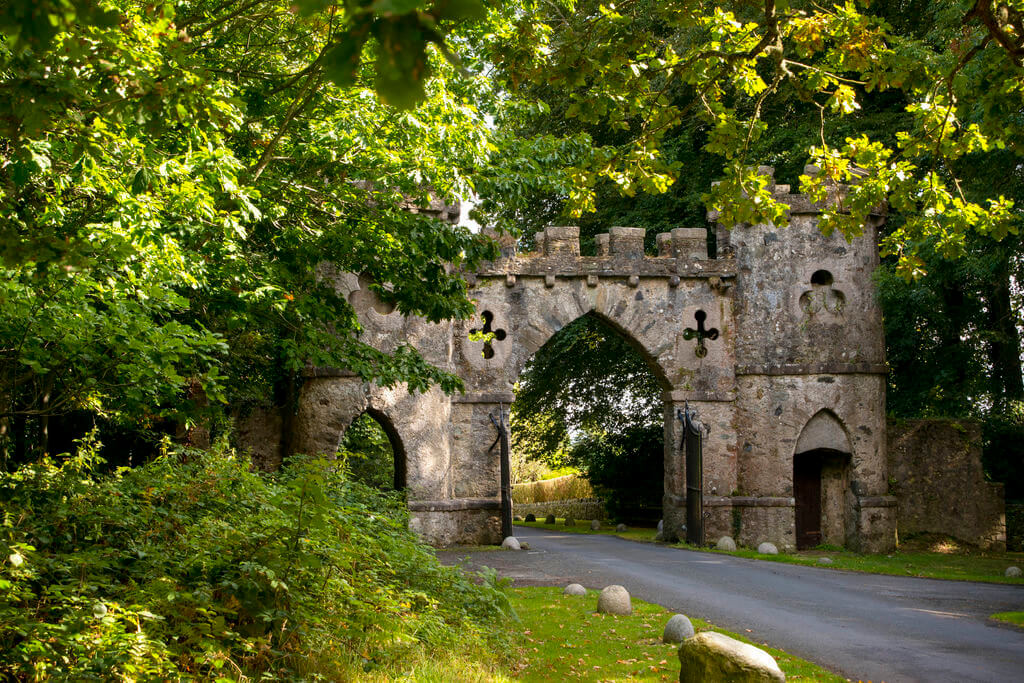 Head to the foothills of the Mourne Mountains, where Tollymore Forest Park is situated, just a 10-minute drive away from the seaside town of Newcastle, in Co Down for a fun-filled day in the woods.
There's lots to do to keep the kids entertained in the park: hop over the famous stepping stones, cross ancient bridges or have a blast at the Big Deer play area featuring a giant timber fallow deer, castle turret, folly tower and hollow tree. There are also mountain bike trails on offer too.
The forest is open every day of the year from 10 am until sunset.
More info: Discover Northern Ireland 
49. We are Vertigo, Co Antrim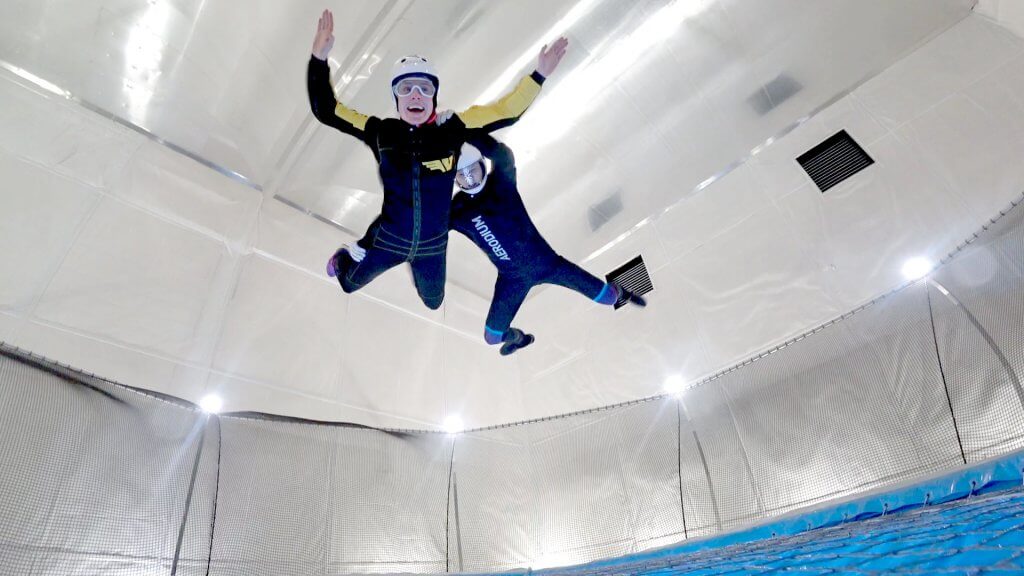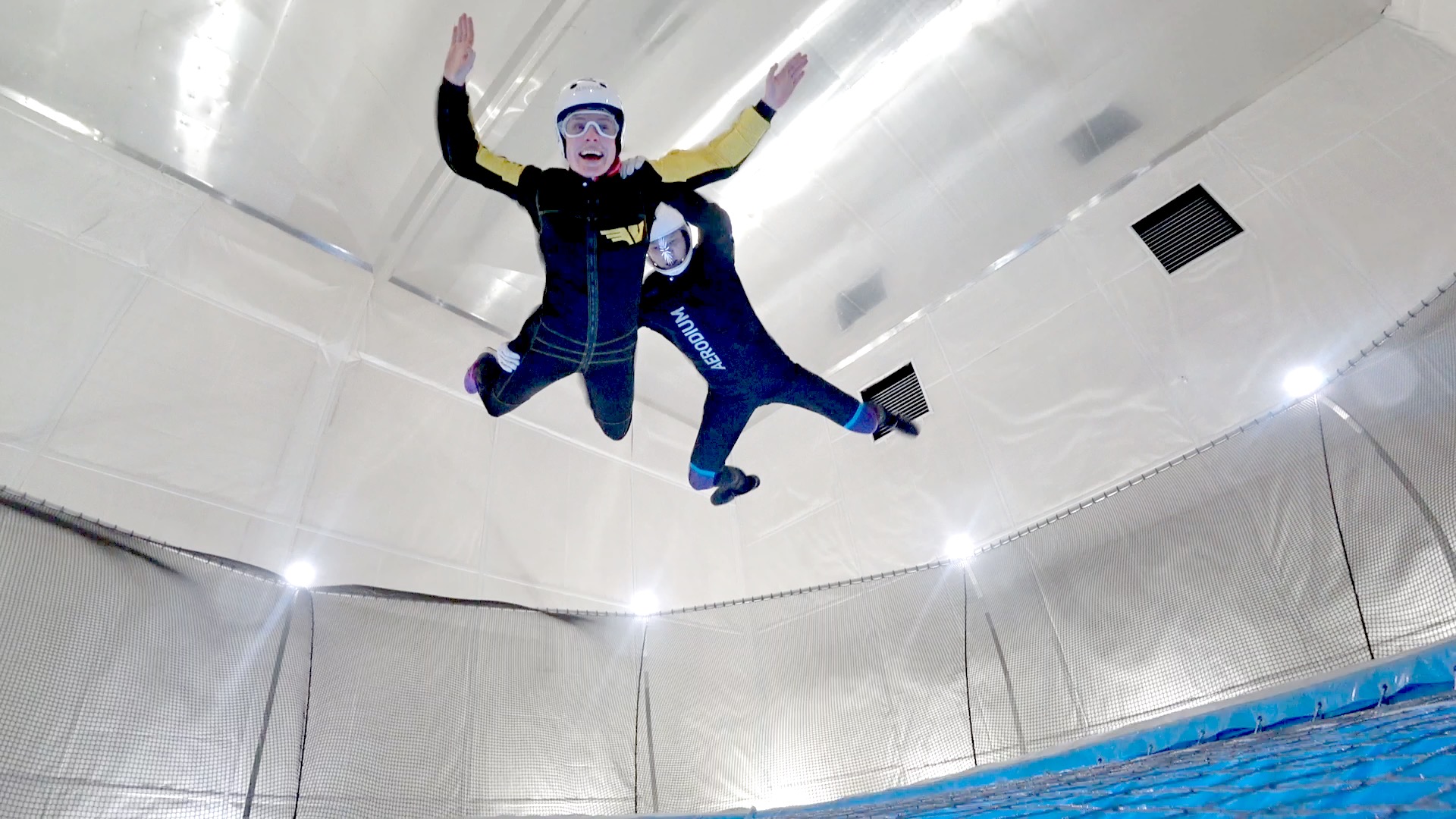 We are Vertigo promises and action-packed day out. You can try your hand at indoor skydiving, learn to lunge and roll at a ninja master course, run amuck in the Inflata-park or even ski or climb at the indoor centre. Choose just one activity or try a multi-adventure package; there's something for all ages here.
More info: We Are Vertigo
50. Hike Cave Hill, Co Antrim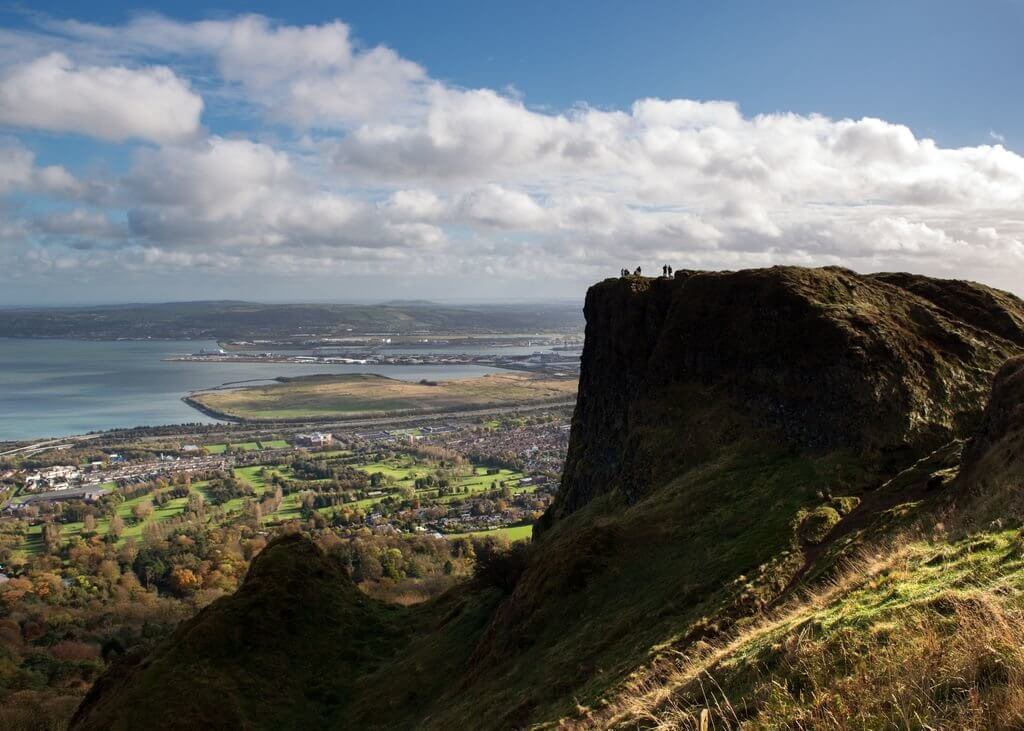 Situated in the outskirts of Belfast is Cave Hill, a beautiful hill of 370m, in the Cave Hill Country Park. On a nice day, you can get brilliant views of Belfast below.
The trails start from Belfast Castle and there is a green route of 7.2 km and a blue route of 3.9 km to choose from. Both are looped.
The hike can be a bit challenging on the way up but will be doable even for little hikers with a snack break or two along the way.
On your way down, make sure to pop your head into Belfast Castle where you can enjoy a nice lunch or coffee either outside on their patio with a view, or inside on a rainy day.
You can either park your car in the carpark, located by the castle or take bus number 1 from the city centre.
More info: Walk NI
Check out our Hard as Nails podcast:
Like this? You should check these out:

Previous Post