Wild, rugged and largely undiscovered by many of us, the Mourne Coastal Route should be on every adventure lover's must-visit list.
The Mourne Coastal Route has an abundance of activities for outdoor lovers. Offering a wide range of activities from world-class mountain biking, hiking in the mighty Mournes, blue flag beaches, brewery tours, seaweed baths, stand-up paddle boarding, wild swimming and pretty much everything in between, you could spend a lifetime here and never tire of the place.
And it's not all about action-packed activities, the area surrounding the Mourne Coastal Route is home to quirky places to stay, seaweed baths to relax in, and some delicious food to boot. Located just 1.5 hours from Dublin, it really is the perfect staycation destination.
Here we have rounded up everything that you need to know in order to have a cracking weekend away along the Mourne Coastal Route. From the essential information about how to get there to the best places to eat and lay your head, here is an action-packed itinerary that will leave all your mates back home green with envy:
The Mourne Coastal Route: Getting There
The drive from Dublin to Newry is just 1 hour and 15 minutes. From Newry, you can drive towards Warrenpoint and along the coast. Getting from A to B in this area is very easy. You can be on the coast and just 20 minutes later you can be in the heart of the Mourne Mountains.
There is one main train line linking Belfast with Dublin and this service stops at Newry, about 10 miles from Rostrevor. Mountain Bikes are carried for free on all Translink buses and Goldline Express coaches. Don't forget it's mandatory to wear a mask on all public transport and in indoor spaces in Northern Ireland. Check out the Know Before You Go page for the latest guidelines. 
The Mourne Coastal Route: Do

There are so many things to do along the Mourne Coastal Route. These were the highlights of our trip:
Watch the sun come up over Murlough Reserve:
The Murlough National Nature Reserve comprises of a 6,000-year-old sand dune system that is home to a multitude of unique habitats. You will walk along boardwalks with the incredible Mourne Mountains as a backdrop. The vibrant blues, purples, yellows, and greens of the dune's flowers will greet you along the path, and you may even be able to catch a glimpse of the endangered marsh fritillary butterfly!
During this walk, you will look over the mighty Slieve Donard and Slieve Commedagh. You will even be able to have amazing views of the ancient Dundrum Castle, overlooking a shimmering sea. And, keep your eyes peeled, because you might see a seal or two come out to play! We headed down to the beach at sunrise as it was nothing short of magical.
Check out our favourite coastal walks along the Mourne Coastal Route. 
Tear up the mountain biking trails:
The mountain biking trails around Castlewellan and Rostrevor are world class. Offering everything for every level of rider, these are some of the most scenic trails we've ever ridden. From sweeping singletrack to adrenaline pumping downhill tracks and more leisurely beginner-friendly routes, there really is everything you could possibly wish for.
In addition to that, the trail centres offer fantastic facilities with parking, bike rental, showers and changing areas all of which adhere to Covid 19 safety guidelines.
Check out our complete guide to mountain biking along the Mourne Coastal Route for more information.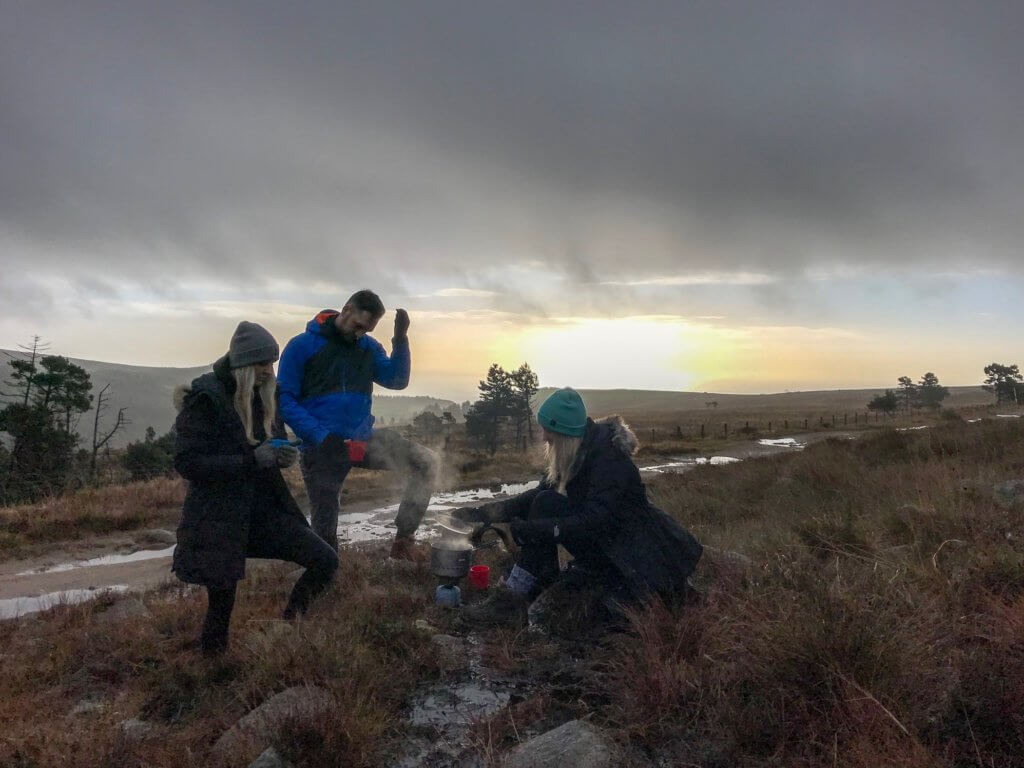 Venture into the mighty Mournes:
There is something quite surreal about the Mourne Mountains. With weather conditions that change by the second, this moody mountain range gives you a feeling of true escapism that's hard to find in our day to day lives. Avid hikers can opt to tackle Northern Ireland's highest peak, Slieve Donard, or else head onto the less trodden paths around Slieve Binnian and beyond.
Check out our guide to the best hikes in the Mourne Mountains for more information.
Take the plunge at the Annalong Rock Pools:
This is somewhat of a hidden gem for wild swimming enthusiasts. The Annalong river flows right through the mountains down into the sea at Newcastle and offers one of the most scenic spots for a dip along the Mourne Coastal Route.
To get there, you must park at Carrick Little car park. From there you need to follow the path that takes you through the valley. You will see a small wooded area ahead with a path running alongside which you must follow. Continue to walk upstream when you hit the river and before long you will spot some waterfalls with glorious rock pools. The water here is crystal clear and so refreshing, it really is an idyllic spot to cool off after the short hike in!
Check out our guide to the best wild swimming spots along the Mourne Coastal Route.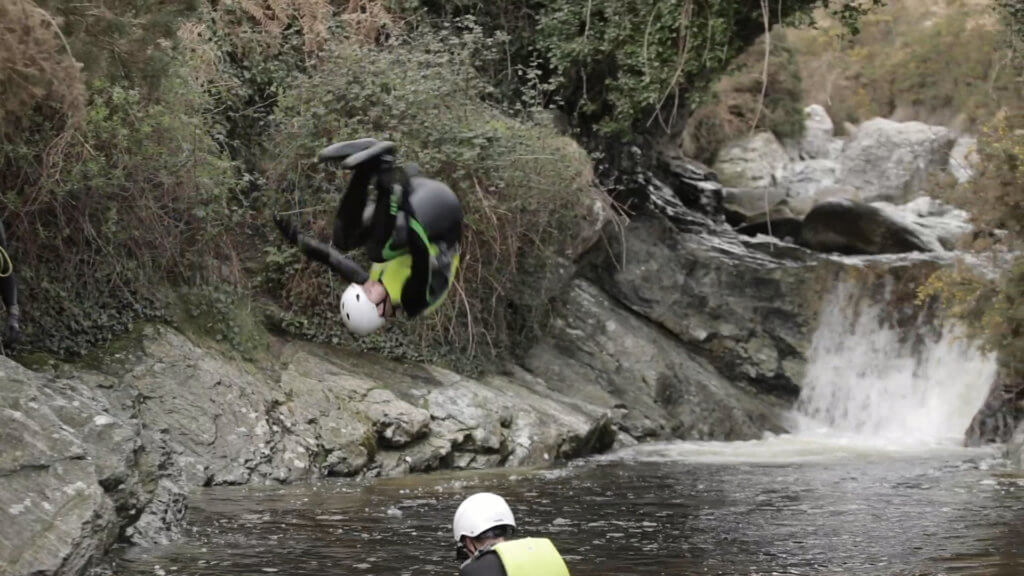 Get your blood pumping with some water bouldering:
Water Bouldering will see you swim, scramble and leap across rock pools, over boulders and into plunge pools at the foot of the mighty Mourne Mountains. It's guaranteed to bring out your inner child and leave you grinning from ear to ear.
Cloughmor Extreme offers fully qualified guides who will make sure you have a whole lot of fun while staying safe in the process! They will provide all the gear, so you just need to turn up! Those who want even more excitement can opt to head to the coast for a spot of coasteering which will see you clamber along the coastline taking in some very high cliff jumps along the way!
Check out our guide to the most exhilarating activities along the Mourne Coastal Route.
The Mourne Coastal Route: Stay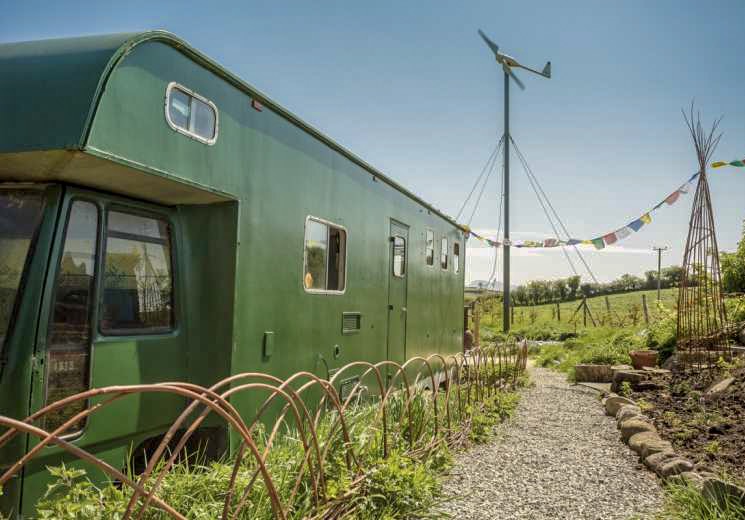 There is an abundance of fantastic places to stay along the Mourne Coastal Route. We stayed in the following and cannot recommend them enough.
Cavan House
As you pull up the driveway to this pastel pink house you will feel like you are home before you even step over the threshold. Cavan House is a large four-bedroom home set on a dairy farm offering glorious views across the surrounding countryside. From the Aga in the kitchen to the large free-standing bath and open fire, this house is the perfect place to retreat to after an action-packed day.
The owner has carefully thought through everything to ensure your stay is as good as it can be. Hot water bottles, a food hamper and ample fuel for the fire were waiting for us upon our arrival.
The village of Rathfrialand is just a couple of minutes away and has a brilliant supermarket which sells delicious homemade fare which you can heat up at home.
Lackan Cottage
Wake up to the luxurious peace and quiet of the Mourne Mountains at Northern Ireland's only off-the-grid, self-catering, refurbished horse truck. Lackan Cottage Farm offers visitors the opportunity to stay in a newly transformed horse truck with a cosy interior made entirely from upcycled materials
This comfortable accommodation is not without its home comforts – it has a small kitchen, hot water, a fireplace, a wood stove, an outside toilet, and a bed with an amazing view of the Mournes. There is also a glorious outdoor area with a potbelly stove and uninterrupted views across the Mournes. It is the most glorious spot for sundowners at the end of the day!
Tollymore Forest Park, Castlewellan Forest Park, Newcastle Beach and Silent Valley are all at your fingertips when staying at this cottage – so get ready to soak in the stunning landscape and breath in heaps of fresh air during your trip.
Check out our guide to the best camping and glamping spots along the Mourne Coastal Route.
The Mourne Coastal Route: Eat

As somebody with a sweet tooth, the Mourne Coastal Route was absolute heaven! We bounced from one glorious coffee shop to the next tasting all of the delicious homemade traybakes on offer! And I have to say that the savoury food delivered too! From juicy Carlingford Oysters to hearty homemade soups, you will certainly be well fed in this part of the world!
These were our favourite places to eat along the Mourne Coastal Route.
Church Lane Coffee, Warrenpoint
This contemporary coffee shop is located just a stone's throw from the waterfront and boy does it pack a punch! Offering up scrumptious breakfasts (one of the best breakfast baps we've ever tasted) and hearty lunches which include a spicy chicken salad and delicious burritos it is the perfect place to re-fuel post-adventure. And as if that isn't reason enough to visit, the coffee is excellent and the tray bakes even better!
There is also a new outdoor seating area which is a great option if you are looking to avoid the indoors!
Carrick Cottage Coffeeshop, Annalong
This traditional Irish cottage café is set at the foot of the incredible Mourne Mountains, giving you panoramic views of the incredible scenery. The café offers both inside and outside seating, which gives you a front-row seat to the majestic landscape while you sip on some fresh coffee and tea.
Walk-ins are more than welcome, and they also take reservations for larger groups (such as walking groups) and private functions. So, if you're fresh off the mountain with your walking group, head on in for a freshly baked scone, fresh cakes, soup, or even some delicious breakfast.
Mourne Seafood Bar, Dundrum
If you have a taste for fresh seafood, then head on into the Mourne Seafood Bar in Dundrum for fresh local seafood at an affordable price. This restaurant sources all of its shellfish from its own shellfish beds, so it is guaranteed to be at its freshest when served. We would particularly recommend the oysters…you'll see exactly why Carlingford Oysters are famous worldwide!
Check out our guide to the best places to eat along the Mourne Coastal Route.
Find out more about all of the things to do along the Mourne Coastal Route