Set at the foot of the magnificent Mourne Mountains, Rostrevor, Castlewellan and Tollymore Forest Park provide challenging ascents (followed by incredible views), thrilling descents, casual cycling, epic jumps and so much more.
Mountain Biking along the Moure Coastal Route is arguably some of the best across the UK and Ireland. Rostrevor is a thrill-seeker's paradise, there's good reason it was chosen as the destination for Red Bull Foxhunt. In addition to downhill trails and gnarly black and red trails, Rostrevor also offers some spectacular views across Carlingford Lough to boot.
And it doesn't stop there. Just a short journey up the road lies Castlewellan which offers a wide range of trails for all abilities. The latter is particularly good for a group of friends with varying abilities as there are green and blue options for total beginners along with a challenging 19km Red/Black route for those wanting to get their pulse racing! In addition to Rostrevor and Castlewellan, there is also a short skills course at Tollymore National Outdoor Centre (of Game of Thrones fame), which is great for fine-tuning your skills.
Off the trails, there is an abundance of great cafes, pubs, quirky glamping pods and more luxurious accommodation close by.
Here is everything you need to know about mountain biking along the Mourne Coastal Route.
1. Castlewellan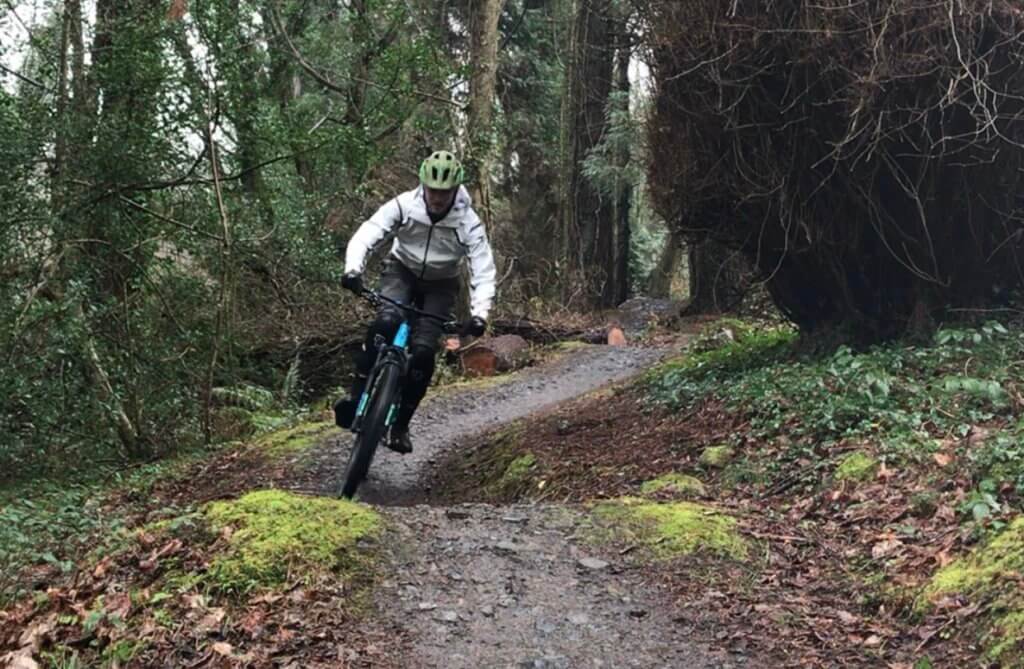 Castlewellan Forest Park boasts an incredible assortment of mountain biking trails fit for every level of fitness and ability. The beginners in your group can opt for the green and blue trails while you tackle the epic 19km red route which has a couple of heart-pumping sections of black trail thrown in. Set below the towering Mourne Mountains, these trails will give you epic views – if you can peel your eyes away from the trail for a moment!
Castlewellan: Mountain Bike Trails
The park is home to green, blue, red, and black trails.
Green Trail: 4km (allow 30min)
This is a gentle, circular trail that winds its way along the lakefront and passes the historic Castlewellan Castle. This is a very easy trail with only a small gradient on the north side of the lake. Plus, it is very wide, making it an ideal trail for families and beginners looking to try it out for the first time!
Blue Trail: 4.5km (allow 45min)
This trail is an elevated single track that runs along Castlewellan Lake and provides panoramic views of the park and mountains. This is a great trail for novices looking to improve their riding, as there are a few rollers thrown in for some added craic!
Red Trail: 19km (allow 2 hours)
This is a longer distance trail that takes you on a journey to some much more secluded, smaller lakes around the park. The trail begins as part of the blue track, so you still get to see all of the amazing views of the lake as well as the Mournes, but then splits off to bring you to places such as Slievenaslat and Cypress Pond. Expect drop-offs, jumps and flowing singletrack along this exciting trail. Along the red route there are two Black Options that will really get your heart racing, Dolly's Chute and The Great Escarpe.
The Mourne Trails and Ales Tour
Another cracking day out is the Mourne Trails and Ales Tour which is offered by Bike Mourne at Castlewellan. This tour offers you the opportunity to explore some of the incredible local craft ales as you ride an electric bike through the stunning Mourne landscape.
This is a fully guided bike tour sampling the iconic trails of the Mourne Mountains alongside a select batch of the regions equally iconic ales. Bike Mourne also offers tours along the Mourne Coastal Route without the Ales!
Castlewellan: Facilities
Parking:
There is an abundance of parking on site. The parking is Pay and Display.
Bike Rental:
Bike Mourne which is located in the park offers high-quality bike rental. They have a wide range of bikes which include full suspension, hard-tails, e-bikes and recumbent bikes.  Bike rental starts at £20. Bike Mourne also offers showers and changing facilities.
Re-fuel:
There is a coffee hatch in Castlewellan Forest Park. However, those looking for something a wee bit more substantial should head to Urban Coffee in the nearby town.
Where to Stay:
Located a short drive from Castlewellan, Cavan House is a large four-bedroom home set on a dairy farm offering glorious views across the surrounding countryside. From the Aga in the kitchen to the large free-standing bath and open fire, this house is the perfect place to retreat to after an action-packed day.
The owner has carefully thought through everything to ensure your stay is as good as it can be. Hot water bottles, a food hamper and ample fuel for the fire were waiting for us upon our arrival. There is also a large utility room complete with a washer and a drier which is perfect for mucky kit!
The village of Rathfrialand is also just a couple of minutes away and has a brilliant supermarket which sells delicious homemade fare which you can heat up at home.
2. Rostrevor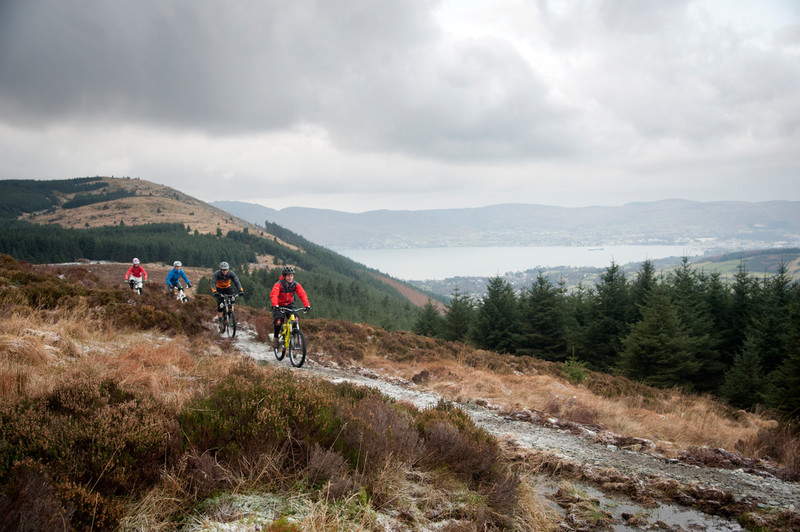 The Rostrevor Mountain Bike Trails offer experienced mountain bikers world-class trails set against an epic backdrop. With a whopping 27km of red trail and another 19km of thrilling black trail, this has become of the most coveted mountain biking destinations in Ireland. There's good reason it was chosen as the destination for the uber-popular Red Bull Foxhunt downhill mountain biking race.
Rostrevor: Mountain Bike Trails
Red Trail: 27km (allow 3 hours)
The red trail starts out strong with a thigh-burning ascent to the top of Slievemartin, where you will be rewarded with an awe-inspiring view over Carlingford Lough and the surrounding mountains. You will then be led down a series of thrilling descents and into winding, dense woodland around the park.
Black Trail: 19km (allow 2 hours)
This black trail follows the same beginning route to the summit of Slievemartin and traverses Slievebane before descending into Rostrevor Forest. More suited for experts, this trail winds into a heart-stopping section of technical singletrack.
Mega Mission: 1.8km Downhill
Mega Mission was designed with one thing in mind: giving you the ride of your life! The trail begins on the slopes of Slievebane and careens down the mountain, throwing in big jumps and berms with secret booters around every turn.
On the Pulse: 1.3km Downhill
On the Pulse is an extremely technical trail that uses the natural surroundings to bring you an epic ride. With boulder fields, drop-offs, and gap jumps, this trail will challenge even the most adept racers.
Rostrevor: Facilities
Parking:
There is ample parking available on site.
Bike Rental:
Bike Mourne offers a wide range of bikes which include full suspension, hard-tails, e-bikes and recumbent bikes.  Bike rental starts at £20.
Re-Fuel:
Synge and Byrne is located a stone's throw from the trailhead and offers up delicious snacks and hearty fare. The perfect reward after a long ride!
Where to Stay:
Do you love the outdoors, but, at the end of a full day of hiking or mountain biking, wish to take a nice shower and crawl into a more luxurious accommodation than a tent? Well, glamping just might be the thing for you!
Based near Rostrevor, East Coast Adventure offers glamping pods at the foot of the Mourne Mountains, making this the perfect base for mountain biking adventures in the mountains.
There are six glamping pods on site, and each pod sleeps four adults on the comfortable cots provided. All pods are fitted with electricity and heating. These pods are waterproof, cosy, and available year-round, making them the perfect option for a weekend away with friends.
3. Tollymore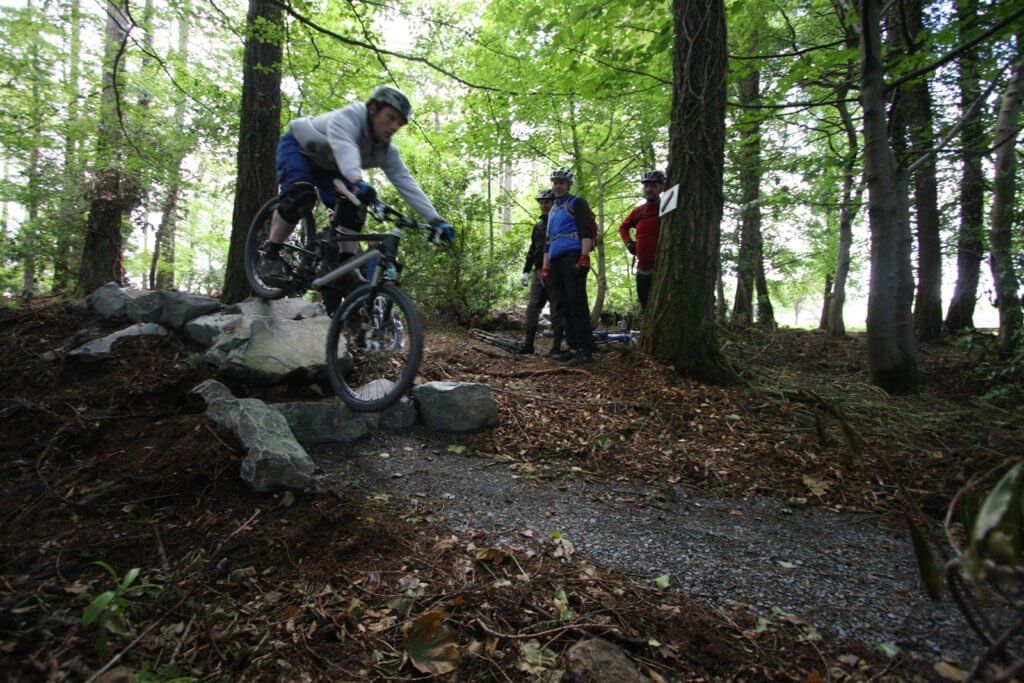 Tollymore National Outdoor Centre is home to a full-on skills course that includes a wide range of features including rollers, berms, drop-offs, tabletops, rock sections, and log rolls. This 1.5km section of singletrack is perfect for riders who want to concentrate on fine-tuning specific skills over time.
This park offers coaching lessons and courses, ranging from their "First Step" course, which teaches novice mountain bikers the basic skills needed for the sport, all the way to "Step Up," a leadership training course for advanced riders used to develop skills needed to coach and lead others in mountain biking.
Tollymore: Mountain Bike Trails
This skills course has approximately 1.5 km of singletrack trail. The wide range of features makes it the perfect destination for those looking to improve and fine-tune their technique.
The variety and size of the features ensure that there are plenty of opportunities for all bikers to develop their riding and concentrate on specific skills in a progressive manner.
Tollymore: Facilities
Parking: 
There is parking available on site.
Bike Rental:
Bike Mourne offers a wide range of bikes which include full suspension, hard-tails, e-bikes and recumbent bikes.  Bike rental starts at £20.
Re-Fuel:
Sea Salt, located on the seafront in Newcastle, offers up hearty fare that is guaranteed to hit the spot after a morning on the trails. Be sure to sample their homemade cakes as they are to die for!
Where to Stay:
With brilliant views over the Shimna River Valley towards the Mourne Mountains and Tollymore Forest Park, the Gorse Hill Farm glamping pods are the perfect place to rest your head after a long day on the trails.
After a thrilling day riding you can take a nice hot shower onsite and then kick your feet up at your own personal picnic table outside of your pod. Cosy up to your own fire-bowl and maybe even cook a scrumptious meal in the site's shared kitchen.
Each pod is equipped with comfy bedding that can accommodate two adults and two children. The pods also have an electric heater, electric sockets, usb charging ports, and internal and external led lighting.
Find out more about all of the things to do along the Mourne Coastal Route