The Osprey Poco AG Plus Child Carrier has received rave reviews not only online but from word of mouth recommendations from friends and family. We put it through its paces to see if it is all it's cracked up to be.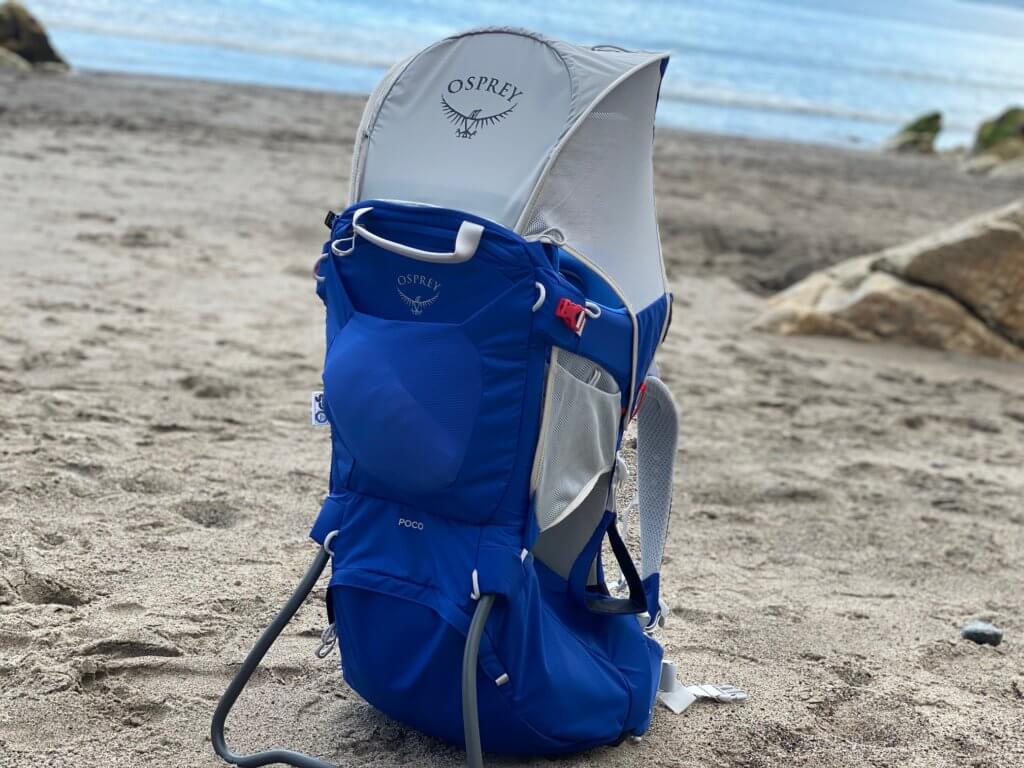 RRP: From €260
Osprey Poco Child Carrier: Brief Overview
I read an article somewhere that likened the Osprey Poco Child Carrier to the Bentley of child carriers. To be honest I felt the description was a touch OTT. However, I was proved wrong. The Osprey Poco Child Carrier is a life-changing piece of kit for any parents who are eager to get off the beaten track!
Your Essential Guide to Buying a Child Carrying Backpack
Weighing in at just 3.5kg this is a lightweight baby carrier is equipped with all of the features needed for an adventure with your little one. From stretchy mesh side pockets, toy loops, rain cover and sunshade, you are prepared for all eventualities with the Osprey Poco AG Plus child carrier. Meanwhile the full wrap aluminum frame provides not only stability when carrying your little one but the ability to set your child down when removing the carrier or taking a break.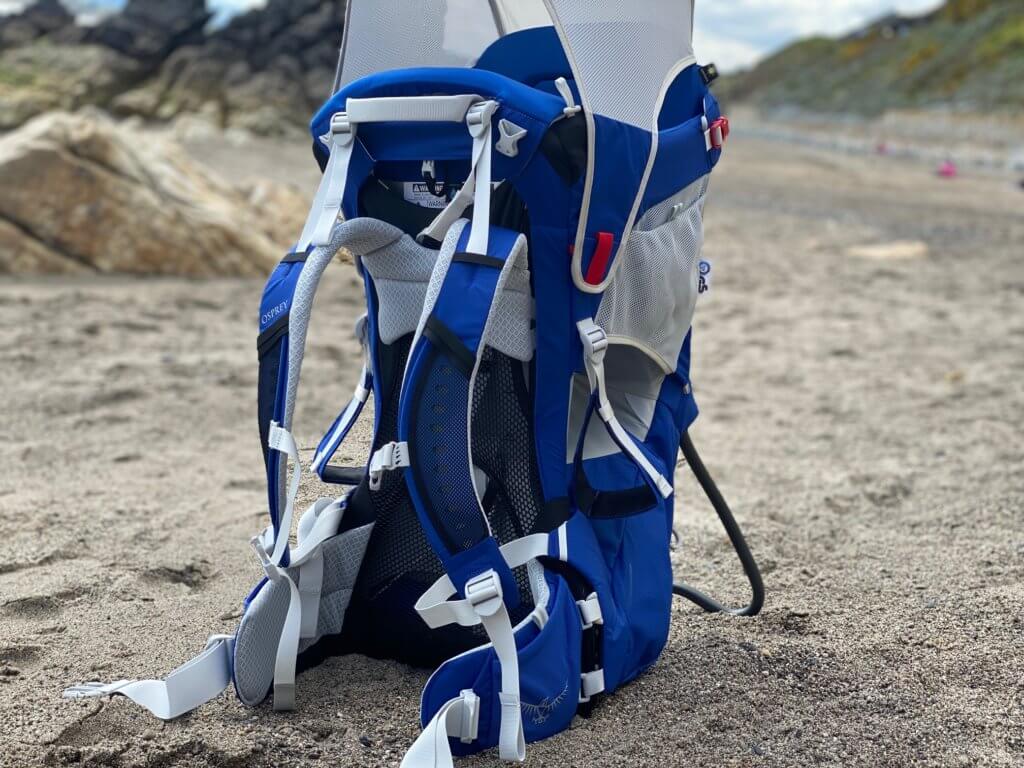 Osprey Poco Child Carrier: Comfort
One of the most important considerations to take into account when choosing a child carrier is comfort. And not just the comfort of your beloved baba! Your comfort is just as important as theirs. After all, you are going to be hauling quite a load on your back especially as your little rugrat progresses from dainty baby to hardy toddler.
10 of the Best Child Carriers for Adventure Lovers
Osprey's child carrier does not disappoint in this category. It offers all of the comforts that we have come to expect from an Osprey pack and a little bit more. The shoulder straps are generously padded as is the waistband which also provides ample structure to ensure even weight distribution. The back is breathable and we were happy to find that the pack fit really nicely on both mine and my husband's back thanks to the six-inch range offered by the torso adjuster.
Little passengers are also really well looked after with this baby carrier. The harness that they sit into is stretchy and soft and comes with a padded structured seat that doesn't fold under the baby's weight. Additional features such as the angled face rest, removable drool pad and the adjustable cockpit for secure seating are really what starts to separate this carrier from its competitors. It was definitely love at first carry for our baby.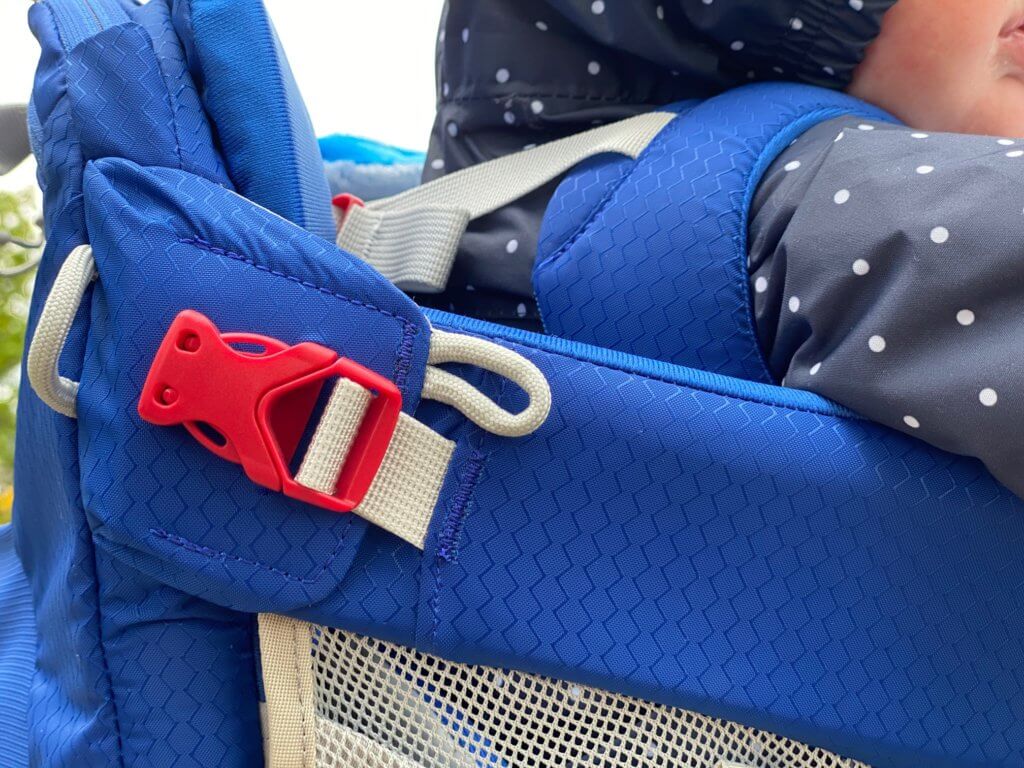 Osprey Poco Child Carrier: Additional Features
Osprey left no stone unturned with the Poco AG Plus. Features include the following:
1. Ability to easily customize the size
With a 5 inch easily adjustable extension on each side of the padded hip belt, the carrier can be shared between many people over the course of a hike. In addition to this, the torso adjuster offers 6 inches of scope making it a comfortable wear for a range of heights and sizes.
2. Storage
There are pockets galore on the Poco. A large zip pocket on the back is perfect for nappies and other essentials which the stretch mesh pockets on the side are perfect for grabbling items on the go. In addition to this there is a large compartment underneath for any other essentials. We particularly love the toy loops which are ideally placed to keep your little one entertained.
3. Drool Pad
The drool pad is really nice and soft but most importantly it's removable and machine washable!
4. Sunshade
The sunshade provides ample coverage from the rays. I loved the fact that the side panels of the sunshade are mesh which is not only more breathable but also allows our little one to enjoy the view as we go!
5. Dual grab handles
I was a little apprehensive about putting the pack on at first without assistance but the double grab handles make it a cinch, even with heavier kids.
6. Built-in mirror
If you are curious about how your little one is faring back there fear not! There is a handy little mirror that can be pulled out in an instant.
7. Osprey rain cover
Let's face it, this is essential for the Irish weather!
Osprey Poco Child Carrier: Overall Verdict
Overall this is one of the best pieces of kit we have purchased. It has opened up a world of adventure that just isn't possible with a buggy or pram. I only have one tiny complaint and that there is nowhere for a younger baby to rest their head if they do fall asleep when it in. However, this was easily remedied with a rolled-up towel so it's definitely not a deal-breaker! It's really not hard to see why the Poco Child Carrier has received rave reviews across the board – it's a cracking piece of kit.