Waterford paddler Mick O'Meara turns 50 this year. While others might think, it's time to put the feet up, he turned his attention to a paddle around Ireland – for the second time! And this time he would do it solo and smash the previous record by a whopping two days –despite the miserable and sometimes treacherous weather. But Mick says his main goal wasn't the record but rather to prove to himself that he could do it, and to inspire others along the way. Emma Decker talks to Mike about his solo circumnavigation of Ireland and learns his top tips for challenges.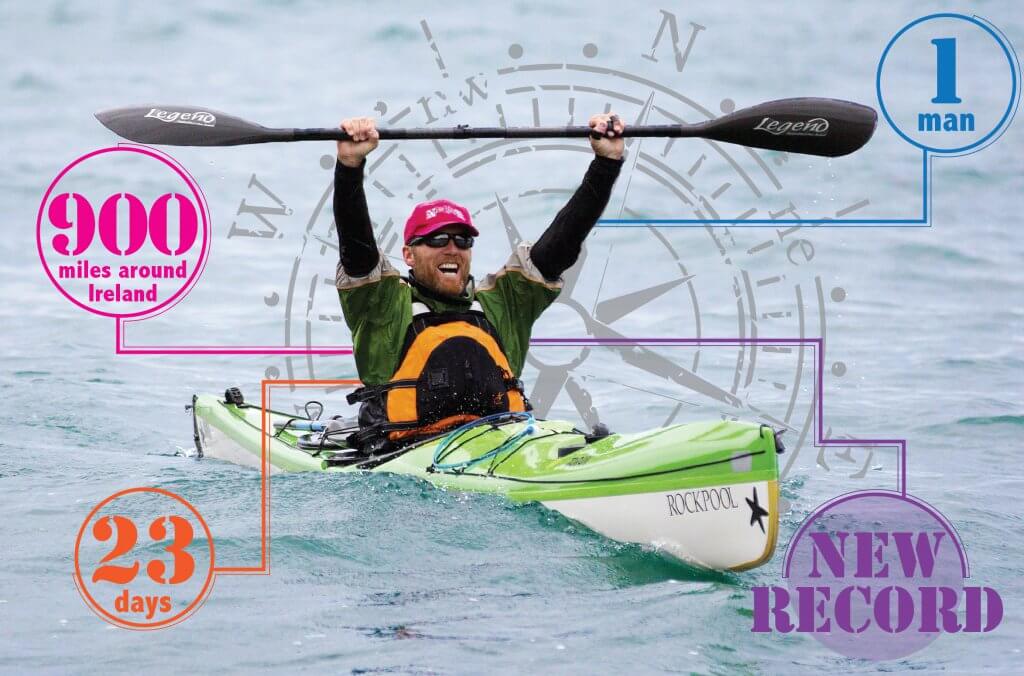 It's Mick O'Meara and the sea. A precarious relationship of man versus water, a slim kayak the only buffer between safety and a swim in frigid Atlantic waters. Mick sits on the edge of his seat, deep in concentration and keenly aware that if something goes wrong, there's no one there to pull him out, only currents to pull him under. There's no time for mistakes; Mick is on a mission: circumnavigate Ireland in record-breaking time. On the fourth day, as he crosses from Lamb's Head to Dursey Island on Ireland's west coast, the wind picks up and the sea begins to boil. Mick's mind momentarily drifts from paddling to his kids and family. "I shouldn't be doing this," he thinks to himself, "This is nuts."
Incessant bad weather, angry seas, relentless wind, wet clothes, and exhaustion came to define Mick's 930-mile expedition around Ireland. The journey tested the limits of the determined Waterford kayaker, and that's just how he likes it. But Mick's new 23-day record, in his mind, takes a backseat to the real reward: that he proved to himself that he could do it, and that he did it alone.
Mick began his expedition on 11 June 2015 from Garrarus Beach, and set a schedule of 45 miles a day. No stranger to long journeys, in 1990 Mick made the same trip around Ireland in 33 days. Four years later he circumnavigated Iceland in six weeks. Since then he has won the Devizes to Westminster International Canoe Race three times, the International Liffey Descent seven times, and in 2010 set a record for the fastest crossing of the Irish Sea.
But this recent circumnavigation posed new challenges for Mick, who turns 50 this year. He has battled serious back problems and busy schedules, and knew that if he was ever going to make the trip again, it was now or never.
Mick says there rarely was a dry piece of clothing on his body.
The journey began and ended – as many things involving Ireland do – with rain. The cold, howling kind of rain that instead of dissolving into the ocean insists on hanging persistently in the air – misty, damp, all-encompassing. Mick says there rarely was a dry piece of clothing on his body. The elements became a constant companion for him, following him around the coast, across treacherous sounds, and into the night as winds shook his tent.
Independent travel
Besides the rain and occasional wildlife, the 12 to 14 hours a day that Mick spent in his kayak were spent alone, and the solo trip was also achieved without the help of a food and gear support-van following him on land. This was an element of the trip Mick felt was important. "In my opinion, this is what makes it a true expedition," he says. Mick says that if he was going to invest in the trip and a record came out of it, he wanted the achievement to be as organic as possible.
Mick broke the previous record for a circumnavigation around Ireland by two days.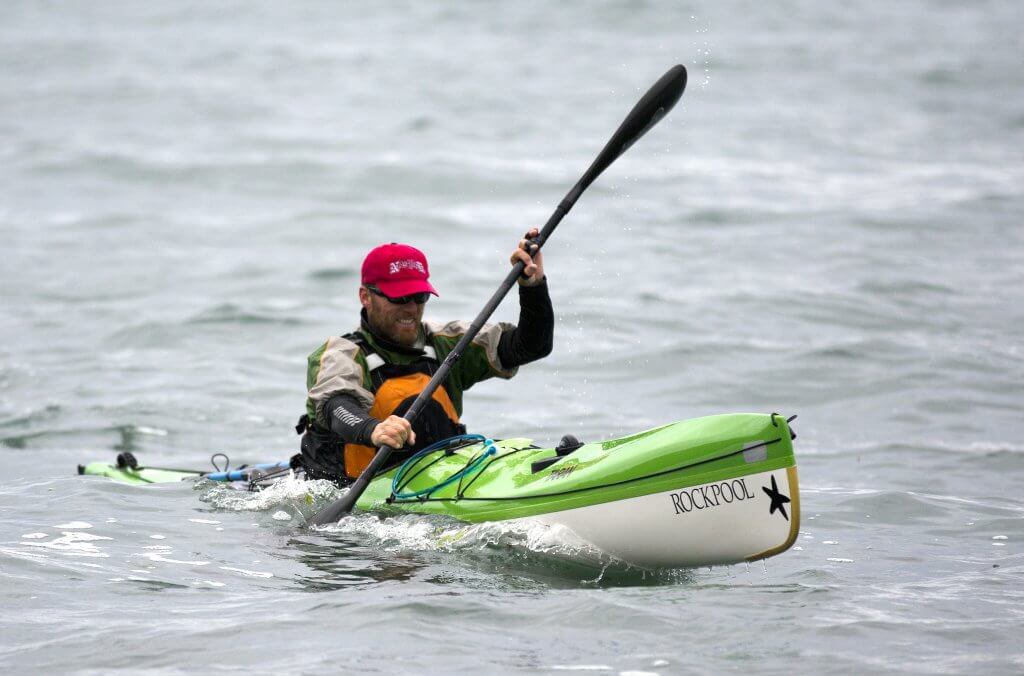 Traveling solo had its benefits, and Mick enjoyed the sense of freedom that comes with being completely independent in your survival. "When you're in the kayak, there's a sense of freedom and a sense of closeness to the water," says Mick. He describes how the proximity of the seat to the surface of the water creates the illusion of being a part of the sea, in sync with every bob and sway of the caps around you. There's a freedom in being completely alone, says Mick, and also a silence. "If you say nothing, all you hear are the birds and the sea beating off the rocks, and the sound of the wind."
Many moments of the paddle, however, were less than tranquil. Most of the time, "you're out in very serious water," says Mick. "Some days as I moved up the west coast I couldn't see my hands in front of me with the fog and mist."
"You're not bigger than the sea. You've always got to expect that the sea is going to crush you."
Crossing the Shannon was one of Mick scarier run-ins with the weather. Waves broke in every direction followed by 7m swells, the sea throwing all the power and confusion it could muster at Mick boat. Confined to his comparatively small kayak on the sea-that-doesn't-care, Mick was reminded of just how vulnerable he was. "This is what you always have to be aware of," he says. "You're not bigger than the sea. You've always got to expect that the sea is going to crush you.
"The record was always something that was there, but it wasn't the sole aim of this trip. You can't go out and say 'I'm going to beat the record'. You have to survive the course first."
This element of unpredictable danger is one of the reasons Mick stresses the importance of proper preparation and having a knowledge of your own abilities; that naivety is what gets people into trouble on the ocean. "You have to practice this stuff in training, you can't just go out willy-nilly and hope for the best," he says. "All the gear in the world won't make you a better paddler. If you get yourself into hot water…there's no guarantee that people are going to come and get you."
Mindset over matter
While weather troubles made some days miserable and discouraging, Mick held frequent pep-talks and reality-checks with himself: "I just decided look, you decided to do this, this is your idea, either do it, or go home." Mick credits this mindset as crucial to his achievement.
As Mick approached Garrarus Beach on his final day of the journey, all he could see was a massive sea of balloons and a big banner that said 'Welcome Home' held by friends, family and supporters. In that moment the relief came crashing down. "It was quite overwhelming," says Mick. "I didn't know whether to laugh or cry, I was an emotional wreck. I got home, and I did what I said I was going to do, so there's a great sense of achievement – not because there's a new record, but because for me personally, now I know I can do this."
Mick says the support he received from his wife, Una, and three kids was crucial to his success.
"I have no athletic history in my family; I'm good at this because I work hard at it."
The support Mick received during and after his trip has helped him realise how important the expedition was not just to him, but to the other people he set out to inspire: his three young children, other paddlers and other athletes. He believes that if you want something you can't just sit around and think about it, you have to train, you have to prepare and you have to follow through. "I have no athletic history in my family; I'm good at this because I work hard at it," says Mick. "I wanted to show that stuff like this is possible and that there's Irish people out there that can do this."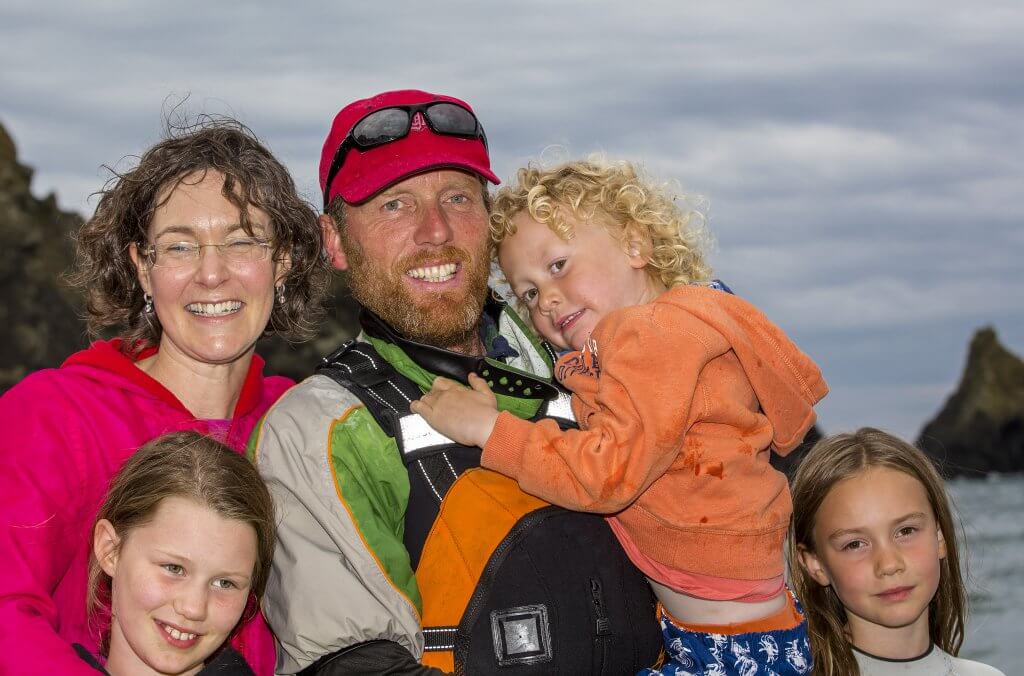 Mick thinks that, weather permitting, another day or two could be taken off his new record. But that feat is up to someone else as Mick has his sights set on a new three-year adventure starting in September: a PhD. He plans to use the same formula that's worked so well for him before: hard work + determination + follow-through = rewards.
He encourages others to always set the bar high for themselves, "There's people out there that well have the ability to do stuff, but they don't." Always testing your own limits, he says, can take you places.
Mick O'Meara runs a kayaking school on the Copper Coast in Waterford. 
10 Tips from Mick O'Meara
The waterproof gear and cag he took "just in case" ended up on his body 78% of the time. With Irish weather, anything is possible.
For longer, rougher trips, use a strong kayak that can withstand a beating in harsh conditions.
When packing, constantly ask yourself, "Do I really need that?" Yes, that means ditching the deodorant (the seals won't mind).
Extra gear means extra things to carry. Bring one set of clothes usable in all conditions.
Vaseline: the only thing Mick forgot to pack. Days on days of paddling can cause arm irritation. Ease the burn with an anti-chafing cream.
Good gear doesn't always mean expensive. The best gear is reliable gear; do your research and take your old faithfuls.
Treat your paddles like a baby. They are the only things keeping you from a tip into the water, and your only ticket home.
Don't just be prepared with gear, be prepared with knowledge. That means maps, training, and always having an exit strategy if things go wrong.
If you decide to paddle with a partner, choose wisely. Make sure you know what they're like when you're both cold, tired and hungry.
Kayaking isn't just for the extreme adventurer. The beauty of the sport is that you can take it at your own pace. Paddling portions of the coast makes for a beautiful weekend outing, and if the weather gets bad, you can pack up and head home.
Check out our Hard as Nails podcast:
See also: 

Previous Post