Stand up paddle boarding is a great way to stay fit and explore the Irish waterways. Boards are available to rent but if you're looking to make a permanent purchase then check out our guide!
Having originated in Hawaii, you can now enjoy stand up paddle boarding all over Ireland. It's a great way to get fit and enjoy the outdoors as a family. There's plenty of places to rent boards for the day or a few hours, however, after you've got proficient you'll want a board to call your own. What board you need will depend on your level of experience and what you will be using it for. Then you have to consider whether you would like a solid or inflatable board. With all these options in mind here's our buyer's guide to help.
1. Inflatable or solid

There are two main construction methods for SUP boards. Solid boards are formed from layers upon layers of laminated foam, fibreglass, wood, and even Kevlar. They are also usually fitted with an air vent to prevent the resin holding it together from delaminating. Inflatable boards are manufactured from layers of PVC held together with woven fibres. As the cavities are filled with air, they become surprisingly solid. Despite recent developments, inflatable boards still can't match solid boards for speed and manoeuvrability. A solid board will also fare better in choppy waters. If you're an advanced SUPer then chances are you'll want something stiff. Inflatable boards have the advantage of being much easier to store and transport for obvious reasons – they also tend to be cheaper. They're a better option for newcomers but aren't just for beginners. They are a great entry option that will still perform as your skills grow.
2. Usage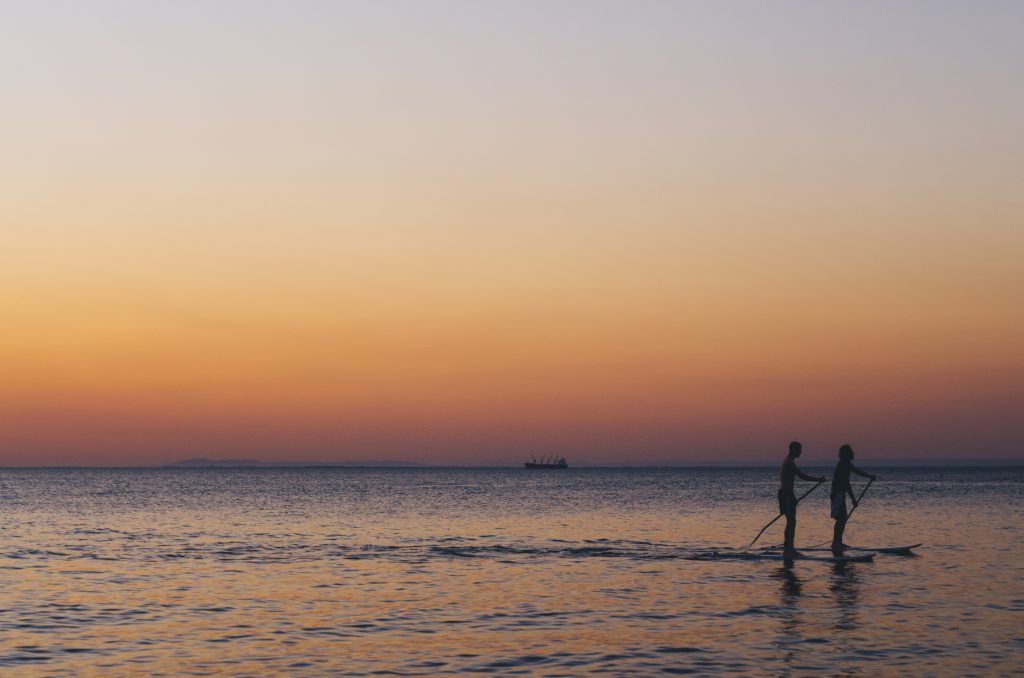 What board you're looking for will depend a lot on what you plan to do with it. SUP boards tend to fall into four categories:
Surf: Designed to be manoeuvrable enough to catch waves, SUP boards are generally the shortest and have a narrow nose. This board is for you if you're planning to spend your time out to sea. They're less stable than other boards on flatwater so don't be trying to downward dog on these.
All-Round: As the name suggests this board is flexible enough to do a bit of everything. Longer, thicker, and wider than surf SUP boards, the all-rounder is a much more stable ride. A great option for your first board.
Flatwater: Generally bigger and more pointed than the all-rounder board, the Flat Water is your best bet for getting about on lakes, rivers, and the open ocean. The sides will be rounded to focus on speed and glide and they're generally stable enough for most beginners.
Race: Race boards are long, slim, and pointed. Perfect for maximum speed and glide. They're the least stable option and are intended to be ridden on flatwater. Designed with the dedicated paddle boarder in mind.

3. Size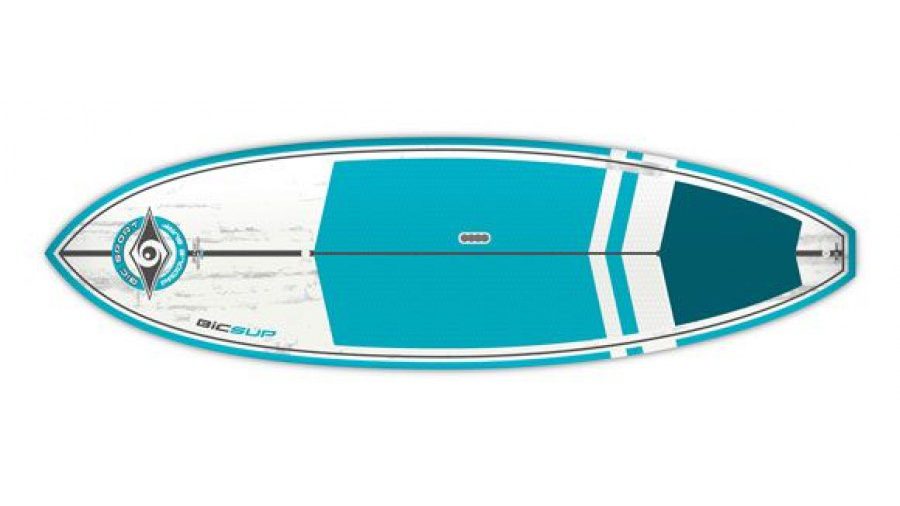 Buoyancy is obviously key when it comes to your board. Volume and length are two key factors to consider when buying. In order to calculate how much volume your board will need to support you, use the following formula:
Beginner: Weight (in kg) x 2
Intermediate: Weight x 1.7
Advanced: Weight x 1.3
So if you're a beginner who weighs 80kg then you'll need a board that has a volume of at least 160L. It's usually advisable to go a little over this for your first board as you will get some extra stability.
The length of your board is again determined by your weight. The relationship is slightly different between different types of board – whether all-rounder or flat water for instance. As a general rule:
Under 60kg – shorter than 9ft
60-80kg – between 9 and 10ft
80-100kg – between 10 and 11ft
100kg+ – 11ft and up
4. Pick your paddle carefully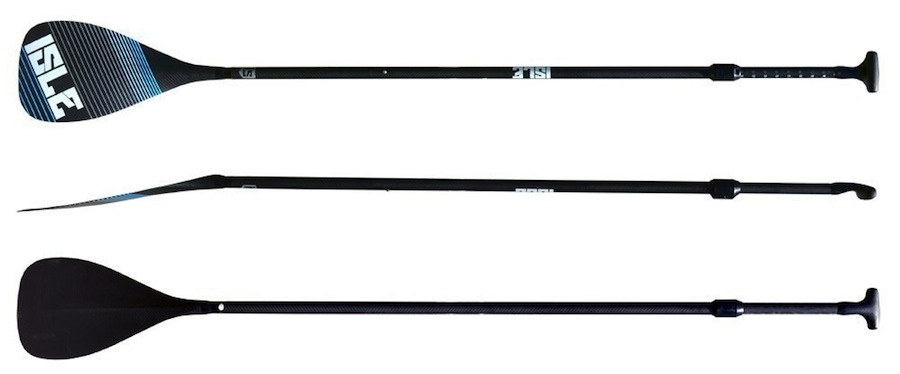 You won't get far without a suitable paddle. The paddle is made up of three main components: the handle, the shaft, and the blade. The handle tends to come with either a 'T grip' or something more ergonomically shaped – your choice here is down to personal preference. The shaft is the most important part as it is crucial in leveraging your strength into the water effectively. They tend to be made of four different materials, each with different properties:
Glass fibre – The cheapest option. Will sometimes bend in the water reducing the power of your stroke.
Aluminium – Sturdy and hardy, but heavier as a result.
Carbon – Provides great strength to weight ratio. Most paddles are made of this material.
Kevlar – Stronger than carbon though a little bit heavier. The most expensive option but one that will last for years.
Finally, the blade. Smaller sized blades are more useful for surf paddle boarding, as well as being less tiring to use. Bigger blades provide more power but can be a little unwieldy for beginners; they're preferable for flatwater paddle boarding.
Length is the final thing to consider. The paddle should stand taller than you on dry land, how much depends on your intended use. Surf SUP paddles will be shorter, only 6-8 inches above you. Flatwater SUP paddles should be 8-10 inches above to give a greater reach. Finally, for racing SUP you're looking at a paddle 10-12 inches above your head to maximise reach and power.
5. Leash and other accessories?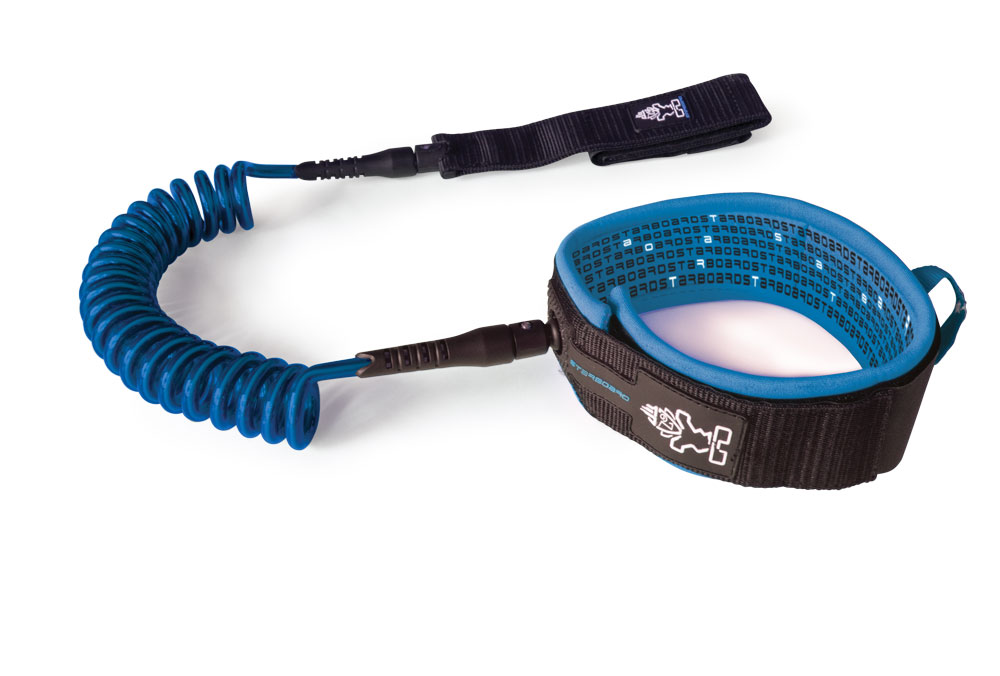 Not essential if you're going to be sticking to open water or yoga, but a leash is something you should consider if you're going to go surf paddle boarding or take on the open ocean. It should be at least as long as your board. A wetsuit is also a good idea if you're going out onto open water, plus in adverse conditions, they provide buoyancy. A life jacket is a good idea too just in case conditions change – they are a requirement in certain spots.
Check out our Hard as Nails podcast: