Back in June 2012, Mike Jones decided to attempt a record-breaking solo paddle around Ireland. His aim was to paddle solo around Ireland in 31 days. Having already rowed 3,000 miles across the Atlantic in 2010, he reckoned it would be a doddle. Here Mike tells us how he got on and his top tips for your own expedition.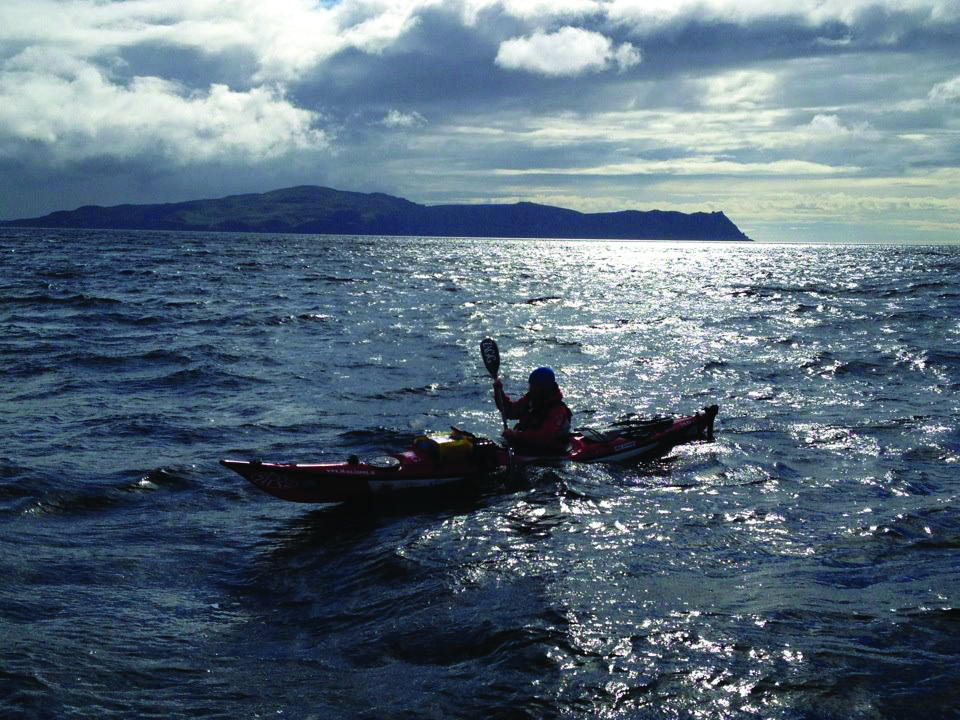 Those who know me and are close to me already think I am a little crazy. Most strangers think I am mad. So when I announced earlier this year that I was planning to kayak around the coast of Ireland, solo, nobody was very surprised. I do, after all, have form in this area. In 2010, I joined five strangers on board an ocean rowing boat and spent 57 days at sea rowing over 3,000 miles across the Atlantic Ocean.
Endurance Athlete Jason Black Shares His Secrets for Success
So a simple lap of Ireland, only a few miles from shore, always within reach of rescue and only a few hours' drive from a home-cooked meal should not be so tough, should it?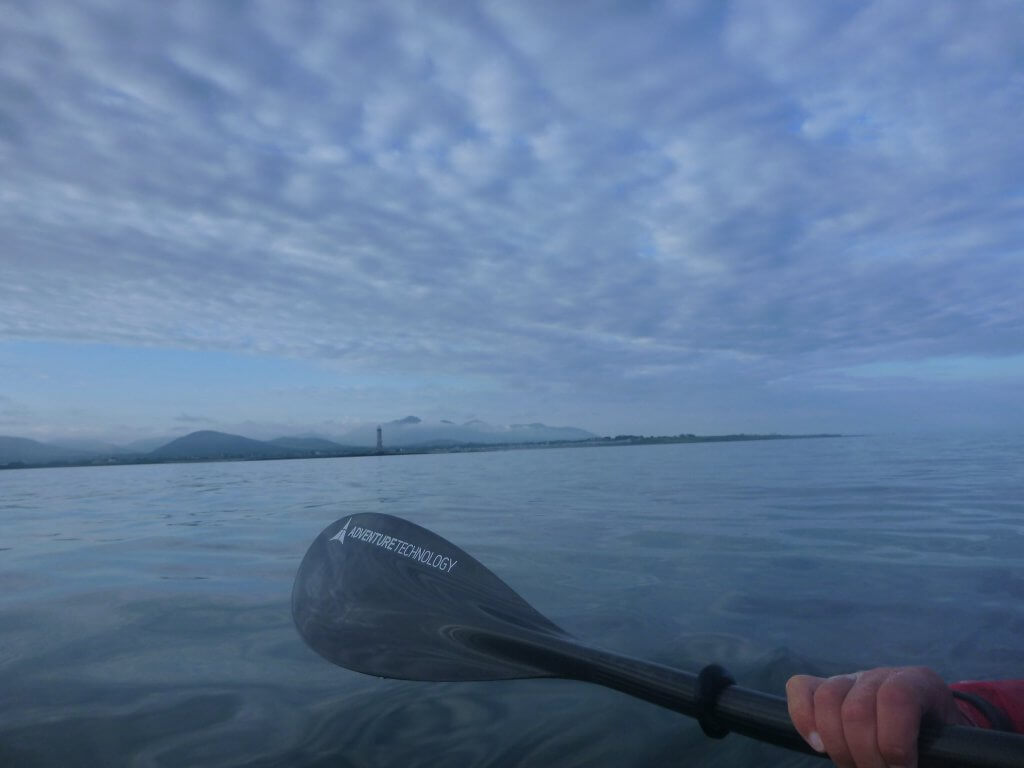 I firmly believe that the success of any expedition is in the planning, and with that in mind I set about preparing physically and mentally for what I hoped to be a record-breaking circumnavigation. The trip has been completed on a number of occasions, both solo and in various sized teams, and the solo record stands at 34 days. I set myself the target of 31 days.
I called on some of the best in the business for advice and after phone calls and boat trials with Jim Morrissey and Mick O'Meara (two legends of kayak racing) I settled on a boat and paddle combination. This was to be my first sea kayak so I wanted something stable, fast, safe and comfortable. I had little experience in this type of boat but was confident my years of river kayaking would accelerate my learning and get me up to speed, quickly.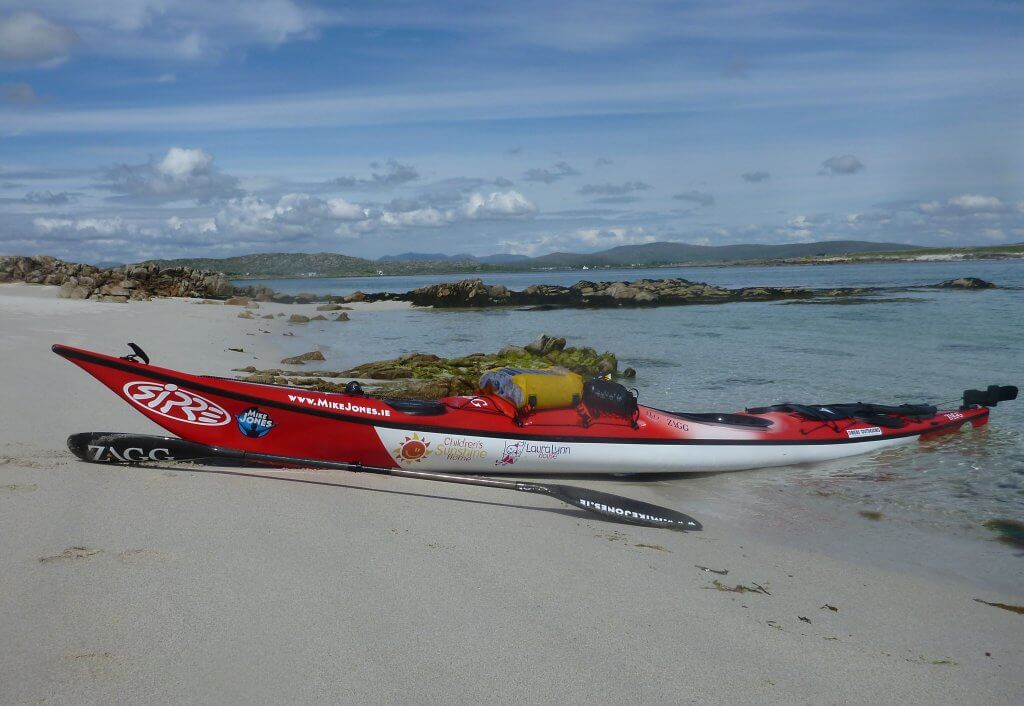 Choosing a start point was one of the easiest decisions I had to make. My hometown of Cobh, which sits halfway along the southern coastline, would make an ideal launching point to head west and ultimately clockwise around Ireland. The next question was when to go. With no great science, I chose to depart on the June bank holiday weekend, a couple of days after my little brother's wedding and with enough of a window to get me back for work commitments later in the summer. And from my memories of growing up on the waters around Cork, June should be a nice month, sunshine and light winds!
But why?
As I went through my preparation in the months before departure I was often asked, "Why?", "Why are you doing this?" My answer would vary from, to raise money for the Laura Lynn House and Children's Sunshine Home, to for the Adventure. Whatever my answer, the response almost always came back, "You're mad" followed by either "I would love to be able to do something like that." or "I would never do that." More commonly it was the latter.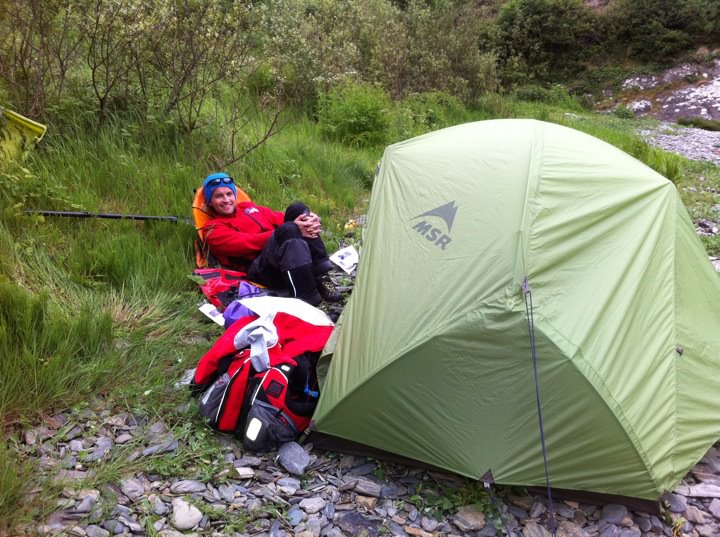 I had never envisaged through my time preparing that only halfway through the first day of the trip I would be sitting on a rocky strand physically exhausted and mentally close to breaking point, unable to answer that very question, "Why?" I think had I run out of answers and I was afraid this expedition might have been over before it ever really got started.
I was lower than I thought possible and for the first time had I to consider if I was truly up to this challenge.
Preparing physically is in some ways easy. You get in your kayak or go to the gym until you sweat and suffer, then rest and repeat until you are stronger and fitter. Mental preparation is not as simple as it is not always possible to put your mind through the types of experiences you will encounter on an expedition. I had not neglected this element of my preparation and had spent hours thinking and talking through the different situations that I might experience. This coupled with years of misadventure – clinging to rock faces in the Alps, swimming through rapids in Norway and the gruelling routine of 12 hours rowing each day on the Atlantic – had, I thought, prepared me well.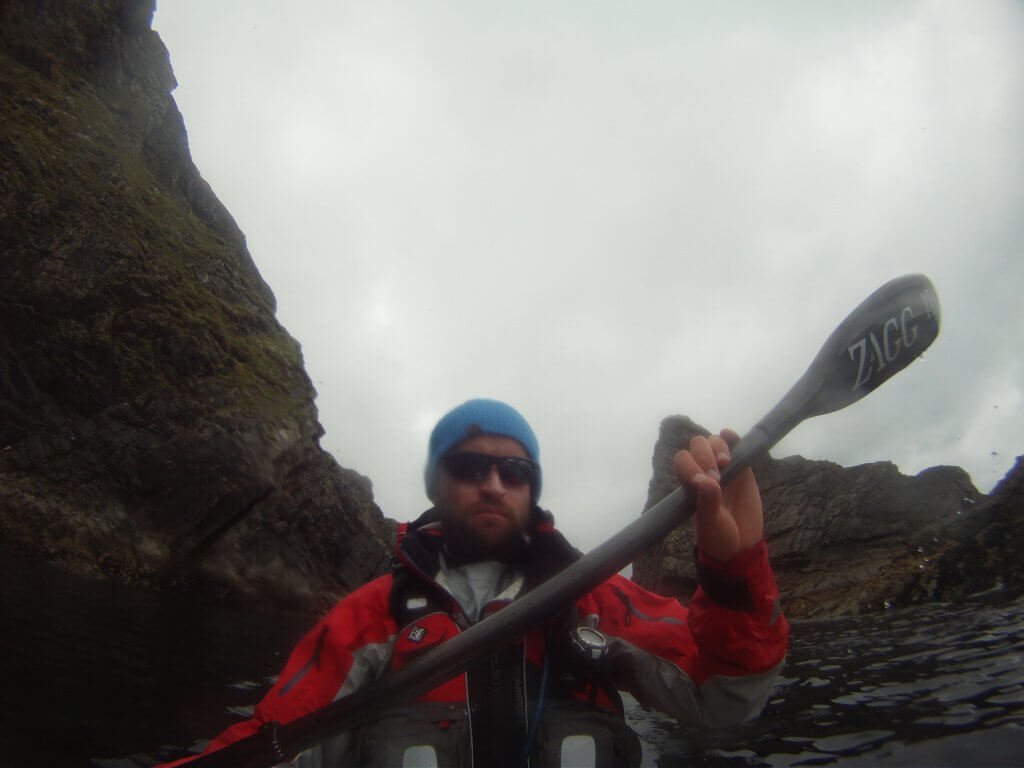 But all of this had not equipped me for the utter desolation I experienced as I hauled my boat from the water on that first day. I was lower than I thought possible and for the first time had I to consider if I was truly up to this challenge. I had departed Cobh that morning on a high with Courtmacksherry in my sights. But with only a mere 10 miles paddled I began to feel unwell and was forced to make landfall in a small rocky cove near Oysterhaven.
Pep talks and perspective
With some real-world perspective, a pep talk from my wife over the phone and some encouraging words from an old friend and kayaking mentor, Jon Hynes, I shelved my emotions from day one and looked forward to a fresh start the following morning.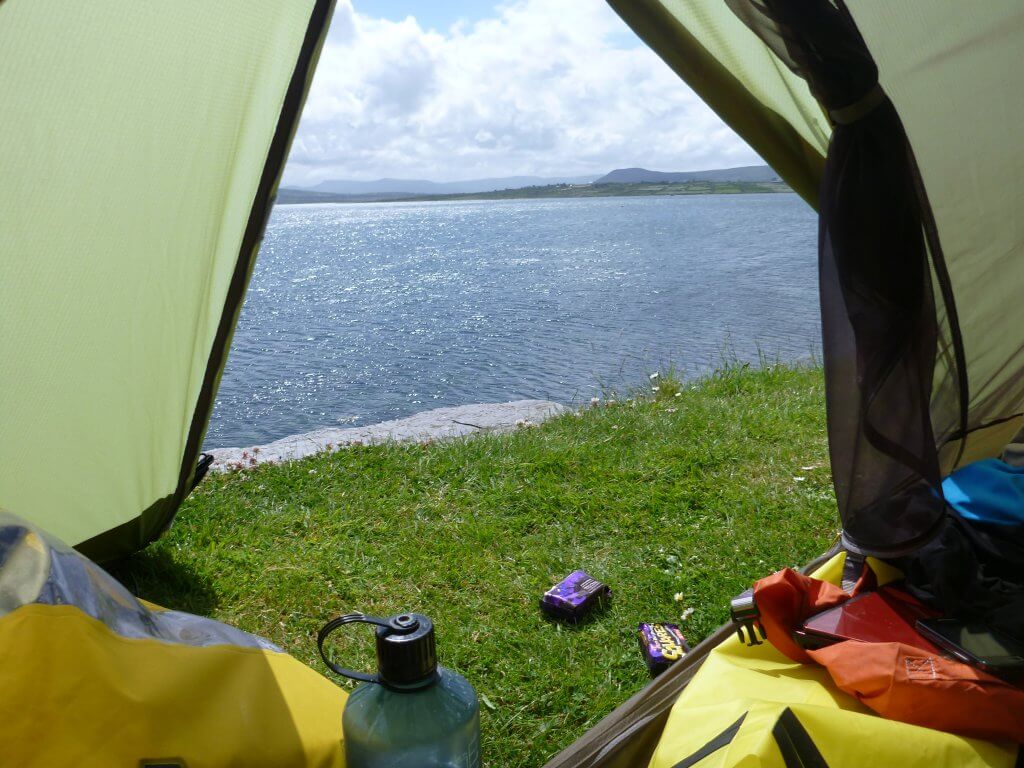 With a positive mindset, I pushed off from the rocks of Ballymacus cove, bound yet again for Courtmacsherry and quietly hopeful of a little further. Day 2, however, yielded a similar result as – failure to reach my target destination. And this time I had come far too close to catastrophe, running out of energy miles from shore and struggling to make landfall in a fog. The risks and dangers of this trip had always been apparent but that day I came too close to disaster. A new question now emerged. "Was the challenge alone worth the risk?"
With some serious soul searching and, a warm meal and some rest, my mind and body were in a better place as I made a big push west in the hope to find my rhythm. Click, it all fell into a place on a day of mixed weather and 12 hours' paddling which ended in success as I reached my target for the day. Then the weather played its hand and my progress was halted as I dare not pit myself against a gale and I watched two days slip by before finally making way again.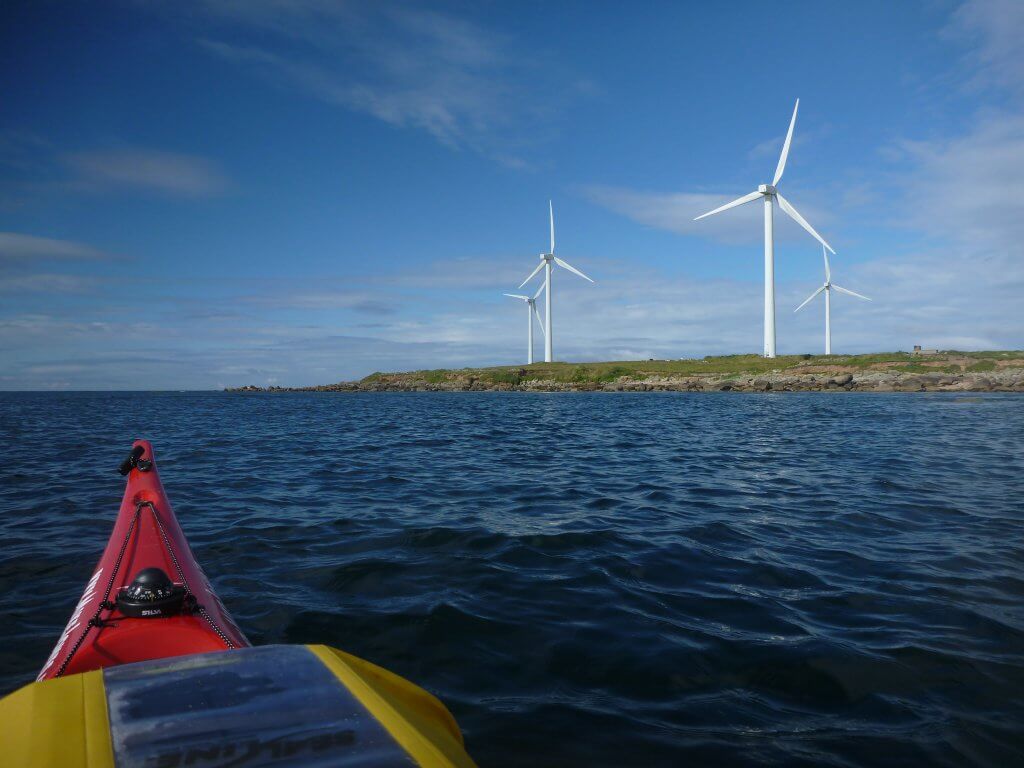 The next 17 days around Mizen head and up the west coast was physically and mentally demanding as I constantly battled the weather and took on wider and wider crossings in an effort to cut the distance and take as direct and as quick a route as possible. Occasionally the wind would not cooperate and I would sit ashore, weather-bound and somewhat frustrated. On other days I would take on the breeze in a battle, often cursing my decision but eventually coming out on top. And every once in a while the tide and wind would align to usher me along the coast, easing the pressure on my tired body.
Moving targets
Three weeks in and less than halfway around, my target of 31 days was long gone as I had now lost seven full days to the weather. If this pattern continued I risked running out of time and not completing the trip. My motivation was now simple; get up each morning and paddle as far as possible to get home in less than 40 days.
In the middle of the bay, 17 miles or more from the nearest landfall, there is no phone coverage and my VHF radio was out of range.
On Day 21, feeling highly motivated and strong I decided to play my joker and take on the biggest open crossing of the trip so far. Donegal Bay is over 35 miles wide and the option to go straight across from North Mayo to Donegal was something I had looked at very early in my preparation as a fair weather only option. I had fair conditions, or so I thought, so I went for it. In the middle of the bay, 17 miles or more from the nearest landfall, there is no phone coverage and my VHF radio was out of range. I was alone – no ships or fishing boats, just me, an unexpected headwind and a GPS tormenting me with speeds of only 2.3knots. I needed to average 3 knots to make landfall in daylight.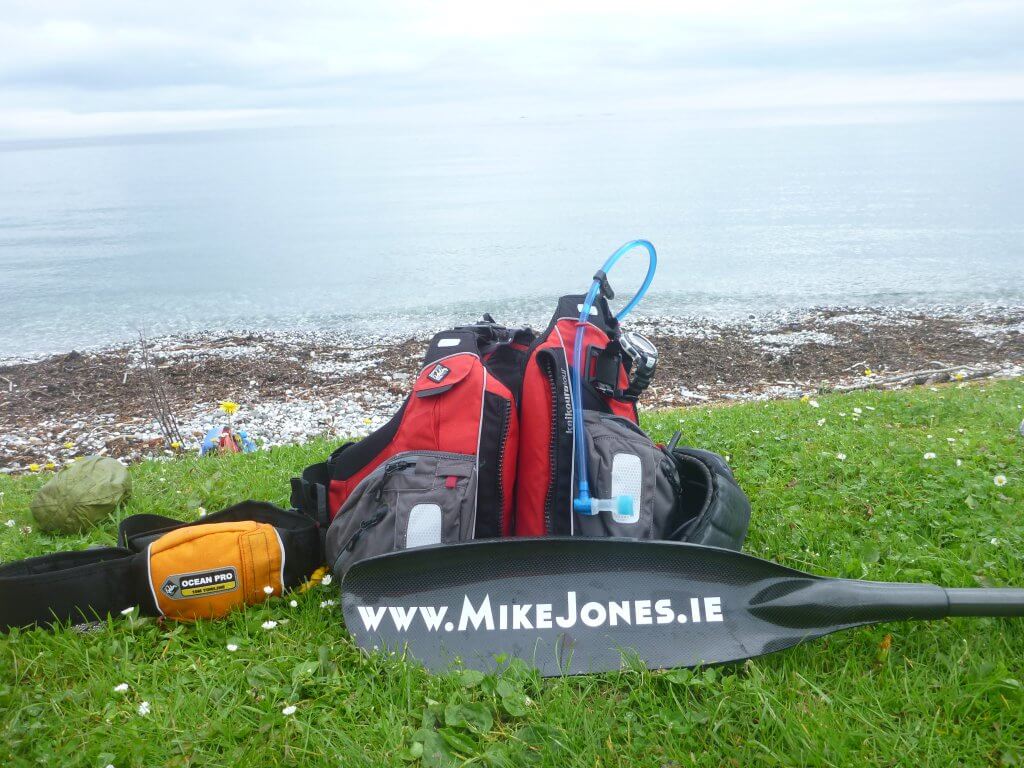 Twelve hours in and just over 25 miles covered would normally be a reasonable day and I would be looking for a sheltered landing spot, but out there at 7 pm with 10 miles still to paddle I had no option but to battle on into the headwind. As darkness fell I finally found shelter behind the rocky island of Raithlin O'Birne and decided to call it a day, or night. So after 17 hours with little or no rest I hauled myself, the kayak and nearly 50kg of kit on to a rock ledge. After making contact with home I found a spot sheltered from the wind and climbed into my bivvy bag for a short and not-so-comfy but much-needed snooze.
The amazing hospitality from complete strangers and local coast guard volunteers over these few days allowed me to fully recharge and set me up to take on the fast flowing tides and rocky coastline of Malin Head and North Ulster.
Tired and wet I continued to slug it out with the breeze as I made my way north around the Donegal coast. The amazing hospitality from complete strangers and local coast guard volunteers over these few days allowed me to fully recharge and set me up to take on the fast flowing tides and rocky coastline of Malin Head and North Ulster.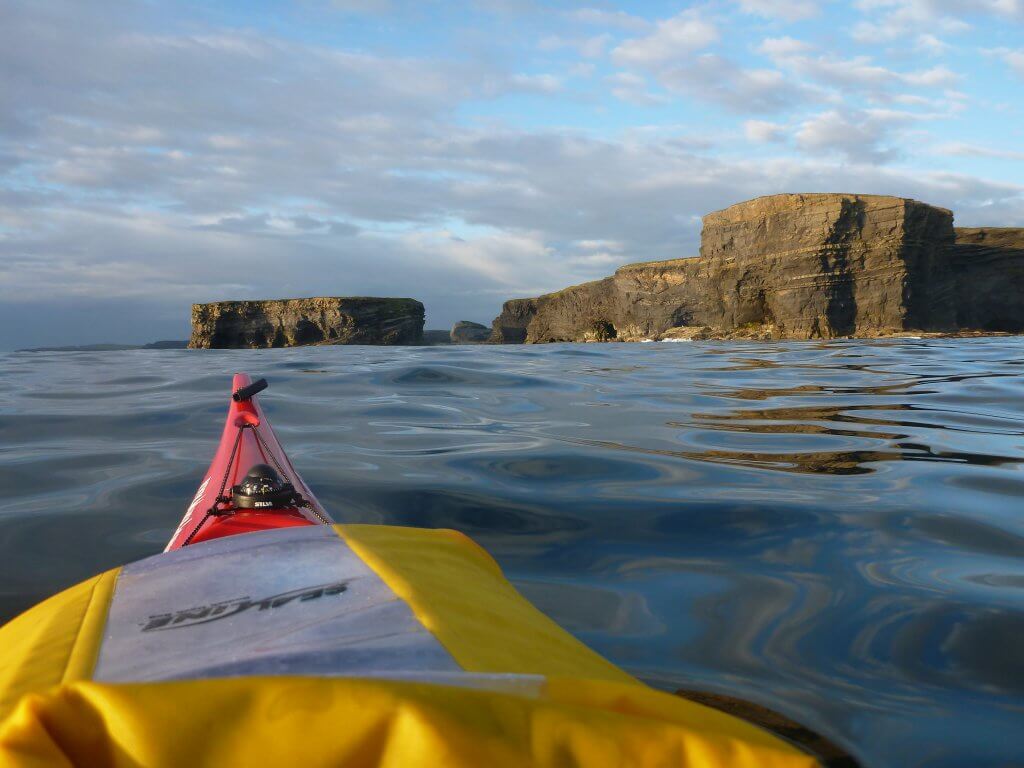 Contrasting fortunes
Passing Fair Head doing 8 knots on the tide and making 35 miles in only 7.5 hours seemed in total contrast to my struggle only days earlier across Donegal Bay, but I was happy to take it and I was finally heading south.
The supposedly easy East coast had more challenges to throw at me and arriving into a gloomy Howth Harbour at 10:30pm with a strong tailwind after covering over 40 miles I was delighted to be welcomed by the local coast guard team. They looked after me for the night before I skipped my way down the coast.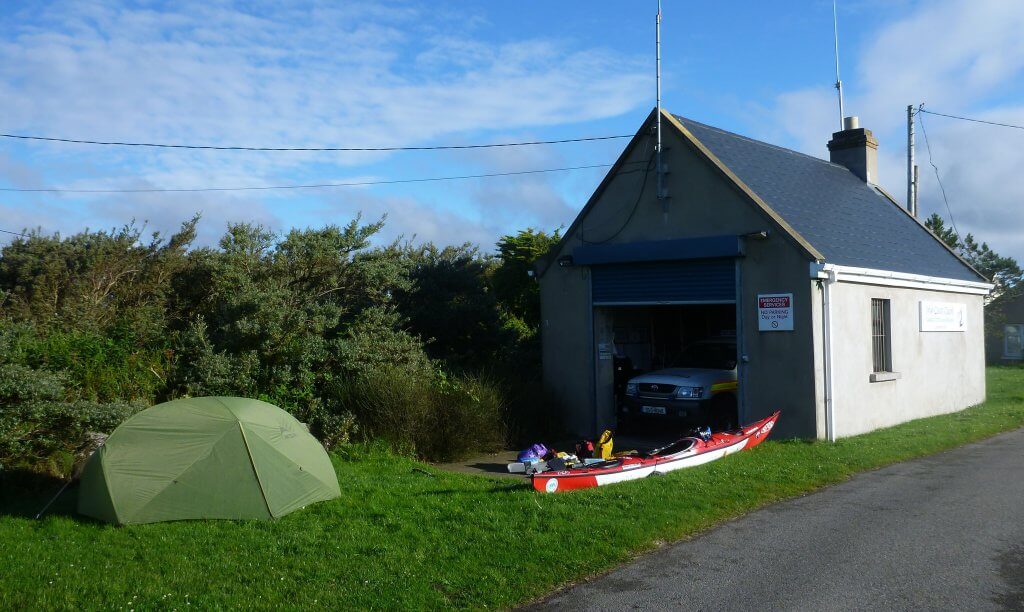 One overnight stop in Louth, one in Dublin, one in Wicklow and I was flying. Then bang; Wexford would not let me go. Long stretches of sandy coast, strong tides, head winds and a now tired body resulted in some slow days. I finally rounded Carnsore Point to get on the home straight. But at around 100 miles, it is a pretty long home straight!
On the morning of the 40th day, Friday 13 July, I was not filled with optimism and although I was in touching distance of the finish I still had almost 30 miles to do and a less-than-favourable weather forecast could yet again get the final word. With trepidation and muffled expectation, I set out from Ardmore and hugged the coast. To my surprise, I was making a good speed of 3+ knots and then across Youghal Bay a tailwind filled in. I made excellent progress and arrived two hours ahead of schedule to Ballycotton. I knew then I could finish in Cobh that day, hopefully before nightfall.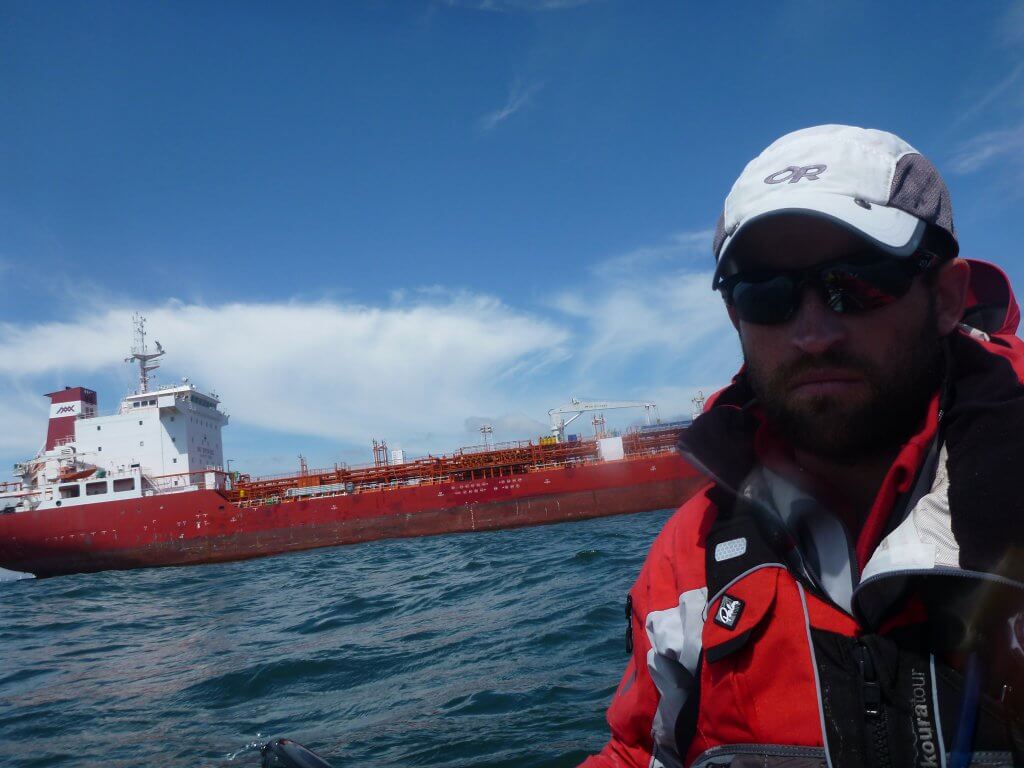 I was greeted with a stiff headwind and rain as I rounded Roches Point and entered Cork Harbour. But now I didn't care. I had just three miles to go and with some familiar faces coming to guide me home on a flotilla of local boats it was a great feeling to know I had completed my journey. It seemed like a lifetime ago since I had set out full of ambition from this harbour.
I learned so much on this trip and found kindness and challenge where I least expected, but I also found an abundance of adventure. And that, for me, is what made all of the hardship worthwhile.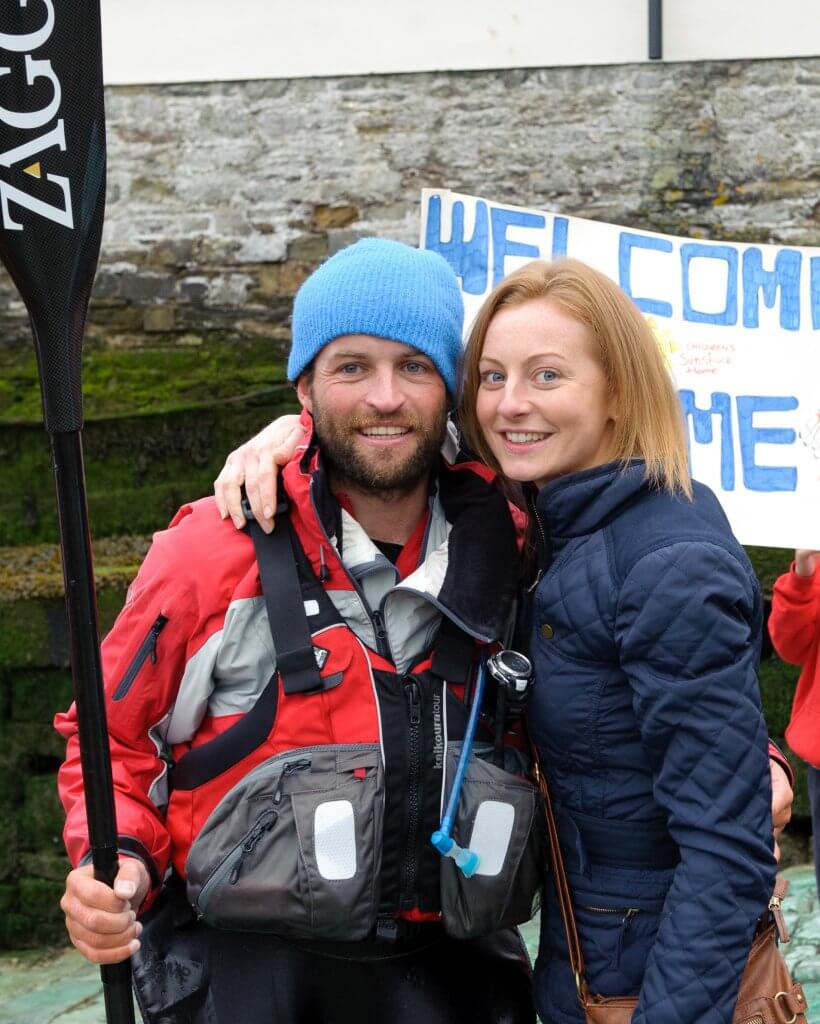 For a more detailed account of the adventure or to learn more about Mike go to his website.
Mike Jones's 10 top tips for a successful expedition
Do your homework: No point in telling the lads in the coast guard, "The dog ate it…" when they have to come and find you!
Test your kit: Dress up in what you plan to wear and get out and train. This will show up any issues before you set off and give you time to make adjustments.
Get in shape: Prepare your body for whatever you plan on throwing at it. It is no harm to go beyond what you hope to experience. This will stand you in good stead in the long run.
Focus the mind: Visualise your journey; think about what will be good and how you will cope with the hard times. This mental preparation will help you through the inevitable challenges you will face along the way.
Listen and learn: Seek out the most experienced people you can find in your field. Even if you are doing something that has never been done somebody will have been close or will have the knowledge to share. Never be afraid to ask; most people I have spoken to in the past love to share their experience and knowledge.
Brush up on your skills: When it comes to travelling long distances, efficiency is key. So a little bit of coaching in your sport will pay dividends day after day enabling you to travel further and faster.
Read the sky: Spend a little time learning about weather patterns and how to interpret a weather forecast. This skill might just save your life. Resist the temptation to rely solely on weather reports from a sat phone or laptop. You never know when the batteries will die.
Invest wisely: you don't need to spend a fortune on kit but remember that in an emergency your kit might become your life-support system so make sure it is up to the job.
Leave no trace: This starts during your planning. Anything you bring in you must take out and aim to leave your environment as untouched as possible.*
Record your journey and thoughts: It will help you make sense of why you are doing it and will help you reflect and remember the experience on your return. It will also provide valuable insight for those who will attempt to follow in your footsteps.*
*The final two are not essential for successes they are just good practice.
Check out our Hard as Nails podcast:
If you liked this, keep discovering below: 

Previous Post