These lunches are quick to make and promise to be totally delicious.
In her book "Finn's World," surfer, baker and cook Finn Ní Fhaoláin has written dozens of completely gluten-free (sometimes even vegan!) and ultra tasty recipes that can be made quickly and on a budget. No one said being healthy had to be boring, and these three lunch or dinner recipes prove just the opposite.
1. "Sunny Summer Quinoa Salad"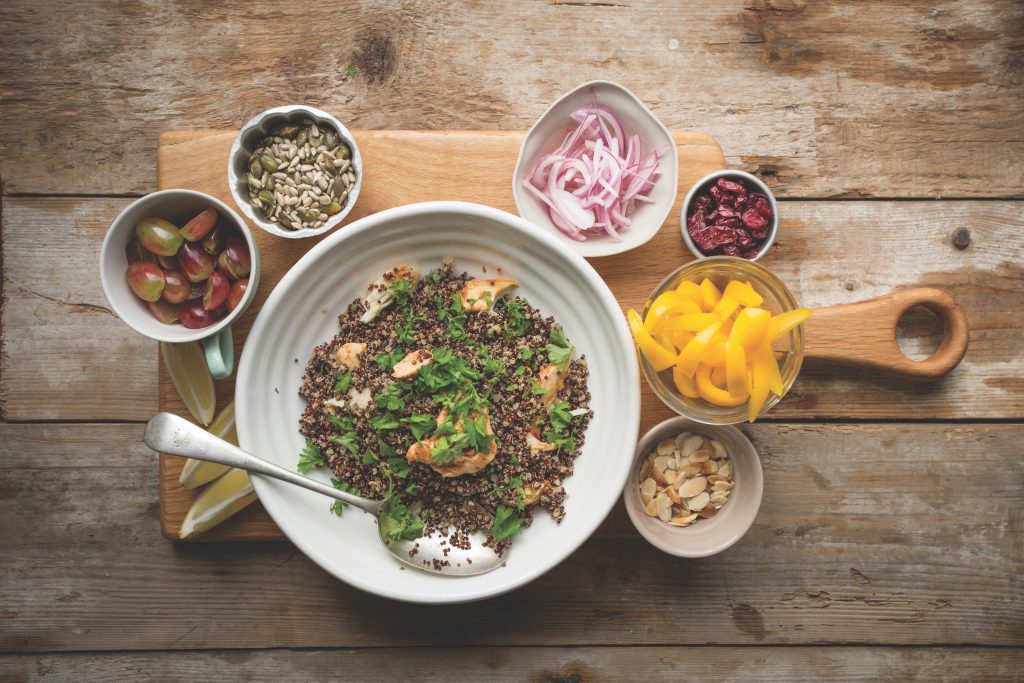 This salad has a lot of ingredients, but the flavours make it fresh and delicious, in addition to being gluten-free. It works wonderfully as a summer lunch and can also be prepared ahead of time to quickly take to work or college. Finn's recipe serves 2-3 and is listed here as follows:
Ingredients:
1 cup (185g) uncooked quinoa
2 cups (470ml) GF vegetable stock
1 fresh or 2 dried bay leaves
½ red onion
1 tbsp lemon juice (add more or less based on taste preference!)
2 bell peppers, sliced
1 cup (170g) green seedless grapes
300g cooked tikka masala chicken (make sure the seasoning is GF)
½ cup (25g) fresh coriander leaves, chopped
3 tbsp craisins (dried cranberries)
4 tbsp toasted seeds
2 tbsp olive oil
Salt and pepper to taste
Method:
Give the quinoa a good rinse with cold water to stop it getting a bitter taste as it cooks (due to a coating on the outside of grain). I do this in a sieve since the quinoa grains are itty-bitty and they fall out of a colander.
Add the quinoa, stock and bay leaf or leaves to a pot and bring to the boil. I don't tend to add salt as I find the stock is usually salty enough by itself. Lower the heat and simmer for 15 minutes with the lid on. I find my stove works best on a lower setting with the lid on – if it's too high the quinoa can bubble over. After this, I take a teeny bit out and have a nibble. If it's done (cooked through and no gritty feeling) I take the quinoa off the heat and let it stand for 5 minutes with the lid on to fluffy-ise itself. In theory, you would let this cool down, go off on your merry way and come back later when it was cool to complete the salad. But I'm usually hungry, so that doesn't tend to happen.
Slice the onion into super-thin strips and soak them in the lemon juice. This takes the raw-onion-esque whack off them (and colours the lemon juice pink, which looks cool in the salad). Slice the peppers into long thin strips. Cut the grapes in half lengthways.
Find a lovely big salad bowl – I love the turned wooden ones – and layer up the salad: quinoa first (don't forget to take out the bay leaf), then chicken, grapes and veggies. Chuck the lemon juice on with the onions and sprinkle over the coriander, dried cranberries and toasted seeds. Follow with the olive oil and a little salt and pepper to taste.
4 ultra tasty gluten free recipes to satisfy your cravings
2. "Jose's Game-Changing Chicken Wrap"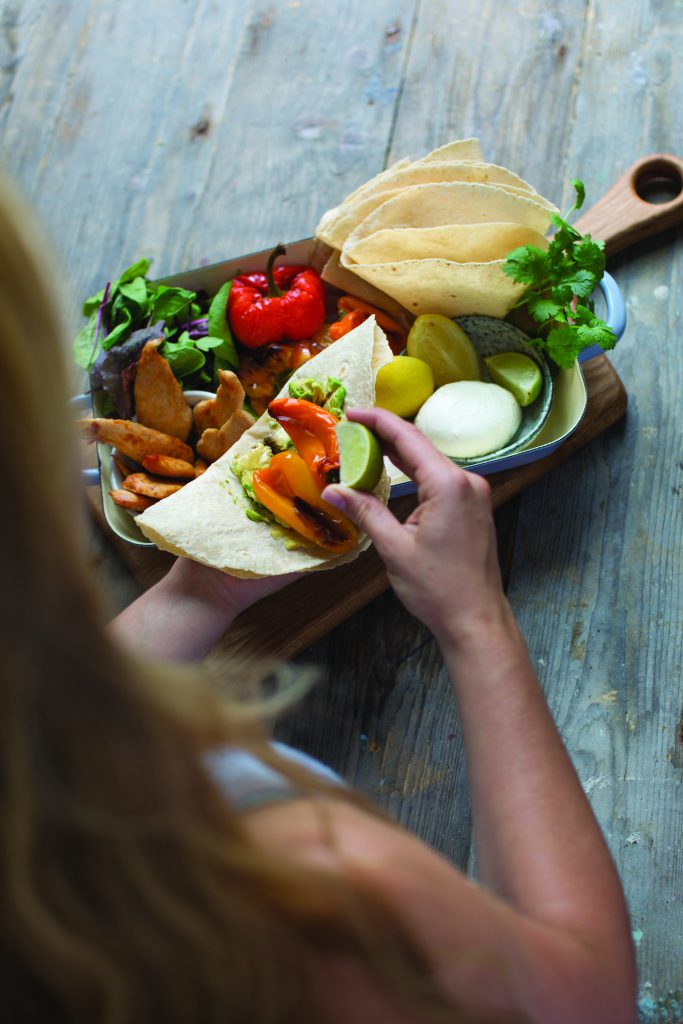 Because Mexican food is based around corn, veg, beans, rice and meat, it makes a perfect gluten-free diet with powerful protein and plenty of healthy alternatives. After living in America with her friends for a summer, Finn fell in love with a Mexican market and these subsequent chicken wraps. Her recipe is listed as follows:
Ingredients:
1 big free-range chicken breast (happy chickens taste better and are better for you)
Olive oil, for roasting
Salt and pepper
1 red bell pepper
½ avocado
½ ball low-fat mozzarella
1-2 GF tortilla wraps (the bigger the better)
Handful baby leaf spinach
For the Dressing
¼ cup (60ml) olive oil
¼ cup (60ml) balsamic vinegar
Salt and pepper
2 cloves raw garlic or 3 roasted
Method:
Preheat the oven to 180°C
Pop the chicken breast into a small baking dish, drizzle with a little olive oil and season with salt and pepper. Pop the whole pepper on its own dish and rub it with a little olive oil. Put the cloves of garlic for the dressing in with the pepper (with their skin still on). Roast garlic is even nicer than raw in the dressing and easier for your stomach to digest too! Lash both dishes in the oven. Cook the chicken for up to 30 minutes or until white all the way through. The pepper will only take about 20 minutes (turn over once after 10 minutes) so remember to take it out early.
When the pepper is blackened a little and nice and soft it's done. Jose used to peel the peppers, but I like the blackened bits of skin on the outside. Cut off the top of the pepper and scrape out the seeds with a spoon. Cut the flesh into rough chunks.
Cut the avocado into long strips. Finely slice the mozzarella.
I like to 'refresh' the GF wraps for about 20 seconds on high in the microwave and then lay them out on a big sheet of tinfoil on a plate.
Slice the chicken breast and line it along the centre of the wrap. Add the avocado, peppers, spinach and mozzarella. If the wrap is small, I just use half the pepper; if it's a big'un, I use the lot for extra vegness!
I like to make a jar of the dressing so I can use it for other salads as well. Simply mix the oil and vinegar and then season with salt and pepper. If you're using roasted garlic, remove the skins, crush and add. If using raw garlic, chop 2 cloves into quarters and mix them in. The dressing will get more deliciously garlicky the longer it sits – just be careful not to pour the big chunk of garlic onto anything later!
Finn recommends portioning the dressing into containers and pouring it over the wrap as you eat, to prevent it from getting soggy. She also notes that leaving out the mozzarella will make this dish dairy free, as the avocado will be perfectly creamy on its own!
3 simply, tasty gluten free breakfasts to try this week
3. "Poseidon's Fingers"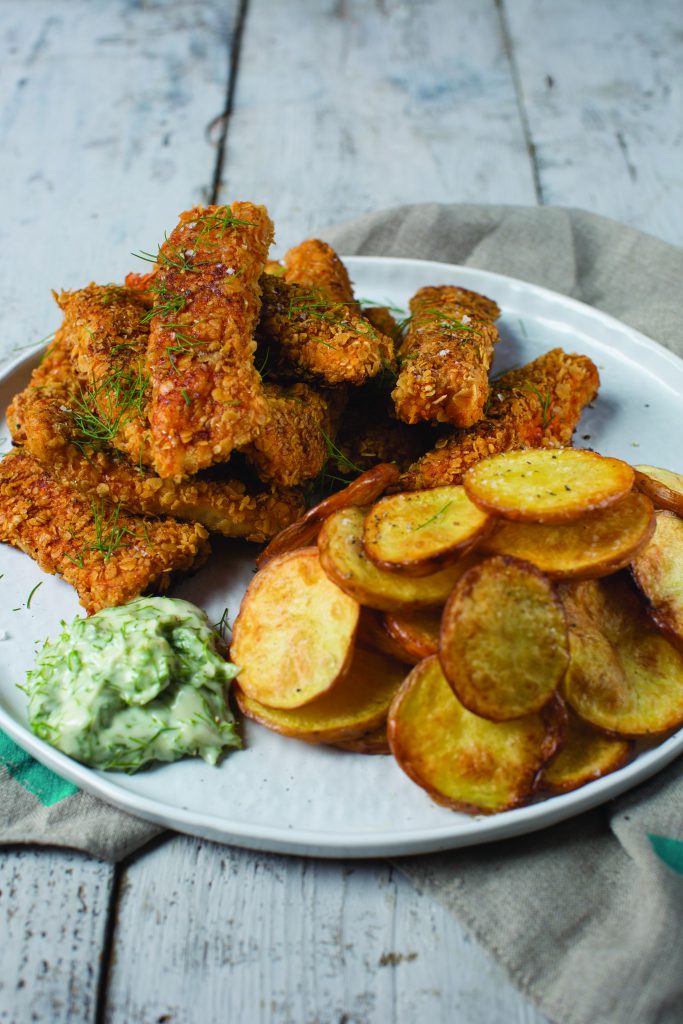 Fish fingers have been a comfort meal for Finn since she was a child, especially on a rainy day. She has modified this dish to be gluten free, complete with a side of delicious home fries. Finn's recipe serves 2 and is listed as follows:
Ingredients:
Home Fries
3 large Rooster potatoes
2 tbsps olive oil
Salt, to taste
Fish Fingers
250g sustainably caught white-fleshed fish e.g. cod
½ cup (60g) GF plain flour
Lots of salt and pepper, to season
1 egg, beaten
1 cup (100g) GF oats, crumbled up with your fingers
1 tsp sweet paprika
Sunflower oil, for frying
Optional flavours (to add some extra kick to the oat crumbs you add some dill, lemon zest, chilli flakes or even some seaweed flakes)
Method:
Preheat the oven to 200°C
Scrub your Roosters and leave the skin on – lots of nutrients in the skin, don't you know! Cut them into 1cm or less slices to get that classic circular home-fries shape. Chuck them in a big bowl, pour in our olive oil and crack in your salt. Swoosh it all around with your hand so the potato has a light coating of oil. This way you still get the crispy texture of home fries, without the artery clogging. Pop them on a baking tray and into the oven. Reduce oven heat to 180°
In the meantime, let's make some fish fingers! Cut your fish into 4cm-thick strips. When I'm 'breading', I like to put the individual ingredients out in dishes and set up a little station in this order:

Raw fish for breading
Flour seasoned with salt and pepper for dipping
Beaten egg for dipping
Oat crumbs seasoned with paprika for final dip
Plate for piling up breaded fish
Hot pan ready to go!

So just follow the steps above: dip the fish pieces in the flour, then egg, then crumbs – some people repeat the egg and crumbs bit, but I find one go is enough or the fish gets a big soggy!
Have your pan on a medium to high heat. Pour in a tablespoon or so of sunflower oil. I don't cook the fish the whole pay in the pan – pan time is just to seal the flavor in and get the breaded part nice and crispy. Cook each piece for about 2 minutes on either side. When all the pieces are ready, pop them on a baking tray covered in baking parchment and then into the oven.
Mix the home fries around while you're down there so they brown evenly.
The fish will only need a maximum of 10 minutes and should be done at the same time as the home fries. Use this time well, young grasshopper. I usually steam or boil up some peas, make a cup of tea and get out the ketchup for the chips and apple cider vinegar for the fish fingers!
Finn's new book, "Finn's World," provides not only delicious recipes but tips and tricks to help transform your lifestyle. Finn's World (Gill Books, 2017) by Finn Ní Fhaoláin is available to buy from Amazon.
Follow her on her socials to keep up with her life and yummy recipes.
Facebook: @finsfitfood
Twitter: @Fins_Fit_Food
Instagram: @finsfitfood
Check out our Hard as Nails podcast:
Like this? You should check these out: