Guy Molyneux, a 47-year old-psychiatrist, has just joined the prestigious list of International Ice Mile swimmers following the recent Eastern Bay Invitational Ice Mile event at the Clontarf Baths in Dublin.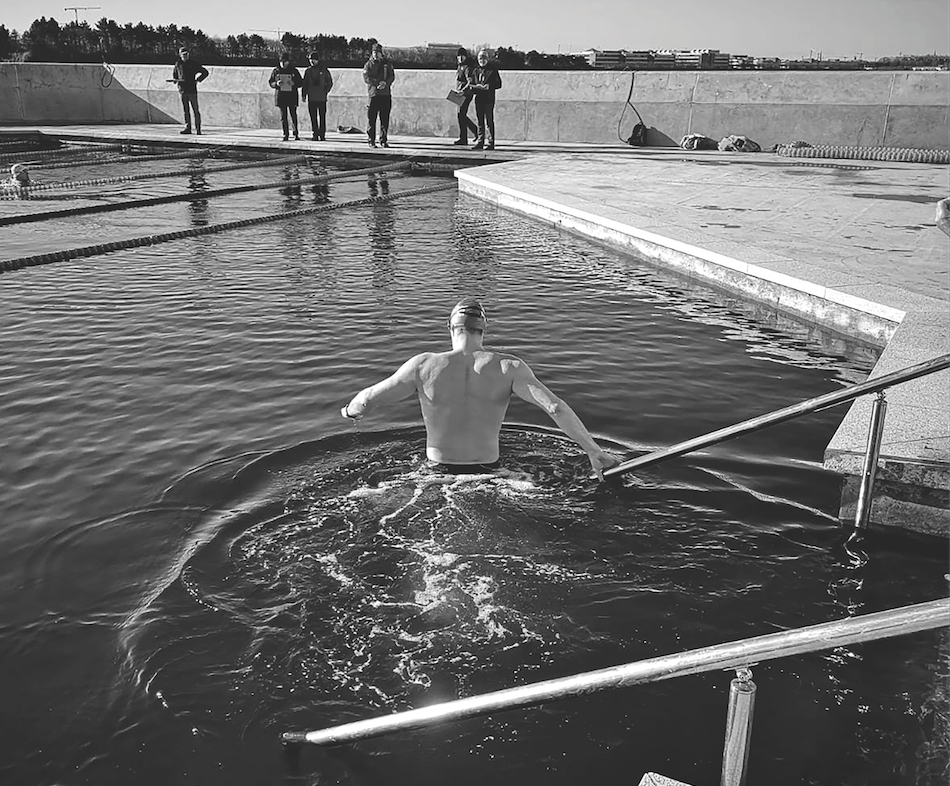 "I considered postponing my first Ice Mile when I saw the initial water temperature of 1.8°C. I was freaked out. That was 4°C colder than my coldest training.
"But I kept reminding myself that I had trained as well as I could have, that the medical support was experienced, and that I could stop at any point.
"So, I pumped myself up and gave it a shot," says Guy.
"The Ice Mile is pretty self-explanatory – competitors swim a mile in water that is 5°C or less. According to the International Ice Swimming Association, the swim must be unassisted and the swimmer can only wear one pair of goggles, a cap and standard swimming costume.
While the number of people taking on a mile in freezing water is still low, there has been a huge increase in winter dipping across Ireland.
"Swimming outdoors is a release, an escape from the stress of my job. My brain just empties and I focus on the feel of the water, my rhythm, the wildlife and the perspective of looking at the land from the sea," says Guy.
Guy says that his journey to the Ice Mile was a gradual one.
"I started making fists to pump the blood into my hands but it wasn't long until that triggered painful shock sensations down my arms as the nerves became cold."
"I swam a bit as a kid but never competitively until my late 30s. I started swimming more and more because it's so rewarding. It's easier on the back and it's time-efficient, which is important when you have a busy job and a young family.
"In 2017 I plucked up the courage to ditch the wetsuit and I haven't looked back. I was surprised that you really can acclimatise to cold-water swimming and once the initial cold- shock passes you feel wonderful and hassle-free. It's just you and nature; it leaves you glowing and euphoric!"
But a short swim in cold water is a far cry from spending 30 plus minutes in freezing water while swimming a mile.
"I train with Piranha Tri Club and one of the members, Claire Ryan, mentioned she'd done a couple of Ice Miles. I was still wetsuit swimming and thought she was deranged! It was only in November when I was really enjoying pushing through the colder temperatures of autumn that I started considering it a feasible target. With the encouragement of Fergal Somerville from Eastern Bay swimming club who is a central swimming figure in this scene and has completed eight ice miles, I began to train in earnest.
"As a medic, I was also interested in the physiological response to exercise in very cold water. I learnt that during cold-water swimming, your body switches your blood flow to protect the vital organs at the expense of
the peripheries. There is payback, however. After the swim, your core temperature drops as your blood reperfuses your cold extremities and cools down. It means you feel coldest several minutes after you leave the water. Fittingly, we call this afterdrop!"
It is vital that you put in adequate preparation prior to an Ice Mile.
"I'd been consistent with the sea swims all year, but in November I cut my pool swims to once weekly and increased my sea swims to two per week. I had bought a good GPS watch and I wouldn't let myself get out until I'd completed the mile. I'm a relatively slim build at 93kg for ice mile swimming so I ate more over Christmas and January to gain 3kg of insulation. That unfettered eating was certainly a hidden bonus!
"The water still felt bloody freezing on the day of the event though! The official water temperature was 2.4°C and the air temperature was about the same. But the initial cold-shock settles quickly if you've trained consistently, so before I knew it I was going along nicely. I still struggled through. I was pretty alarmed when my hands started to hurt from the cold after just three lengths of the pool. I started making fists to pump the blood into my hands but it wasn't long until that triggered painful shock sensations down my arms as the nerves became cold.
Meet the Irish Ice Swimmer Taking on Cape Horn in Togs
"I told myself I would quit at 400m, but once I'd done that I told myself I'd at least do 1,000m, an Ice Kilometre. But I kept on going and was happy when I heard my wife, Gill, shout: "Six lengths more. You can do it!"
Almost everyone needs help out of the water after an Ice Mile due to cold-induced poor coordination. Guy was no exception. The race medic then walked Guy to the ambulance which was kept at over 30°C.
"They had me warming up in jig time! Once I was warm, I felt ecstatic. I had accomplished something I wasn't sure I had in me. I had trained hard, pushed through severe discomfort and completed the challenge. It has reminded me that with the right support and preparation, you can achieve anything."
Like this? Check out these other articles: