With so many things to do in New York, exploring the River Hudson can easily be overlooked. But rest assured you'll be missing out on the chance to get a truly unique view of the city. And given that so many Irish people first laid eyes on this metropolis from the water, it seems fitting too.
Barring the coldest time of the year, the Manhattan Kayak Company on Pier 66 offers a variety of trips for every level of paddler and will sort you out with necessary equipment. I was there in early November and thanks to mild weather was just in time to take advantage of the 'New York After Dark' trip ($65) with owner/guide Eric Stiller.
Magical is the only word to describe watching Manhattan's famous skyline and its unidentical Jersey City twin twinkling as you paddle on the river's inky but surprisingly clean brackish waters. Even more surprising is the discovery of the river's vibrancy and how it influences the city.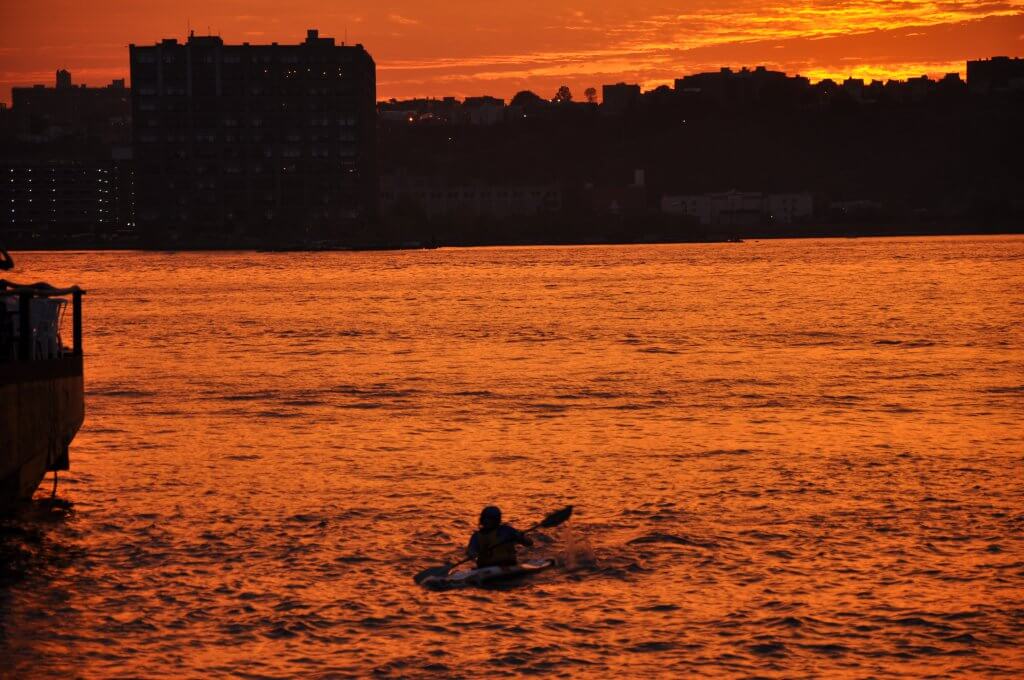 Small well-lit passenger ferries zip over and back between Jersey City and Manhattan, bringing workers to and from home or play. And hulking black barges, laden with goods, silently labour up and down from the estuary deep into the fjord as they have done for centuries.
This is where you'll be really glad to have some local knowledge and experience in your midst, as these huge virtually unlit vessels seem to merge with the night and pose a real and immediate danger to an unsuspecting paddler. It's vital to wear bright head torches and beacons on the front and back of your kayak and to remember that these barges can't slow down quickly.
Eric is also a mine of information on the city – past and present, and the river's capricious ways. If you're intent on paddling out to the Statue of Liberty for example, not only will you need to be experienced, you'll need to go on the correct tide or you'll never make it.
Eric points out all the famous building like the Chrysler, Empire State and the Woolworth Building, as well as landmarks that are lesser-known to blow-ins. Like the 15m high octagonal Colgate Clock which was built in 1924. Now standing in an empty lot, it's just 100m south of the Goldman Sachs Tower, the largest skyscraper in New Jersey.
This trip certainly beat any open-top bus tour I've ever done and when you land back on shore, you'll feel a little more in tune with the city that never sleeps.
Everything you need to know to kayak in New York
The Manhattan Kayak Company's 'New York After Dark' trip ($65) is a great beginners option but runs only in the Autumn.
If you're there in the spring/summer, Eric runs a beginner-suitable 'Fun in the Sun' option.
For experienced paddlers, Eric can organise tailored trips out to the Statue of Liberty, Gotham Lights, or even a challenging Manhattan Circumnavigation. These trips take place on fast and busy tidal waters.
For more information and to pick the trip that's right for you, visit the Manhattan Kayak Company website.
Check out our Hard as Nails podcast:
Like this? You should check these out: