For some of us, the call of the water is undeniable. It is integral to our wellbeing, a part of our everyday lives. Its appeal is difficult to put into words. All we are sure of is that we need it. Vanessa Daws (originally from Nottingham, but she has been on Irish soil for so long, she is now one of our own) is one such individual whose life revolves around the ebb and flow of open water. Her life, her art and the water, are all intrinsically connected.
An active member of the Leinster Open Water community, Daws also has a bit of a talent for ticking off world firsts. In 2016, she became the first person to circumnavigate Lambay Island and this year she became the first person ever to swim the 22.5km length of Lough Mask.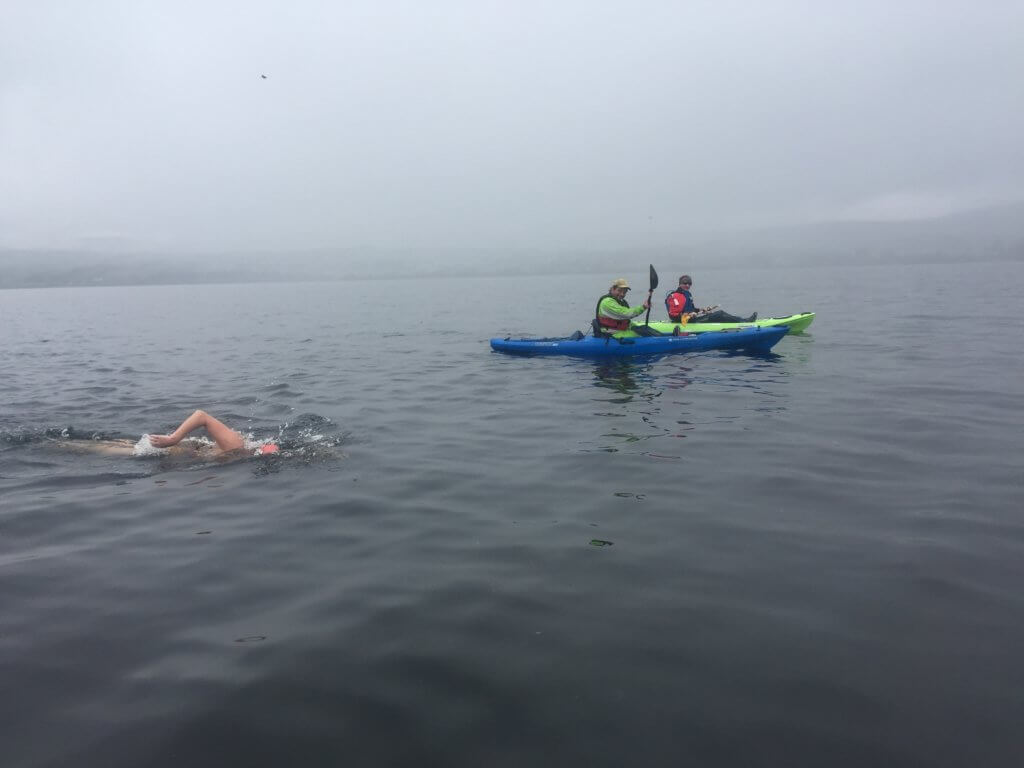 "I set off from Glentrague in the early morning sunshine with the best support crew I could ask for; Padraic Canny, Fergal Somerville and Claire Ryan (they sat on a rib for 10 hours!). And on land, Trish Walsh, the Director of Petersburg OETC. I knew the first 7km to the Ferry Bridge would be beautiful, the Upper Mask is less than 1 km wide so as you breathe you see the hills on either side," she says.
"About halfway into it, I could see the clouds rolling down from the hilltops. The sun disappeared and we had some fog. I couldn't see the island we were aiming for so I did start to wonder if we would be able to continue. The fog didn't last too long but the sun never came back. When we hit the Cloon River about 1 km from the end, there had been heavy rain the night before and the cold river water was a complete shock. It was about 2º colder and had a strong current. Luckily this is where John Craddock, Kay Brennan and Alan Stephens (members of the Ballinrobe Watersports Club)  decided to join and swim with me up the river. It was great to have the company."
Open Water Swimming: Tips for Overcoming Fear
The challenge of undertaking a task such as this makes the simple things in life such a pleasure, that they almost become the highlight of the whole endeavour. "The Cadbury's chocolate mini roll near the end of the swim was amazing!" Vanessa says, "I hadn't eaten many solids during the swim. I had mainly Torq carb drink feeds, so this went down very well! And seeing people who came out to cheer me on at the Ferry Bridge and Cloon Bridge was also a highlight."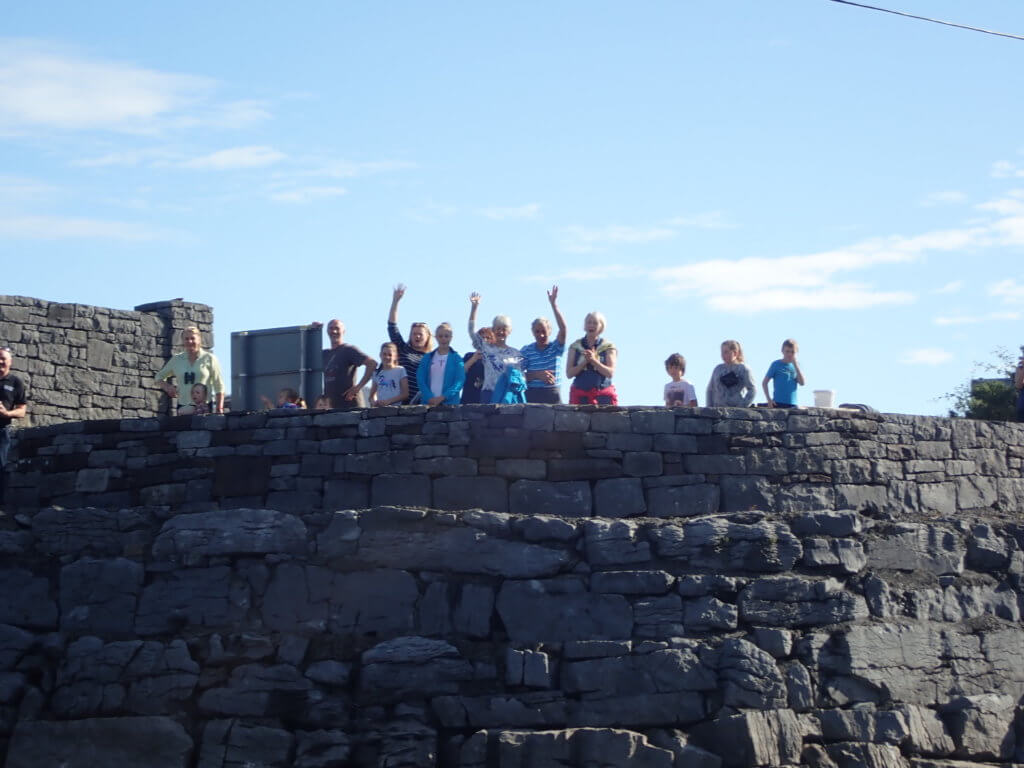 Endurance swimming can be a lonely sport. Face immersed in the water, there's only so much counting strokes one can do before your mind starts to wander. And that's when things become difficult. The art of distracting oneself is a real skill that open water swimmers must learn to master if they are going to succeed.
Open Water Swimming: Top Tips from Olympian Keri-Anne Payne
Daws is well aware of the struggle. "The first part of any swim is always great. It's exciting, you have lots of energy, singing songs to yourself and dreaming of the swim ahead. But as the swim goes on and, in particular, the last hour or so, there is a lot of brainwashing needed. I have to make sure that my thoughts don't turn negative. I have to keep telling myself that I am able for this. That I have trained hard and compare it to other tough swims I have completed that I thought I would never be able to do. I ask my crew not to tell me how far I have come or have left. I don't want to know the temperature of the water. It is as it is and I just have to keep my arms moving one after the other. The support team are crucial to any swim, as the saying goes 'a solo swim is never solo'."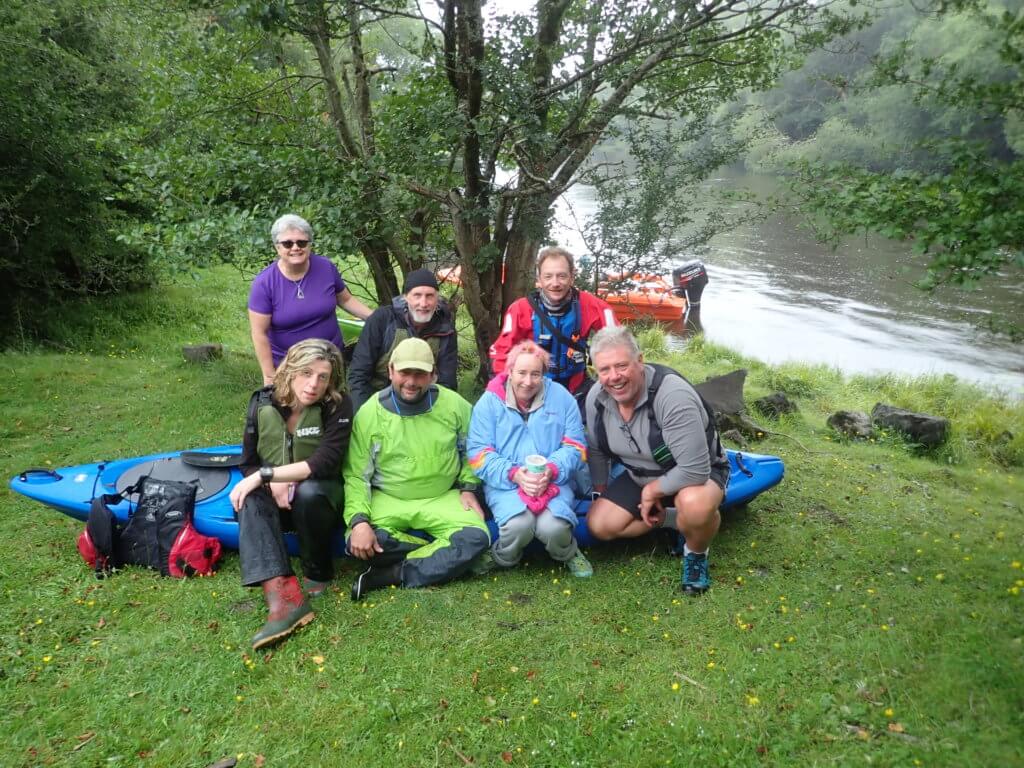 These challenges are also her inspiration for her work. Vanessa Daws is an artist and her art is thoroughly influenced by the water. "I have always made work about swimming and our relationship to bodies of water. With water, I've always had the compulsion to jump in, to submerge. I'm not too sure where this comes from, but it has led me to swim in many strange places, like fountains, the M50 Aquaduct and various ponds and bogs. More recently as I am swimming longer distances, my swimming has changed a bit. I'm now counting millage and trying to concentrate on becoming a better swimmer. I'm not the fastest swimmer or a particularly good one, I've just always found it hard not to walk past a body of water and not want to jump in."
Vanessa Daws plans to swim the English Channel in 2019. To see her art and read more about her, visit her website.
Have you listened to our awesome podcast?
Like this? You should check these out: