SAVE THE DATE: The Kindness of Strangers Irish book launch will take place on Thursday 25 of October at 8.00pm at the Patagonia Outlet Store in Dublin. Irish big-wave surfer, artist, scientist and explorer Easkey Britton will be a guest speaker on the night. The following is an excerpt from Easkey's chapter in the book The Kindness of Strangers. 
BE LIKE WATER
Women Making Waves  | By Easkey Britton
'We rode on waves of freedom, seeking our sense of self and place in the world, and we found it – in the water.'
'Water is life; it cleanses,' Farnaz said as we moved around the circle of women sharing experiences of what water means to us in our lives. We were a group of ten from very different backgrounds, ranging in age from 13 to 43. 'Being in the water makes me feel calm,' said Laleh. 'Water takes away my tiredness,' Mina added. This was the first time we'd met each other and for some, it was their very first time to get into the water. They were hesitant and nervous but encouraged by the other women in the group.
These women were participating in the Be Like Water programme – an active, physical practice aimed at tapping into the more playful, creative and therapeutic qualities of water and the sea. Be Like Water was initially developed by me and Shirin Gerami (Iran's first female triathlete) with minority groups of women and girls in the remote Sistan Baluchistan region of Iran as a way to make surfing more accessible and to facilitate a greater body–self–nature connection.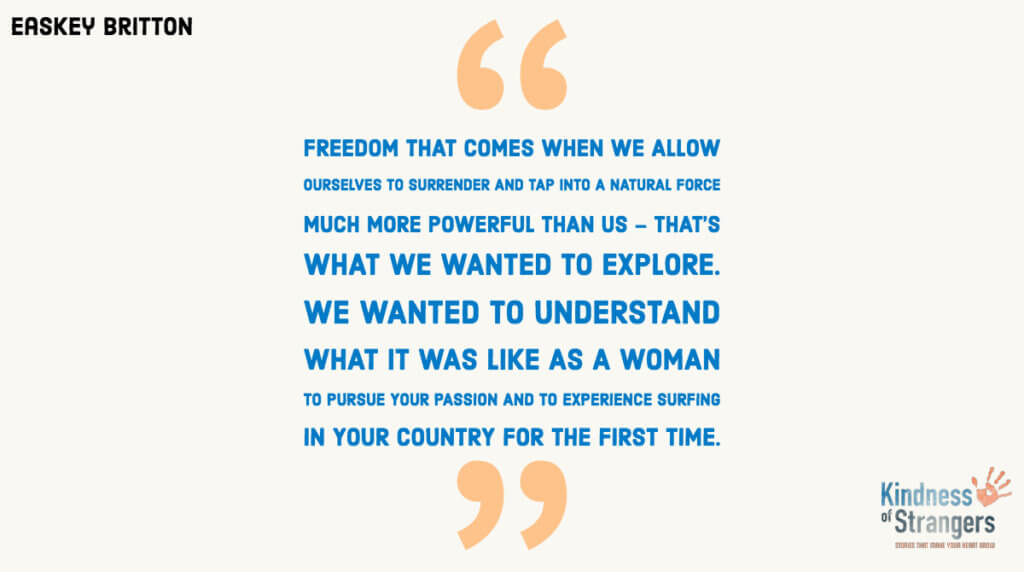 One young woman's eyes were wide with fear as she stood by the edge of the water. She was in her early twenties and this was her very first time to be immersed in water. Shirin gently guided her into the water until it reached her shoulders and gradually encouraged her to take a breath and put her face into the water. At first, the young woman's fear of the water covering her ears was too great, until Shirin explained how everything sounds different underwater; that water makes its own music beneath the surface. Together, hand in hand, they took a deep breath and plunged beneath the surface. When they resurfaced, she was beaming and wide-eyed. 'I've never heard anything so beautiful,' she said, smiling.
The Kindness of Strangers: Irish Book Launch Event
How I came to be standing at the edge of the sea with these women in a remote part of south-eastern Iran is a story about connection – the connection and kind of bond formed between women with a shared passion and sense of adventure, women who create stories together of what's possible in places where it's supposed to be impossible. It began when I met French film-maker Marion Poizeau for the first time in a hotel in Tehran in 2010. My decision to go to Iran in the first place was largely born out of curiosity – wanting to better understand the world through direct experience rather than being told how it's supposed to be. Often what we hear doesn't measure up to the reality of the actual experience.
I was going on a surfing trip organised by a mutual contact. But the rest of the group dropped out or didn't make it for various reasons, including our trip organiser, who missed his flight. Marion and I were two strangers, on our own, stranded in Tehran. I had my surfboard and my customised surfing hijab; Marion had her camera. We immediately bonded, not willing to give up. We thought, 'We're here now – what have we got to lose?'
Read the rest of Easkey's chapter in the book The Kindness of Strangers. The Irish book launch takes place on Thursday 25 of October @ 8.00pm-9.30pm at the Patagonia Outlet Store, 24 – 26 Exchequer St, Dublin 2. Tickets are just €10 and you can purchase them here.
Have you listened to our awesome podcast?
Like this? You should check these out: