Physiotherapist Arnaud Tortel is the man behind the scenes of the Salomon squad, he is responsible for the health and recovery of the ultrarunning elite. 
Team Salomon's chief physiotherapist Arnaud Tortel has worked with the elite team of ultrarunners for the last seven years, working with athletes like Kilian Jornet, Francois D'Haene, Anna Frost and Emelie Forsberg.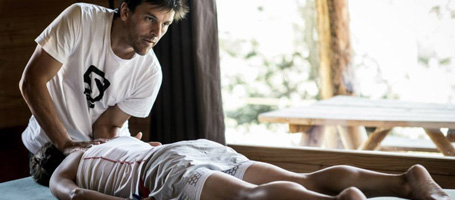 If you are a fan of trail running then you will definitely have noticed the elites all patched up with blue plasters. Arnaud Tortel is the man behind this magic, the inventor of the Active Plus 4U.
But Tortel is not just a physiotherapist and dietician, he is also an explorer. He was the first man to walk to the magnetic North Pole without refuelling. He also crossed the Arctic Ocean in 106 days from Russia to the Canadian coast.
Orla O'Muiri caught up with him at the Salomon Ultra Pirineu over the weekend to discuss his inventions and adventures.
Everyone is covered in these blue plasters. What are they?
I was on an expedition to the North Pole in 2009 and a guy suggested that I try using a special membrane like Gore-Tex with some oxide metallic in it to reflect infrared energy. He said that when you use this membrane your microcirculation will increase. So I tried and I really felt my blood moving so much better so I thought when I'm in pain if I put this membrane on directly it might help and I discovered it works just like acupuncture needles.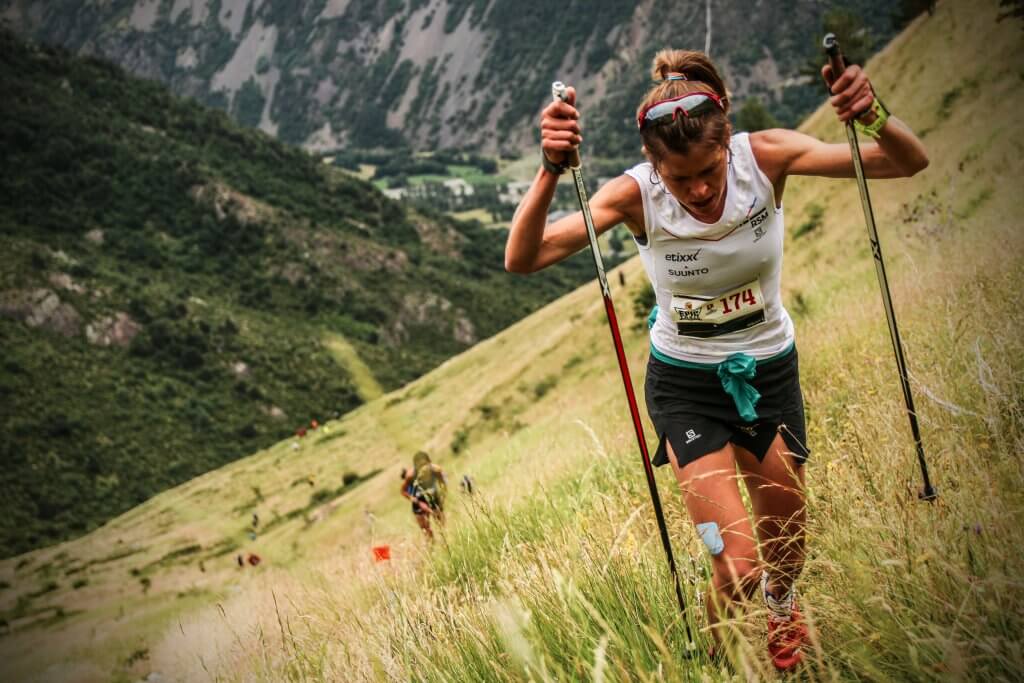 So I started working with the athletes to find the best point to place the membrane, to relax the muscle and help balance it. I invented the Active Plus 4U patches and started putting it directly on the are in pain, but then I started experimenting. For example, when a woman has her periods and it is painful I put the patches on her feet, after an hour they told me that the pain is much better.
Interview: Grég Vollet on Anti-Doping and the Future of Trail Running
When you take the patch off, the problem will come back again so it's not a solution but it helps a lot. As for the runners, we discovered when I patch a certain muscle, the whole chain of muscles on the body becomes much more balanced and they can use their two legs again, they stop limping, recover quicker and sometimes when they twist their ankle, we can patch that ankle and immediately it's much better, they can continue, they can run again. The recovery is much faster.
Is it medication?
No there is nothing inside it, it is just metal oxides and rare minerals finely ground. It's purely physical, not chemical. There is nothing going inside your body. It acts just like a mirror, you reflect the infrared energy and you will sense it, it's your own energy. It's like a mirror. When you look in a mirror you see yourself. I give you my patch, it reflects you not me.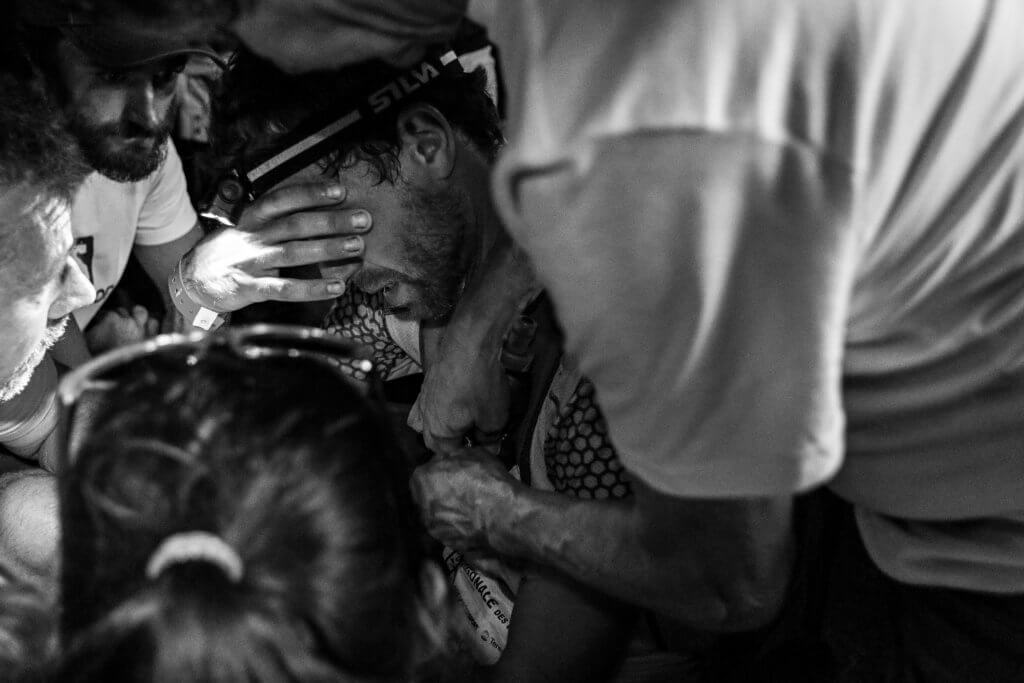 After ten days the fat of the cells will block the membrane and they will no longer work, so then you have to change them. They're also helpful for healing scars. One of our athletes came to me with a pain in her stomach, we discovered she had a scar on the back of her leg. When I touched the scar, immediately the pain eased. So I put a patch on there and it worked. The scar caused a problem not around the scar but somewhere else in the body. When people have pain, sometimes the pain is exactly where it hurts but I discovered that sometimes the problem is not there. For example, a guy has a pain in his right knee, the problem could be in his left ankle.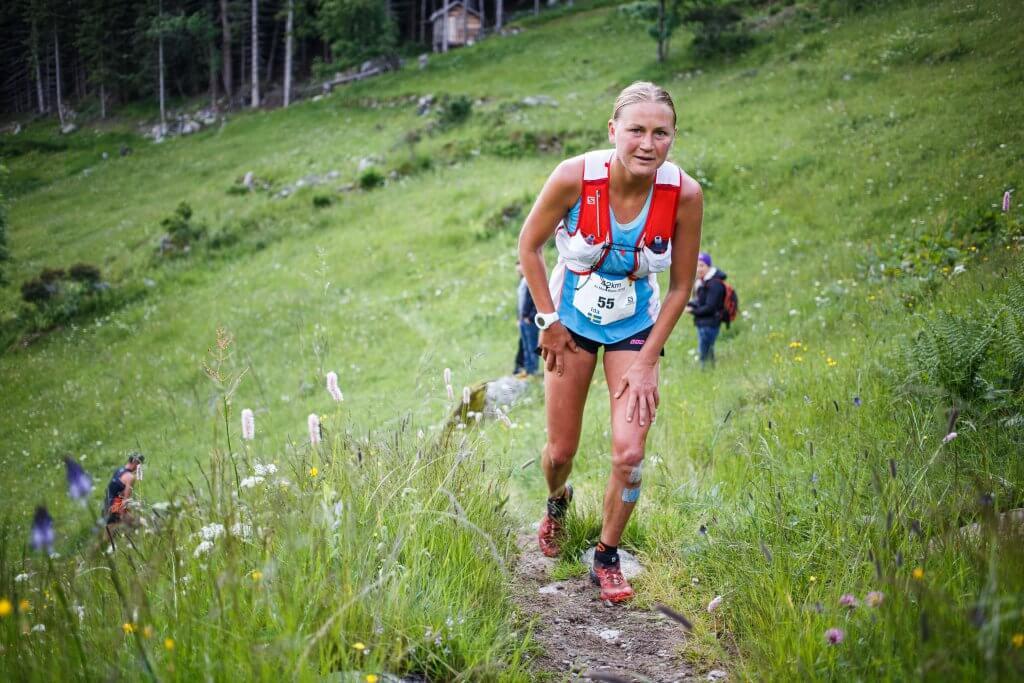 I developed the Active Patches 4U over two to three years, testing it on Kilian Jornet, Francois D'haene, and a few other athletes. They know their bodies really well so when I patch them they are able to tell me exactly where they feel it.
Meet Salomon Ultra Runner and Nat Geo Adventurer of the Year Mira Rai
For the athletes I work with, I do a lot of things, I massage and I stretch the muscles. Sometimes when the muscle is still tight after working on it, I use a patch. It's just a solution, not the solution. It's just one of the tools in my toolbox.
You are a dietician too, what kind of diet do you recommend for an endurance athlete?
It depends on the athlete. We don't have one solution for everyone, we have different athletes with different metabolism. Some guys like Kilian go to the mountain every day, others prefer to go to the gym, or do intensity training, so we tailor make a diet depending on what is good for their particular body.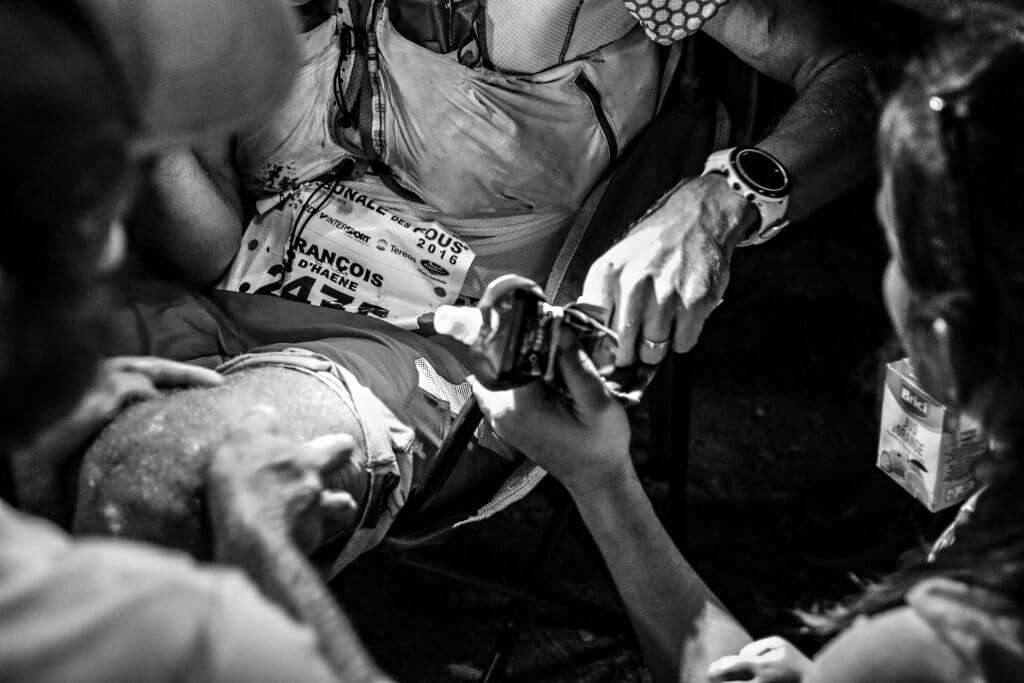 Some of the athletes eat four times a day, some only eat twice a day. Some eat all the time during the race, some eat after two hours, after four, it depends. Often they eat too much sugar, and we propose they eat less sugar and more salt or try and eat different tastes during the race because it's very important for the brain to feel different tastes.
Aside from being a physiotherapist and a dietician, you are an explorer as well?
Yes, I did a lot of expeditions between '95 and 2010. I was the first man to walk to the magnetic North Pole without refuelling. I crossed the Arctic Ocean in 106 days from Russia to the Canadian coast. For this one, we carried all our food and clothes in a sledge that weighed 175kg each, with 100 days of food in it. In 2006 I crossed Greenland. I had planned to do a 3000km expedition from Alaska to Spitsbergen in 2012, but when I was out training in the mountain one day, I fell and broke my vertebrae. I had to postpone the expedition. Perhaps I will do it next year or sometime in the not to distant future.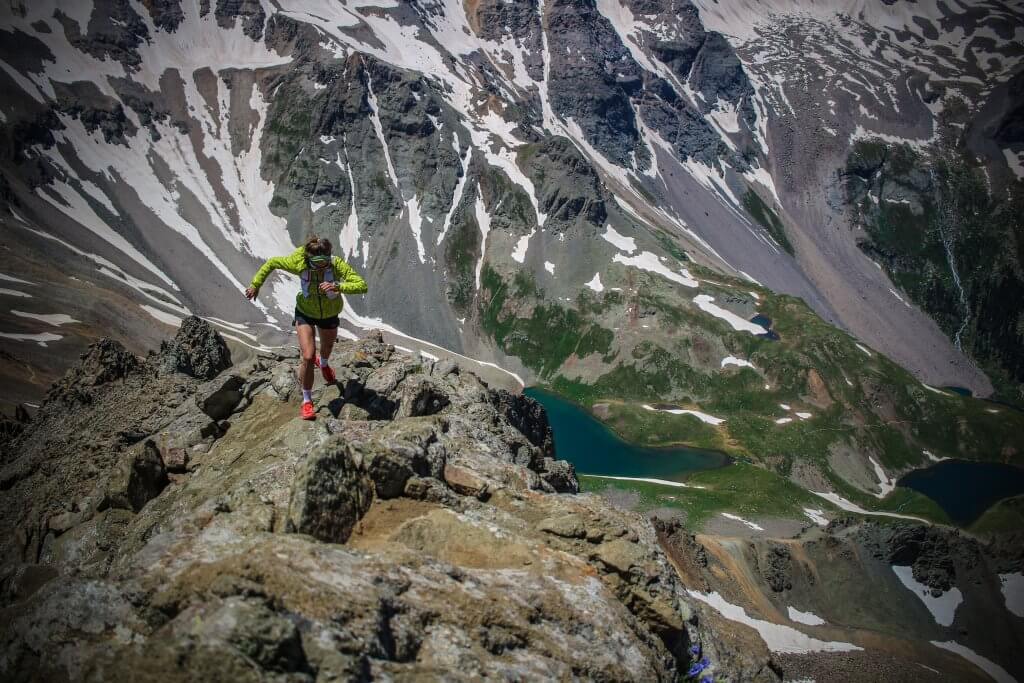 Why do you do them alone?
Because I want to know who I am and after 40-60 days alone you really discover who you are. I enjoy it, sometimes you are very happy to be there and sometimes you wish you were at home drinking beer with my friends, but you know it's just two to three months. In life, that is nothing. Often when I am guiding people on expeditions, after one or two weeks people will say; I want to be with my friends, I want to be at home, I want to be wherever and when they ask me where do I want to be now? I say I'm very happy to be here because all the years I've dreamed of being here on an expedition and now I am finally here!
Check out our Hard as Nails podcast:
Like this? You should check these out: