These 10 easy vegan dinners are perfect for vegans, those interested in trying out a vegan diet or for anyone just looking for some new food ideas. 
Eating vegan is good for your health, good for animals and good for the planet. Even cutting down your consumption of meat and dairy will do wonders for your general well-being and reduce the harm caused by our heavy reliance on the meat and dairy industry.
One of the most important things when trying out a vegan diet is not to just cut meat, dairy and eggs out of your diet. You will need to replace the nutrients from them with other things. The main things to look out for are that you are getting enough protein, fat, iron and calcium. Tofu, quinoa, lentils, avocado, kale, sesame seeds and nuts are some nutrient dense foods that make it very easy to get all the protein, fat, iron and calcium you need as a vegan or non-vegan alike.
Another thing to be careful of when eating vegan is unintentionally loading up on carbohydrates. A lot of vegan protein sources have a significant amount of carbohydrates too. Of course, our bodies need both protein and carbohydrates to function but just watch out not to accidentally overdo it.
1. Avocado Pasta
The popularity of avocado is soaring and when they are so versatile it's easy to see why. The avocado in this recipe creates a creamy pasta sauce as well as being a source of monounsaturated fats, fibre, potassium, vitamin E, folate and magnesium. The protein in this meal comes from pulses and spelt pasta (if you use this).
Serves 2
Ingredients
200 g whole grain or spelt fusilli
1 large ripe avocado
1 tablespoon of olive oil
1 medium onion
2 cloves of garlic
1 tablespoon sesame seeds
1 tin of beans or pulse of your choice, strained (I usually use chickpeas, kidney beans or green lentils)
1 tablespoon apple cider vinegar (or vinegar of choice)
Salt and pepper
Method
Cook the pasta as normal. If using spelt pasta remember that this cooks faster than regular pasta. While the pasta cooks finely chop the onion and garlic and fry them in the olive oil on a low-medium heat. After about 5 minutes (once the onion is translucent) add the tinned beans and to the pan along with the sesame seeds. Leave to cook while stirring regularly for about 5 minutes. While that cooks put the avocado in a bowl with the apple cider vinegar and some salt and pepper. Mash with a fork. Turn off the heat on the pan and add the cooked pasta. Stir the avocado mix in. Serve once the avocado is warm.
2. Quinoa and Bean Stew
This hearty dish is like a healthy comfort food. As well as being a complete protein quinoa provides manganese, magnesium, iron and potassium among other nutrients. The quinoa, beans, spinach and chia seeds ensure that this meal is high in protein and in fibre. This meal will freeze well so you can make a few extra servings and keep them in the freezer for a rainy day. You can mix up the vegetables in this as well. Mushrooms, aubergines and sweet potatoes would all work well too.
Serves 4
Ingredients
300 g quinoa
2 tins of kidney beans, drained and rinsed
2 tablespoons olive oil (or any cooking oil)
2 stalks celery
2 cloves garlic
2 peppers
3 tomatoes
6 spring onions
2 handfuls baby spinach
Pinch of cayenne pepper
1 tsp of salt
2 tablespoons tomato paste
450 ml water
Veg stock cube
3-4 tablespoons chia seeds
Method
Heat up the oil in a pot. Finely chop the celery, tomato and peppers and add to the pan to cook for about 8 minutes. While they cook chop the garlic and add it to the pan, along with the tomato paste, cayenne pepper, and ½ a teaspoon of salt. Stir well and cook for another 4 minutes.  Add the quinoa, the water, the stock cube and the beans and stir well. Bring to the boil, reduce the temperature and put the lid on the pot. Leave to cook for about 15 minutes, stirring occasionally. Add more water if necessary. While that cooks chop up the spring onions and roughly chop/tear the spinach. Once the quinoa is cooked turn off the heat and stir in the spinach, spring onion and chia seeds and serve.
3. Tofu Satay
Tofu is a great meat substitute as it contains all 9 essential amino acids making it a complete protein. Tofu by itself tastes quite bland so they key is in marinating it. If you can, freeze the tofu the night before and then defrost it in the microwave for about 2-3 minutes and squeeze out any excess moisture before use. This causes the tofu to absorb much more sauce. This satay is high in healthy fats and protein and is guaranteed to be delicious. This recipe also freezes well. This recipe can also be made using a meat replacement like Vegan Quorn pieces or fillets.
Serves 2
Ingredients
Block of tofu (usually 400-500 g)
1 tablespoon coconut oil (or any cooking oil)
Soya sauce
2 onions
250 g mushrooms
1 courgette
3 tomatoes
65 g baby corn
2 tablespoons peanuts
For the sauce
2 tablespoons peanut butter
3 teaspoons curry powder
2 tablespoons tomato puree
1 tablespoon soya sauce
1 stock cube
200 ml water
Method
Squeeze the tofu in a tea towel or a piece of kitchen roll to remove excess moisture. Cover the tofu in soya sauce. If tofu is defrosted from frozen just soaking it in soya sauce is enough. If it is straight from the packet leave it to absorb the soya sauce for as long as possible. Heat the coconut oil at a medium to high heat in a frying pan. Once the coconut oil is hot add the tofu in bite-size slices. The tofu may splatter so a lid or splatter guard is useful to partially cover the pan. Chop the courgette, tomato and onions while it cooks. After about 6 minutes turn over the tofu and throw the courgette, tomato and onions into the pan. Leave for 6 minutes. Put another pot on a medium heat and add the sauce ingredients stirring regularly until it starts to bubble. Turn off the heat. Chop the mushrooms and half the baby corns and add to the pan with the tofu. Stir occasionally and leave for 5 minutes or until mushrooms appear cooked. Add the satay sauce and the peanuts to the pan and stir through. This can be served with rice or noodles but is also nice on its own.
4. Stuffed Vegetables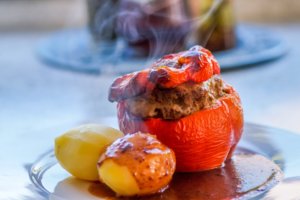 These stuffed vegetables are so easy to make and look very impressive if you are cooking for guests. They are extremely nutrient dense because of the mixed nuts and seeds. Use whatever mix of nuts or seeds you like. You can also experiment with adding other ingredients like oats too and stuff any vegetable that you think would work. This is another recipe that freezes well. You can simply put them directly from the freezer into the oven.
Serves 2
Ingredients
160 g red lentils
Stock cube
400 ml water
1 tablespoon olive oil
1 aubergine
2 tomatoes
4 portobello mushrooms
1 carrot
3 tablespoons mixed seeds
3-4 tablespoons mixed nuts
100g Mushrooms of your choice
6 spring onions
1 chilli
1 teaspoon oregano
Vegan cheese (grated)
Method
Half the aubergine and cover the inside flesh of each half in salt. Boil the water and add the lentils and stock cube into a pot, cover and leave to cook on a low heat for 10-15 minutes stirring occasionally. Hollow out the tomato, mushroom and aubergine (after rinsing the salt off). Put the part with the skin to the side and finely chop the flesh from inside each vegetable. Grate the carrot. Heat the olive oil in a pan and add the grated carrot and the chopped vegetables. Cook for 4 minutes. While these cook, finely chop the mushrooms, chilli and spring onion and then add to the pan and cook for a further 4 minutes. Put the nuts in a bag and crush with a rolling pin. Mix the nuts and seeds into the frying pan. Stir in the oregano. Once the lentils are cooked mix them into the frying pan too. Fry the whole mix for about 5 minutes while stirring regularly. Spoon the mix into the hollowed-out vegetables and put in the oven at 220 degrees Celsius for about 10-15 minutes. A few minutes before you take them out of the oven cover them in grated vegan cheese and some more seeds if you like. Cook until the cheese is melted.
5. Mixed Bean Chilli
This mixed bean chilli is probably the quickest and easiest recipe on this list but that certainly doesn't mean it is lacking in anything. It's high in protein and fibre and rich in antioxidants. You can dress it up by adding more vegetables but even as it is, it is healthy and tasty. If you are short on time simply replace the vegetables with frozen mixed vegetables.
Serves 4
Ingredients
1 tin of kidney beans
1 tin of chickpeas
1 tin of sweetcorn
1 tablespoon olive oil (or any cooking oil)
1 tin chopped tomatoes
2 peppers
250 g chestnut mushrooms
2 onions
2 chillies or 2 teaspoons chilli flakes
1 stock cube
2 teaspoon cumin
1 tablespoon paprika
1 ½ teaspoons basil
Method
Heat the oil in a pot. Chop onions and peppers and fry for about 2 minutes. Chop the mushrooms into large chunks and finely slice the chillies. Add to the pot for a further 2 minutes. Add the tinned tomatoes, sweetcorn, chickpeas and kidney beans to the pot. Crumble the stock cube in and stir everything well. Put the lid on the pot and allow to simmer at a low heat for about 10 minutes. Stir in the cumin, paprika and basil and leave simmer for another 5 minutes. This dish is nice on its own but can also be served with rice or crusty fresh bread.
6. Falafel and Grilled Mediterranean Vegetables with Hummus
Falafel is such a go-to vegan convenience food. It's high in protein, it's filling and it's delicious. It is readily available in most supermarkets either ready to cook from frozen or ready to eat where it just needs to be heated up. For this recipe, you can buy ready-made falafel or try your hand at homemade falafel. The same goes for the hummus. The falafel is ok to freeze so you can prepare it in advance.
Serves 2
Ingredients
For the falafel
1 tin chickpeas
4 cloves garlic
1 shallot
1 handful roughly chopped parsley
1 teaspoon ground cumin
1 teaspoon ground coriander
2 tablespoons flour or porridge oats
Salt and black pepper
3 tablespoon olive oil (or any cooking oil)
For the hummus
1 tin chickpeas, drained
1 tablespoon lemon juice
2 tablespoons apple cider or white wine vinegar
½ tablespoon olive oil
½ teaspoon of salt
½ teaspoon black pepper
For the vegetables
1 Aubergine
1 Courgette
4 Portobello mushrooms
6 cherry tomatoes on the vine
1 tablespoon olive oil
1 teaspoon oregano
1 teaspoon cayenne pepper
Salt
Pepper
Half the aubergine and cover the inside of each half with salt and leave to the side.
Next, make the falafel. Combine all the falafel ingredients except for the olive oil in a blender or food processor. Once blended thoroughly shape into little balls about 2-4 centimetres in diameter.
Wash the salt off the aubergine and cut into flat slices. Do the same to the courgette. Leave the tomatoes on the vines and the portobello mushrooms whole. Put in an oven dish, cover in olive oil and sprinkle the spices, salt and pepper over them. Put in the oven at about 250 degrees Celsius for about 15 minutes. You can also fry or grill them if you want to save time.
Heat oil in a frying pan and fry the falafels until golden. You can also bake it in the oven dish with the vegetables.
Make the hummus while they cook. Place all hummus ingredients in a blender or food processor and blend until smooth.
Serve immediately. Cover any leftover hummus and store it in the fridge for up to 3-4 days.
7. Veggie Burgers and Sweet Potato Fries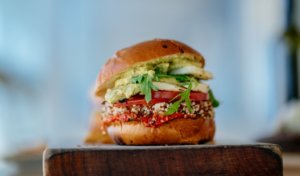 Veggie burgers are so simple to make and can be filling and nutritious depending on how you make them. The beauty of veggie burgers is that you can put any mix of beans, nuts, seeds and vegetables in so they are great if you need to use stuff up. The below recipe is a suggestion. Sub in your choice of beans or veg. Once again, these burgers can be frozen before or after cooking and stored for future use.
Serves 4
Ingredients 
For the burgers
1 tin chickpeas
1 tin kidney beans
2 medium carrots
2 onions
5 cloves of garlic
100 g mushrooms
1 tablespoon olive oil (or any cooking oil)
80 g porridge oats
3 tablespoons chia seeds
3 tablespoons soya or tamari sauce
3 tablespoons agave or golden syrup
2 teaspoons cumin
2 teaspoons paprika
For the sweet potato fries
2 sweet potatoes
2 teaspoons cayenne pepper
Salt
Pepper
2 tablespoon olive oil (or any cooking oil)
Chop the onion and fry on a low-medium heat for 2 minutes. Chop the mushrooms and add to the pan followed by chopped garlic. Fry for 1 minute. Mix the syrup and soya sauce with the cumin and paprika and add to the pan. Fry for about 5 minutes until the mushrooms are soft. Take off the heat.
Grate the carrot and add to a blender or mixing bowl. Strain the beans and chickpeas and add to the bowl too along with the vegetables from the frying pan. Blend the whole mix. Stir in the porridge oats and chia seeds and leave the mix to sit.
Wash and slice the sweet potatoes. Leave the skins on. In a bowl or lunchbox cover the sweet potato in oil and seasoning making sure they are all covered. If using a lunchbox put the lid on and shake.
Check the burger mix. You should be able to form burgers out of the mix. If it is still too wet add more porridge oats and/or chia seeds and leave to sit again.
Place burgers and sweet potato wedges in the oven or under the grill for 15-20 minutes, turning over after about 10 minutes. If using the grill heat the sweet potato fries in the microwave for about 5 minutes first. Serve the burgers alone or on pitta bread or burger buns.
8. Easy Vegan Curry
Indian food is very flavoursome so you often wouldn't miss the meat in a good curry. A lot of Indian recipes do use a lot of cream but replacing this with a tin of coconut milk or carton of coconut cream or even with vegan cream will make these recipes animal-product-free but still delicious. This recipe is very adaptable to use up whatever vegetables you have around and once again it can go in the freezer.
Serves 4
Ingredients
320 g red lentils
1 stock cube
1 tablespoon coconut oil (or cooking oil of your choice)
1 jar tikka curry paste (or curry paste of your choice)
1 tin coconut milk
4 tomatoes
1 aubergine
200 g mushrooms
1 tin chickpeas (drained)
200 g frozen kale or spinach
Method
Half the aubergine and cover the inside of each half with salt and leave for at least 10 minutes.
Cook lentils as per instructions on the packet with the stock cube. Leave to cook for about 10-15 minutes stirring occasionally.
Roughly chop the tomato and rinse and chop the aubergine. Heat the oil in a pan and add the curry paste to the pan. Mix around for about 2 minutes and add the vegetables. Fry on a low heat for 10 minutes stirring occasionally ensuring all the vegetable are covered in curry paste. Roughly chop the mushrooms and add to the pan and cook for a further 5 minutes. Add the spinach or kale, followed by the chickpeas. Stir well and cook for 5 minutes. Add the coconut milk and bring to the boil. Serve when all the vegetables are soft. Serve with the lentils as a base and then pour the curry over.
9. "Egg" Fried Rice
Egg fried rice is a handy, quick and delicious dinner. Fortunately, vegans don't have to miss out as this "egg" fried rice will give any dish a run for its money. As before tofu is nicer if it is frozen and then defrosted and excess moisture squeezed out.
Serves 4
Ingredients
Block of tofu (usually 400-500 g)
1 onion
2 cloves of garlic
4 tablespoons soya sauce
½ teaspoon turmeric
1 tablespoon olive oil (or cooking oil of your choice)
Salt
Pepper
600 g cooked rice
500 g frozen mixed vegetables
Method
Squeeze any excess moisture off the tofu with a tea towel or kitchen towel. Chop into small squares and put in a bowl. Pour some of the soya sauce over the tofu and mash it with a fork.
Put the frozen veg in a bowl with a little water and cook in a microwave for 5-7 minutes. Strain the veg when done.
Finely chop the onion and the garlic. Heat the oil at a medium heat in a frying pan and fry the onion and garlic for 1 minute. Add the tofu and slightly increase the heat. Add the turmeric, salt, pepper and some more soya sauce. Fry for about 8 minutes stirring regularly. Add the veg and mix the ingredients together. Add the rice and the rest of the soya sauce. Stir fry until everything is mixed together and the rice is completely hot. Add more soya sauce to taste.
10. Tofu and Goji Berry Salad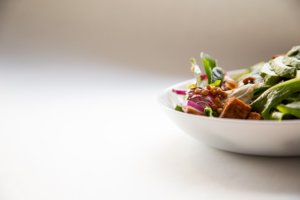 There's a lot to be said for a simple salad. It's refreshing and with the right ingredients filling and full of nutrients. This salad has a lot of ingredients but involves minimal cooking and preparation. Once again, the tofu is better to use from frozen, particularly in this recipe as the marinate plays a big part.
Serves 2
Ingredients
Block of tofu (usually 400-500 g)
1 tablespoon agave or golden syrup
1 tablespoon soya sauce
1 tablespoon lemon juice
Half head of lettuce
2 tomatoes
Half cucumber
Handful of baby spinach
1 avocado
1 tablespoon hazelnuts or walnuts
1 tablespoon chia or sesame seeds
Sprig of fresh mint
Dried goji berries
1 tablespoon olive oil (or cooking oil of your choice)
2 tablespoons olive oil
2 tablespoons balsamic vinegar
Method
Mix the syrup, soya sauce and lemon juice in a bowl. Squeeze excess moisture out of the tofu. Cover the tofu in the mixture until all the mixture is absorbed. Slice tofu. Heat 1 tablespoon of olive oil in a pan and put the slices of tofu in. It may spit so use a splatter guard or partially cover with a lid. Fry tofu for about 5 minutes on each side until crispy. Take off the heat.
Chop the lettuce, tomato, cucumber, spinach and mint and put in a salad bowl. Slice the avocado and place on top. Add the tofu slices. Throw in the seeds, nuts and goji berries. Dress with olive oil and balsamic vinegar.
Check out our Hard as Nails podcast:
Like this? Check these out:

Previous Post