Start the day the right way with these scrumptious breakfast ideas from surfer/foodie Finn Ní Fhaoláin.
Irish surfer, baker and cook Finn Ní Fhaoláin has mastered fuelling her body and mind with locally sourced, healthy and coeliac friendly food in her new book, "Finn's World." As an added bonus, many of her recipes are also readily adaptable to vegan or vegetarian diets. If your body is feeling sluggish, or you're looking for a cheap and easy jump start to changing your diet, try these three quick and easy breakfasts to help power through a busy day.
1. "The Three in One"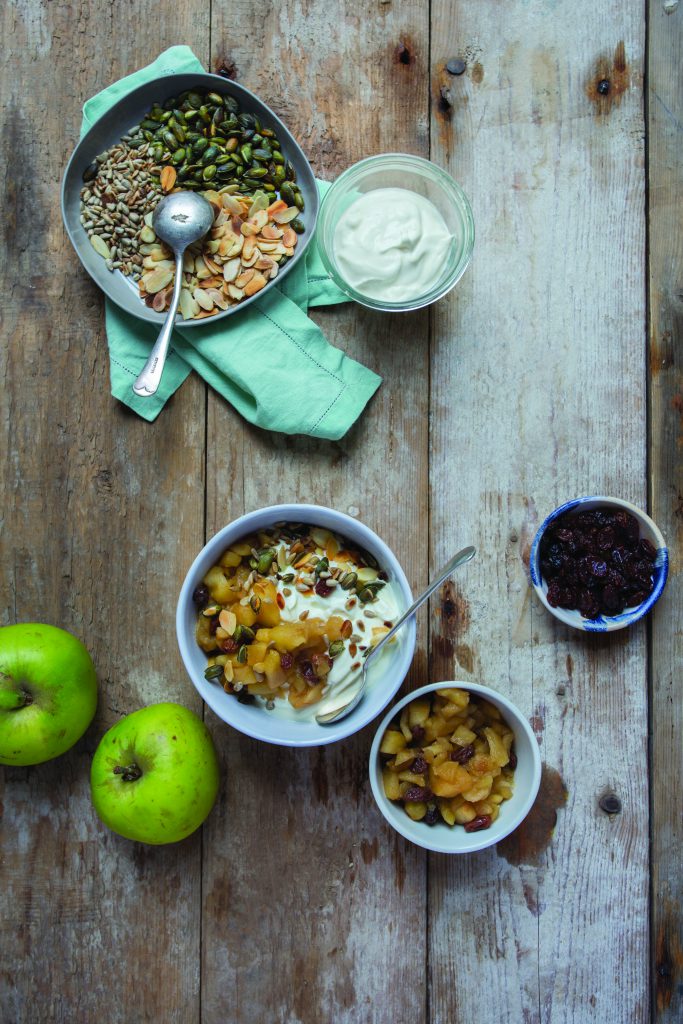 This breakfast is super simple and makes for a quick and easy morning. Not only is it gluten-free, but it can also be prepared ahead of time for an effortless breakfast that'll make even the busiest of us feel at ease. Finn's recipe is listed as follows:
Ingredients:
Apple Compote
8 large cooking apples, coarsely chopped
pinch of cinnamon
½ cup (80g) California raisins
2 tbsp maple syrup (this can be left out if you choose to use sweeter eating apples instead of cooking apples)
Toppings
½ cup (70g) pumpkin seeds
½ cup (70g) sunflower seeds
½ cup (70g) flaked almonds
Greek yogurt
Method:
Roughly chop your apples. I like to leave the skin on for the extra fibre and less effort. Lash the chopped apple into a pot with some cinnamon, the raisins and the maple syrup.
Stew away over a lower heat until the apples are nice and soft. Transfer to a container and allow the compote to cool before storing it in the fridge.
Toast the seeds and almonds in a dry pan on a medium heat. Shake them around a bit so they toast evenly. You might as well do loads and keep them in a jar for other days.
Spoon the compote into a bowl, top with Greek yoghurt and shimmy the seeds over the top. For vegan folk, coconut yoghurt is an absolutely ingenious alternative. If you need a little more sweetness in your life, drizzle with maple syrup.
3 delicious gluten free lunches everyone should try
2. "Moroccan Surfer's Breakfast"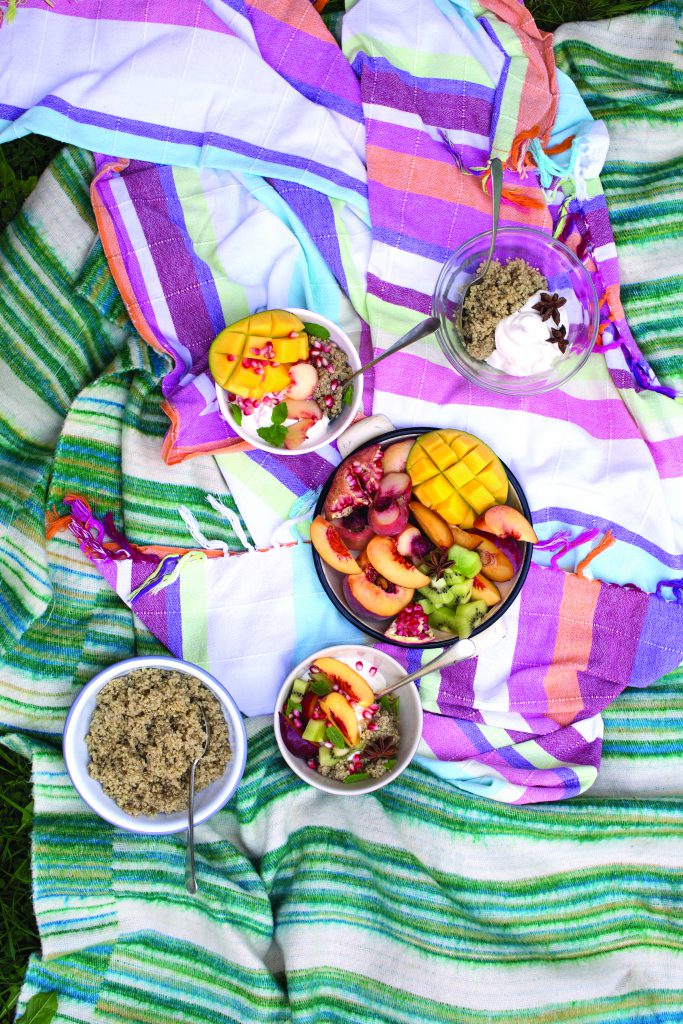 As a powerful athlete, Finn needs a protein packed breakfast to push her through each morning. Inspired by a Moroccan dish her Godfather made for her, this gluten-free alternative is sure to become your new favourite breakfast. Her two serving recipe is listed as follows:
Ingredients:
1 cup (170g) uncooked quinoa
2 cups (470g) water
Optional spices: 1 cinnamon stick of ½ tsp ground cinnamon, 1 star anise or a few cloves
Selection of fruit, chopped e.g. apple, banana, mango, or nectarine
Greek yogurt
Method:
Rinse the quinoa in a sieve under cold water for a few minutes. This gets rid of the coating that can make it taste bitter. Some folks toast the quinoa before cooking, but frankly, I never bother. Put the quinoa, water and spices in a small pot and bring to a simmer. Cook for 10 minutes with a lid until the quinoa absorbs all the water.
For extra fluffiness turn the heat off and leave it for 3 more minutes in the pot. The steam does the last bit of work. Then remove the cinnamon stick, star anise or cloves if you have used them.
Scoop the quinoa into bowls, top with your choice of chopped fruit and yoghurt. I like to add a little cinnamon and maple syrup as well.
4 ultra tasty gluten free recipes everyone should try
3. "Costa del Granola" 

Finn raves about her love for granola and its versatility as a breakfast item, snack, or even a sweet dessert. This hearty recipe is simple and sure to fill you up all morning. Her recipe is listed as follows:
Ingredients:
½ cup (120ml) sunflower or coconut oil, melted
½ cup (170g) runny honey (or ½ cup [120ml] maple syrup for a vegan option)
3 cups (300g) GF oats
½ cup (80g) dried diced papaya
½ cup (80g) dried diced pineapple
3 tbsp linseeds
½ cup (70g) sunflower seeds
1 tsp cinnamon
½ cup (40g) desiccated coconut, toasted in a dry pan till lightly golden
Method:
Preheat the oven to 160°
In a small jug, mix the sunflower oil or coconut oil with the honey or maple syrup.
In a big bowl, mix the oats dried fruit, seeds and cinnamon together. Don't put the desiccated coconut in at this point as it can burn!
Pour the oil and honey mix into the big bowl and incorporate until everything is thoroughly coated. I recommend using a wooden spoon, not your hands. Cover a baking tray with baking parchment and spoon the granola mix onto the surface. Spread evenly.
Bake for up to 30 minutes, mixing every 10 minutes to ensure even browning. The longer you cook it, the crunchier it will be. Some people like it super crunchy but I prefer the chewiness of the oats when taken out at 15-20 minutes. Remove from the oven at the desired time, lash in the toasted desiccated coconut and allow to cool.
Finn's World (Gill Books, 2017) by Finn Ní Fhaoláin is available to buy from Amazon.
Keep up with Finn on her website, and follow her on her socials below.
Facebook: @finsfitfood
Twitter: @Fins_Fit_Food
Instagram: @finsfitfood
Check out our Hard as Nails podcast:
Like this? You should check these out: 

Previous Post