Badass, bold and downright ballsy! We put the call out in the last issue of Outsider for you, our readers, to let us know about the most amazing people from the Irish outdoor and adventure scene in 2017! And you didn't let us down.
We were bowled over by both the quality and quantity of the stories you sent us. So sit down, make yourself comfortable and read the spine-tingling and inspirational stories of these extraordinary people who are now officially on the long list of nominees for the #OutsiderAwards17.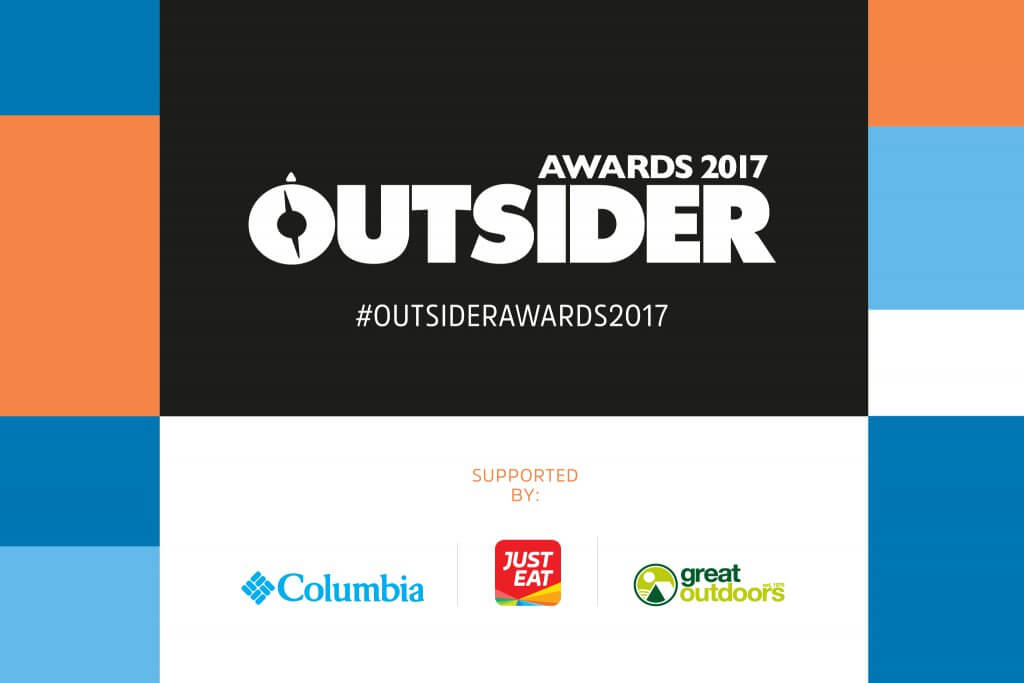 If you're a nominee, consider yourself cordially invited to our sixth annual awards ceremony on the evening of Wednesday 24 January 2018 in the Sugar Club, Dublin. We are thrilled skinny to announce that our fab sponsors Just Eat, Columbia and Great Outdoors are on board to help us celebrate all that is great and good about the Irish adventure scene, so it's guaranteed to be a good party.
On the night, and with the help of a panel of expert judges, we will announce the overall winners of the #outsiderawards17 in the following categories:
You can also vote for the following categories now: 
In the meantime, we hope you'll enjoy and be inspired by our #OutsiderAwards17 long list. We think you'll agree, they're a fine bunch! The following legends are our nominees for the Best Newcomer or Breakthrough Achievement.
Kelan Grant, mountain biker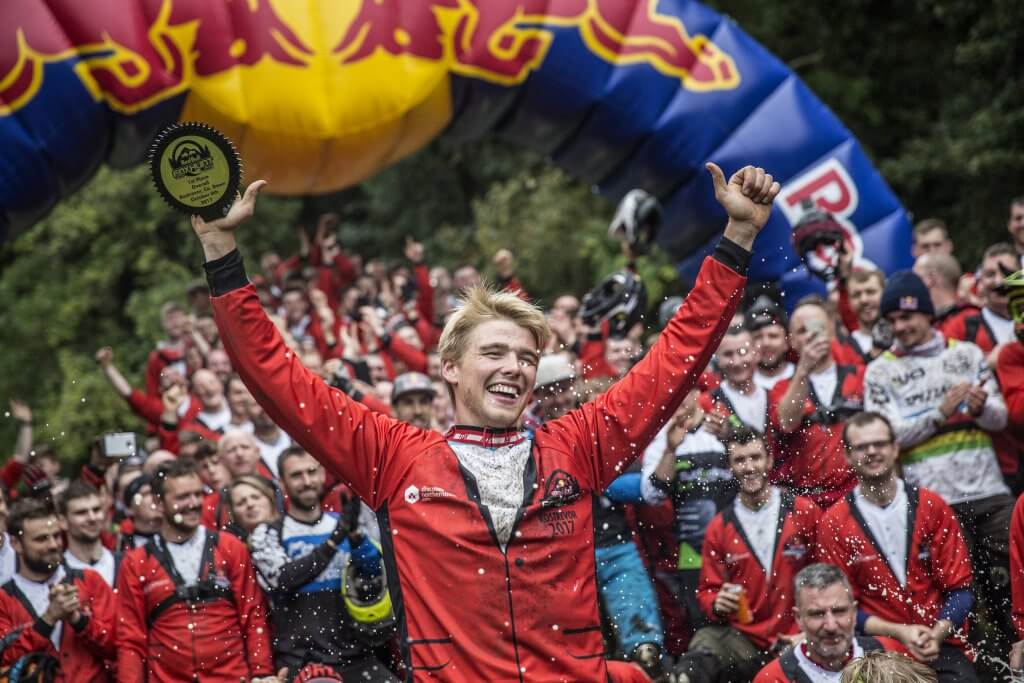 Kelan Grant (24), from Omagh in Co Tyrone, is fast becoming a serious rising star on the Irish mountain biking scene. In October, he won Red Bull Foxhunt, beating world-class riders such as Gee Atherton and Loic Bruni down the mountain to the finish line.
"The Foxhunt is probably the most unique mountain bike race in the world. There are mass start races all over Europe but not one with a load of Redbull athletes and world champions chasing you down the hill," says Kelan.
"I was very happy but not surprised that I won. I was quietly confident coming into the event. I think if you have a good set of legs coming into the first few drags and climbs, the race can be won very quickly. But yes, I was very stoked to take the win. It's a great event with great people."
In addition to Foxhunt, Kelan was also crowned Irish Enduro Champion, won the Ard Rock Enduro in the UK and took part in the Megavalanche. The latter was the highlight of his year, he says. "What an event! It's an hour-long Enduro run from the highest peak in Alp d'Huez, starting in the snow, and finishing in the valley below. I think we started at 3300m and finished at 500m.
"I've done it the last two years. My first attempt in 2016 wasn't great, with mechanicals impacting any attempt at a good result. It was a great buzz to get back this year and win the Qualifying and finish 12th in the main event. I'm keen to win the main event some year and I'm pretty sure I can make it happen!"
Kelan, who grew up building his own trails with his brother in Gortin Forest Park and riding them on a shared Diamond Back bike, looks set for more success in 2018. "I'm going to take the next step up and complete all the Enduro World Series events across the globe. I'm excited to see what I can do against the best in the world over a full season."
Conor Maguire, big wave surfer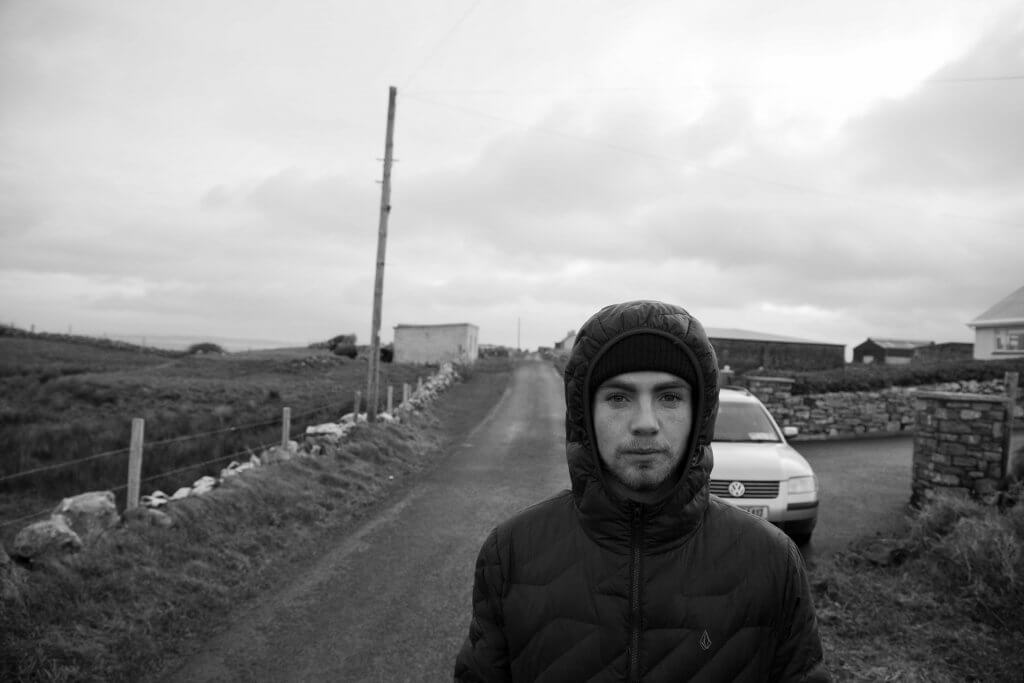 Conor Maguire isn't one to stay within his comfort zone. And that's putting it mildly. To the passer-by, he may look like your average Joe, but in reality he's as hard as nails. Hailing from Bundoran, Co Donegal, the 24-year-old is fast becoming one to watch on the big wave surfing scene. In February, Conor was nominated for the prestigious Tube of the Year at the World Surf League Big Wave Awards for bagging a mammoth wave off the coast of Mullaghmore in Co Sligo. He also received two nominations in the prestigious XXL awards in 2017.
"2017 has been the best year of surfing I've ever had," says Conor. "Ireland was hammered by perfect swell after perfect swell pretty much the entire winter. Each session I felt more confident in big waves."
"It is almost as though you're in a deep meditative state as you're gliding across a massive lump of water. It is amazing."
For those not familiar with the sport, when Conor refers to big waves, he is talking about surfing breaks the height of two- or three-story houses. "I think there would be something very wrong if I didn't get scared!" he says. Fear can help you in a lot ways though. Sometimes it helps you make calculated decisions in hectic situations that could have prevented serious injury. Other times, it drives you to push yourself further and further out of your comfort zone," Conor explains.
However, it seems that the sheer exhilaration of surfing these monstrous waves far outweighs any fears he might have. "It is always hard to describe how you feel when surfing a huge wave. Before and after, you experience every emotion under the sun, whilst during, you are so intently focused on the wave and making it out safely that you forget about everything else. It is almost as though you're in a deep meditative state as you're gliding across a massive lump of water. It is amazing."
Killian Callaghan, mountain biker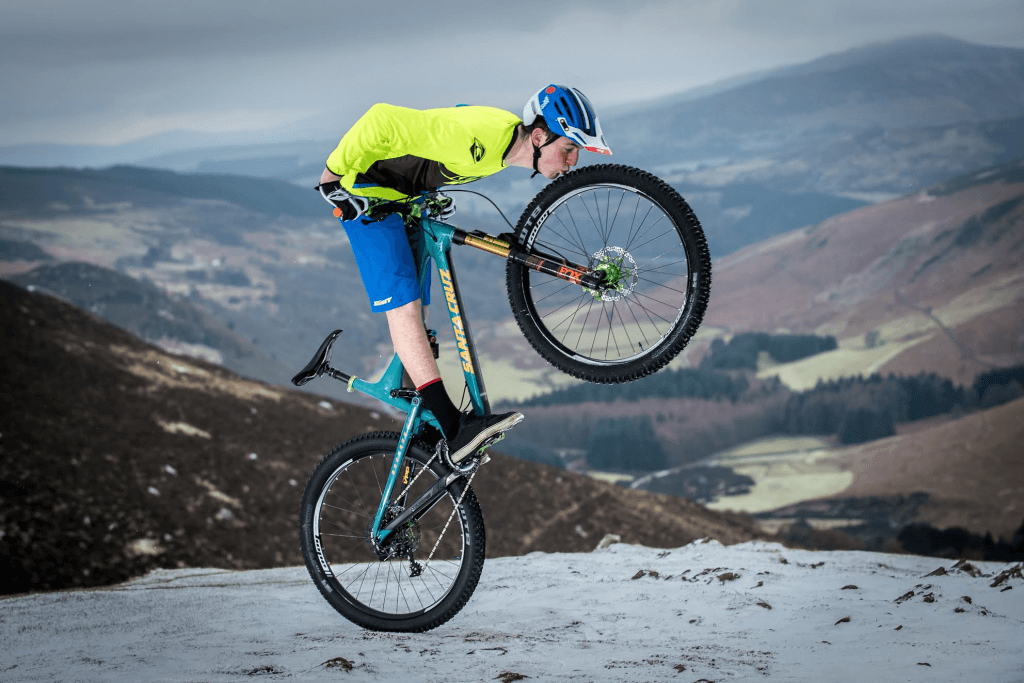 "I usually text my parents when I finish a race because they like to hear that I've finished OK. I rang my Dad after the race in Whistler and at that stage I wasn't sure about the overall championship points. I didn't know if I'd done enough to win or not. He had it all worked out and told me I'd won the overall championship. I was proper buzzing, delighted like!" says Killian Callaghan (20) of the moment he discovered he had won the U21 Enduro World Series.
The Dublin native took up mountain biking just four years ago. Unable to get a place on a factory team, he had to work hard to compile his own sponsors, all the while holding down a full-time job. "I didn't think I'd even be racing this year. It wasn't up until the middle of February that I even had a bike to ride let alone have funds to travel and compete in a full season of racing.
"With the help of my parents we set about building our own team of sponsors. I'd do anything to be able to go racing. We sent out loads of emails and managed to get help from Santa Cruz, Mojo Suspension, Hope Technology and WTB Tyres to build my bike. Kenny Racing gave me some mint kit too and Urge helmets gave me some helmets. But after that I'd no money to get to New Zealand and Tasmania for the first rounds of the EWS!"
However, it wasn't enough to hold Killian back. A combination of private sponsors and donations via a GoFundMe page, along with a job at Mooney's Hyundai Garage, meant that Killian scraped together just enough cash to fund his expenses for the series.
And his hard work certainly seemed worth it as he was crowned Ireland's first ever Enduro World Champion.
Russell White, triathlete
Russell White (25) from Banbridge, Co Down, is one to watch on the international triathlon scene. This year he finished 15th in the World Triathlon Series (WTS) Grand Final in Rotterdam. This result is the highest WTS Grand Final finish from an Irish male ever and the result qualifies him to compete in the next Commonwealth Games.
Russell says he ran a dream race in Rotterdam. "What was special that day was that everything I had planned and wanted to happen, happened. I felt great the whole race. Everything just seemed to click. Going from a 38th in last year's Grand Final to 15th this year was a massive boost to my confidence. It showed me that I can really cut it at this level going forward."
"I understand how lucky I am to be doing this full time so I remind myself I am doing all this training because I want to and I know where I want it to take me."
The icing on the cake was qualifying for the Commonwealth Games. "Growing up in a Commonwealth country, I always watched it on TV, always viewed it as a major games between every Olympics. It's also a big deal being from somewhere like Northern Ireland, with the Commonwealth Games being the only opportunity to race and represent Northern Ireland within triathlon. That's huge."
Russell comes from a swimming background and made the transition into triathlon out of pure curiosity. "From the very beginning I showed potential, more than I had in swimming and I decided to put all my efforts into it." Since graduating from university as a teacher last year, Russell is successfully competing as a professional triathlete.
And he doesn't take that for granted. When it comes training he says, "I'm not going to lie, I'm sure there were plenty of days when I was extremely tired and knew the next session was going to be a struggle, but I understand how lucky I am to be doing this full time so I remind myself I am doing all this training because I want to and I know where I want it to take me."
Tom Dolan, sailor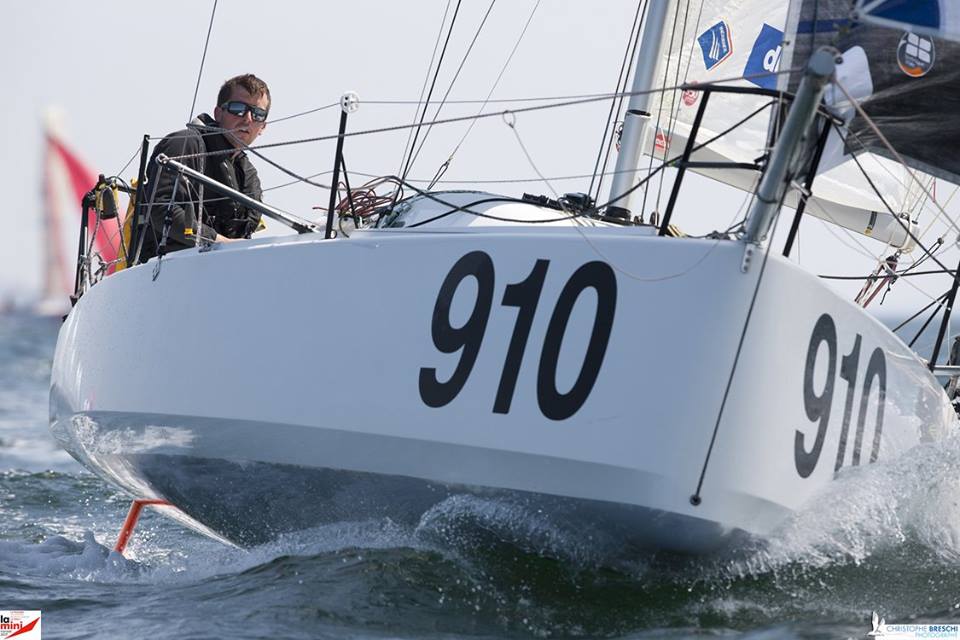 Born and bred on a farm in Kells, Co Meath, Tom Dolan (30) does not have sailing in his blood. He was never part of a yacht club, he didn't go on sailing holidays and never had any lessons as a kid. Tom fell into sailing somewhat by accident at the age of 10 after his father bought an old wooden dinghy in the Buy and Sell.
Tom loved fixing up the boat and the subsequent hours he spent on the local lake sailing. He soon began working as a volunteer with Glenans sailing school so he could gain experience on bigger boats.
Despite this unorthodox entry into the sport Tom has has an impressive sailing CV. He has French, Irish and British qualifications and made his first crossing of the Atlantic at just 21 years of age. In June, Tom podiumed at the Mini-Fastnet Race, despite being fouled by a fishing net. That same month, he was second in the 500 Mini-en-Mai Race.
Tom is just back from showing off his sailing prowess on the world stage. He came sixth on the Mini Transat, Ireland's best ever result in the race. The single handed sailing race across the Atlantic Ocean covers almost 4,000 miles and requires participants to spend almost two months at sea, alone on a 21ft boat.
The race is considered by many to be one of the most extreme in sailing due the distance covered compared with the size of the boats.
Tom has also had the additional challenge of funding his exploits. For the Mini Transat, Tom used a small inheritance to buy the most basic boat available. He then set about improving it himself. Throughout his sailing career he has supported himself through running a coaching academy.
Tom, who set off from Gran Canaria on 1 November just completed the final leg of the race and has fought volatile weather conditions to secure his final placing of sixth. The race finished on the tropical Island of Guadeloupe, in the French Caribbean.
The Head 2 Head SUP Challenge Team, SUPers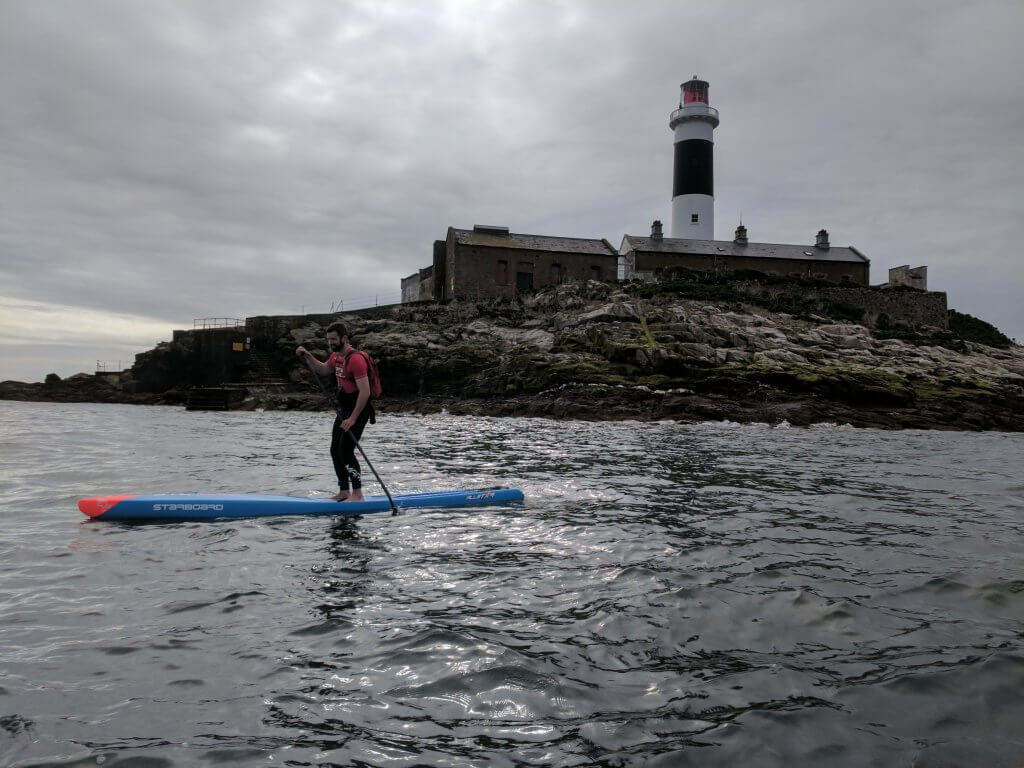 A group of friends from Skerries; Killian Walsh, John Kieran, Stephen Sherwin and Peter Carroll together decided to stand up paddleboard 100km across the Irish Sea, from Skerries to Holyhead. Their inspiration came from Peter's uncle, Liam MacMahon, who was the first person to windsurf across the same route back in 1984. They also wanted to raise money for the RNLI.
After an initial false start, the boys lined up on the beach in Skerries at 2am for what was to be a very bumpy ride. "The first few hours were very tough in the dark. It was so much choppier than we expected. Seasickness knocked Killian out. He was literally lying flat out on the board and getting sick from the constant motion. So he just couldn't go on. It was the same issue for Peter. The roughness made it very hard to balance on the board. He started cramping from that constant overwork. He got over half way and then he just couldn't physically stand any more. He had to pack it in," says Stephen.
"It was just so rough that if you turned around to talk to anyone you'd lose your balance and fall into the water."
As for Stephen, he says he pretty much called it a day after 15 hours. But the guys in the support boat came up on deck and convinced him to keep going. "It was just so rough that if you turned around to talk to anyone you'd lose your balance and fall into the water. Everyone ended up in the water a couple of times. So you couldn't chat and that's what made it really lonely. It was just you on your own for almost 20 hours."
It was adventure in its purest form, absolute misery! The fact that only two out of four of the team – Stephen and John – made it to Holyhead is a tribute to their pure determination. Stephen allows that in the moment he was so exhausted that reaching the finish line is a bit of a blur. "It didn't really dawn on me until afterwards what I had actually done myself. I know it sounds like such a cliché, but it was such a team effort."
Check out the nominees for the other categories in the Outsider Awards 2017:
You can also vote for the following categories now: