The Grassroots Campaign #5GiveAFiver wants to raise €10,000 this year to give families in emergency accommodation a Christmas.
There are 8,374 adults currently homeless in Ireland according to figures from September 2017. 1,023 Dublin families and 2,210 children homeless in Dublin alone. Just giving up the price of your morning coffee, that extra pint, or sandwich could make all the difference to someone's life. The SVP Campaign #5GiveAFiver wants to help this cold Christmas period and they need you to do so.
How it works:
5 friends are nominated to give up the price of a coffee, a pint or their afternoon treat, to Saint Vincent de Paul.
Each nominated friend then selects 5 more friends via social media for #5GiveAFiver
The deadline to reach €10K is New Years
Every aspect of the campaign is online via social media posts and online donations .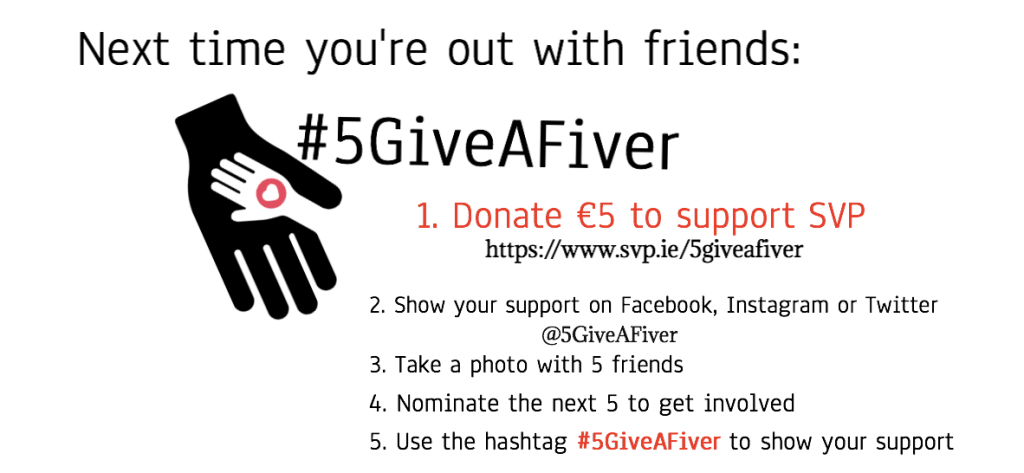 With 1,023 Dublin families and 2,210 children currently homeless this Christmas, charities are under immense pressure to help deliver food, accommodation and other services. And €5 could go a long way.
"The homeless crisis is getting worse, and it's hard to see how or when it can end. Giving up a fiver won't end homelessness but it will make a difference, we proved this last year. Last year members of the public were exceptionally supportive, raising almost €3,000 in under 24 hours. We need to talk about homelessness and take action. Homelessness is not normal" said organiser, Sarah Dunne.
"We wanted to do something transparent and simple and most importantly we wanted to ensure 100% of donations were going straight to the charity. The money that is donated to SVP isn't just for Christmas, they help year round in more ways than you can imagine."
100% of your donation to #5GiveAFiver goes directly to Saint Vincent de Paul and you can donate here.
Like this? You should check these out:

Next Post