Heading to the south west of Ireland for the weekend? Here are some outdoor pursuits to do that won't break the bank.
One of the beautiful things about adventure is that it's one of the few things left in this crazy world that doesn't require a ton of money. So If the weekend is rapidly approaching and you are scratching your head for ideas on how to spend it, then look no further, here are a few ideas for adventures in the South West for €50 or less.
Cork
1. Whale watching in Inchydoney
Price: €50
The beautiful Inchydoney Island in West Cork is a sight to see all on its own, but if have fifty quid to spare then you must go whale watching! The boat Voyager leaves Baltimore Harbour daily at 9.30am and 2.15pm. Dress warmly and brings snacks and pray to the gods that you will spot; minke, fin and humpback whales, common dolphins and harbour porpoises, seals, turtles, basking sharks or all of the above! The tour takes around four hours and is well worth it, warm up after the excursion with food and drinks at the famous Inchydoney Island Lodge & Spa.
More info: Whale Watch West Cork
2. Coasteering in Kinsale
Price: €45
Still a relatively unknown pastime in Ireland but that is beginning to change. Coasteering has everything the intrepid explorer wants; scaling rocks and cliffs and jumping off them! Explore some of Ireland's most scenic coastline on the Kinsale Ireland Coasteering experience. They also offer surfing and SUP if coasteering doesn't take your fancy.
More info: Kinsale Surf School
3. A moonlight paddle on Lough Hyne
Price: €50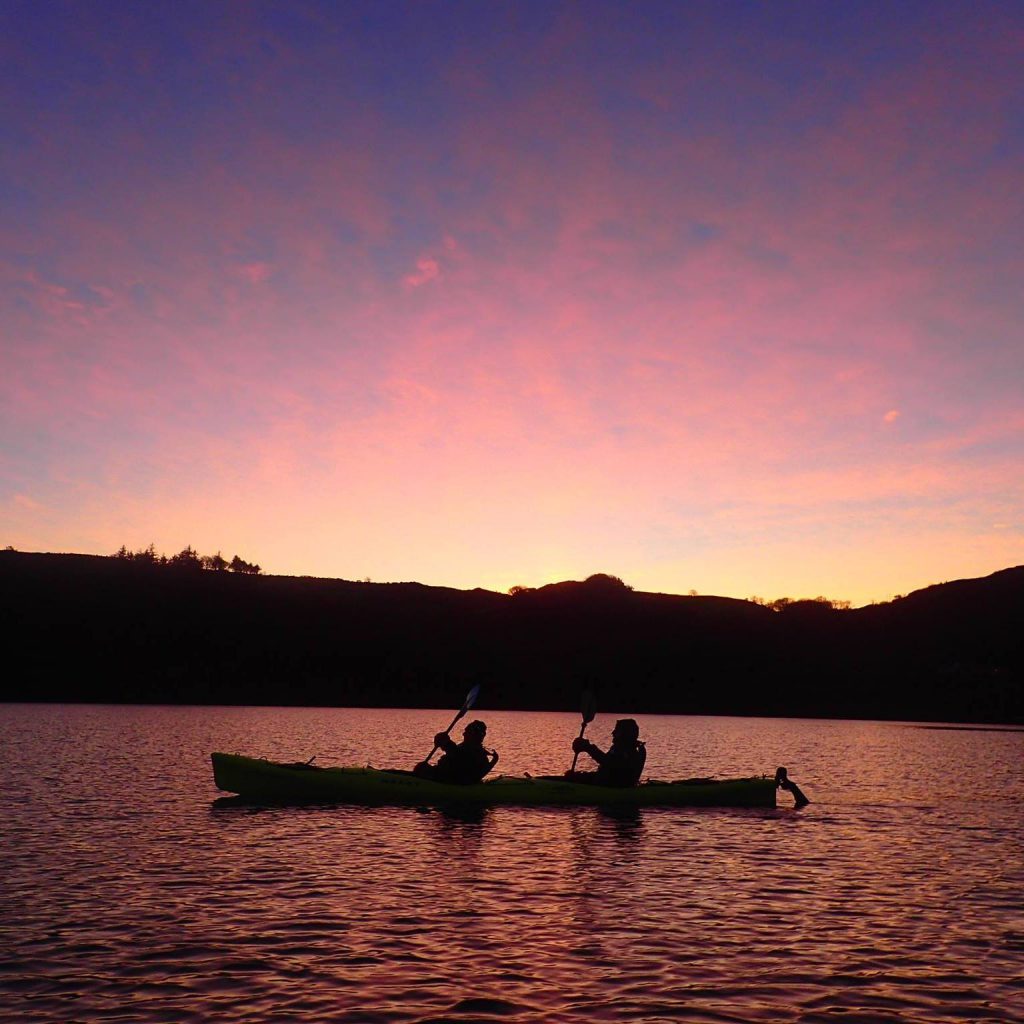 Nothing sounds more idyllic than a paddle against the starry sky, with bioluminescent plankton lighting your way as you go. This is not one for competitive paddlers, it's to slow down, take it easy and marvel at nature. See the sunset, the wildlife and the moonlight reflecting on the water beneath you. Heighten all your other senses with a two and a half hour paddle on Castlehaven Bay or Lough Hyne.
More info: Atlantic Sea Kayaking
Weekend adventures for under €50 in the South East
Kerry
1. An eco marine tour around the Blaskets
Price: €35 – morning €50 – evening
Want adventure without the effort? Marine tours in Cork have some great eco marine tours to offer. From Ventry Harbour to the Great Blasket Island and seeing all the hot spots and marine life in between, from spectacular rock formations to every seabird imaginable. Return via open sea with a chance to see dolphins, minke whales, basking shark and if you are really lucky, a humpback whale.
More info: Marine Tours
2. Sunset sea kayaking in Dingle Bay
Price: €50
Sunsets are pretty awe-inspiring at the best of times, but there is no better way to watch them than from the water. Take to the tranquil waters of Dingle Harbour and Dingle Bay to watch the sunset, visit Fungi and explore the sea caves, while growing your kayaking skills.
More info: Irish Adventures
3. Walk the Geokaun Mountain & Cliffs
Price: €5 per car/family  €2 per pedestrian/cyclist
Looking for an alternative to the busy Ring of Kerry route? Walk, cycle or drive to the top of Geokaun Mountain & Fogher Cliffs. The mountain park is the highest point of Valentia Island with stunning 360-degree views of the Skelligs, the Blaskets, the mountains of Kerry, and the Atlantic. Enjoy a picnic with one heck of a view!
More info: Geokaun 
Check out our Hard as Nails podcast:
Like this? You should check these out: 

Previous Post