In this comprehensive article, we delve into the captivating world of bike packing and bike touring in Ireland, uncovering the hidden gems and breathtaking landscapes that await adventurous cyclists. Discover the perfect routes, scenic spots, and essential tips to make your cycling journey across the Emerald Isle an unforgettable experience.
Bike Packing vs Bike Touring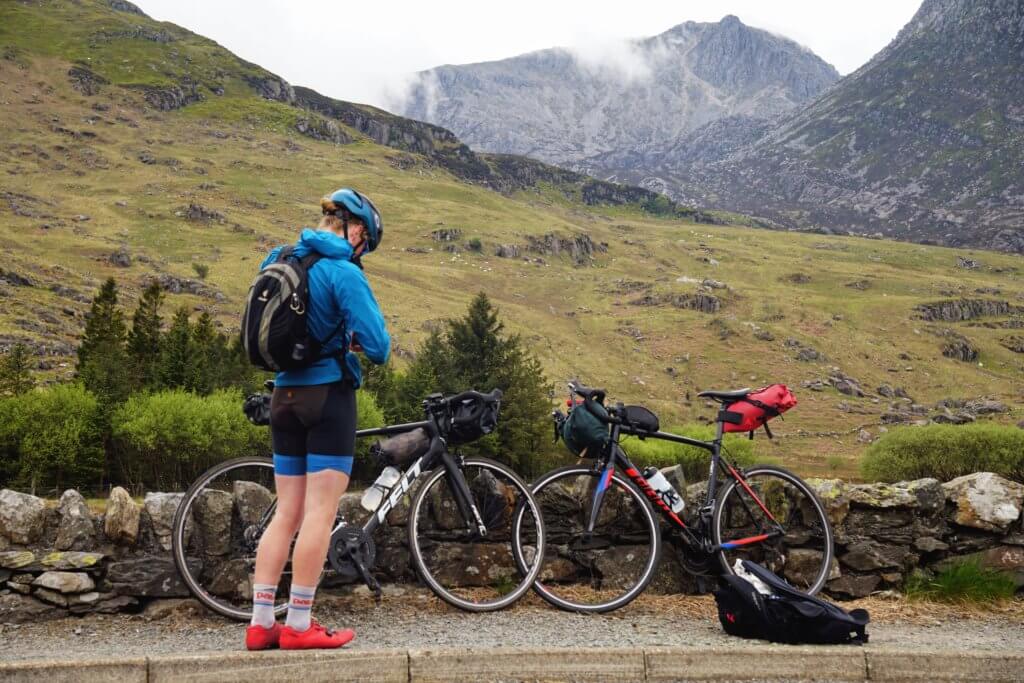 What is Bike Packing:
Bike packing refers to a style of cycling where riders travel long distances, typically off-road, carrying all their necessary gear and supplies on their bikes. It emphasizes self-sufficiency, lightweight equipment, and exploring remote or rugged terrain. Bike packers often utilize specialized bikepacking bags that attach to their frames, handlebars, and seat posts to carry their camping gear, food, and other essentials. This style of cycling allows riders to venture into wilderness areas, explore trails, and experience the thrill of self-supported adventures.
What is Bike Touring:
Bike touring, on the other hand, involves travelling by bike for extended periods, often on paved roads or well-established cycling routes. It usually entails a combination of camping, staying in hostels or guesthouses, or even utilizing support vehicles to carry additional gear. Bike touring can encompass a variety of distances and speeds, depending on the rider's preferences and fitness level. It offers opportunities to explore both urban and rural areas, visit tourist attractions, and immerse oneself in the local culture and landscapes.
What do you want from the experience?
Considering the following questions may help you decide what you want from your two-wheeled adventure.
Is this a challenge or a holiday?
How much do you want to cycle per day?
Lightweight or luxury?
Top Tips for Bike Packing in Ireland
Now that we have set our parameters let's dive into the nitty-gritty.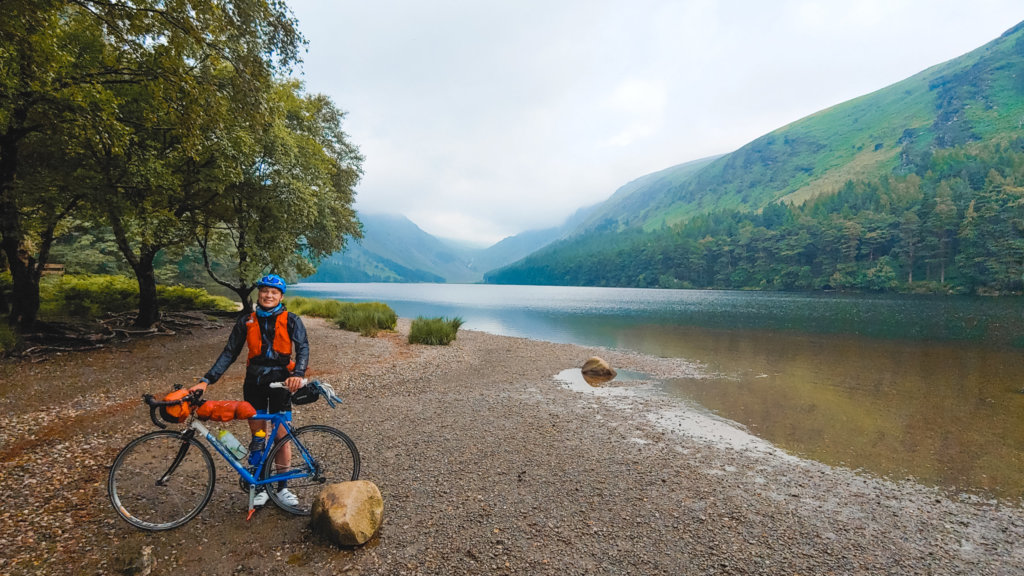 1. Pack Light
Bike packing involves carrying your gear on your bike, so it is important to prioritise lightweight, multifunctional and compact items. Having said that, functionality is of paramount importance, especially for clothing.  Invest in bike-packing-specific bags that attach to your frame, handlebars, and seat post. Hydration vests are useful too but larger bags will put added strain on your shoulders and may result in chafing. Pack only the essentials, but be sure to pack the essentials! We have compiled a list of all the items we brought on our most recent bike packing trip, check it out below.
Our Bike Packing Gear Check List
2. Check the Weather
Ireland's weather can be unpredictable, so be prepared for changing conditions. Pack appropriate clothing layers, rain gear, and a sturdy tent that can withstand windy and wet conditions. Check weather forecasts regularly before and during your trip. We use and trust; met.ie, yr.no and mountain forecast when it comes to planning nearly all of our adventures. Wind conditions play a huge role in a bikepacking trip. If possible try and avoid cycling in wind over 40km/h.
3. Practice Bike Maintenance
Ensure your bike is in good working condition before embarking on your trip. Learn and practice bike maintenance skills like changing a flat tire, adjusting brakes and gears, and oiling the chain. Pack essential tools and spare parts for any necessary repairs along the way. We have included all the spares that we brought in our gear list article.
4. Be Respectful of Nature and Local Communities
Respect the environment you're cycling through. This goes for every adventure in every outdoor space. Camp responsibly, dispose of waste properly, and respect private property. Be courteous to locals you encounter on your journey and adhere to local customs and regulations. You will be surprised by how accommodating the Irish are. However, do not take this for granted, respect signage that has been erected by locals and always leave no trace. If wild camping adhere to the wild camping guidelines.
5. Bring Navigation Tools
Having a multitude of reliable navigation tools is also vital, especially if you are venturing off-road. Carry a reliable map we love the East-West Maps or a GPS device we use our Garmin computers to navigate your route. Be familiar with using them before your trip; practice loading a new route onto your GPS and get familiar with the battery life of your device. Additionally, having a backup power source like a portable charger for your electronic devices is essential. Our Garmin watch has a battery size of 424mAh, and an iPhone has a battery of approximately 3000mAh consider purchasing a battery pack that will charge them multiple times. We bring a 10,000mAh battery on all our multi-day trips.
6. Stay Hydrated and Well-Fueled:
Carry enough water and snacks to keep you hydrated and energized throughout your ride. Make sure, if you have speciality sports nutrition that you comfortably bring enough for the whole trip. An excellent thing about bikepacking in Ireland is that you are rarely too far from food. There are many countryside pubs that serve hot food and many small corner shops and petrol stations that will have basic groceries. Research and mark these places, especially for more remote areas.
7. Safety First
Always wear a helmet. We would advise you to wear high-visibility clothing and have lights on your bike. Follow traffic rules and be mindful of road conditions. While we do not advise tackling an ambitious bike-packing route alone we respect that some people may like the challenge. If this is the case for you, make sure someone knows your whereabouts. Inform someone of your itinerary and estimated time of arrival at your destinations. Carry a basic first-aid kit, know basic first-aid techniques and have emergency contact numbers written on the back of your phone case or somewhere else that is obvious.
8. Embrace the Experience
Bike packing in Ireland offers incredible opportunities for adventure and discovery. Take the time to soak in the stunning landscapes, interact with locals, and enjoy the unique charm of each place you visit.
9. Plan Your Route
Research and plan your route in advance. Consider the terrain, distance, and difficulty level that suits your skill and fitness. Use online resources such as Hiiker, maps, or guidebooks to identify scenic trails, quiet country roads, and places of interest along the way. One of our favourite tools for route planning is the Strava heat map. This shows you what trails have seen the most traffic, and therefore may be worth visiting, or have seen little to no traffic which may mean they are old or impassable.
Planning a Multi Day Bike Adventure in Ireland Our Guide
Top Tips for Bike Touring in Ireland
If you are looking for a fun time not a fast time consider a more relaxed bike touring adventure in Ireland. There are a number of characteristics that make Ireland an excellent place for a bike-touring adventure. There are numerous car-free "greenways" that link towns, and there are thousands of small country lanes which are best explored on two wheels. A bike will get you places a car can't and facilitate interactions and experiences that you would miss in a car. While you will see a lot of similarities between the tips for bike packing and bike touring it is worth noting the differences.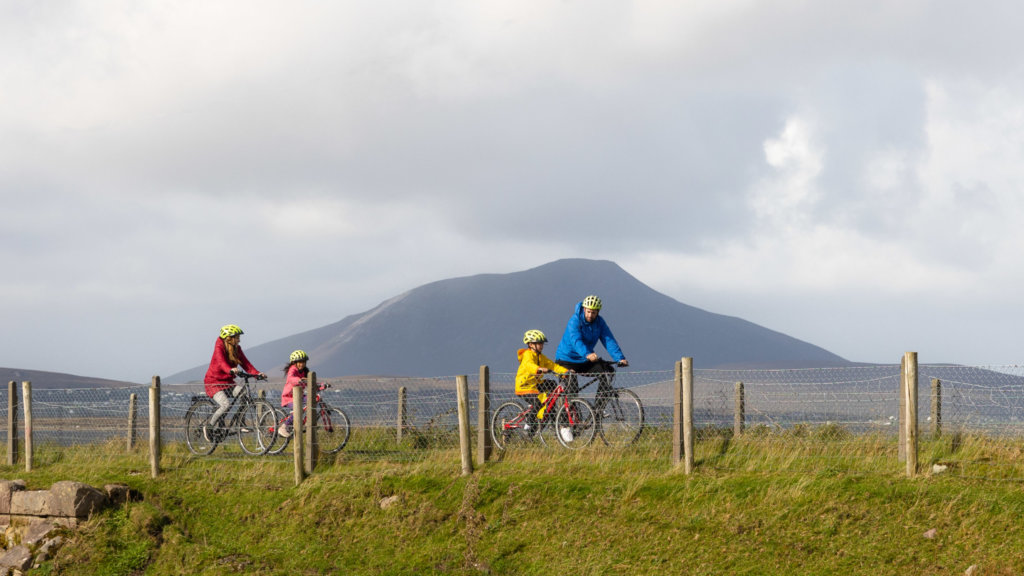 1. Start with Shorter Distances
Ease into bike touring by planning shorter daily distances. Begin with a comfortable distance for you, 30-40 kilometres per day, and gradually increase as you gain confidence and endurance. Keeping the daily distances short keeps you open to making changes to your planned route along the way. Remember that bike touring is not solely about the distance covered, but also about enjoying the journey and exploring the surroundings. This leads perfectly to our next tip.
2. Enjoy the Experience
Remember that bike touring is about enjoying the journey, immersing yourself in the surroundings, and creating lasting memories. Be open to unexpected detours and serendipitous encounters. Embrace the adventure, and have fun exploring the beautiful landscapes of Ireland.
3. Pack Light
While perhaps not as important as its fast and light cousin, bike touring is still made far more enjoyable with a lighter load. Keep your load manageable by packing light. Prioritize essentials such as spare clothes, rain gear, basic bike tools, a first-aid kit, and personal items. Minimize unnecessary items to reduce weight and improve manoeuvrability. Consider using lightweight, compact camping gear and multifunctional items of clothing. We have found "quick dry" clothing to be incredibly useful. These items are generally lighter weight and dry quickly after washing or rain.
On the subject of packing, we would advise keeping your valuables on your person at all times. A travel belt is an excellent solution for this. If this isn't an option keep your valuables in a bag on your bike and never leave the bike unattended without bringing that bag with you. A stolen bike is an awful thing when bike touring but it's made slightly better if you have your valuables with you.
Our Bike Touring Gear Check List
4. Choose Your Accommodation Wisely
Opt for accommodations that cater to cyclists, such as guesthouses, bed and breakfasts, or cyclist-friendly hostels. In cycling hubs of the country, such as near the Greenways, many of the accommodations will accommodate the needs of bike tourers. If it is not advertised on their website, give them a call to ensure you will have your needs met before arriving. Bike-friendly establishments often provide secure bike storage, laundry facilities, and local knowledge about nearby attractions and dining options.
5. Check Weather Conditions
Stay informed about the weather forecast for your chosen route. Irish weather can be changeable, so pack appropriate clothing layers to prepare for varying conditions. Be prepared for rain and wind, even during the summer months. Also if the weather is particularly dire consider reevaluating your plans. Battling bad conditions, while being a great mental challenge can also ruin a good trip!
6. Pace Yourself
Bike touring is not a race nor should it be viewed as a difficult physical challenge. Take breaks, enjoy the scenery, and listen to your body. Allow time for rest, sightseeing, and sampling the local cuisine. Embrace the slower pace that the bike facilitates and soak up the beauty of the Irish landscapes.
7. Bike Maintenance
Ensure your bike is in good working condition before embarking on your tour. Check tire pressure, brakes, gears, and lubricate the chain. Carry basic tools and a spare tube in case of punctures. Familiarize yourself with and practice basic bike maintenance. It is also worth considering a pre-tour bike service at a local bike shop. If you do this be sure to allow a week or so afterwards. Do not bring a freshly serviced bike on a tour, you may encounter some teething issues which are better experienced before the trip.
8. Stay Hydrated and Fuelled
Ireland has some of the best fresh produce in the world. Take the time to sample some of the local food and drink. It is also important to drink plenty of water during your rides to stay hydrated, especially on warmer days. Pack energy snacks such as fruit, energy bars, or nuts to keep your energy levels up during the day. Consider the calorie density of the food you are eating. Longer days in the saddle should be paired with more food than usual, this will help you to recover from day to day.
9. Safety First
Wear a properly fitting helmet and bright, visible clothing to enhance your safety on the road. Observe traffic rules, use hand signals, and be aware of your surroundings. Consider investing in bike lights for better visibility, especially if riding during low-light conditions.
10. Plan your Route
Research and choose a route that suits your fitness level and preferences. Look for cycling-friendly areas with designated cycling routes, quiet roads, or scenic coastal paths. Consider popular options like the Great Western Greenway, Wild Atlantic Way, or the Waterford Greenway, which offer beautiful landscapes and cycling infrastructure suitable for beginners.

Previous Post