One of the true gems of Ireland is the world-renowned area of Connemara. With some of the most incredible mountains, lakes, coastline and culture Connemara is a deserving place for a Weekend Wander! Using the Connemara National Park as a hub there are so many incredible experiences nearby, let us tell you all you need to know for a brilliant weekend in Connemara. 
Best Hikes & Walks in Connemara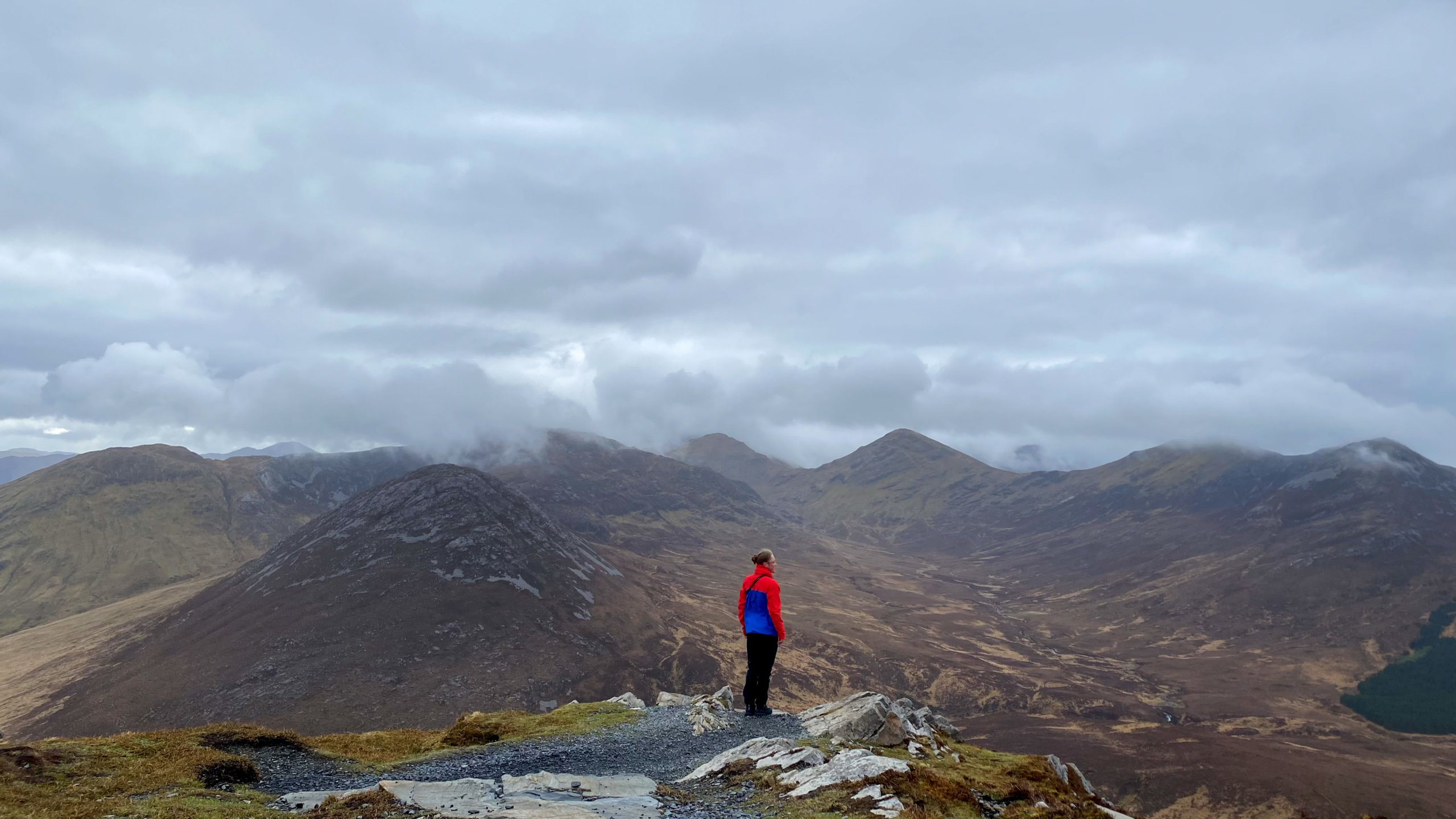 Diamond Hill
If you are escaping to Connemara National Park there is one hike you must do! Diamond Hill stands at a height of 442 meters above sea level and offers some of the best views of Connemara National Park, the Galway coast, and the Twelve Bens. This moderate hike takes between 2 and 3 hours to complete. There are a few lower loops on the mountain that are suitable for kids or young families. There are some great attractions nearby too.
Read Our Full Diamond Hill Article
Twelve Bens
Don't tell anyone, but these are the nicest mountains in the country. A bold statement we know! The Twelve Bens are as rockier and more exposed than the Reeks and as wild as the Glenveagh Mountains but they get a fraction of the traffic. This is what makes the Twelve Bens so special. The Glencoughaun Horseshoe route is one of the best mountain days in Ireland. The route we have linked below is a very challenging route and should only be tackled by experienced hillwalkers on good weather days. The last time we tackled the route we were discussing it with a local farmer upon our return. He told us that due to the terrain flash floods are quite common in the mountains.
Tully Mountain
Located just north of the Connemara National Park is the Tully peninsula. This isolated corner of the west coast of Ireland is an excellent spot to escape and experience some peace and quiet. On the south side of this peninsula, you will find Tully Mountain. Standing at 356 m above sea level, this small hill offers an excellent reward-to-work ratio! The entire hike takes about two hours and from the summit, you get some exceptional views over Connemara National Park, Achill Island, Mweelrea, and the Atlantic Ocean.
Best Swims in Conemarra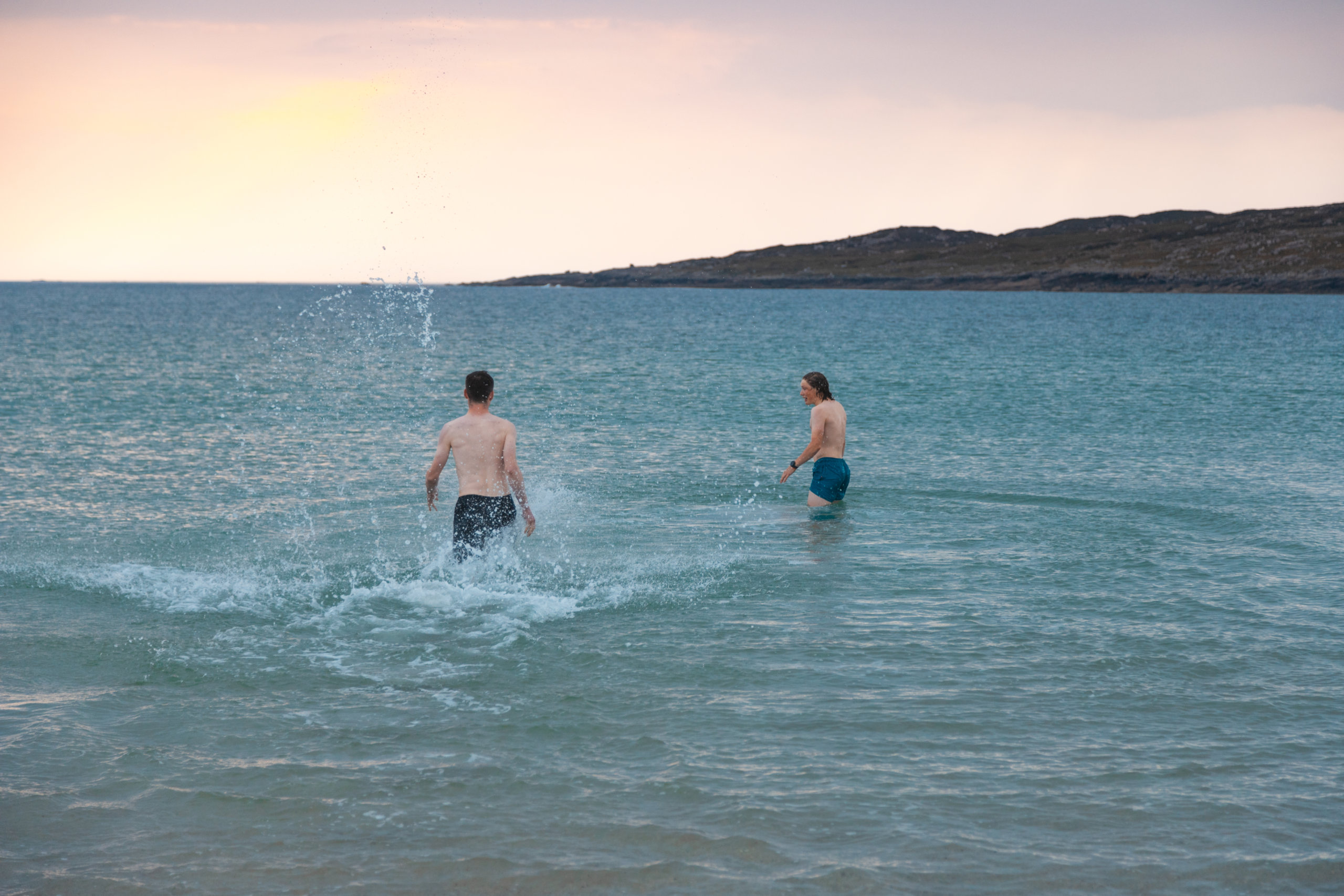 Gurteen Bay
Type: Sea
Access: Easy
Located on the other side of the Dogs Bary sand spit, Gurteen has some incredible private inlets which make brilliant swim spots. While the car park can get very busy, Gurteen Bay seems to be less frequented which makes it a good option for a more silent summer swim.
Silver Strand
Type: Sea
Access: Easy
Located right at the base of Mweelrea Mountain, the tallest mountain in the province, Silver Strand is an excellent place to cool off after a warm hike. Silver Strand is a large sandy beach at the end of a 7 km long cul-de-sac. It is a popular destination for beach days on weekends or summer holidays. We have found there to be enough space even on busy days on the beach. However, the car park is not huge so we would recommend getting there early if you plan on spending the day there.
Dogs Bay
Type: Sea
Access: Easy
One of our favourite spots on this list. We first swam here following a full day of running in the 12 Bens in Connemara. Mountains and sea, what more could you want? This beautiful long sandy beach sticks out into a sheltered cove of the Atlantic Ocean.
Glassilaun
Type: Sea
Access: Easy
This beach always surprises us with how quiet it is. A long sandy beach near Ireland's only fjord Glassilaun Beach is one for the bucket list!
Aughrus Pier
Type: Sea
Access: Easy
One of Ireland's lesser-known pier swim spots, Aughrus Pier is the perfect location to (carefully) launch yourself into the magnificent Atlantic Ocean. This is an excellent place to cool down after you've explored the beautiful Connemara.
What to do in Connemara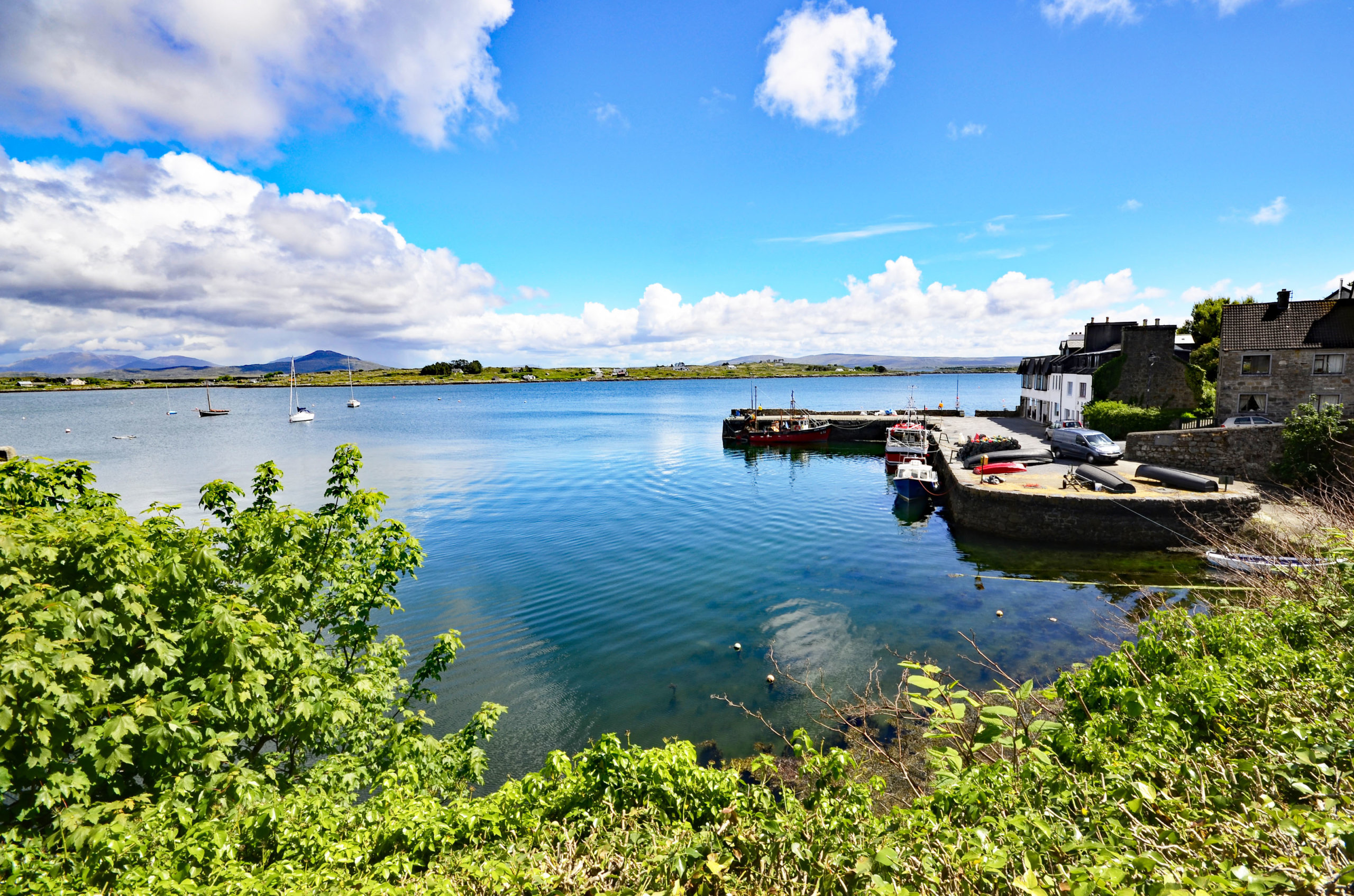 Film Trail
It's no wonder that the stunning backdrop of the Connemara landscape has been a popular destination for films over the years. The Quiet Man (1952) is a film directed by John Ford and starring John Wayne. It showcases the Connemara landscape many times in the film. The film, we believe thanks to the stunning landscape, won an Oscar for cinematography in 1953. In more recent years locations such as; Ballymagibbon Cairn, Lough Na Fooey, and the Inagh Valley were used in the honeymoon scene of the 2008 film Marley and Me. In the scene, sheep belonging to a local farmer, Joe Joyce, block the road. You can visit Joe's house on the shore of Lough Na Fooey and watch him train sheepdogs.
Sky Road
A popular drive, the Clifden Sky Road offers incredible views over the surrounding landscape as well as some authentic west coast roads! While driving it is nice, we would highly recommend cycling it for the full experience. The loop is approximately 16 km around the Kingston peninsula antiques in part of the Wild Atlantic Way.
Alcock & Brown Crash Site
In June 1919 two British aviators, John Alcock and Arthur Brown, embarked on the first non-stop transatlantic flight. It took them over 16 hours and in spite of flying through some dire weather conditions, the duo landed their modified army bomber plane in Derrygimla bog a few kilometres from Clifden. The site is now a popular tourist attraction and is well worth a visit.
Connemara Heritage & History Centre
Experience what life used to be like in Connemara at the Connemara Heritage & History Centre. Featuring reconstructions of a Crannóg, typical early Iron Age settlements, an audio-visual tour, and an artefact room this is definitely an activity that is high up our list for a rainy day!
Best Pubs & Food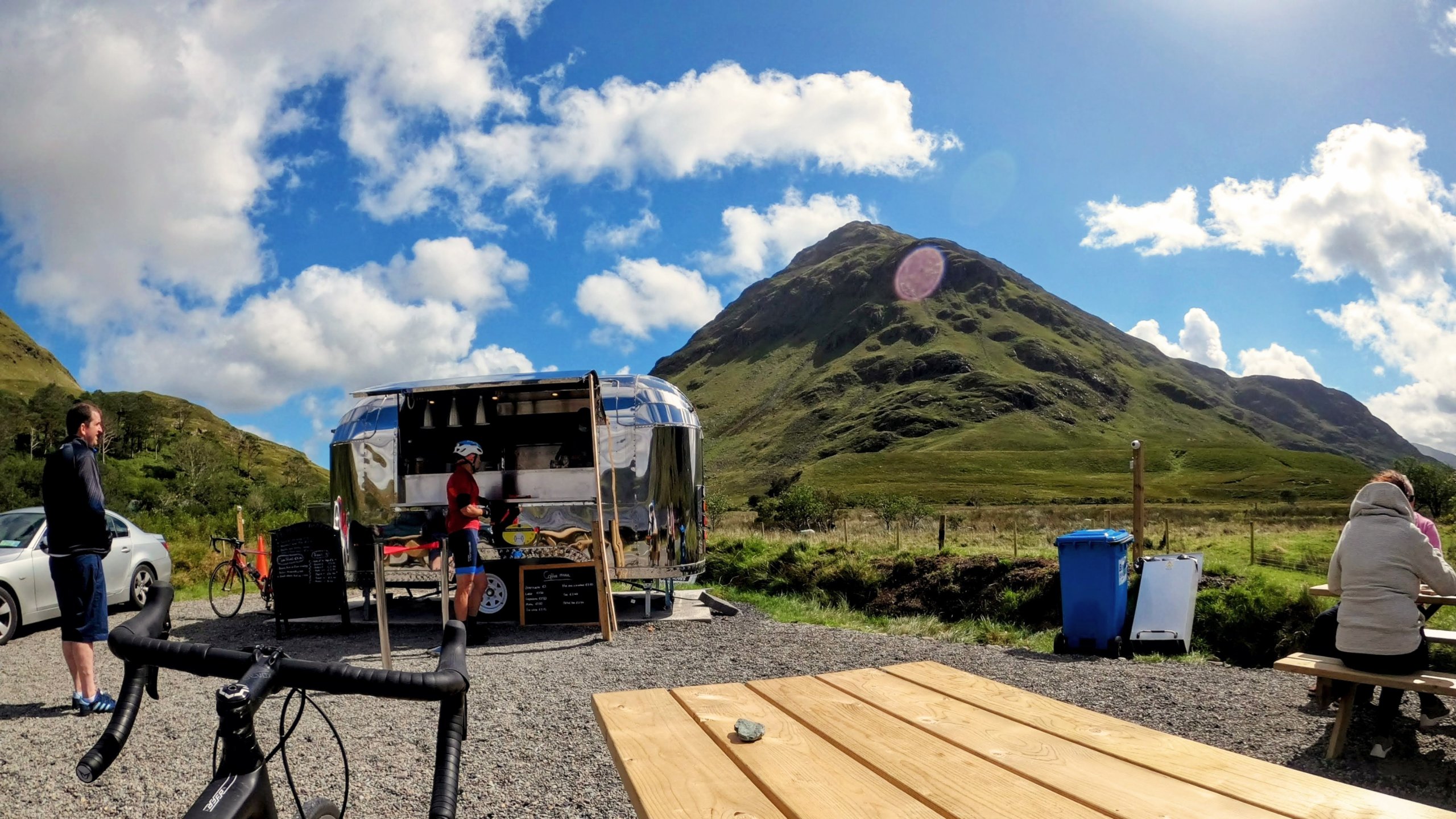 Kabo Café in Letterfrack
Lovely coffee and brunch options right at the foot of Diamond Hill.
Sweeney's of Cladaghduff
An authentic seaside pub with locally caught seafood.
O'Dowds Seafood Roundstone
Family-owned Bar and Restaurant specialising in fresh local seafood. Located overlooking the harbour in the centre of Roundstone village. They have some great vegan options.
Delphi Silver Food Truck
Food with a view! Located in Doolough Valley underneath the mighty Mweelrea. Great coffee, soups and sandwiches!
Twelve Pins
Located in the Old Post Office building in Clifden there is a quaint café. Highly recommend stocking up on tea and coffee while you are here!
Sweet Nothings
By far our favourite place to eat near Connemara National Park. Serving up an incredible mix of plant-based food. Sweet Nothings is perfect for a big lunch or a midday snack.
Camping & Accommodation
Clifden Eco Beach Camping
Winners of the Outdoor Escape Of The Year at the Outsider Awards 2022. Featuring its own private beach, barrel seaweed baths, spacious pitches and a sustainable ethos, this family-friendly campsite is a must-stay as far as we are concerned.
Lutty Cottage
Tucked away in the Glencoughan Horseshoe in the heart of the 12 Bens, Lutty Cottage is an excellent place to base yourself if you plan on spending time in the mountains. When we stayed here in 2021 we were able to complete the Glencoughan Horseshoe from our door!
Fernwood
Fernwood Farm offers some of the most unique and beautiful accommodation options in the area. Choose from a list of five accommodation options including three uniquely designed stays on their 150-acre organic farm. These include a treehouse, a stilt house, and a studio all of which accommodate two guests each. They also offer a cottage and a house by the sea in the stunning town of Roundstone. These are definitely worth a look.
Ballynahinch Castle
One of the most incredible accommodation options in the area is Ballynahinch Castle. If you are in search of a slice of luxury on your Weekend Wander we would highly recommend checking this one out!
Ben Lettery Connemara Hostel
One of many hostels in Connemara Ben Lettery is located at the very base of one of the 12 Bens. This would be an excellent place to stay if you plan on spending a lot of time in the mountains over the weekend. With beds as cheap as €22.50 a night, for a shared dorm, or €103.50 a night, for a private room of 4, this is a brilliant option for those planning on spending more time outside than inside!
Events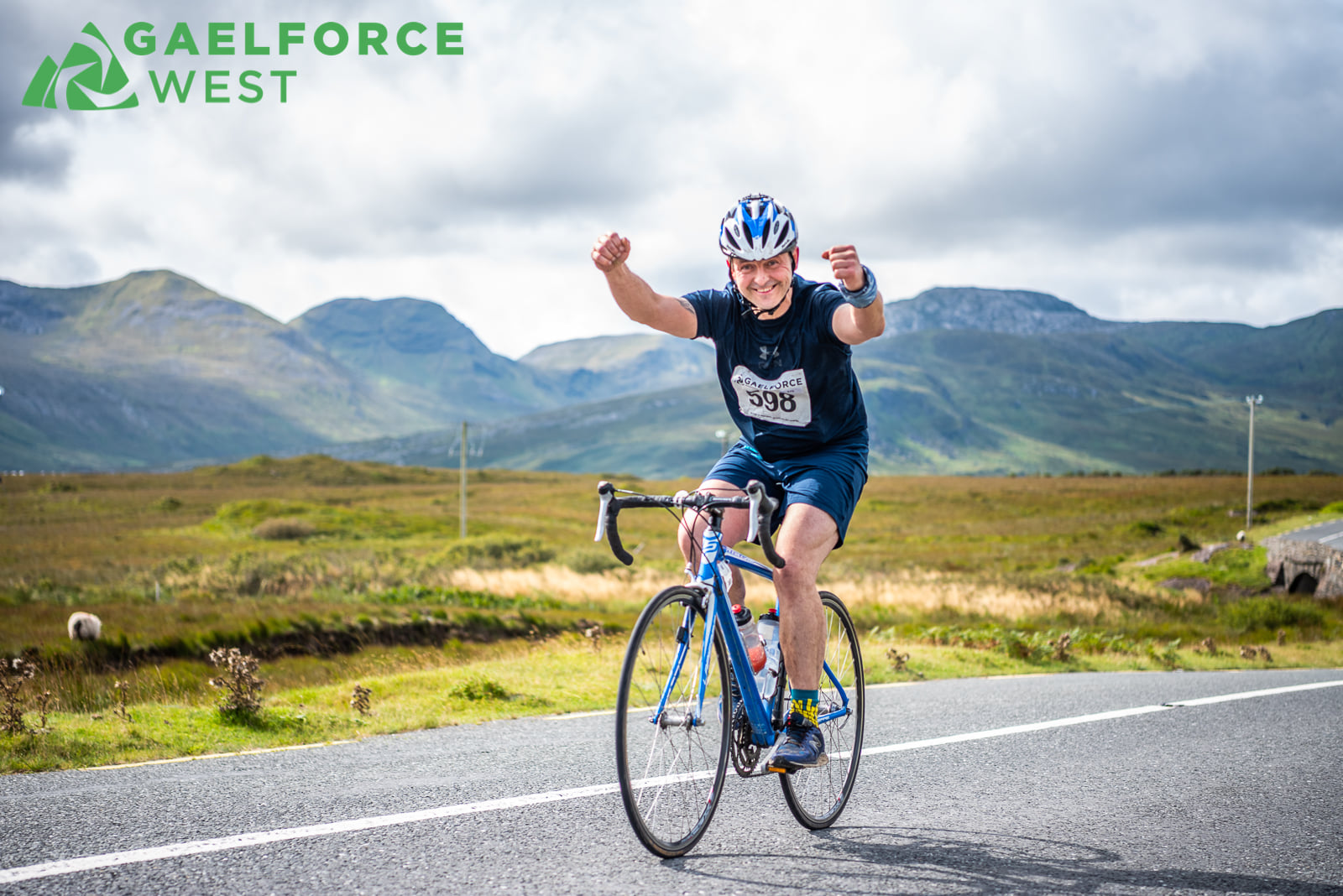 Gaelforce West
Gaelforce West is one of Ireland's most iconic adventure races and is deserving of a spot on our list of top adventure races to do in 2022. Based in the stunning landscape around Ireland's only Fjord, Killary Fjord, this challenging course attracts seasoned racers as well as those seeking the coveted finisher's medal.
This race has 6 unique stages, all presenting their own challenges! Information about each individual stage can be found on the event page. The race covers 60km and is split into; 24.5km of running, 35km of cycling, and a "short" 1km kayak on the beautiful Killary Fjord.
Great Fjord Swim
Gaelforce's Great Fjord swim took place in September in the sheltered, clean Atlantic waters of Killary Fjord, in Leenane, with Connemara's majestic mountains soaring all around.
The swim offers three distances for all levels of open water swimming experience, beginner to pro, with wetsuit and non-wetsuit swimmers welcome in all distances.
Swimmers chose from 3.9 km, 2 km or 750 metres…finishing on the Killary shore. If you're new to the sea swimming scene, then the 750 metre event is a great introduction to open-water swimming racing.
Walking Marathon
On Saturday, the 12th of August 2023 walkers will flock from all corners of the country to take part in the annual Connemara Western way walking Marathon and half marathon. Organised by Galway Walking Club, the route is from Kilrea to Mum Valley mostly along the western way. It is an accessible route with the highest point being the religious site of Mamean at 259 meters. The walk takes in brilliant views of Kilrea Fjord the Maumturks and the 12 Bens.
IMRA Connaught Championship
The first weekend of July is IMRA Connaught Championship Weekend. On the 1st and 2nd of July, runners will take on the two iconic peaks of Mweelrea and Nephin. There is always an excellent buzz around this weekend and with race entry is costing only €7 this is one to put on the calendar!
Check out these other Weeekend Wanders
Ballinastoe Mountain Biking: Weekend Wander
Wicklow Mountains National Park: Weekend Wander
Killarney National Park: Weekend Wander

Previous Post