You can explore a coastline by foot, by bike or by car. They all offer a great way of getting to see and experience a place. However, nothing quite compares with exploring it from the sea.
Gazing up from the water at the sheer cliffs that characterise the Causeway Coastline gives a fresh perspective of how imposing and impressive they really are. You can see caves, sea arches, stacks and other geological phenomena that remain largely hidden from those on land. And maybe it's just us, but there is something about being out on the water that we find insanely relaxing.
On a recent road trip along the Causeway Coast, we took to the sea to find out exactly what makes this place so special that it earned the prestigious honour of the Lonely Planet Guide's best place to visit in 2018.
Take on these water-based adventures to really see what this amazing coastline is all about…
1. Set Sail Along the North Antrim Coast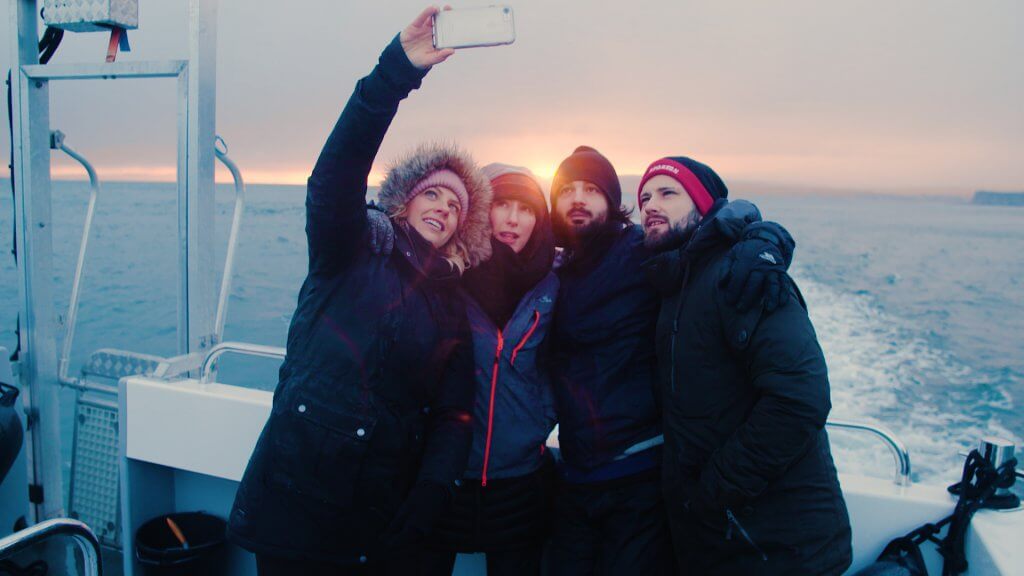 While we weren't quite on a sailing boat, we did head for the horizon by boat. Departing from Ballycastle at first light, we venture out of the harbour in the safe hands of Richard from Aquaholics. Hailing from Portstewart, Richard has a huge breath of knowledge about this area and has even been enlisted by Game of Thrones to help with location scouting and safety while they are filming.
It is not hard to see why the hit series chose this coastline either. It is epic, utterly mesmerising and makes you feel like you are in another world. Waterfalls spill into the sea from the high cliffs above, caves delve deep into the headland and birds swoop through the air in a bid to catch some brekkie as we bob along slowly making our way up the coast.
Our first port of call is Kinbane Castle. Richard tells us that the castle was built in 1547 by Colla MacDonnell during the height of MacDonnell supremacy along the coast. The name Kinbane means White Head and refers to the white limestone on which the castle stands.
Exploring the Causeway Coast on Foot
We continue down the coastline to the famous Carrick-a-Rede rope bridge. Swinging tenuously in the wind, we are too early for tourists so we can enjoy this often crowded spot in blissful peace. Those looking to add to the adventure can opt to take a dip at this point, swimming between the narrow island and the mainland right underneath the bridge itself. Richard will then pick you up on the other side. It is early March and the air temperature is a Baltic 1°C, so we opt for very quick dips instead.
Richard tells us we will have to visit again in the summer months so we get the money shot underneath the bridge. He also says that from June onwards they often spot minke whales and basking sharks. As an avid diver, he also tells us that the area is home to some of the best scuba diving in the country. The north side of Rathlin Island has some of the best soft coral in the world, while there are more than 3,000 wrecks on the Northern Irish coast to explore.
More info: Aquaholics runs two boat trips along the Causeway Coast. The Giant's Causeway Coast and Rathlin Island boat trip departs from Portstewart Harbour and visits the Skerries, Dunluce Castle, the Giant's Causeway, Whitepark Bay, Ballintoy and Carrick-a-Rede rope bridge. It then heads over to Rathlin Island to the bird sanctuary and West Lighthouse before you get a 45-minute break on Rathlin. The trip costs  just £50. The cheaper alternative is the Puffins Express and Carrick-a-Rede rope bridge boat trip. The two-hour trip is £30 per adult and just £15 for under 12s.
2. Cliff Jump and Belly Flop Your Way Along the Coast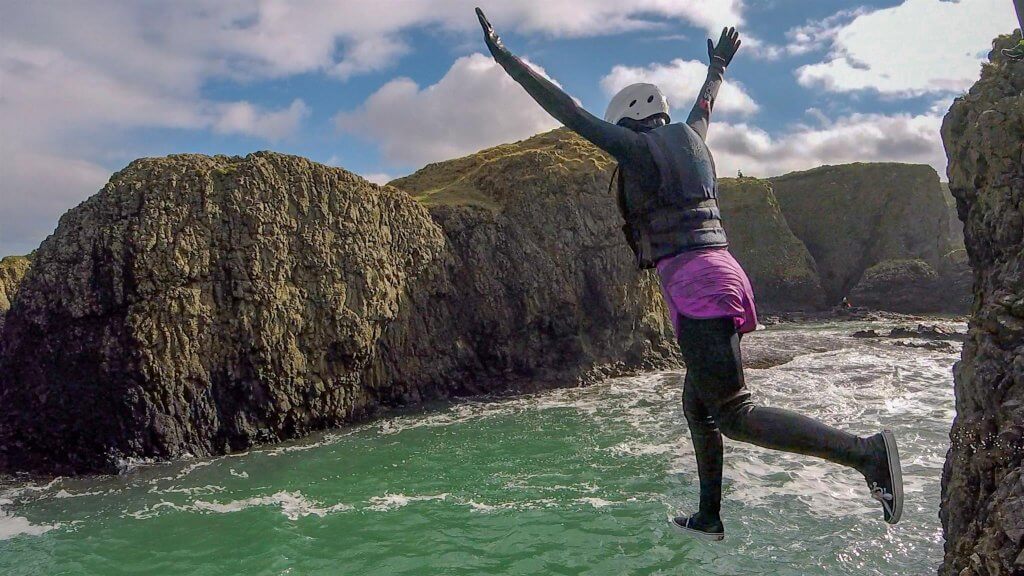 There are few things in life that compare to the sheer thrill and delight of flinging yourself from a cliff into the wild ocean below. Coasteering, which involves just that, is guaranteed to make you feel alive. I have been coasteering several times, but few places can compare to the Causeway Coast. The abundance of sea stacks and natural rock pools, combined with the crashing waves of the North Atlantic, make for an exhilarating day out.
There is a mixture of excitement and nerves in our group as we start our trek along the coastline from Ballintoy Harbour to our starting point. But we are in good hands. Paul from Coasteering NI is a jolly soul who seems intent on showing us a good time. In fact, he seems positively buzzing to be able to show another group of newbies this amazing place that he calls home. As we wade into the water off a small pebble beach, there is an audible shriek as the frigid water drips down the back or our wetsuits. But our minds are diverted from the cold in a matter of minutes as Paul gets us to scale a rather sheer looking cliff before taking on our first jump of the day into a narrow rock pool some 8ft below. From there we crawl, sidestep, climb, belly flop and doggy paddle our way towards the main attraction – a series of cliff jumps that build up to a mega 40ft jump. The group becomes more confident as we jump slightly bigger jumps each time. Although I have to confess, none of us were brave enough to take on the monster.
Cycling the Causeway Coastal Route
And just when we think it's all coming to a close, as we make our way back to the car Paul has one last surprise for us. The Washing Machine is a natural rock pool just in front of the harbour. We all jump into the Jacuzzi like froth. Before we know it, waves engulf us, sending us quite literally into a spin. We all whoop with delight, begging for more. Our wishes are granted as a perfect set approaches, sending one monstrous break after another right on top of our hyper faces.
More Info: Coasteering NI offers packages ranging from £45 to £120 for a family of two adults and two children.
The Best Cafes on the Causeway Coastal Route
3. Surf's Up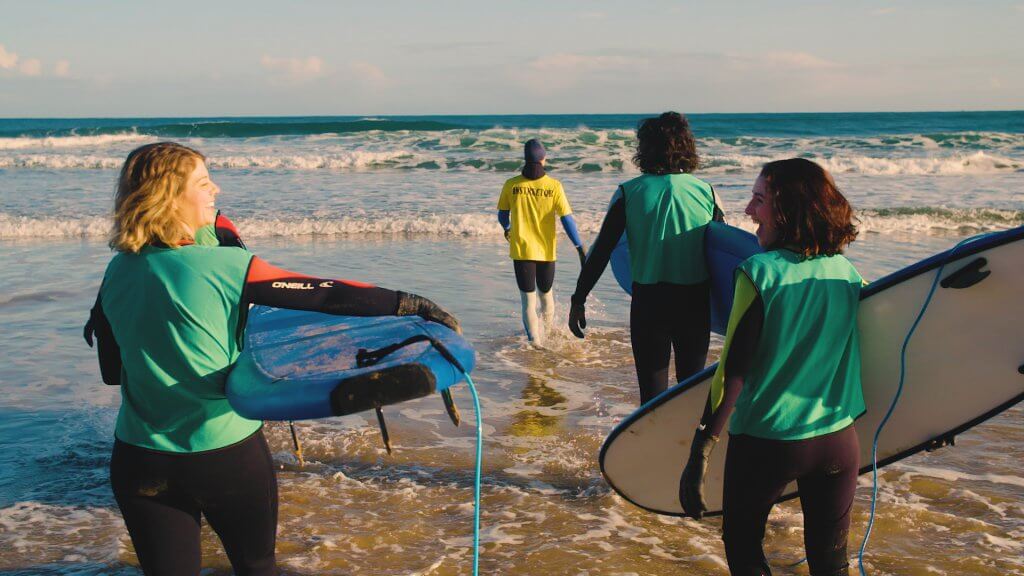 The north Antrim coast is blessed with incredible surf. From Portballintrae right along to Downhill beach beyond Portstewart, the coastline has a total of seven good surfing beaches to choose from. Which means that all ability levels are catered for, from surf pros to total beginners. We opted to surf at White Rocks which sits at the far end of Portrush's East Strand. Tucked around a corner with the Skerries Island out in front and an unobstructed view of the glorious coastline to the east, I challenge you to find a more spectacular spot!
There is an abundance of great surf schools dotted along the coast too, making board rental and lessons an absolute cinch to organise. We book an early morning lesson with Hanno from Alive Surf School. Despite the fact that he usually runs his lessons from the West Strand in Portrush he is more than happy to takes us to the more picturesque White Rocks beach.
The Best Places to Stay Along the Antrim Coast
Hanno epitomises the surfer dude. With his floppy blonde hair and his laid-back attitude, you can't help but switch into relaxed mode around him. He also happens to be a great instructor. It's a cold morning so after an energetic warm up which consists of sprints, stretches and generally looking like a bit of an eejit, Hanno spends a short period giving us some essential tips on dry land before hitting the waves.
It turns out his simple tips are our secret to success. Within a couple of minutes, two of our four-man group were on their feet (albeit for a split second). Hanno pushes us into waves as we muck around in the whitewash, howling laughing every time one of our companions wipes out. Surfing is a great activity for a group of friends as it really doesn't matter if you all have differing abilities. If you are game for a laugh, you are guaranteed to have a great couple of hours bobbing around in the surf, even if you never even manage to get to your feet.
West Beach in Portrush is probably the most popular surfing beach in the area for beginners thanks to its consistency and convenience. The beach also has a handy car park overlooking the beach and is next door to the train station.
And it when it comes to warming up afterwards, you have lots of fantastic options. Babushka on the South Pier provides great views and good grub. Those looking to stay for more than one day should check out Blackrock B&B, this luxury guesthouse offers fantastic views across the West Strand. Owner Nicola also happens to do one hell of a breakfast!
More info: Alive Surf School runs regular lessons which cost £30 for two-hours and include all equipment, tuition, a hot shower and a free drink and snack. Equipment rental costs £15 for two hours.
Getting to the Causeway Coast:
Just a two-hour jaunt up the road from Dublin, Belfast is really easy to get to thanks to the brilliant M1 motorway. Or alternatively, you can catch the train which takes just over two hours from Connolly Station in Dublin. If you leave your desk at 5pm you can have checked into your hotel, showered and be sipping a delicious cocktail in the heart of the Cathedral Quarter by 8pm. It really is that easy. You can also head straight on up to the Causeway Coast from Belfast. Another 40 minutes will have you in the Ballygally Castle Hotel admiring the epic sea views!
Check out our Hard as Nails podcast:
Like this? You should check these out: