Heading to the Kingdom for a spot of camping? Here are all the hot spots for camping in Kerry, from wild camping to glamping and of course all the best campsites and caravan parks.
Nothing beats a camping holiday in Ireland when the weather is right, there is no place we'd rather be! It always evokes great memories of our childhood, becoming best friends with the kids from the tent over, swimming in rivers, lakes and the sea and collapsing in our sleeping bags at night mucky, exhausted yet exhilarated. Or in later years finding a secluded spot in the wild to pitch a tent and now that we're getting old, a bit of luxury in a glamping spot. Here are the best places in Co Kerry to do all of that!
Wild Camping
The Wild Camping Code
– Campsites must be at least 400m from a road capable of carrying a vehicle.
– Campsites must be at least 400m from a building.
– Tents must be moved after every second night to allow vegetation to recover.
– Campers must remove all food waste and litter, whether or not it is biodegradable. Buried waste is often exposed by foraging animals or by erosion.
– Soap and toothpaste must be kept at least 30m away from watercourses.
– Dish and utensil washing must be conducted at least 30 metres from water bodies. All waste water should be strained and scattered. In no circumstances should waste water used in washing be poured into lakes, streams or rivers.
– Campers are required to conduct themselves in a quiet manner in an effort to avoid disturbing the local community, wildlife or other visitors.
– Campsites must be kept visually unobtrusive.
– Campsites must be left as found, or better
Black Valley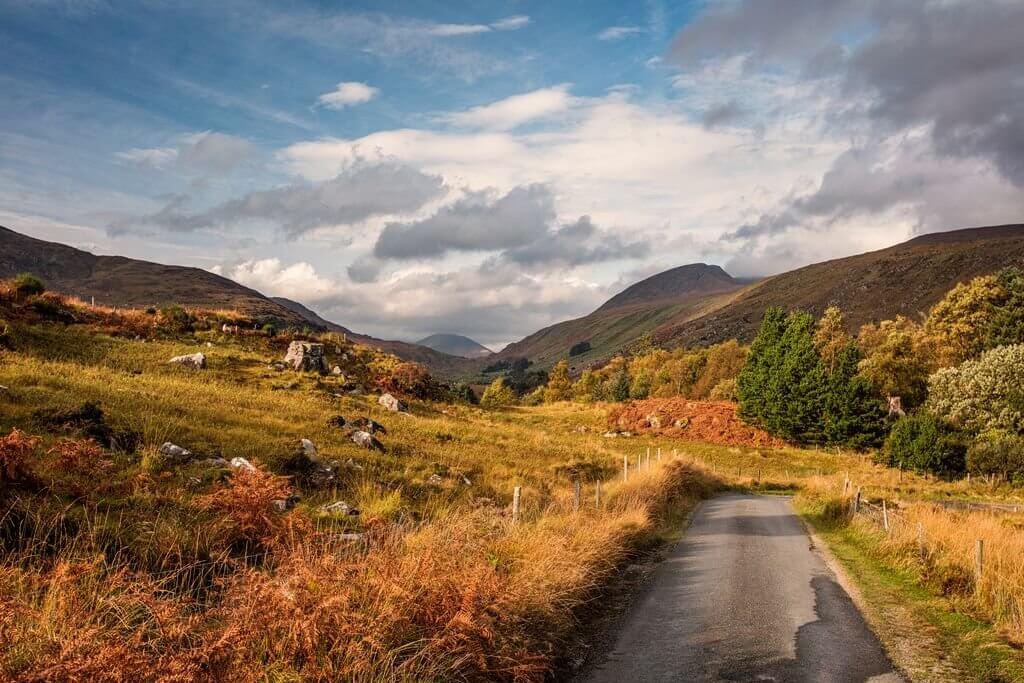 The Black Valley connects the Gap of Dunloe and Moll's Gap and offers plenty of spots to pitch your tent when wild camping in Kerry. From here there is plenty of wonderful countryside to explore. The landscape is spotted with bogs, glens, and countless mirrored lakes. This is one of the most remote parts of Ireland and was the last part of the mainland to be connected by electricity and telephone line. With that in mind, we don't advise wild camping in the winter as conditions can get pretty hairy quickly and you'll be a long way from civilisation. Plus, the big perks of wild camping is it is free.
Coomshanna Wild Camping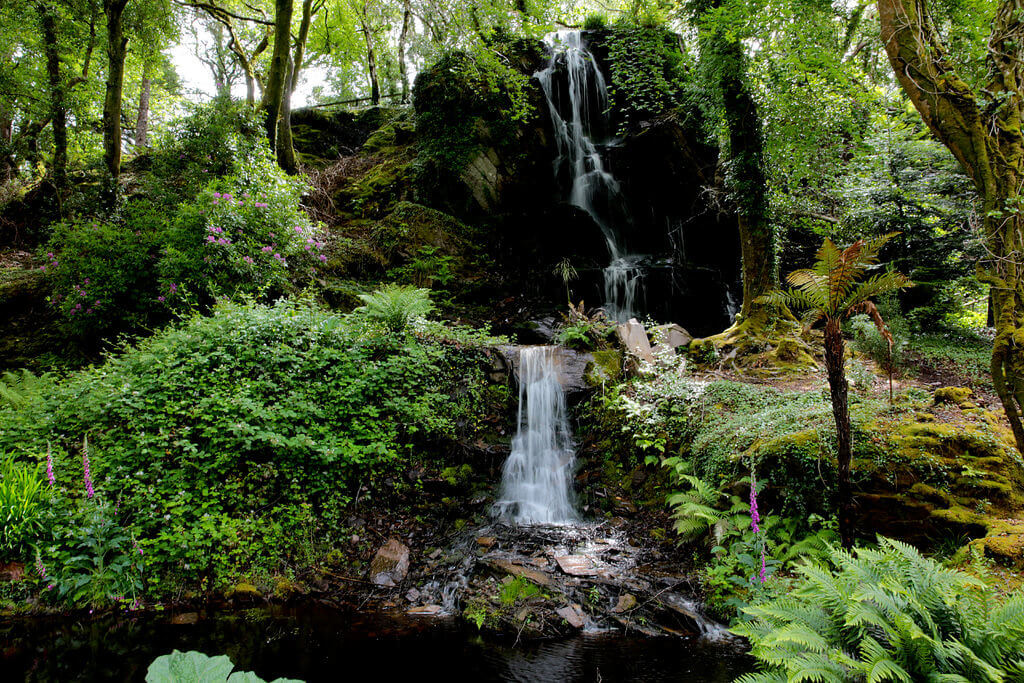 This spartan campsite is basically just a flat area where you can pitch your tent, but with amazing views overlooking Dingle Bay. Nearby is also a stream running which is handy. You'll find the site near the Gleensk viaduct, between Glenbeigh and Cahirsiveen, not that far from Kells Bay.
No fires are permitted and the Leave No Trace rules strictly apply. Ideally, you'll spend no more than one night at each site, to minimise your impact.
More info: Coomshanna Wild Camping
Great Blasket Island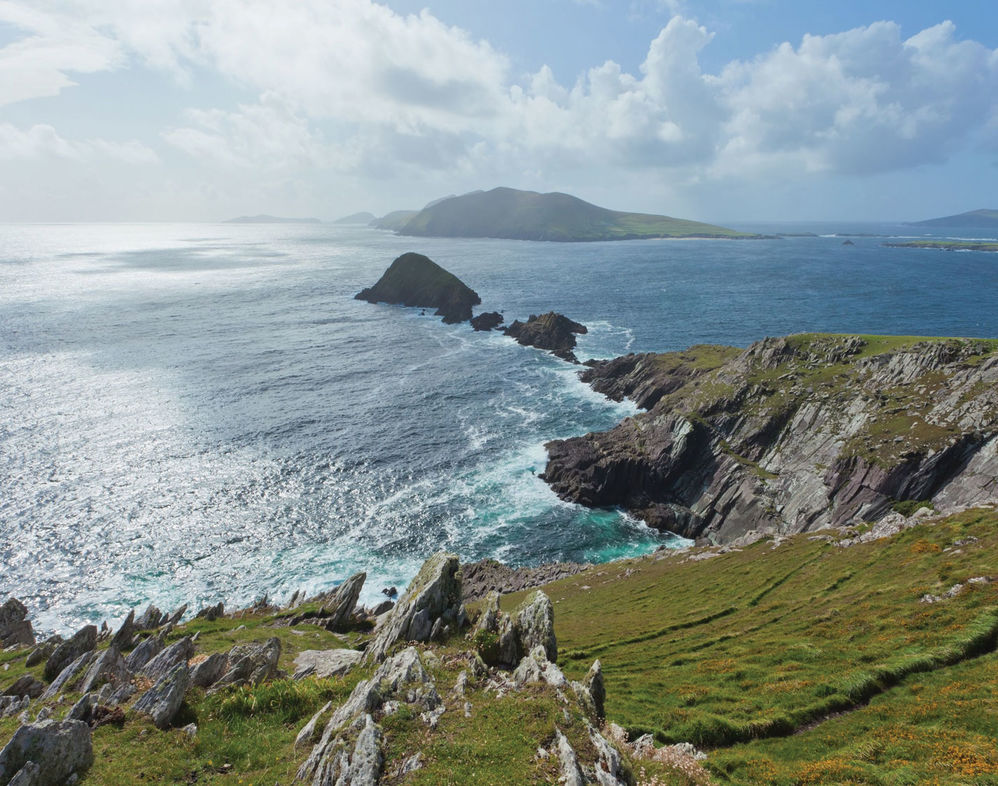 Bid farewell to your beloved mod-cons, and hello to life 'off the grid'. What the Blaskets lack in electricity and infrastructure they make up for in rugged beauty. The island itself consists of mainly mountainous terrain, which sits against the dramatic backdrop of the crashing Atlantic below on the most westerly tip of Europe. You can walk the unique system of unfenced green roads – grassy tracks previously used by the Blasket islanders and these days kept trimmed by the island's sheep, rabbits and hares. Be sure to take a stroll down An Trá Bán (White Strand), the pristine island beach, and take a dip in the refreshing Atlantic waves. There are daily ferry sailings from Dingle, Ventry and Dun Choin. These sailings are often at the hands of the weather Gods so be sure to check if the ferry is running in advance.
Dark Sky Reserve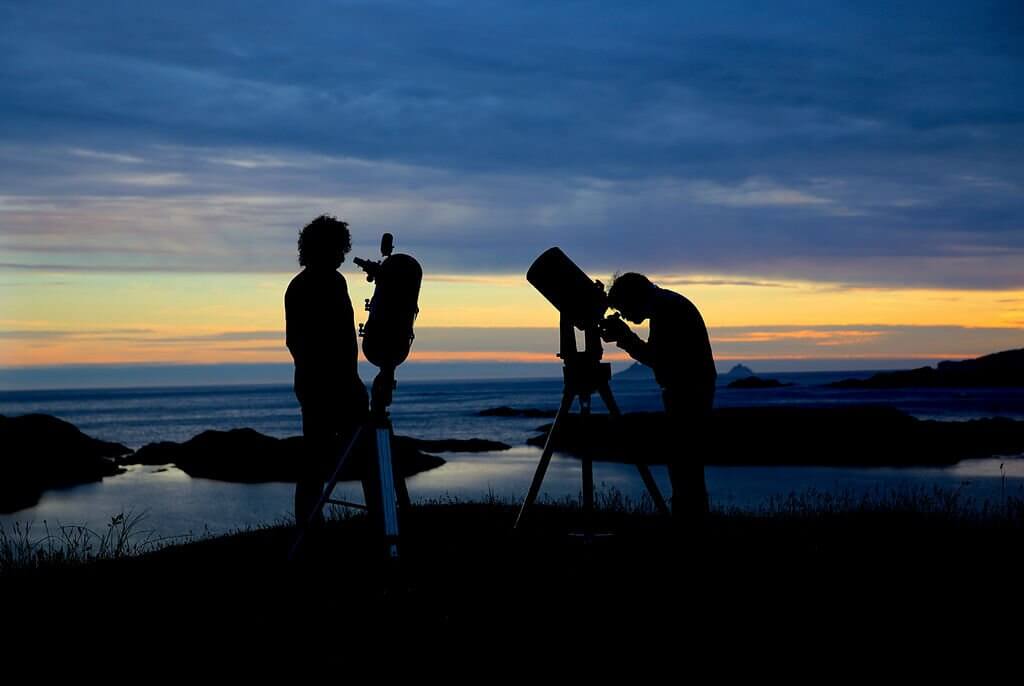 Any stargazers or city dwellers out there need to put this on their bucket list. The International Dark-Sky Reserve in Kerry is the only Gold Tiered Reserve in all of the Northern Hemisphere. On a clear night, you can point your gaze upwards and see thousands of stars, the band of the Milky Way galaxy, nebulas, additional galaxies, clusters, planets, satellites and falling stars! What better way to experience those starry skies is in a bivvy.
More info: Dark Sky Reserve
Things to Do in Kerry: The Complete Guide for Adventure Lovers
Glamping
Dromquinna Manor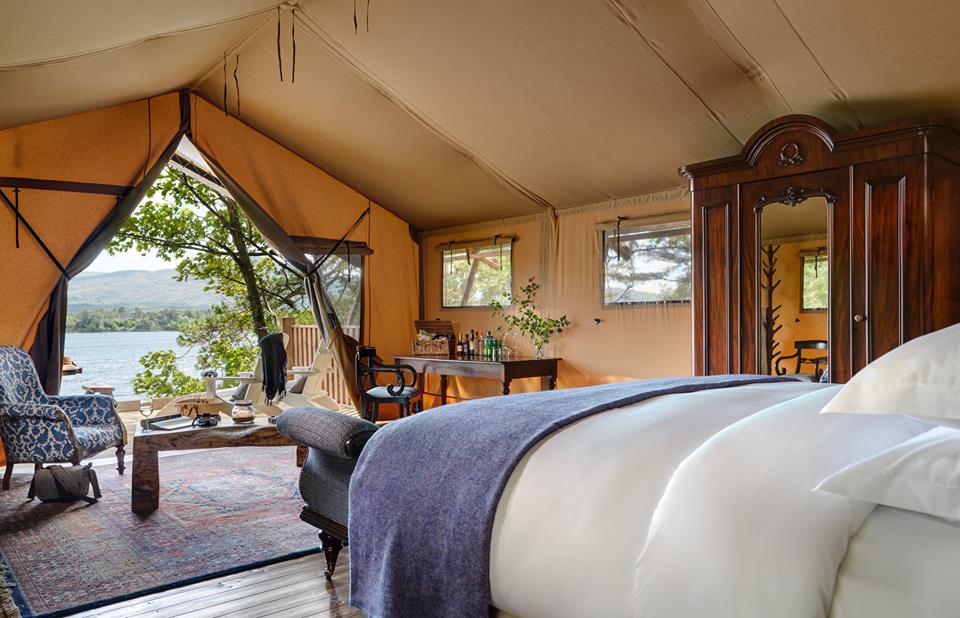 For a more luxurious glamping vacation, Dromquinna Manor by Kenmare Bay, on the famous Ring of Kerry, is your spot. The venue offers several custom made tents, an exclusive "hideaway" spot (perfect for honeymoons) as well as family tents.
On the estate, there is a restaurant called the Boathouse Wine Bar & Grill. Breakfast can be served at your tent in the mornings and there is also a guest kitchen to avail of if you bring your own food. Located by Kenmare Bay, Dromquinna encourages their guests to bring boats or kayaks and to use their boat slip for trips on the water. The estate also has a 'Fun Beach', a pier and moorings.
More info: Dromquinna Manor
Killarney Glamping At The Grove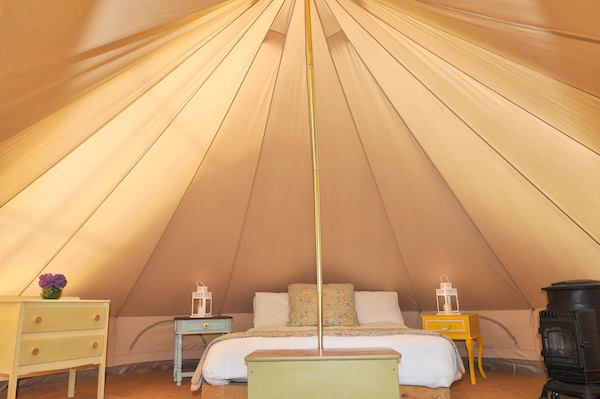 If you're looking for a peaceful, romantic, stay with views of the Kerry Mountains then you've come to the right place. Killarney Glamping offers a relaxed, private and luxurious stay in a suite (formerly Bell Tents) with its own stove and en-suite toilet.
Every suite has a private kitchen, but there are plenty of restaurants in the area as well. As this venue is all about romance, they recommend activities like a spa day or a sunset kayak trip for their googly-eyed guests.
So if a romantic getaway for two is what you're aiming for, skip the big hotel chains and go for a unique experience in Ballycasheen instead.
More info: Killarney Glamping
Carrauntoohil Eco Farm-Clochan Yurt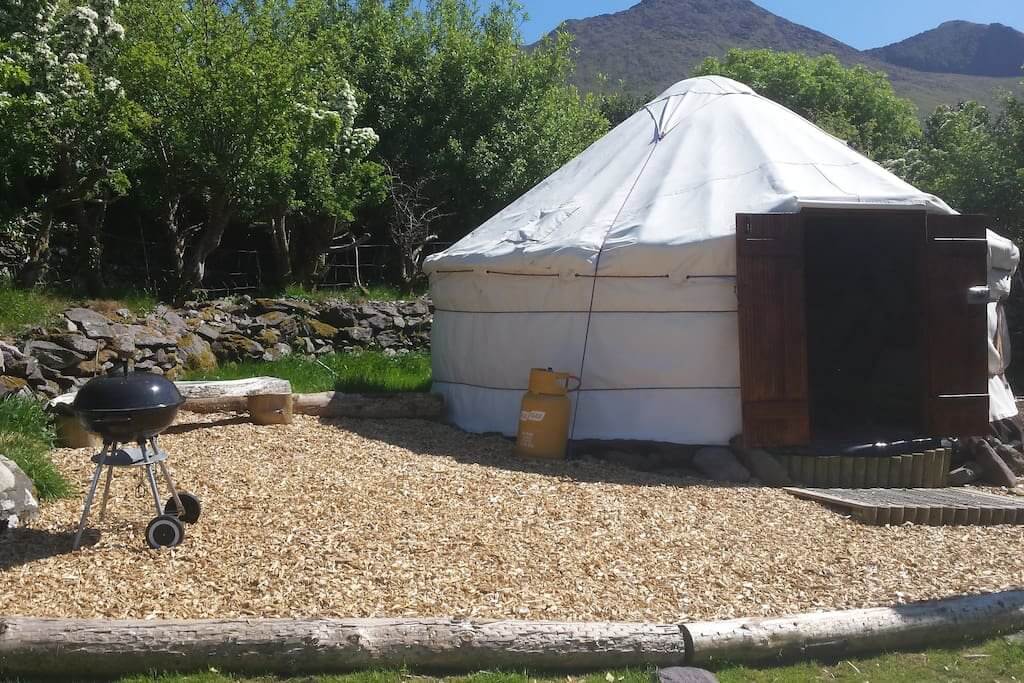 Nestled in the stunning surrounds of a 10-acre farm at the foothills of Carrauntoohil are these uber cool 14ft yurts. Each yurt can accommodate two adults and two children. There are plenty of Nature and Fairy Trails to explore and an ideal spot for meditation by the stream. They have goats, chickens, alpacas, donkeys and miniature ponies that you can feed.
The accommodation also is fitted with a communal fire pit and Eco Composting Toilets. It is nestled out in the wilds of Kerry with the nearest place to get some grub and a pint about 6kms away, so bring a car or a bike!
More info: Airbnb
Hiking in Kerry: 5 of the Best Routes
Campsites and Caravan Parks
Mannix Park, Cahirciveen
This Park is situated on the Gulf Stream coast in South-West Kerry and on The Wild Atlantic Way. The campsite has been up and running for 30+years, welcoming people from five continents. The town of Cahersiveen itself lies at the foot of Beentee Mountain, on the river Fertha and overlooks Valentia Harbour and is well worth spending some time in.
More info: Camping in Kerry
Wave Crest Caravan & Camping Site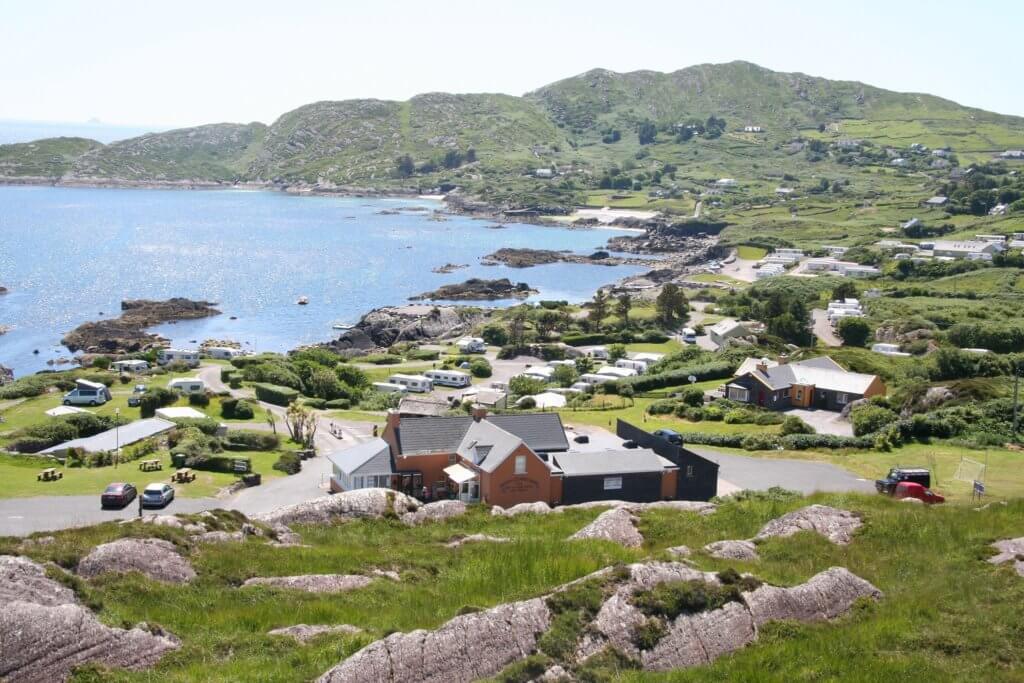 This four-star caravan and camping site in Caherdaniel on the Ring of Kerry is a gem of a spot to make your home for a few days. The informal and family fun park is located on the waterfront looking out over panoramic sea views.
They have on-site tourist information, a well-stocked shop, Café and deli, a fully equipped play area for children. And the best bit? Direct access to the water for launching water sports equipment!
More info: Wave Crest
Fossa Caravan & Camping Park, Killarney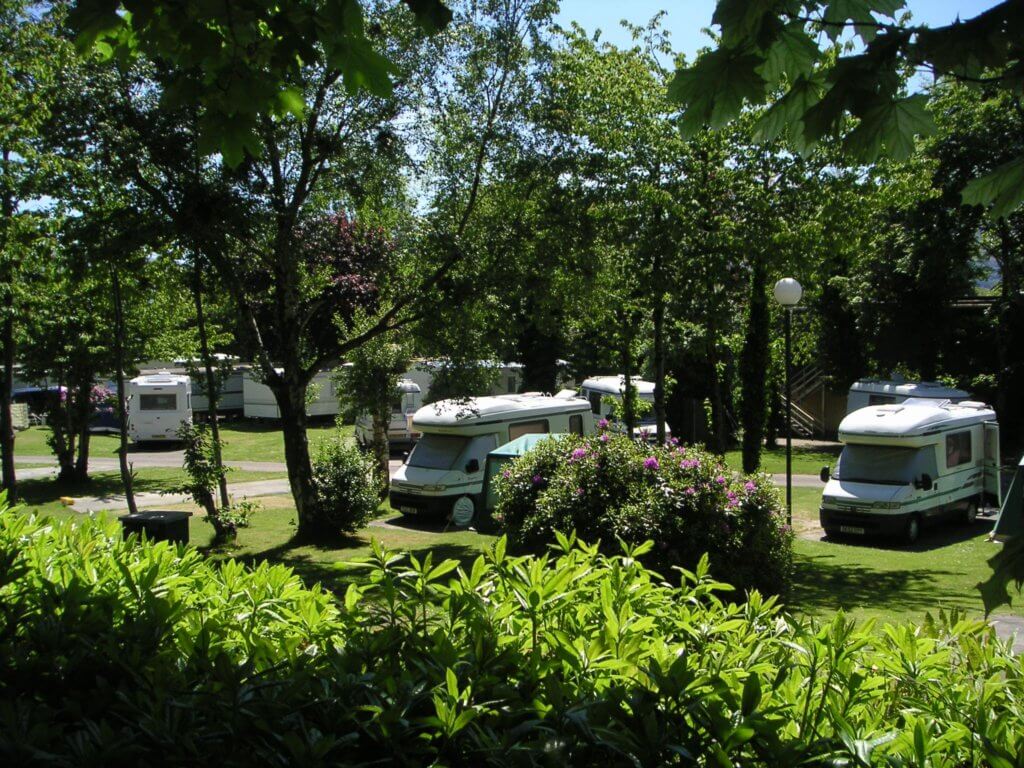 For a campsite in Killarney, Fossa Holiday Park is a great option. Ideally located, it overlooks the iconic MacGillycuddy Reeks and is just five minutes walk to Lough Leane.
It has everything you need onsite, well laid out with spacious slots, electric hook-up, a separate area for tents, free wifi, sanitation blocks and a drying room facility. They can also arrange day tours and a taxi service for you, plus there is a public bus stop outside its entrance.
More info: Camping Ireland
Valentia Island Caravan & Camping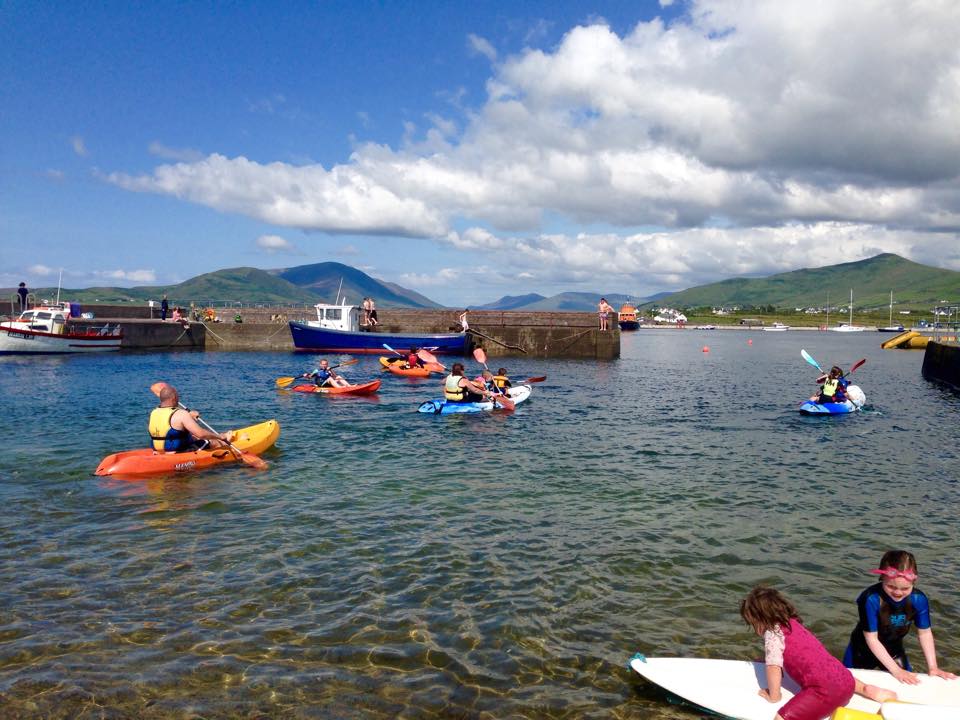 Last but not least is Valentia Island Caravan and Camping. This family-friendly park is situated on the Wild Atlantic Way, just off the stunning Iveragh Peninsula in the south-west of Kerry.
Valentia Island really is one of Ireland's best-kept secrets. Brimming with interesting and incredible things to see and do. They have everything that makes Ireland, Ireland, including the best of culture, music and sport.
More info: Valentia Island Caravan & Camping
Check out our Hard as Nails podcast:
Like this? You should check these out:

Previous Post