Petzl ACTIK CORE head torch
Price: €60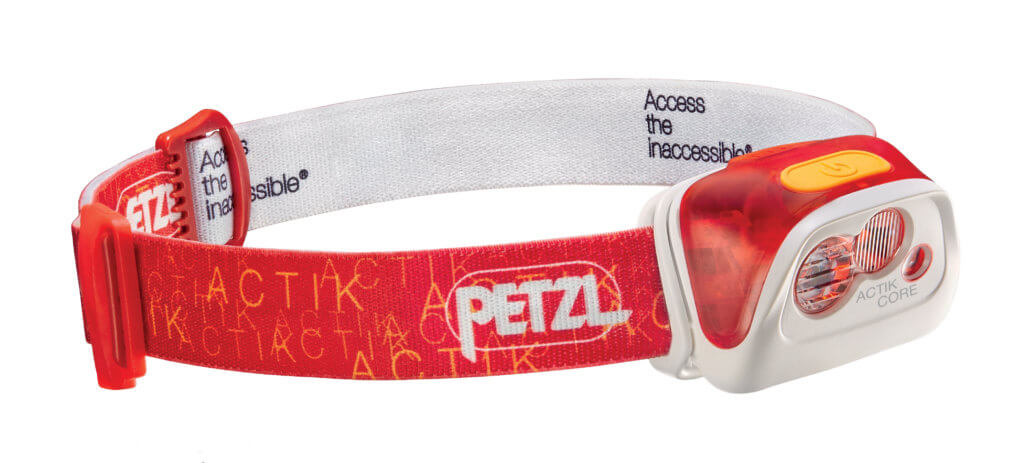 I love a good head torch. From hiking and biking to camping and trail running, and even DIY at home, they are endlessly useful. I pretty much always have one handy and I reckon that's good life advice!
My latest headlamp is the Petzl ACTIK CORE. I've had it for about three months now and I love it because it's light (80g with the rechargeable battery), compact, really simple to use, gives lots of bright light and is rechargeable. (However, you can switch the rechargeable battery out for three AAA batteries if you get caught out or know that recharging might not be an option.)
The rechargeable battery is probably my favourite feature because, for me, it makes the head torch incredibly versatile. I've just been on a hut-to-hut hiking trip in the Dolomites where every extra gram in my pack was really important. With this torch, I didn't have to carry any spare batteries because I knew I could charge the light every evening if I needed to, using the dinky micro USB cable.
Choosing a Headtorch: Everything You Need to Know
Three light settings
The head torch has three white light settings that you can run through by, very simply, pressing the thumb-sized rubber button on the top of the torch. The highest setting will give you a serious punch at 350 lumens, the middle setting is 100 lumens and the lowest setting is 5 lumens.
The top setting is perfect for confident night hiking as I discovered when we stayed a little too long at a hut serving epic food on the summit of Piz Boe and had to complete the final part of our descent on loose scree in the dark. For most other uses though – pottering around camp, rifling through your pack in a hut in the middle of the night, or reading in the tent – the middle setting of 100 lumens is perfect. And the lowest setting of 5 lumens is ideal for heading to the loo without disturbing everyone.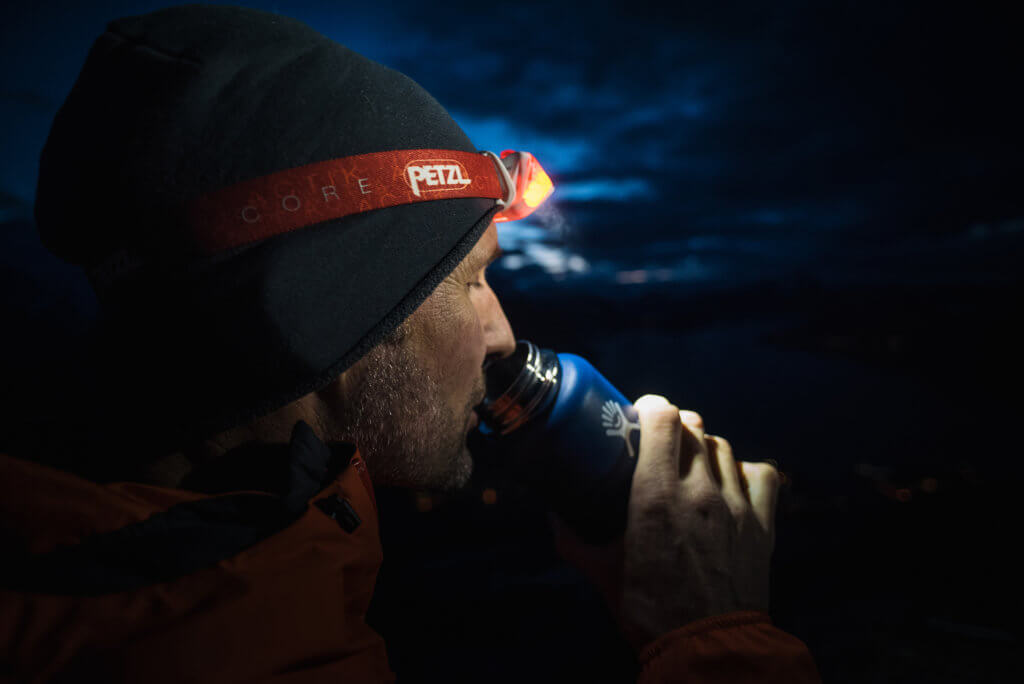 Red light won't mess up your night vision
There are two further light settings on the ACTIK CORE. If you hold the rubber button rather than just pressing it, you'll get red light. Red light doesn't mess with your night vision so, again, it's really handy for night hiking and around camp where you're likely to shine your light in other campers' eyes as you go about your business. When you're in red light mode, if you press the button one more time, it moves to flashing red, which you might use if you need to attract attention.
The battery lasts for roughly two hours at max power (350 lumens), seven hours at the middle setting (100 lumens) and 160 hours at the lowest setting (5 lumens).
Bonus features
Another really useful feature is that the ACTIK CORE will actually let you know when the battery is getting low. It will flash in its light setting and then automatically dim to a lower setting so you can maximise your final time before you recharge.
The headband on the Petzl ACTIK CORE is nice and comfy, and very easy to adjust, even while on the move. And another nice little bonus is the whistle that's built into the strap adjuster. This could come in handy if you were ever in an emergency situation and nicely ticks that box on an obligatory kit list for so many events.
Overall, I'm really happy with this head torch. The one thing I would love to see is the option of a flashing or solid red light on the rear. This is a really handy feature when you have a group night hiking, and it would also transform the Petzl ACTIK CORE into a real option for commuting home on the bike. But you're already getting a lot for your €60, so it's far from a deal breaker.
Available from: Great Outdoors
Check out our Hard as Nails podcast:
Like this? Check out these other articles: