Leather vs fabric hiking boots? Trail shoes vs hiking boots? Men's vs women's specific hiking boots? Choosing the right hiking boot can be a minefield. But fear not, we are here to help.
Brought to you by:

Choosing the right hiking boot is a matchmaking process. You might have to go through a few duds until you find your perfect pair. However, there are a few key considerations to take into account that can help you find that love at first wear scenario.
The three main considerations you should look at when looking for a pair of comfortable hiking boots are:
Type
Construction
Fit
The following guide should help shed a little light on what hiking or walking boots might best suit you.
1. Types of hiking boots and walking shoes:
One of the key considerations here is what you are going to use your hiking boot for? Are you looking for a sturdy pair of shoes that will keep your feet dry when you walk the dog around the park in the morning or are you planning some multi-day hikes across tough terrain?
Here are three main types of hiking boots and walking shoes available:
1. Hiking or trail shoes
Trail shoes are great if you are planning on staying in lowland areas. They are robust and light, but they still offer things like toe protection and good grip for those heading off-road. They are also a lot less rigid and should be comfortable right out of the box.
2. Day hiking boots
A hybrid or mid-hiking boot is perfect for ramblers looking to hit the hills but not doing anything too hardcore. Offering more support than a trail shoe, they are still nice and flexible and should require little to no breaking in.
3. Backpacking hiking boots
These are the most rigid of the bunch and often do require a breaking in period. Designed to carry heavier loads across varied terrain, most will have a high cut that envelops the ankles for support. These boots are designed to go the distance.
2. Hiking boot construction: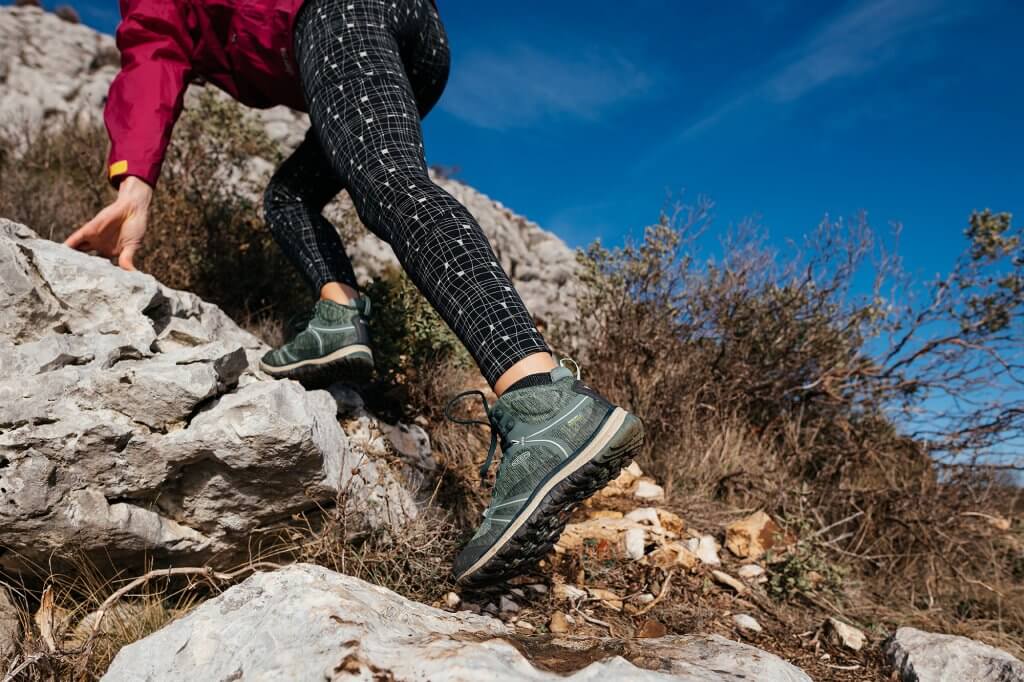 Outsole
Otherwise known as the sole of the shoe, this is one of the first things we all look at when buying a walking shoe or hiking boot. The tread on the bottom of the shoe will determine what terrain they are better for. A deep lug is generally better in muddy conditions while a shallower one is better suited to rocky terrain.
Midsole
This is the bit between the insole and the outsole. It acts as a shock absorber and a cushion to protect your feet as you walk. The midsole will determine the stiffness of your boot. While stiffness might not sound like a good thing, it can mean greater comfort and stability on long hikes. The most common midsole materials are EVA (ethylene vinyl acetate) and polyurethane. EVA is a bit lighter, softer and generally cheaper, while the latter is found in more technical boots designed for multi-day hikes and mountaineering.
Upper
The upper is everything on the outside of the boot. The main consideration to make when choosing your upper is between hard-wearing leather or lighter synthetic fabrics.
Liner
Some boots will feature a waterproof lining. This is great for keeping your feet dry but it can compromise breathability so we wouldn't recommend it in warmer weather. However, it's definitely a pro in the Irish climate.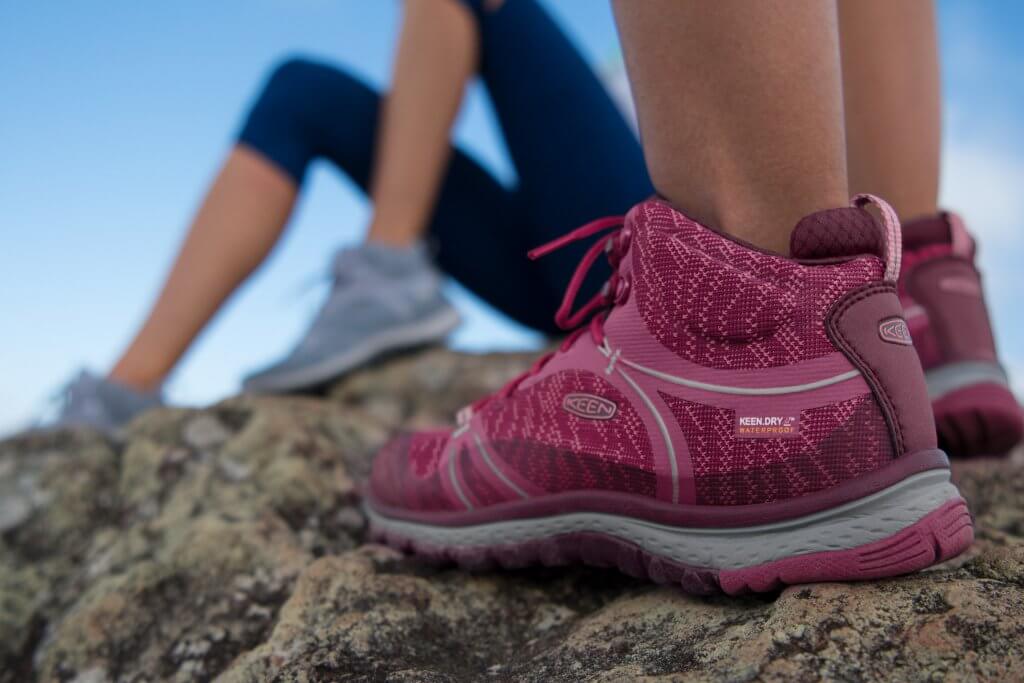 3. Hiking boot fit
Making sure your hiking boot or walking shoe is the correct size is of paramount importance. Returning from a day in the hills with blisters, pressure points under the toenails and aching arches will really dampen what should have been a great day out. We highly recommend a visit to your local outdoor retailer for a proper fitting. These guys have seen all types of feet and are genuinely impressive when it comes to the matchmaking process.
8 of the Best Looped Walks in Ireland
Here are a few key tips when it comes to getting the fit of your hiking boot just right: 
1. Choose the right socks
You can buy the best boot out there but it will be rendered useless without a decent hiking sock inside it. It's a good idea to look out for things like toe seams and different areas of thickness to make sure they complement your boot. Again, your local retailer can point you in the right direction.
2. Don't rely on sizing
Sizing differs from brand to brand so don't be afraid to opt for a size up from your usual if it feels more comfortable. Choose a boot that feels like the right fit as opposed to the right size on the box.
3. Leave plenty of space for your toes
If the toe box feels a little cramped then the hiking boot is not for you. Toe boxes don't stretch out over time or soften very much so it's important that you have adequate space from the get-go.
4. Is the last right for you?
A last is a mould on which a boot is made. Again different boots and shoes use differently shaped lasts. Some are narrower or longer than others. You can buy the best boot in the world but if it is not built on a last to suit the shape of your foot, it will be no good.
5. Get moving
Don't be afraid to have a good walk around the shop. Walk up and down the stairs, exaggerating your movement to see if there is any lift in your heel – there shouldn't be. When walking down a slope, your toe should not be pressing right up against the end of your walking shoe or boot, begging to escape. Again, your local outdoor retailer will be able to provide you with all of the information you need and will also advise you on the best lacing system for your feet.
6. Is the boot women's specific?
Are you confused about men's vs women's specific fit when it comes to hiking boots? Fear not, we have run through this in more detail below.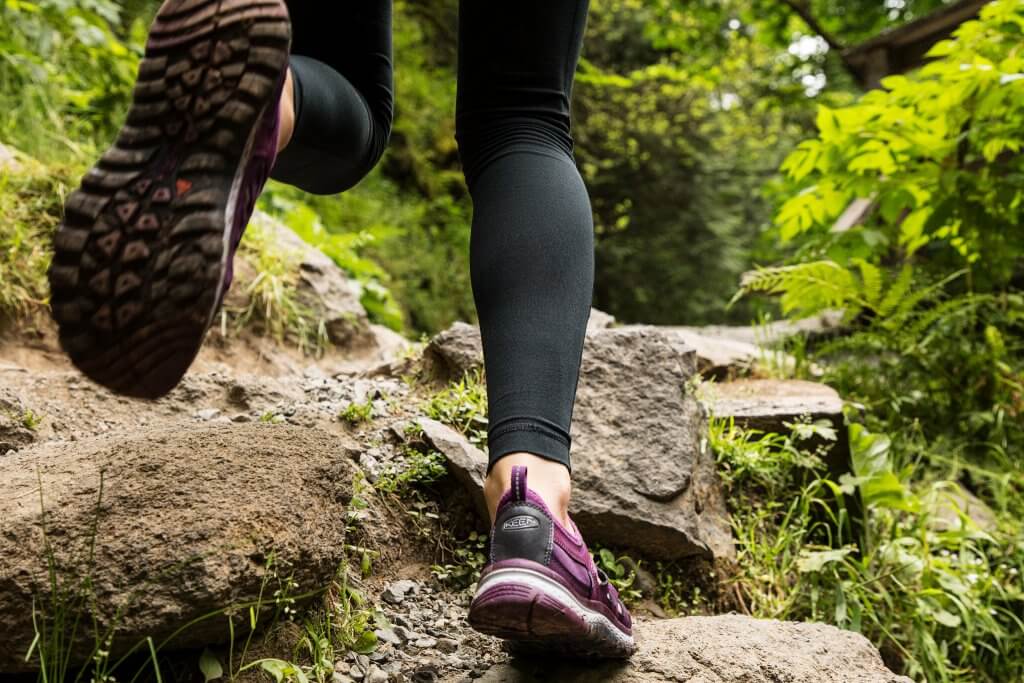 Women's vs Men's Hiking Boots
We receive a lot of questions about the differences between women's and men's hiking boots. And the short answer is yes there are a couple of key differences. The majority of brands have gone far beyond the shrink it and pink it of days gone by and have now realised that the majority of men and women's feet are not the same.
Women typically have a narrower heel and a taller arch than men so it's important that your hiking boot reflects this. But of course we don't speak for everyone out there. There are women who find men's boots far more comfortable and that's perfectly fine. But for those wondering what the differences between men's and women's specific hiking boots are, here is a brief lowdown.
1. The lasts
A last is the form that shoemakers use to create the fit and style of a shoe or boot. Historically, almost all hiking boots for men and women were made on the same lasts, not taking into account the difference in the width etc between men's and women's shoes. These days, the majority of respected shoe brands have invested in women's specific lasts, meaning the overall result is a better fitting hiking boot for women with superior support.
2. Weight
Men's hiking boots generally weigh more than the female counterparts.
3. Higher ankle support
Men's hiking boots will usually come up slightly higher on the ankle.
4. Aesthetics
Women's boots are generally brighter and slightly more feminine than the earthy tones traditionally used in men's boots.
What women's specific boots to buy?
If you are in the market for a pair of women's specific hiking boots or walking shoes we would highly recommend the Terradora range from Keen. We know all feet are different but my colleague and I have been wearing the Terradora Mid Waterproof Boot and the Terradora Leather Boot and have both fallen in love. Roisin has very slender, ladylike feet while mine are a little more clod-hopper-esque with the hint of a bunion. We never suit the same shoe. However, we were both pleasantly surprised to find that we both suffered no hot spots or blisters from the moment we took the Terradora out of the box.
Here is a little more info about the different styles in the range:
KEEN Terradora Mid Waterproof Boot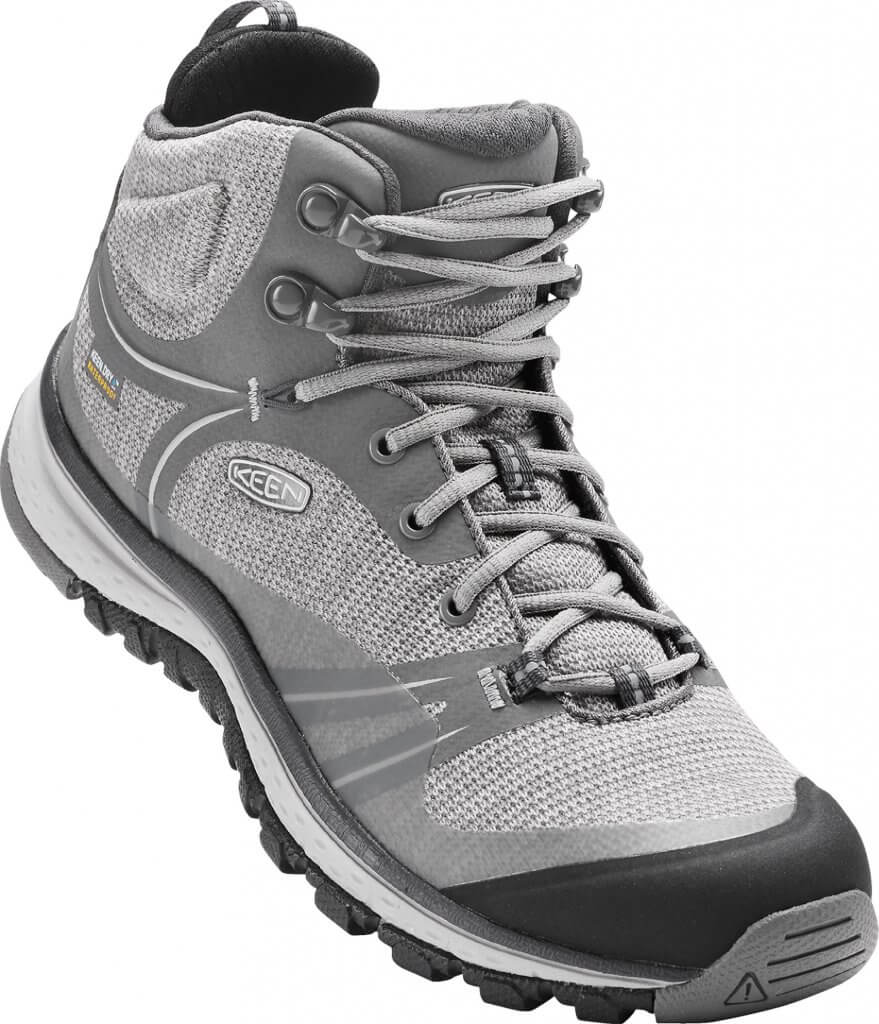 RRP: €140
The women's Terradora Waterproof Boot from KEEN is a lightweight hiking boot that doubles as an around-town trekker. With a glove-like fit and a cushioned ankle panel, it delivers flexible freedom and all-day comfort. The Keen.Dry membrane helps to keep your feet dry in damp conditions while being excellently breathable to ensure a healthy environment for your feet.
The spec:
Waterproof
Breathable
Low density EVA midsole
Additional support for Achilles
Odour control
Robust rubber outsole
Women's specific fit
KEEN Terradora Leather Mid Boot
RRP: €150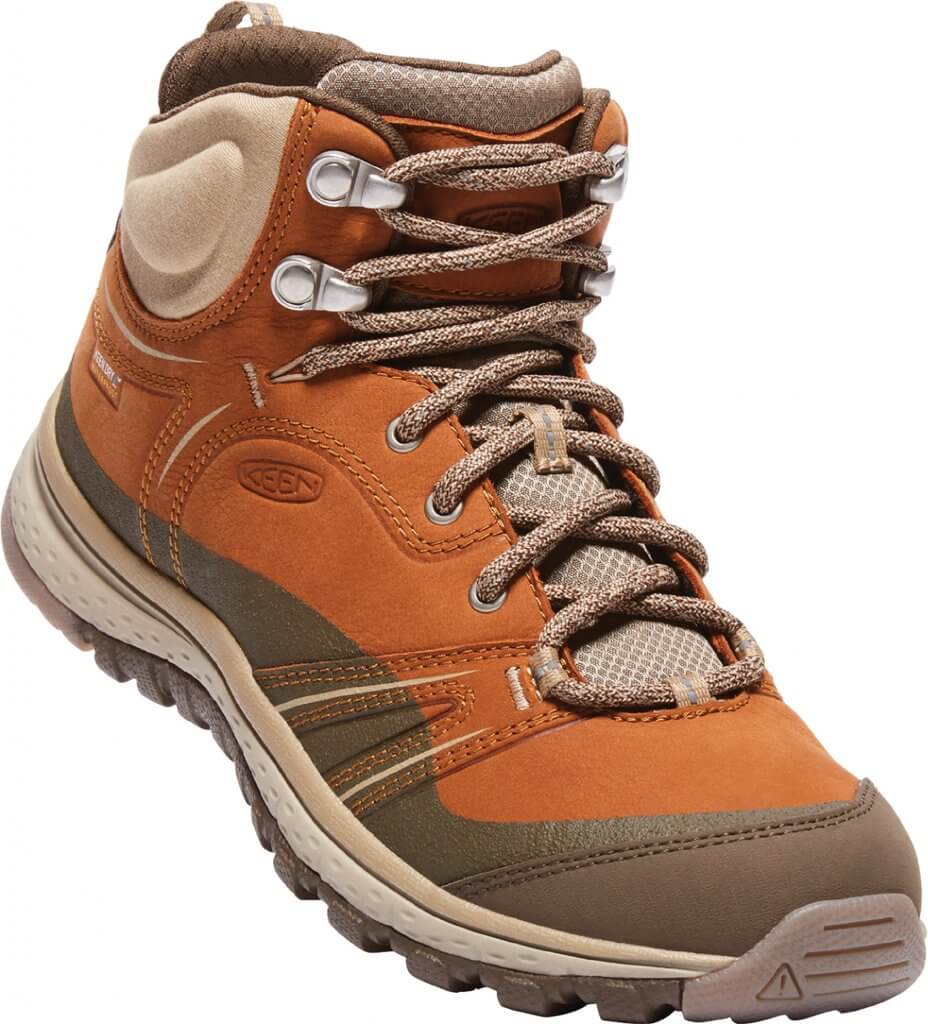 The women's KEEN Terradora Leather boot offers all of the benefits of its non-leather counterpart with a little extra robustness. Offering a snug fit and a nicely cushioned midsole you can take on as many puddles as you like thanks to the waterproof nubuck leather uppers. A mesh inner lining makes the boot breathable.
The spec:
Leather upper
Waterproof
Breathable
Low-density EVA midsole
Robust rubber outsole
Moulded ankle for comfort
Additional support for Achilles
Contoured heel lock for stability
Women's specific design
Keen Terradora Ethos
RRP: €110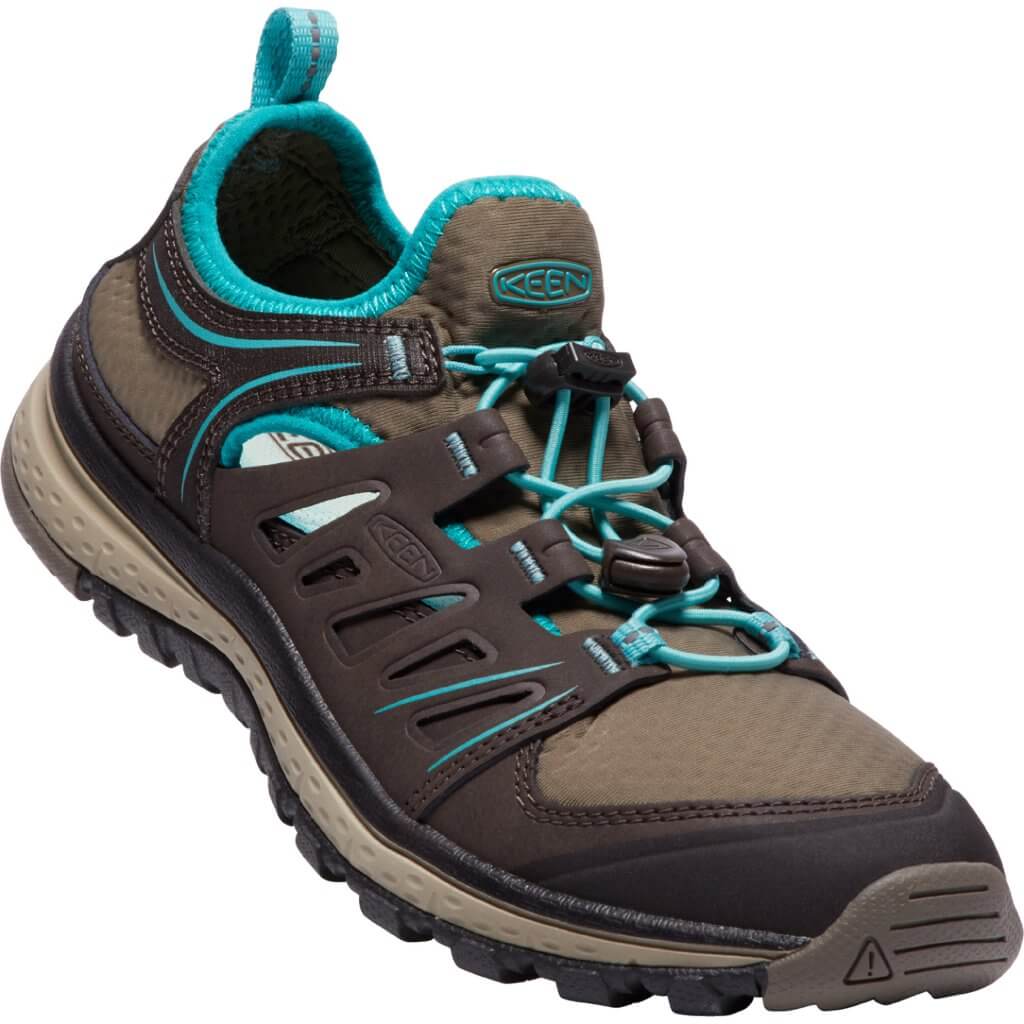 Lightweight and breathable, the Terradora Ethos is made for warm weather hikes. Offering all-terrain versatility these shoes will take you from the trail to the town. Featuring a leather upper and a rugged sole these shoes have supreme breathability thanks to the addition of generous side panel vents. These vents also make this footwear a great choice if you're likely to be near water or encounter a stream that you'll need to wade through on your hike. Meanwhile, the secure fit quick lace system will further help to give your foot the support it needs.
The spec:
Leather upper
Highly Breathable
Low-density EVA midsole
Quick dry materials
Robust rubber outsole
Odour control
Secure fit quick lace system
Women's specific design
Check out our Hard as Nails podcast:
If you liked this, take a look at this:

Previous Post

Next Post