When you're away for the weekend in the great outdoors you need the perfect rucksack to carry your essentials. It's got to have great capacity, stand up to the elements, and be comfortable. Here are our favourites.
If you're planning to be out on the trails for a long weekend then you'll need something larger than a daysack. A rucksack with capacity between 45 and 60 litres should be sufficient, adjusted for your own preferences. Key factors that should be in your mind when assessing products should be comfort, ease of access, and durability. You'll be carrying larger loads for longer periods and greater distances so it's important the weight is distributed well. Good access will save you having to empty your bag every time you need something from the bottom. Finally, durability is key to ensure your bag isn't falling apart before the halfway mark. With plenty of affordable rainproof bag covers available, waterproofing isn't essential but a nice bonus.
1.   Montane Ultra Tour 55
Price: €120.00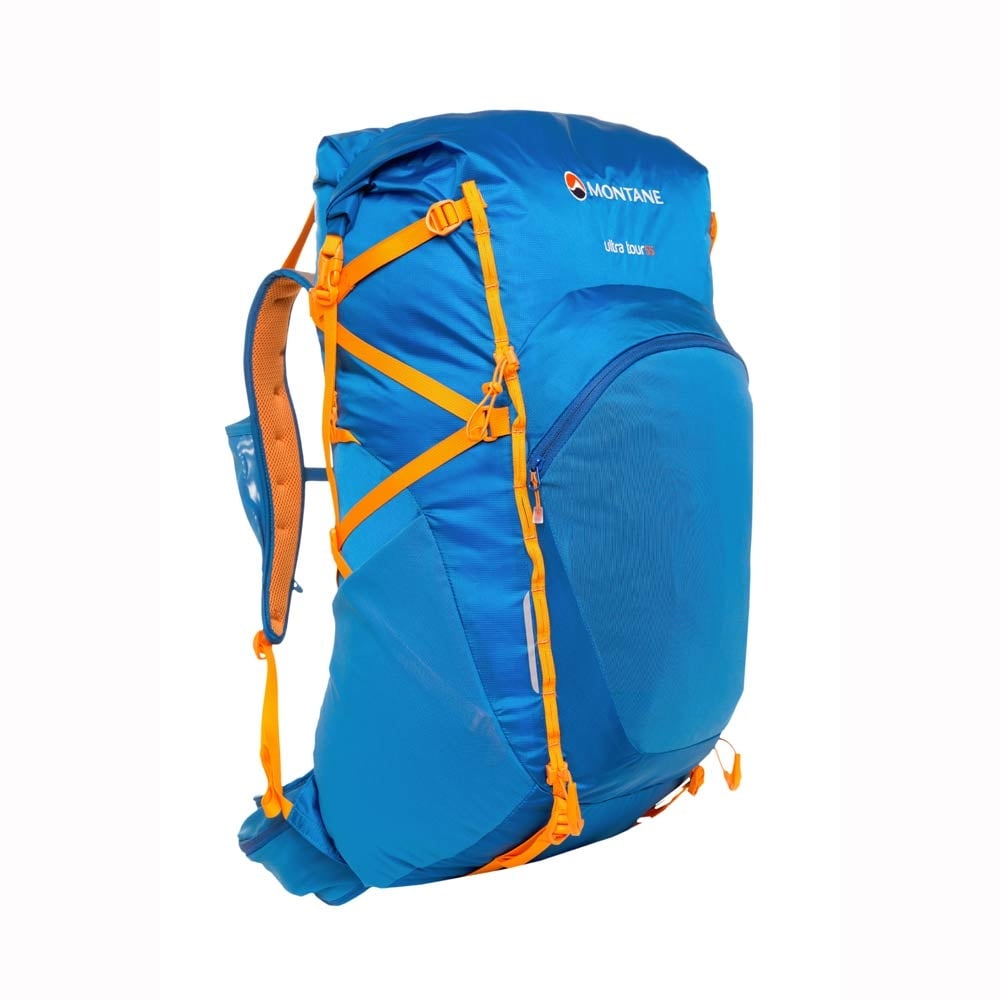 The Montane Ultra Tour looks great and is incredibly light at less than a kilo. The bag is sealed by a roll top which makes access main body quick and easy. It has deep mesh pockets down each side which are great for water bottles and a large one at the front for other accessories or for drying towels and fly sheets. The material is durable and the bag features a comfortable vented pad to keep your back cool during the warmer months. There is also a 40 litre option available if you're a lighter traveller.
Available from Cotswold Outdoor.
2.   Berghaus Trailhead 65
Price: €135.00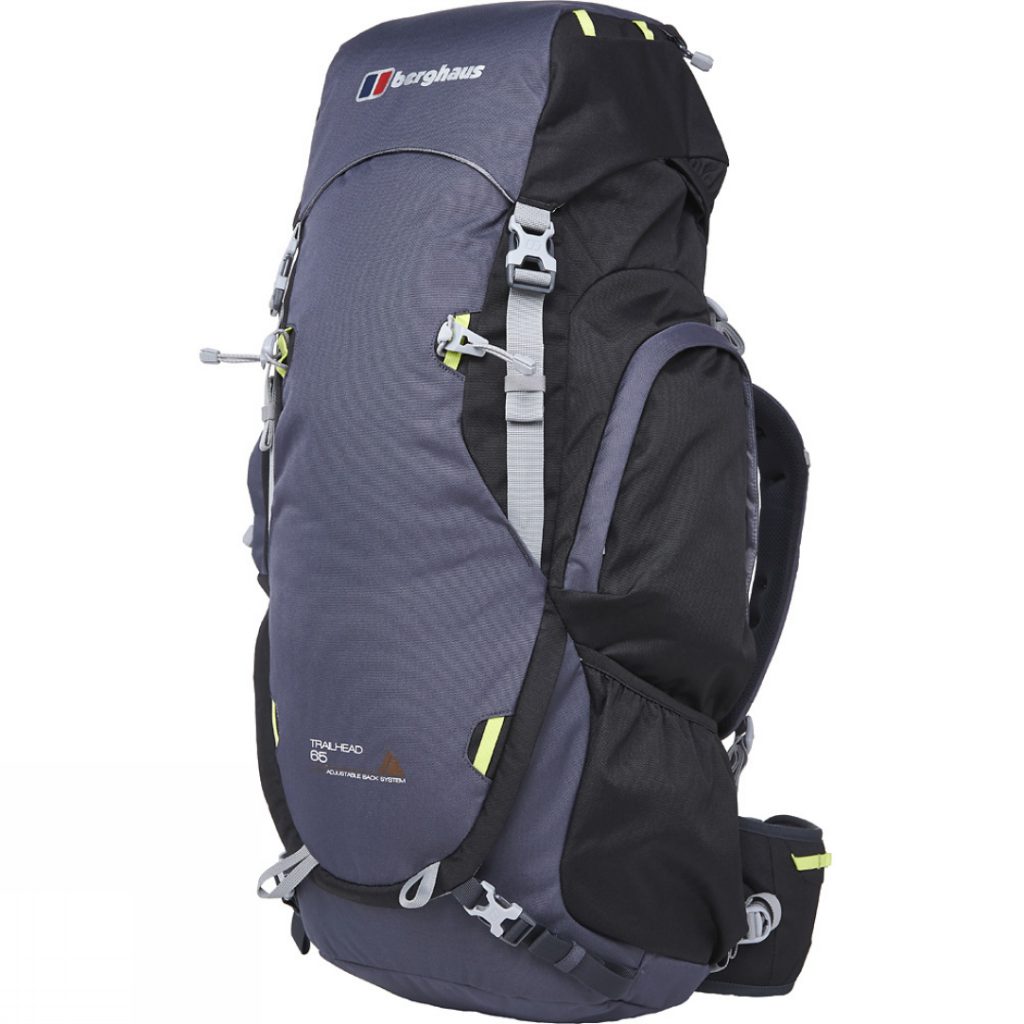 Berghaus has been in the rucksack game since 1971 and their experience is fully on show with this Trailhead bag. The curved hip belt and a bespoke fitting system provide support and flexibility and with a lifetime guarantee, you can be confident you're in good hands. The rucksack is rain resistant due to an incorporated rain cover. The only significant drawback is that with access only possible through the top it can be harder to access your belongings. A lighter, women's specific version is also available.
Available from Basecamp.
3.   Deuter ACT Lite 65:10
Price: €165.00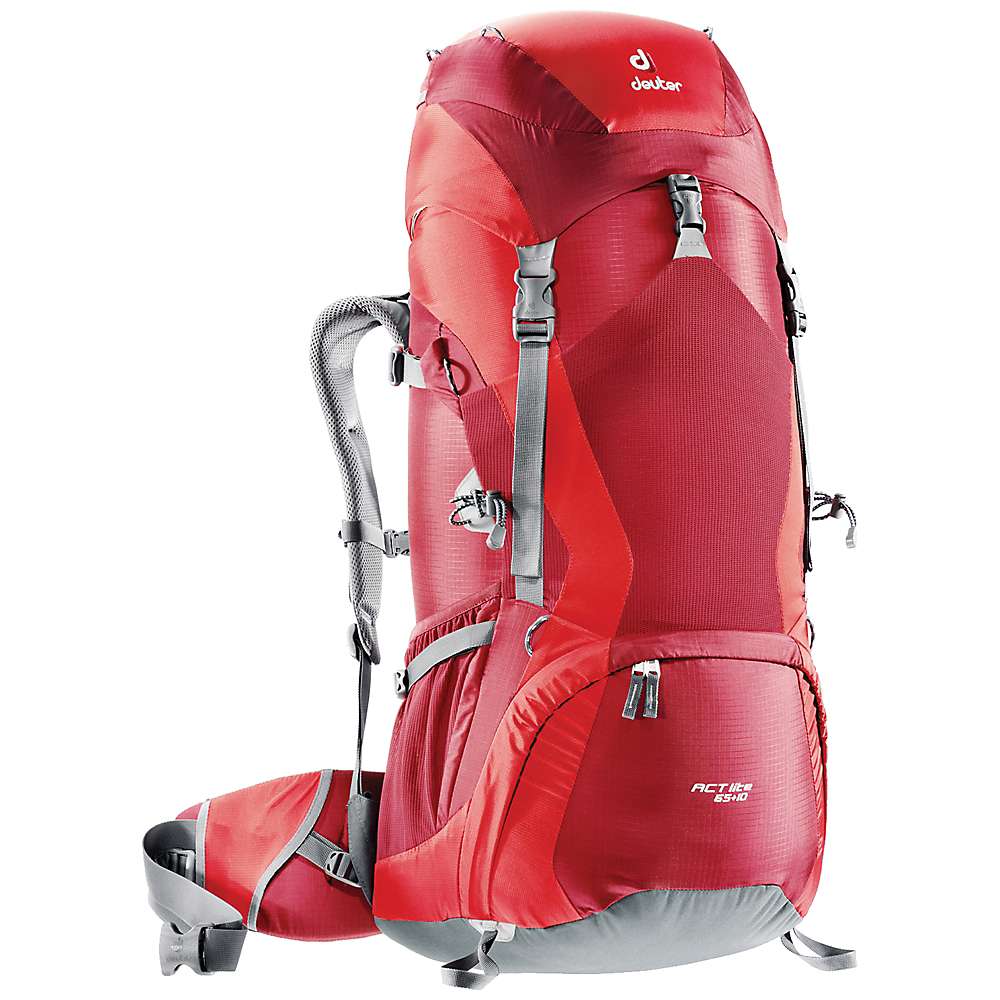 With the option to load from the top and bottom this is a bag that doesn't lack for access. The Deuter ACT Lite has plenty of capacity at 65 litres making it a great option for weekend trips and longer excursions. The German brand has a reputation for build quality and this bag is no different – it should stand the test of time! The women's version has 60 litres capacity and comes with a patronising plastic flower, but does at least fit well.
Available from Great Outdoors.
4.   The North Face Banchee 50
Price: €120.00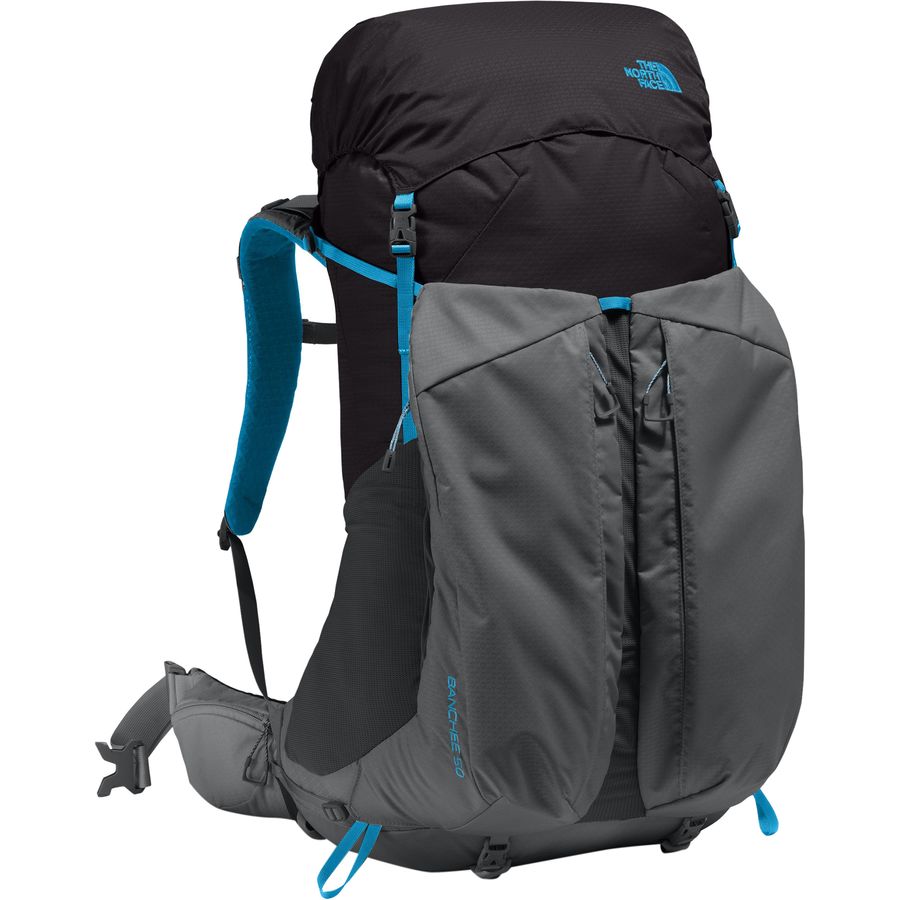 This 50 litre rucksack catches the eye with its minimalist design but is more than just a pretty face. The backpack offers plenty of back support, especially around the lower back, so is a comfortable option for long days' walking. The main body is just one large pocket, it has plenty of capacity but people who like more organisation may be disappointed. The bag is available in a range of sizes, including 35 and 65 litre options should you want something smaller or larger.
Available from The North Face.
5.   Lowe Alpine Cholatse 55
Price: €145.00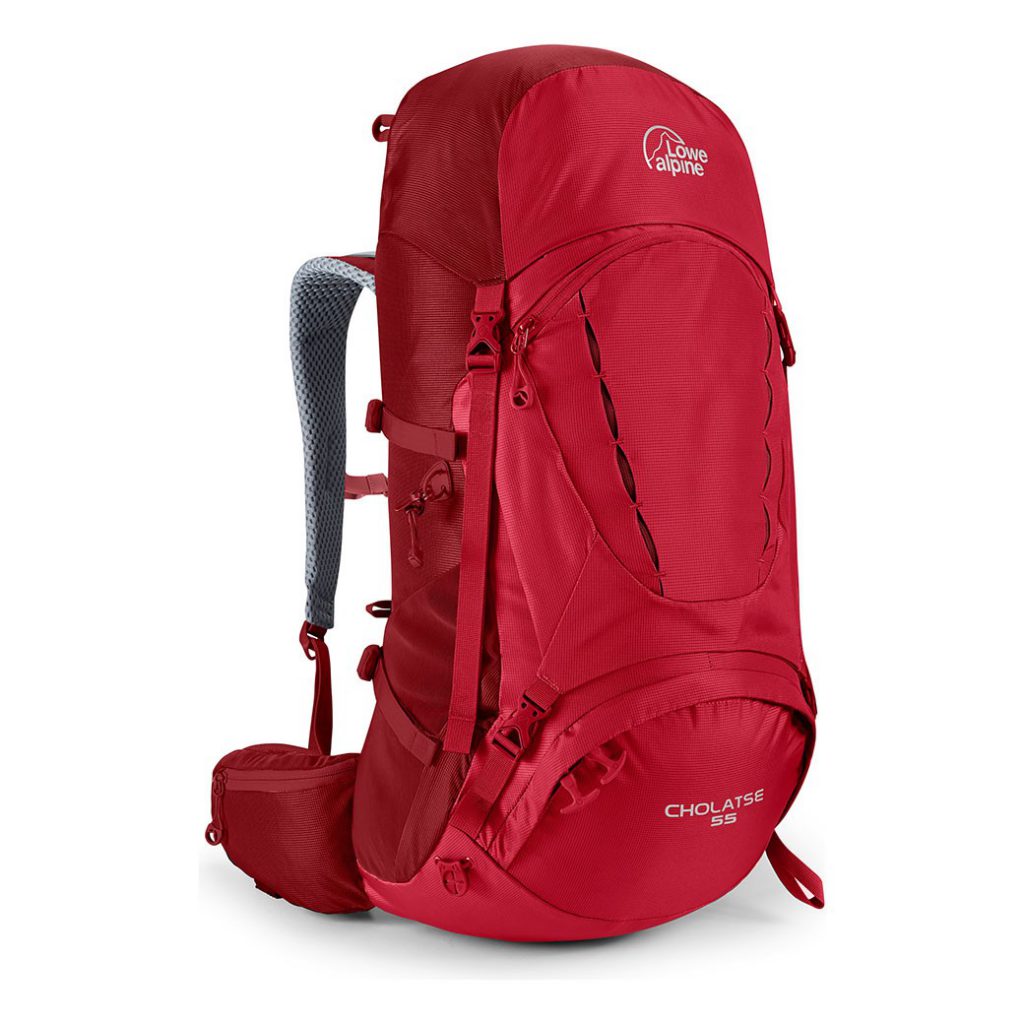 One of the stand out features of the Cholatse backpack is the ease of access. With zips in the top, front, and bottom you'll be able to get at your belongings however you wish. Lowe Alpine backpacks have always been packed with features to keep your back cool and the Cholatse is no different with the aerator back panel proving effective. The Adaptive Fit straps will keep you comfortable and the backpack is also compatible with a hydration bladder to keep your thirst at bay.
Available from Wild Side Sports.
6.   Vango Sherpa 65
Price: €99.00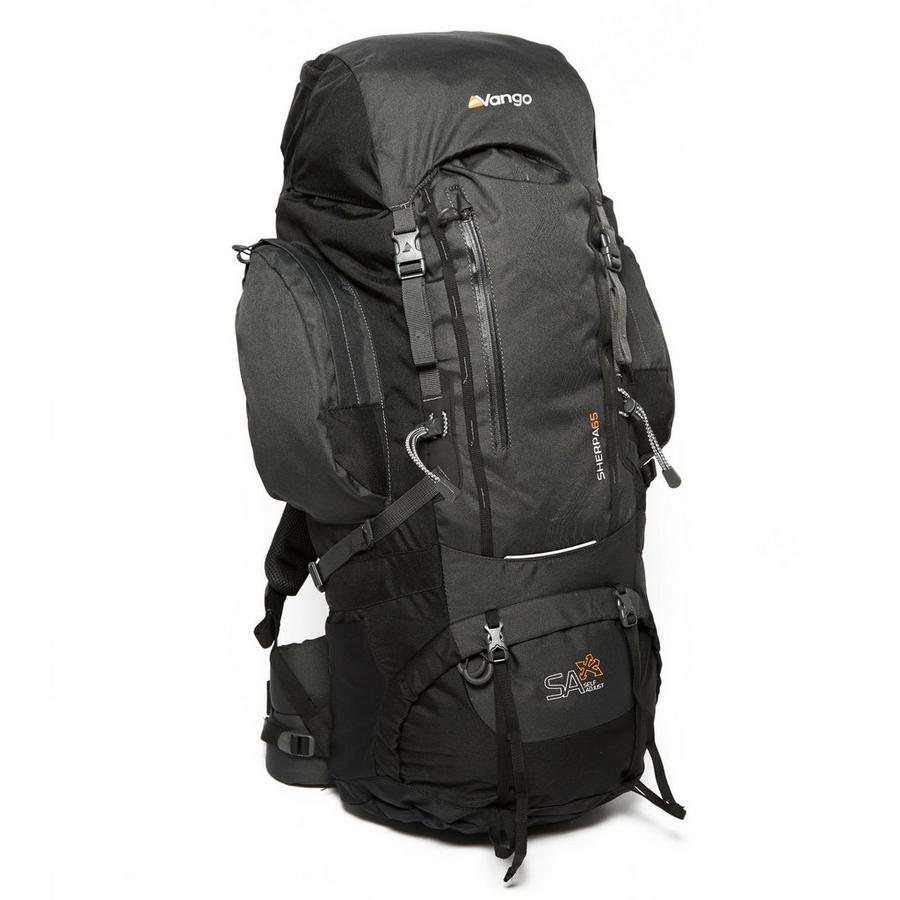 At less than €100 the Vango Sherpa offers a plenty of capacity at a great price. This is a sturdy backpack that should prove long-lasting and comes with an in-built raincover to keep your belongings dry in adverse conditions. This bag offers plenty of capacity and a multitude of pockets so you can pack it to the rafters for your weekend away. It's not as lightweight as some more premium alternatives but this is a no-nonsense rucksack available at a no-nonsense price.
Available from Outdoor Adventure Store.
Check out our Hard as Nails podcast:
Like these? Check out these articles:
Previous Post