Commuting by bicycle is a great way to get to and from work. It keeps you fit, reduces traffic congestion and it's free! However, you do need to take a few precautions to make sure you stay safe out there. 
We've put together some handy tips on cycling safely in Dublin, London or any big city. We certainly do not want to put you off. Cycling is a great activity and should be enjoyed by all. But there are a few simple precautions you can take to ensure you stay safe on the roads.
Road cycling safety tips:
1. NEVER cycle up the left side of a truck, lorry or bus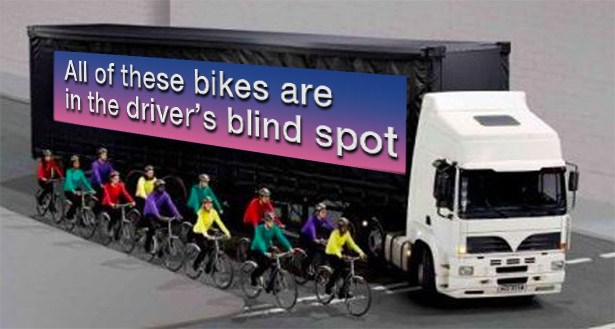 If you only take one precaution on the road, let it be this. It is vitally important. Lorry and bus drivers have a massive blind spot. A huge proportion of cycling fatalities on city roads are caused by lorries turning left. Just hang back, sit behind the lorry and never pass on the inside even if the lorry has no indicator on, it's just not worth the risk.
2. Car pulling out from a side street – what to do?
One of the most common ways to get hit (which happened to me) is a car or other vehicle pulling out from a side street as you cycle along any route. In my case, I was straight in front of the car so can only assume the driver was looking to see what traffic was approaching and not what was right in front of him. One broken arm later, I think we both learned lessons.
5 Ways to Revitalise your Bike
There are a few ways to try to prevent this kind of accident. First, wear a bright front headlight in the dark, or even when it's bright, so the driver is alerted to the flashing light. It can be handy to wave to the driver and try and make eye contact to make sure they've seen you and to slow down a bit in case they haven't. It might seem over the top, but always slow down and never assume a driver won't pull out in front of you.
If you haven't come across the Blaze light already you should. Created to combat this exact problem it projects the image of a bike onto the road several metres in front of you. The light is pricey but it is bulletproof and rarely needs recharging.
3. Stopping at red lights
There is always a bit of debate surrounding this one. In general, whizzing through a red light like you stole it isn't a great idea. And we do see it around Dublin all the time. It is very important to get into a safe position at traffic lights. Again, avoid the left side of large vehicles and even cars. It's best to either hang back or get yourself right to the front of the traffic so everyone can see that you are there.
4. Don't cycle too close to the curb
Many of us, especially those who are new to cycling assume that the safest road position is as close to the footpath as possible. But it's not. On narrow roads where cars really shouldn't be passing you should eliminate the temptation for drivers to skim past you by cycling a little distance from the footpath. This will help to protect you if you find yourself need to swerve a drain or pothole unexpectedly. This riding position will also help to increase your visibility on the road. You want to make sure you are as predictable as you can possibly be on the road.
5. Be Seen
A good set of bike lights and a high vis vest is a very worthwhile investment for cyclists. Don't assume you can be seen under the light of the street lights – you can't. Even by day it is a good idea to have a flashing back light and a high vis. It's all about alerting other road users to the fact you are there!
Check out our Hard as Nails podcast:
Like this? You should check these out: 

Previous Post