Come help light up the night on Friday 24 August 2018 at The National Council for the Blind's Cycle of Light, benefitting the more than 50,000 people in Ireland living with sight loss. Here is everything you need to know about the perfect cycling event to finish your summer on a high!
What is the Cycle of Light?
On Friday 24 August, cyclists will take to the roads of Dublin decked-out in luminescent clothing and lights to ride from Dalkey to Howth and then Howth to Dalkey via the outskirts of the city to raise money for the National Council for the Blind. Cycling lovers from all over Ireland will come to participate in this high-energy, high-octane event around the beautiful Dublin Bay. Ride under the stars while you push your body to its limits, and enjoy being in the company of many vibrant cyclists looking for a bit of end-of-summer fun!
When is it?
More often than not, the only time we get to ride home on our bikes in the dark is on our way home from a late night in the office — and that isn't very much fun. But, how often do you get to fly around the picturesque shores of Dublin at 11 p.m. surrounded by the largest collection of neon t-shirts and jackets, lights, and reflective that you have ever seen?
The ride will begin at 7:30 p.m. on Friday 24 August 2018 and will go into the wee hours of the morning. Refreshments will be served before, during, and after the cycle to keep the positive energy levels up! What better way to spend your Friday night than surrounding yourself with top-notch cyclists beaming in fluorescent colours riding along the beautiful Dublin Bay?
Where is it?
Cyclists will leave from Cuala GAA Clubhouse, Hyde Park, Glenageary, Dublin. Riders will then get to ride along Dublin Bay from Dalkey to Howth and back via the outskirts of the city
Ride for a Cause: 8 of the Best Charity Cycles in Ireland
How long is it?
Cyclists can choose between an 80km course and a 60km course with the option of a relay, but, either way, you will be riding alongside passionate riders cycling for an amazing cause. The cycle is guided, ensuring the safety of participants, also allowing cyclists of similar abilities and fitness levels to stick together. This is a fantastic opportunity to push your limits in a safe, friendly, energetic environment!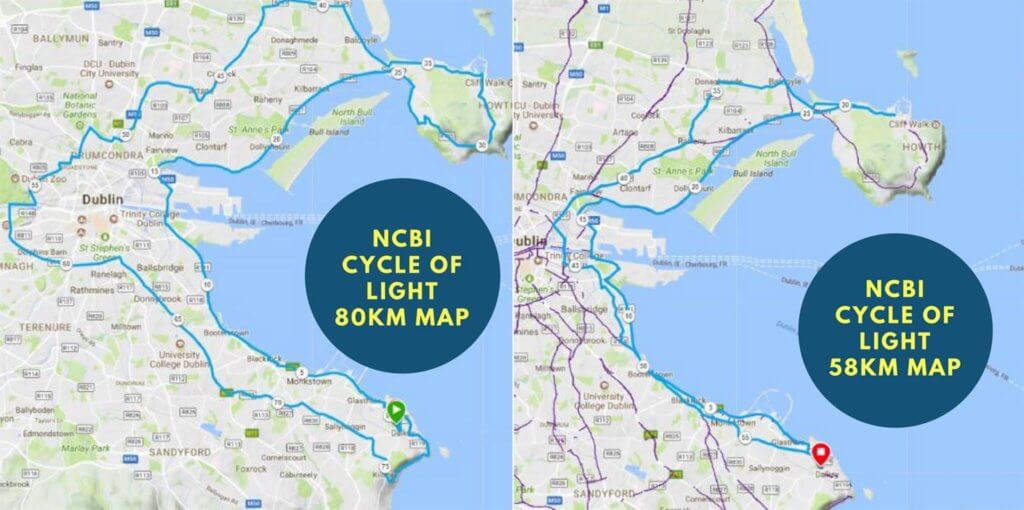 Dress Code?
Bright! Every cyclist is urged to wear their brightest and most reflective clothing for the event, and are encouraged to be creative with their use of lights!
Why Should You Sign Up?
For people living with sight loss, seemingly mundane things such as brighter lighting or vibrant, coloured markings can make life easier and safer. Cyclists know that song well, relying on neon, reflective clothing and high visibility markings to keep them safe and efficient while riding in the dark. So, to honour those living with sight loss, and to raise vital funds for their aid, the NCBI wants to illuminate Dublin with as much energy and light as possible.
For the 51,718 people currently living with blindness in Ireland, everyday life is filled with constant obstacles, such as reading, writing, registering road signs and recognising faces. Plus, each participant receives a goodie bag and medal upon completion of the race!
Fundraising?
The initial deposit for registering for Cycle of Light is €100, with a minimum fundraising amount of €150 as an additional contribution. The funds raised will go directly to NCBI, who works day in and day out to provide support services for those in need.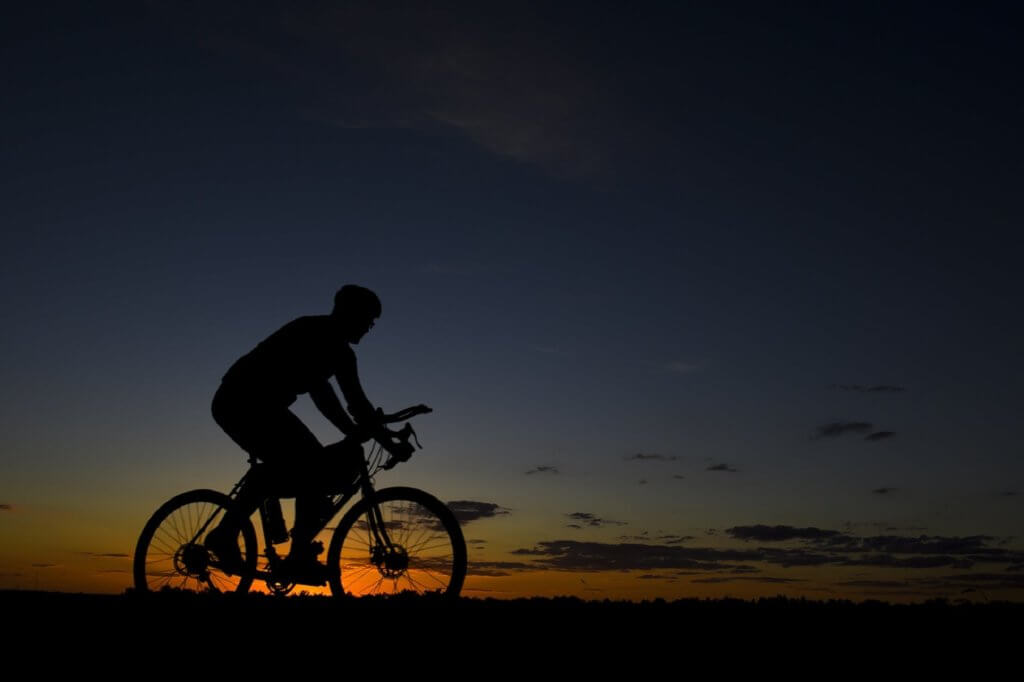 What is NCBI?
The National Council for the Blind is a non-profit charitable organisation which provides support and services nationwide to people experiencing sight loss. The #TeamNCBI provide everything from advice and information, emotional support and counselling, low vision solutions, rehabilitation training, employment support, and social activities for those struggling with sight loss.
How Can I Sign Up?
For more information, and to register, visit NCBI, email cycleoflight@ncbi.ie, or call (01) 830 7033.
Brought to you by: 

Check out our Hard as Nails podcast:
Like this? Check out these other articles:

Previous Post

Next Post