Why in the world would anyone choose to participate in Christmas swims in Ireland?
Christmas morning is thought to be one of the most magical times of the year. After all of the stress and anxiety of picking out the perfect presents and getting everything organized, you are finally able to sit down on the couch with your cup of tea and maybe a Christmas biscuit.
Now, after all of the presents are opened and the wrapping paper lay crumpled and shredded on the floor, some people would be content to simply lounge on the couch, listening to Christmas music and perhaps watching a movie or two on television.
However, some of the more adventurous (and maybe a little crazy) ditch their slippers for flip-flops and trade in their pyjamas for togs in order to join the thousands of people all around the country who participate in Christmas Day swims. These brave souls strip down to their suits, possibly only leaving on a Santa hat, and jump into frigid waters all around Ireland. In many cases, these swims raise money for various charities. But, apart from the fundraising, these swims provide an extremely exciting spin on Christmas Day as you surround yourself with energetic, like-minded people who want to test their limits, even on Christmas!
So, dive into the holiday season and check out the 12 best Christmas swims in Ireland.
1. Bundoran, Co Donegal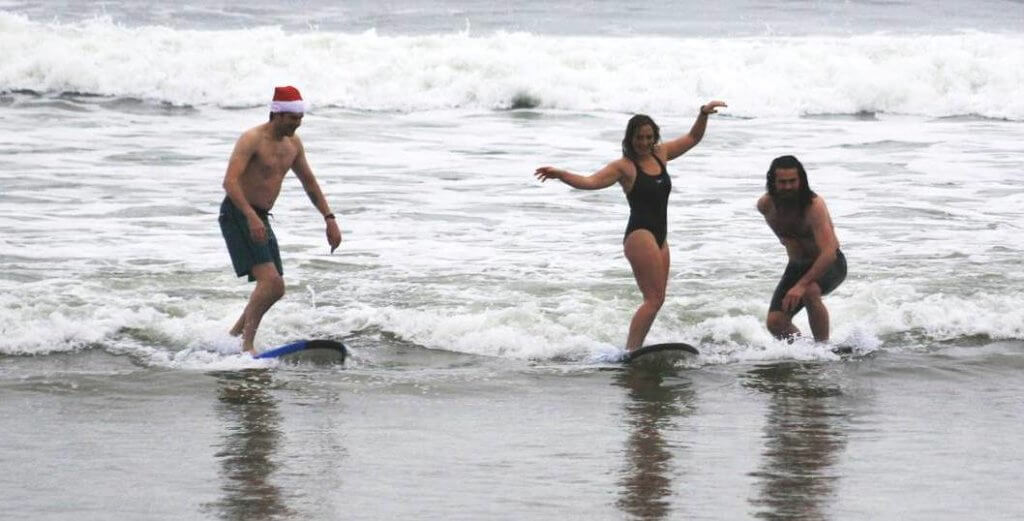 The 2018 Christmas Day Swim in Bundoran will take place at 12:15 p.m. on December 25 on Main Beach, Bundoran. The event will raise money for Ozanam House/St. Vincent De Paul. Join the scores of people who show up to sprint into the freezing Atlantic before their Christmas meal!
2. Carlingford, Co Louth
If you're looking for a bit more of a challenge this Christmas, Carlingford's annual Christmas Eve pier to pier charity swim is organized by the Carlingford Sailing Club and encourages swimmers to swim from King John's pier across to the south pier and back. The swim is approximately 300 metres in total, so it is not just a dip-in, dip-out! Wetsuits are not mandatory, but are highly encouraged.
3. Clontarf, Co Dublin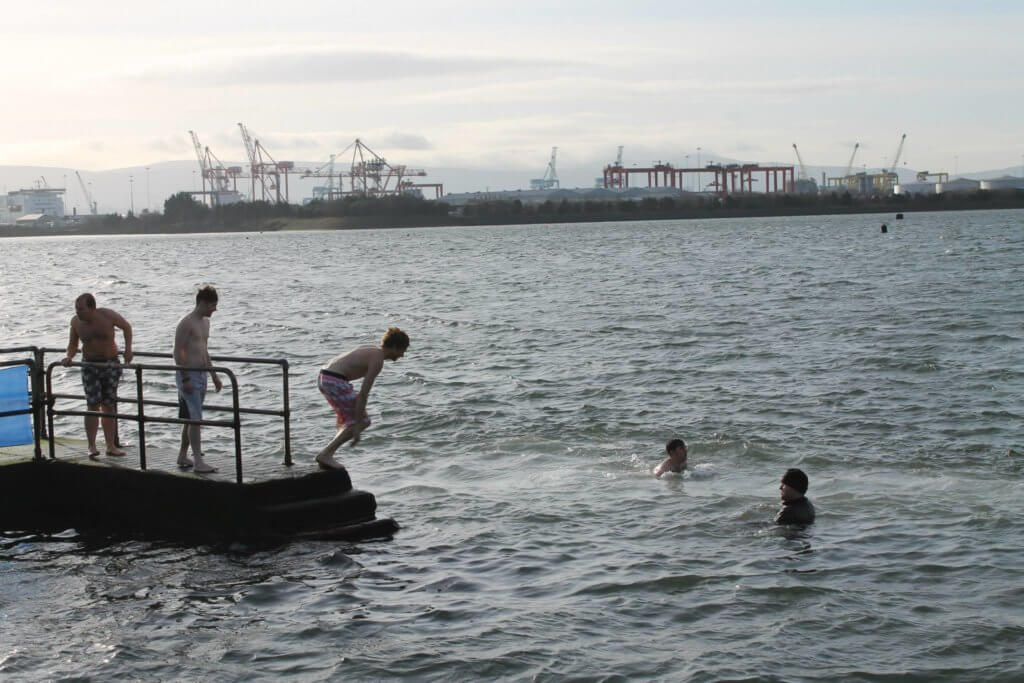 This annual swim is organized by the Clontarf Yacht and Boat Club and raises money for the Royal National Lifeboat Institution. Participants will gather at 1 p.m. and run into the waters from the slipway across the road from the Boat Club.
4. Skerries, Co Dublin
The Christmas Day swim in Skerries is held at 12 p.m. on the slipway across from the Skerries Sailing Club.
12 of the Best Christmas Gifts for Water Lovers
5. Derrynane, Co Kerry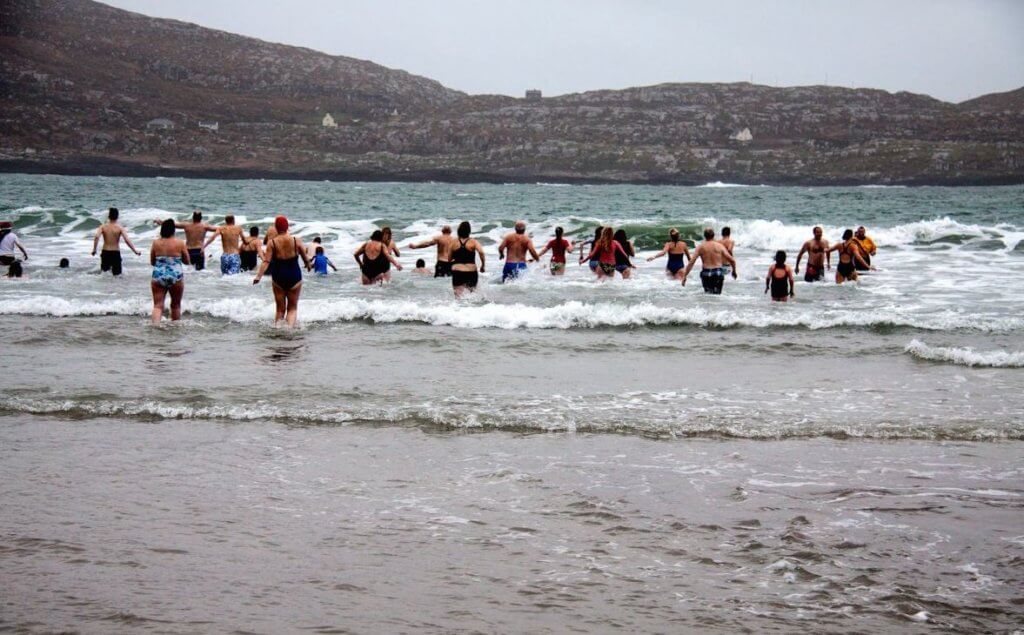 Swimmers gather at noon on Christmas Day to sprint into the Bay.
6. Fenit, Co Kerry
The Christmas Swim at Fenit is arguably the largest swim in Munster. Hundreds of people leave their warm houses to congregate on Lockes Beach at 12 p.m. Hundreds more people gather at the pier just to watch as Santa and Mrs Claus lead a chorus of Jingle Bells before signalling the stampede to the ocean!
7. Forty Foot, Sandycove, Co Dublin
The swim at Forty Foot is an all-day, ongoing event. Show up at any time to join the queue on the rocky platforms, watching as eager swimmers jump into the frigid sea! If you're not too keen on jumping feet first into the cold waters, you can also go just around the corner to Sandycove itself to wade into the water at your own pace.
8. Galway Bay, Co Galway
The annual Cope Galway Christmas swim raises funds to support the homeless and vulnerable people in Galway. The swim will take place between 10 a.m. and 1 p.m. in Blackrock, Salthill. Last year, over 450 participants braved the cold Atlantic waters to help support COPE. Registration is €10 for individuals and €30 for families.
9. Rosslare, Co Wexford

Swimmers gather on the Rosslare Strand on Christmas Day at 12 p.m. to experience the thrill of the freezing waters of December.
10. Guillamene, Co Waterford
This Christmas, join the Newtown and Guillamene Swimming Club from 10:30 – 11:30 a.m. to give a shock to your system as you dive into the ocean. This year's event is raising money for Waterford Viking Halliwick Swim Club. After a quick dip, enjoy hot soup, tea, and coffee with friends and family, provided at the event.
Nuala Moore Becomes First Woman in History to Swim Off of Cape Horn
11. Gortglass Lake, Co Clare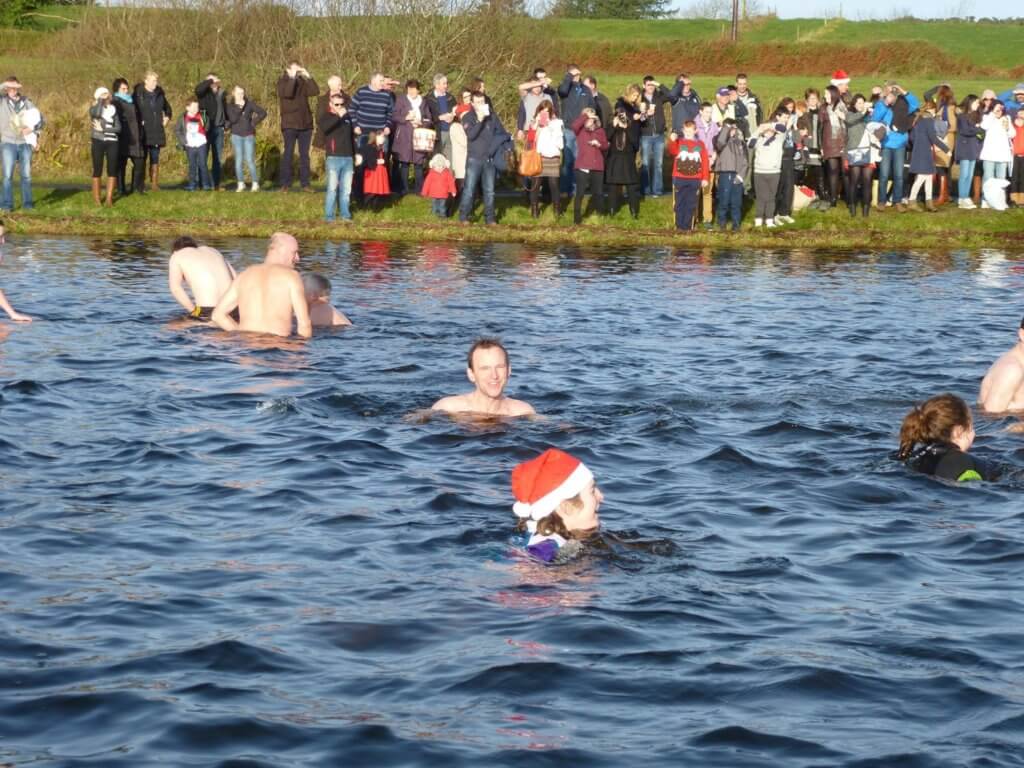 Beginning at 12:30 p.m., join a hardy band of locals as they sprint towards the lake in celebration of Christmas Day.
12. Lough Lannagh, Castlebar, Co Mayo
Due to the extremely low temperatures of these waters, this swim is not for the faint of heart! Join in the queue to jump off the dock into the frigid waters, and come out with a bit of a shock to your system.
Check out our Hard as Nails podcast:
Like this? Check out these other articles: