If you are a swimmer, a cyclist, a runner or a triathlete (all three) then we're pretty sure the thought of an Ironman has danced around your mind at least once. You may have followed through and paid your admission fee, or chances are, you squashed the very thought with the excuse that you are not capable.
Caroline Heffernan (48) from Tuam, Co Galway will soon rid you of your excuses. Caroline has Cystic Fibrosis. On 7 October 2018, Caroline competed in Ironman Barcelona to become, what we believe, is the first Irish person with CF to complete an Ironman.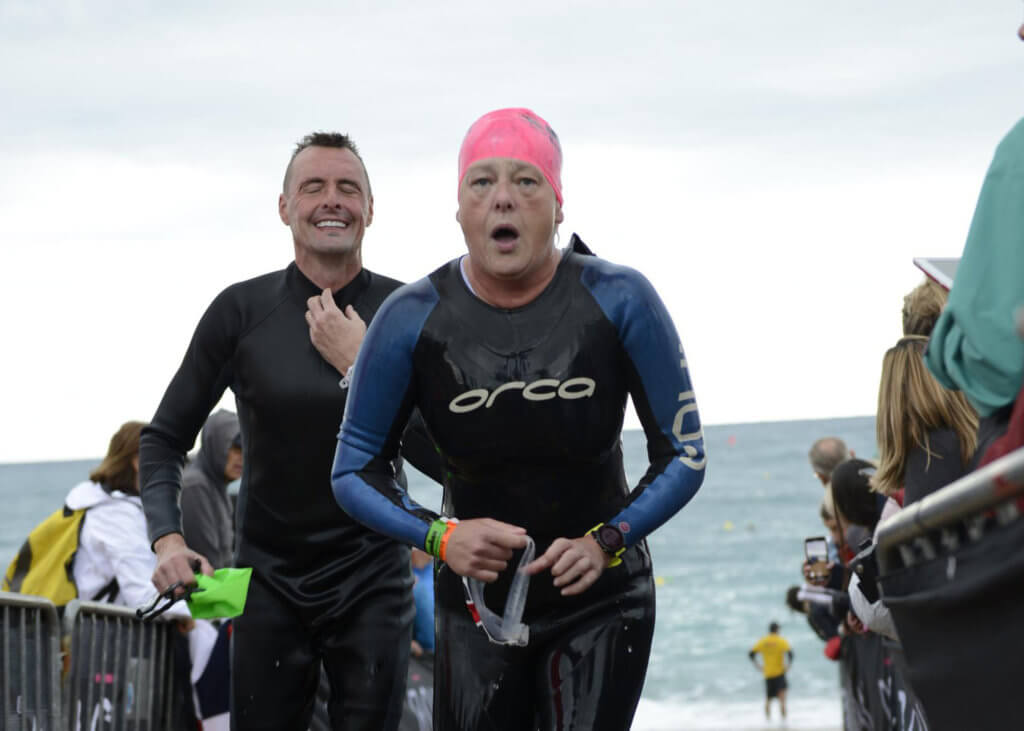 Her diagnosis came as a bit of a shock to everyone and was a long time coming. "I wasn't diagnosed until I was 13. In sixth class, the nun used to slap me across the back of the head to wake me up because I was falling asleep. That was the first sign. Then I got the flu and it got worse and worse and they were throwing antibiotics into me to try and stop it. After a year my Dad had enough and he marched me back into the doctor and said, 'do something with this girl, she's off school constantly'.
"They actually thought I had TB for months. I had no other symptoms other than this horrible cough that nothing would hit and a constant chest infection. I suppose because I was 13, CF wasn't something they'd considered because at that stage, you're talking the early 80's, most people with CF were very sick and were on their last few years."
Kiko Matthews: From Cancer to World Record Holder for the Fastest Female Solo Row Across the Atlantic
"That was probably the worst time, when everyone thought I had TB because I was told I could go back to school and people in the corridor would look at you like, 'oh that's the girl with TB'. They'd walk towards you and then walk around you. People were told they couldn't come to our house anymore. Everyone was paranoid that they were going to catch TB. That was harder nearly than the diagnosis of CF because of the impact on me. There was almost a relief for everyone around me that I wasn't contagious any more."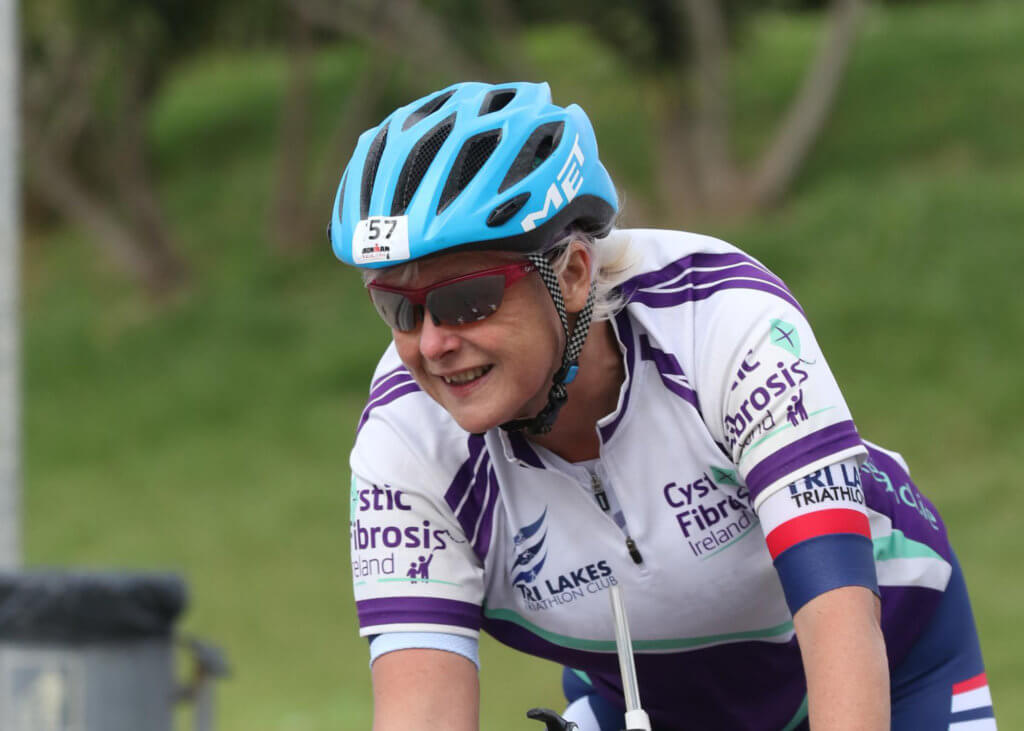 Since her diagnosis all those years ago, Caroline has proved a force to be reckoned with, defying the odds at every turn. Her mother was told that she wouldn't live to reach twenty when she was first diagnosed. Caroline is now 48 years old. "I just won't give in. I'm as stubborn as a mule. In my teenage years, everyone that I met with CF, 90% of them have now passed away. It was quite an emotional roller coaster. I somehow managed to turn the negatives into positives and I thought, 'I'll live for them as well'.
"As I got older, I had to have more and more IVs. My lung function dropped down into the 40's and 50's. I was doing everything right, doing four hours of treatments a day, plus exercise. I was 99% compliant. I remember my doctor saying, 'I just don't know what to do, Caroline, we're not getting anywhere.'"
That's when everything changed. The new drug Kalydeco came out and Caroline managed to get on the trial for it. "Within an hour of starting it, I knew that it was going to work. I went up the stairs to bed and it was the first time in years that I climbed the stairs without having to stop to cough or catch my breath. And it just got better from there. My lung function went from 50% up to 80% and stabilised around 70%. It has given me years on my life."
Already a triathlete and member of Tri Lakes triathlon club in Galway, Caroline started to entertain the possibility that she may be able to do an Ironman! "I went out to Barcelona to support my sister doing IM Barcelona two years in a row and my friend did it twice and we went out to support him. I was watching them and thinking, 'I wonder could I do it?'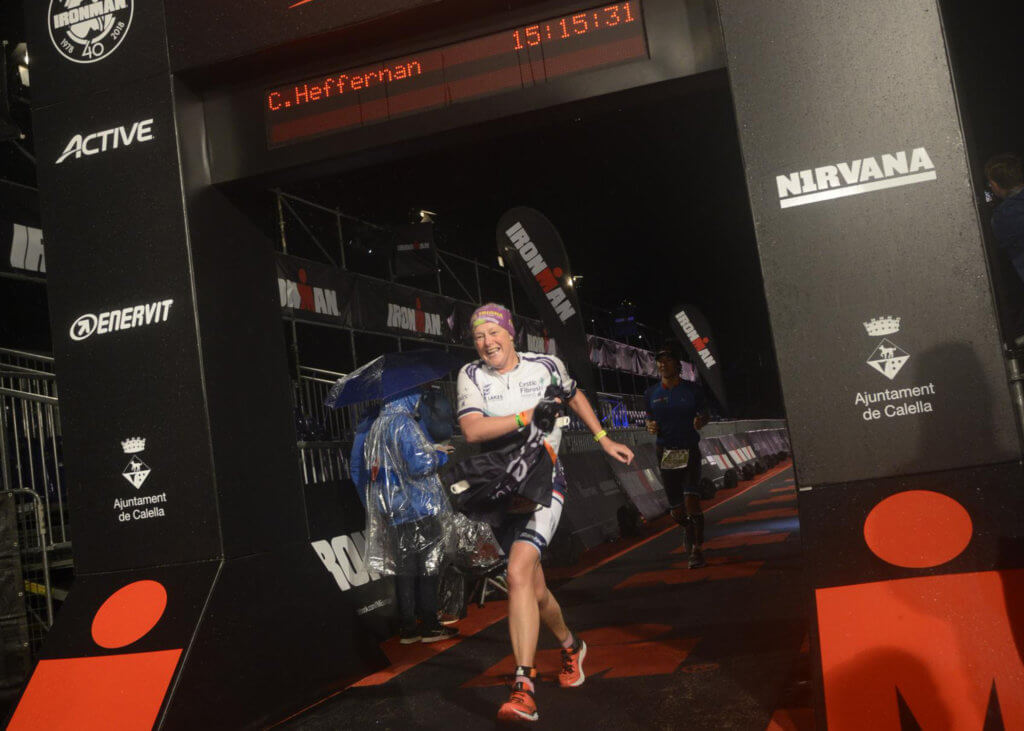 "I have to train longer and harder than most people but I don't mind that. So I started training. I was out in January for a month after I got some viral infection. I came back from it and I was pretty much ok until about two weeks before the Ironman." After some strict bed rest and pure stubbornness, Caroline arrived at the start line of IM Barcelona 2018… and was greeted with thunder and lightning. "I got in for a warm-up and got battered getting in and tumbled getting out. I had two choices to either get in and see what happens or to stand on the sideline and not bother so I said, 'well I'm not going to not get in.'"
And off she went.
"The water was so rough. My goggles got kicked off. When I did the turnaround to come back, a wave came and lifted me and I landed on a poor man. It was so rough that they had a line of men standing there to pull you in. The bike was perfect but it was wet and windy. For the run, I'm not built for running and at this point, it was torrential rain, the best Galway weather they could throw at me! I walked a lot of it. Yet, there wasn't one point that I thought I couldn't do it. And all of a sudden, the finish line was in front of me. It was incredible but surreal. They played Sweet Caroline at the end."
Completing an Ironman is an incredible achievement for anyone but doing it with CF is truly inspiring and Caroline hopes it will inspire others to take on a challenge of their own. "If by me doing something extreme like an Ironman can encourage others to do something small, be it wiggle their toes because that's all they are able to do if they are on transplant or for parents to realise that their kids with CF can go outside and play football in the rain as long as they come in and have a warm shower afterwards. It's about encouragement and excitement for everyone and that people with CF can't just be wrapped up in cotton wool, that they should get out there and aim for the stars."
Have you listened to our awesome podcast yet?
Like this? You should check these out: