Alex O Shea (44) has managed to pull off the unfathomable: 32 marathons in 32 counties in 16 days.
The Cork firefighter is a machine. He ran his very first marathon at the age of 40 in full fire gear. And he did it in a time of 3 hours 41 minutes and 10 seconds. Quickly discovering he had a talent for endurance events, he went on to compete for Ireland at the 100km World Championships in Spain in 2016. He also won silver medals in both 50km and 24 hours national championship events in 2017. And his latest accomplishment happened in September 2018, when he tore up the rule book and ran 32 marathons in 32 counties in 16 days. He did so to raise money for Irish Guide Dogs.
Here Alex tells us just a few of the things that stood out to him on this most epic of challenges.
1. Food is Fuel
"You have to eat before you go hungry, you have to drink before you get thirsty. You have to always keep ahead of the curve. I was consuming somewhere between 7,000 and 10,000 calories per day. When I felt a slump, I knew that it was down to not getting in enough calories as opposed to something physical. The day that I felt a slump hit I bought a big tub of ice-cream and sat down that night and ate a third of it.
"I'd get up in the morning and I'd get a dinner sized plate for breakfast, half of it would be scrambled eggs piled high, a quarter of it would be beans, the other quarter would be mushrooms. I'd have a slice or two of toast, two glasses of orange juice, a big bowl of porridge that I'd put muesli on and loads of honey. Within an hour I was out to run a marathon.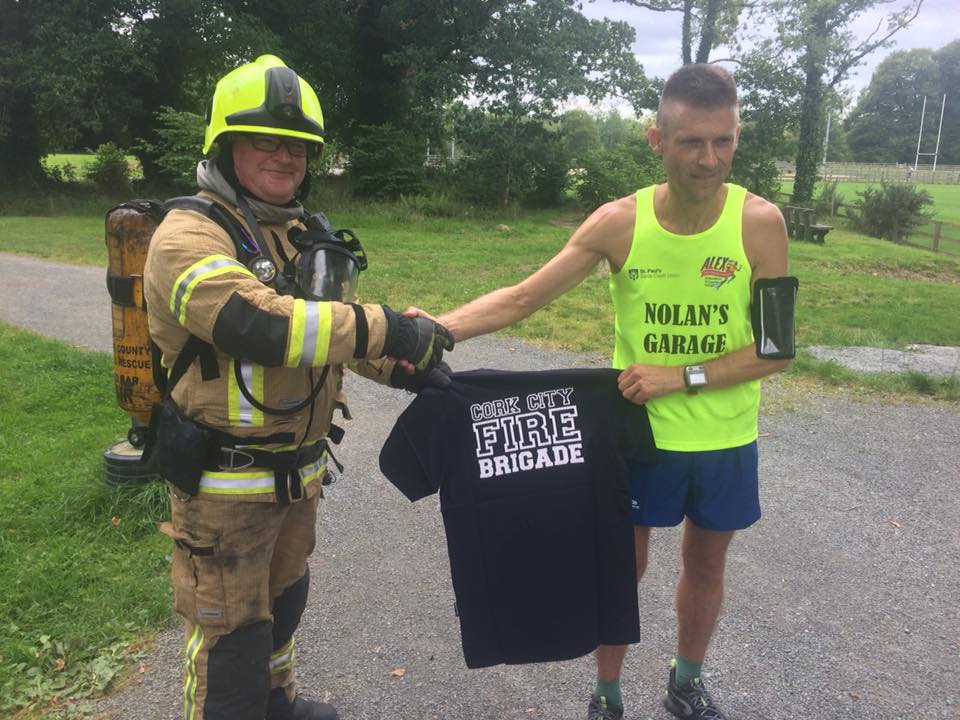 "After about three miles, I'd start eating and drinking again. It could be a little bar of chocolate or a slice of melon. I'd rotate between chocolate and fruit. We basically turned the body into a hybrid engine. If I was to run a single marathon and race as fast as I could, my time is 2 hrs 34. I would only burn carbohydrate running and performing at that level. If I was to go into this challenge and only burn carbohydrates, I would get to the point that the body couldn't consume enough, couldn't store enough, couldn't produce enough glycogen from the carbohydrates. The body couldn't produce enough energy to meet the demand and then at some point your muscle would be broken down for energy and you'd actually start eating your own muscle for energy. That's when serious injuries and illnesses start to present themselves.
"We found the ideal pace to eat food at so as that all the blood wasn't all in my legs, that some blood was still in my stomach for digestion. It was a very scientific approach. Food became fuel and nothing more, you had a disconnection with it. You didn't get the high of eating a bar of chocolate like you do when you're sitting at home. It became work. There was never a fear that we were eating too much. After finishing the whole event I was down only about half a stone in weight.
Endurance Injury Prevention: Tips from the Professionals
2. Don't give up if you are not naturally athletic as a child
"As a child, I wasn't the runner in the family. My sister was the runner. She was the one who came home with medals and I was always absolutely last. I never progressed at any level in sports until I became an adult. When I did my first marathon at the age of 40, I did it for charity and I ran in my full fire gear. I was quite insecure going into it. But I ended up doing it in a really good time; in 3hrs and 41 minutes. I took nearly an hour off the Guinness World Record. And people started saying to me, 'If you can do that in that time what could you do without fire gear on?' It took a full year for me to run my next one and I ran it in 2 hours 48 minutes.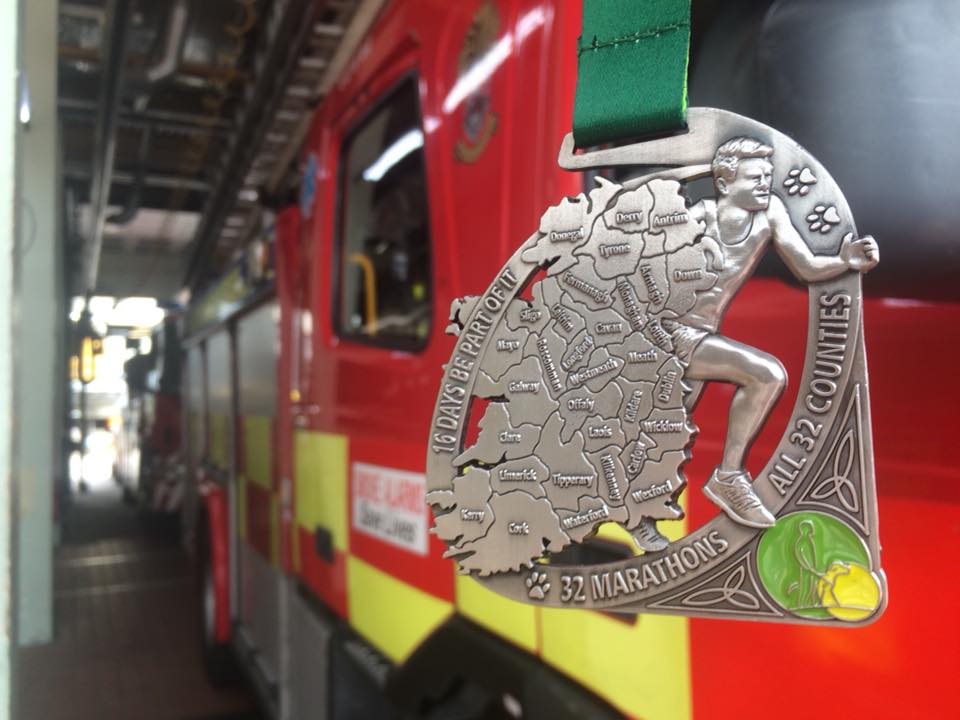 3. People are kind
"It was the sheer generosity and kindness of strangers along the way, you just couldn't prepare for that. My wife and kids travelled up from home to support me when we were in Monaghan. At the end of the day, I came back into the car park and met my wife. I asked her where the kids were and she pointed to a house that was looking down on the lake and said, 'Do you remember the lady who was here at the start, well that's her house. The kids are all up there watching telly, eating dinner and their jumpers and jackets are in the tumble dryer.' We had never met this woman before in our lives.
"There was a man in Galway who turned up and opened the boot of his car and said, 'I was in the shop. I can't run but I just wanted to do something.' He handed us out a big slab of water and a bag of fruit. We just had all of these little experiences that were just lovely.
"We stayed in Templemore training college because Ollie is a guard. We were doing a loop across the road from the college for the marathon and every time we passed the gates of the college a new set of recruits would come out and run with us. So 40 or 50 recruits would come out for each lap.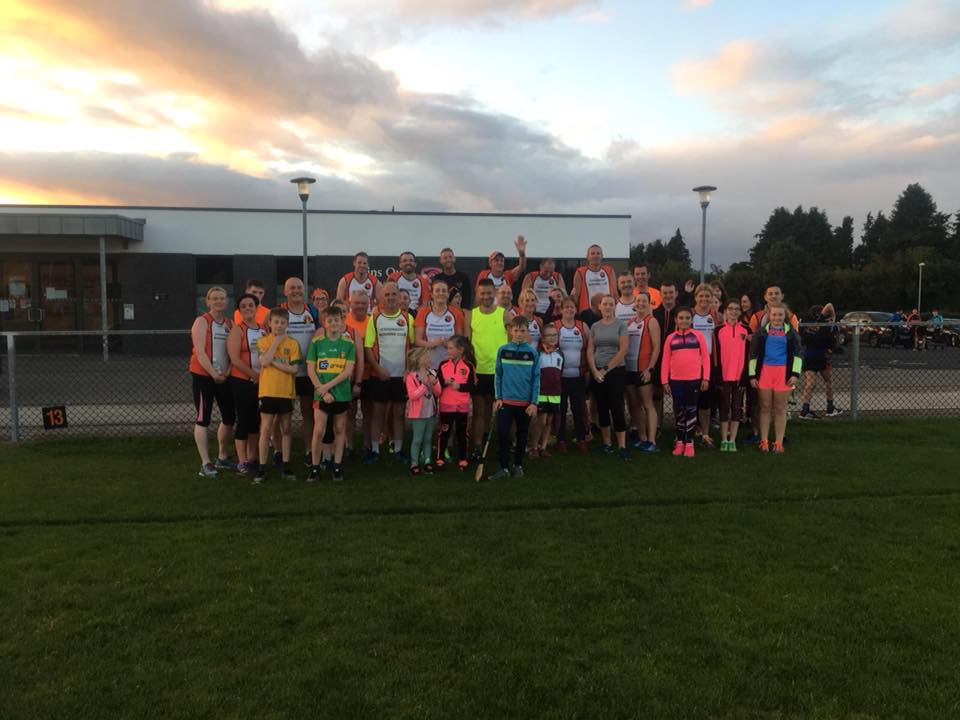 4. Limits Do Not Exist
"Can it be topped? Yes. I could have done more and I could have done some of them faster. When you're the person who does something first, you are the person to break the ceiling. The four-minute mile wasn't achievable until someone did it. And then the next person said that can be done faster. Every record can be broken. I know now that I could make certain improvements that would make me faster."
To donate to Irish Guide Dogs, text WOOF for a cost of €4 to 50300.
Have you listened to our awesome podcast yet?!
Like this? You should check these out:

Previous Post

Next Post