Spice up your San Francisco city break with a big old dollop of adventure. These activities will make sure you have a holiday to remember.
The first and perhaps the most appealing thing to strike me about San Francisco is its easy access to the outdoors. Mountain biking, trail running, sailing, kayaking, swimming… you name it, they are all on offer on the doorstep of this cosmopolitan city.
Having visited San Francisco a couple of times now, I've been fortunate enough to take part in lots of outdoorsy activities in both the city and the surrounding areas. Here are my top five favourites adventurous activities in San Francisco.
1. Cycling across the Golden Gate Bridge: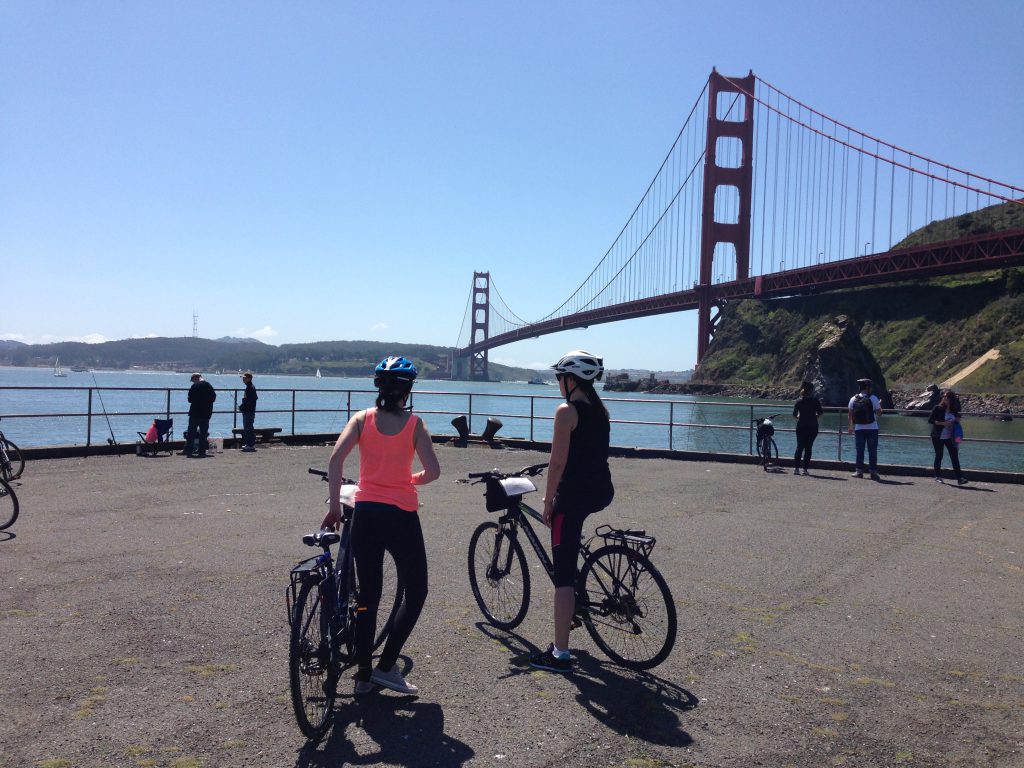 No trip to San Francisco is complete without a casual cycle from downtown San Francisco to Sausalito on the other side of the bay via the Golden Gate Bridge. Leaving the impressive sky line of the city behind us, we wove our way around the bay, stopping to take pictures and soak up the atmosphere. Crossing Golden Gate Bridge was surreal. The landmark which I had seen on the big screen so many times was just as impressive in the flesh.
What to expect: The opportunity to cycle across the Golden Gate Bridge, spectacular views of San Francisco Bay and a long lunch in the gorgeous town of Sausalito post-ride.
Essential info: You can opt to do the cycle both ways to Sausalito, but if a long lunch and one too many glasses of prosecco leave you feeling a little lack-lustre you can catch a ferry back to San Francisco and simply cycle the short distance from the ferry terminal to the bike shop to return your bikes.
We rented bikes from Blazing Saddles who has five stores in San Francisco. Bike rental costs $8 per hour or $32 per day.
Don't miss: Salito's Crab House serves scrumptious soft shell crab which I the perfect accompaniment to a cold glass of prosecco on a sunny day while seated on its waterside deck.
2. Kayaking in San Francisco Bay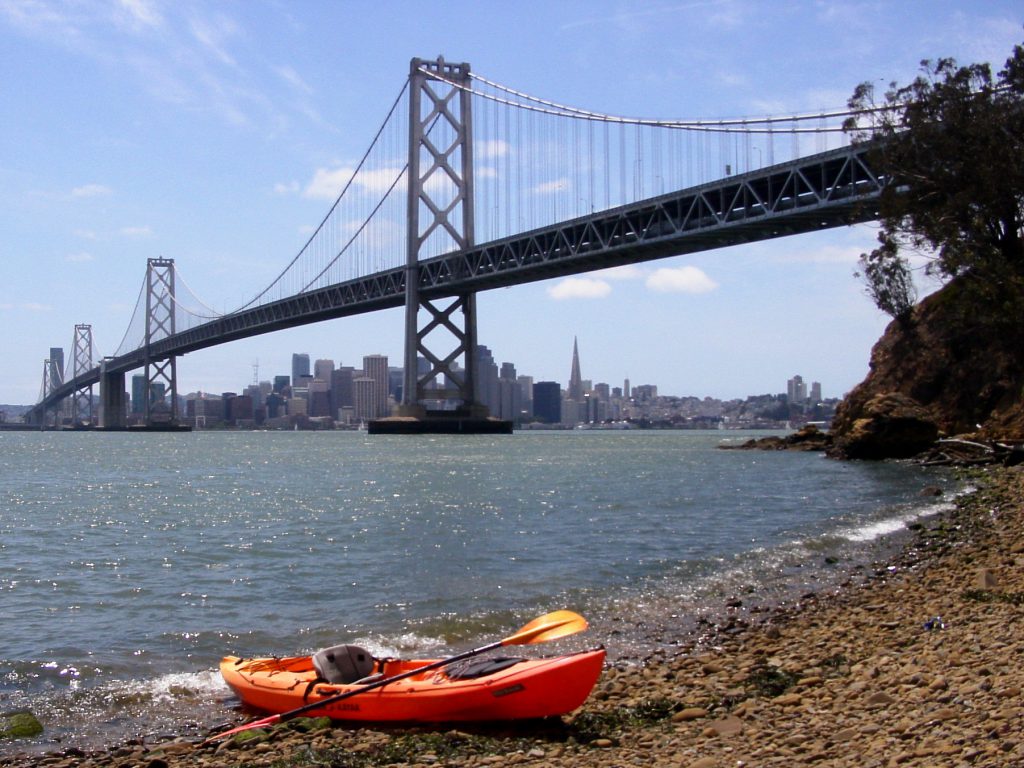 Kayaking offers you a completely different perspective of the city. And in my opinion, there is no better time for a city kayaking trip than at dusk. Starting out in the daylight, dusk looms as you paddle along the bay. All of a sudden the skyline is transformed into a sea of twinkling lights, it is magical.
What to expect: Unrivalled views of the Bay Bridge, McCovey Cove and Lefty O'Daul Draw Bridge.
Essential info: The sunset trips are only available on Thursday and Friday evenings so if this doesn't suit and you have previous kayaking experience I would highly recommend the advanced kayaking trip offered by City Kayak. Taking approximately three hours you can soak up the sights of Alcatraz and The Golden Gate Bridge.
The Twilight Kayak with City Kayak costs $66.
Don't miss: A post kayak glass of wine and slap-up meal at First Crush. This intimate wine bar offers 30-by-the-glass offerings with a further 200 wines by the bottle. Food-wise you can opt for charcuterie and oysters, although after a couple of hours paddling it's more likely that you'll opt for Maine lobster mac and cheese or the Angus rib eye!
3. Cycle Highway 1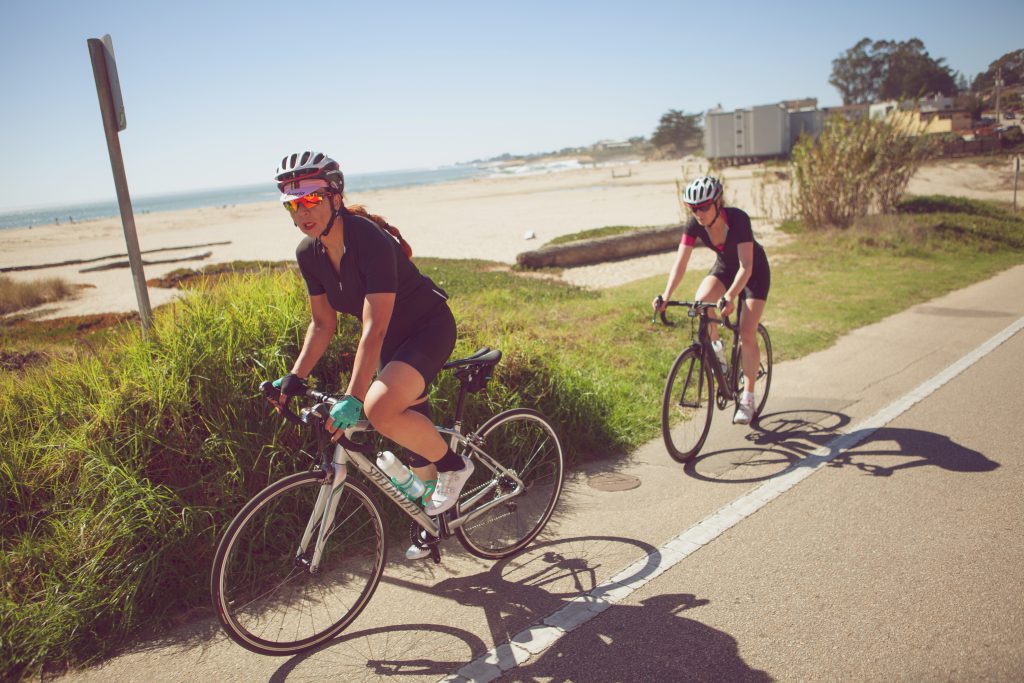 Cycling Highway 1 is something everyone should do at least once in their lives. It offers incredible riding right next to the ocean with ample opportunity to explore old-school surfer towns along the way like Santa Cruz.
What to expect: Highway 1 is nice and wide with ample space for a pack of cyclists. The road which stretches for 250 miles down the Californian coast is characterised by rugged cliffs plunging towards angry surf below. The landscape is punctuated every so often with a white sandy beach that has no regard for boundaries and spills onto the road.
Essential info: Those who are after a multi-day adventure may choose to opt for touring bikes and tackle the entire route from San Francisco to Morro Bay. I was not quite so adventurous so opted to ride the 75 miles or so from San Francisco to Santa Cruz. If you haven't brought your own road bikes State-side then Blazing Saddles will also be able to rent you a high-end road bike for as long as you need.
Don't miss: Burger in Santa Cruz is insane. And I mean that is the best way possible. It brings the term burger joint a whole new meaning. Think quadruple decker burgers, cheese toastie burgers (yes the burger sits between two toasted cheese sandwiches!) and truffle fries.
4. SUP in Santa Cruz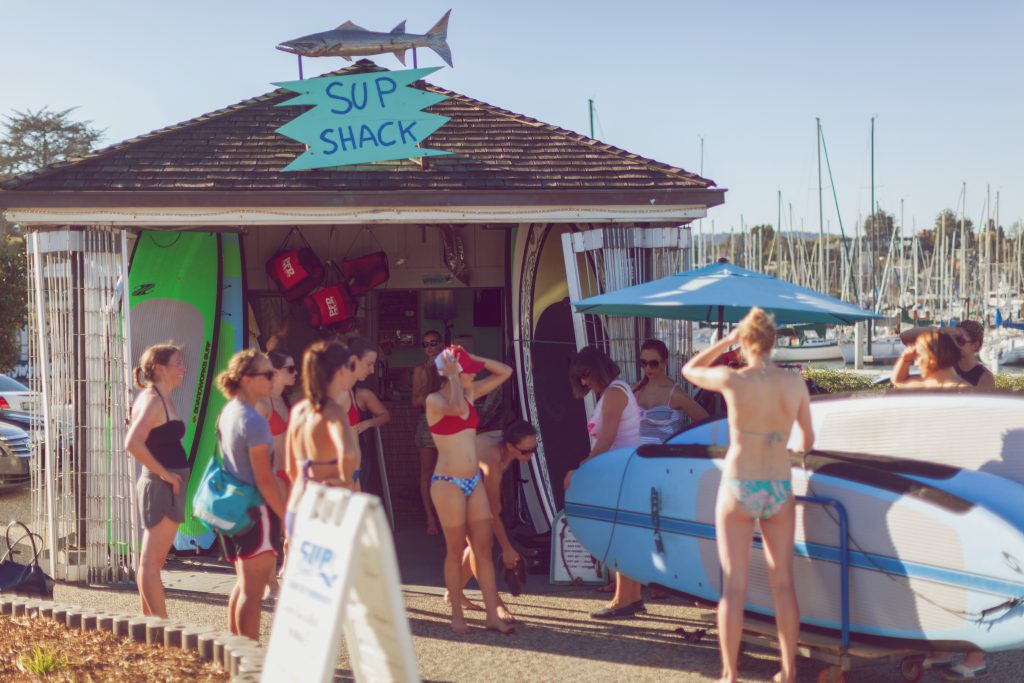 It seems a pity to leave Santa Cruz before taking part in at least one water based activity. After our exertions the night before in Burger, we decided that a spot of relaxing Stand Up Paddle Boarding was just the ticket.
Further confirming that the Santa Cruz stereotype is, in fact, a reality, our SUP instructor introduced herself at Star Jam. The petite, tanned, beach blonde instructor explained to us that this is her ocean/rapper name as if it was the most obvious explanation in the world. Even better than that – Star Jam was a more than willing performer, belting out a couple of her raps throughout the course of the lesson. A real treat!
Despite her slightly ditzy demeanour, Star Jam is pretty badass in the world of stand up paddle boarding. She has surfed some of the biggest breaks in the world and is a patient and willing teacher. We were whizzing around the harbour in no time, stopping every so often to peer at the curious seals who sidled up to our boards.
What to expect: Santa Cruz harbour is the perfect spot for novice stand up paddle boarders as it offers complete protection from the elements. Those who are confident in the surf can rent boards from the SUP Shack and head to the adjoining beach for slightly a slightly more adrenaline fuelled experience.
Essential info: The SUP Shack which is located right beside Santa Cruz Harbour offers both Stand Up Paddle Board rental ($20 per hour or $45 per day) or lessons. Group lessons cost $65.
Don't miss: If you are feeling peckish after your exertions, I would highly recommend a trip to the Crow's Nest. Located adjacent to the harbour, it is the perfect place to watch the sun go down while gorging on fresh seafood.
5. Billy Goat Hill Swing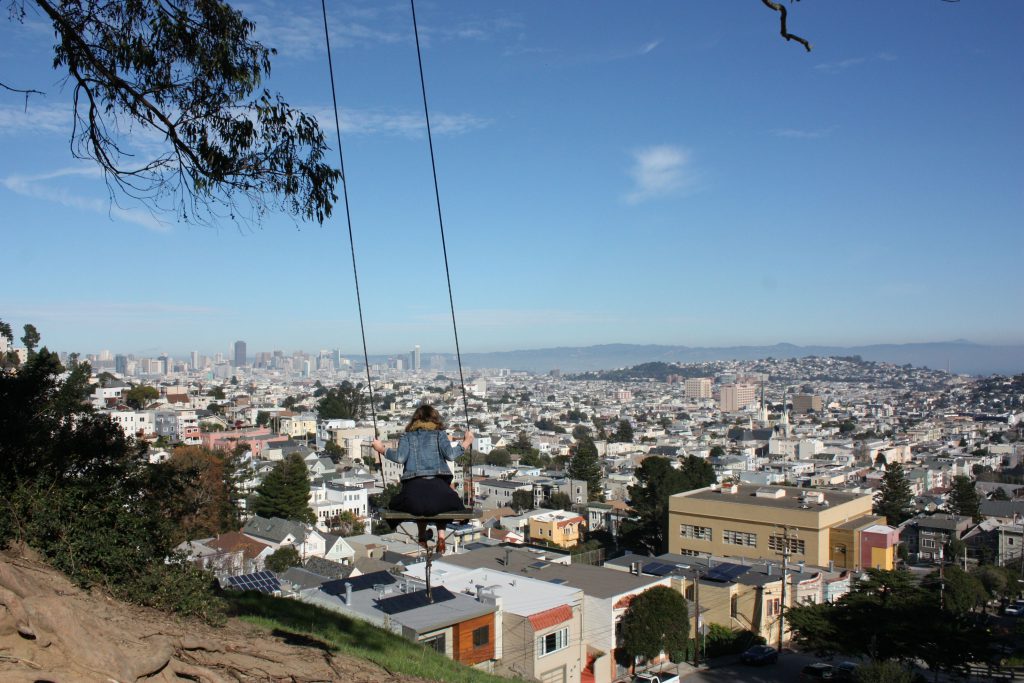 Everybody loves the opportunity to release their inner child and nothing in San Francisco does that better than the Billy Goat Swing. The Billy Goat Swing is quite simply a rope and a stick hanging from a large Eucalyptus tree on Billy Goat Hill in Glen Park.  The ten metre long rope swing is pretty special though as it offers unrivalled views of the city beneath you.
Feeling a little apprehensive when I first hopped up on the swing, I was aware of the steep gradient beneath me. However a couple of swings later, I was in my element.
What to expect: Swaying back and forth you'll be treated to incredible views of San Francisco Bay, Potrero Hill and even the Golden Gate Bridge.
Essential info: Due to the fact this is no longer a neighbourhood secret you are better to visit the swing early in the morning or late afternoon. Due to the fact this is no more than a neighbourhood swing, there is no entrance fee or opening hours. The swing is located at 300 Beacon Street in Glen Park.  I would advise bringing a pair of gloves if you have them, for those that prefer to swing extreme style standing up might be prone to a spot of rope burn.
Don't miss: Billy Goat Hill is an awesome picnic spot so come prepared. You'll struggle to find a lunch place with a better view of the city.
Check out our Hard as Nails podcast: