Looking for something to do for a long-weekend? Mountain biking in North Wales might be just the ticket.
If you're a keen mountain biker but are growing tired of your local trails and fancy trying something new then you have to give mountain biking in North Wales a go.
If you are in the area for three days I would suggest the following, if you manage to wangle another day of annual leave then be sure to add a hike up Snowden to your list.
Mountain biking Coed y Brenin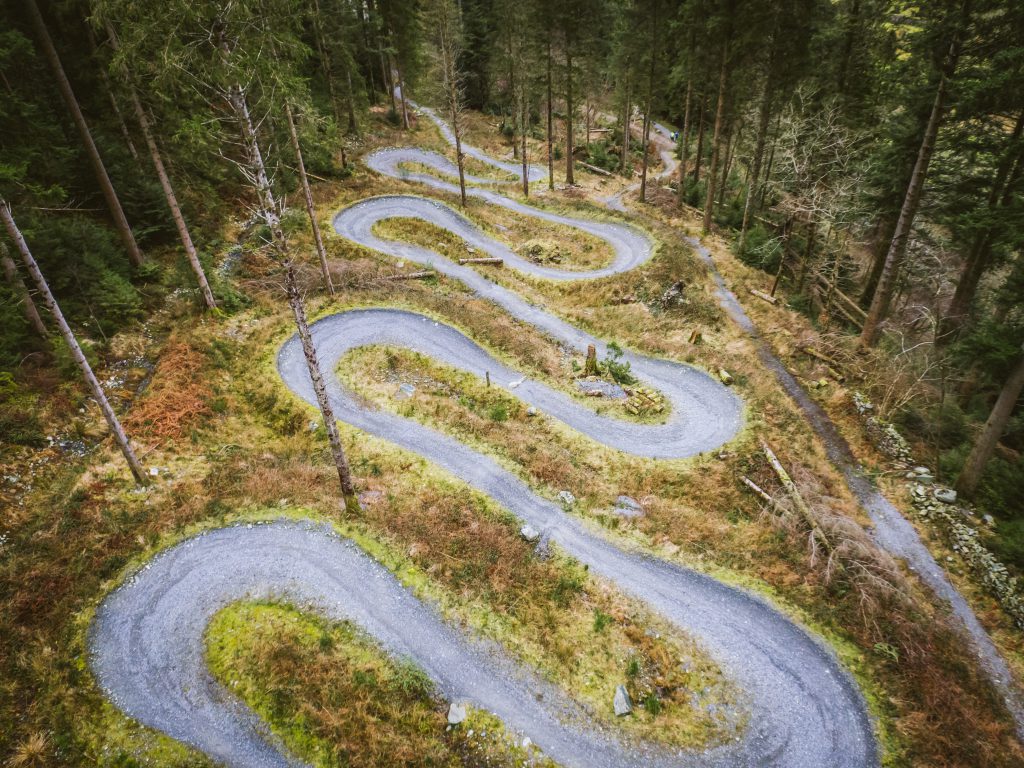 What to expect: Lots of twisty singletrack at Coed y Brenin.
This network of all-weather, purpose built trails offers something to suit all levels and ages and will keep you entertained for days on end.
Setting out from the visitor centre, one of the nicest aspects of the trail is that there is no slog uphill before hitting some nice windy singletrack. Instead, you are eased in gently and given a chance to warm up and find your biking mojo before hitting the hard stuff.
Those who are new to the sport or who have brought the whole family along can opt to take the green or blue routes which offer a gentle introduction to mountain biking. If you prefer to get the heart racing with something more challenging you can opt for one of the six red and black routes on offer.
We took on The Beast, a 38km black trail with some killer climbs and technical sections that certainly left us breathless. As its name suggests, it's a gruelling trail that should only be attempted by seasoned bikers. The slog is worth is though as the trail features lots of exciting features including 'Falseteeth' and 'The Cavity' which is largest technical trail feature at the centre and as the names suggest, not for the faint hearted.
Throughout the route, you will be treated to the spectacular scenery of Snowdonia National Park coupled with nice interjections of river crossings and tamer sections along the trail which allow you to catch your breath.
Essential info:
The forestry site has all of the information you will need on Coed y Brenin. Bikes can be rented on site from Beics Brenin. Prices start at £25 per day for an entry level bike. Phoning ahead to reserve a bike is advisable.
How to get there:
The nearest villages to Coed y Brenin are Dolgellau, Porthmadog, Bala, Barmouth, Blaenau Ffestiniog, and Machynlleth. To get to the trails head east off the A470, eight miles north of Dolgellau just north of Ganllwyd, south of Trawsfynydd. Follow the brown tourist signs.
Don't miss:
Bwyty Mawddach Restaurant in Llanelltyd for some post-ride grub. This place offers really good food with insane views over the Mawddach Estuary and beyond.
Mountain Biking The Marin Trail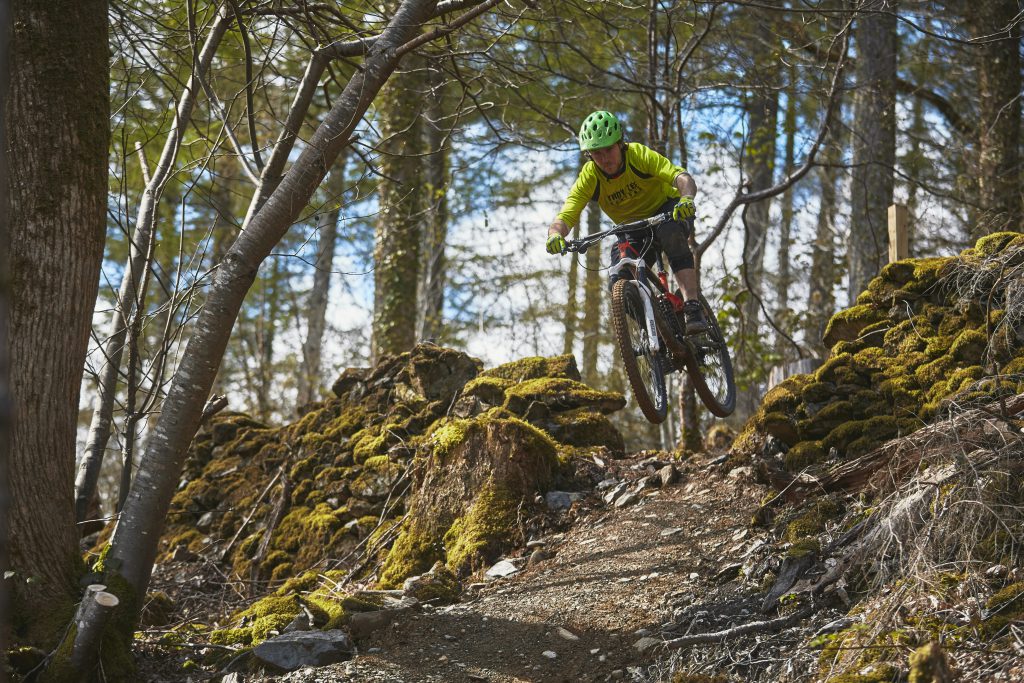 What to expect: Great natural riding and epic views across to Snowden.
Starting from the quaint town of Betws y Coed, the Marin Trail is organic mountain biking in the true sense of the word. This 25km looped route offers a very different experience to Coed y Brenin but fear not your mapping skills will not be called into question as the route is well marked throughout.
This undulating trail has its fair share of steep climbs so a basic level of fitness is required. However, for those brave enough to take on the challenge, you will be treated to some spectacular views of Snowden and the surrounding peaks.
The Marin trail is technical and features a number of sections that are not suitable for beginners. But for those who are experienced bikers, it offers a whole lot of fun. The descents vary between tight, technical sections and wider flowing sections where you can pick up a bit of speed.
The Marin Trail feels like a proper expedition. The day we went we met just two other people on the trail so definitely make sure that you head out prepared with spare tubes and plenty of sustenance.
You need to allow yourself approximately three to four hours to complete the trail. If you are there in the snow like we were, then you need to allow an additional hour as you will be pushing your bike through various sections.
Essential info:
Check out MTB Wales for comprehensive information on the Marin Trail. If you need to rent a bike then check out Beics Betws which is located behind the church in the centre of the village. It offers bike hire for £28 per day.
How to get there:
This trail is located just off the B5106 about 4 miles north of Betws-y-Coed. Just before a major junction in the road, the entrance to the forest car park is visible on the left if driving from Betws-y-Coed.
Don't miss:
The Welsh Cakes at Cwmni Cacen Gri bakery in Betws y Coed are to die for. Do not leave the village without sampling them.
Taking it easy on the Mawddach Trail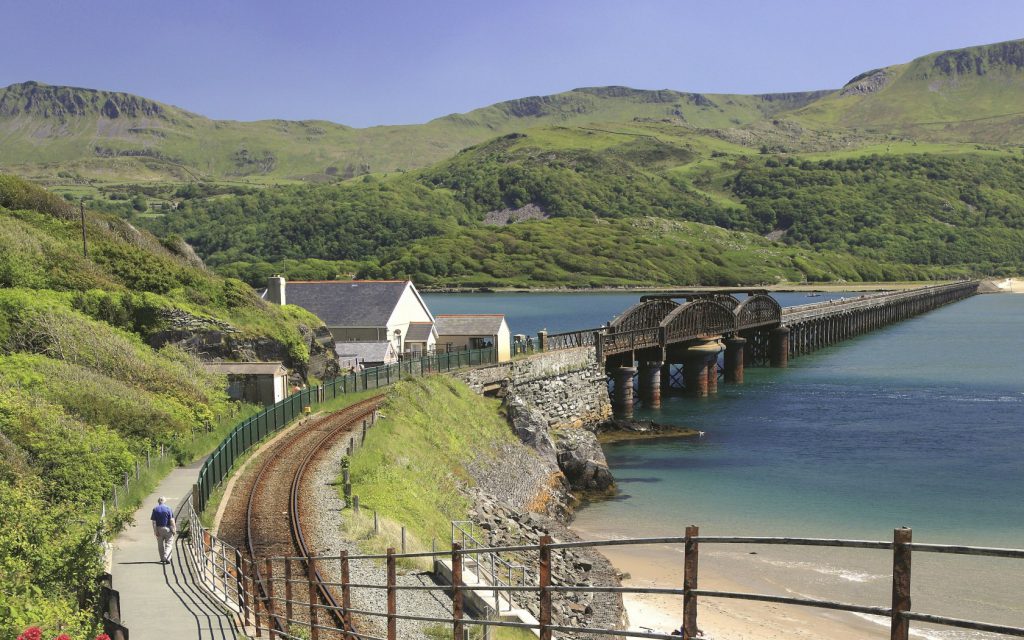 What to expect: A relaxing day out, the perfect rest day!
If after the adrenaline fuelled trails of Coed y Brenin and the Marin Trail, you fancy a something a little more sedate than I cannot recommend the Mawddach trail more – it Is the perfect way to spend a chilled out Sunday.
Running for approximately 15km from Dolgellau to Barmouth, this traffic-free route offers some incredible views across the Mawddach estuary. The trail which follows a disused railway track is flat the whole way and offers the perfect alternative to a Sunday drive. You can mosey along by bike, two or three abreast and chatter away, all the time getting closer to Barmouth where you can take a refreshing dip in the sea or simply opt for a scrumptious lunch in one of the many restaurants and cafes it has to offer.
Essential info:
Check out the Mawddach Trail  website for further information. Bike hire is available from Dolgellau Cycles and costs £13 per half day and £20 for a full day.
How to get there:
The Mawddach trail starts from beside the rugby club in Dolgellau, there is ample parking there.
Don't miss:
The Mermaid Fish Bar in Barmouth serves up some of the best fish and chips I have ever had. Located in Barmouth, it is the perfect mid-ride pit stop.
Where to stay in North Wales:
A warm Welsh welcome is always guaranteed in this part of the world. Best of Wales offers a wide range of wallet friendly self-catering options. We stayed in Bwthyn Wnion, a two bedroom cottage with spectacular views, so good in fact you will never want to leave. This property is a converted farmhouse in the grounds of a working farm. The owner of the cottage was just 50 metres away which was very helpful when it came to storing our bikes and picking her brains about the area. Best of all though were freshly baked scones ready for us upon our arrival.
The cottage is six miles from Dolgellau and 13 miles from Bala, both of which offer plenty of restaurants and cafes. The kitchen in the property is well equipped if you would prefer to eat in. Walking and biking routes are available from the door of the property.
If you are travelling as part of a group then you can opt to stay in a bunkhouse. This basic accommodation offers self-catering facilities at really affordable prices. There are two bunkhouses located with Snowdonia National Park. Check out Bunkhouse Wales for further details.
Check out our Hard as Nails podcast: