Everything you need to know about Bali's hidden slice of paradise – Nusa Penida.
Nusa Penida is a little slice of paradise located a short boat journey from mainland Bali. It is a place where white-sand beaches are completely deserted and the coral is completely intact. It is a place that is yet to be discovered by the masses. Locals say that Nusa Penida is what Bali once was before it was ambushed by party-lovers, surfers, yogis and honeymooners. It is a place so heavenly, you will never want to leave. But I reckon you better visit sooner rather than later as I can't imagine a place this good will remain secret forever.
If you are planning a trip to Bali in the near future or are simply looking for a holiday destination that will take you off the usual tourist trail, then I cannot recommend Nusa Penida enough.
Information on Nusa Penida is pretty scant, so to give you a steer in the right direction I have compiled this comprehensive guide to give you a little helping hand with your holiday planning!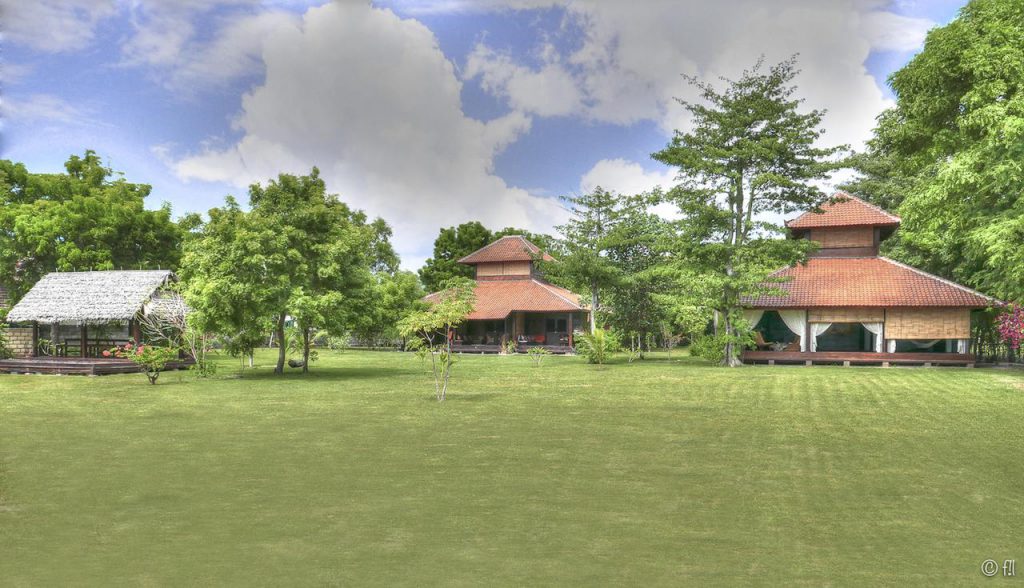 Where to stay on Nusa Penida:
Accommodation is scant on Nusa Penida, however a number of guesthouses and homestays have begun to appear in recent years. The south of the island is made up of steep cliffs so if you are after a morning dip in the sea that I would recommend that you stay on the north, east or west of the island. The following are my top four places to stay on Nusa Penida – they are all clean, comfortable and well located.
1. Kubu Ganesh
Kubu Ganesh – we had the pleasure of staying here for three nights and I cannot recommend it highly enough. The three rooms are relatively basic, but very clean and comfortable. The owner, Phillipe, has an encyclopaedic knowledge of the island which he is more than happy to share with guests. Located right on the water, there is exceptional snorkelling at your front door and you can benefit from delicious meals every evening. Phillipe will also organise all of your travel for you. Kubu Ganesh is a three-minute walk from the port at Sampalan.
Cost: €80 per room per night.
2. Caspla Beach Hotel Resto and Bar
Located on the north coast, Caspla Beach Hotel is just a 1-minute walk from the beach and offers a range of activities from water-skiing to banana boating. The newly built rooms are clean, comfortable and air conditioned. While this is the only establishment of its kind on the island, it is an indication of things to come.
Cost: €84 per room per night.
3. Bintang Bungalows
Bintang Bungalows are located in Toyapakeh, a short drive from Crystal Bay. Getting to Gamat Bay takes about 15 minutes by car, while Angel's Billabong is a 30-minute drive away. The bungalows are relatively new, clean and comfortable, have access to an outdoor pool, and are in a good location from which to explore the rest of the island.
Cost: €45 per room per night.
4. Coco Resort
Coco Resort is probably the most luxurious offering on the island. Equipped with clean and comfortable bungalows, an outdoor pool, spa and restaurant, the hotel has everything you could wish for. Located close to Cristal Bay, it is also a good launch pad from which to explore the island.
Cost: €50 per room per night.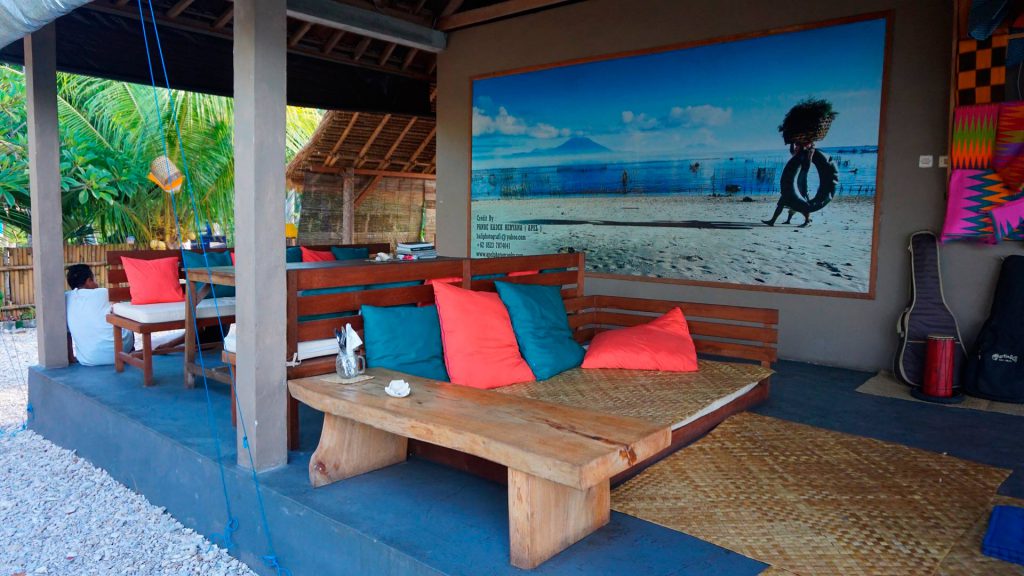 Eating on Nusa Penida:
Those who like to stick to western food will struggle on Nusa Penida. This is a place where you can opt to either eat the local specialities or go hungry! Luckily the local offerings are pretty darn scrumptious. Small Warungs (or restaurants) are dotted all over the island. Some of these Warungs are no much more than a small stand outside somebody's house, others are slightly more established.
If you are staying at Kubu Ganesh, then I would definitely recommend eating in on a couple of nights, the food is delicious. Elsewhere, Warung Mola Mola on the east side of the island, a short drive from Kubu Ganesh, offers up good nosh with panoramic sea views.
Penida Colada is a great spot to while away a couple of hours. Located on the beach it serves up fresh fruit juices, smoothies, cocktails and light bites – the coconut pancakes are an absolute must!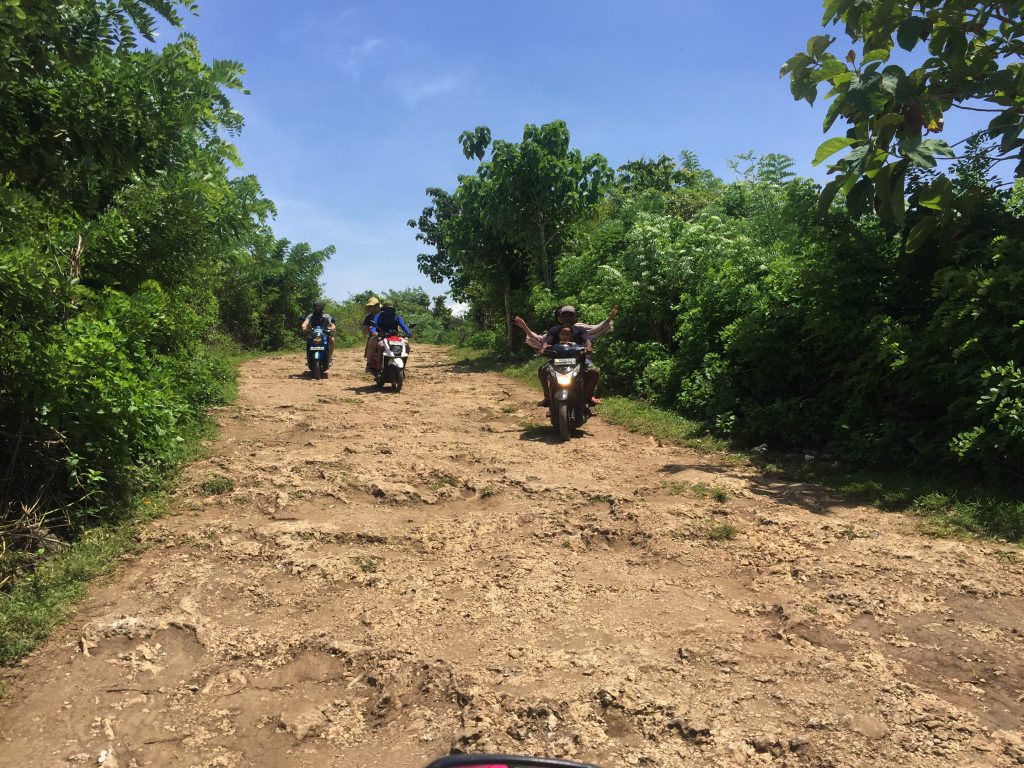 Getting around on Nusa Penida:
A scooter is by far the best mode of transport for those really looking to explore the island. However, be warned: you need to be a pretty experienced on a scooter to negotiate the roads. Be prepared for dirt tracks, endless potholes and some pretty steep, rocky ascents and descents. A lot of inexperienced riders do end up crashing scooters. Scooter rental will cost about €5 per day and can be organised by your hotel.
It is also possible to hire a driver on the island. Rod at Nusa Penida Explorers can arrange tailor-made day-trips around the island.
Navigating your way around the island can also be pretty tricky. Road signs are sporadic at best. We relied heavily on Google Maps and a print out of the island. Some roads marked on the map are only big enough for a single scooter so be prepared to get lost and don't be afraid to ask locals for directions – they are more than happy to help.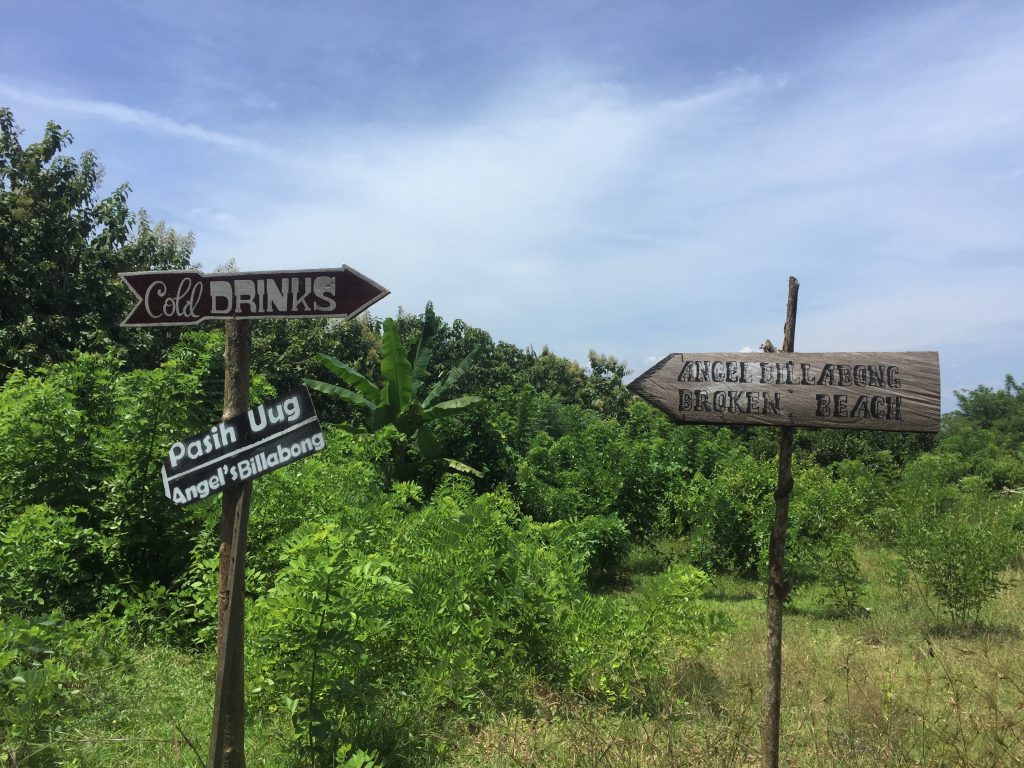 Getting to Nusa Penida:
There are daily speed boats from Sanur, Kusamba, Padang Bai and Tribhuwana. Gangga Express runs a daily boat service from Sanur to Sampalan on Nusa Penida which is one of the easiest ways to get there.
Maruti Express also departs from Sanur Beach to Sampalan at 10am and 4pm (+62 819 1626 8871). The first speed boat service to Nusa Penida.
Caspla Bali Boat departs from Sanur Beach to Buyuk on Nusa Penida three times daily at 11am, 2pm and 4.30pm (+62 361 7912299).
It is a good idea to book tickets in advance. Generally, your hotel or guesthouse will be more than happy to organise travel arrangements and this is definitely the best option as they will organise a taxi to the ferry and will generally have to most up-to-date information when it comes to sailing times and delays etc. The boat costs 100,000RP (€7 approx) each way.
Other essential information:
There is a cash economy on Nusa Penida so be sure to carry ample funds with you at all times. There are ATMs on the island. There are two in the town at Sampalan and a couple of others dotted around in the island.
Pharmacies as we know them are not available on Nusa Penida. In Sampalan, there is a small kiosk from which I managed to buy some cough medicine. They really only stock the bare minimum. There a couple of medical centres, one of which is in Sampalan if you need further care.
Check out our Hard as Nails podcast:

Previous Post

Next Post