Don't you believe that Hong Kong is a paradise for adventure lovers? Read on and we'll prove you wrong.
You'd be forgiven for not immediately associating Hong Kong with an array of exciting outdoor adventures. After all, it is more widely known for its neon lights, sprawling shopping centres and slightly precarious looking apartment blocks. However, Hong Kong is an adventure lover's paradise. Just a hop, skip and a jump from the city you have an abundance of incredible trail running routes, canyoning, mountain biking, wake-boarding and so much more to get your teeth stuck into.
To point you in the right direction, I have rounded up five of my favourite adventure activities in Hong Kong.
1. Hike Hong Kong's Second Highest Mountain, Lantau Peak
You can spend two weeks in Hong Kong, hike every single day and still have not even made a dent in the abundance of trail running routes within close proximity to Central. Big climbs, undulating coastal trails, dense forest – you name it, Hong Kong has it.
Having completed a number of the trails during my various visits to Hong Kong, my favourite is definitely Lantau Peak
As the second-highest summit in Hong Kong this hike is not for the faint-hearted but the views make the hard graft worthwhile. Kicking off from an entertainment centre in Ngong Ping which is akin to the eateries at a theme park, you certainly do not feel close to a quiet hiking trail. However, you can tick a few major sites off your Hong Kong sightseeing list before you hit the trail – the famous Tian Tan (Big Buddha) is just a few steps away, while the Wisdom Path, the largest outdoor wood carving in the world is also on the route.
What to expect: The trail from Ngong Ping is clearly marked so there is no need for a map and compass. The Lantau Peak trail starts nice and gradually, winding its way further and further from civilisation. Along the way, you will be treated to views of the Big Buddha and the lush greenery that Lantau Island is famous for.
Standing at 3,054 feet the climb takes about 2.5 hours to complete, two hours of which are a very steep ascent – prepare to be a little on the sore side the day after this one. Once at the top, you can expect 360-degree views across Lantau Island. The view is so good that Lantau Peak has now become a popular spot to watch the sunrise with many choosing to set off at 4am.
There is then is a steep descent towards Pak Kung Au. Follow the path until you reach the road, then turn right and continue towards the town of Pui O. This takes approximately one hour. Pui O is home to a beautiful beach which is the perfect cooling off spot post-hike.
Essential information: Lantau Peak is a tough climb so be sure to pack plenty of water (at least two litres) and some snacks to keep your energy levels up.
Getting there: Get the MTR from Hong Kong Island to Tung Chung Station, Exit B. At Tung Chung take the Ngong Ping Cable car for 25 minutes. Follow the signs to the Lantau trail.
Getting home: Take a taxi from Pui O to Mui Wo ferry pier (this takes about 10 minutes). Catch the ferry back to Hong Kong Island.
Don't miss: Mavericks Bar in Pui O is a lively beach bar serving cold beer and top notch food.
2. Canyoning in the New Territories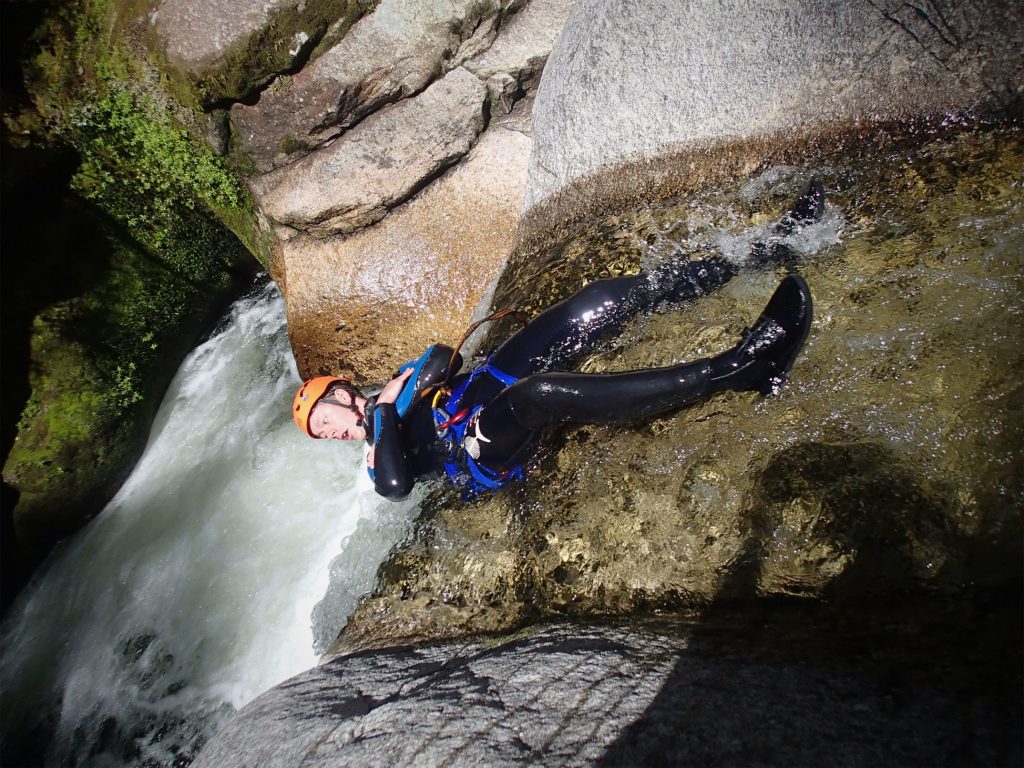 A trip to the New Territories is a must for any visiting adventure junkie. Space, mountainous terrain and lush vegetation mean there are incredible hiking and off-road biking routes. However, if you want to do something a little bit different, I would highly recommend a day at the falls.
Ping Nam stream is nestled in a country park near the Chinese border and winds its way up a valley with numerous waterfalls and plunge pools along the way providing the perfect escape from a hot Hong Kong day.
What to expect: It takes about two hours to reach the top of the stream. But fear not, you are kept entertained along the way as the guide, Gordon, shows you his favourite jumps and the art of bum sliding down steep rock faces into the water. At the top of the stream, you can stop for a spot of lunch and some sunbathing before the real adventure begins. The route back to the starting point involves four waterfall abseils and a host of steep bum slides. The abseils are technical, but the guides have a lot of experience and know how to maximise fun and minimise risk.
Essential information: There are a few companies offering Canyoning in the area but Hong Kong Rock Climbing Company, led by Gordon Hon, is by far the best. He charges about US$70 for a full day of adventure and can organise wetsuit hire for an additional fee if you are visiting Hong Kong during the winter months. Food and water are not supplied so be sure to bring enough fuel for the day.
Getting there: A taxi from Hong Kong Island takes an hour to Ping Nam stream and costs approximately €30.
Getting home: The canyoning company will drop you off at the Fanling MTR where you can either get the MTR or a taxi straight back to Central.
3. Wakeboarding, sunbathing and swimming in Sha Kiu Tau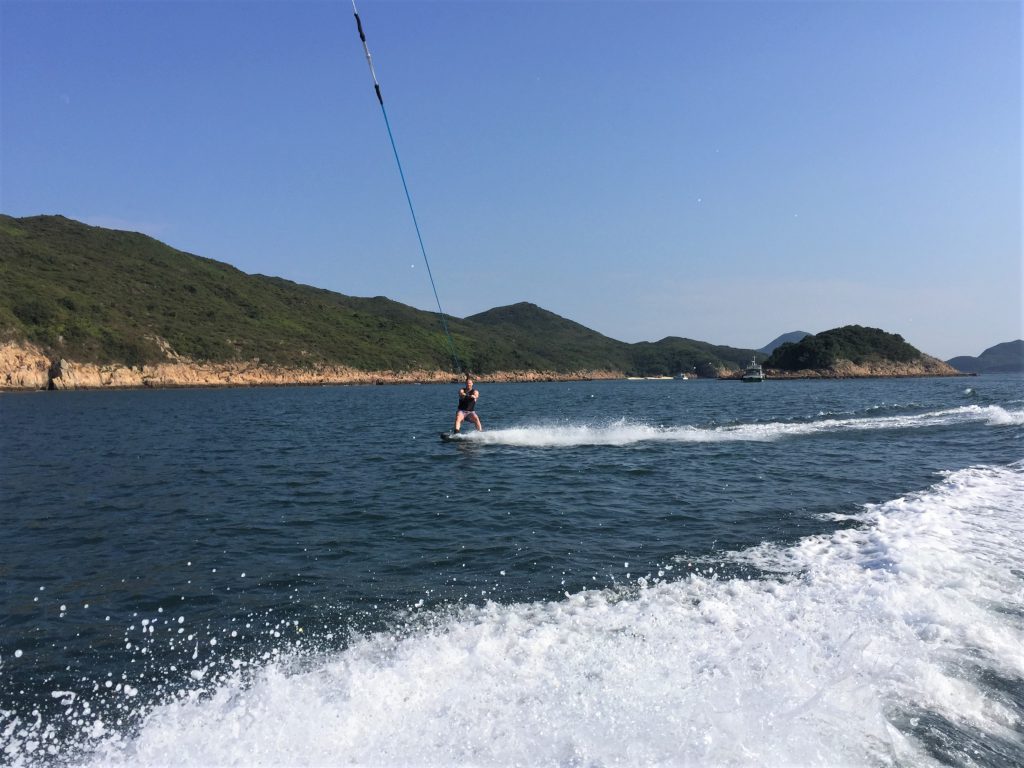 Taking a Junk – or a large cruiser – out for the day is commonplace for anyone living in Hong Kong and it's easy to see why. Just 30 minutes on board transports you to a sanctuary that it a far cry from the hustle and bustle of Central.
You'll be treated to incredible views of the skyline as you set off from the pier before reaching more remote islands. You can then spend the day frolicking on white sand beaches and swimming in the cool sea.
What to expect: We opted to take the Junk to Sha Kiu Tau which is about 90 minutes north east of Central. It was worth the journey – small islands punctuated the blue waters and there were plenty of opportunities to jump off the boat to cool down along the way. Sha Kiu Tau is a perfect spot for those looking to try their hand at wakeboarding as it is quiet and more importantly sheltered. It is the perfect place to while away an afternoon sunbathing, wakeboarding and swimming.
Essential Information: A junk will usually cater for between 25-30 people. There is often a fully stocked bar on board but this is worth checking in advance. Some boats will also offer a fully catered option, providing lunch on board.
Vikings Charter offers a weekday package for about €370 which includes boat hire and two hours speed boat hire with a banana boat, water skis and wakeboard equipment.
Getting there: You can arrange to meet your boat at one of the private piers in Central on Hong Kong Island.
Don't miss: Local seafood restaurant, Yau Ley, in Sha Kiu Tau. It offers up scrumptious fare with a sea view to boot
4. Explore the traditional fishing village of Tai O by kayak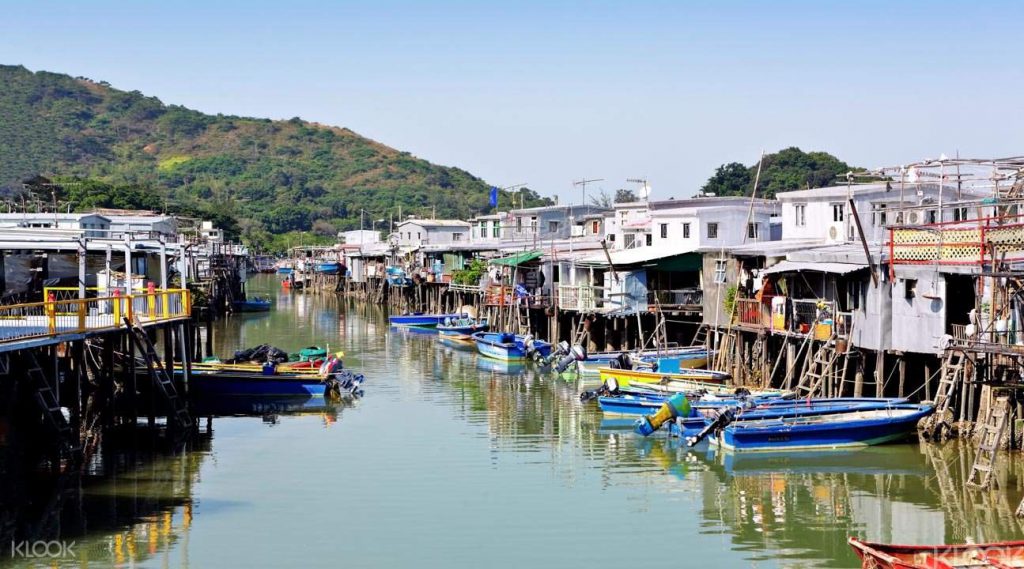 Tai O, also known as Venice of the East, on the west coast of Lantau Island, is a quaint, working fishing village. Home to the traditional stilt houses which are common in the old Southern Chinese fishing villages, it is one of the few remaining places where you can still see them in Hong Kong.
More experienced paddlers can paddle out of the harbour into the open sea, where if you are lucky enough, you might catch a glimpse of the pink dolphins which are unique to the area.
What to expect: As you paddle through the village you can weave in and out of the stilts and watch as the local inhabitants go about their daily business. We took the kayaks out just before sunset so there was plenty of activity in the village and luckily the dolphins just outside the harbour were in a really playful mood, leaping out of the water around us.
Essential Information: Local tour operators offer a fully guided excursion which will bring you through the stilted village and along the coastline. It also offers a hike in the local area with lunch and a refreshing dip at a beautiful waterfall. More information and booking is available from Klook.
Getting there: Get the ferry to Mui Wo from Central. Then catch the number one bus from outside the ferry terminal to Tai O.
Don't miss: The world's most delicious waffle. Keep an eye out when you are walking around the village for a Charcoal Grill Eggy Pancake – it is essentially a plain waffle, but it is really crispy and is insanely good.
5. Surf's Up in Big Wave Bay
While I wouldn't recommend visiting Hong Kong solely for its amazing surf, a day at Big Wave Bay is, in my opinion, time well spent. The sheltered cove is set against a backdrop of green hills stretching inland as far as the eye can see giving the beach an isolated feel.
What to expect: The tiny village here hosts a small community of surfers along with a few surf shops and definitely has that laid-back, surfer vibe. If you are feeling especially energetic you can hike to the beach via the famous Dragon's Back Trail. Voted by Time Asia as the best urban hiking trail, it offers stunning views and a couple of strenuous ascents.
The trail follows the ridge from Shek O Peak to Wan Cham Shan. At 284m high, it not exactly a casual walk in the park, but certainly not as challenging as Lantau Peak. A viewing platform at the top of Shek O Peak offers the perfect opportunity to catch your breath and admire the amazing panorama of Shek O, Tai Long Wan and Tung Lung Island. A steep descent will then bring you to Big Wave Bay.
Essential Information: There can be dangerous currents at Big Wave Bay, so keep your wits about you. Chat to the guys at the local surf shop and follow the locals' lead when it comes to choosing your spot in the water.
Getting there: Take the MTR to Shau Kei Wan Station Exit A3, take bus 9 at Shau Kei Wan Bus Terminus to To Tei Wan, Shek O Road.
Getting home: Walk from Tai Long Wan to Shek O. Then take bus 9 at Shek O Road back to Shau Kei Wan Bus Terminus. From here, you can get the MTR back to Central.
Don't miss: Ho Lok is a small, but very cool surf shop in the village. It offers really reasonable surf board hire. Although take some time to have a look at the boards on offer first, the quality can be a little hit and miss.
Check out our Hard as Nails podcast:

Previous Post

Next Post