Outsider's Orla O Muiri heads to the pistes of Portes du Soleil in the French and Swiss Alps for a few days to stay at the delightful La Ferme du Lac Vert in Montriond and to try her hand at skiing.
I have never got to experience the magic of a ski holiday in my youth. I was far from deprived but you know rural Ireland and two nurses for parents. The one week holiday we get to go on a year, we're either going to a mobile home in the West of Ireland or we are going to the sun. So despite a brief stint on the slopes for a snowboarding holiday to Val Thorens back in my university days (where we did way more partying than snowboarding). I definitely did not know mountains and neither did I know luxury. Back then, at 20 years of age, I was far more concerned with well, other things in life than the pure majesty and wonder of the slopes and the full potential that a ski holiday holds.
My chance had come around again. I was to visit the slopes of Portes du Soleil. And oh boy, did it deliver. A two-hour flight to Geneva with Aer Lingus where we were quickly hooshed onto a bus. After a swift border crossing, off we went, ascending into the stunning and vast French Alps to play on the slopes of Morzine and the higher-altitude resort of Avoriaz for a few days.
To the mountains, we go
Salopettes, coat, beanie, ski googles, check. Skis, boots, poles and helmet all kitting out by the ski shop supplier Ardent Sport. My look was complete. The only problem… I cannot ski. But I was ready to learn and learn I did, under excellent tutelage. While my companions went out on some big runs with Ski Tour with Ecole du Ski Francais (ESF). I was set to spend my mornings with Easy2Ride Ski and Snowboard Academy. Starting off with the delightful Pascal, and after showcasing my natural ability (cough) moved up a level ever so slightly to join Laurent. A late 50's Parisian, smoker, charmer, a carpenter by trade, owns a camper van, has climbed Mont Blanc, has two daughters my age and is an absolute legend. The slopes are his office and he revels in that, bellowing out 'to the valley, Orla, to the valley. Follow me, follow me', singing aloud merrily as we snowplough.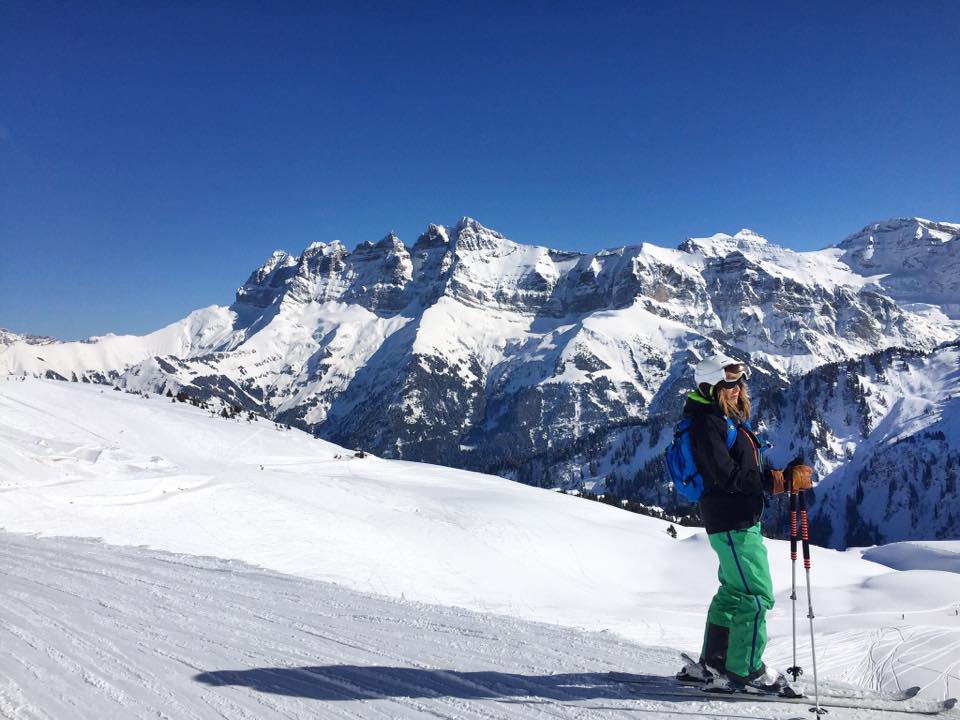 My ineptitude of not been a skier did not dampen my experience of the breathtaking environment around me. With the beginner slope on the top of the mountain, you still get to experience the blanketed magic of the mountain. It is the perfect patch to learn on, with a magic carpet to save you walking back up the incline and a little run on the other side to step up to. The school runs two and a half hour lessons with six people to a class. On day one after the first hour, we are divvied up based on abilities and you stay with that group for the week. Your instructor becomes your mentor and your guide as you transition from magic carpet, to button, to chairlift to pro. Yes, I missed out on experiencing the full extent of the 165km ski slopes of Portes du Soleil but what I discovered is that it is the ideal place to learn to ski amd much more fun than a dry ski slope!
9 lust-worthy pieces of ski gear for men
One run down the mountain and I was hooked, ready to quit my job, sell my soul, anything for one more blissful moment speeding down a slope (in reality I was probably doing a very slow snow plough). With a lesson stowed under my belt and a grin plastered on my face, I was ready for lunch, mountain style! Having lunch on a mountain covered in snow is about as epic as life can get. We skied into La Chaudron in the Goats Village, Ardent to feast on giant plates of ribs, pots of soup, bowls of salad, and endless crusty stacks of white bread. As I devoured bread and cheese the others regaled me with their tales of what I was missing. Being pulled along by a skidoo, watching dog sledges passing by, playing in the snowpark, and carving slopes of blue and red. Only brought back to reality from my daydreams by the restaurant owners St Bernard doing the rounds charming you to hand over your leftovers. We knocked back a shot of homemade toffee vodka, followed by an espresso or two. Then back out into the elements to run a few more lines.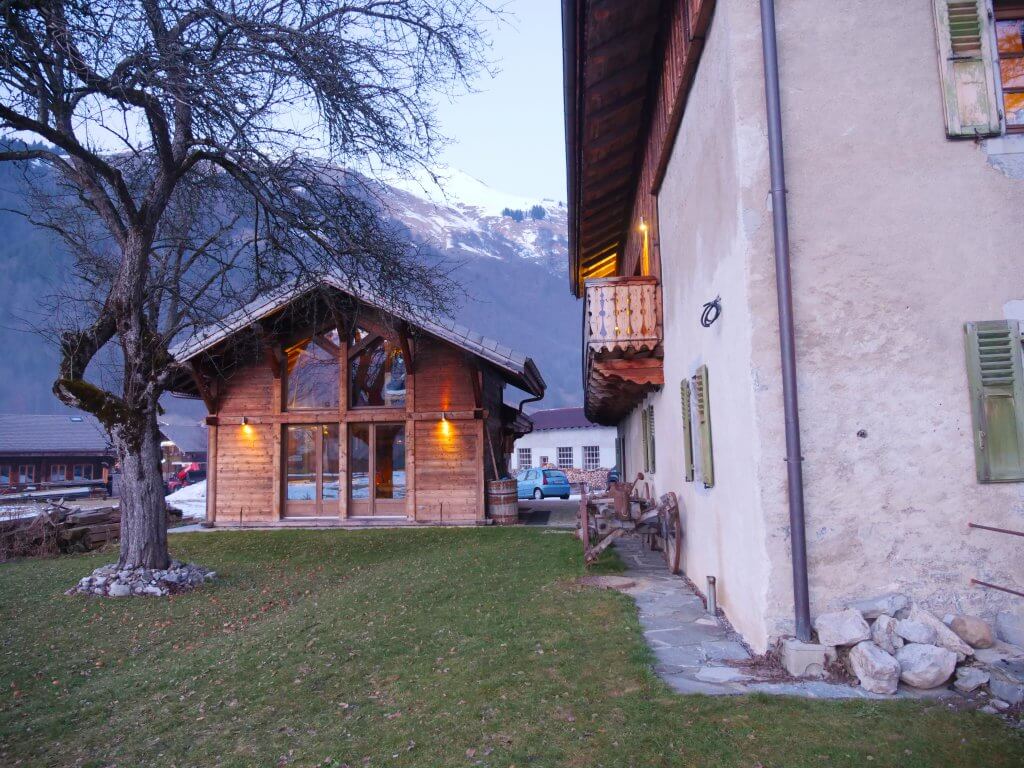 A night whiled away in a hot tub in our incredible chalet La Ferme du Lac Verte, eating canapés and sipping cocktails by the open fire. After a marathon of a meal in the chalet, the night is to be capped with a visit to the local pub, The Marmott. Packed in the best kind of way, people buzzing, snippets of conversations overheard, 'did you see me faceplant today? sipping pints of the local beer. Food, booze and good company, then to collapse happily into a bed of goose feathers and fur.
Looking up at these mountains I have read about in books and spent my youth dreaming about. Now to see them in real life, the tip of Mont Blanc in one direction and the Matterhorn in another.
After a breakfast of your choice, it's back up in the bubble to the slopes to ski. Another lesson, but I've got the hang of it this time, no more magic carpet for me; we are unleashed onto the slopes. My first time on a chairlift in skis, the memory is a moment suspended in time. In a rush to take it all in, I remind myself not to get lost in the excitement and to appreciate it. The evergreen trees dusted with snow, my feet dangling in mid-air and laden down with skis. I watch the people beneath carving down the mountains, awed by the beauty and intricacy of a good skier/boarder dancing on the powder. Looking up at these mountains I have read about in books and spent my youth dreaming about. Now to see them in real life, the tip of Mont Blanc in one direction and the Matterhorn in another.
10 pieces of must-have ski gear for women
Up we go in a blizzard of snow to reach the quaint La Vaffieu, a cosy cabin brimming with trinkets and ornaments. Candles lit while the storm flurries outside. The glasses of vin chaud warming our frosty fingertips. Our gloves and jackets hung up on any available space to thaw out and dry. Risotto, sea bass, stews, more cheese and desserts the size of your head. Even dining is an adventure, you must work for your supper. The food prices are a tad steep but the massive vats they come out with could feed a small army so it is forgiven. Layers back on, stomping down the stairs in snow boots is scarier than a black slope! Then out into the elements to carve our way down the side of the mountain.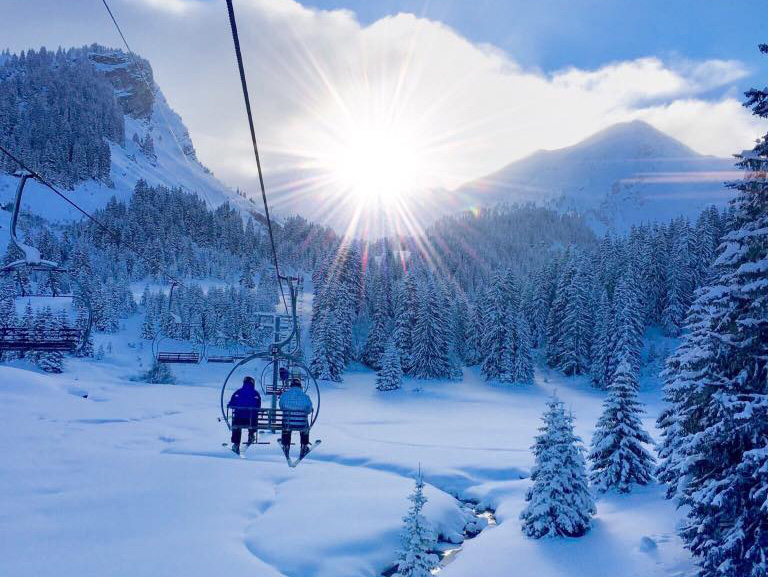 Time to meet Kerri McAuley for a massage to knead life back into our tired muscles and limbs. Another Irish who did one season and never left. Her approach is a holistic one and a back massage is more than welcome after a long day in the mountains. Not your luxury pampering so common in hotels nowadays. She works your muscles hard, the power in her hands is surprising and most welcome.
The little touches
La Ferme du Lac Verte is a gem of a find. It's pure luxury without the snobbery, quirky but welcoming, it's a place to come even if you don't ski or board. Owned by a British couple Lucy and Rob Mundell, who together have amassed a team that is pretty special here. It's a Tipperary man in the background, Tadgh Ryan pulling the strings and he knows what he's doing. Their ski concierge Nikolas, or Swiss Nick as he becomes fondly known as, takes care of all our ski needs. He is charming, with blue eyes that wrinkle at the edges when he smiles, a tanned face. He loves his women, loves a story and we love it too. The staff complement the whole set up, they are like the chalet, warm, inviting but quirky too in the best kind of way. The incredibly talented head chef Tom Burton, and the 19-year-old sous chef Grace Palmer who is astoundingly innovative. Then the young hosts, Charlotte Campbell and Laura Pollard. It's only negative been it's seven minutes to the slopes, so you are reliant on transport, which the chalet provides.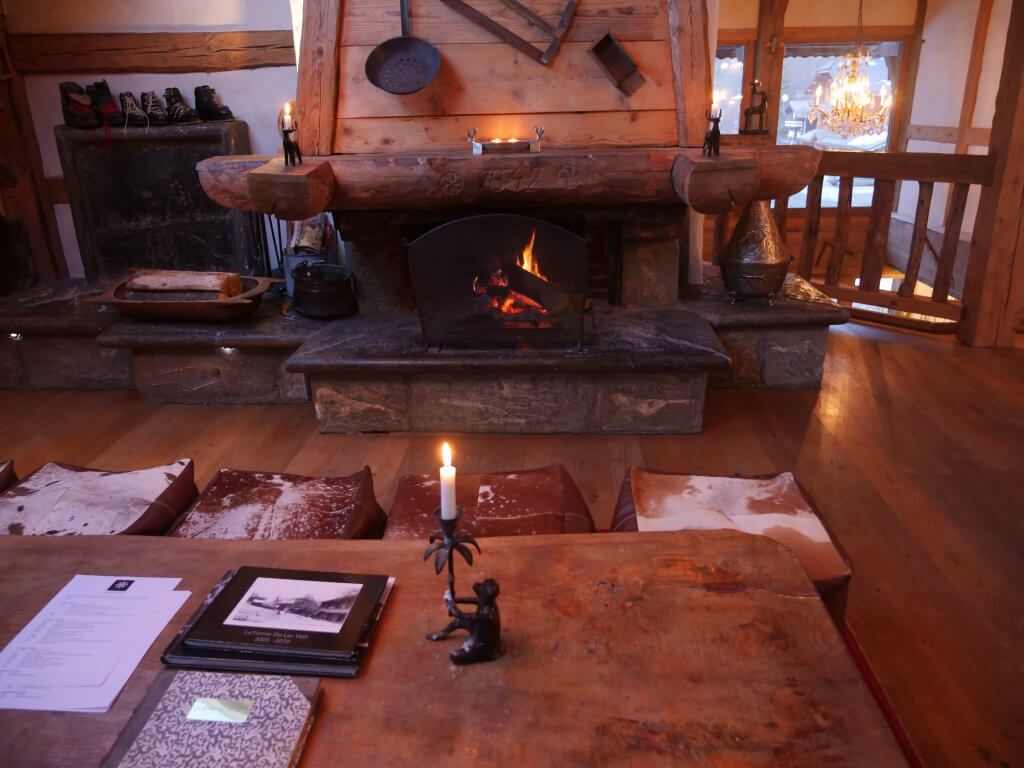 After a few days in the mountain breathing that crisp air and basking in the wonder of it all, it is hard to comprehend that there is a real world waiting for you back home. That there are people in their offices typing away while I type. Morzine is not just a destination for winter, if you want heat and adventure then come in summer for mountain biking, waterskiing, paragliding, via ferrata (mountain climbing), and glorious lake swims. The events are endless, the opportunities for adrenaline limitless; the Tour de France, the Spartan Race, Red Bull Cranks work, and the Evergreen Endurance to name just a few. Right now, I am consumed by the silence of a mountain, still and surreal. Finally, the phrase 'the mountains are calling' hits home to me.
Where to stay:
The luxury boutique hotel and ski chalet in the heart of the French Alps, La Ferme du Lac Vert. Located in the village of Montriond. La Ferme Du Lac Vert has two chalets available to rent –  the main chalet La Ferme du Lac Vert can accommodate 24-30 guests across 11 ensuite bedrooms while their smaller and most recent addition to the Skizeen family, La Petite Ferme sleeping up to six guests.  The chalets are located along side one another. Both chalets can be rented together for larger parties and corporate groups, or as an individual listing.  Rental for up to 24 guests for a 7 night stay on a half board basis is from £895 per person sharing.
How to get there:
La Ferme du Lac Vert is 75 minutes from Geneva Airport or 2 hours 30 mins from Lyon Airport. Aer Lingus run daily flights.
More information:
Check out our Hard as Nails podcast: 
Liked this? Make sure you take a look at these:

Previous Post

Next Post