Eoin McCarthy Deering visited Iceland and discovered a country of profound beauty and endless adventure. More information to plan your own trip can be found at the bottom of the page. 
Arrival
Crossing latitudes by the hour, we sat bemused by the headrest in front of us. This highlighted that if any problem should arise during our stay in Iceland we should fear not as the Prime Minister's phone number was is the public telephone directory!
Fleeting glimpses of the approaching clash in colour between the jagged white mountains and dark blue sea stirred our thoughts. We had to shake ourselves to our senses as it dawned on us that we were about to touch down on the island of Iceland…in winter!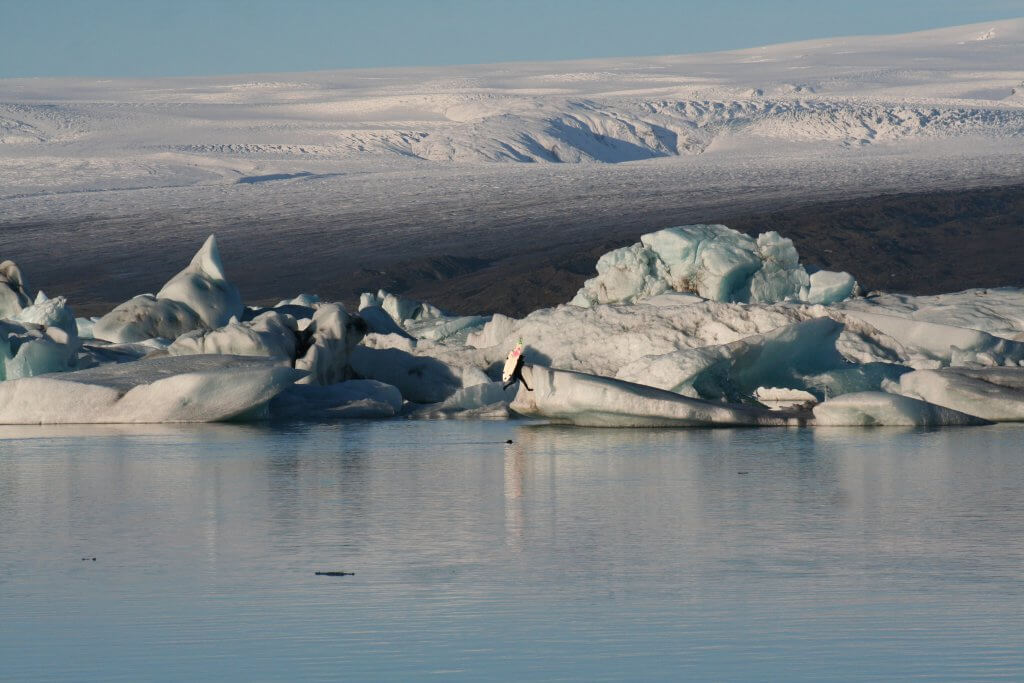 You might think that there was some intrepid planning behind an adventure such as this but nothing could have been farther from the truth. Thanks to a need for some exhilaration and a hectic work schedule, this trip was essentially the product of a few liberating clicks on a computer screen.
8 Top Tips to Help Your Plan for Your Winter Holiday
With frantic packing of all things warm – from 6mm wetsuits to Arctic sleeping bags – and no set itinerary, we relished the fact that we would be free to explore this island from the surf to the snow. Then the blur was in motion, from sprints for boarding gates to nerve-racking delays at baggage claims.
Gale-force northerly winds, ash-clogged rental car doors and gravel roads are snippets of our first few hours after arriving in Keflavik airport. Straight into the thick of it, we searched and scoured a stretch of coast for a suitable campsite in the howling darkness. Even with the complete lack of light, the flatness of this coastline was apparent, coupled with the complete lack of trees. Finding shelter was a tricky task.
The view in the morning light, however, made the previous night's search worth the effort. We were greeted with the splendid scene of a red-roofed village nestled between a beach and the mountains while the sun glinted off an ice-breaking fishing boat leaving the harbour.
Surfing the icy waves
They also mentioned the post-surf thermal pool session at the famous Blue Lagoon or other smaller local thermal pools. This is a relished 'must' among the 20 or so that constitute the surfing population of Iceland.
That kick-started our day of surf exploration with a sampling of the Icelandic waves from point breaks to slabby reefs. We even happened to meet a few of the surfers that thrive in these waters. Their knowledge of these shores provided some helpful insight into the fluctuating conditions that abound here. They also mentioned the post-surf thermal pool session at the famous Blue Lagoon or other smaller local thermal pools. This is a relished 'must' among the 20 or so that constitute the surfing population of Iceland.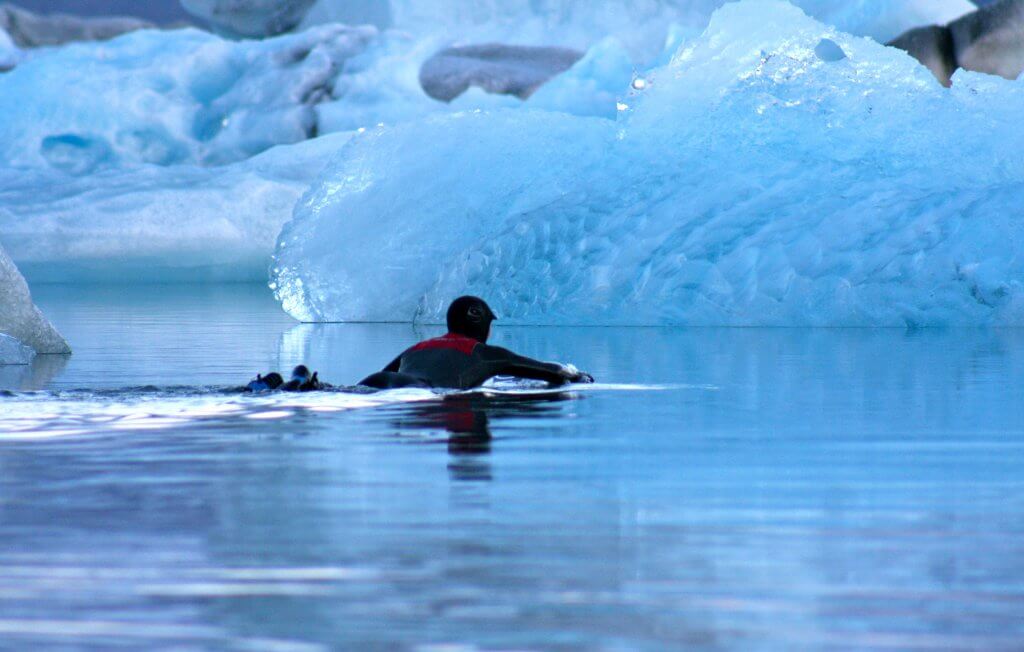 Lucky for us there just so happened to be a vacancy in the Blue Lagoon Clinic which is usually pre-booked months in advance. With rooms overlooking volcanic rubble covered in snow and a thermal pool just moments away you can see how this is one of the world's top retreats. One of Iceland's leading attractions, the Blue Lagoon is essentially the run off from a geothermal plant situated next door. Hours spent lying in its soothing waters gazing at stars and possibly the aurora borealis as snow flakes fall from the night sky, is definitely captivating.
Arriving at dusk, we were blessed with some magnificent pillars of 120°C water exploding 30m into the air against the reddening afternoon sky.
Days of adventure were ahead us now with an open window (until the next swell) to hit up any of the fantastic tourist attractions which Iceland has to offer. These included a trip inland to see the mighty Geysir, after which all the other thermal water spouts in the world are named. This involved a full day's excursion in the car but there were many fabulous mountains, cliff-hanging ledges and lakes to grab your attention along the way.
Arriving at dusk, we were blessed with some magnificent pillars of 120°C water exploding 30m into the air against the reddening afternoon sky. This constant source of entertainment is actually provided by the Strokkur geyser which erupts every six minutes.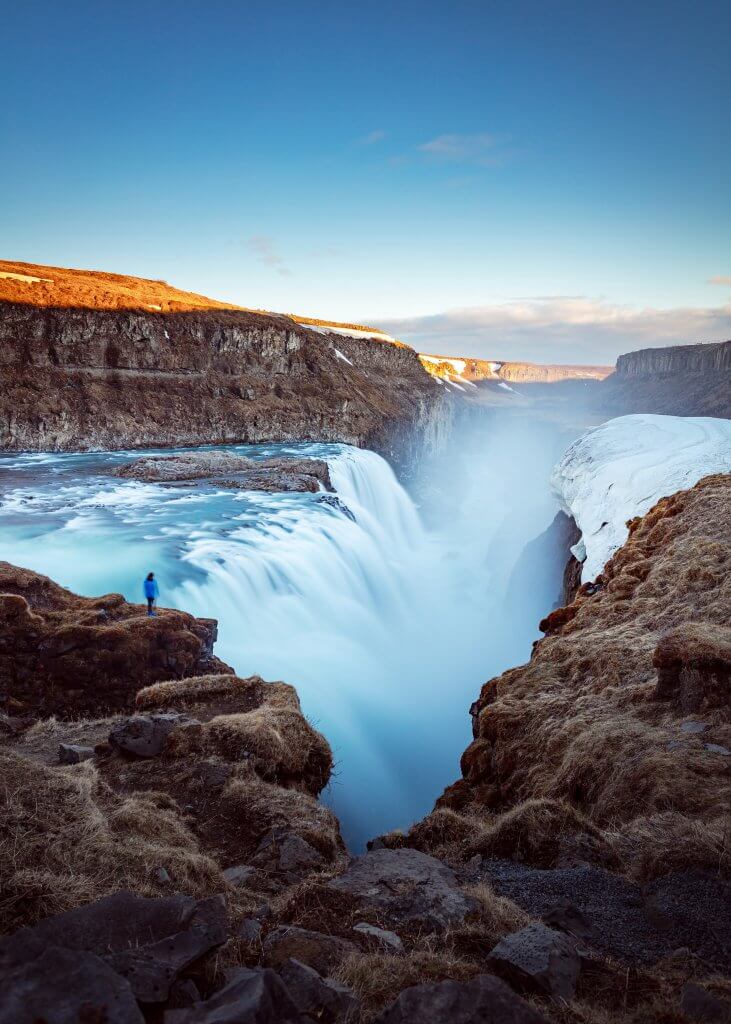 Not far from here, you'll find the Gullfoss waterfall – Iceland's most famous waterfall. Framed majestically by icicles, parts of these cascading falls had been frozen solid in their tracks providing a breathtaking spectacle. From this inland area, you can also avail of other tours such as Northern Light sessions, snowmobiling and off-road quad biking.
Glacier Country
Making our way back along the southern coastline into glacier country we experienced some of the mighty weather that Iceland has to offer. This included flash blizzards, packed ice and gusting winds which tried their best to deroad cars. The Icelandic government has put well-spent money into massive road signs indicating the ground temperature on the given highway ahead, so it is up to you if you wish to take the risk thereafter. As we tried to save the few precious daylight hours for adventuring, that meant a lot of driving at night. That said, we didn't regret the day time we did spend on the road as it meant we got to see the beauty of Iceland's gigantic jaw-dropping landscape.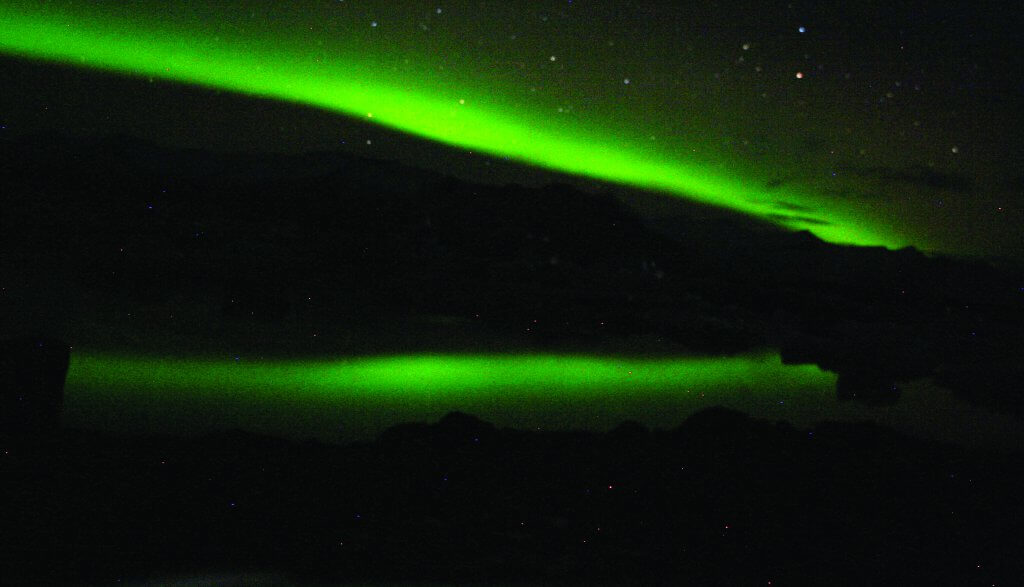 Finally reaching the foot of Vatnajökull, the largest glacier, in Europe was a thrill in itself! Here one of its massive rolling tongues stretches out nearly touching the highway on the edge of Skaftafell National Park. You can usually take a guided tour through the minefield of glacial crevasses with their never-ending shades of blue. These tours are limited however during the off-peak season and it's best to check availability well in advance. We found out the hard way.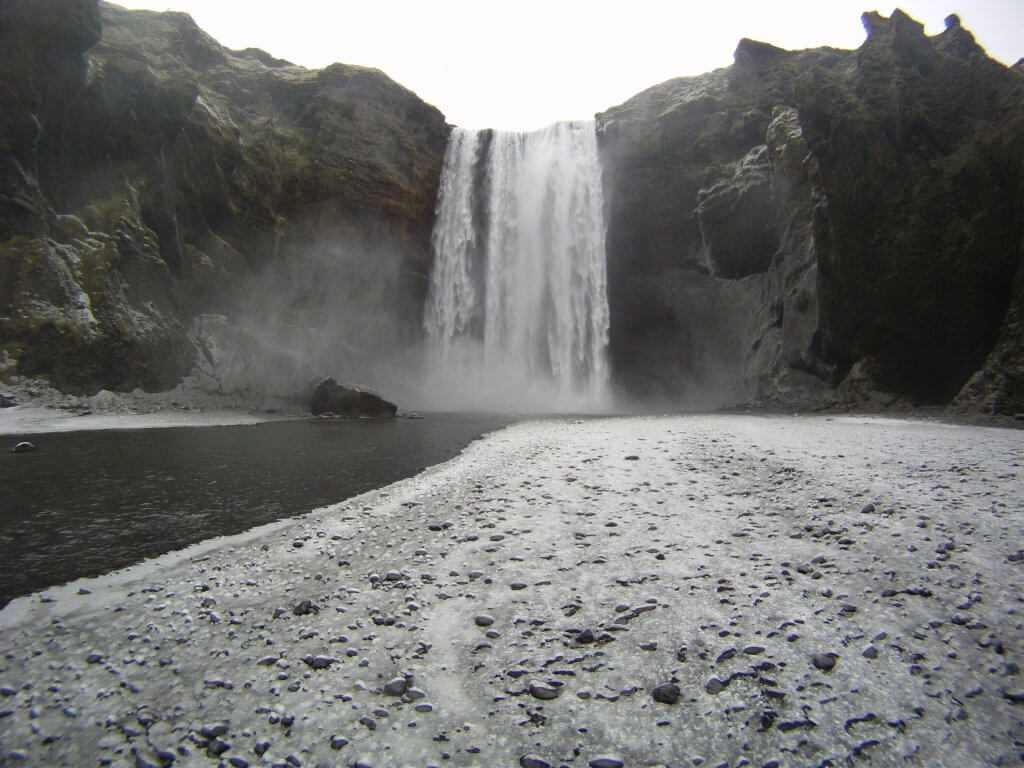 With time running out, we pushed on through the night to the glacial lagoon we were hoping to find at Jökulsárlón. Beware of long Icelandic nights and the fatigue which can set in driving on straight roads for sustained periods of time as this led to a slight overshoot on our behalf. Funnily enough this stunning feature is quite poorly signposted but then again maybe they didn't envision too many people arriving through the night. Rumour has it that there has been many near self-inflicted crashes on the narrow bridge above the thousands of icebergs floating spectacularly out to sea!
Nightmares were a strong possibility as the eight plus crew of boisterous blubber proceeded to roar, splash and flop around the shore after we had pegged down the tent.
Setting up camp here in the dark isn't a recommended unless you like getting up-close and personnel with the chunky local seals patrolling this frigid lagoon. Nightmares were a strong possibility as the eight plus crew of boisterous blubber proceeded to roar, splash and flop around the shore after we had pegged down the tent.
Meeting the locals
We were definitely glad to wake up the following morning with the tent and ourselves in one piece. A truly surreal view greeted us as we zipped open our tent which was now frozen inside and out. As the sun rose over the iceberg-crowded waters of the lagoon against the backdrop of the snow-covered mountain range, the million hues were mind blowing!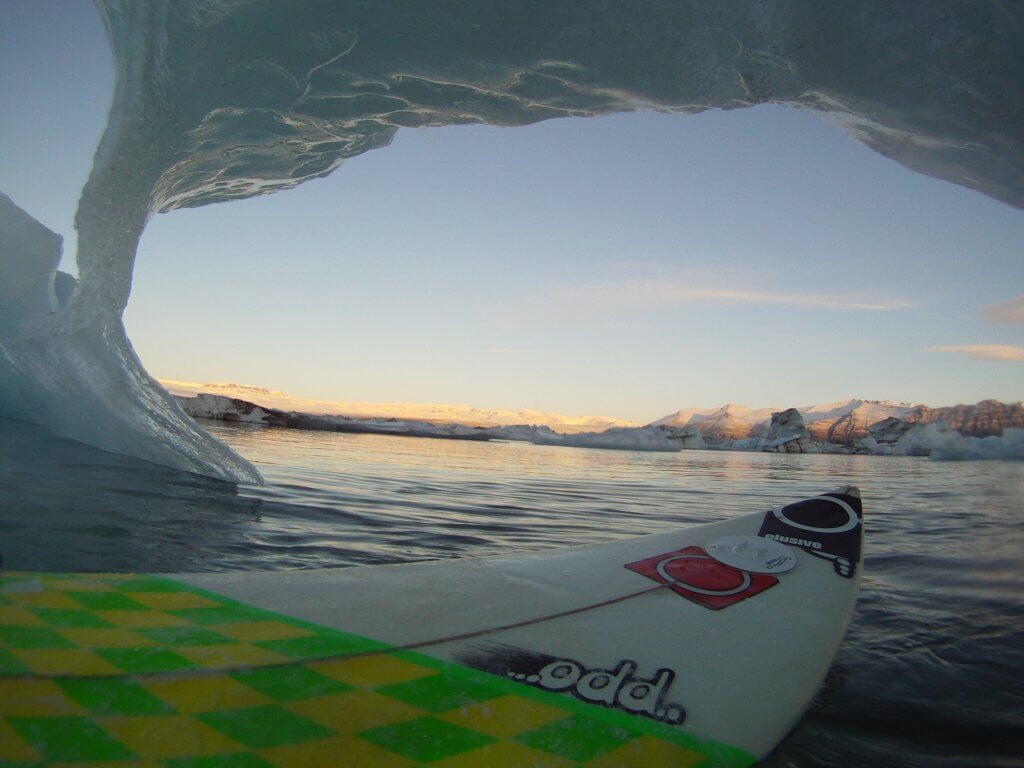 On the other side of the lagoon you can take friendly guided boat tours from the glacial tongue to the rapids before the sea. We decided to take the cheaper option by struggling into ice-cold wetsuits and paddling through the mind-boggling natural ice domes, tunnels and overhangs towards the mouth of the lagoon. Then we headed down through the iceberg-laden rapids, under the bridge and out into the thankfully warmer North Atlantic Ocean! With some fun waves peaking along these frozen beaches glinting with ice, this was truly a surfing experience that we'd never forget!
Although it might be best to forget our lack of logic when driving onto the frozen sand which then melted under the midday sun to leave us stranded miles from civilisation. Thankfully some friendly Icelandic folk in a monster 4×4 pickup truck happened to be passing and spent some time to get us back on the road again.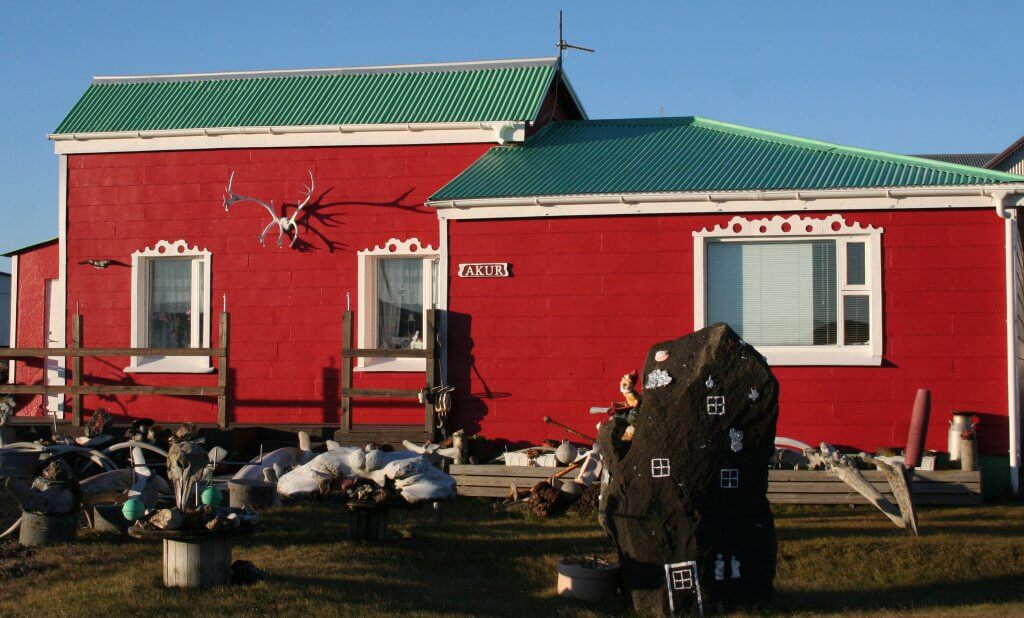 Reykjavík bound we broke up our final trip with another stunning camp under the towering sea-cliffs in the age old Viking town aptly named Vík! The capital city proved to be an unsung highlight of this trip. Situated only 2° south of the Arctic Circle, this bustling town boasts quirky shopfronts, liberal arts, diverse music, funky bars and is probably also one of the safest cities around. It was hard to imagine a more chilled out and relaxed place.
Throw in one final surf an hour's drive from Reykjavík involving heavy hollow waves, broken boards and smashed limbs and we had ourselves has themselves one sweet all-round adventure and exploration in the land of ice!
Trip sponsors: C-Skins, Elusive, Odd Surfboards and GoPro Ireland. Special thanks to Tom at Lahinch Surf Shop.
Everything you need to know for your trip to Iceland
Flights
Dublin to Heathrow with Aer Lingus/Ryanair. Expect a €30 charge each way for surfboards.
Heathrow to Keflavík with Iceland Air for €250-€300 return with no extra charge for surfboards.
Car rental
Icelandic owned and operated SAD Cars provides cheap but reliable 10-year-old vehicles and will provide transport to and from their base situated 10 minutes from the airport. For more details, visit SAD Cars, or tel. +354 8607100; email: info@sadcars.com.
International car rental companies charge three times the price of SAD rentals.
4×4 vehicles are recommended for exploring coastal surf tracks if finances allow.
Fuel
Many petrol stations only allow payment at the pump with pre-paid cards or credit cards while rural stations may completely unmanned. So make sure you have a full tank before any trip and know how to work the cards and pumps before you find yourself stuck in the middle of nowhere!
Accommodation
After any Icelandic wilderness excursion, hotel prices of €80 per person with TV, spa and breakfast are a clear winner over hostel prices of €50 per person with little or no amenities.
We recommend staying at Blue Lagoon Clinic. Winter off-peak room rates were €120 per double room, including access to the smaller thermal lagoon on your door-step and a healthy breakfast. This room also provides complimentary entry into the famous public lagoon which otherwise costs €28 per person.
Snow mobiling/dog sledding
Check out Eskimos which picks up customers from their hotel rooms in the morning and drops them back to Reykjavík that evening.
Ice climbing/glacier hiking
These excursions usually require two or more participants. They leave early in the morning and return late at night so be prepared for an all-day mission. Check availability in advance with Icelandic Mountain Guides, especially in wintertime.
Boat tours at Jökulsárlón
Check in with the very friendly proprietors of Randburg. They are usually open for business whatever the season.
Check out our Hard as Nails podcast:
Liked this? Make sure you take a look at this:

Previous Post

Next Post