Heading for the snow? Here are 15 alternative activities that will make your time in wonderland that little bit more unique.
Words: Catherine Murphy
It's a tough life but somebody has to do it. Catherine Murphy has travelled all over the world skiing and enjoying the white stuff. Here she offers up a comprehensive guide of the most fabulous things you can do in, on or around snow!
1. Sleep beneath the stars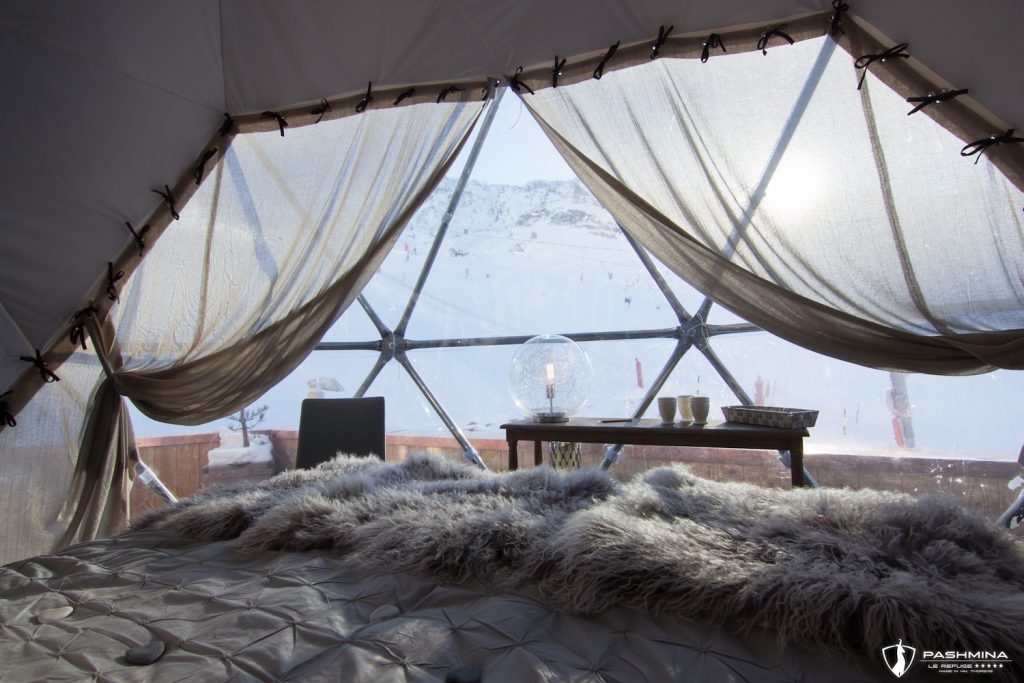 Okay, so this is cool with a price tag. The owners of the Pashmina Le Refuge mountain refuge in Val Thorens, France, have cleverly installed an igloo pod on the roof so that guests can sleep beneath the stars right next to the creature comforts of a five-star hotel.
The heated furnished dome opens to the night sky and since the Pashmina is tucked well away from Val Thorens' nightlife zone, you shouldn't be woken by the sound of wild humans stomping home from the pub. Hotelpashmina.com opens for the season on 24 November 2016.
Our other favourite igloo stays are the Igloo camp at Les Arcs, the biggest in the French Alps and the Igloo Hotel in Soldeu.
Directski, Topflight and Club Med offer packages from Ireland to Val Thorens and Les Arcs, while Directski offers packages to Soldeu or Pas de la Casa to access the Igloo Hotel.
2. Cool eats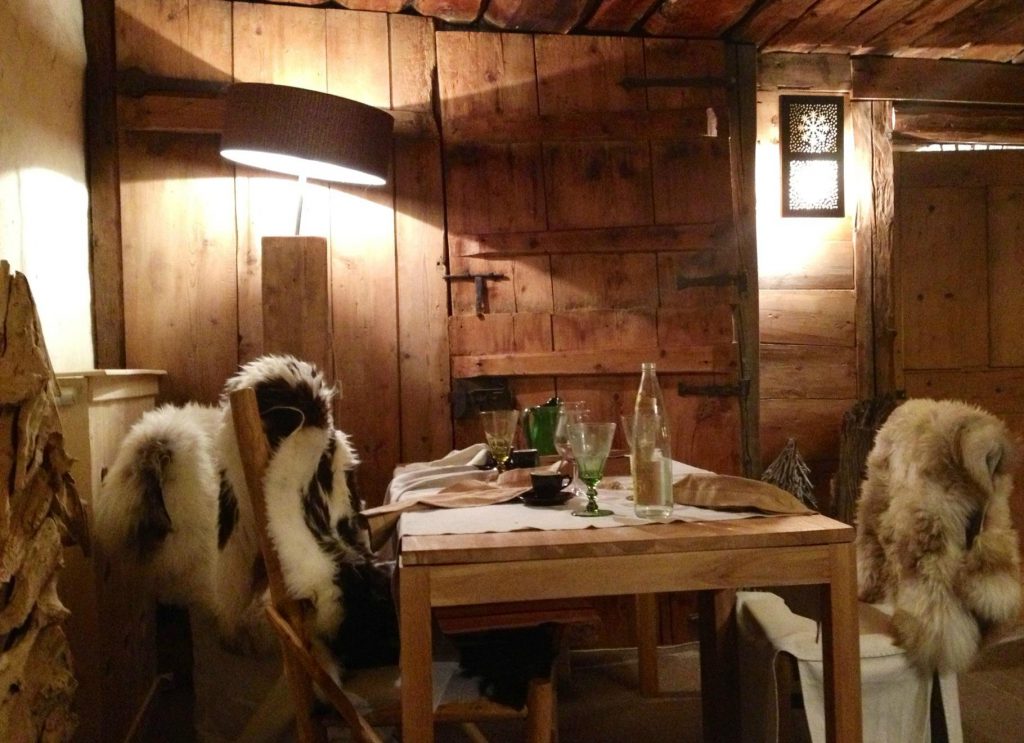 Chez Merie in France is so cool that Italians fly by helicopter just to eat there. Set in the tiny rustic village of Le Miroir above the off-piste haven of Sainte Foy in the Tarentaise, what was once a farm barn now exudes a definite air of mountain sophistication.  More importantly, it serves up incredible slabs of meat cooked in front of an open fire – très cool we feel.
Want life to be even cooler? Then base yourself in the little Italian resort of La Thuile, go heli-skiing with heliskilathuile.com, ski the Rutor glacier and finish up with lunch at Chez Merie. It costs from €275 per person excluding lunch.
Our other favourite cool eateries in the Alps include Chez Pepe in Les Menuires, Les Trois Vallées, for quirky furnishings;  The Dairy in Livigno, Italy, for local cheeses and great views of the resort and Maison du Carrier in Chamonix for its dessert buffet.
Crystal Ski offers packages from Ireland to La Thuile while Topflight and DirectSki offer packages to Les Trois Vallées and Chamonix.
3. Race to the top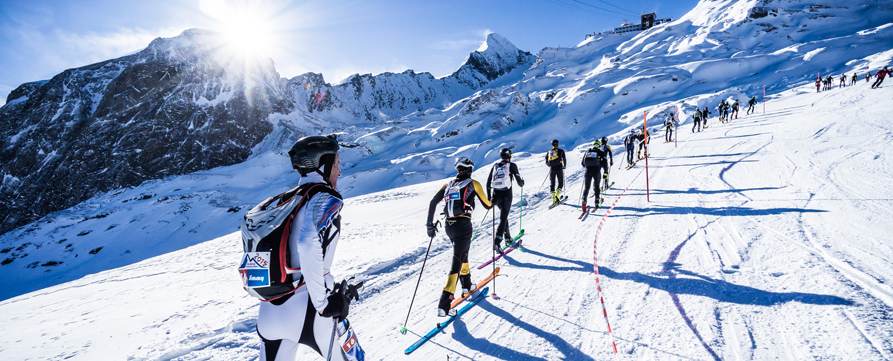 Not so much cool as very, very cold, the Kitzsteinhorn Xtrem is one of the toughest ski mountaineering races in the Alps. It takes competitors 17km uphill from Kaprun (near Zell am See) to the Kitzsteinhorn glacier peak at 3,203m.
Austria's top ski touring athletes run up to the snow line then put their skins on for a 2,500m climb on skis. While the top 50 competitors are seeded, the good news is that this high alpine race is open to all – recreational athletes and amateurs who fancy their chances. If you have the energy to enjoy your surroundings while slogging uphill on skins, you will have the gift of seeing the Grossglockner, Austria's highest peak.
Topflight and Directski offer packages from Ireland to Zell am See.
4. Enjoy hut life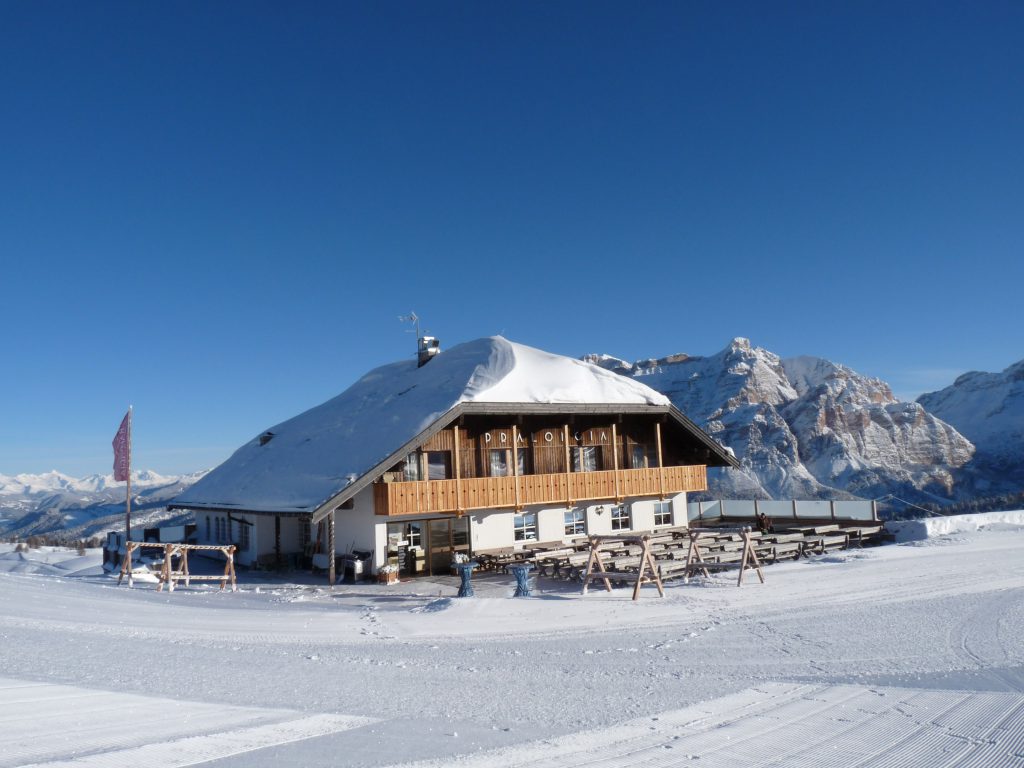 Set at 2,157m above Alta Badia which is part of the Dolomiti Superski area in the Italian Dolomites, the Pralongia mountain refuge has been owned by the Niederkofler family since the 1930s and nicely combines the old and the new. Bedrooms are all pale wood, leather and glass while the restaurant and bar offer a more traditional feel. Sample home-made grappa, eat Sud Tyrolean food, listen to locals speaking Ladino and, coolest of all, be the first person on the slopes in the morning. Ski the Sella Ronda, venture off-piste in the Val de Mizdy or on the Marmolada glacier and stop off at mountain restaurants for Michelin star dishes created for Alta Badia's annual Food on the Slopes initiative.
Other memorable mountain huts: the Vignettes hut, last stop on the classic Haute Route ski tour before the long trek to Zermatt. The Vignettes is memorable for its remote location and the icy path to long-drop toilets!
Topflight and Directski offer packages to the Dolomiti Superski area.
The ultimate guide to a comfortable camping kit
5. Go to Japan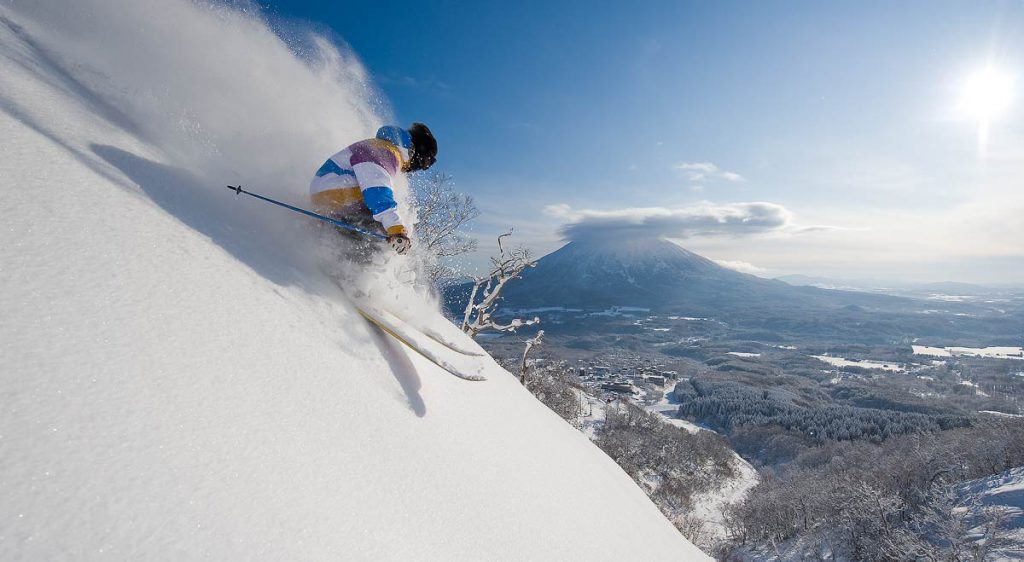 With exotic hot springs called onsen to bathe in, delicious culinary delights like sushi, gyoza (dumplings) and okonomiyaki (a mix between pizza and pancake), and a justifiable reputation for its delightfully dry powder skiing, Japan has huge appeal for those looking for something a little different from a winter holiday. If you're heading with your kids or beginners/intermediates, the Sahoro resort on Hokkaido Island is a good choice as it's smaller than the coastal resort of Niseko. The entire resort is below the treeline with various runs cut through the forest.
Advanced skiers, snowboarders and powder hounds will prefer coastal Niseko (also on Hokkaido) which is ideally located geographically in the path of consistent weather systems that bring the cold air from Siberia across the Sea of Japan. Niseko can receive up to 18m of snow annually. But there's a new kid on the block! Myoko Kogen, on Honshu Island, offers a combination of great skiing and ancient Japanese culture. For the ultimate Japanese powder experience, mix it up with a few days bashing powder pillows Hokkaido, then head to Honshu to ski Hakuba, Nozawa and Shirakawago. Stay at the Zenkoji temples before taking the bullet train back to Tokyo.
Club Med in Ireland offers all-inclusive packages to Sahoro via Sunway Holidays while Mountain Tracks offers off-piste/touring trips to Japan.
6. Be party animals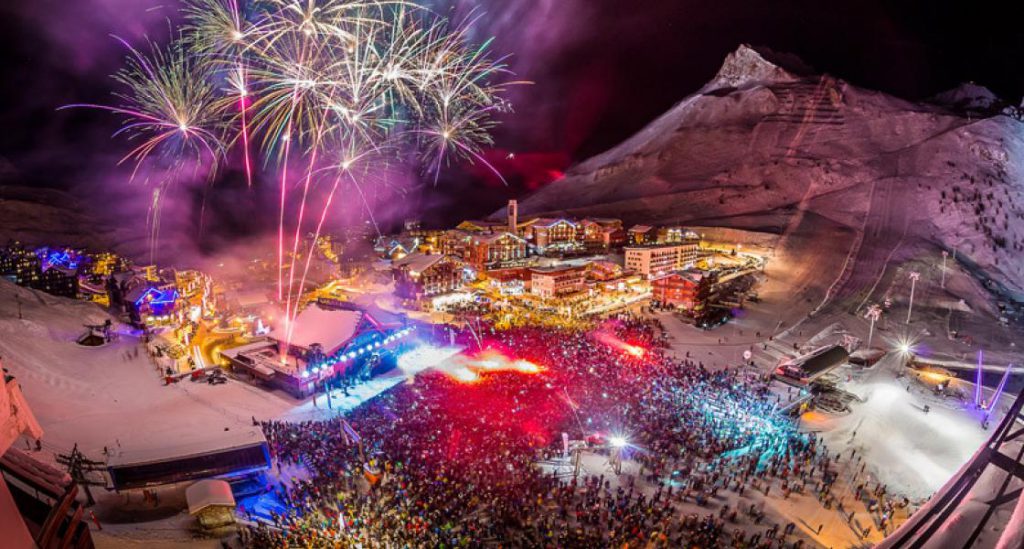 Run by the Francofolies La Rochelle team (a successful 30-year-old festival in France), Live In Tignes offers three days and nights of free concerts with 15 artists on a number of stages. High-altitude Tignes (tignes.net) in France is a firm favourite with off-piste skiers and April is a great time to enjoy a laid back end-of-season vibe there. While next season's line-up is yet to be announced, expect lots of French and Euro acts (Caravan Palace were one of last year's headline acts).
Other legendary party spots include Ischgl (ischgl.com) in Austria which is famous for its start-of and end-of-season 'Top of the Mountain' concerts (November and April).
We also liked the April ambience in Livigno, Italy, last season. The resort offers free six-day lift passes when you book hotel or apartment accommodation during the last weeks of the season which ensures the season ends with a bang.
Topflight and Direct Ski offer holidays to Tignes and Livigno.
7. Too cool for school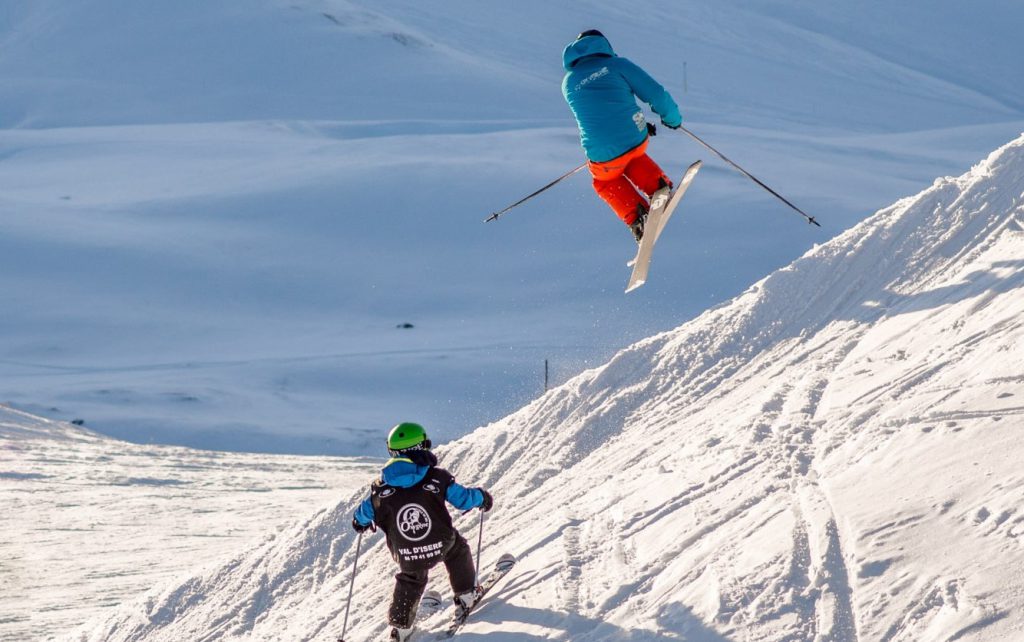 Where else would you have the chance to be instructed by a pro freerider? As well as qualifying for and competing in the Freeride World Tour, Italian Silvia Moser has been an instructor with Oxygene ski school in La Plagne for a number of years and teaches everyone from beginner children to advanced skiers on the Arpette, Esselet and Les Coches slopes. Oxygene also offers a range of fun activities, including superluge derby, moonlight skiing, first tracks, ice driving and skidoo rides.
Our other favourite ski schools include Evolution 2 in La Clusaz where former freeride champ Antonin Lieutaghi runs a freeride school for children – doesn't get cooler than that!
Topflight and DirectSki offer holidays to La Plagne.
8. The Great War Ski Tour, Val di Fassa and Alta Badia, Dolomites, Italy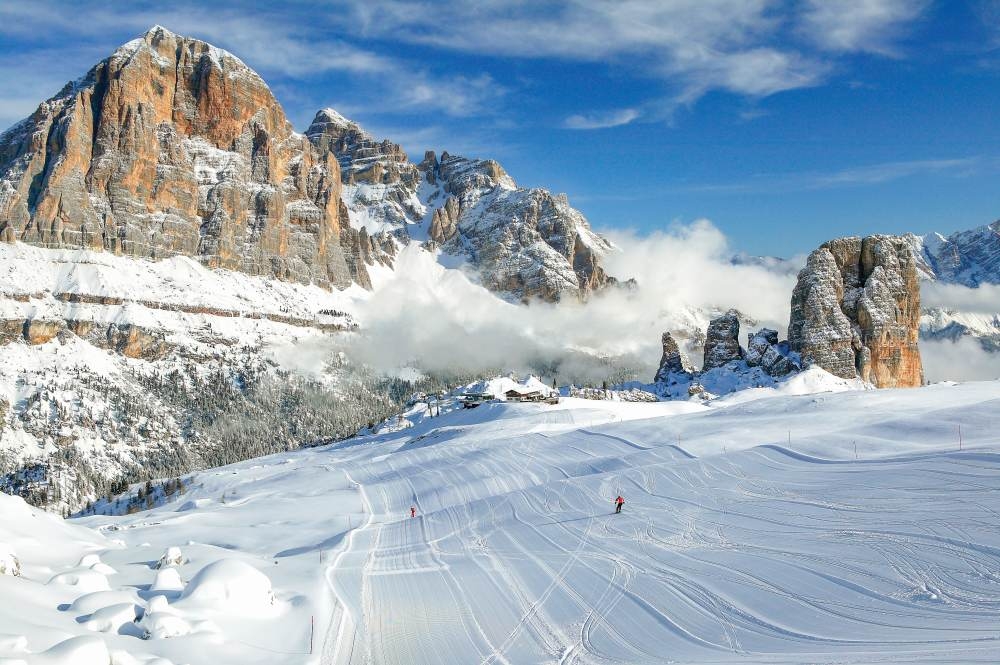 This 80km ski circuit covers what was the front line between Austro-Hungarian and Italian troops, and the scene of fierce fighting, during WWI. Think of it as a moving, humbling ski tour through the past.
As you ski, you'll see traces of war along the way – artefacts, trenches dug into rock, forts and parapet walks. You'll also witness the stunning natural beauty of this UNESCO natural reserve site.
Take the Lagazuoi cable car to the 'open air museum' of Cinque Torri then ski the spectacular descent to Corvara, Arabba and onwards to the Marmolada glacier (all covered on your Dolomiti Superski lift pass).
Stop for a meat fest lunch at Rifugio Scotoni in the San Cassiano area, getting there early before it becomes too busy (the Scoiattoli and Averau huts are also great lunch stops with stunning Dolomiti views).
Finally, ski down to meet the horses that will pull you across flat terrain to Armentarola where you pick up the ski lift back to the Sella Ronda ski circuit.
The Great War/Lagazuoi Tour is accessible from Val di Fassa, Alta Badia and Cortina. And you can also snow-shoe up to the Cinque Torri from Cortina.
Japan: the best ski destination in the world
9. Cool Runnings in La Plagne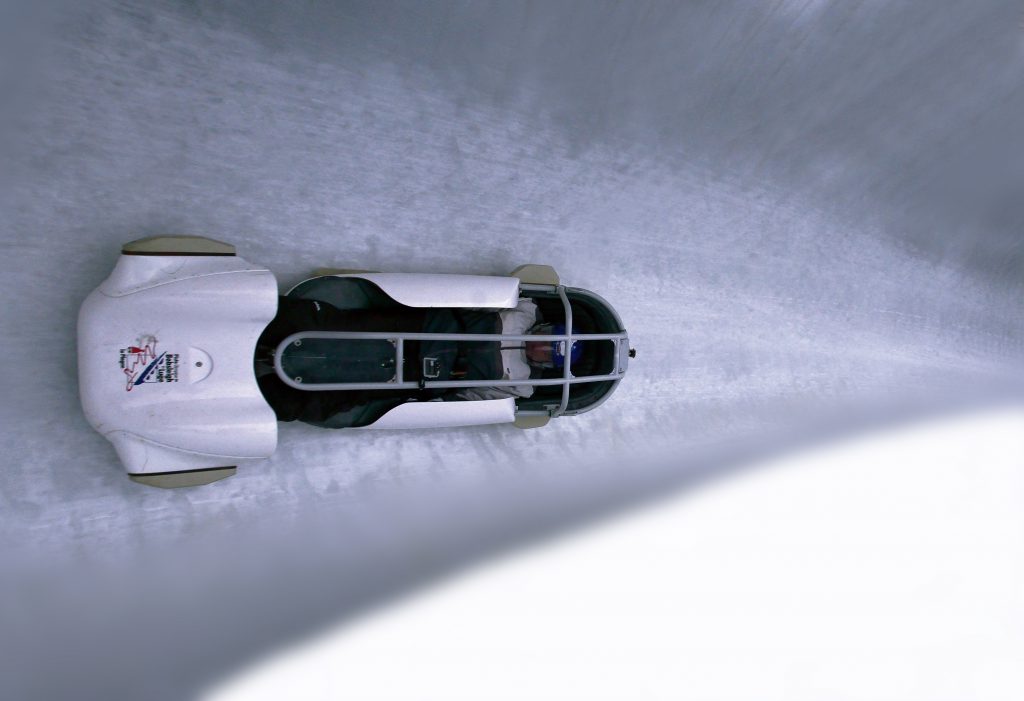 How does this thought make you feel? Hurtling down a 1.5km bobsleigh course at speeds of up to 120kmh, feeling the Gs and getting flipped from side to side on 19 curves, some of them 3m high walls.
Say hello to La Plagne's bobsleigh course where you can choose between utter lunacy, mild terror and roller-coaster thrills.
The lunacy, in our opinion, is opting for the speed luge which you ride alone and in a semi-lying position at up to 90kmh.
Feel the terror and do it anyway on a proper bobsleigh ride with a professional pilot – speeds may go over 120kmh but at least you can bring two pals to scream with you.
For a thrill (still with a frisson of terror) take the bob raft. It's a flatter, foam-cushioned sled that runs on metal bars rather than blades and takes four screamers at a time. A quick push off and your self-steering, self-braking (you hope!) sled shoots down the track at 80kmh, 'like a bullet in a barrel'.
It all takes just over a breath-holding minute but will be captured on video for endless laughs.
Bob sleigh with pro pilot costs €115, speed luge costs €107, bob raft €45 (all prices approx).
Topflight offers packages to La Plagne.
 10. Cross country skiing, Söll, Ski Welt, Austria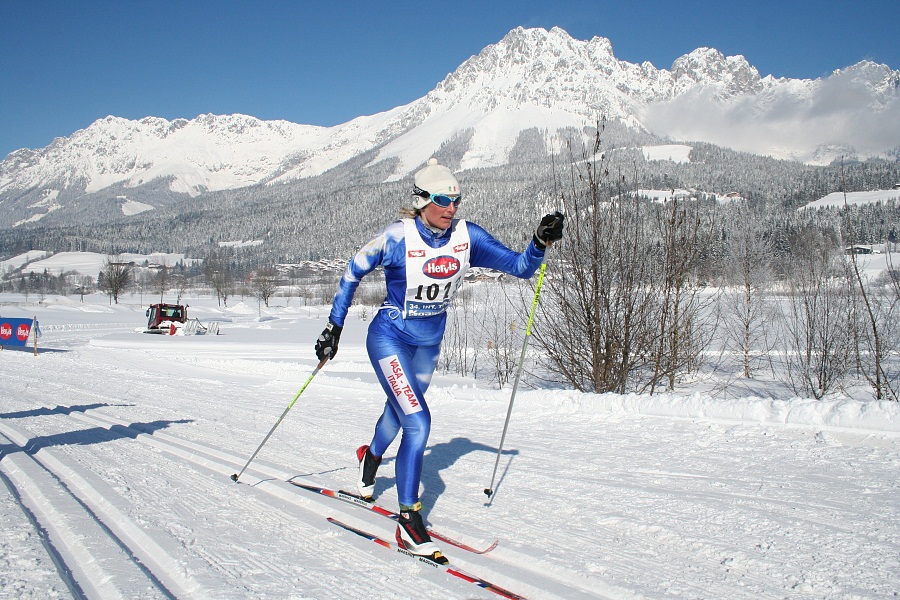 Cross-country skiing is a great all-body workout that you get to practise in tranquil, beautiful surroundings. Nowhere more so than Söll in the Ski Welt region, which offers one of the largest cross-country ski areas in Austria with a total of 196.5km of trails.
Soll's gently undulating terrain is perfect for beginners. The Sunnseitt Classic track is a 4.5km loop out of the village with a gentle incline and once you've mastered the technique of skiing on narrow tracks, you can move on to a 70km network of tracks between Soll and the villages of Going, Scheffau and Ellmau.
Cross-country ski highlights in the region include a 10km track in Going and floodlit tracks in Scheffau that stay open until 9.30pm.
If you're cross country skiing for the first time, expect laughs and perhaps a few falls. Make like the Austrians by wearing tight breathable layers instead of bulky ski gear and don't try skating techniques until you've covered the basics. Take a private lesson with Soll's ski and snowboard school (Skischule-soell.com) for around €50 for an hour's tuition.
Topflight offers packages to Söll.
11. Venture into the church of the open sky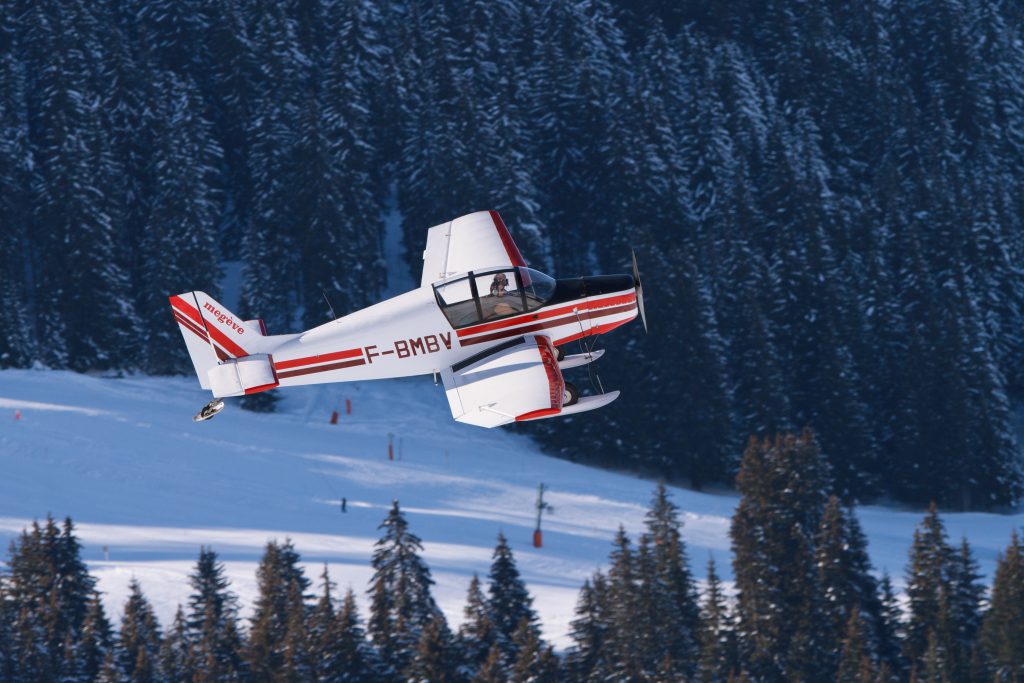 One of the most memorable things you will ever do in the Alps is take a light aircraft or helicopter flight (aerocime.com) into the Mont Blanc 'cathedral', so-called because of the stunning spikes and pinnacles of this majestic massif. Starting from the airfield (a tiny 600m landing strip) in the chic resort of Megève, France, you will definitely enjoy the wow factor as you fly up close to imposing walls of rock and into the cathedral-like space between them.  You will also understand in 30 inspiring minutes why climbers and ski mountaineers find the heart of the mountains so spiritual and enchanting.
Our other favourite flying sites include Alpe d'Huez for scenic flights in light aircraft and Les Deux Alpes for tandem paragliding flights.
Megève is a part of the Evasion Mont-Blanc ski area. Crystal Ski offers packages to Alpe d'Huez and Les Deux Alpes.
 12. Cool viewings
Unless you're already a very experienced BASE jumper, this is one we'd recommend watching rather than trying. The tiny mountain village of Mürren in Switzerland – famous for its views of the Eiger, James Bond movie themes and annual Inferno ski race – has also become a favoured spot for wing-suited base jumpers. As you set off skiing in the morning, it's intriguing to watch these fearless jumpers make their way to the edge of steep cliffs.
Twenty-thousand BASE jumps a year are made in the Lauterbrunnen valley, a fact that James Bond himself would be proud of (many scenes for the Bond movie On Her Majesty's Secret Service were filmed on the Schilthorn summit). The less brave/smart among us might take pleasure simply from reaching Mürren via the Swiss Rail System, enjoying beautiful views along the way, or by visiting the new look-out platform at the Schilthorn station.
Crystal Ski offers holidays to Mürren with transfers via Swiss Rail.
Skiing: 10 of the hottest pieces of gear
13. Scale the heights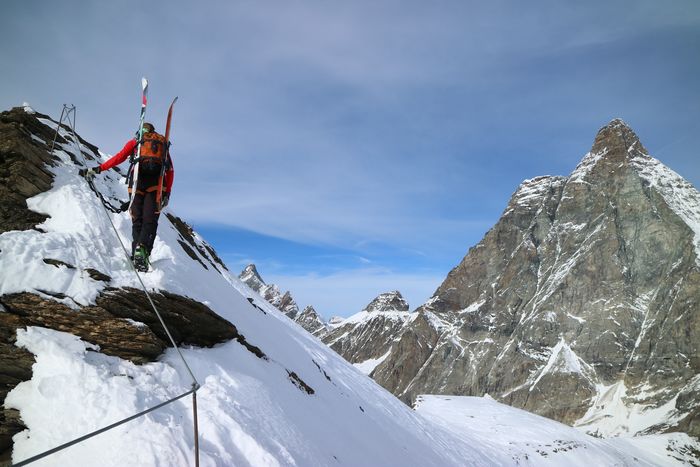 Via Ferrata (iron way) can be challenging enough in summer if you have a fear of heights but experienced climbers who are used to moving with crampons and skis on ice and rock will relish the unusual and tough challenge of completing a winter via ferrata.
Glitzy Zermatt in Switzerland, which takes its adventure sports as seriously as its gastronomy, has just opened a new route on the border between Switzerland and Italy – simply named La Traversata or 'The Crossing'. It takes climbers through the Furggrat area, starting from the Trockener Steg lift, to Furggsatel at 3,300m, and on to Furggen before skiing down to Cervinia with the Matterhorn at their back – the glorious reward for a climb made technically difficult by ice and snow conditions.
Crystal Ski offers holidays to Zermatt.
 14. Full moon delight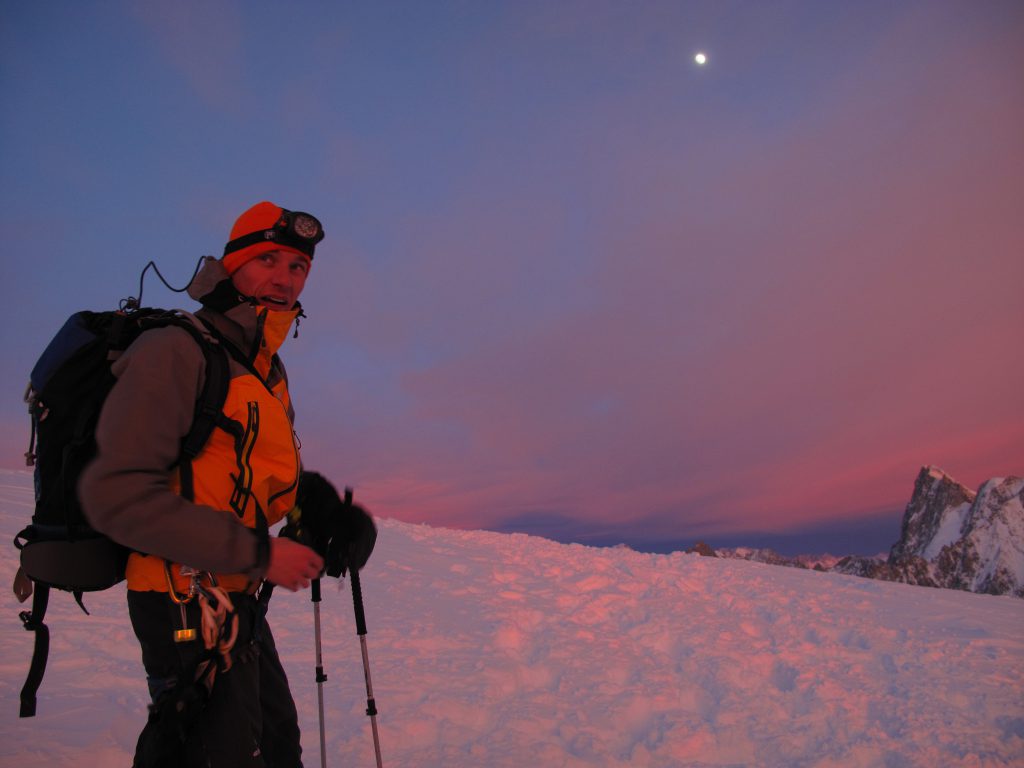 Skiing the 23km-long Vallée Blanche off-piste route from the Aiguille Du Midi (3,842m) is one of the first off-piste challenges that many skiers take on but now, more experienced skiers can add an extra element to that challenge – skiing the legendary high mountain route – complete with crevasses and ungroomed snow – at night.
High mountain guides from the Compagnie Des Guides in Chamonix take participants to the top of the Aiguille Du Midi at 4.30pm to begin a 3-5 hour descent (2,700m).
The tour, which costs from €159, includes dinner in a mountain refuge and also offers a ski touring option which we love the sound of.
Whilst skiing at all times with a guide, participants must be competent off-piste skiers as the Vallée Blanche takes you through the glaciated terrain.
Topflight and Club Med offer packages to Chamonix.
15. Winter Kayaking, Lake Brienz, Bernese Oberland, Switzerland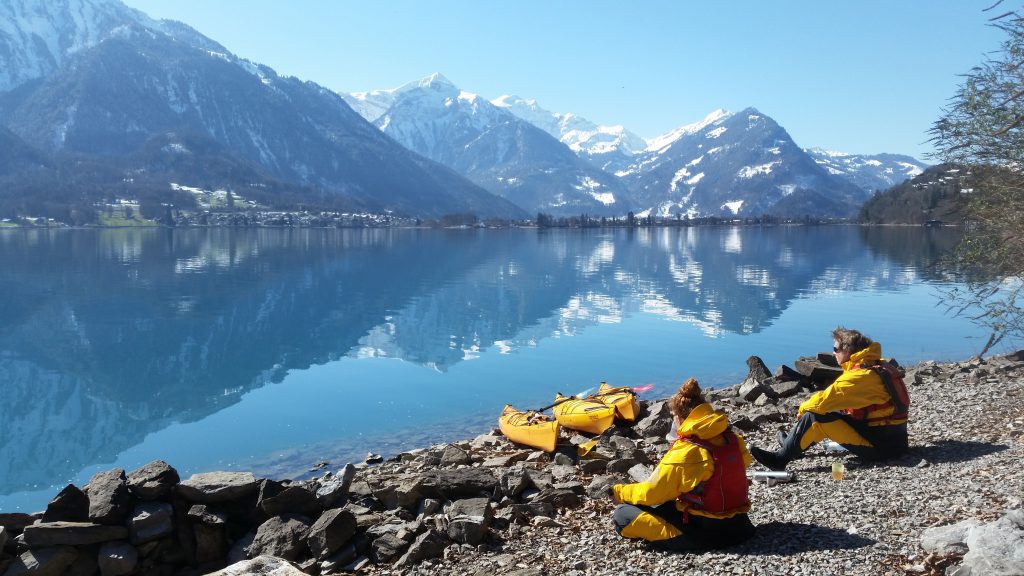 It doesn't always have to be about snow as our mesmerising photos of winter kayaking show.
Make it all about water for a day with a kayaking tour on Lake Brienz with Hightide Kayak School (www.Hightide.ch).
If you're based in Interlaken, take a short bus ride or 30-minute riverside walk from Interlaken Ost to Boningen where the school is based.
Get a totally different perspective of winter landscapes with either a half or full day tour. The full day tour is suitable for those who have paddled before and will help to develop kayaking skills while exploring.
The tour takes in the south shore of Lake Brienz, the Giessbach falls, Rinnenberg cliffs and Twelfth century castle views. The shorter two- hour tour is suitable for less experienced paddlers.
Instructor to client ratio is 6:1 and you'll be protected from the cold with high-grade dry suits. The cost of the trip is CHF130 including top-end drysuit (which means you can also jump in for a swim and stay dry). Drysuits are necessary in winter and make it a very comfortable and warm experience even when it's snowing or raining.
For more information visit High Tide and My Switzerland.
Check out our Hard as Nails podcast:
Like this? You should check these out: 

Previous Post