This August 24 – 31 2019, Outsider will be heading hiking in Austria with a group of our readers. We'll be staying in the pretty little town of Ehrwald in Tirol and exploring the stunning Alpine mountains that surround it – hiking two stages of the famous 'Eagle Walk' and visiting Lake Seebensee. Amongst the other treats in store are a glacier hike at the Zugspitze, Germany's highest point, as well as the option to try out the dizzying heights of the Zugspitze via ferrata. We're pretty damn excited about the whole thing!
We caught up with Marco Piccoli from Topflight to find out more about the walks, wildlife and what not to miss. Marco is Managing Director with the Irish company and has been visiting the area as a skier and a hiker for more than 16 years now. Ehrwald is one of his favourite Alpine spots – he's enjoyed lots of family holidays here – so we knew he had picked a cracker when he suggested it for the Outsider trip. And we knew he was the man to talk with to get the low-down on the area.
For more details or to join us, email Michelle @ motoole@topflight.ie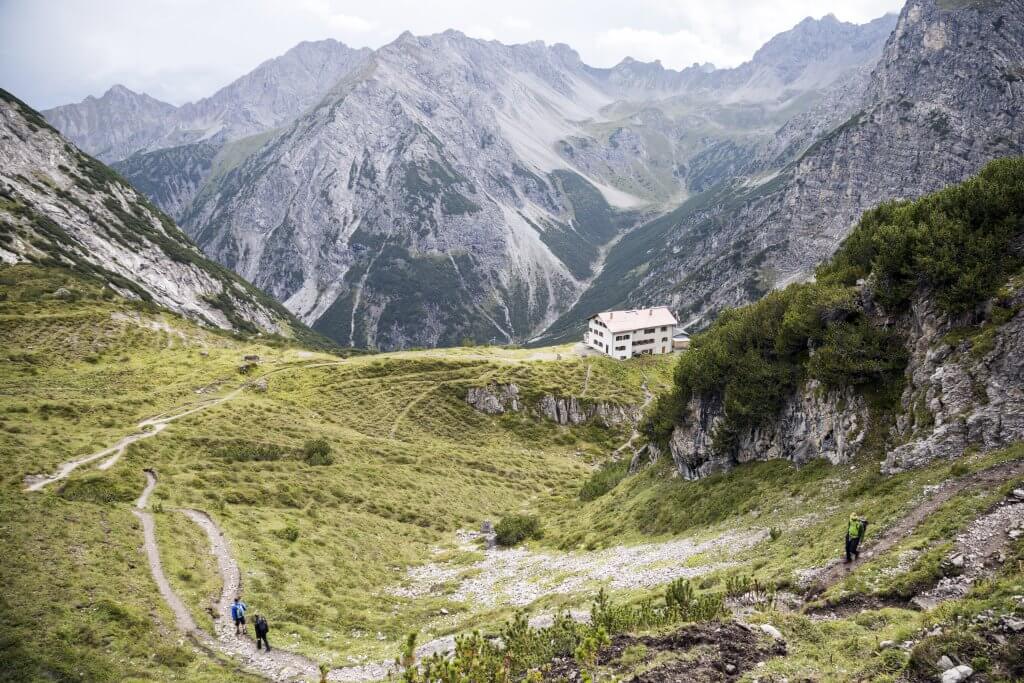 What is Ehrwald like?
Ehrwald is just a beautiful Tyrolean village. The mountains just rise up from the village and surround it. But it's bathed in sunshine. That's always a plus in the Alps. And in Austria, the villages are that bit lower which means they are warmer. It's usually about 25°C by day in summer.
All of the houses and chalets have that lovely carved woodwork and balconies all decked out with bright pink and red geraniums. Everywhere is well kept. There are old mills dotted around the village which is centred around a gorgeous church with its old bells.
The Zugspitze – that's German's highest mountain – is commanding. It really hits you when you first see it. It made me think of Vesuvius and Pompei. It just sits there at the top of the village.
Then by contrast then, you have the mellowness down in the valley of the lush green fields and meadows spreading out from the village. When I think about Ehrwald, I hear the church bells and cows bells jingling away from the summer fields as the animals graze. It's so peaceful. It's a lovely destination for families and groups of walkers."
When is the best time to visit Ehrwald?
"I'm a passionate skier so I love Ehrwald in winter. But if I was pushed to choose one time of year to visit, I think it would be summer. The colours of the flower and the smells from the meadows are just so lovely. It's really hard to describe how wonderful that stillness and fresh air is.
The people are very laid back and there's not much rushing. The rat race feels very far away when you're there and most of the businesses – the local cafés and restaurants, or the mountain huts – are all family run. And there's a real sense of community. Local people are involved in mountain rescue, the fire brigade – they're all volunteers.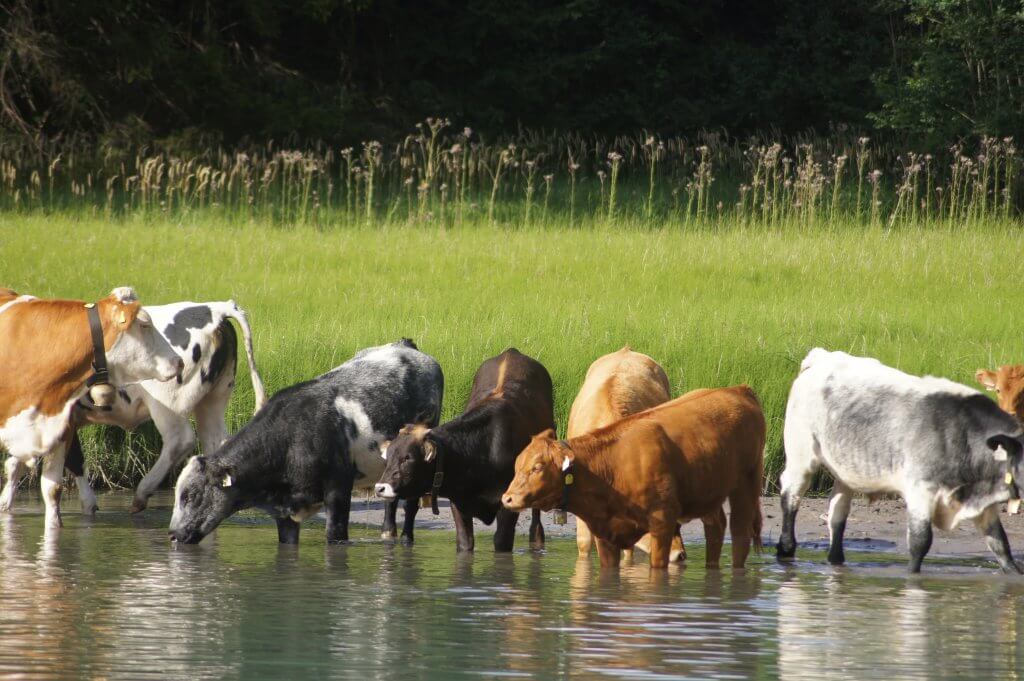 And they all leave their doors open. It feels really safe. There are lovely traditional events throughout the year like cow markets and traditional markets selling wooden carvings and local produce. There are all sorts of local fetes and shows with traditional music. If you ever see anyone playing the long traditional Alpine horns, really do stop and listen. These alpinhorns were used for communication between villages at one stage and their sound is haunting and beautiful. It's rare enough to hear them though.
One of the most impressive annual festivals is to celebrate the summer solstice. Locals light thousands of fires to illuminate the mountains. And there's another festival to celebrate the sheep being brought down from the mountains.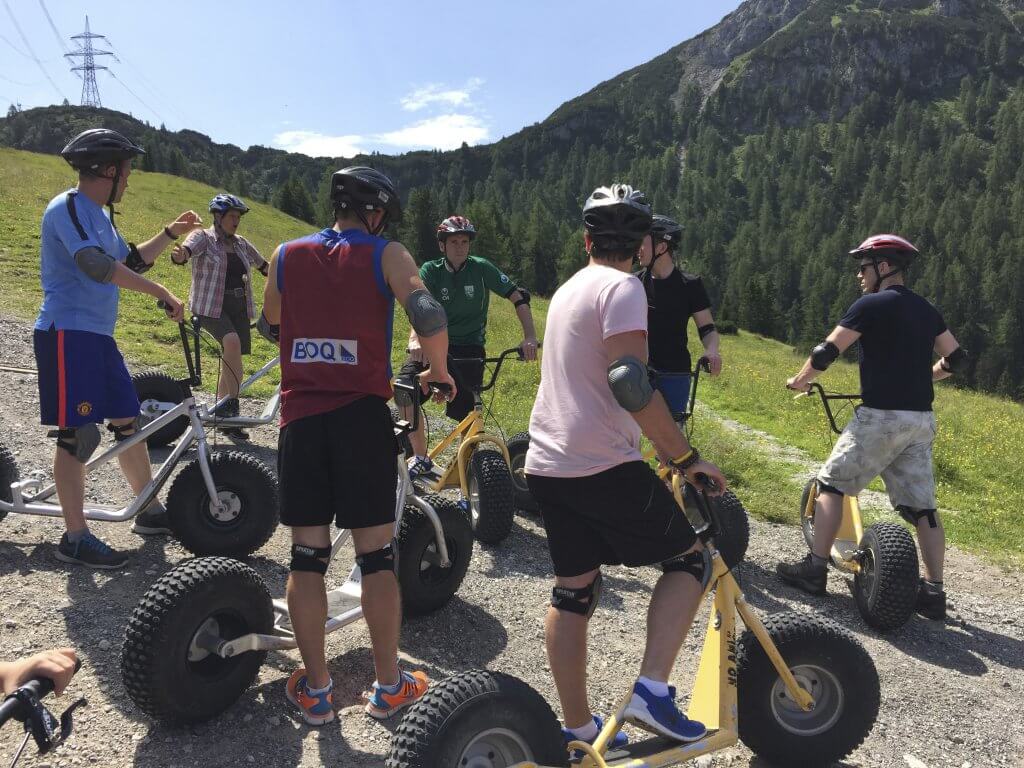 In summer there's a huge amount for families too. Everyone can go hiking, biking, summer tobogganing and do via ferrata. Electric bikes are now really big too. They're brilliant because they mean that people of all fitness levels can manage to cycle up the hills. They have E-rollers too. They are electric three-wheelers so are super easy for anyone to use.
I'm there a lot for work, but I always try and take one or two extra days so I can go hiking or get up skiing. I've done a bit of mountain biking there too. It's great fun.
What's the hiking like in Ehrwald?
It's amazing. There is just a huge amount to choose from, especially with the 'Eagle Walk' on your doorstep. My favourites hikes though are the trek to Seebensee Lake and Waterfall. It's a tough trek – it's graded black – but the waterfall is spectacular. It's incredibly high. You have access to really serious hikes but easy laid-back ones too. The guides we use are all locals, so they have great in-depth local knowledge about traditions that you just won't find in guidebooks. They have great senses of humour too.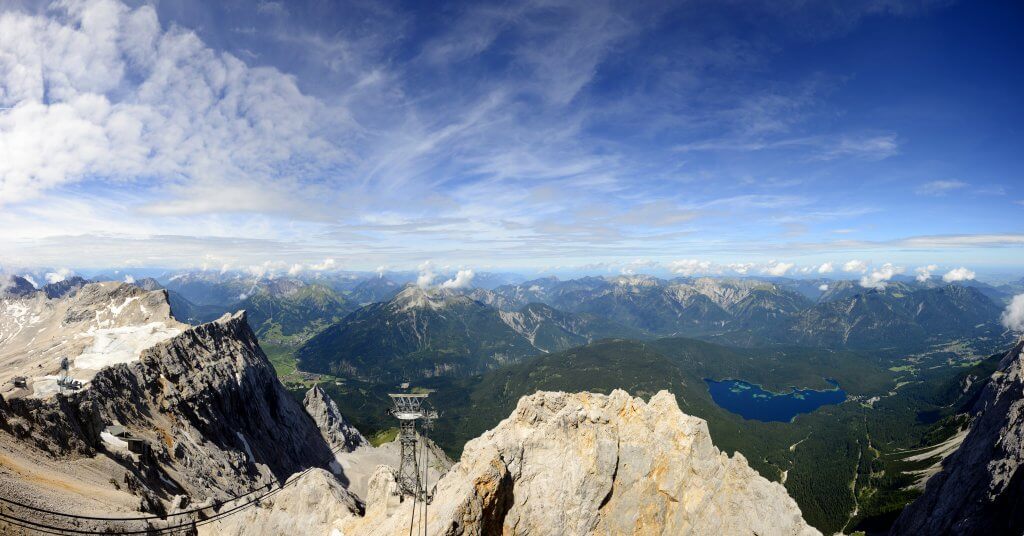 The hike on the Zugspitze glacier is another 'don't miss' and if you've a head for heights try the via ferrata there. I've yet to try this – I have a fear of heights – but I'm told it's incredible.
And be sure to take a dip in one of the beautiful mountain lakes. They're nippy but gorgeous. The water is crystal clear. Heiterwang is my favourite. It's just such a lovely place for a swim after a long hot hike.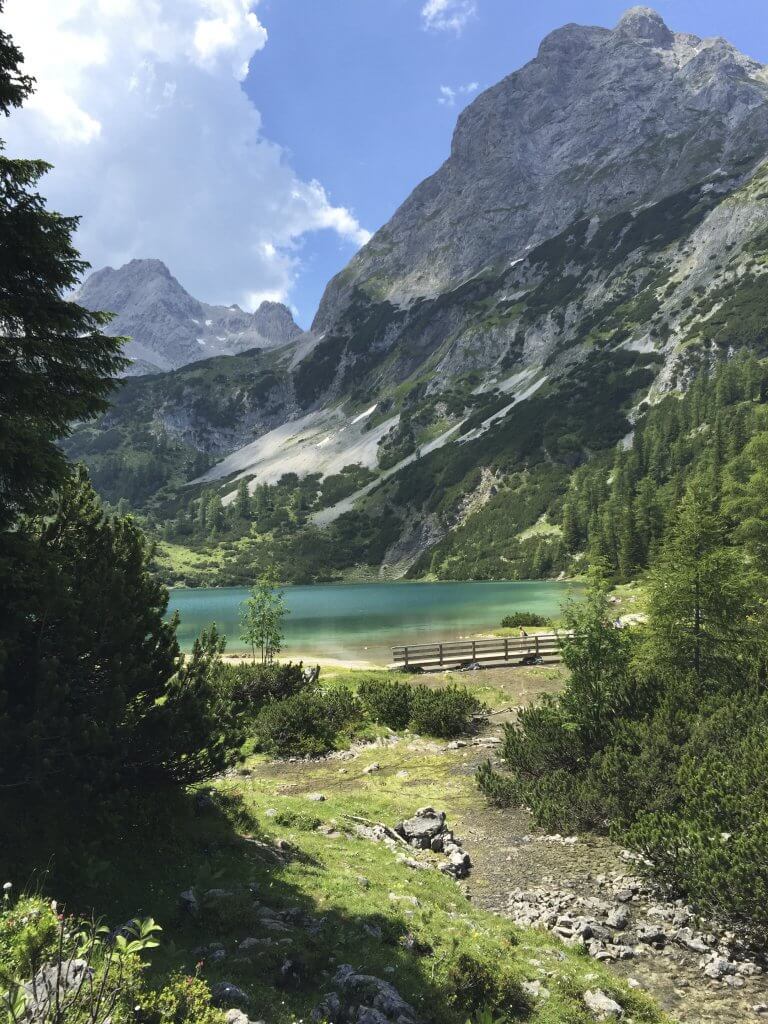 Make sure you keep your eyes peeled for local wildlife too. You can see deer, chamois and marmots on your walks. Marmots are incredibly cute little furry guys who whistle to each other when they are looking for a mate. As for chamois [a goatlike-antelope], they will blow your mind with their ability to run up cliffs but you'll need to be in more remote places and have eagle eyes to spot them."
What's the food like in Ehrwald?
I'm a fan of the hearty food when I've been good and active. Grostl is one of my favourite dishes. It's fried onion and potato with bacon or spec, all thrown into a pan and topped off with a fried egg on top. Perfect after a big hike or a long day skiing. And I love the delicious local cheeses and home cured meats. It's hard to pass up on the Apfel Strudel too with that yummy with vanilla sauce.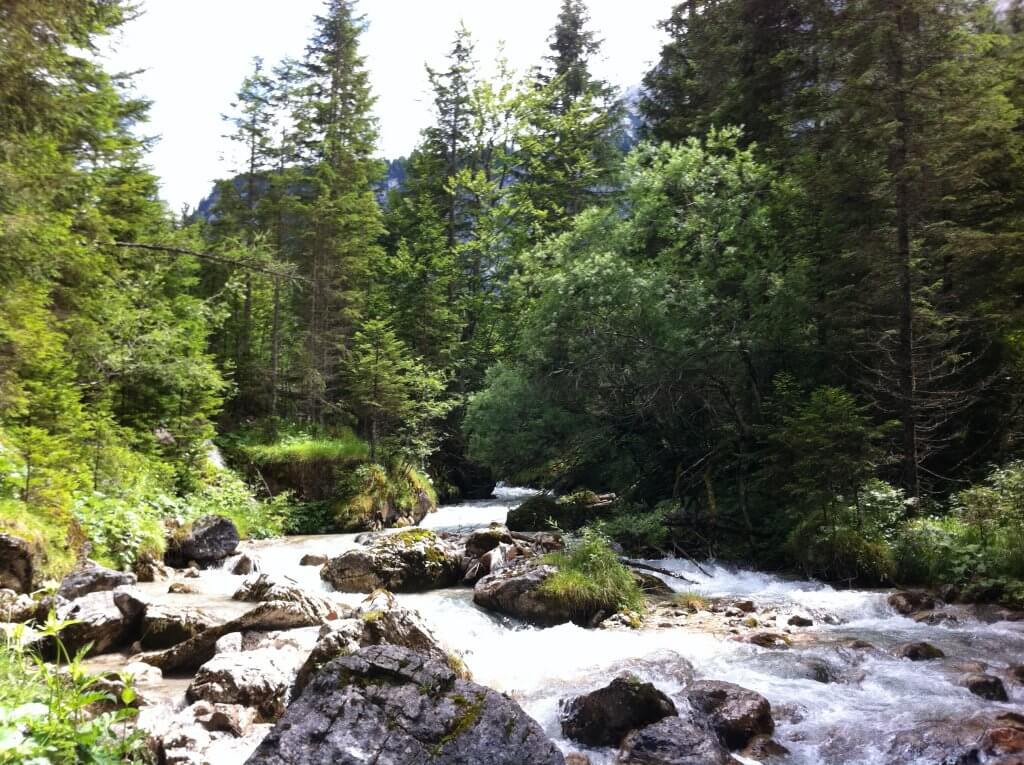 I really recommend a meal at the Gamslam hut. It serves really good traditional Austrian grub. We'll be going on the Outsider trip. You can walk there up the hills from the Sonnenberg along trails. The Holzerstube in town also serves great authentic local dishes. And if you fancy something different, Castagno which serves Italian food is great too,
The local wine is very good too, especially the whites like the local Riesling or the Gruner Vetliner. It would be what Pinot Grigio is to the Veneto region. I'm more of a fan of the wine than the local Schnapps but you'll have to try that too after your meal. They put lots of local herbs and berries in the homemade ones you'd get in the mountain huts and local restaurants. But go easy on them!
How does the area compare to the Italian or French Alps?
The mountains are really accessible in Austria in comparison to say Italy or France. In those countries you have to ascend big mountain passes to get to the slopes. It can take hours to get to the top. You're kind of stuck up there. In Austria in general and Erwald in particular, you can get to the slopes quickly and you can get back down quickly to your hotel or the town.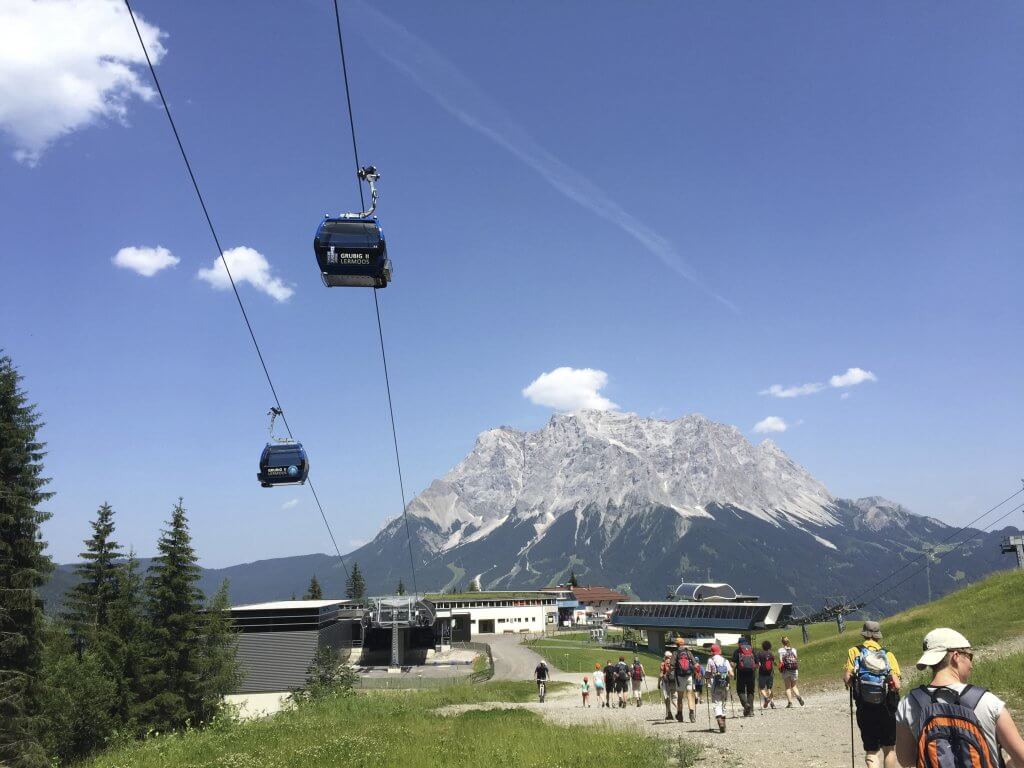 And if you want to take some time out from where you're staying to do something different, within an hour or an hour and a half you can get to Innsbruck, Garmisch or the Bavarian castles. It's so close to everywhere. There's a train station in Ehrwald which takes you to these places. Munich is a little bit farther but it's still less than two about hours away.
The Bavarian castles are well worth a visit – especially Schloss Neuschwanstein in Füssen. Mad King Ludwig II had all of these weird ideas and spent everybody's fortunes on these crazy but amazing buildings. To give you an idea of how fantastical Neuschwanstein is, the castle in Disney's Sleeping Beauty is modelled on it. It was also in Chitty Chitty Bang Bang and The Great Escape. The walk up to it is gorgeous but when you go inside everything is really odd.
What is the Sonnenburg hotel like where we'll stay?
The Sonnenburg is lovely. It's homely and cosy with a blazing log fire in winter and beautiful blooms in summer. It has 20 rooms in total and you can have two to four guests in each room, so it's perfect for families, walking clubs and groups. It has it's own bar so it's very social and relaxed.
Most importantly, it has a perfect location in the valley right on the slopes of the Sonnenhang ski area which connects to the Zugspitze Skiplatz where you can go glacier skiing in winter. The glacier is probably even more vibrant in the summer though with everyone up there drinking coffee and enjoying the views.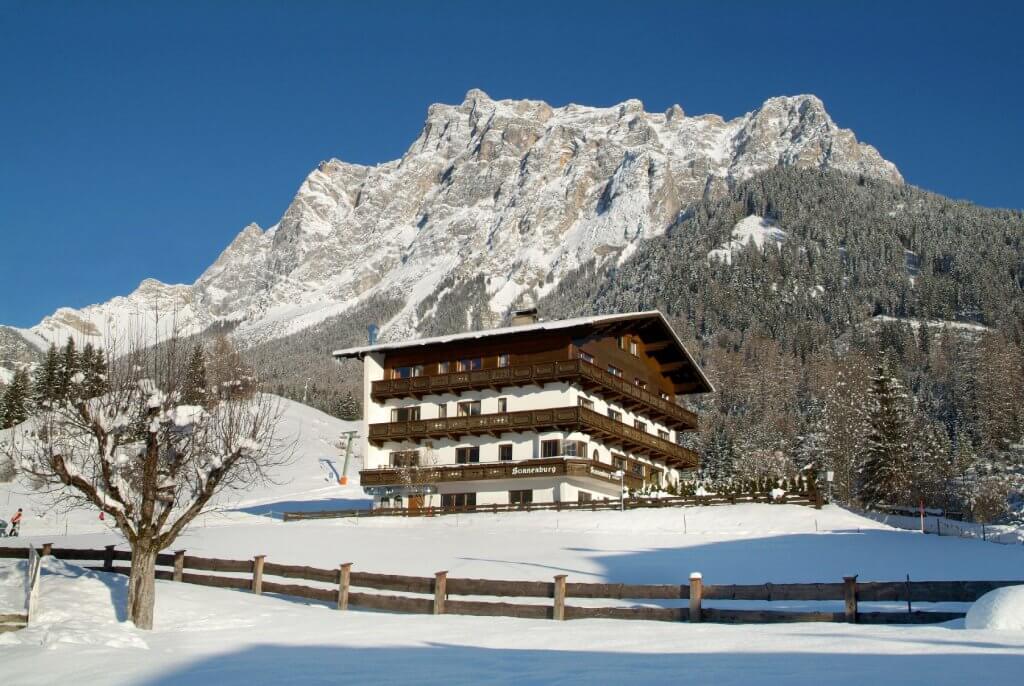 Daniela and Mido who run the Sonnenburg are just great. They have had years of experience working with Irish groups and know how to make sure everyone feels welcome. They organise great Tyrolean nights in the hotel too. It's just pure entertainment watching the moustachioed Austrian men in their tight lederhosen with all the thigh-slapping and yodelling, and traditional music on Glockenspiels and accordions. It might seem corny but those nights are really good fun. They are gas craic.
Extra tips for visiting Ehrwald
Marco has also suggested some further tips for anyone visiting Ehrwald this year:
If you've a head for heights visit the Highline 179 pedestrian suspension bridge.
If you're not a fan of the cold water lakes but want to go for a swim, try the indoor swimming pool. It's worth a visit for its wellness area alone. It has magnificent views over the mountains. It has a new climbing wall too that is supposed to be amazing.
Take the panoramic train to Garmisch and visit this lovely town.
If you're there in June, make sure you don't miss the Bergfeuer festival to mark the solstice. The mountains are all lit up with fires.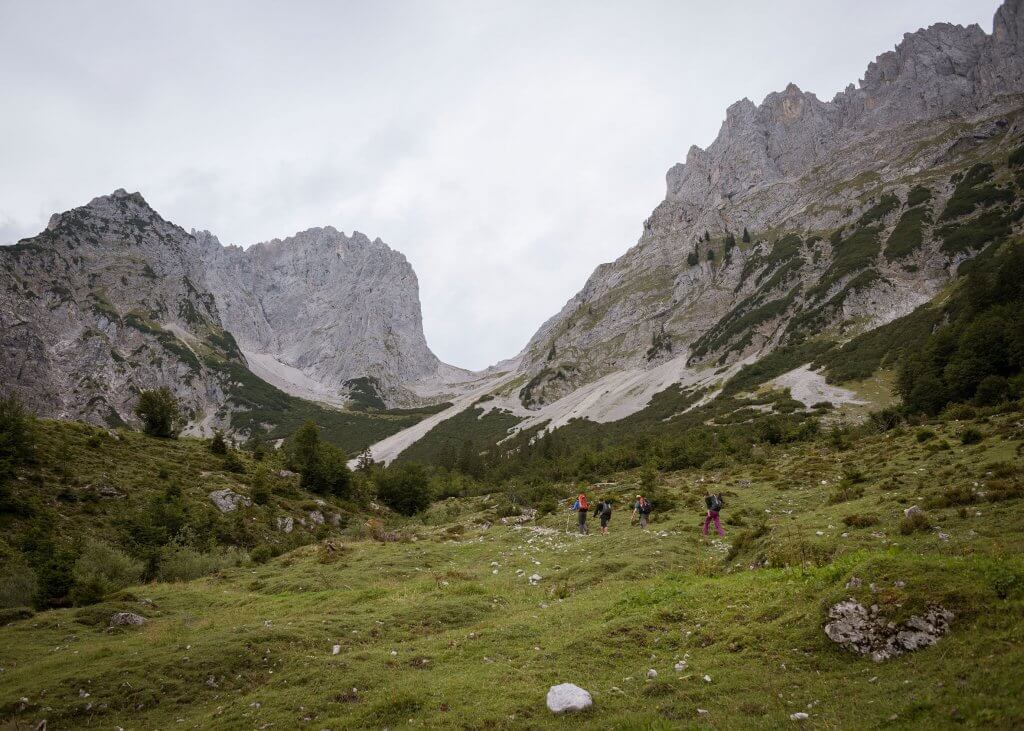 The Outsider Austrian Hiking Trip, 24-31 August 2019
Cost: €799 & includes
Return flights from Dublin + 20kg bag allowance
Return transfers by luxury coach
7 nights B&B in the Sonnenburg Hotel
6 evening meals in the Sonnenburg Hotel
Evening meal in a mountain hut followed by evening hike
Glacier hike with guide
Guided hike to Lake Seebensee with lunch at a mountain hut
2 x stages of the 'Eagle Walk' hike with guides
A cable car ride to the top of Germany and the Zugspitze Glacier
Ski lifts required for the hikes are included
Tyrolean evening in the Sonnenburg
Excursion to Neuschwanstein Castle
A boat trip on Lake Heiterwang or Plansee
Zugspitze Via Ferrata adventure: €50 (optional extra)
Climbing adventure: abseiling, climbing, flying fox, slacklining: €35 (optional extra)
A Guest Card tax of €2 per day is payable locally. This includes various discounts locally and unlimited use of the local bus in Zugspitze Arena.
If you'd like to join us, email Michelle at motoole@topflight.ie or for more information visit the Topflight website.
Check out our Hard as Nails podcast:
Itching to get outdoors? Take a look at the links below for inspiration:

Previous Post